UPDATE #24
09
/16/06 thru 09/27/06
Howdy Everybody,
We are very interested in hearing from ya'all. If you have missed out on any of the previous emails and would like us to re-send them, please let us know.
Please let me know if these emails containing pictures are too large and we will send you a version with text only.
The period 4/1 thru 9/15 has been covered in Updates 1 through 23.
UPDATE #24 09/16/06 through 09/27/06.
As you may remember, we have been in St. Charles, Missouri since our arrival on September 13, 2006. We have paid the marina for a month long stay. Although our plan is to continue our way south before that time, it is often more economical to rent by the month than by the day or week. In our case at this marina, the breakeven cost was at eight days. We knew that we wanted to stay at least that long.
We will try to do this update in a slightly different way. We will cover our days in a broader way and include pictures and descriptions in a more condensed format. Most of you have not met Fred's family. This, hopefully, will be an opportunity for you to become more familiar with them and understand why they mean so much to him. They are very dear and truly loved. You can fully expect to hear some of the kinds of bragging that might be appropriate for a Dad and Granddad.
09/16/06 SATURDAY ST. CHARLES, MO
After a restful night on the boat, we hopped into the car that Doug has lent us and headed to the nearby McDonald's for gourmet breakfast. What a surprise, Doug, Lisa, Austin, and Ashley came in. To refresh your memories, Doug is Fred's son, Lisa is his daughter-in-law, and Austin and Ashley are his grandkids. Ken and Suki were there too. They are the maternal grandparents of Austin and Ashley.
Austin was all decked out in his Tae kwon Do outfit. This morning, he was to demonstrate his skills to the Master. The skill levels determine the level and corresponding belt color. As you see in the picture, Austin has attained a level of Green/White. He has been doing an exceptional job of expanding his talent and skill. Tae Kwon Do is the martial arts form originating in Korea. Austin's Grandmother, Suki, is of Korean heritage. Austin follows naturally and upholds the honor of his own heritage. We are all very proud of his accomplishments.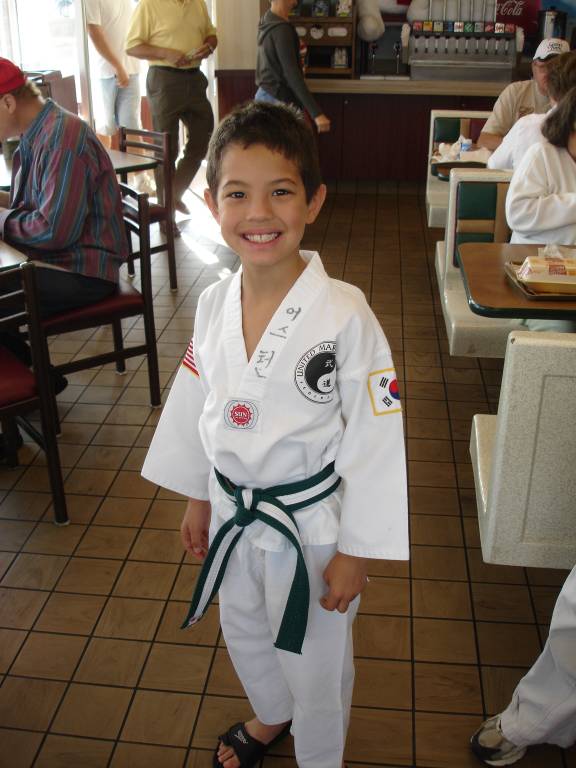 It was an absolutely glorious day and nearly perfect for our planned family cruise aboard AMARSE. We gathered supplies and cleaned up the boat in preparation for our afternoon sightseeing voyage on the Mississippi River.
With Doug and Austin, and Sharyn and Jeff, we headed down river along the magnificent limestone bluffs that rise sharply along the Illinois bank. I think that this is some of the prettiest scenery to be found on our trip. It was sunny and warm and the waters were smooth and relaxing. Judy prepared a wonderful lunch of deli-style sandwiches including some wonderful side dishes.
Sharyn and Jeff enjoyed the view from the bow.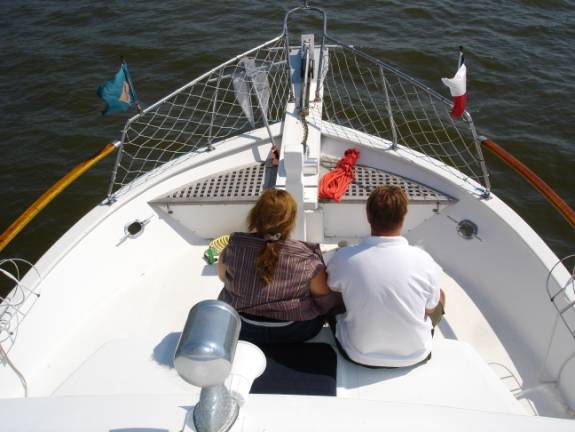 Doug and Austin are the greatest Dad and Son since Fred and Doug. The bluffs stretch for miles in this area. The road alongside has been cited as "one of the ten best motorcycling roads in the country". In the later fall, it will be a blaze of color as the leaves change.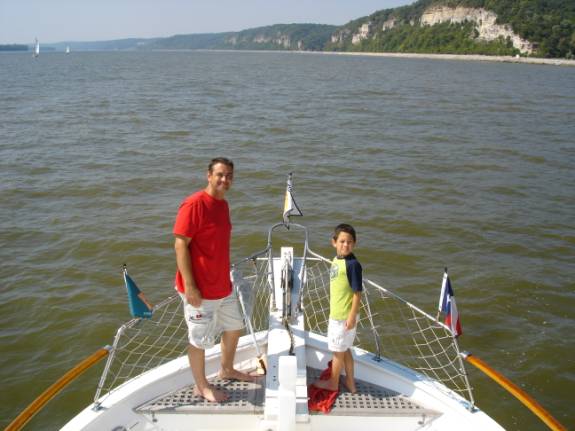 Unfortunately, Lisa and Ashley couldn't join us this afternoon. After several hours of cruising to Portage De Sioux and Grafton, we returned to Polestar Marina in St. Charles. We spent the rest of the afternoon visiting and relaxing on the sundeck of AMARSE. The evening included a burger cookout at Doug and Lisa's house.
PawPaw Fred and Austin were having a great time together. It's a good thing that Austin was being gentle with Granddad.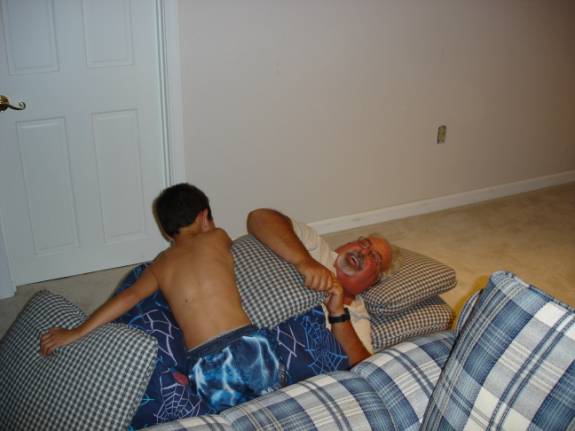 Doug and Lisa have a great home and a great family. Doug has completely remodeled the house and the workmanship is incredible. It amazes me at how much he can accomplish and how well he does everything. I am so honored to be his Dad.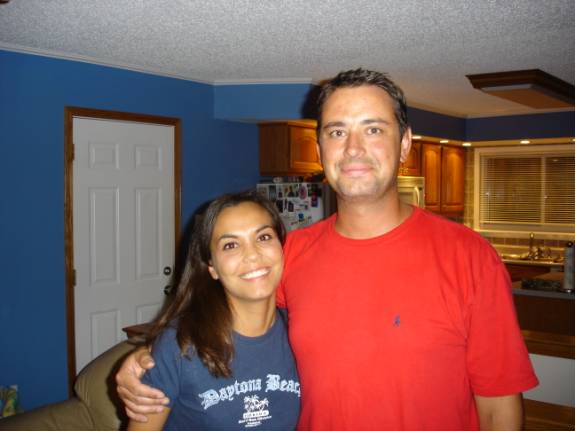 This visit has been my first opportunity to see Ashley. She is only eight months old. We didn't get to visit before we left on the Loop trip that has kept us away now for about six of those months. She sure is fun and has a wonderful way of charming everyone (especially her PawPaw Fred).
We sat around that evening and watched the cartoon movie "Ice Age". It was fun.
09/17/06 ST. CHARLES, MO (SIDE TRIP TO LAKE OF THE OZARKS)
It was a cold and rainy day. Doug wanted us to join him for a trip to his house at the Lake of the Ozarks. It's about a two and a half hour ride there. He has a great place on the side of a hill that overlooks the tranquil beauty of the lake. The huge trees surround the land and enhance the incredible view. We had visited here last year and thoroughly enjoyed every minute.
When we arrived, it was still raining. There are some fairly steep steps leading down to the side door. We warned each other to be extremely careful for slippery conditions. Guess what? About half way down, Judy lost her footing and bounced down half a flight of steps. I think I was about to say something when my feet went out from under me too. We were now both down in a heap at the foot of the stairs. Fortunately, no serious injuries for either of us, however, we both knew that there were lots of bruises and soreness on the way. As well as ourselves, I think we scared the daylights out of Doug.
Doug has been working constantly on remodeling and upgrading the place. We were amazed at all that he has accomplished. It looks like a totally different place on the inside and the workmanship is incredible. The guy has great talent and skill.
Due to the stormy conditions, the electric power was inoperative through the area. We decided to get some lunch and head back to St. Charles. We went to our favorite spot on the lake. Backwater Jack's serves the absolute best Grouper Fish Sandwich in the entire world. Once again, we were delighted.
The rain continued for the entire ride back and throughout the night.
09/18-09/19/06 MONDAY/TUESDAY ST. CHARLES, MO
Doug had arranged to take off on Monday and Tuesday to spend some quality time with us. He agreed to help on some projects on AMARSE. We undertook the installation of a new VHF marine radio for the lower helm. The new Uniden 525 would be a nice replacement for the old unit that was very outdated. This new unit would contain many new features including the attachment of a wireless, remote control that would enable us to use the radio from the upper helm giving us several frequencies available at the same time. Nice! We even made up a new faceplate out of black starboard plastic using his table saw, router, and drill press.
We moved the rudder indicator and, then, installed a Garmin 182C GPS unit at the lower helm. We would now have VHF communications and GPS navigation available at the lower helm for those colder days that will be coming all too soon.
I have been unsure of the reliability of the main batteries aboard AMARSE. They were the ones that were in the boat when we got it in February. Not knowing the history, I decided that we should replace them. These batteries are huge and very, very heavy. They are situated in the very bottom of the engine room under the floor and down near the keel. There is no way on this earth that I could do the change-out. Fortunately, Doug said that he would help. We found a suitable replacement set in St. Louis. Doug was able to muscle the monsters around and successfully exchange them. He also found some wires that were not very well assembled and made the necessary repairs including soldering some new lugs on some heavy lead wires. He replaces several terminals and cleaned up all the fittings. What a guy!!!!!! I tell you, my friends, it is a mighty fine son that helps out his old Pop like this.
Both Judy and I enjoyed the evenings of visiting with family. It is so wonderful that everyone loves Judy and that they recognize how important she is in my life. She is always treated with all the caring and respect of a beloved family member.
09/20-09/21/06 WEDNESDAY/THURSDAY ST. CHARLES, MO
Doug had to return to the daily grind at work. I am so grateful for the help he has given us over the last few days.
Judy and I continued to work on finishing up these projects and adding some new ones. We finished the VHF. The remote was hard wired into a locker at the upper helm. We could now recharge the UNIDEN WHAM X 4 unit right there. We installed a additional GPS antenna and wired the circuits to power the GPS through a dedicated circuit breaker. Judy worked on all kinds of interior and exterior projects and cleanup. It is so nice to have a life partner that works so hard every day to make our lives better and more enjoyable.
There is a little bar in Alton, Illinois that is quite famous and well known to me. Fast Eddie's Bar & Grill has been filling beer glasses and serving great, cheap food for many years. When I lived here many years ago, I frequented this place on many occasions. I was anxious for Judy to enjoy it too. Their food prices have not changed much over the years. Burgers are $1, big shrimps are $.29 each, kabobs are $1.29, etc. We gorged and washed it all down with some fantastic Blue Moon ale. Too Good!
HAPPY BIRTHDAY, JEFF CASSIDY.

WE LOVE YOU!!!!!
On Thursday evening, we went to watch Austin at Tae Kwon Do. We were delighted to watch the Master present Austin with his advancement. Austin had demonstrated all the necessary moves, form, skill, and ability to move up to the next level. The Master proudly wrapped the new "Blue Belt" around his waist as he stood tall to receive the honors.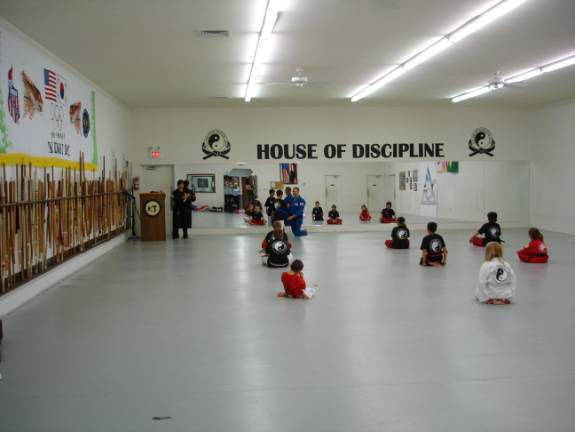 It was fun to watch Austin and the others as they practiced the honorable martial arts of Tae Kwon Do in the Korean tradition.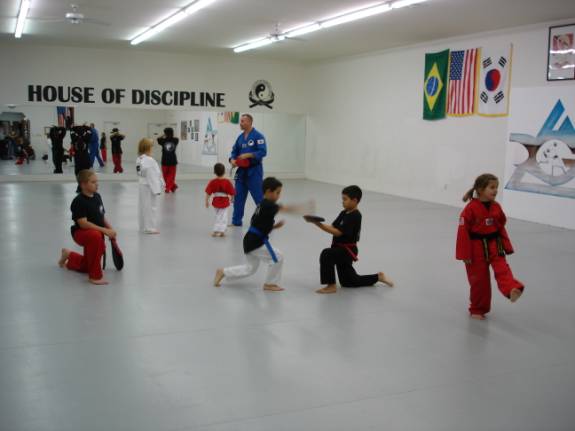 As you can see from the display on the wall in the studio, these are the different belt colors that represent the many levels of skill. Austin now proudly wears the "Blue Belt". It is at about the middle level of the range.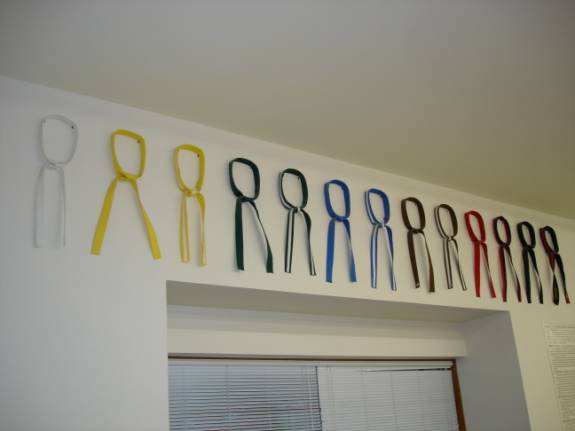 09/22/06 FRIDAY ST. CHARLES, MO (SIDE TRIP TO BRANSON, MO)
We met Jeff and Sharyn at their home in St. Charles at 8 am.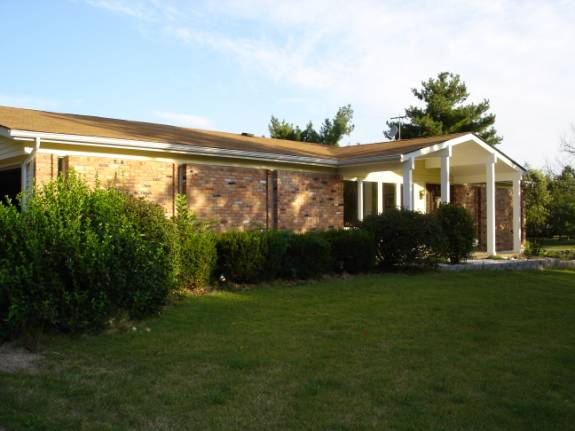 In their car, we headed out for the weekend in Branson, Missouri. They have a beautiful condominium down there that has a wonderful view of Table Rock Lake. We are to have the honor of being their guests.
It is about a four hour drive (not counting any stops). We did stop for some coffee not far into the trip. As we turned south out of Springfield, MO, the lunch hour was rapidly approaching. There is a famous place called Lambert's. It is renowned as "the home of the throwed rolls". What's that all about? Well, my friends, the waiters walk around and actually throw a fresh, hot roll over to anyone that waves. There are hot rolls constantly flying around the rooms. It's quite unique. They serve real country home cooking in large portions. That country girl, Judy, chose Chicken Livers while I gobbled down the pot roast beef. The waiters bring around large bowls of fried okra, macaroni and tomatoes, potatoes and onions, and sorghum molasses. The place is an experience to be sure and the food is always good. NO, there is no room for dessert!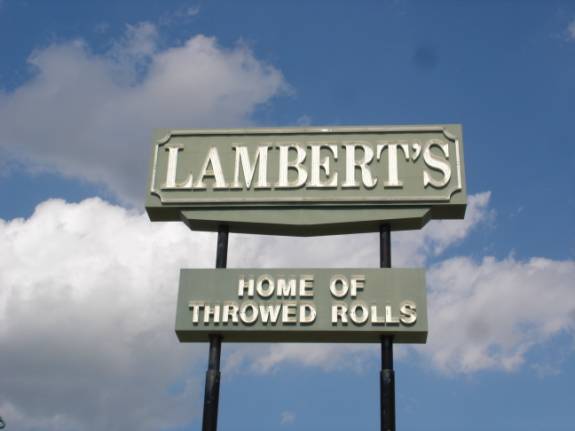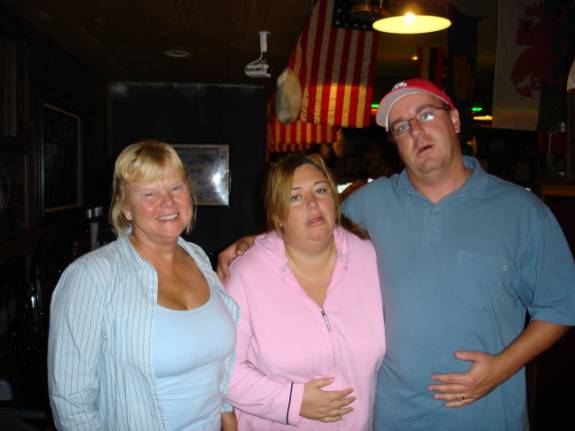 As many of you know, Branson is famous for all the country music shows. There are many dozens of theaters and shows that are home to many famous names. After relaxing for the afternoon at their lovely condo, we reserved tickets for a show starring the Gatlin Brothers and, co-starring, Pam Tillis. It was a beautiful theater and a wonderful show. Pam Tillis was exceptional and, for us, was the real hit of the night. Of course, Judy and I knew most of the songs that she made famous. For Jeff and Sharyn, most of the music was new and unfamiliar. They sure seemed to enjoy the show too.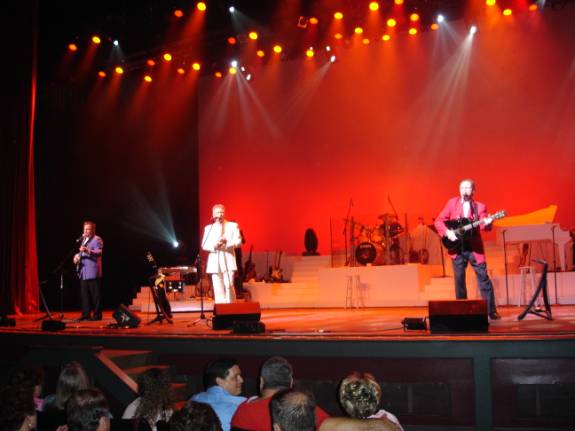 09/23/06 SATURDAY BRANSON, MO
Branson is well known for having numerous buffet style restaurants throughout the town. Jeff and Sharyn took us to their favorite buffet at the Grand Jubilee. It was really delicious and they made me one of the best omelets I've ever had.
Jeff and Fred spent the rest of the day resting and relaxing around the condo. Sharyn and Judy went in search of bargains at the outlet mall. It was nice that everybody could do exactly what he or she wanted.
Dinner was at McGuffy's Restaurant. The place is decorated with the theme of the "McGuffy Reader". History buffs will remember that the McGuffy Reader was one of the first primary school books available in this country. Many years ago, most school learning was based on this textbook.
Judy just couldn't resist the urge to "monkey around" outside the restaurant. Don't they make a lovely couple?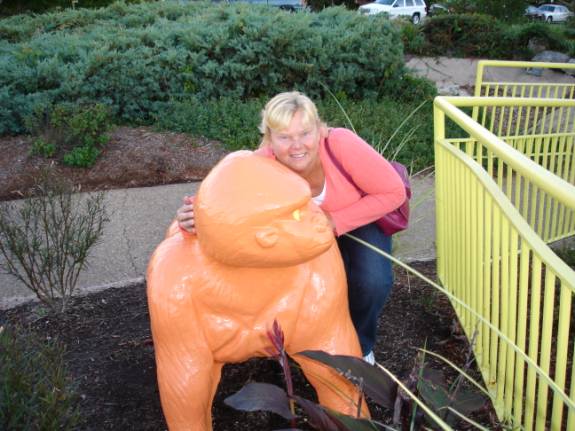 After dinner, we went to the downtown area by Lake Tanycomo. This newly developed section is called Branson Landing. It hosts a myriad of specialty shops and restaurants designed to attract a more affluent group of young people to the community.
The Saturday night outdoor concert was the Motown Experience. This group performs regularly in one of the theaters up on the strip. We had great fun singing along to those old favorites that were so popular many years ago.
The waterfront also sports a fantastic display of shooting fountains, fire bursts, lights, and music. It is quite a nice display and a real crowd pleaser. The display occurs for several minutes each half hour.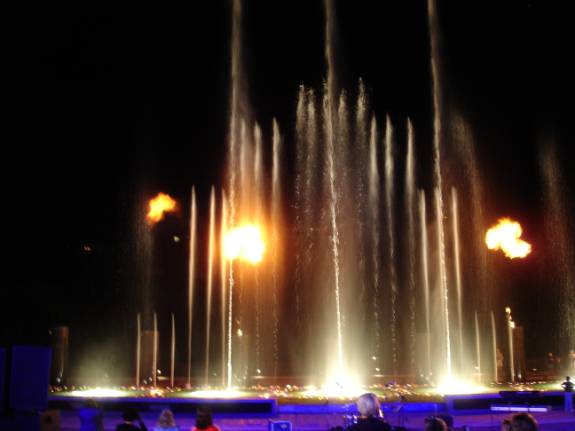 We strolled around the complex and window shopped after the show.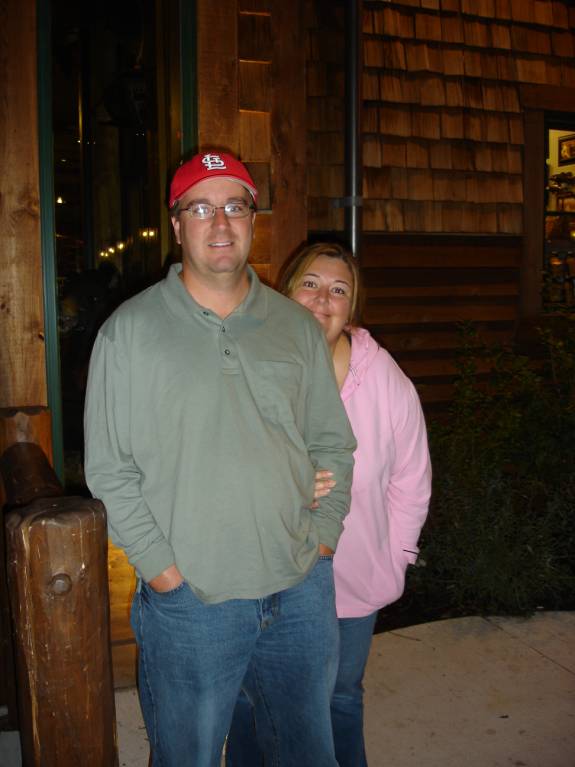 Now, my friends, let me paraphrase an old nursery rhyme,
Judy had a little lamb,
She also had a bear.
I've never seen her little lamb,
But I love to see her bare.
Thank you, Thank you!!! So tell me folks, "How is that for poetic license?"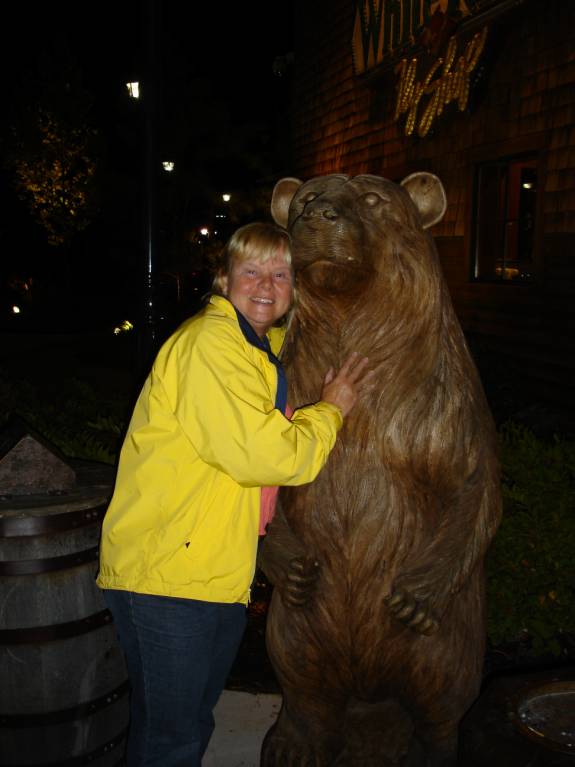 09/24/06 SUNDAY BRANSON, MO TO ST. CHARLES, MO
We enjoyed breakfast at the Cracker Barrel Restaurant. There is usually a waiting line but it is worth it.
The rest of the morning was shared with relaxing and chatting with these wonderful young folks. It is such a pleasure to see their life doing well and to see the happiness that fills their hearts. We thank them so much for sharing it with us.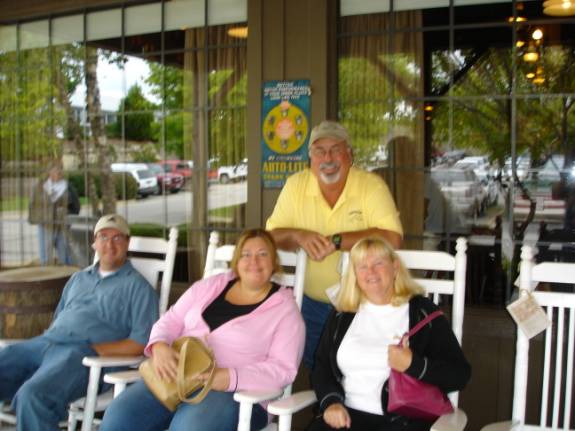 After the long drive back to St. Charles, Sharyn still had some projects to finish up that night. We bid them good night and headed back to the boat. On the way, we decided to check out a little bar and grill that the kids had recommended. Located in old downtown St. Charles, "Lloyd and Harry's" serves up food in the same style copied from Fast Eddie's in Alton. We enjoyed the same type of great Blue Moon Ale, shrimp, and burgers.
With joyous memories of a great weekend with Jeff and Sharyn, Judy and I were comfortable and enjoyed another wonderful night aboard AMARSE.
09/25/06 MONDAY ST. CHARLES, MO
Today was a great day to take care of odds and ends. Of course, we did a lot of little boat chores too. Judy tackled the laundry chore. I removed the bent propeller from the dinghy outboard motor. As you may remember, we bent it while shooting the rapids in the Georgian Bay of Canada. We used this close proximity of a prop shop to do the repairs. Central Propeller was most cooperative in getting the work done quickly and economically.
Judy and I suggested that if we would bring the food, perhaps Doug and family would provide the house. They agreed and we brought three large roasted chickens, mashed potatoes, croissants, and triple chocolate cake. We gathered around the table at Doug and Lisa's and enjoyed the sumptuous feast. It was nice that Allen Corti could join us too. He has been a great friend of Doug's and the family for many years. Allen is a very skilled guy that does very nice work at remodeling and construction. He has generously helped Doug a lot on many projects.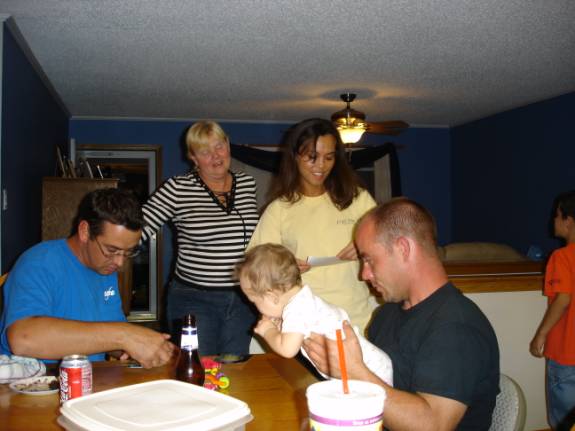 I think Ashley liked the triple chocolate cake the best.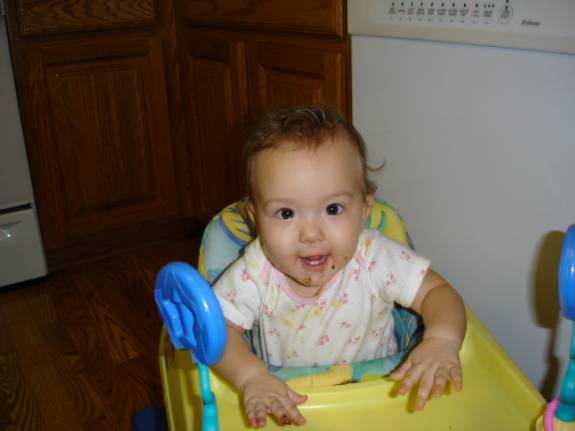 Austin really loves his baby sister. He is gentle with her and takes very good care of her.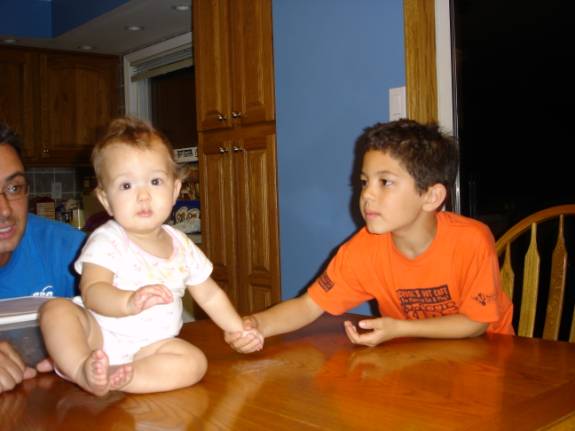 09/26/06 TUESDAY ST. CHARLES, MO
Today was another day of intense maintenance work on AMARSE. As many of you know, these boats require a significant amount of preventative maintenance to keep running smoothly. As I get older, it gets tougher and tougher to get around in the small, confined compartments deep inside the boat and engine room. The list was still long and I had worked myself to near exhaustion by late afternoon.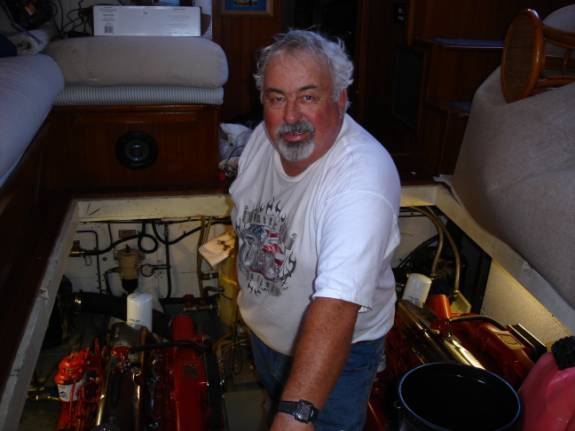 I had reached a point of frustration with a pump that I was using to change transmission fluid. Then, wouldn't you know it, the support braces on the lower floorboards broke. Fortunately, my son Doug, offered to come over after work and help out. He jumped in and took over for his tired out Dad. He fixed the pump, finished the transmission, and reinforced the floor braces. What a guy! Thanks, Thanks, Thanks, Doug!!!!!!
We cleaned up a bit and chose Lloyd and Harry's Bar & Grill. Doug and Lisa schmoozed one of the other grandparents into watching the grandkids while Mommy and Daddy joined us for beers and stuff. The place isn't very fancy but it is good and it is fun.
09/27/06 THURSDAY ST. CHARLES, MO
OK, today was another full day of boat maintenance. For those of you that are interested in mechanical things, here is the partial list of the stuff we've accomplished during this stay:
Both engines oil changed with Rotella T SAE 40

Both engines oil filters changed

Primary drinking water filter replaced

Both primary RACOR fuel filters replaced with 2 micron

Cleaned out sediment bowls

Both main batteries changed with 4D, Dual-purpose (185 amp/hrs ea.)

Several elec/batt cables-new terminals soldered

Repaired grounding cable

Battery posts treated with anti-corrosion spray

Battery covers/lower floor board side braces reinforced with SS 3" screws

Transmission fluids changed with Castrol ATF

Lower Garmin GPS 182C installed with new antenna and mount. Power TB1 #5

Uniden UM525 VHF installed at lower helm including new faceplate mounting

Uniden WHAM X 4 remote wireless controller installed at starboard access doors at upper helm. Power from fused bus in starboard locker.

Cigarette lighter/ DC power plug replaced at upper helm

Exterior teak wood sanded and several coats of Schooner Yacht Varnish applied

Lower helm windows treated with Rain-X

Exterior canvas window snaps lubed with SuperLube.

Scraped and re-sealed cabin windows with 3M Brand 4000
Much, much more including lots of straightening and cleaning. My heartiest thanks to Judy and Doug. You guyz make my life great!!!!
The kids were celebrating their Mom's birthday tonight. Judy and I decided to go to my favorite of restaurants. Maggiano's Little Italy is a small chain of places that have the look and feel of an old family-run restaurant. The food is incredibly delicious and the portions are huge. Judy and I can share a half order of Caesar Salad and then split an order of Lasagna. It is, without question, the best lasagna in the world. I would urge all of you that enjoy Italian food to locate a Maggiano's soon and treat yourself to the finest. My friend, John Neumeister, introduced me to Maggiano's in Denver, Colorado. Since then, it has been my restaurant of choice. John and I have enjoyed these great dining establishments in several different cities across the US.
I will continue the update in the next installment. I don't want to make these email postings too large for some of the computers that have slower internet services. I'll try to get the next one out soon and eventually catch up. Thanks for your patience.
ATTENTION: SPECIAL NOTE:
My Verizon AirCard that operates my computer internet still operates slowly and sporadically. The coverage areas are not as good as we had hoped. We will be sending out updates when we can.
Judy has Cingular Wireless cell phone service. It seems to work even better than the Verizon Wireless. Judy can be reached at 361-550-5353 and Fred can be reached at 210-296-4933. We can be reached at either number. Please call us if you like, we'd really like to hear from you.
"AMARSE". is pronounced "AM-ARE-SAY". Our website is: www.amarse.net .
Check it out while we will attempt to keep you informed via email
We would like to hear more about what is happening in your lives. Let us know as we very interested in what's going on with our friends and family. Please call or email us with your thoughts and comments and ideas too. Thanks
Lot of Love,
Fred Reed and Judy Law
AMARSE
MT40