Howdy Everybody,
UPDATE #23 09/08/06 through 09/15/06.
The period 4/1 thru 9/07 has been covered in Updates 1 through 22.
We are very interested in hearing from ya'all. If you have missed out on any of the previous emails and would like us to re-send them, please let us know.
Please let me know if these emails containing pictures are too large and we will send you a version with text only.
09/08/06 FRIDAY CHICAGO, IL TO JOLIET, IL
At 6:40 am under a clear, pre-dawn sky, we moved off the dock wall.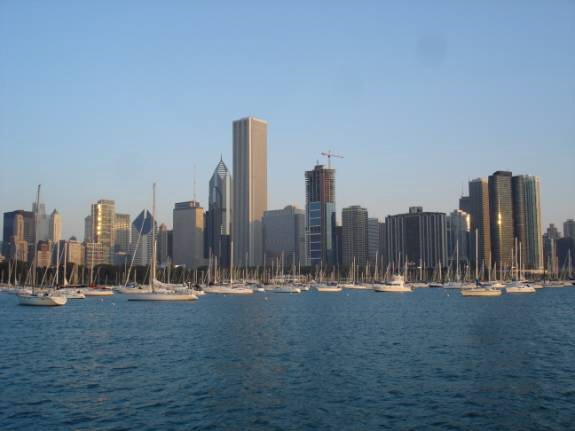 "Triumph" was already underway and we met up at the lock gate. This lock was designed to reverse the flow of the Chicago River. Instead of a natural flow into Lake Michigan, the lock enables the waters to flow south into the Illinois River and beyond.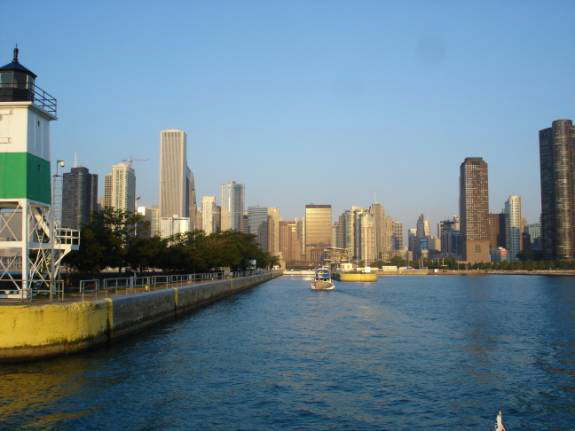 The low rising sun was at our backs as we exited the lock at 7:08 am.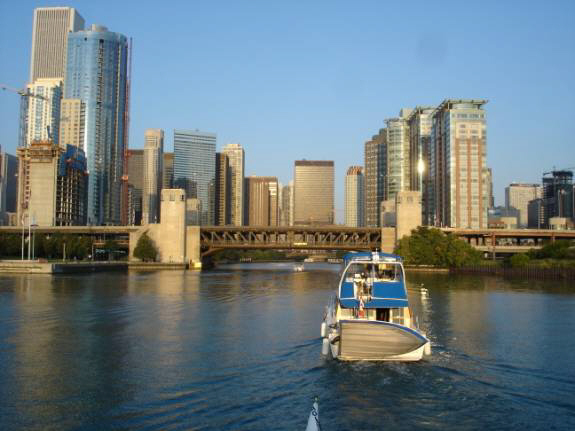 There are some moments that are so awe inspiring that they make a lasting impression on the viewer. A trip through downtown Chicago in your boat is just one of those moments. As we pass under the many low bridges that are only inches above our heads, our eyes are wide and necks strained to take in all the beauty that surrounds us. We rank this experience with seeing the "Statue of Liberty". The magnificence will be etched in our memories forever.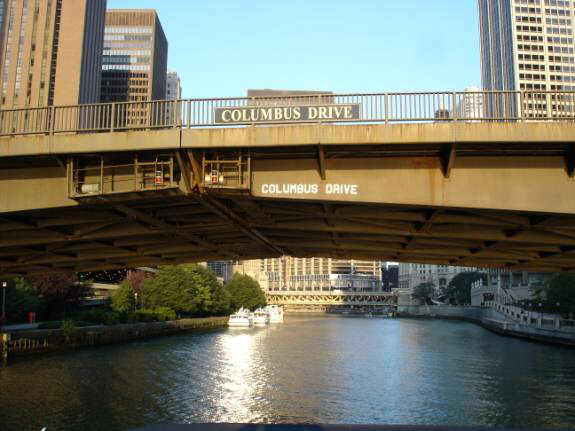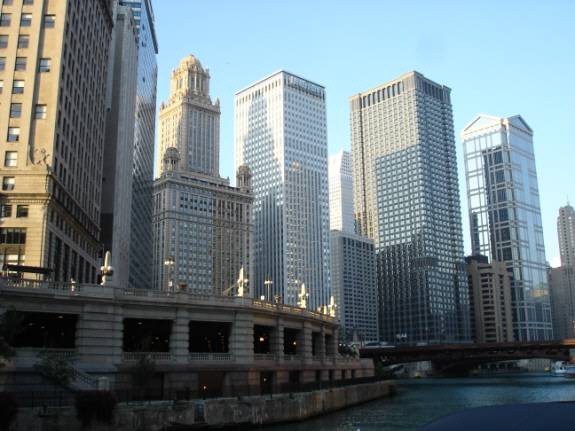 We had to wait for a couple of trains to pass the AMTRAK Bridge before it would open for us.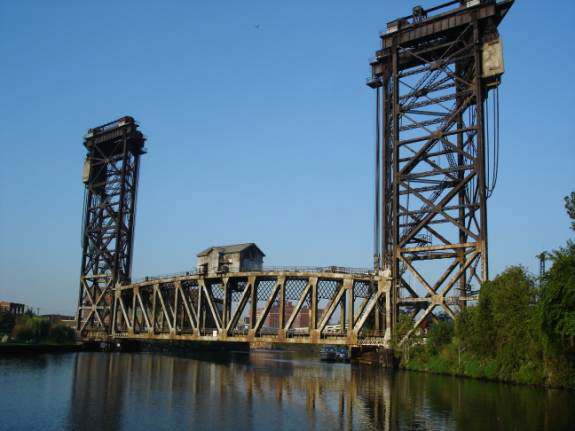 There are two routes leading south out of the Chicago area. The most impressive is the "downtown" route that we took. For those boats unable to pass under the bridges, an alternate route known as the "Cal-Sag" route will allow up to 19' 2". These two routes meet at mile marker 303.4 on the Illinois River route.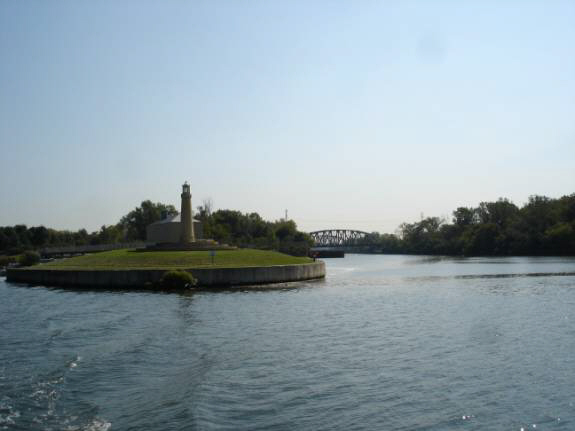 The commercial tow traffic can be quite heavy along this route. Many areas are used to stage the barges being made ready to load or unload. Often, there is little room to pass or maneuver.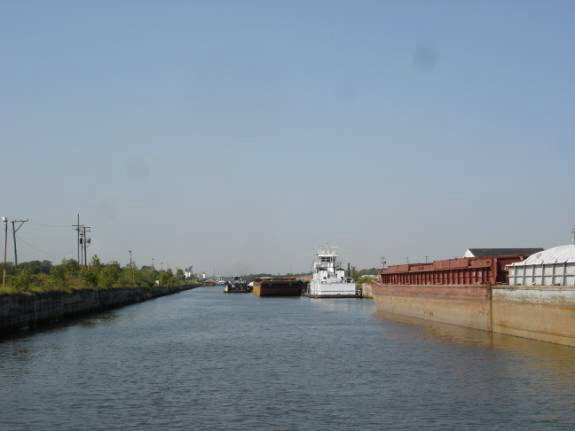 Our second lock was the Lockport Lock at mile 291 at 11:55 am.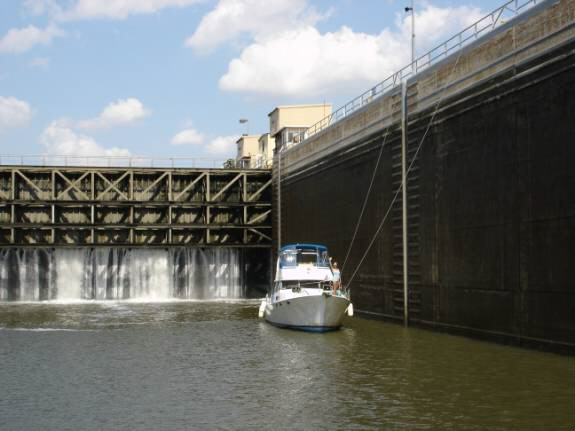 Our destination was Joliet Bi-Centennial Park. This is a free dock provided by the city for transient boater and includes full electric power in the light post stands. We were secure at 1:45 pm. We enjoyed cocktails with Dan and Cindy before dining on her special, homemade spaghetti delight. The local police chief visited us on his off-duty hours. Seems he and his wife have the dream of doing the "Loop" trip after he retires in a few years. It was a pleasant visit and fun to give advice about our way of life.
POSITION: N41 31.587 W088 05.227
09/09/06 SATURDAY JOLIET, IL TO OTTAWA, IL
At 6:15 am, I placed a phone call to the next lockmaster. Thirty minutes later, in the company of "Triumph", we were underway down the river route. Our phone call had paid off and we exited the Brandon Roads Lock at 7:30 am. At 9 am, we were at the confluence of the Des Plaines, Kankakee, and Illinois Rivers. These three important waterways join to become the Illinois River.
After a 30-minute wait, we entered the upstream side of the Dresden Island Lock. "Missy B", with Larry and Doris Goby from McAllen, Texas joined us in the lock.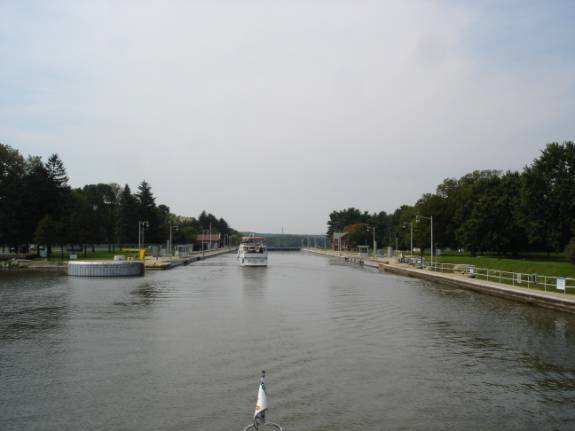 It took another 30 minutes to lock down and we exited the lock at mile 271.5 at 10:04 am.
With only a 15-minute wait, we entered the Marseilles Lock at mile 244.6 at 1:05 pm. We had a very interesting experience in this lock. As the rapidly descending waters in the lock strained the lines holding us at the wall, the bowline unexpectedly snapped. The lock provides these lines and apparently this one had a defect. This caused the bow of AMARSE to veer out away from the lock wall. I hopped up to the helm and engaged the transmissions to power up AMARSE. I had Judy let go of the stern line and we motored into the center of the lock to finish the locking sequence. I'm very glad that the engines were still running and that the lock was not crowded with other boats. What could have been an ugly situation turned out to be only mildly shocking. Once again, it's great to be traveling with "Lucky Judy". By 1:28 pm, the lock was in our rear view mirror. By 2pm, we were tying up to the city dock at Ottawa, Illinois.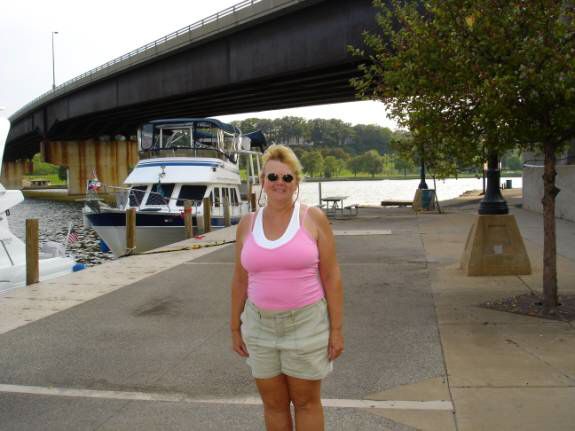 "Triumph" found berth in a nearby slip. John Mobley, a "Looper" that completed his passage last year, met us at the dock. We had called him for some local info. He has been working with the local community to improve the city dock and improve local business. They offer a free dock with electric power to transient boaters. This has had a very positive impact on their downtown business and makes it great for the traveler. Already there at the dock, John and Sue from "Miss Liberty", met us at the town ice cream parlor.
We walked the lovely town and visited the sight of a Lincoln-Douglas debate.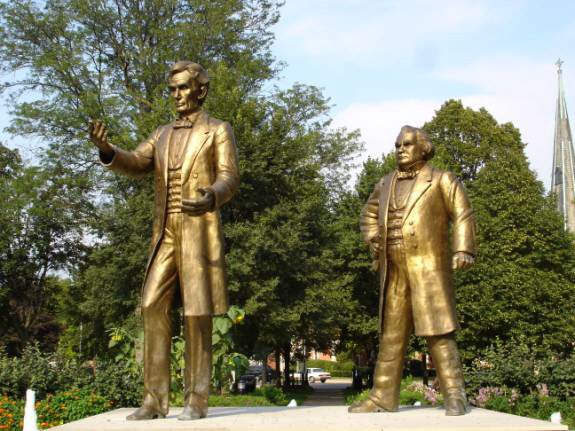 The local Presbyterian Church had their Lasagna dinner fundraiser that night. We enjoyed it and then went to a local pub to enjoy a "cool one".
POSITION: N41 20.630 W088 50.483
09/10/06 SUNDAY OTTAWA, IL TO HENRY, ILLINOIS
"Triumph" has decided to stay again at Ottawa and partake of more of this marvelous hospitality. Dan and Cindy are from Ottawa, Ontario in Canada. They find it unique to be here in this small town sister city. "Miss Liberty" was also staying on for another night.
AMARSE decided to move on down the river. I called the next lock that was nearly an hour away. The lockmaster recommended that we head that way and he would do what he could. We arrived at the Starved Rock Lock at 8:45am. We were advised that it would be a long wait and that we could tie off to a large piling called a "Dolphin". This huge concrete and steel piling is round and about 75 feet in diameter. We fendered the boat well and I maneuvered along side while Judy attached a line from the center cleat of AMARSE to a steel ring attached to the piling. We then attached lines to affix the bow and stern of the boat. After a couple of hours, another boat approached the dolphin and we helped them tie off to the downstream side of the piling. As the hours passed, the wind was increasing. We now had brisk winds and the current pushing us up against the round piling. We spent a good amount of time analyzing a safe way to come off the piling. It would be easy for Al and Sue on "Adventure II" since they were on the downwind side. After nearly 5 hours, we got the call to enter the lock between a split barge tow. We put our plan into action and we came off the dolphin nicely. Whew! At 1:45 pm we entered the lock and were lowered in 20 minutes. As we exited, the wind was still howling and we maneuvered around the waiting tugboat nearly up against the gates. We did get an apology from the lockmaster for the long wait. Oh, well. It had taken us almost five and a half hours to get through.
The delay would make it impossible for us to make our planned destination. We shifted to Plan B and located an old lock wall suitable for the night at Henry, Illinois. The Henry Marina now claims title to this historic wall and has placed electric outlets and tie-off rings for transient boats. For the economical price of $.50/foot, you have a secure spot for the night. We were fortunate to be here on Sunday night. The marina restaurant has a buffet that is wonderful. Great Roast Beef, as well as Chicken and other dishes, makes for a delicious dinner experience. And did I mention that they also serve "Blue Moon Ale"? That stuff is almost as good as "Bell's Oberon".
It is interesting that this abandoned lock wall dates back to the early 1800's. At first glance, it looks a little intimidating in its current state of disrepair, however, it ends up being quite a good spot.
POSITION: N41 06.592 W089 21.045
MM 196.1 ILLINOIS RIVER
09/11/06 Monday HENRY, ILLINOIS TO PEORIA, IL
The morning was overcast and raining. The forecast was for rain throughout the day. We were tied to the wall of an old, abandoned lock. Originally part of the Illinois-Michigan Canal, the structure served from 1876 to 1933.
For breakfast, Judy made delicious pancakes that were overflowing with juicy, fresh blueberries.
A partial clearing around noon allowed us to walk into the town. Soon, the sun came out and we decided to leave for parts south. At 1:30 pm, we were underway.
At 4:35 pm, we approached the dock at IVY Club. The Illinois Valley Yacht Club is a favorite stop for "Loopers".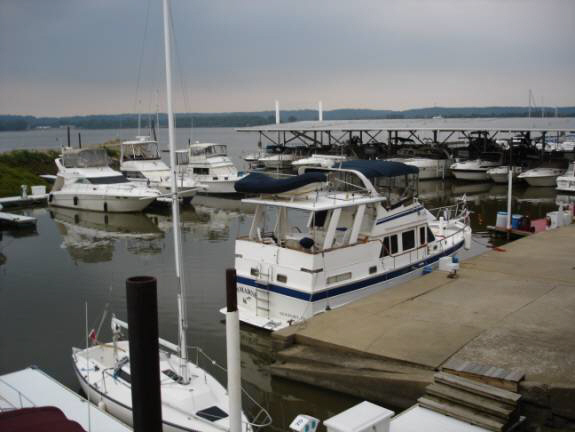 We had called John and Dot Henderson, who live in Peoria, IL. They agreed to meet us at the club where they have been members for many years.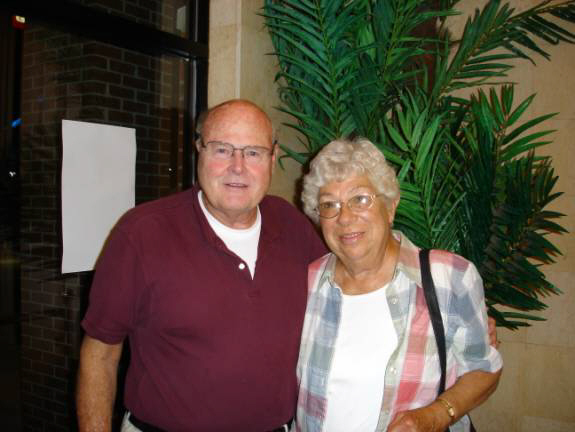 Judy and I had the good fortune to meet these wonderful folks earlier this trip. We were together in the Les Cheneaux Islands harbor at Hessel, Michigan. After cocktails and great conversation on AMARSE, we went with them to their favorite Chinese buffet.
It was a very enjoyable evening. It rained again most of the night.
09/12/06 TUESDAY PEORIA, IL TO BEARDSTOWN, IL
We were off the IVY Club dock at 6:45 am and joined company with Ocean Flyer and Bonas IV. It was a cloudy, overcast morning. Ariel, Popeye, and another small boat joined us as we entered the Peoria Lock at 8 am.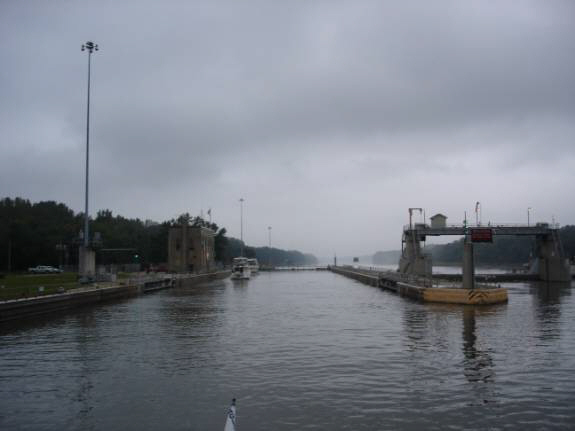 Twenty minutes later, we all exited the lock at mile 157.6.
As we approached Havana, IL, we could see the outline of a large riverboat paddle wheeler. It was the famous "Delta Queen". We had last seen her in New Orleans when we passed through in April. It's nice to see her back on the rivers where she has plied these waters for so many years.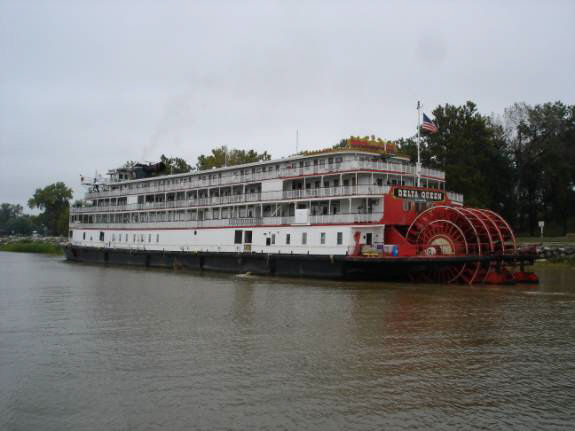 We continued at our leisurely pace down the Illinois River reaching Beardstown, IL. at 3:30 pm. This quaint, small town has a municipal dock, however, it is generally unsuitable for boats of our size. We opted to use Logston Towing Services facilities. It is not really a marina. The company operates towboats and uses these old stationary barges as their base. For $30, they allow you to tie-up to their rather rusty barge with no services for electricity or water.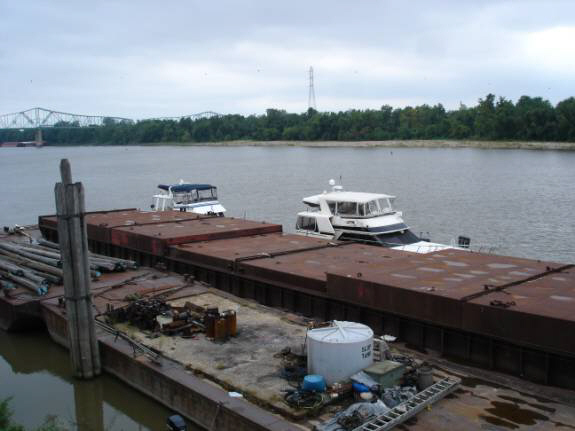 Oh, well…. It's probably better than trying to find a safe place to anchor for the night. Judy and I strolled around the town and visited the local grocery store. Fortunately, Jean and Pricilla from Ocean Flyer agreed to have dinner with us at the Restaurant/Bowling Alley.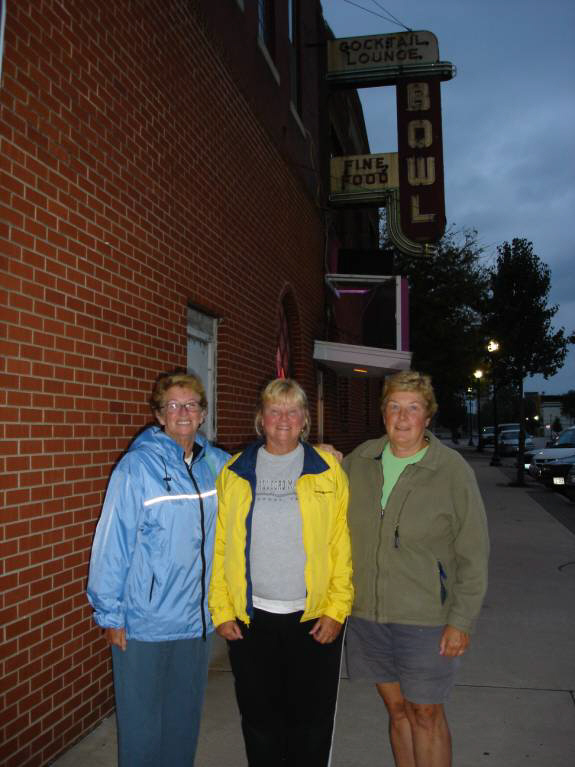 Judy chose the pork chops and I decided on the Walleye fish plate. It turned out to be a pretty nice dinner with exceptionally wonderful friends.
POSITION: N40 01.039 W090 26.331 Mile 88.2
09/13/06 WEDNESDAY BEARDSTOWN, IL TO ST. CHARLES, MISSOURI
We all agreed to depart the Logston Barge dock at 6:30 am. After numerous attempts to contact the LaGrange lockmaster, we finally got through only to learn that we would have a significant wait due to commercial traffic. At 7:45 am, AMARSE dropped anchor just north of the gate. With a radio call, we arranged permission to tie to the upper wall of the lock. This was better than anchoring and poised us for easy entry into the lock when called.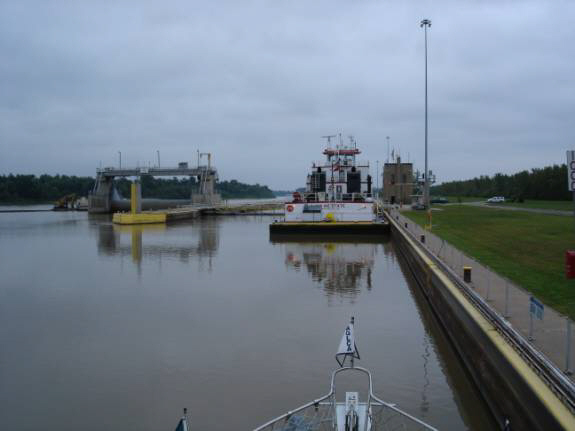 Upon leaving the lock, Ocean Flyer, Bonus IV, Nautikall, and two other boats charged on by us heading south at a pace faster than AMARSE.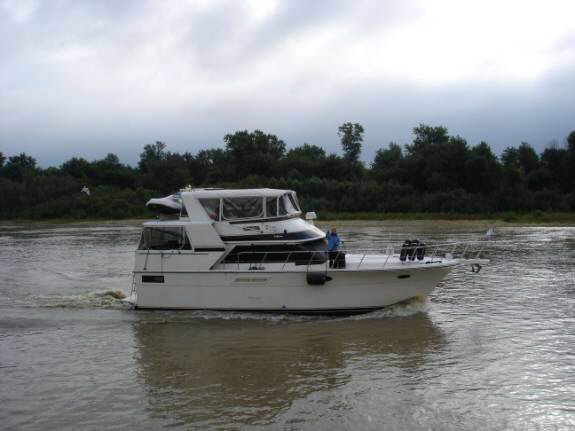 We were at Mile 80.4 on the Illinois signaling that many more miles to Grafton, Illinois and the confluence of the Mississippi. Our original plan was to stop at the Illinois Restaurant dock, located at mile 20.9, for the night. Our down river speed was doing well and we opted to continue on southward.
Around Kampsville, IL, we saw an old riverboat alongside the western bank. I recognized it as the old "Showboat" that had been docked in St. Charles, Missouri on the Missouri River many years ago. This is the same boat made famous by the stage production and movie "Showboat". It was of particular interest to me as both my son and daughter had worked on this boat. Doug worked in the kitchen service. Sharyn was one of the "Stars". She played the leading role in "Beauty and the Beast", as well as, the lead in the production of "Hansel and Grettel". There may have been others. The boat now lies dormant along this quiet shore but a long and rich history still lies within her hull. Perhaps, someday, this old and proud vessel will come back to life to thrill audiences once again.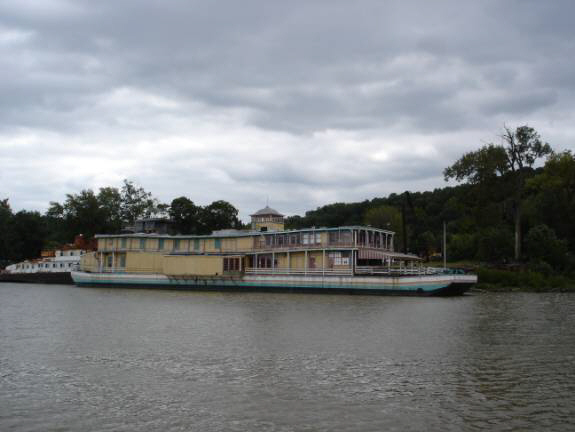 We made some phone calls and we were offered a very good dockage rate at Polestar Marina on Dardenne Slough, just off the Mississippi River mile 221.8. This would be an ideal location from which to visit Fred's kids and grandkids. So, at 5:07 pm, we turned off the Illinois River, thus completing another milestone of our journey, and turning north on the mighty Mississippi River. Illinois River mile 0.0 is collocated with Mississippi River mile 217.9. That number is miles that we would travel southward to Cairo, Illinois and the confluence of the Ohio River. Our detour to the north would only take us a few miles out of the way. We had been offered the use of a friend's dock at Harbor Point Yacht Club. Steve Beard, a long time friend and sailing buddy, keeps his slip even though he now lives in Chicago. This is the same harbor where I kept my Tartan 37 sailboat for many years. We decided to decline his generous offer so that we would be closer to the kids.
At 5:50 pm, we were tied alongside the end of a large covered dock. Karen met us and helped with the lines. This was a very nice spot and convenient too.
A phone call brought Jeff and Sharyn, they're Fred's daughter and son-in-law, out to the marina. We had cocktails aboard before heading to historic downtown St. Charles. Dinner at the Brewery was very good. Thanks Jeff and Sharyn.
POSITION: N38 55.939 W090 28.571 MISSISSIPPI MILE 221.8
09/14/06 THURSDAY ST. CHARLES, MISSOURI
A nice couple, Doug and Abby Thomas from "Abby Leah", keep their boat docked here full time. They are former "Loopers" and invited us to join them for breakfast. They drove us to CrackerBarrel Restaurant for a delicious meal. We also got to stop at the Wal-Mart and West Marine.
With a pile of laundry accumulated, we utilized the facility at the marina and puttzed around the boat. Jeff and Sharyn picked us up and took us over to Doug and Lisa's home. They are Fred's son and daughter-in-law.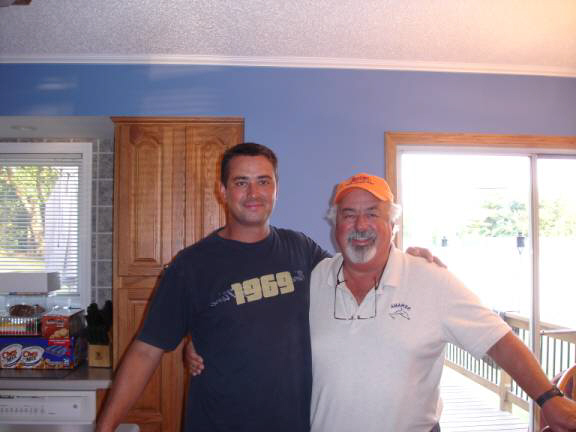 His grandson, Austin, was there to greet him with loving arms.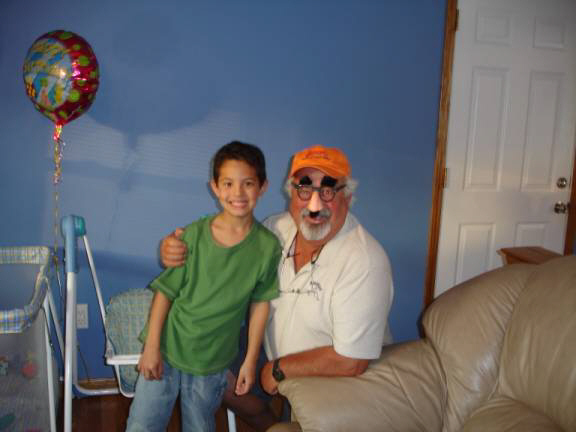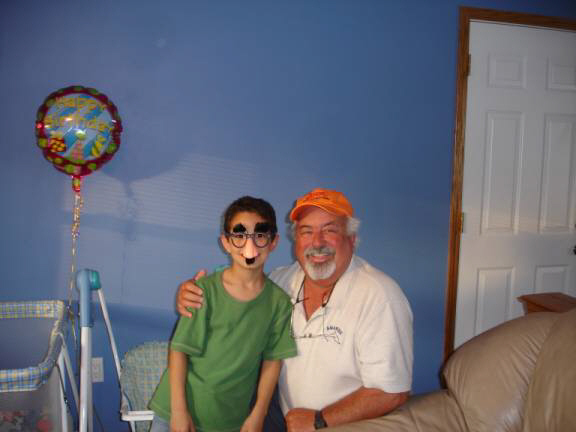 It was also Fred's first look at his granddaughter, Ashley. What a wonderful treat!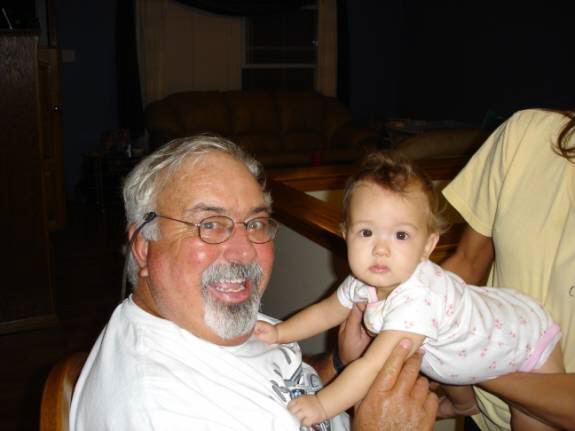 We all went to El Maguey Restaurant for some Mexican Chimichangas.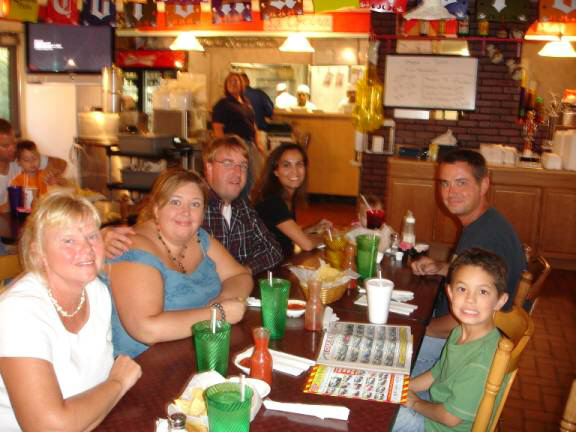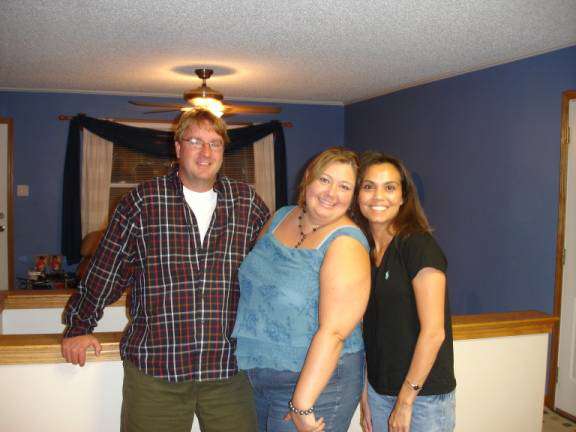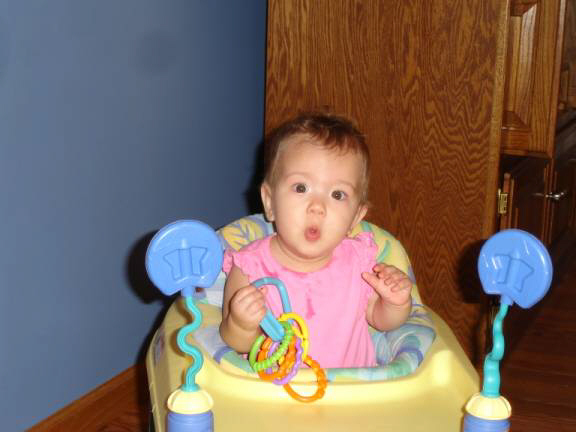 Since Austin's birthday was last week, we gave him our presents, which we had saved for this time. It was a wonderful evening indeed.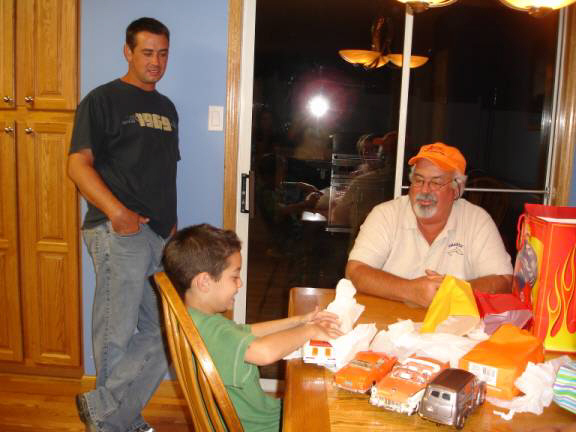 Doug loaned us his extra work car to run around in while we are here. With the marina only about 15 minutes away, we were well set.
09/15/06 FRIDAY ST. CHARLES, MO
The weather today is just about as perfect as it can get. We took a relaxing morning to drive over to Harbor Point Yacht Club. It is a dockominium complex where each slip is owned by individuals. The group owns the clubhouse and common grounds. Fred had owned a slip here in the early 90's. We visited with Keith Wagner, a friend who has been a live-aboard resident of the harbor even before Fred. He had visited in Texas many years ago where we sailed together on Jeannie Lin. It was nice to see him again after these many years.
We continued our road trip along the Great River Road to Alton, Grafton, and Pere Marquette State Park in Illinois. We saw our friends Ivor and Susan aboard "Lazy Susan" arriving at Grafton, IL marina.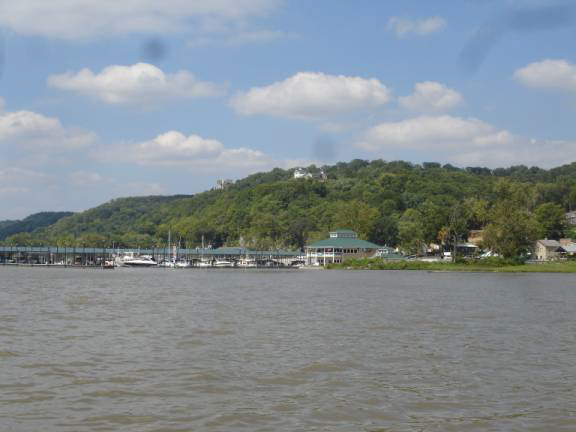 We hurried over to help with the lines. It was a turn-around in as much as Ivor is always saying that "he" is the one that is always there to catch our lines. It was fun.
We hurried off aboard the Grafton Ferry boat toward St. Charles.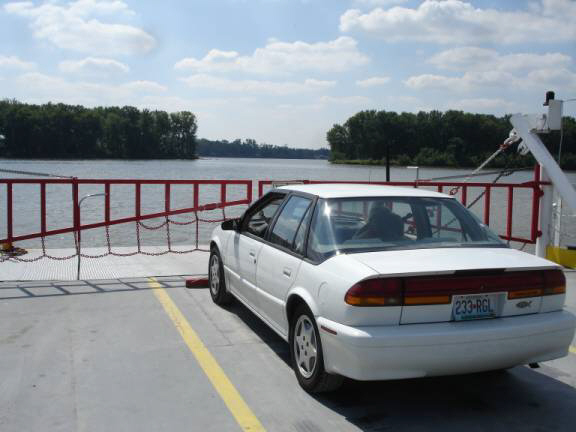 We met Jeff and Sharyn at the Great Wall Buffet for a Chinese lunch. Very good food and it's sure fun to be with the kids. We were invited to their home to enjoy the pool. We swam and splashed to our hearts content on this lovely warm afternoon. Judy sat me down for a much needed haircut. We bought some pizza and beer to take to Doug's house. We picked up a movie video for the evenings entertainment. It seems that some of this younger generation needed some "education". Most could not answer some simple questions like "Who was Joliet Jake?", "Who was Elwood?", What was the "mission from God?". The only way to "educate" would be to have them watch the movie "The Blues Brothers". Now if any of you cannot answer any of those important questions, I urge you to pick up the movie for "educational" purposes.
We welcomed the restfulness of the boat that night.
We plan to stay here in St. Charles for a while to enjoy family. We will update again when we can.
ATTENTION: SPECIAL NOTE:
My Verizon AirCard that operates my computer internet still operates slowly and sporadically. The coverage areas are not as good as we had hoped. We will be sending out updates when we can.
Judy has Cingular Wireless cell phone service. It seems to work even better than the Verizon Wireless. Judy can be reached at 361-550-5353 and Fred can be reached at 210-296-4933. We can be reached at either number. Please call us if you like, we'd really like to hear from you.
"AMARSE". is pronounced "AM-ARE-SAY". Our website is: www.amarse.net .
Check it out while we will attempt to keep you informed via email
We would like to hear more about what is happening in your lives. Let us know as we very interested in what's going on with our friends and family. Please call or email us with your thoughts and comments and ideas too. Thanks
Lot of Love,
Fred Reed and Judy Law
AMARSE
MT40