Howdy Everybody,
UPDATE #22 09/01/06 through 09/07/06.
As you may have noticed, I am quite a bit behind in the Update emails. Please excuse this tardiness. It seems that we have been enjoying our trip so much that we haven't reserved enough time to get all the paperwork done. Anyway, I have made notes all along and will eventually catch up to a timelier pace. We hope you enjoy these belated postings.
The period 4/1 thru 8/31 has been covered in Updates 1 through 21.
We are very interested in hearing from ya'all. If you have missed out on any of the previous emails and would like us to re-send them, please let us know.
Please let me know if these emails containing pictures are too large and we will send you a version with text only.
09/01/06 FRIDAY GRAND HAVEN, MICHIGAN
The morning weather here in Grand Haven was pleasant and peaceful. As you may remember, we had arrived here last Tuesday. Our plan is to remain here in this port until after the Labor Day weekend. Centrally located, Grand Haven provides the excellent choice to visit friends and family. It was also chosen to enable us to re-provision and stock-up on needed supplies.
We picked up our Enterprise rental car and headed south to Holland, Michigan. This was the long time home of our friend, Bob, now residing in Mexico. He recommended that we luncheon at Russ' Restaurant. This is a local chain that has been in business for many years. Bob recalled that his Mom was a car hop back in the original restaurant those many years ago.
In the afternoon, we headed back to the boat for a wonderful visit from Harriet and Sandy Law. Harriet is Judy's Mother-in-law. Sandy, Judy's Sister-in-law, drove them both for over 4 hours from Indiana to visit.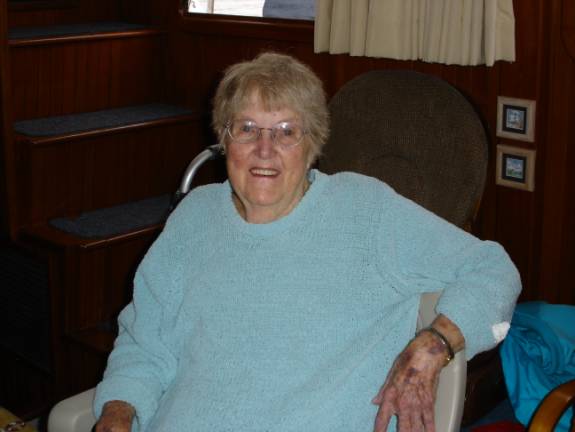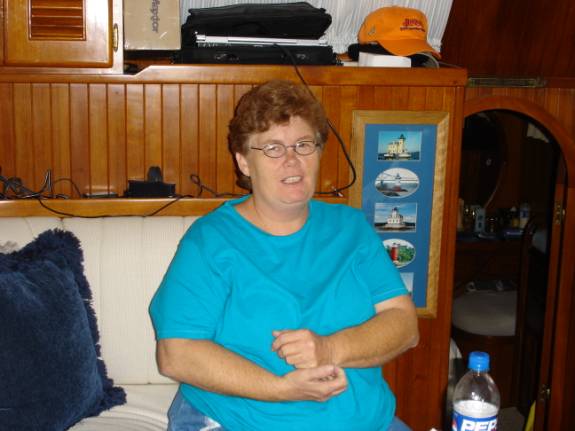 Some years ago, they visited us in Texas and we had the chance to go sailing aboard Jeannie Lin. Although we didn't have the chance to go out this time, we did enjoy a wonderful time together and a nice dinner aboard AMARSE. We dined on delicious Gourmet Chicken Pies and fresh cheese bread rolls. Both Judy and I love these folks so very much.
Judy and I were pleasantly entertained at the evening performance of the Light/Sound/ and Water Show featuring the Big Band sound.
09/02/06 SATURDAY GRAND HAVEN, MI
Judy hurried over to the Saturday morning Farmer's Market. We enjoyed another fresh Danish pastry and some more fresh fruits.
We headed off for sightseeing and visiting. Judy directed us to Gun Lake. She had lived there in the lake house for many years. Some of her former neighbors still live there and we were fortunate to get together with Dick and Jean Granger, daughter Renee, and brother Pat. With the beautiful view of the lake in the background, these long time friends enjoyed reminiscing and chatting about the past, present, and future.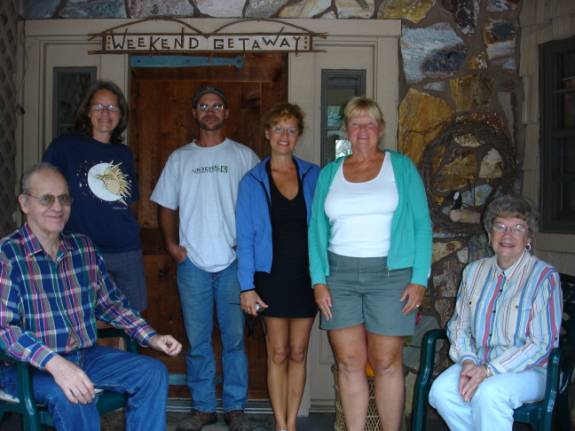 Several doors away, Sue and Jerry Osborne provided another opportunity for friends to visit with friends. Sue and Judy were very close friends during the lake years.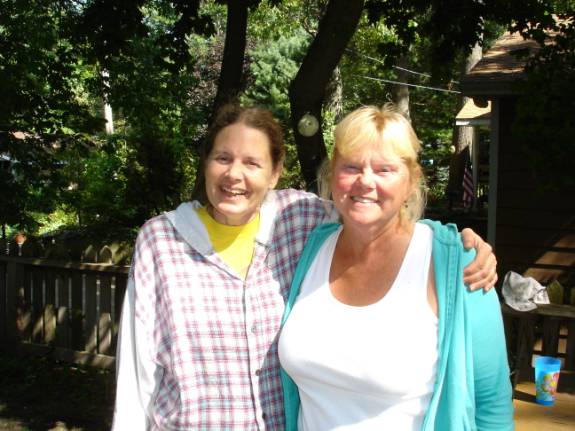 Amy, Sue's sister, was there too. A hot dog cookout was a great way to enjoy lunch.
Our trip took us on to Kalamazoo. Judy grew up in this area. We had the opportunity to visit with Judy's Mom, Alma Ordiway. She now lives in an assisted living home and seems to be doing well. Unfortunately, Alzheimer's has claimed some of her memory.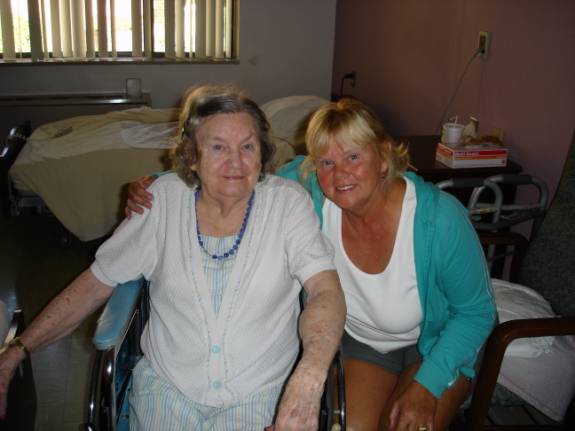 Our next visit was to the home of Hank and Gwen Kulesa. These wonderful folks were teaching in the school that Judy and her brother attended. They have maintained a special friendship over these many years. Dean, Judy's brother, often visits and travels the world with them. Judy and I enjoyed chatting and looking at some of the pictures from their extensive travels.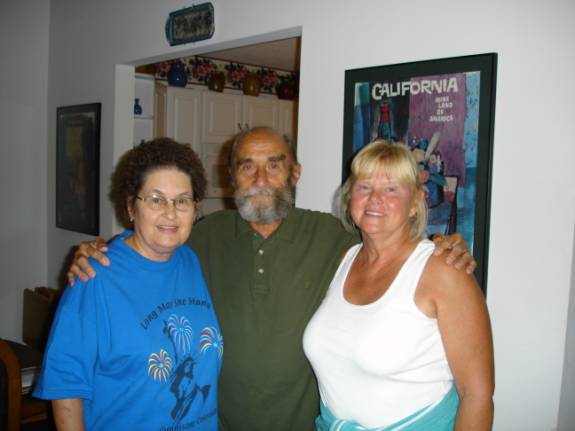 As we returned to the boat, we took the opportunity to visit the Beltline Bar in Grand Rapids, MI. They are famous for their "Wet Burritos". We enjoyed every bite of these huge Mexican delights.
09/03/06 SUNDAY GRAND HAVEN, MI
It was up early again this morning for breakfast at Shoney's Big Boy. This was a favorite spot for the Law family in the Michigan days.
This was to be a coastal sightseeing day. We visited Holland and it's harbors. On to South Haven and, then, Benton Harbor and St. Joseph. We found our friends, Ivor and Susan from "Lazy Susan" at Pier 33 Marina. Ivor was having trouble with his new camera and smoozed us into taking him to Best Buy for a change out. Cindy and Dan from "Triumph" came over by dinghy from Pier 1000. Skip Cook from "Popeye" and Jean and Pricilla from "Ocean Flyer" were docked at the West Basin Municipal Marina.
Back in Grand Haven, we gobbled up some "Wet Burritos" at the local "Tip-A-Few Bar". They have a weird law that prohibits beer sales but allows hard liquor drinks on Sunday. Who can figure that one out?
We thoroughly enjoyed the evening light/sound/water show featuring sacred music from the classic age.
09/04/06 MONDAY GRAND HAVEN, MI
Happy Labor Day!!!
Today was to be our shopping day. I had the opportunity to purchase some new electronics for the boat at a good discount. The West Marine store in Muskegon had what I wanted and we negotiated for the best price. With a new Garmin GPS 498, Uniden 525 VHF, and a Uniden WHAM X 4 in the bag, we continued with the mundane chore of grocery shopping. (Really, I love grocery shopping, however, it can't compete with "boat stuff").
We had enjoyed those Gourmet Chicken Pies so much the other night that we craved them again. Unfortunately, Harriet and Sandy couldn't join us again.
I installed the new GPS unit before attending the evening show of light/sound/water that featured so many of those Gershwin favorites.
09/05/06 TUESDAY GRAND HAVEN, MI TO SOUTH HAVEN, MI
When the Enterprise rental agency opened, I was ready to return the Ford Focus. They shuttled me back to the marina and by 8:55 am, we were motoring the short distance to North Shore Marina. They have one of the best prices on diesel fuel that we would encounter for many miles. We filled our tanks and, at 9:55 am, were heading out of the jetties into Lake Michigan.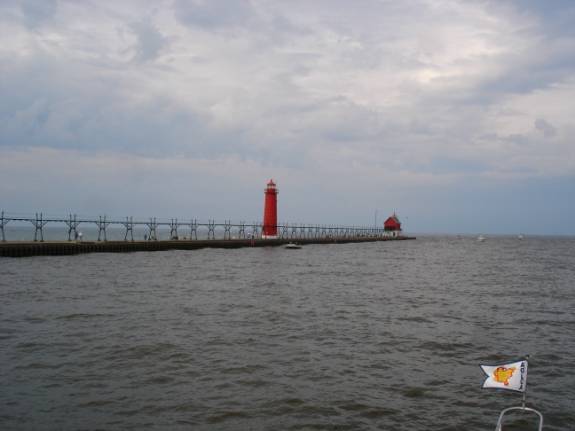 The weather and seas cooperated nicely to provide a comfortable passage to our slip on the south side of the South Haven Municipal Marina.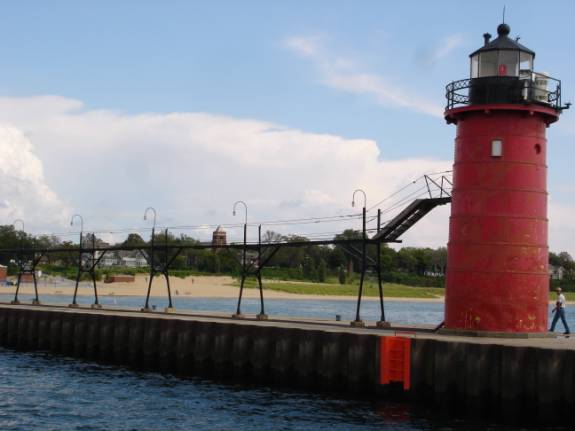 At the recommendation of Hank and Gwen Kulesa, we enjoyed a great meal at Clementine's Restaurant. Of course, we enjoyed some of that wonderful "Bell's Oberon Ale" along with our delightful dinner.
09/06/06 WEDNESDAY SOUTH HAVEN, MI TO CHICAGO, ILLINOIS
With a favorable weather window, we cast off at 7:05 am.
Our course was set for a nearly direct line to the Windy City. The seas were nearly flat and we silently thanked the weather angel for this almost perfect day. It may have been close to an hour of watching the skyline of the famous city grow larger and larger before we made our turn into the Chicago's Monroe Harbor.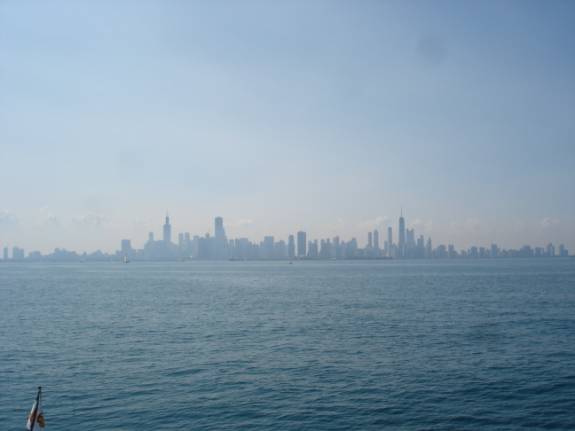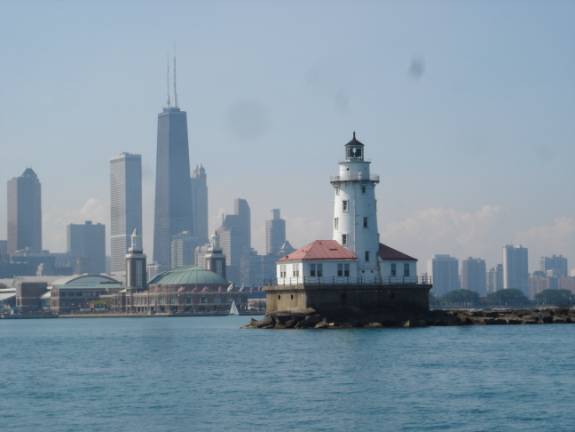 We had arranged for a spot along the seawall at Monroe Harbor. This location would be ideal for us to visit this magnificent city. At 3:15 pm, we were secure and closing up the boat for some afternoon sightseeing.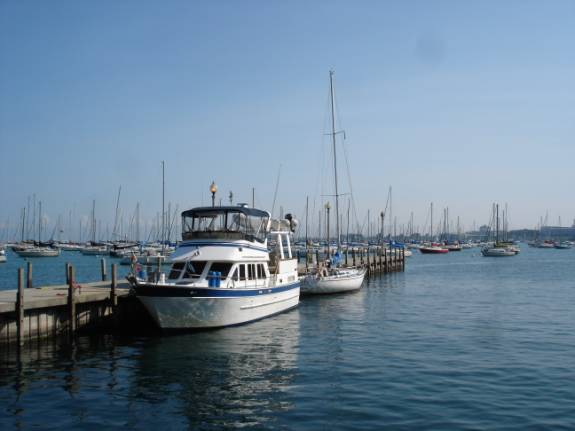 We quickly located Cindy and Dan from "Triumph". They were in the next harbor but agreed to meet us for dinner. Judy and I headed off for the downtown area. We located a cruise boat that would give us a wonderful 90-minute tour of the Chicago River and waterfront areas. I highly recommend this tour to visitors to the city.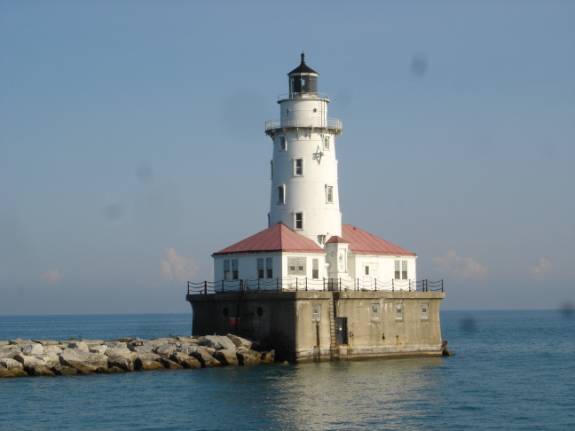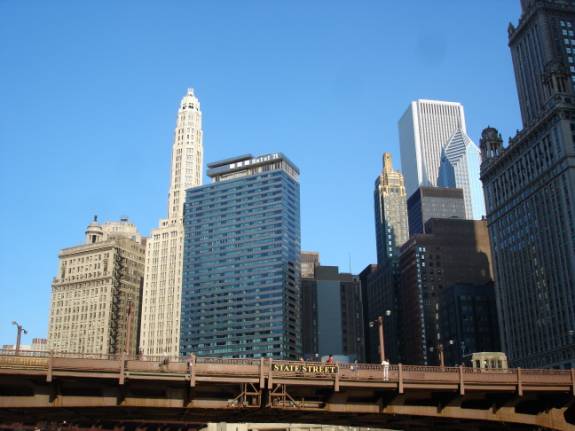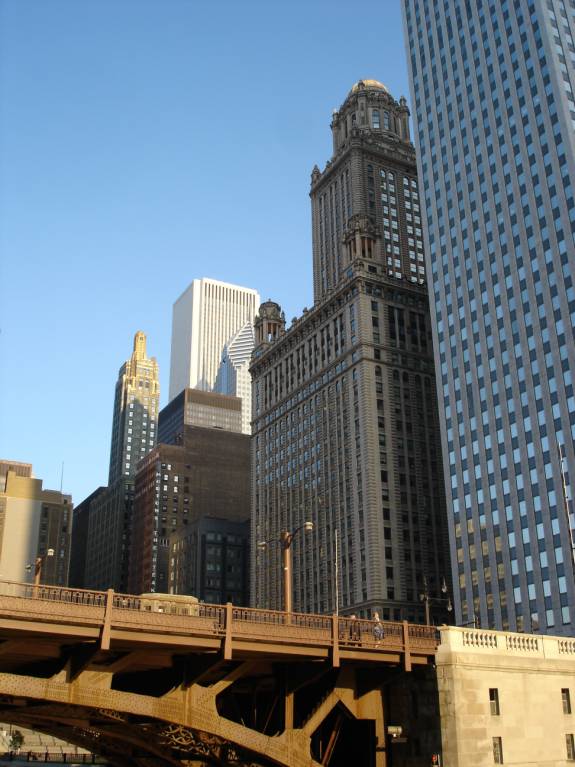 Cindy and Dan, along with their friends from Ottawa, Ontario, joined us at Bennigan's Restaurant in the downtown area. Their burgers are great and seem to go great with a nice, cold Blue Moon Ale.
We walked around this lovely city and had fun at Millennium Park. This wonderful complex park has fountains and the mirror-like "bean". It is a sculpture that is reflective and is marvelous. We also enjoyed the tranquil nature of a very large, colorfully lighted fountain at another park. What a great city!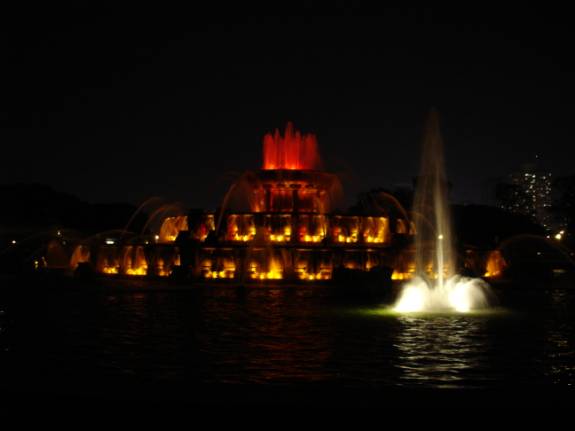 09/07/06 THURSDAY CHICAGO, ILLINOIS
We had made plans to meet Cindy and Dan to visit more of the city. Our first choice was a "Double-decker Bus" tour of the city.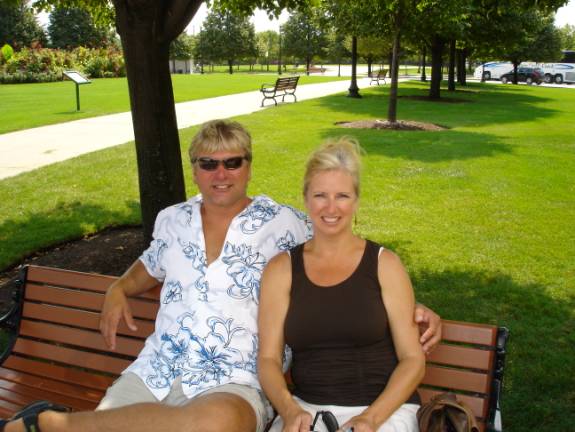 We bought the tickets for unlimited stops all day. We enjoyed the guided tour describing all the buildings and much of the history of the city.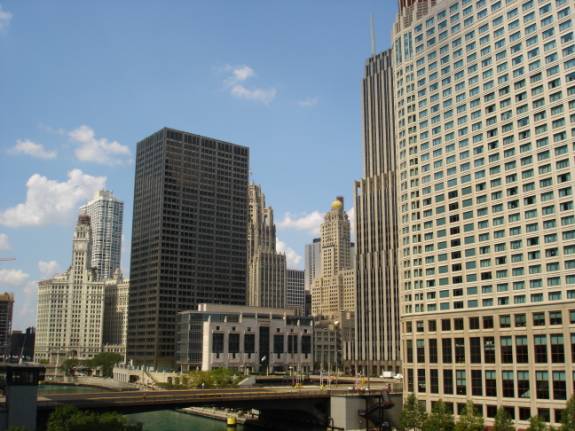 We decided to stop for lunch and chose a Chinese restaurant near the Sear's tower. Back on the bus, we continued the loop tour to Navy Pier.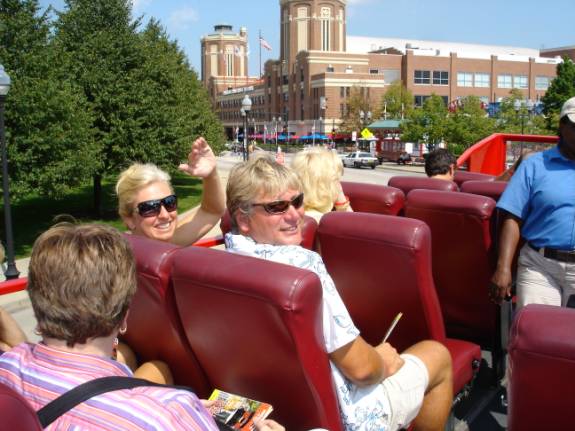 This former Navy base has been reconstructed into a tourist site with shops, restaurants, tours, etc. Interestingly, George Bush, Sr. attended flight school at this location many years ago. Judy and I took a ride on the huge Ferris Wheel that dates back to the World's Fair days.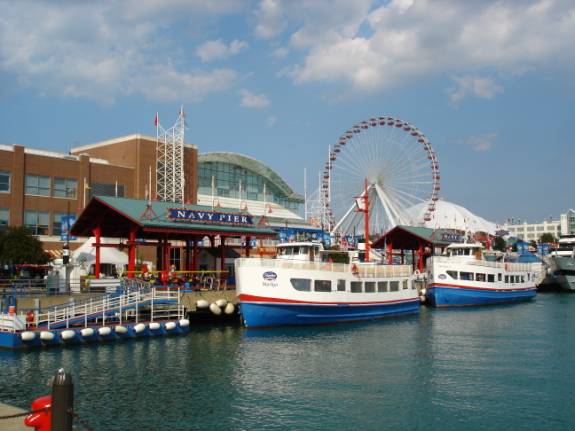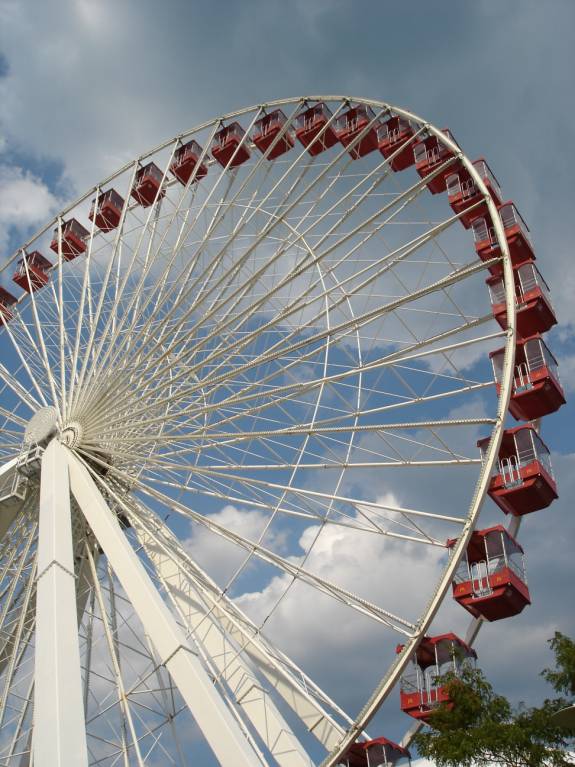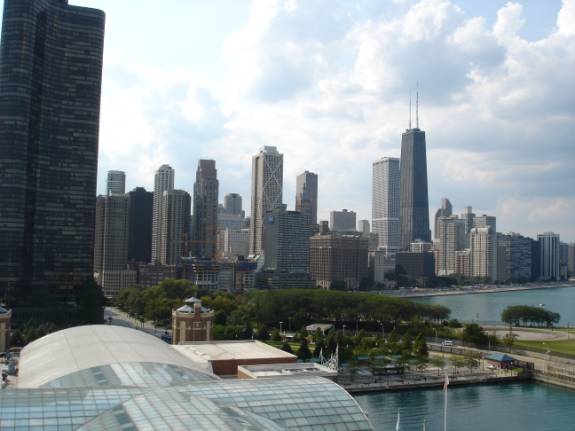 These crazy mirrors were so much fun. They are curved in such a way as to deform the reflected image. We laughed until our sides hurt.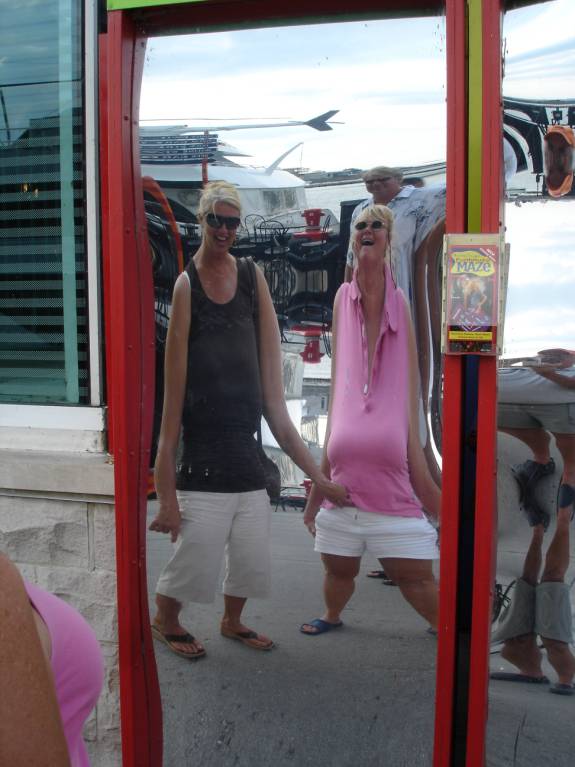 We re-boarded the last bus and took it all the way to Millennium Park. This is what the famous "Bean" sculpture looks like. The reflections are wonderful.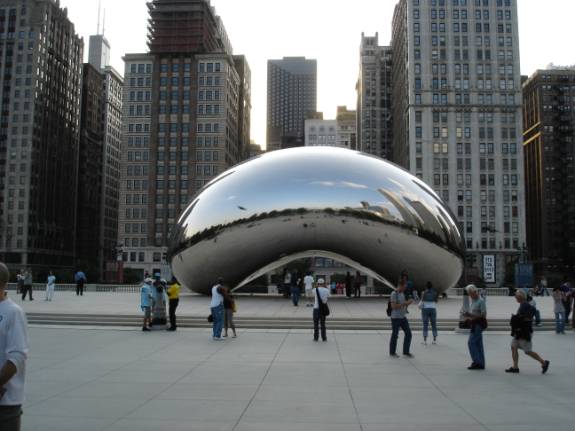 Tonight's scheduled performance in this magnificent amphitheater consisted of "Great Illinois Performers of the Blues". Chicago has long been recognized as the home of the Blues. Tonight, the stage would host the "best of the best".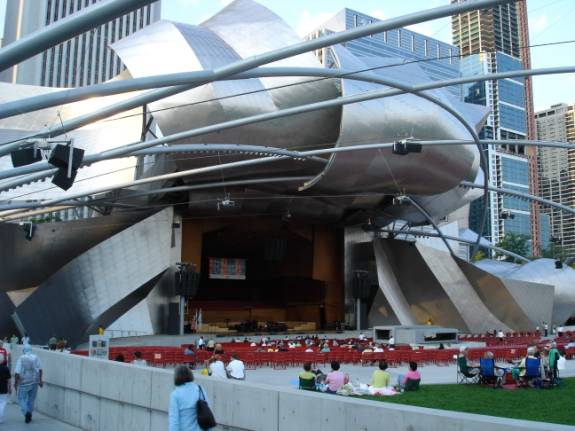 We thoroughly enjoyed every minute of the concert. Black Magic Johnson, David Dee, Jimmy Binkley, and famous Koko Taylor, as well as others, wailed their way into the hearts of the entire audience.
Our planned dinner had to be cancelled because the concert went way overtime and we didn't want to miss even a minute of it.
ATTENTION: SPECIAL NOTE:
My Verizon AirCard that operates my computer internet still operates slowly and sporadically. The coverage areas are not as good as we had hoped. We will be sending out updates when we can.
Judy has Cingular Wireless cell phone service. It seems to work even better than the Verizon Wireless. Judy can be reached at 361-550-5353 and Fred can be reached at 210-296-4933. We can be reached at either number. Please call us if you like, we'd really like to hear from you.
"AMARSE". is pronounced "AM-ARE-SAY". Our website is: www.amarse.net .
Check it out while we will attempt to keep you informed via email
We would like to hear more about what is happening in your lives. Let us know as we very interested in what's going on with our friends and family. Please DO email us with your thoughts and comments and ideas too. Thanks
Lot of Love,
Fred Reed and Judy Law
AMARSE
MT40