Howdy Everybody,

UPDATE #13 06/23/06 through 06/31/06.

The period 4/1 thru 6/22 has been covered in Updates 1 through 12.

We are very interested in hearing from ya'all. If you have missed out on any of the previous emails and would like us to re-send them, please let us know.

Please let me know if these emails containing pictures are too large and we will send you a version with text only.

06/23/06 FRIDAY SMITH FALLS, ON. TO UPPER BREWERS FALLS, ONTARIO (RIDEAU CANAL)

We decided to alter our original plan again. After talking with the lockmasters and other folks that had traveled the Rideau, it seemed as though we had experienced the most beautiful part of the Rideau system. The short section near Ottawa would be something we really would have enjoyed, but the extra time and stress on the boat didn't seem worth the effort. We would need to put on many more starter cycles in the locks ahead since they require shutdowns and restarts at every lock. We would have been under extra pressure to make our next section on schedule. The new plan would have us return over the Rideau Canal southbound.

The swing bridge at Smith Falls was operating on a schedule. We had to wait for the 9:30 am opening so we were delayed until 09:25 getting off the dock. Lock 31 lifted us on our return journey.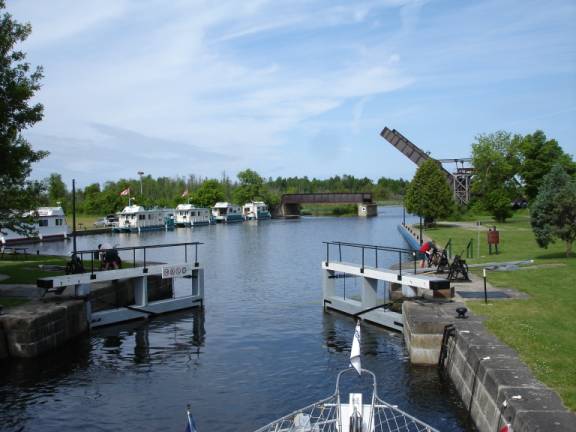 Locks 32, and Locks 35 through 42 were passed under warm, sunny skies and light winds. A perfect day for this type of travel. We had to wait a short time for the Brass Point swing bridge to open. They were working to get it working again after having lots of trouble over the afternoon.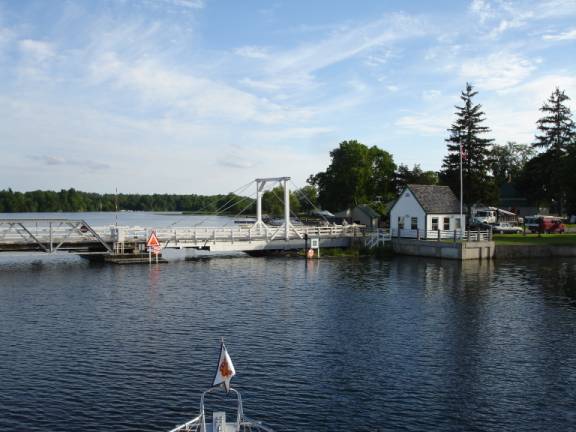 Fortunately, we made it through and proceeded on to the Upper Brewers Lock for the night tie-up. Just in time at 7:15 pm, we were able to get electric (Hydro) set up before the lockmaster went home. I really like the peaceful aspect of this place.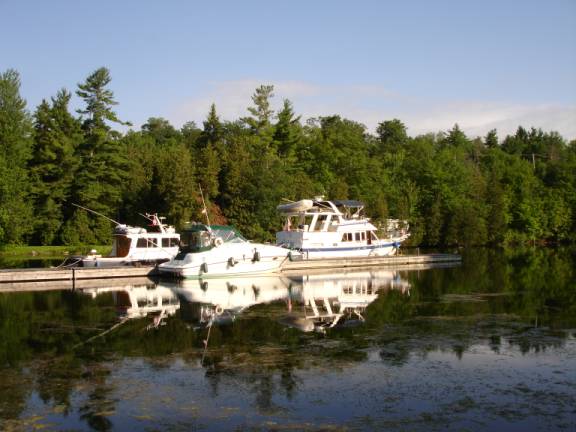 06/24/06 SATURDAY UPPER BREWERS FALLS TO KINGSTON, ONTARIO
Another beautiful morning greeted us at this tranquil and serene location. Being at the upper wall of Lock 44, we were poised to be lowered in the first locking at 8:45 am.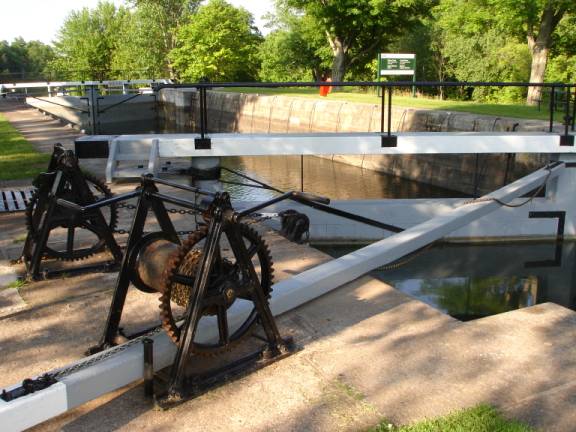 This is a stair step lock with #43 lowering us in sequence over a 20-minute period.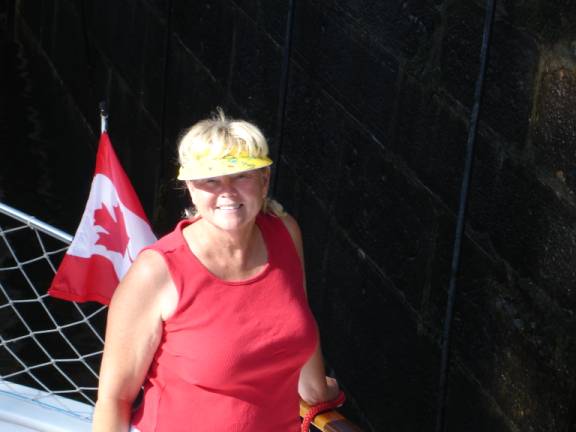 Locks 45 through 49 followed throughout the morning hours. The manually operated swing bridges are so very interesting to watch. Remember that these must have been tremendous engineering feats back in the 1830's when they were built.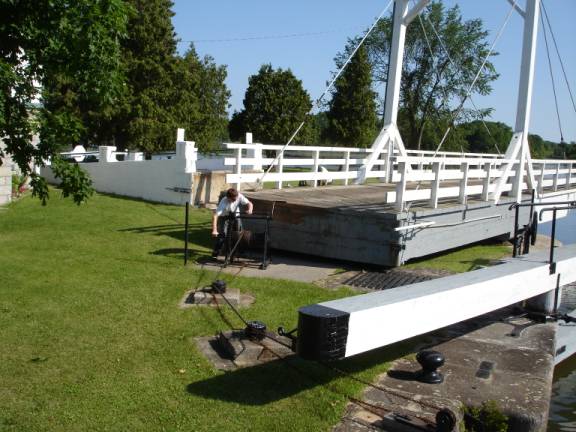 At one lock, this gal was dressed in historical period costume. Isn't it amazing how fashion has changed since these early times?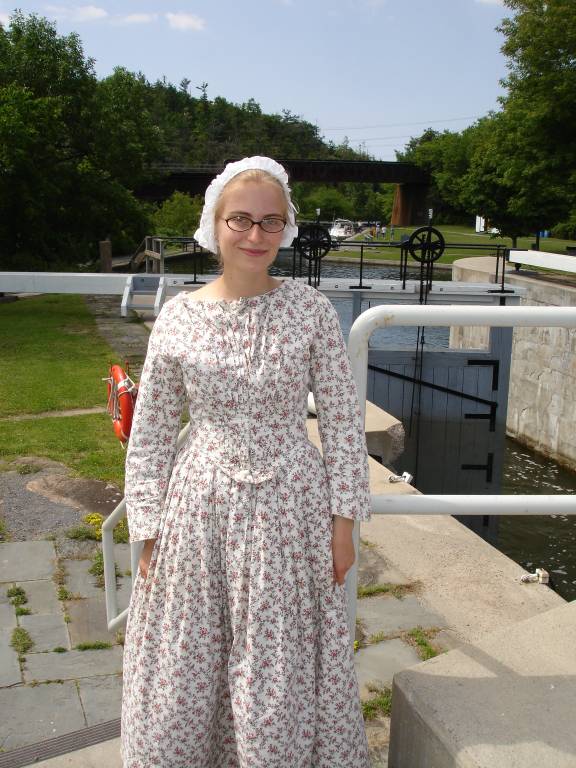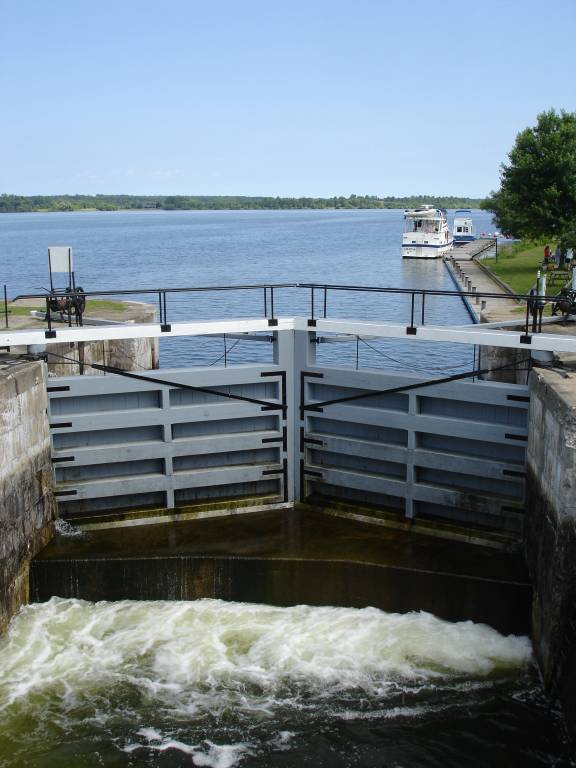 By 1 pm, we had completed our adventure through the Rideau Canal. This has been one of the loveliest places that either of us has ever visited. We hope that in future visits we will take the time to explore the lakes more thoroughly.
Our dock for the night was assigned to J-20 in Confederation Basin at Kingston, Ontario. A large and historic city, Kingston is replete with magnificent architecture and an active, touristy environment.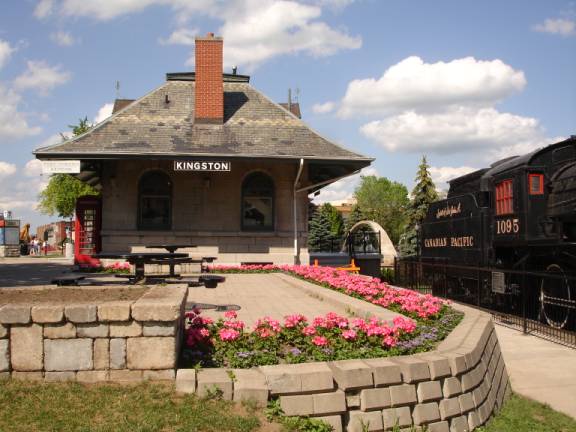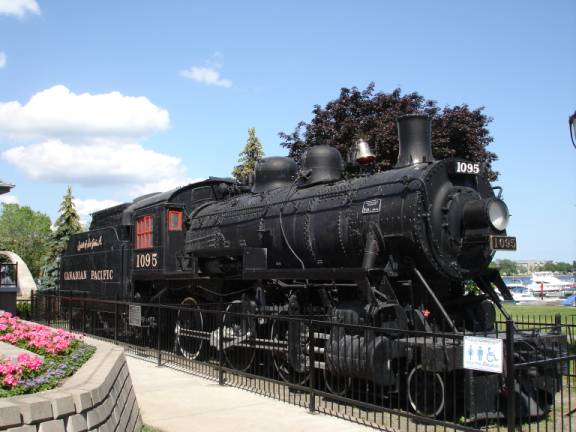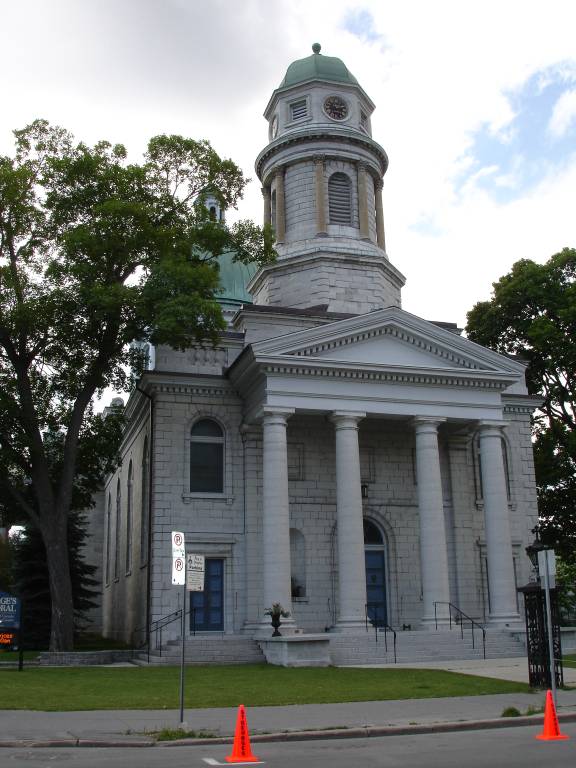 The temperature was well into the 80's but felt even hotter. We enjoyed lunch of Halibut and Haddock fillets at the Pilot House Restaurant. The place had been highly recommended by our friends on S/V Quixotic (Dan, Denise, and Kelby). They are now home here in Kingston but were already off sailing with their local friends for the weekend.
After walking all over the local area, we opted for dinner on the sundeck of AMARSE. A tossed salad with the appropriately selected Thousand Island dressing, a special Canadian white sausage, baked Yams, and topped off with freshly picked, local strawberries from the Picton area. It was a local style meal with local style flavors that made us feel at home in this local setting.
Judy managed to accomplish several loads of laundry in the mean time. This gal is absolutely terrific and she works very hard to make this adventure a real treat for both of us. She certainly has my utmost thanks for all she does.
06/25/06 SUNDAY KINGSTON, ON TO PRINYER COVE, BAY OF QUINTE, ONTARIO
We opted for a leisurely morning here in Kingston. We walked around the downtown area again enjoying the sights.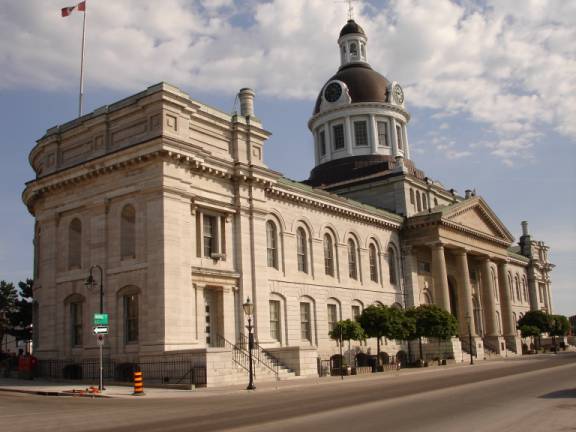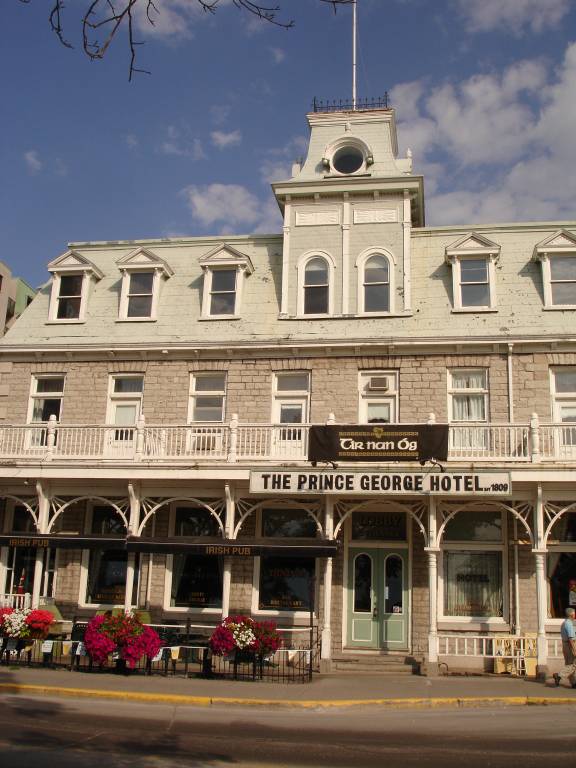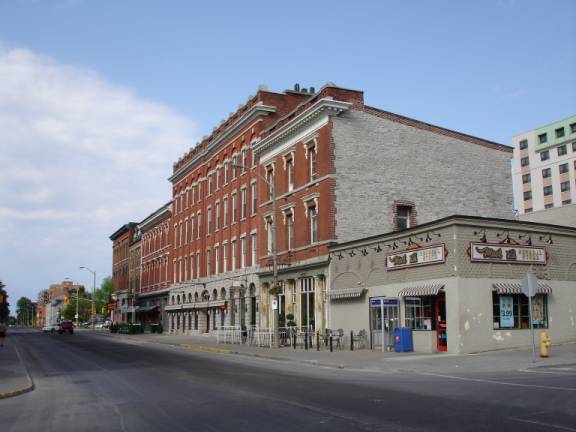 Breakfast was served at Morrison's Restaurant. They have been here for 80 some years and are recognized as a landmark spot to visit. We enjoyed it, however, it was certainly not remarkable.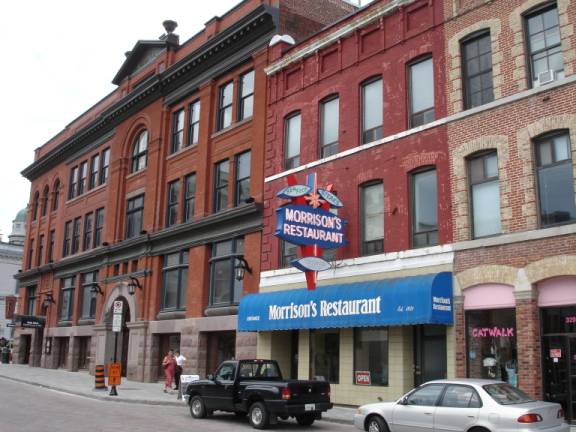 After some routine maintenance and chores, we cast off our lines as we headed out for a day on the Bay of Quinte.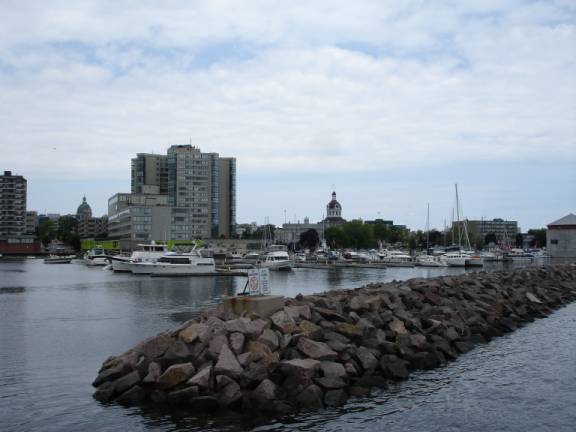 This bay is along the northern portion of Lake Ontario and provides a lovely area that is especially suited to sailing vessels. We enjoyed a leisurely pace during the afternoon and located a very nice spot for the evening in Prinyer Cove. We were fortunate to rent a mooring ball from the small marina.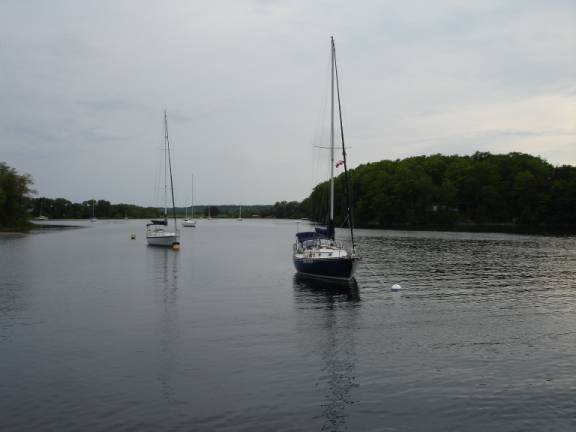 I enjoyed our visit to the city, however, I think I enjoy these more secluded and tranquil spots even more. With a sprinkle of rain and breezy conditions, I prepared a meal of homemade Chili. It turned out pretty good and I didn't make as big a mess of the galley as you might have expected.
Location: N44 05.633 W076 52.7
06/26/06 MONDAY PRINYER COVE TO TRENTON, ONTARIO
It was 8 am and we were dropping the lines from our mooring ball. Back in the Bay of Quinte, we continued westerly and turned into Picton Bay. It looked like a lovely place to spend a night but we were way too early in the day for that. As we turned around and headed out toward the bay, we thought of friends who had visited here before.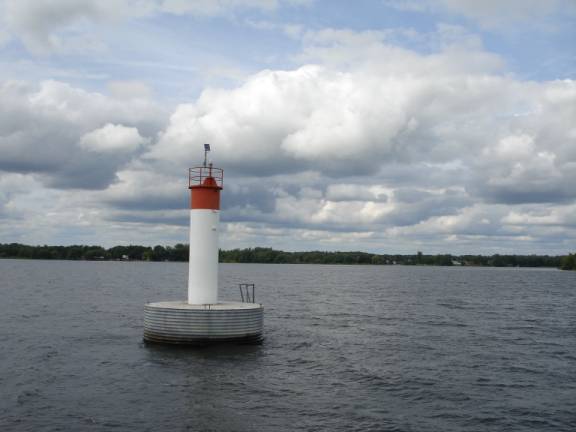 At 1:30 pm, we were entering the small harbor at Belleville, Ontario. We had heard of a place that served up the best fish dinners in all the land. We docked at the local yacht club and Wayne gave us a ride over to the Boat House Restaurant for lunch. The fish and chips lunch was quite good. We later found out that it was a South African imported fish. Oh well, it was delicious. After our walk back to the yacht club, we started the engines and continued in the Bay of Quinte to the community of Trenton, Ontario. As the clock struck 5 pm, Fraser Park Marina welcomed us as we turned into the mouth of the Trent River.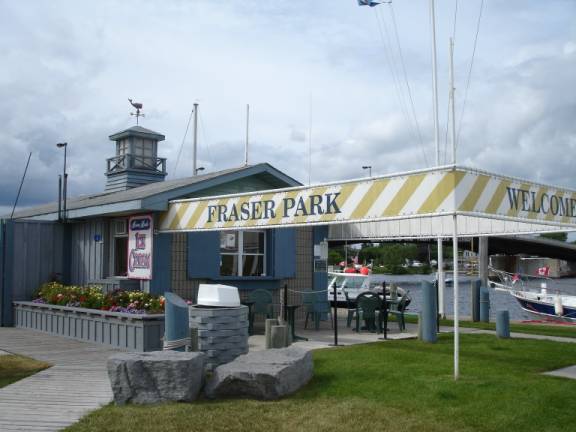 The fuel tanks were filled and we were relocated to a spot on the floating docks along with several other yachts. Friends from the boat "Scout", an Albin 28 out of Hyannis, Massachusetts, were already tied up and relaxing. We met some new folks from Thunder Bay, ON and another couple from Baldwinsville, NY. As often, the conversation was delightful.
A take-out pizza was perfect for this overcast, drizzly evening.
06/27/06 TUESDAY TRENTON, ONTARIO
HAPPY BIRTHDAY TO MY WONDERFUL SON, DOUG. I LOVE YOU SO VERY MUCH!!!
Trenton is where vessels traveling on the Bay of Quinte transition to the Trent-Severn Waterway.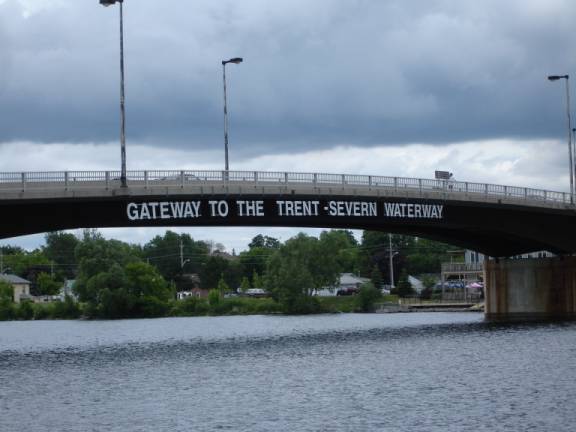 We had intended to depart the marina this morning, however, the deeply overcast skies and drizzly weather hinted that we might reconsider an early departure. The forecast was for lots of rain today and that was quite accurate. We encountered periods of downpours and some pretty powerful thunder and lightning. Our friends on Scout had departed and we felt bad that they were probably not having the most fun today.
Dan from "Lazy Daze" showed me some interesting places to visit along the upcoming waterway. Later, we took a taxi to the Canadian Air Force Museum.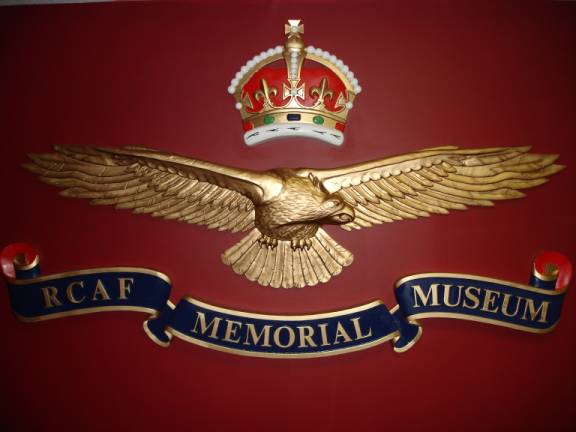 It was the perfect thing to do on this rainy day. Trenton is known as the "Home of the Canadian Air Force". At the museum, they have lots of nice displays and quite a few historic aircraft on static display. The pride of the museum is a World War II bomber used by the RCAF. This "Halifax" bomber has been undergoing restoration for over 10 years. It was recovered from a watery grave in a Norwegian Fiord and brought home to Canada. It is a marvelous example of a period aircraft that played a vital role in the Allied defense.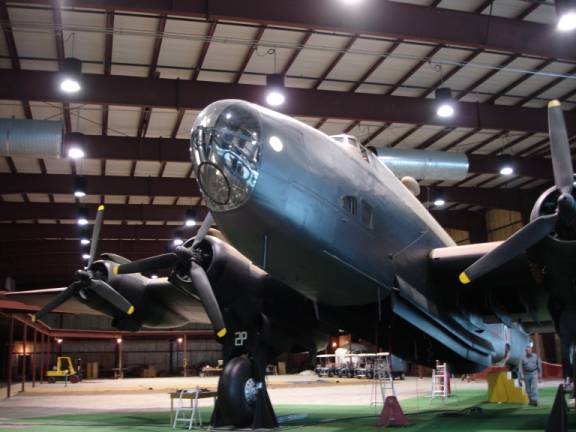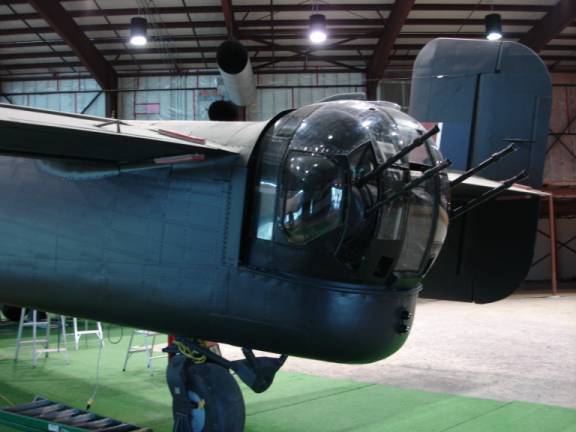 Manufactured by Handley Page Aircraft Company, they claimed to be able to produce a bomber per hour. An amazing feat when you think that the same aircraft has been a decade in restoration.
Back aboard AMARSE, we relaxed with dinner aboard featuring Canadian Red Hots, scalloped potatoes, sliced tomatoes, and more of those delicious Picton strawberries in cream. Yummy!
06/28/06 WEDNESDAY TRENTON, ON TO CAMBELLTON, ONTARIO (TRENT-SEVERN)
Heavily overcast skies and the feel of rain pervaded as we cast off the dock at Frazer Park.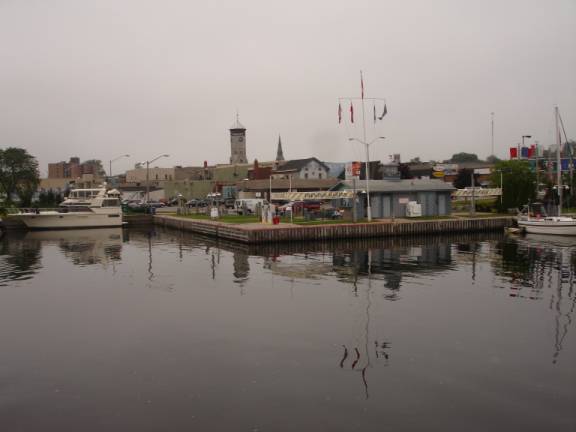 The weather guessers were predicting an unsettled day with a 40 per cent chance of showers. We had the itch to move along and we scratched it. We passed under the bridge that greeted us to The Trent-Severn Waterway. At the start, we are at 243 feet above sea level. We will climb through 35 locks before reaching the high point at 840 feet above sea level. We will then descend to 576 feet above sea level through another nine locks. Some of these will be unique in all the world (more about that as we travel along). The length of the waterway is 240 miles to Port Severn. This waterway is noted as one of the main highlights of the Great Loop cruise.
The first 6 locks occur in relatively rapid succession. Lock #6 is at mile 7.3. Each of these locks has lifted us between 28 feet and 17 feet. Some of the locks have been modernized with hydraulic actuators and others are still manually opened and closed.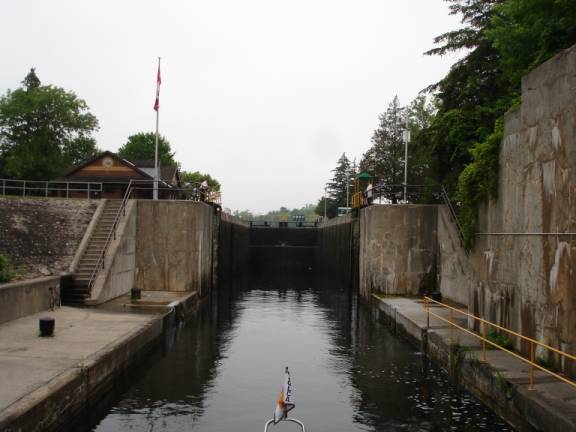 Notice how much turbulence is created as the locks are dropped to the lower level.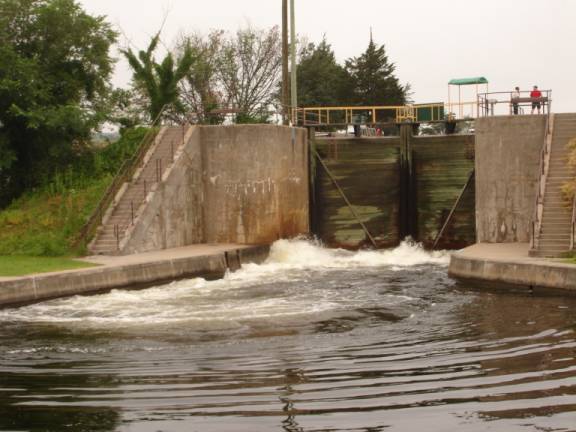 The most modern of the locks are these dual level, stair-step locks that lift the vessels in two sequential stages. These, of course, have been modernized with hydraulically operated gates.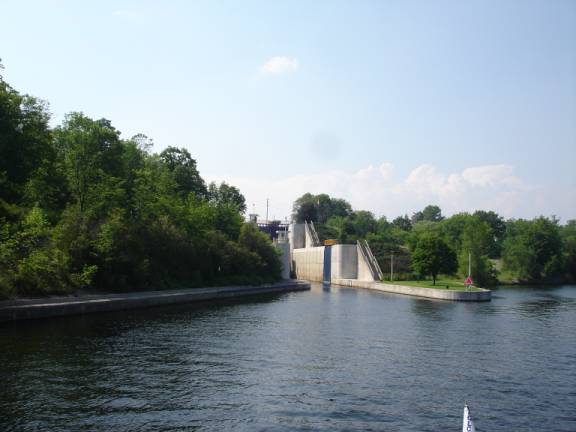 Now for your history lesson. If you remember, the Erie Canal began with a purpose and as such was completed in only 8 years. The Trent-Severn, however, would require nearly 90 years to complete propelled or hindered by military, economic, and political forces. The idea was conceptualized by 1780. By 1815, the route was dropped as a military necessity and plans would not resume until 1825. It was not until 1833 that a grant was made for the construction of the first lock at Bobcaygeon, Ontario. Numerous projects were undertaken between 1834 and 1920. With World War I winding down, funds were just not available to provide much of any progress. The official opening of the canal came on July 20, 1920. In the subsequent years, much modernization and rebuilding has occurred, however, the canal still consists of locks and dams built more than 75 years ago and are still operated manually.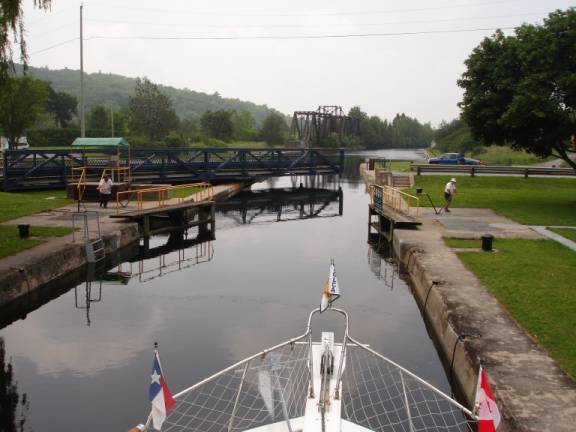 The overcast cloudiness gave way to a clearing, yet hazy, afternoon. We reached our goal and destination for the night at Campbellford, ON. It was now 5:25 pm and we had traversed 13 lift locks and only 32.2 miles over the nine-hour period. We had our workout for the day, however, the evening had more in store.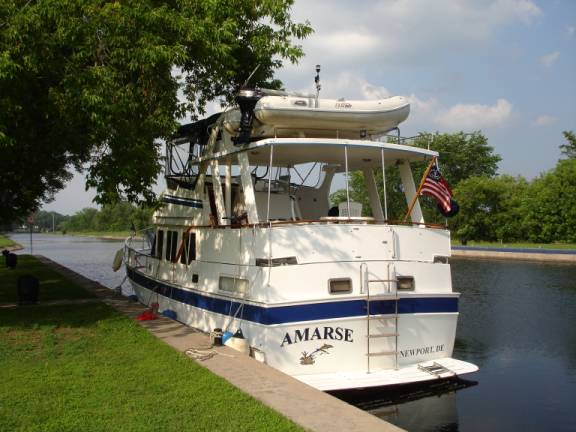 Our lock wall dock was located about a 45-minute walk from town. On Wednesday evenings, the community hosts a concert called "Melodies at the Mill". At the lovely waterside "Old Mill Park", a wonderful country-sounding group called "The Melissa Scott Band" provided a delightful musical experience. Melissa has a voice to charm the angels and we enjoyed her performance immensely.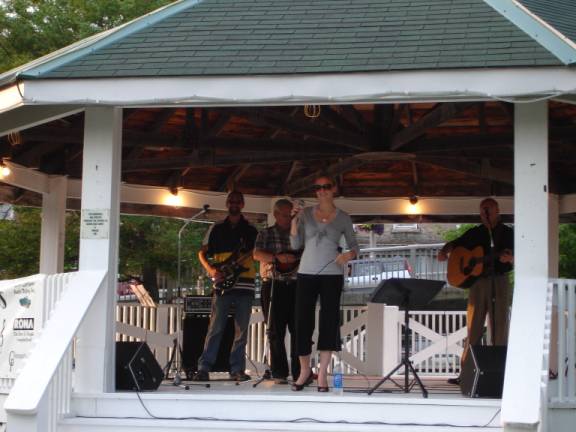 To add to the fun, we dined picnic style on sub sandwiches, chips, and soda pop from the corner variety store.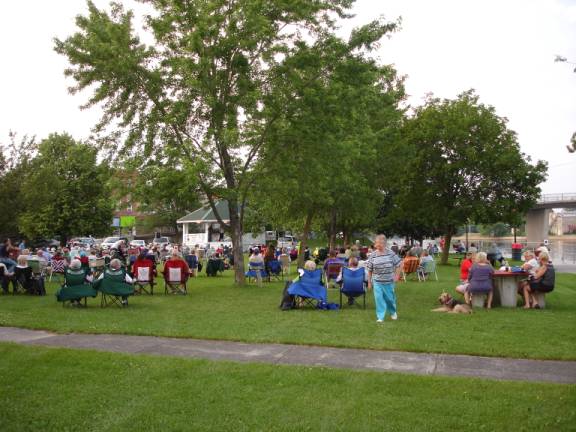 The park displays a huge statue of the Canadian two-dollar coin.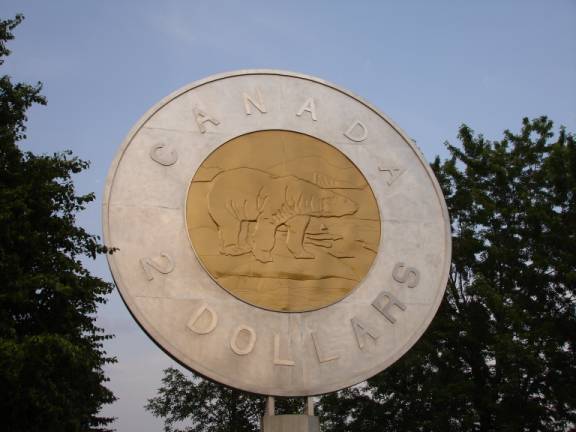 Fortunately, we made the long walk back to AMARSE just before the evening storms began. We slept soundly amidst the rainy conditions.
Location N44 19.219 W077 47.175.
06/29/06 THURSDAY CAMPBELLFORD, ON TO HASTINGS, ONTARIO
Judy served coffee, toasted bagels, and yogurt on the sundeck of AMARSE on this bright, sunny morning. It was delightfully calm and pleasantly warm along the tree lined dock wall. It was so nice.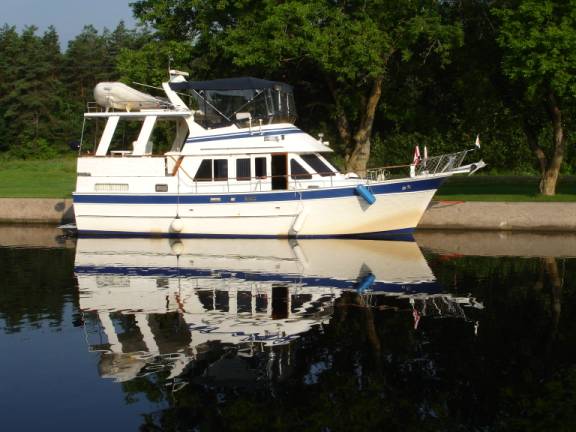 We got underway at 8:40 am along with another boat that had moored there last night. They incurred some kind of problem that returned them to the wall. Lock #14 would lift AMARSE for another 26 feet in solitude. As we approached Lock #15 at 9:25 am, it was clear that we would have to wait a while as they were locking another vessel down. When our turn came to enter, we were advised that the lock was short staffed and that we would have to wait for three more boats just leaving the previous lock. Oh well, what's the rush anyway on such a beautiful day. The currents and turbulence is such within the lock that all vessels must tie to the port wall for the lift. The two larger boats (AMARSE being one) were attached to the cables against the wall while the two smaller vessels were "rafted" up to the larger two. It worked rather well and all the skippers and crews performed admirably. This single lock had taken us over an hour.
Locks #16 and #17 are of the "stair-step" design and provide a 54-foot lift. All four boats were in these locks together, however, we were tied two on the port side and two on the starboard side.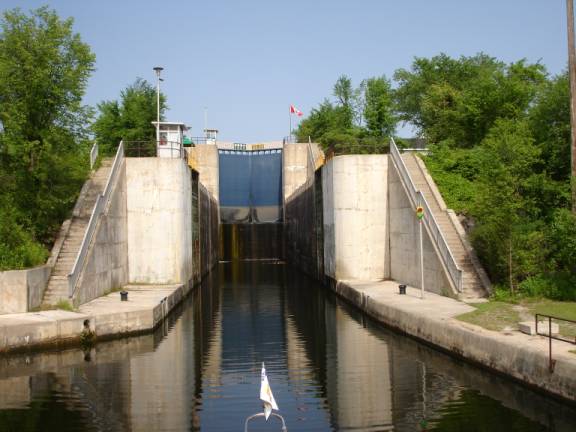 For the next two hours, we enjoyed a leisurely cruise through some pretty areas. Two of the boats had sped off ahead leaving just two of us to lock through at Hastings Lock #18. By 1:15 pm, AMARSE, Judy, and I had reached our planned destination for the night. We tied to the last remaining spot along the Hastings, Ontario wall. We had traveled 4 hours and 35 minutes, been lifted by 5 locks, and only traveled 19 miles. It may sound slow but, then again, it's all the more time to savor these memorable moments.
Several other large yachts and trawlers were staying another night. Much to our delight, "Lazy Susan" with Ivan and Susan were among those.
After a stroll through town and a fabulous luncheon prepared by the lovely Ms. Judy, I felt the need for an afternoon nap. Life is good and so was my nappy-nap.
Cocktails and great conversation on AMARSE's sundeck with guests Susan and Ivan was most enjoyable. A wonderful part of this adventure is with the people you meet along the way.
The smoking grill did a nice job cooking that T-bone steak that Judy had been anticipating for several days now. Salads and scalloped potatoes rounded out the dining experience.
Location N44 18.504 W077 57.496
06/30/06 FRIDAY HASTINGS, ON TO PETERBOROUGH, ONTARIO
HAPPY BIRTHDAY to Judy's Mom, Alma Ordiway in Kalamazoo, Michigan.
An early morning alarm awakened us at 6:30 am. We had planned to depart in the company of friends aboard "Lazy Susan" and "Trinity" at 0700 hrs sharp. AMARSE was ready but the others were not, so, we cast off our lines and headed out.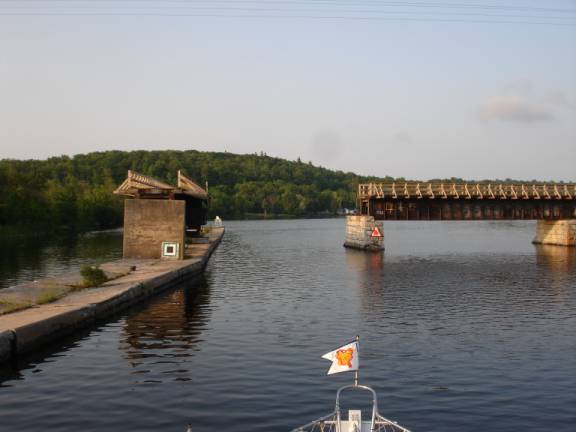 Today's itinerary would take us across Rice Lake and then up the Otonabee River. Our course traveled 37.3 miles before reaching our first and only lock of the day.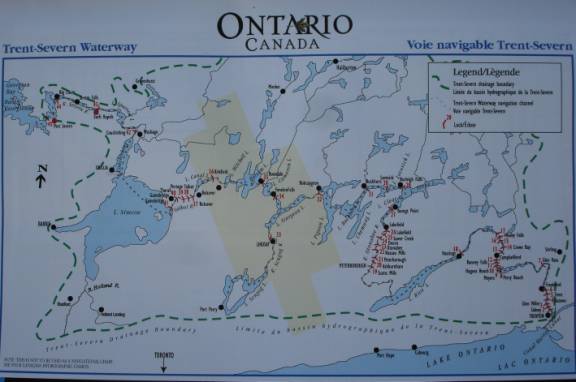 Our friends finally got underway, however, they were at least a half hour behind us. We exited Lock #19 at 12:15 and turned into Little Lake. The Peterborough Marina sits inside this small lake. We were assigned to Dock C-9 where dockhands helped us with the lines against a rather stiff breeze. We had covered 37.9 miles today and only one lock. Along the Trent-Severn Waterway, we have completed 89.4 miles and 19 locks.
The wind continued to whistle throughout the afternoon. Judy and I did a little shopping for boat stuff and groceries and then it was naptime.
As more boats arrived in the late afternoon, we had more opportunities to chat with fellow travelers. Tomorrow is Canada Day, July 1st, the nation's birthday with celebrations comparable to the USA equivalent. Our slip is near the park where the parade will pass and where the concerts will be staged. Let's hope it will be fun.
There is a large fountain in the middle of Little Lake that shoots a center stream close to 50 feet in the air and surrounded by half a dozen smaller shoots. As the evening darkened, the colored lights within the fountain illuminated the shoots with a spectrum of changing colors. It is very well done and fascinating to watch.
ATTENTION: SPECIAL NOTE:
As you can see, we are still in Canada. My Verizon AirCard that operates my computer internet will not operate in Canada. We are fortunate to have found WiFi from the local hotel today but in general, our internet capability will be extremely limited for close to two months. This may be the last update for a while. I hope you have enjoyed them so far. If I can, I will post as available.
Judy's phone will be out of service in Canada. Fred's phone will be available throughout the trip in Canada. I have North American Service and hopefully it will be OK. We can be reached at 210-296-4933. Please call us if you like, 'Eh.
"AMARSE". is pronounced "AM-ARE-SAY". Our website is: www.amarse.net .
Check it out while we will attempt to keep you informed via email
We would like to hear more about what is happening in your lives. Let us know as we very interested in what's going on with our friends and family. Please DO email us with your thoughts and comments and ideas too. Thanks
Lot of Love,
Fred Reed and Judy Law
AMARSE
MT40