Howdy Everybody,
UPDATE #12 06/20/06 through 06/22/06.
The period 4/1 thru 6/19 has been covered in Updates 1 through 11.
We are very interested in hearing from ya'all. If you have missed out on any of the previous emails and would like us to re-send them, please let us know.
Please let me know if these emails containing pictures are too large and we will send you a version with text only.
06/20/06 TUESDAY ALEXANDRIA BAY, NY TO UPPER BREWERS FALLS, ONTARIO (RIDEAU CANAL)
After a relatively peaceful night, we departed the City Docks at Alexandria Bay, NY. Last night, I spent considerable time planning the routing that we would attempt today. Here in the Thousand Islands, it is extremely important to know exactly where you are going, how you are going, and exactly where you are. There are 1793 islands packed into a relatively small area. It is possible to snake and weave your way around many of these through narrow passages of solid rock.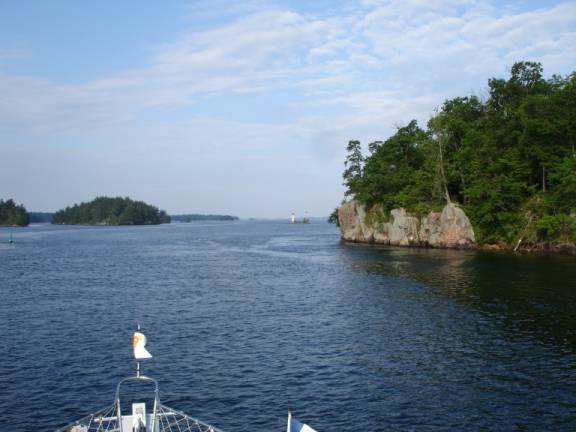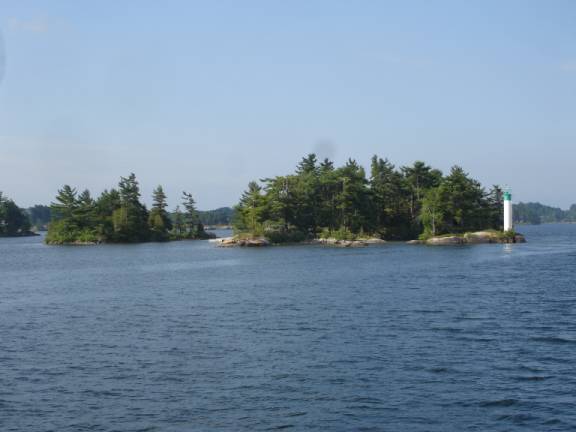 The mariner does not want to make a mistake here as most passages or openings are too shallow to safely transit. The depths can go instantly from 80 feet to 2 feet. This would be very hazardous. Only the main channels are marked so the crew must be constantly vigilant when venturing outside these channels. We chose to wander around through the less traveled route and enjoyed every minute of this spectacular natural wonder. We crossed over into Canadian waters a bit east of Rockport, Ontario and continued cruising through "The Navy Islands", The Fleet Islands, and "The Admiralty Islands". Upon our arrival at the municipal dock at Gananoque, Ontario, we called the customs officials. In less than five minutes, we were issued our clearance number and were free to travel throughout Canada.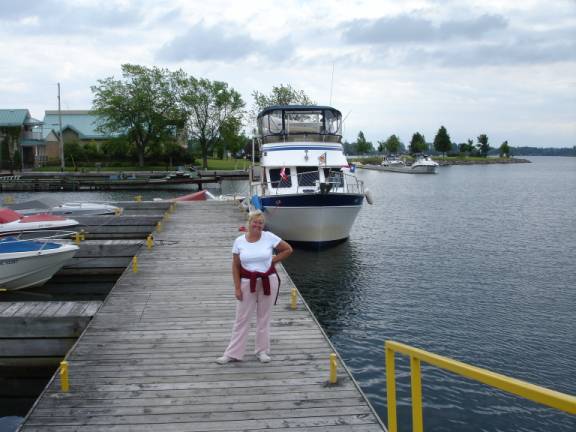 Judy and I walked into the village and enjoyed a fish and chips lunch at a local place. Needing some local currency, we visited the ATM machine hoping for the best exchange rate. The prices for things here are quite a bit more and the exchange rate is not very good anymore. The US dollar has definitely lost significant value. One Canadian dollar is about 90 cents US.
With in several hours, we set out again to wander through more of the Admiralty Islands. In time, we transitioned from near Beaurivage Island and the fabulous Thousand Islands into "The Bateau Channel". This waterway would nearly parallel the St. Lawrence Seaway but offer more protections from the elements. Afternoon thunderstorms dumped a bunch of rain on us but we managed to speed up and slow down between most cells to skirt the worst areas.
It was only about 3 pm when we reached Kingston, Ontario. We decided to keep going and caught the 3 pm opening of the drawbridge.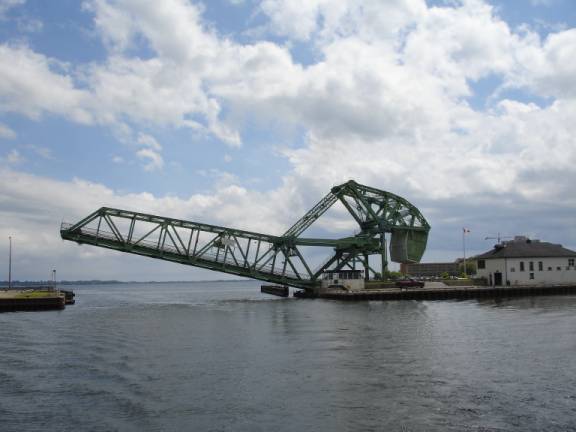 This brought us into the beginning of the Rideau Canal. The Rideau is pronounced: "Re-Dough". This is a fabulous canal originally built around 1830 as a defense re-supply route to prevent attacks from the US.
It consist of some 49 locks along a 126 mile route from Kingston to Ottawa. This waterway is maintained as a national historic site. Most of the locks are as they were originally constructed. With only a few exceptions, the locks are still operated by hand. The lockmasters use cranks, wheels, and levers to control the mechanisms. It is fascinating to see this all happening. It is like traveling back through centuries to relive the history. We purchased a season pass to use all the locks in the canals of Canada. We also purchased a seasons "mooring pass" that allows us to use the lock walls and government docks this year. The fee is about $700 for our size boat. This will more than pay for itself in lieu of the individual fees charged daily.
The first five locks are a stair step arrangement. Many of the other locks are of the same design.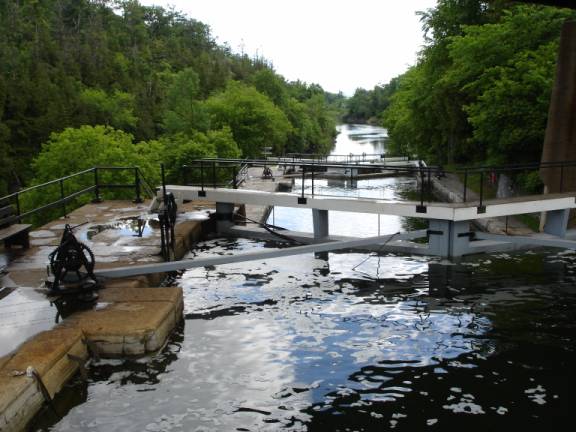 You enter one lock and it is filled with the water from the lock above it.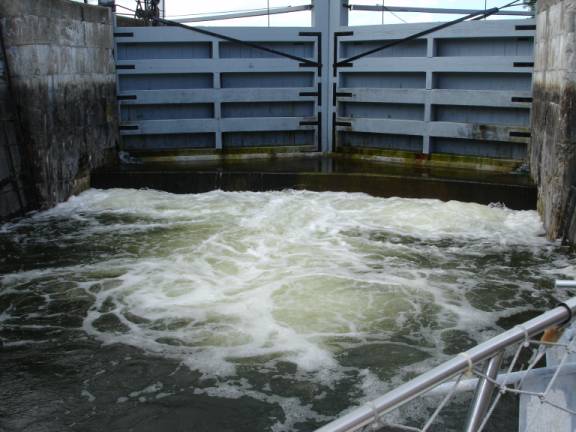 You then are lifted to the next level and pass through the gates into the successive lock. This way you travel only about 8 feet or so in each lock but are raised about 40 feet in the sequence. The Rideau not only travels through manmade canals, it also passes through some lovely lakes.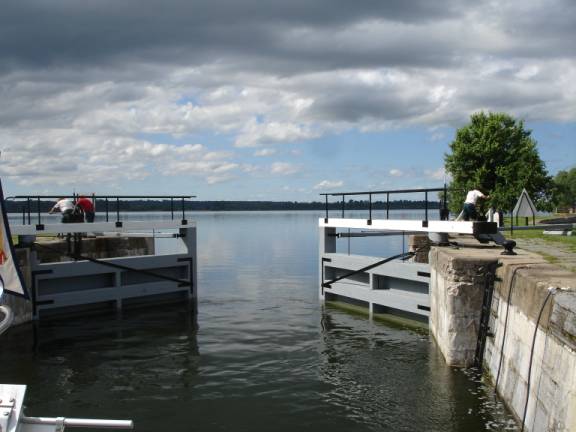 Most are quite shallow and one must adhere to the channel markers.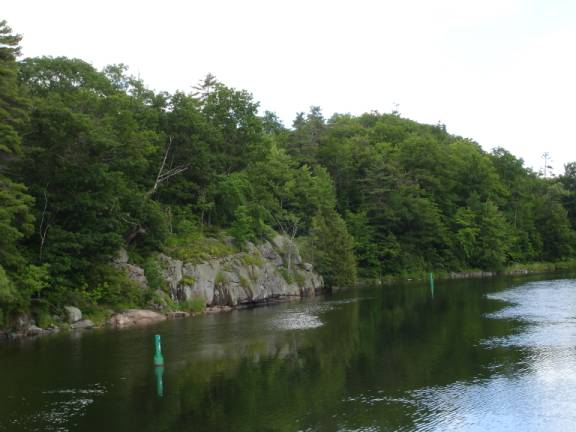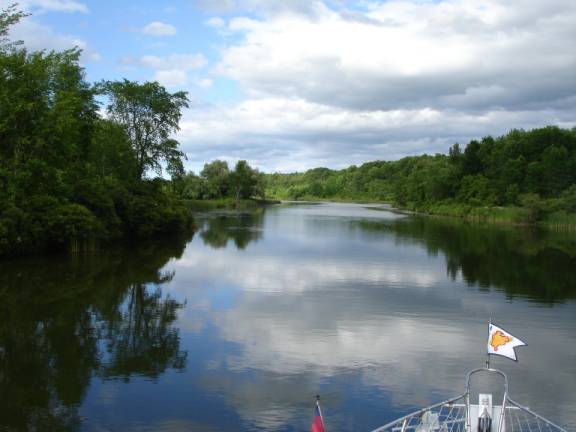 There was even a manually operated swing bridge that was hand-cranked open to enable our passage.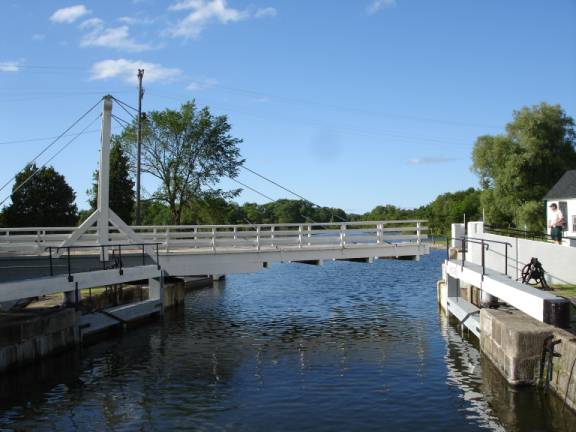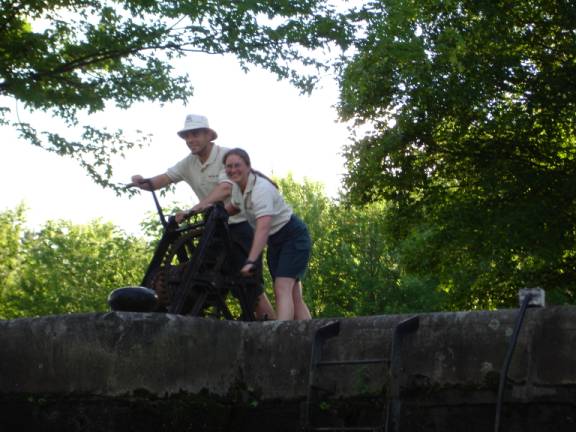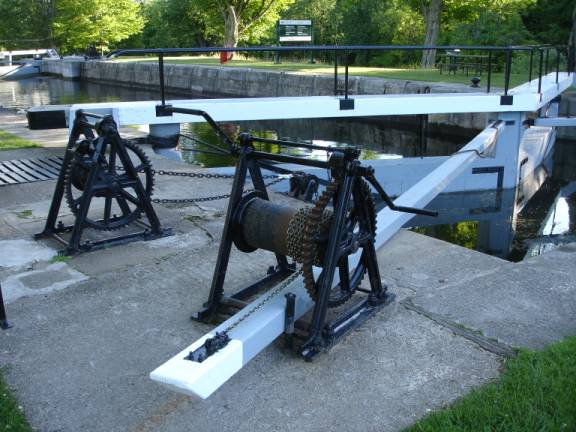 Another hazard is the heavy grass and weed growth lerking just below the surface. This stuff will foul propellers and rudders, as well as, clogging your engine cooling water intakes and filters. Fortunately, the canal commission harvests much of this material from the channels themselves.
At 7 pm, we were tied to our dock for the night.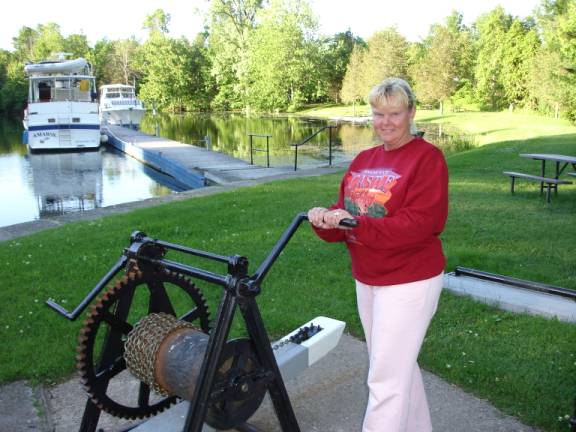 We had traversed Locks 49 through 43; and traveled from mile 126 at Kingston to mile 109.7 at Upper Brewers Falls. We hooked up to 30 Amp electrical power ( here in Canada, they call it "Hydro") for a nightly charge of $8. This is a lovely park setting that is picturesque and peaceful.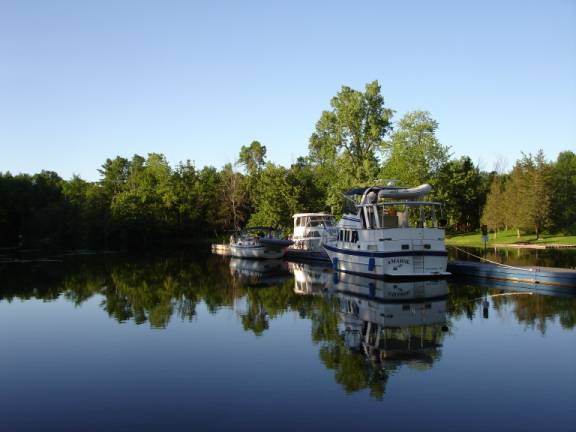 We lit the grill, and after a crisp salad, we enjoyed Polish Kielbasa, Cheesy scalloped potatoes, apple sauce, and cole slaw. The temperature dropped into the low 60's for a great sleeping night.
LOCATION: N44 24.812 W076 18.772
06/21/06 WEDNESDAY Upper Brewers Falls, Ontario to Smith Falls, ON
The morning was beautiful and calm. The temperature was a comfortable 63 degrees.
Judy put a note in my logbook saying "Good Morning Babe, I Love You". Believe me when I say, that was a wonderful way to start the morning.
Casting off the dock at about 8 am, we reached the Brass Point swing bridge at 8:35 am.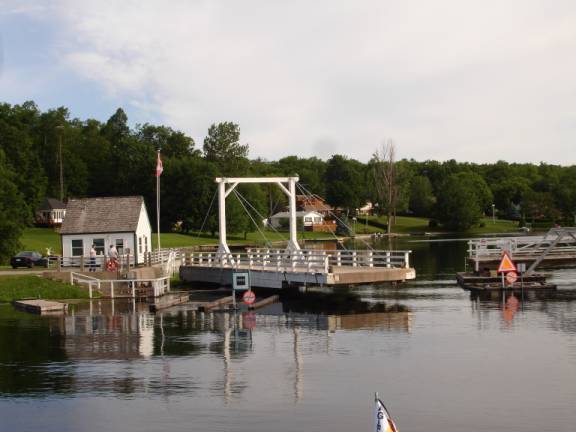 The entire canal system works between the hours of 8:30 am to 7:30 pm. All locking operations must be completed before closing time.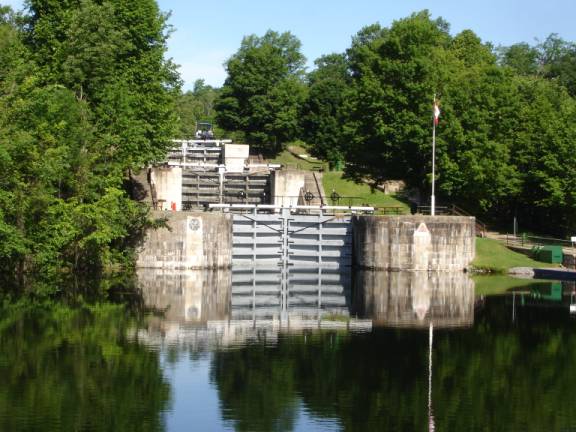 We passed through bridges and locks and lakes and rock passages and channels and ponds and marshes. All the sights are a feast for the eyes. This is my first visit to this beautiful area but I am already looking forward to future visits.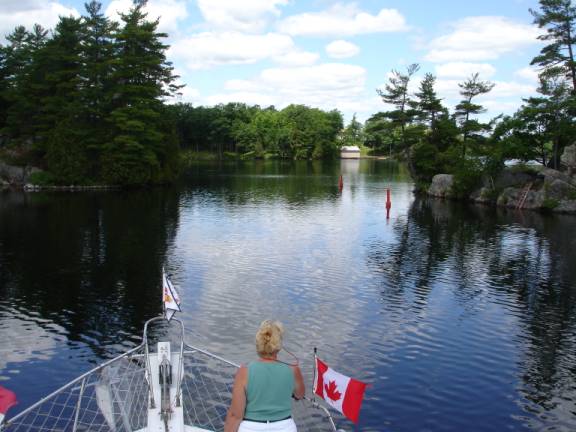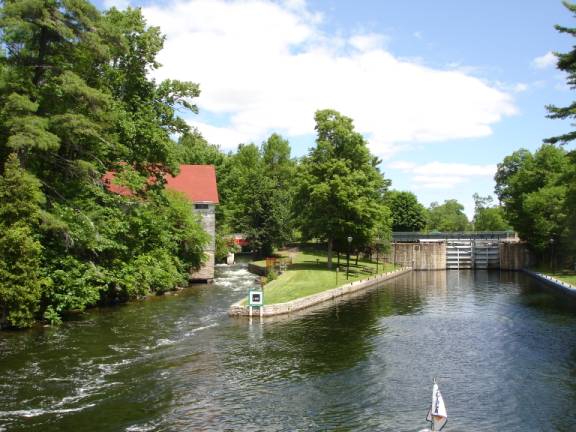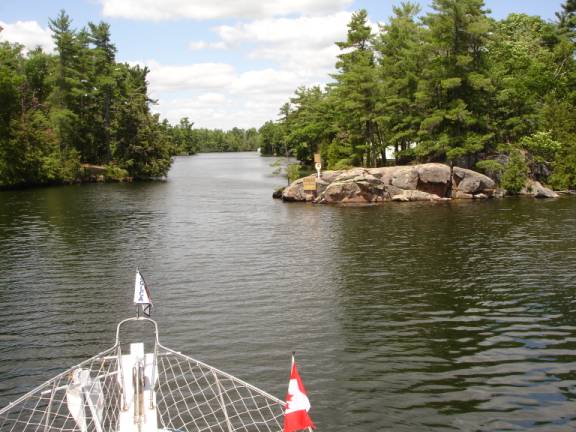 The wind picked up a little bit and pushed us around a bit in the "Narrows Lock". We had to quickly attach extra lines to the cable stays in this rear quartering tailwind.
Judy does such a great job handling the lines and fenders and the like, while I maneuver the boat.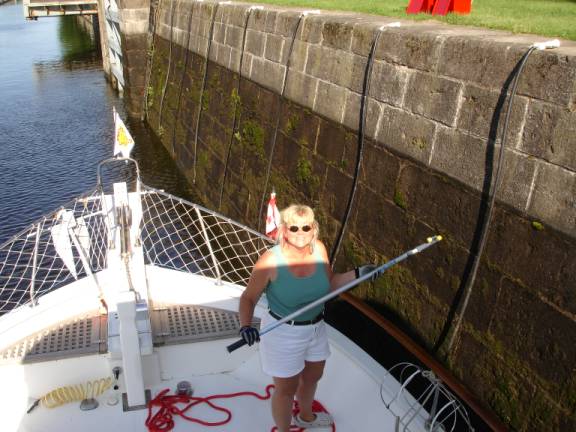 We are a great team and we appreciate each other's contribution to this remarkable adventure.
A little after 5pm, we tied to the upper side wall of Lock 29A. Several other boaters helped with our lines making the docking much more pleasant. Sometimes, Judy has to sit on the edge of the rail and kind of jump down to the dock. Tonight's dock is at Smiths Falls, Ontario. Today, we traveled 49.5 miles and locked through 10 times. We walked up the hill into the town, changed some more money, and returned to the boat to visit with the other boaters.
We dined aft on the sundeck with salad, grilled breast of chicken, and baby red mashed potatoes. Another wonderful meal aboard AMARSE reinforced our notion that "nobody does it better" than we do.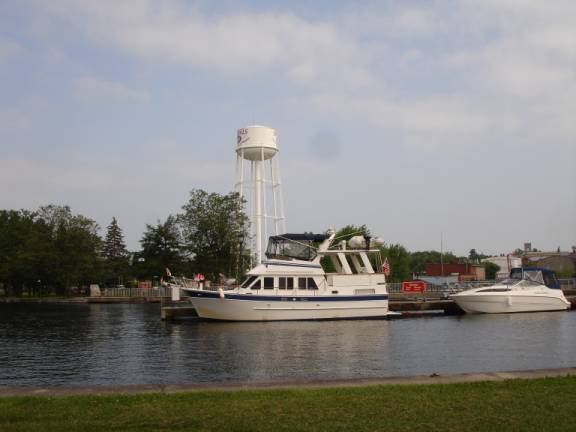 In a park across the canal, a carnival was set up. We strolled through it almost by ourselves. Seems nobody around here was very interested in the kiddy type rides or the expensive priced food stalls. One stall was trying to sell French Fries for $5.50; I don't think sooooo….!
06/22/06 THURSDAY Smith Falls, Ontario (Rideau Canal)
The forecasted rains came overnight and thoroughly wet everything around. The weather forecast was for more rain this morning and then increasing winds by late am. We decided that we would sit the day out here in Smith Falls and take in some of the local sights.
Breakfast at the "Roosterant" was pretty good and was located close to the grocery store less than a mile from the boat. We picked up a few bags of stuff to add to our supplies.
Smith Falls is also known as "the Chocolate Capitol of Ontario". Hershey Chocolate of Canada operates a large factory here in town. Judy was excited about the opportunity to tour the facility. Chocoholics are a determined breed. We set out on a walk to go there. When someone tells you its only about a mile or so, don't necessarily believe them. We walked, and walked, and walked. The way was beautiful as it followed the river, however, it was easily over two miles before we got there.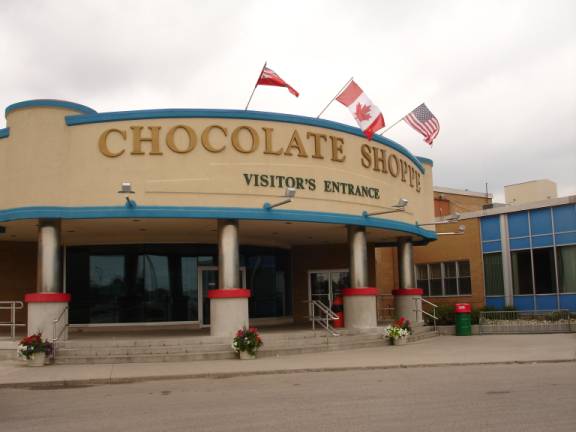 The tour of the factory was very interesting and the smell of chocolate tempted even the most skeptical. Here they make Hershey and Reese candies of various kinds, as well as, chocolate syrups and licorice. Jolly Rancher hard candies are also produced here. After the tour, a huge store awaits ready to accept your dollars for chocolate. It appears to be a profitable venture.
We then took a taxi to the Railway Museum. It was rather small but still interesting. It seemed to be geared toward children rather than adult rail buffs.
One exhibit featured a railroad car specially set up for dental work. In many years past, medical and dental care was difficult in rural Ontario. The provincial government would provide free care to the remote locations via this unique car. Unfortunately, the car is not open for interior viewing.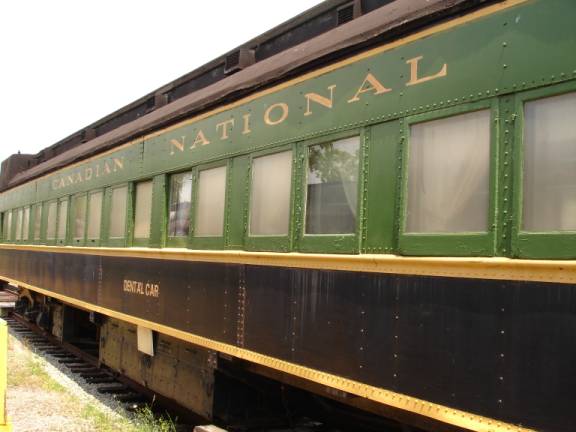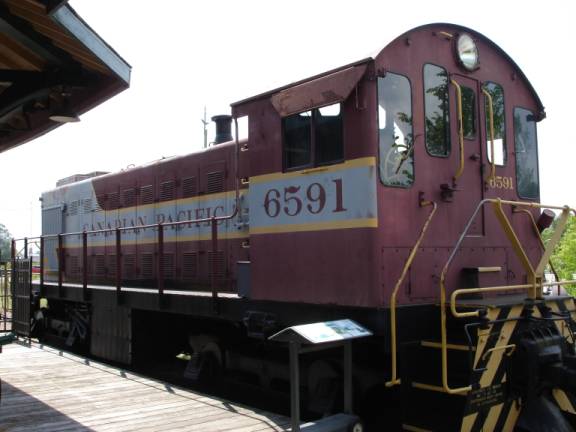 Another interesting exhibit was this box car. Inside was a Model T Ford much the way they were shipped in the old days. Amazing how times have changed.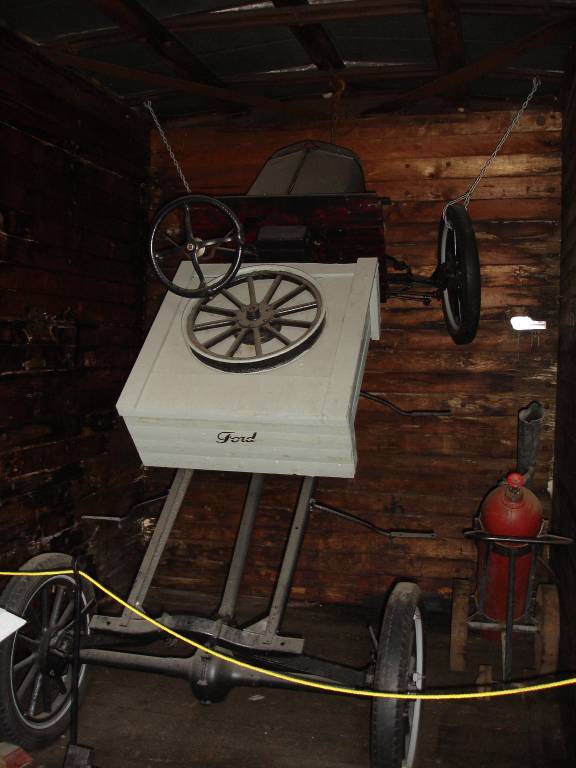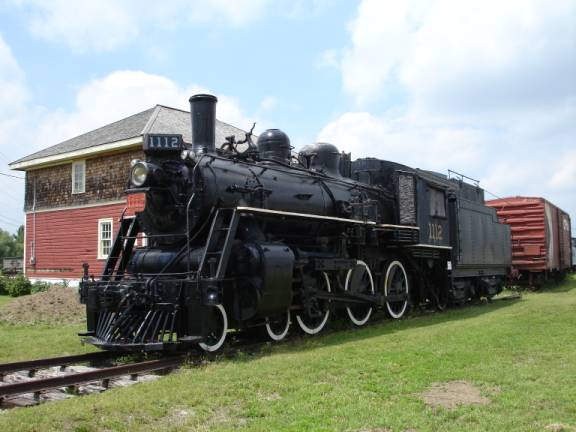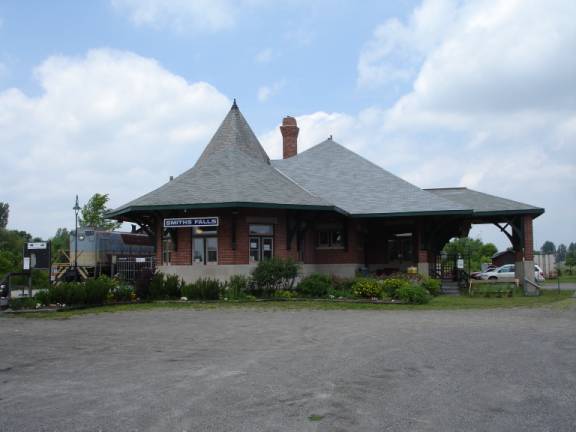 We walked back to town and visited the Canal Museum.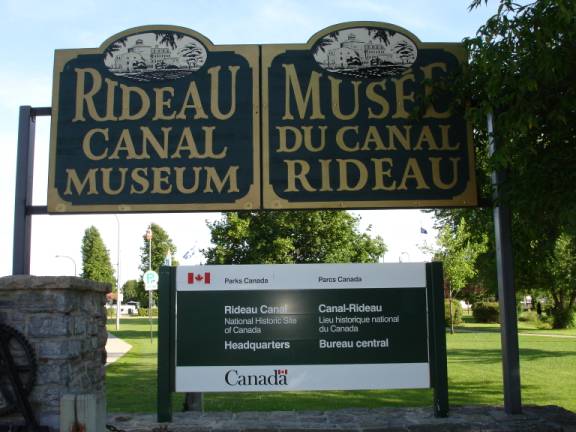 Smith Falls is the headquarters of the Rideau Canal Commission. The museum is quite beautiful from the outside but seems to fall short inside. The exhibits are mostly dioramas and some interactive scenes aimed at younger children. A video presentation in a little theatre room was interesting and informative. All in all, the museum was rather disappointing. I had hoped for more exhibits of the mechanisms and artifacts from a huge construction project of this magnitude, however, almost none existed here. All in all, we had a wonderful day of sightseeing. We were happy to be here as the winds would have made traveling and locking less pleasant.
A nice nap was very enjoyable this afternoon. Later we visited with some Vermont boaters that had arrived in a 1936 Elco motor yacht. These folks had purchased it as a derelict for one dollar and one beer. Now, more than a decade later, she is fully restored and cruising through the waters. It represents a whole lot of work and investment of time and money. My hat is tipped to those folks that preserve the wonderful history of these classic vessels.
The sundeck provided the perfect setting for dinner aboard. A tossed salad, some fresh Canadian Bratwurst, and fresh "Peaches and Cream" variety of corn-on-the-cob. It may be impossible to top this meal but I'm sure we will try.
A beautiful sunset illuminated the sky for the close of another wonderful day.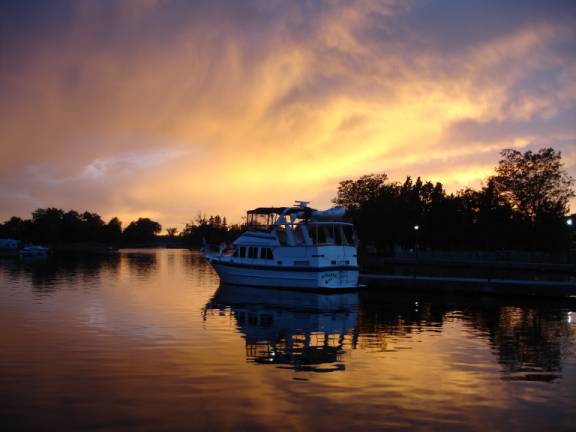 ATTENTION: SPECIAL NOTE:
As you can see, we are in Canada now. My Verizon AirCard that operates my computer internet will not operate in Canada. We are fortunate to have found WiFi from the local hotel today but in general, our internet capability will be extremely limited for close to two months. This will probably be the last update for a while. I hope you have enjoyed them so far. If I can, I will post as available.
Judy's phone will be out of service in Canada. Fred's phone will be available throughout the trip in Canada. I have North American Service and hopefully it will be OK. We can be reached at 210-296-4933. Please call us if you like, aye.
"AMARSE". is pronounced "AM-ARE-SAY". Our website is: www.amarse.net .
Check it out while we will attempt to keep you informed via email
We would like to hear more about what is happening in your lives. Let us know as we very interested in what's going on with our friends and family. Please DO email us with your thoughts and comments and ideas too. Thanks
Lot of Love,
Fred Reed and Judy Law
AMARSE
MT40