Howdy Everybody,
UPDATE #14 07/01/06 through 07/07/06.
The period 4/1 thru 6/30 has been covered in Updates 1 through 13.
We are very interested in hearing from ya'all. If you have missed out on any of the previous emails and would like us to re-send them, please let us know.
Please let me know if these emails containing pictures are too large and we will send you a version with text only.
07/01/06 SATURDAY PETERBOROUGH, ONTARIO (TRENT-SEVERN)
HAPPY CANADA DAY. CANADA'S BIRTHDAY
This morning was clear and bright. We are to remain at the dock at Peterborough, Ontario for the day. Today is Canada's big holiday and somewhat comparable to the US 4th of July.
Judy baked fresh banana muffins and served them, up on the sundeck, with coffee and raspberry yogurt.
The marina was bristling with activity as everyone prepared for the holiday celebrations. You have never seen so much "red and white" everything. The Canadians are justifiably proud of their country and their heritage.
Most everything is closed today, however, we went to the farmer's market and bought some fresh Ontario tomatoes and beautiful, fresh strawberries from Ontario.
We set up our folding chairs out front of the marina. Soon, the Canada Day Parade began led by a couple of RCMP (Royal Canadian Mounted Police). Unfortunately, they were on foot rather than astride their horses. The official uniform is still one of the most well-known and impressive outfits. I wonder if one of them was named "Dudley Do-Right"?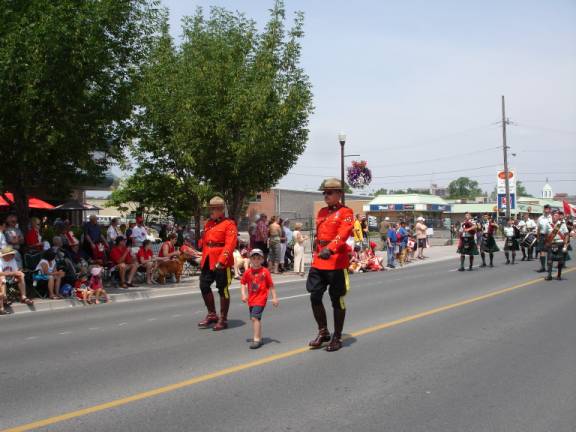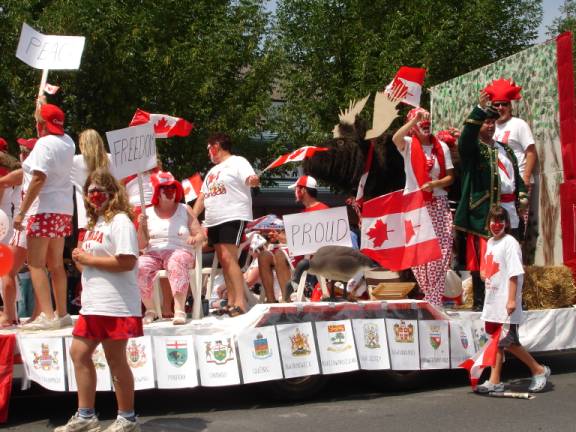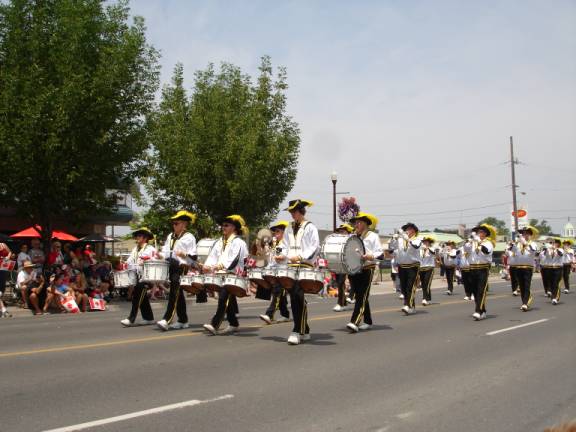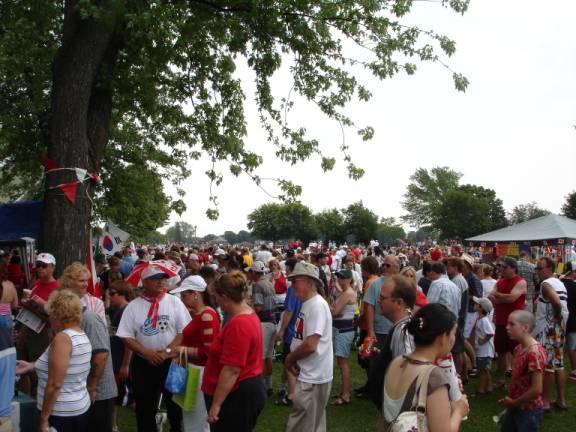 There was even a group of Gold Wing Road Riders Association among the participants. We sure miss the motorcycle and all of our friends in GWRRA.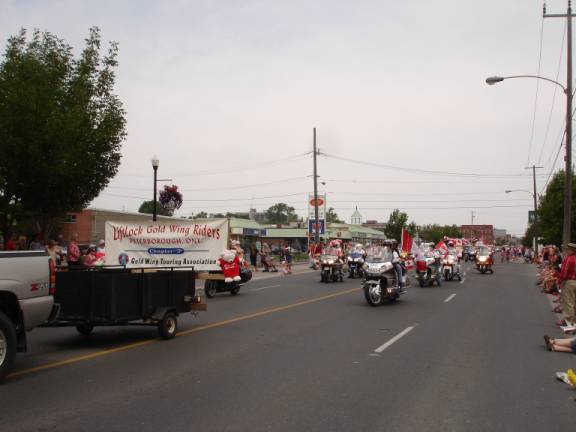 Lunch on the sundeck was very nice and was topped off with some of those fabulous strawberries from the farmer's market.
We took a long, long walk to Lock # 20 and then to Lock #21. Soon, these two locks will lift us. We were especially interested in Lock #21 because it is very unique.
Now here is your engineering assignment for the day. You wish to raise a number of boats in a river to a height 65 feet above. You also wish to lower a number of boats from the upper river the same 65 feet down. You want to do this in a relatively short time and do it simultaneously. One more thing, you must use technology available over 100 years ago. How would you do it?
Times up! Let me tell you how they chose to do it. They created a mechanism consisting of two huge water pans. Each of the two pans weighs 1300 tons when filled. One pan is at the upper level and the other is at the lower level. Weighing the same, they balance each other. The pans are mounted on huge water-filled hydraulic rams. The gates are opened and the boats enter the pans at both levels. The gates are closed thus containing the boats and water together. The upper pan is filled with an additional foot of water (weighs 130 more tons). This tips the balance and the high pan lowers while the low pan raises. This device is a marvel in technology especially for its age and time. The Peterborough lift lock first opened in 1904. Do you think you could have engineered something better? Also interesting, this lock is the highest of its kind in the whole world. Great stuff!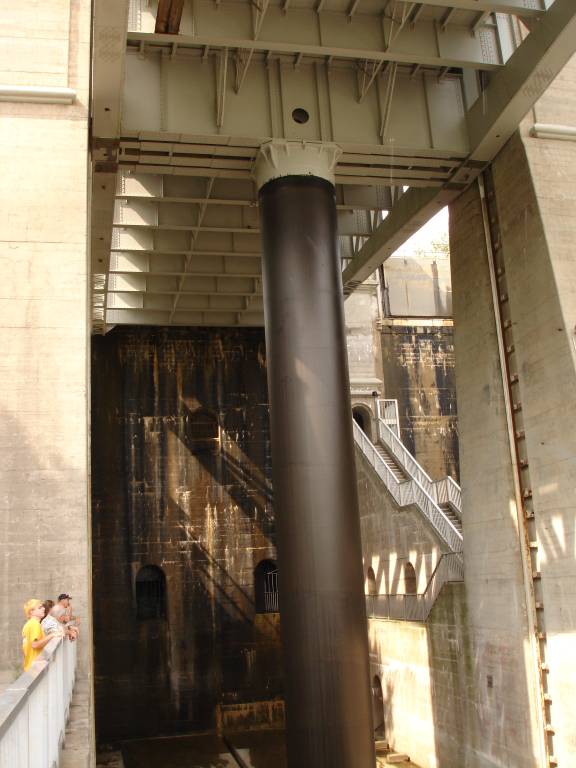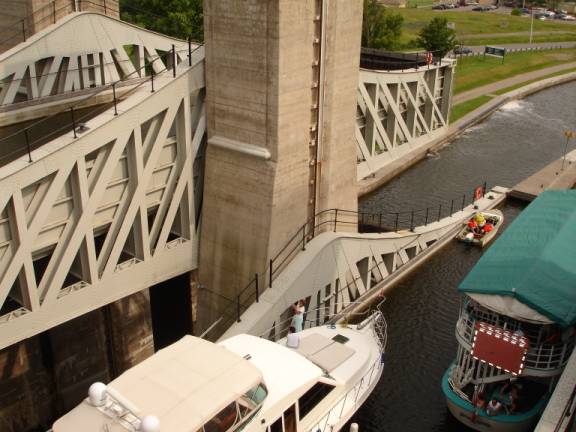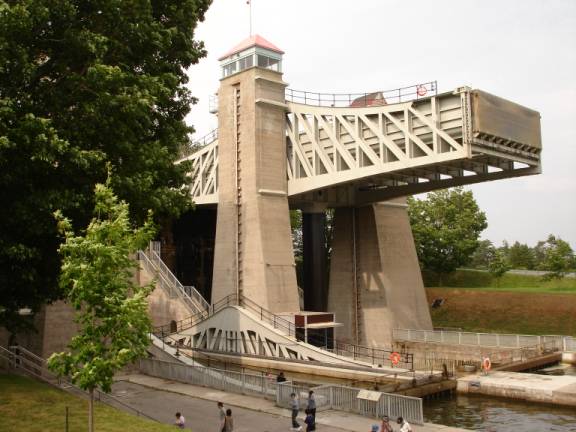 On the walk back, we visited friends, Ivor and Susan aboard "Lazy Susan". They are docked along the wall of Lock #20. We'd had enough walking so we called a water taxi to bring us back to the marina. They use a pontoon boat to shuttle folks around the local area.
Salads, grilled chicken breasts, herb stuffing, and fresh, sliced red ripe tomatoes were the dinner bill of fare.
The concert for the evening commenced at 8 pm under light rainy conditions. Thousands of people stood or sat open-air style to see the musicians perform. Being the sissies that we are, we decided that we could miss this evening performance and stay warm and dry. We could see the large number of umbrellas over the spectator area. The fireworks display started promptly at 10 pm and lasted for about fifteen minutes. From our ideal vantage point on the sundeck of AMARSE, it was a nice, enjoyable display that was fired over the waters of Little Lake and next to the shooting "fountain of lights".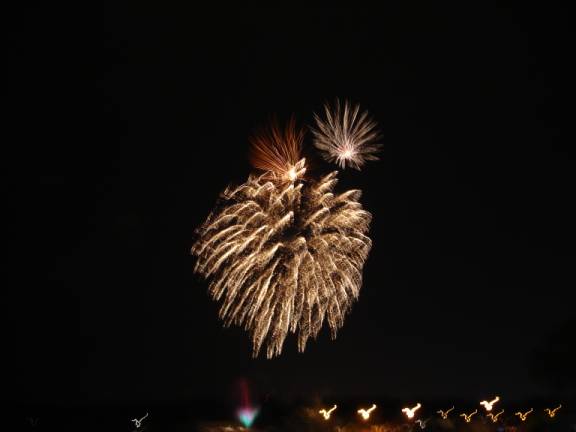 The evening had chilled down rapidly with the rain showers. As the throngs departed the area, it seemed oddly quiet for a change. We'll be ready for sleep.
07/02/06 SUNDAY PETERBOROUGH, ON
We woke to a clear but very windy morning. Our friends Ivor and Susan on "Lazy Susan" were moored to the lock wall about a mile or so away. They had promised to call us if an opening occurred and, sure enough, at 10 am, we received the call. We organized our plan, paid our bill, and watered up our tanks. Judy solicited the help of several burly men to help tame the wind forces against AMARSE as we backed out of the slip. Fortunately, everything went very well and we emerged from our berth with high marks for style and technique.
Twenty minutes later, we tossed lines to Ivor and his pajama-clad wife, Susan. It was after 11am, so now we know the derivation of "Lazy Susan".
Judy, Susan, and Ivor mounted their bikes to ride as I walked to the Peterborough Lift Lock. We had visited yesterday but the fascination of this engineering marvel drew us back for another look-see.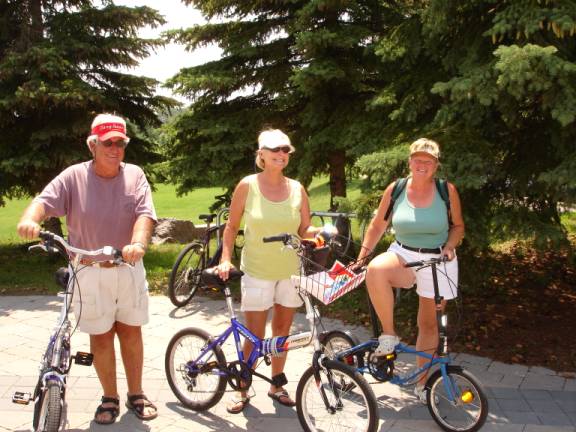 I enjoyed a re-run of the history movie while the others rode off to town and the grocery and booze stores. Canada has special stores that sell only beer. They are appropriately called "The Beer Store". You cannot buy booze anywhere else. The have separate stores called "LCBO" where you can purchase wine and hard liquor.
Back at the boat, I enjoyed a visit from Jean Turnbull and Pricilla Myers, Captain and Mate of the "Ocean Flyer", port of Barnstable, MA. They actually came up from Jacksonville, FL and are also doing the Great Loop. Jean is quite a remarkable gal. She has piloted her own plane around the world and rides a BMW 1200 C cruiser. Hopefully, we will have more opportunities to hear of her adventures and conquests. I have great admiration for adventurous people like Jean.
We were pleased to have Ivor and Susan for our dinner guests tonight. Susan prepared a wonderful plate of shrimp and fresh asparagus spears served with her own special herb dressing. She also brought a wonderful salad of fresh mixed greens with chunks of fresh mango. She topped it with her own dressing consisting of mango juice, soy sauce and other mystery ingredients. It was absolutely delightful.
Our contribution was grill seared Canadian pork sausages, special fried rice dish, applesauce, a plate of assorted cookies, and a nice Canadian wine that Judy and Susan had selected. With soft background music and fun conversation, it was a terrific evening. Susan asked Judy if she would consider shaping her hair. Judy, that girl of so many talents, was a beautician at one time in her life. Susan was extremely pleased with the results of her new coiffeur.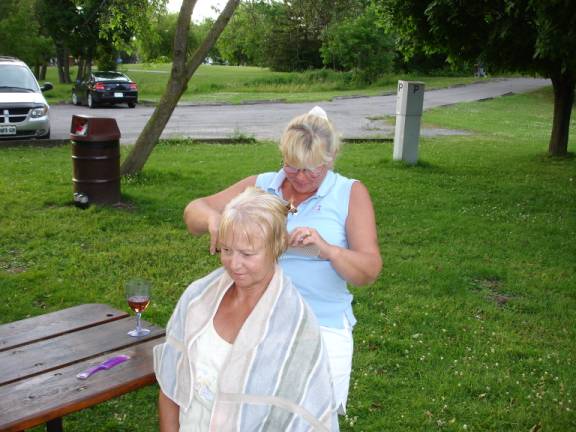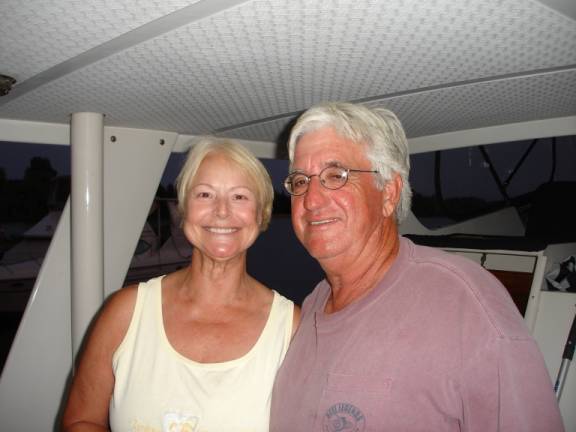 As evening came, the winds began to subside and quieted the slapping waves against the hull. Sleep was so good.
07/03/06 MONDAY PETERBOROUGH, ON (Lock #20) TO LOCK #27, YOUNG'S POINT, ON
The morning broke clear and calm with a temperature of 59 degrees F. It was the perfect morning to proceed with our journey. We were off the dock wall at 8:35 am. We had arranged with the lockmaster to sequence us in with the first four boats.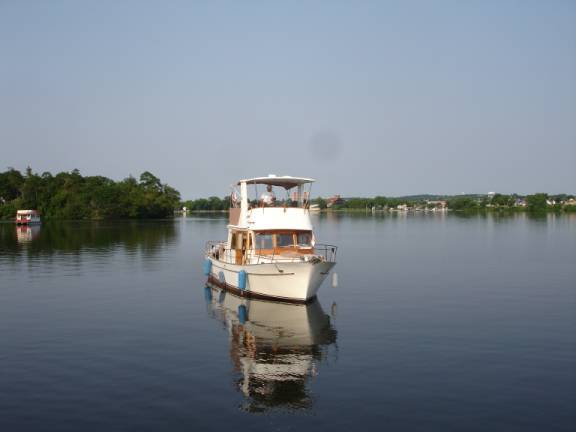 There was a lineup of at least 8 boats already waiting by the time the lock doors first opened. AMARSE would be number 1 and on the Port side, LAZY SUSAN was number 2 on starboard, A Canadian Bayliner with Dan and Cindy from Ottawa were third on Port, and CAROL H from the Solomons, MD entering last on starboard. We exited Lock #20 at 9 am and proceeded past a swing bridge and a railroad swing bridge before arriving at that very special lock that we have been anticipating for a long time. As we rounded the slight bend, the Peterborough Lift Lock loomed just ahead. We had seen it several times from the shore but now we were face to face with the largest lift lock in the whole world. How cool is that?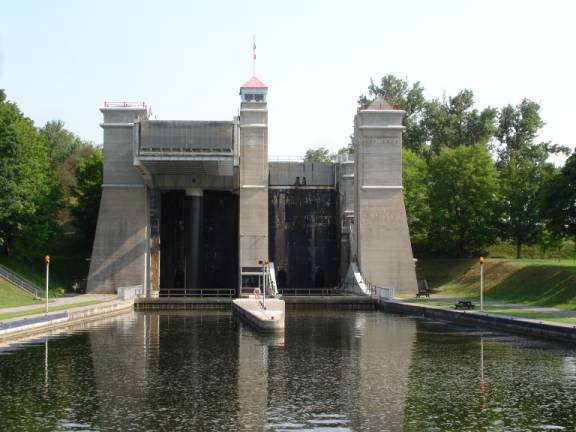 As the gates were lowered, we entered in sequence and lashed our vessels to the side cables.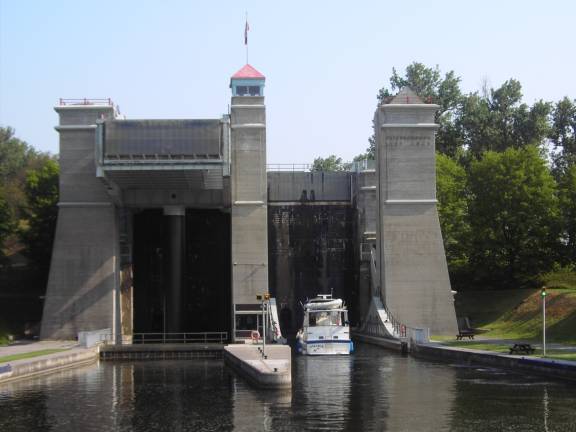 Soon, the rush of water was heard and the huge pan in which we rode began to rise quickly much like an elevator feels.
It was smooth and fast. In only about 2 minutes, we had been lifted 65 feet as if by magic. It was a wonderful experience to say the least.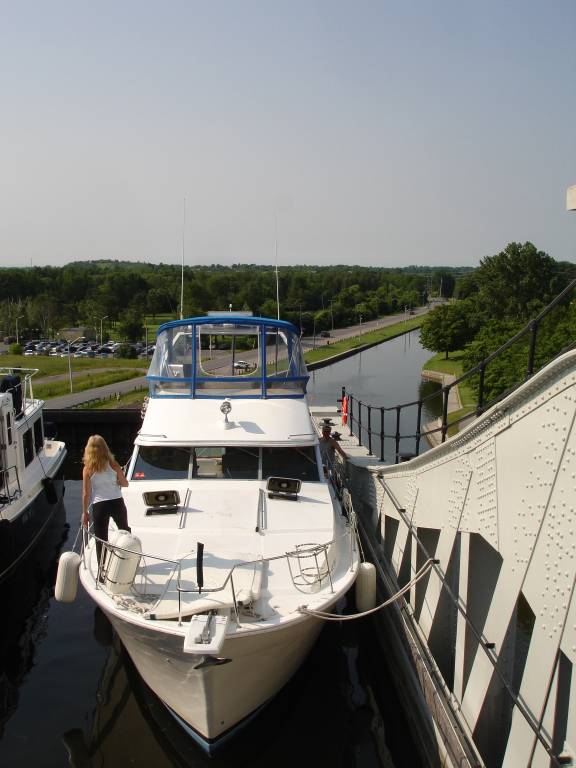 When the pans had stabilized, we exited in single file toward the next sequence of locks that would come in short succession.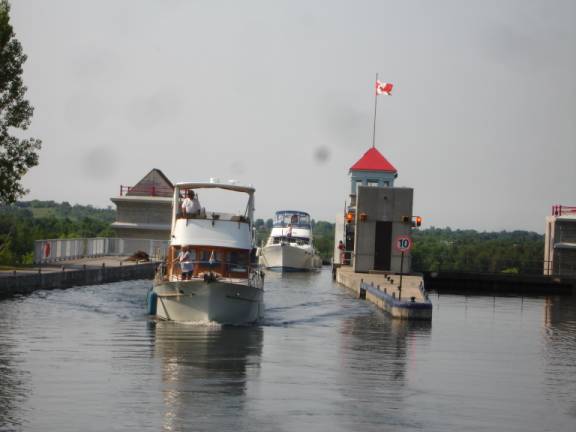 Following #20 and #21, we traversed #22, #23, #24, #25, and #26. Seven locks completed in only 9.2 miles.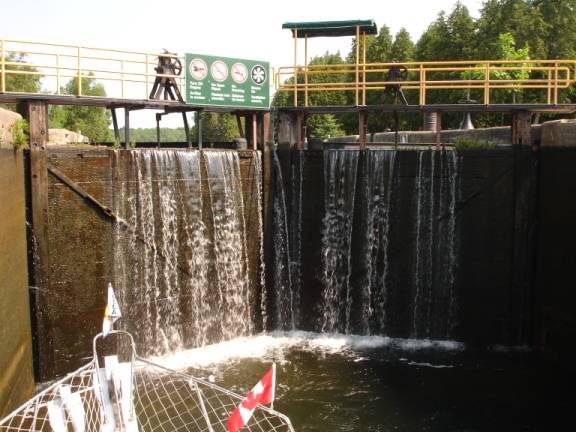 A pleasant cruise across Lake Katchewanooka, which is the first of the Kawartha Lakes, poised us at the foot of Lock #27 at Young's Point.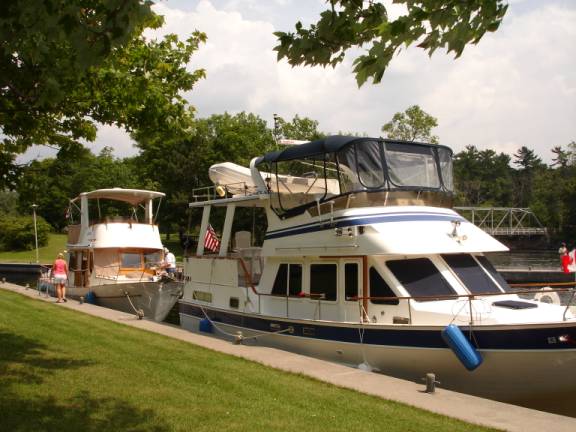 Tied up to the lower wall 2:05 pm, our timing could not have been better. The promised showers and thunderstorms were just preparing to put a damper on this lovely day. We had progressed a mere 15.4 miles today, been lifted through 7 locks, been motivating for 5 and a half hours, and had some experiences of a lifetime.
The showers were scattered and soon subsided to allow us to explore the area a little. The Young's Point General Store and the Lockside Trading Company are located adjacent to the lock. Today is still part of the Canada Day holiday since July 1 fell on a Saturday. A harmonizing trio, The Coachmen Three, performed on a small stage at the Trading Company. We enjoyed the music and even found ourselves singing along with those familiar tunes.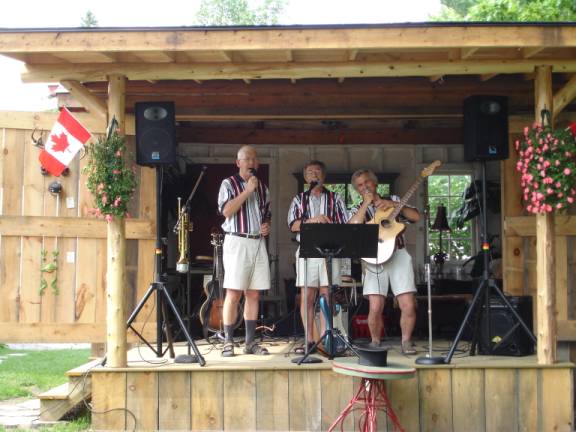 The ice cream was tasty and everyone was having fun. Judy and I visited the General Store where we selected our dinner for tonight. The store offers homemade fruit pies, breads, pastries, and wonderful looking pans of quiche, shepherd's pie, beef and kidney pie, meatloaf, and chicken potpies. We selected the chicken dish. Back at AMARSE, Judy baked the meal in the toaster oven. That device has been marvelous for our needs and does not heat up the boat like the full oven does. I must tell you that the Chicken Pot Pie was as good as I've ever had and the crust was so light and flaky like filo pastry. Yummy, Yummy, for the Tummy.
The local volunteer fire department showed up at the lock and proceeded to pump mass quantities of water in the locks and surrounding area. They were simulating a fire call to the lock and were using relay pumpers to supply the water. It was fun to watch and the guys were having a good time too.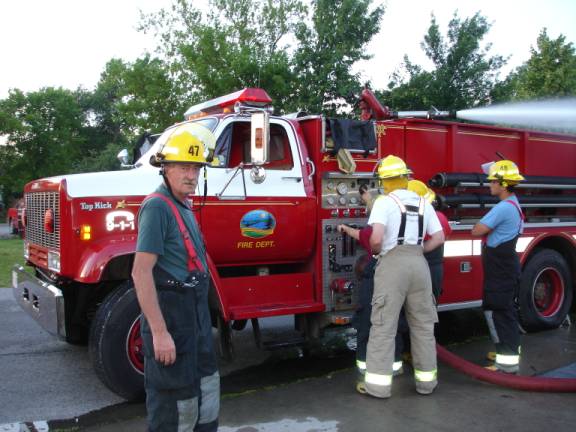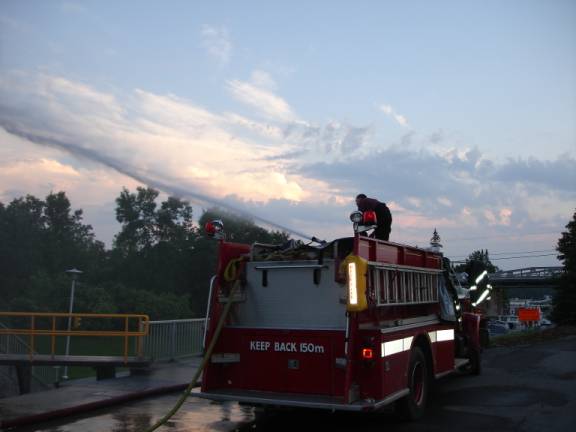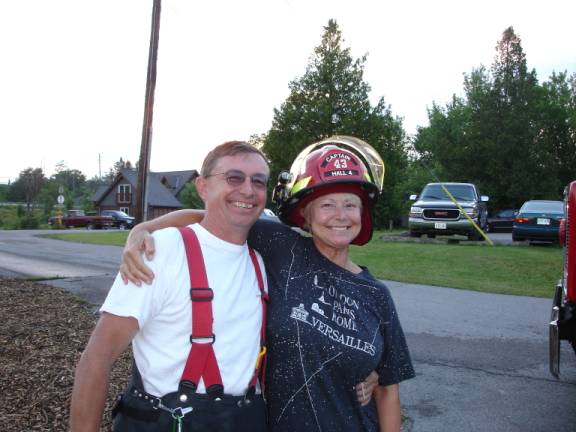 Evening showers resumed to keep us in and provided a quiet setting for an evenings rest.
Location: N44 29.260 W078 14.055
07/04/06 YOUNG'S POINT, ONTARIO (LOCK #27 BOTTOM TO #27 TOP)
The morning forecast and visual confirmation indicated that today would be filled with showers after the fog lifted. We decided to stay here today at Young's Point. The friendly Lockmaster recommended that we move to the upper wall for a more relaxing time. Susan was bothered with a leg problem so we moved up the short distance and decided to stay put for the day.
The rains came soon in that on-again, off-again, fashion. We were content to be here and stay comfortable and dry. We did walk to the General Store between the raindrops to pickup some more of the homemade meals.
Lunch at Mel's Diner (No, not the one from TV fame) introduced Judy to "Peameal Bacon". It is like thinly sliced pork loin with the edges rolled in corn meal and then pan sautéed. The sandwich consisted of a burger roll, peameal, lettuce, tomato, and Mayo. It was pretty good. My favorite was the Fresh Cut Fries. The fish was nothing to rave about so I'll say no more.
The cool, rainy afternoon was begging me to take a nap. How could I argue?
Somehow during my nap, the rain gave way to partly cloudy skies as the breeze picked up. We were reassured that it had been the right decision to stay the day. As the pangs of hunger swept over us, Judy prepared the evening dinner to be enjoyed on the sundeck. She invited Ivor and Susan to join us again for the evening repast. Those wonderful homemade products from the General Store were the choice, of course. She baked one of the most beautiful Quiche Lorraine that I've ever seen and served it with the absolutely delicious Meat Loaf. Mushroom sauce and warmed sourdough bread accompanied the entrée. A dish of dried fruits topped it all off nicely. Our compliments to Chez Judy, Voila!
Ivor arranged a private showing of his personally produced video. It featured his greatest adventure. He skippered his 42-foot Moody sailboat in the ARC '90 race from Las Palmas in the Canary Islands to St. Lucia, British Virgin Islands in the Caribbean. The voyage of over 3000 miles took some 23 days, 7 hours to complete. He did a great job on the film and the music selection was done very nicely.
Our Canadian friends, Dan and Cindy from "Triumph", put up an American flag and came over to sing "God Bless America" to show respect for our US national holiday this 4th of July. It's great to have international friends.
07/05/06 WEDNESDAY YOUNG'S POINT, ON TO LOVESICK ISLAND, LOCK #30
The pre-arranged flotilla, consisting of TRIUMPH, LAZY SUSAN, and AMARSE, powered gently out of the upper lock # 27 area at 7:20 am.
Around a few bends, we entered Clear Lake. The marshlands gave way to the pre-Cambrian granite islands of the rugged Canadian Shield. In the calm of the early morning sun, the beauty was absolutely incredible. The channel soon narrows to provide passage through the increasingly dense island formations. The red and green buoys wander in tight curves through an area called "Hell's Gate". Close attention to our course was mandatory. A small navigation mistake here would certainly cause significant damage on the solid rock base lurking close to the surface.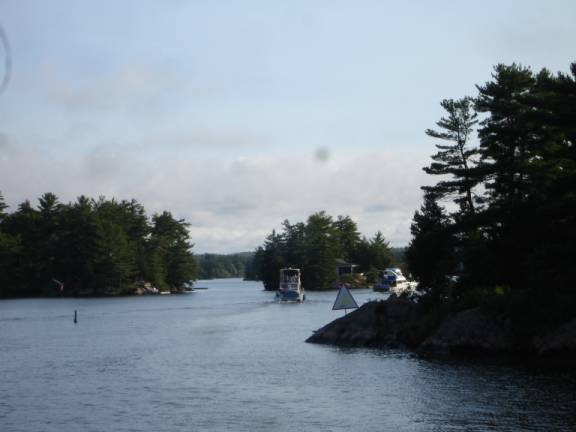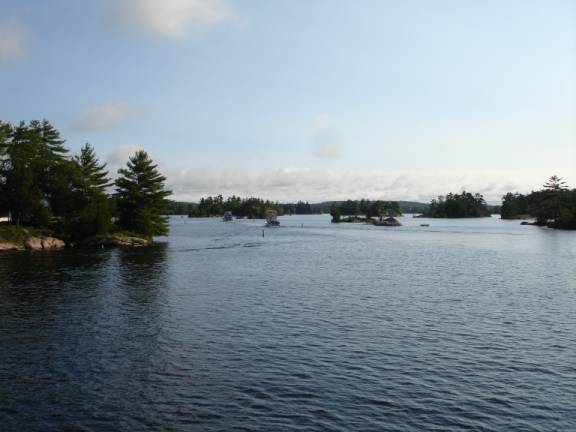 Just off the main through channel lies a magnificent place called "Stoney Lake". This beautiful body of water and rock formations is known as the "queen" of the Kawartha Lakes. We had been unable to convince our friends to join us in this side adventure, therefore, we parted ways as they continued along the main channel. Although only about 6 miles long and half that wide, "Stoney" is dotted with over 1300 rock islands.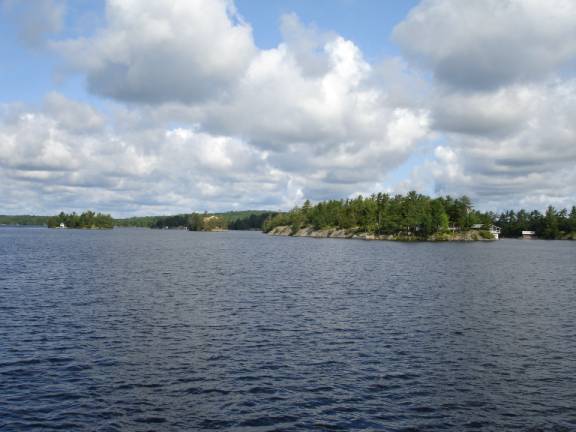 Along this lakeshore, residences of the wealthy grace the tree-lined points.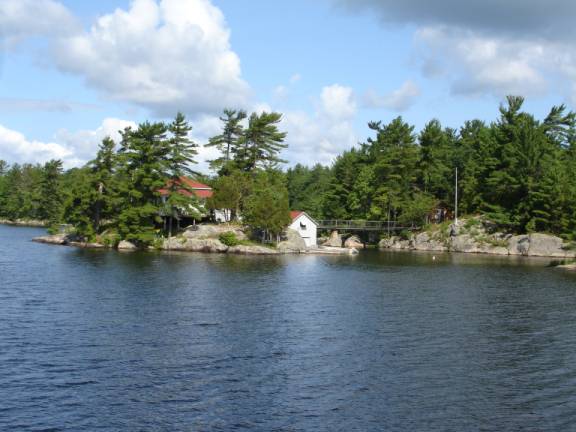 We wove our course around to visit such places as Juniper Island, McCracken's Landing, Boshing Narrows, Crowe's Landing, Northey Bay, and Mount Julian. These imaginative and intriguing names lure me in to appease my curiosity. The scenery is stunning to the senses and, in the coolness of the morning, we thoroughly enjoyed the adventure. As we were departing this lake, the young people of the local sailing club were active with their lessons and practice activities. Perhaps fifty of the little one-design boats flittered about in the confined race area.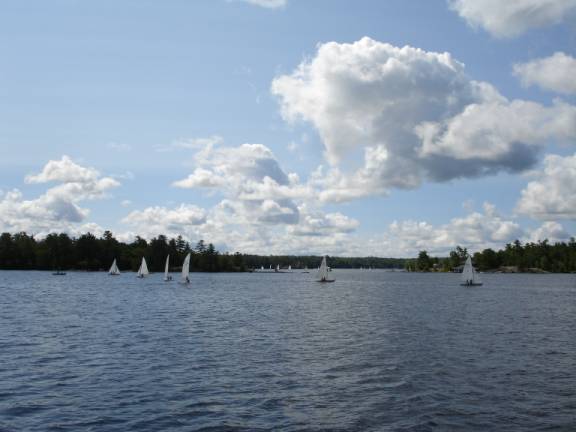 In about three hours or so, we had resumed the main channel course that rounds Hurricane Bend and leads to the Burleigh Falls, Lock # 28 and its 24-foot lift. This modern lock built in 1968 replaced the need for two locks.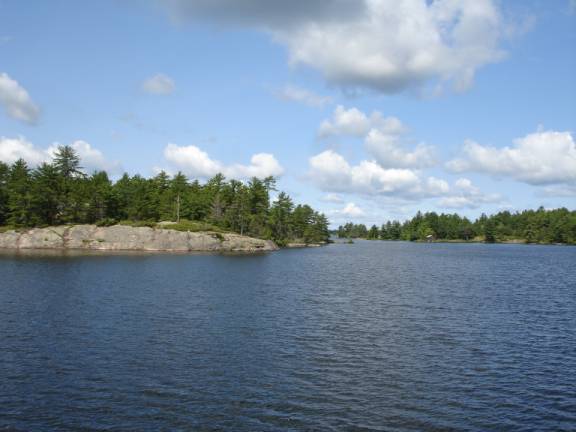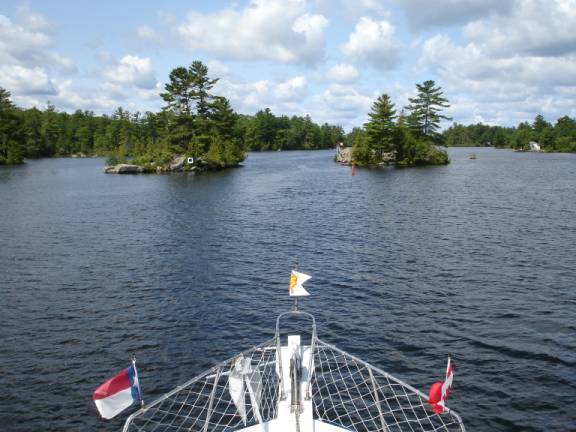 With #29 eliminated, the passage through Lovesick Lake positioned us at the base of Lovesick Island Lock #30. There at the lower wall, our flotilla buddies of the morning had moored their vessels. We, of course, opted to join them in the last remaining slot along the park-like area.
Pleased to be reunited with our traveling pals, we chatted about the sights and adventures that they had missed.
Here is the illustrious Captain Ivor Nathan decked out in his "Magic Hat". He says that the hat commemorates the 100th anniversary of the Peterborough Lift Lock, however, we think that the 100 might represent either his age or his IQ. (HoHoHo and a bottle of rum).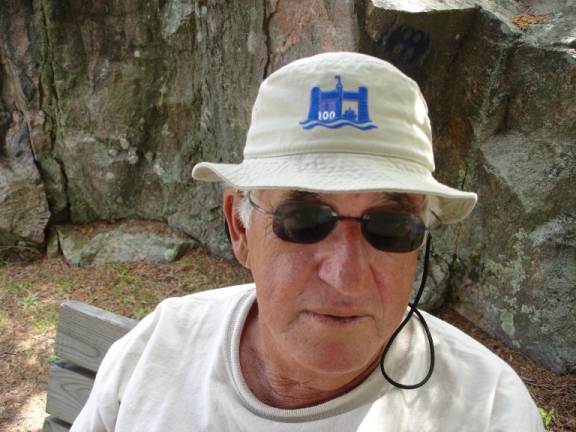 This is a wonderful, island spot. It is unique in that it is the only lock, along this waterway, that is only accessible by water and even the locksmen must come by boat.
Judy made a lunch of grilled sandwiches prepared on the sourdough bread from that great General Store of yesterday.
Strolling around the little island can make a guy a little sleepy. Yep, you guessed it, these afternoon naps are becoming a delightfully lazy habit.
Here is your trivia exposure for the day. How did "Lovesick Island" get its name? The romantic legend has it that a native Indian lad fell in love with a beautiful, redheaded Irish lass named Katharine O'Donahue. His hopelessly failed love dream left him so distraught that he sought the lonely solitude of this remote island to pine away his broken heart. Finally, the young, lovesick Indian, named Richard Fawn, exhausted and emaciated, was gently persuaded to return home at the coaxing of his friends. As Paul Harvey would say; "…. And now you know the rest of the story".
OK boaters, here is your tip for the day. Judy worked to remove the remnants of the signature stain on the bow of the boat today. At the suggestion of another traveler, she squirted Lemon Juice, full strength from the bottle, onto the stained area. Miraculously, the magic potion eliminated the "waterway smile" from the bow without any scrubbing. This method has worked the best of any so far.
Another amazing dinner included Judy's now internationally famous specialty of baby potatoes, mushrooms, and onions. Wow!!
07/06/06 THURSDAY LOVESICK ISLAND, ON
We had fully intended to leave this wonderful place on the first lock lift. At 8:30 am, the lockmaster arrived by boat and the crews of Triumph, Lazy Susan, and Amarse discussed the sequence of locking with him. On a whim, I asked if it would be possible to stay another night right here. His first response was that it would be impossible, however, he reconsidered and said that he would overlook the one night limit this time. Great, this would make it possible for us to explore the local lake area more fully. We lowered the dinghy from its secure location on the roof of the aft sundeck, loaded our fuel and safety equipment, and set out to explore the surroundings of Lovesick Lake.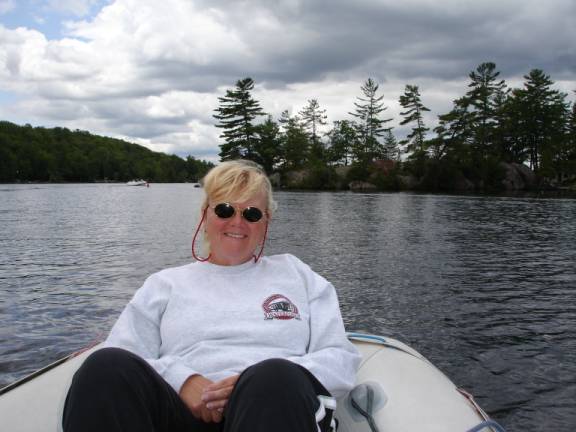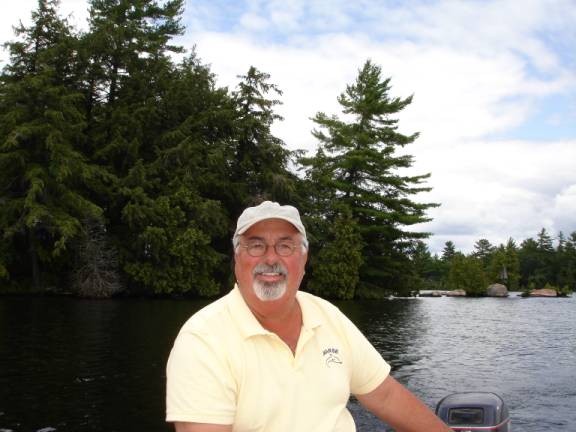 We moved rather slowly through the rocky islets and were on the sharp lookout for those hidden chunks of solid granite that would surely damage our outboard propeller. Our immediate concern was the numerous beds of weeds that would entangle our prop. These, of course, do not cause any damage, however, we had to stop and rid the prop of the tangles every so often. Back and forth, around and back, in and out, we twisted our course to enjoy all the varied scenery.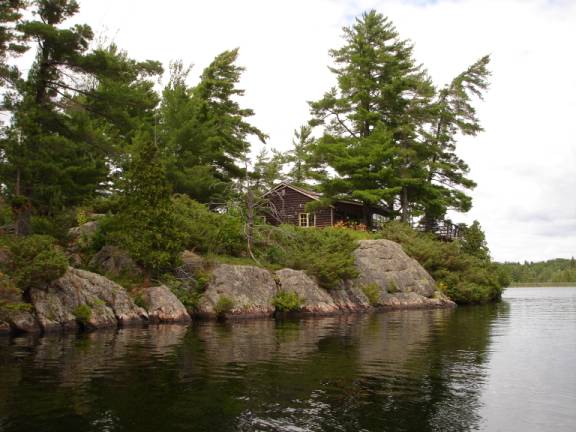 We made a stop at Burleigh Falls for a little sightseeing. After watching some lockings, we walked over to the resort where Judy enjoyed an ice cream cone. A visit to the falls made this a very nice stop. A sandwich lunch back at Amarse was delicious. We spent the afternoon exploring some new areas that the helpful lockmaster had suggested. His grandfather had been on of the long-time lockmasters right here when they had to live on the island. His father had also worked as a maintenance technician on the lock system. His brother was involved with the dredging operations on the canal. With less than two years to retirement, he thinks that he will be the last of the dynasty within the lock-tending program. With all this scenic beauty, I can't imagine a more enjoyable way to occupy our day.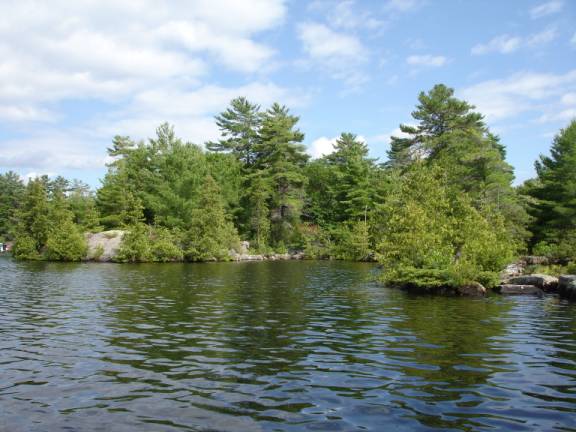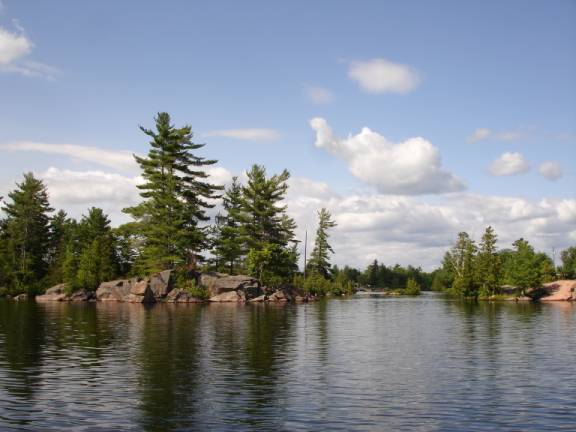 The dinner menu features Lasagna that we brought from that General Store. This is the last of those terrific dinners. Hopefully, we will find more similar treats along our routes.
07/07/06 FRIDAY LOVESICK ISLAND, ON to BOBCAGEON, ON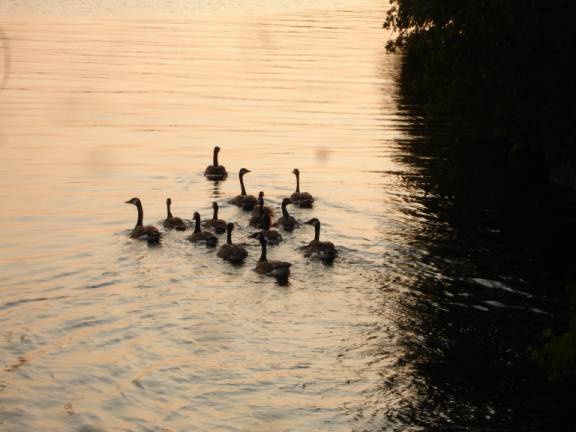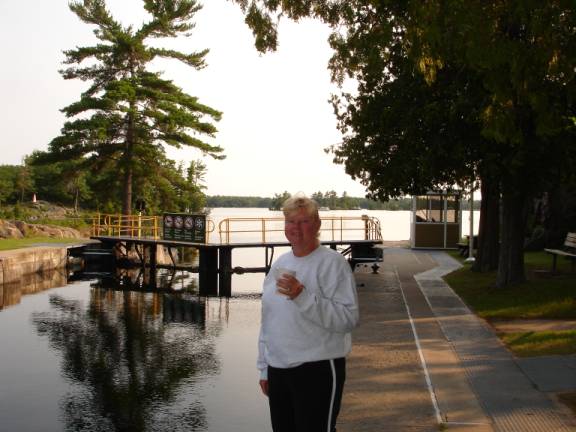 With the precision and timing of a Swiss watch, the lock tenders arrived by boat at exactly 8:28 am. The day's schedule begins at 8:30 am. Immediately, they prepared the lock for AMARSE and upon the illumination of the green light, we entered the gates to lock up by ourselves. We thanked the guys for another great night and we were on our way. The weather was perfect again and, in the cool, calm morning, we whisked across Deer Bay and Lower Buckhorn Lake to be lifted by Lock #31 at Buckhorn. Buckhorn Lake transitions at Gannon Narrows to become Pigeon Lake and leads to the town of Bobcageon, ON. Our friends on Lazy Susan and Triumph were tied up to the lower lock wall and were able to convince some small runabouts to make room for AMARSE. The place was very bustling and without our friends help, we would not have found a spot. We had traveled another 23.5 miles and been lifted through two locks in the previous four hours.
A nice little restaurant, cutely named "Just for the Halibut", was the recommended place for lunch. We enjoyed the Haddock Fish n' Chips.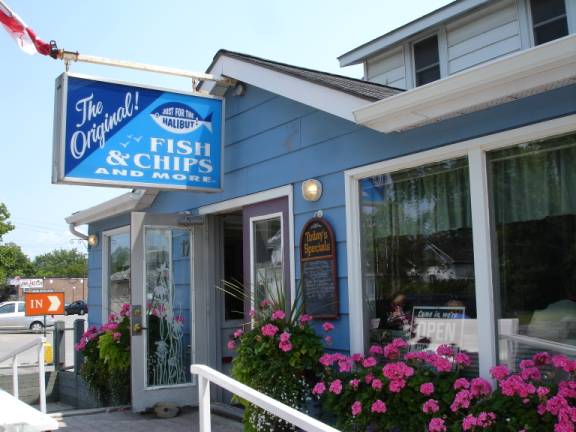 Judy took the dirty laundry to the Laundromat and opted for the wash-dry-fold service. This was great as it freed up her afternoon for more fun stuff. We did some grocery shopping and were quickly reminded how much more expensive it is here in Canada. Back when the exchange rate was better, the US dollar bought a lot more. Now, the dollar has weakened and so everything is quite expensive by comparison.
Today was Dan and Cindy's 22nd Anniversary. To celebrate, the six musketeers went to dinner at the Water's Edge Restaurant.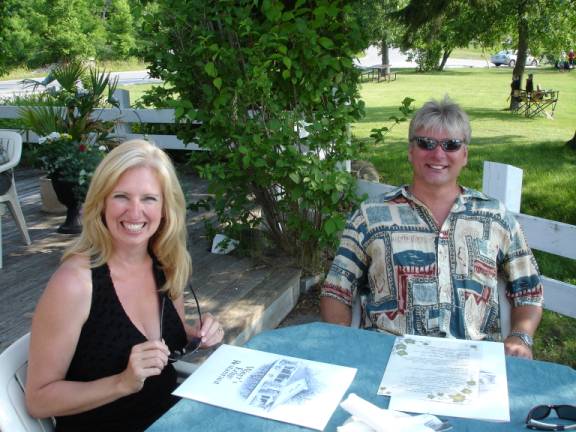 The water front dining was quite elegant and the food was quite delicious.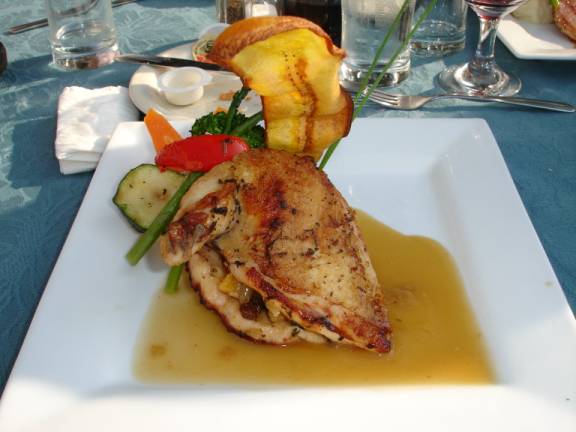 The bill was a little shocking but, what the heck, we were having a wonderful time. Back aboard "Triumph", we enjoyed cake and coffee laced with assorted creams and liqueurs.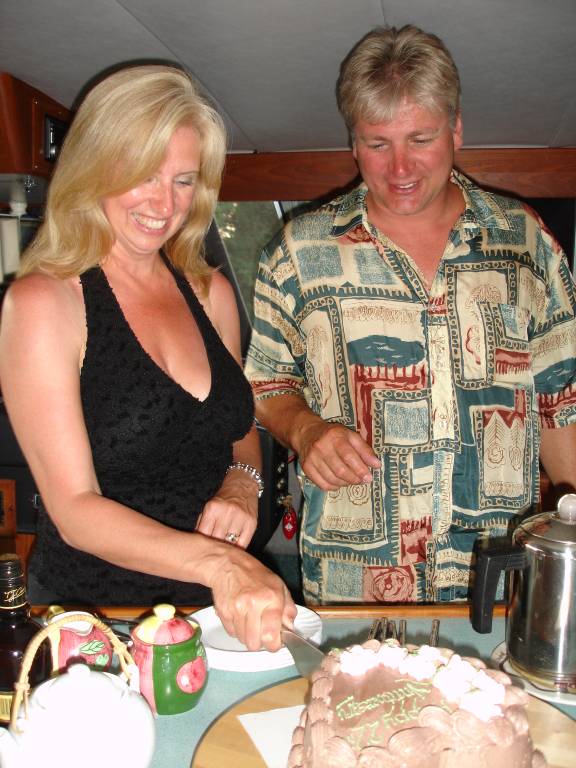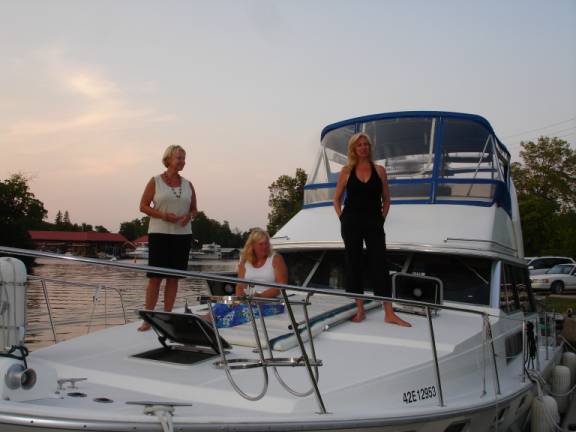 The conversation was great and Ivor had us all chuckling with his repertoire of jokes. If laughter is the best medicine, we will become very healthy people. The evening came to a close as the mosquitoes' appetites grew beyond our tolerance level.
ATTENTION: SPECIAL NOTE:
As you can see, we are still in Canada. My Verizon AirCard that operates my computer internet will not operate in Canada. We will be sending this out when we can find a WiFi hotspot. These locations are few and far between. Our internet capability will be extremely limited for close to two months. This may be the last update for a while. If and when I can, I will post what is available.
Judy's phone will be out of service in Canada. Fred's phone will be available throughout the trip in Canada. I have North American Service and hopefully it will be OK. We can be reached at 210-296-4933. Please call us if you like, 'Eh.
"AMARSE". is pronounced "AM-ARE-SAY". Our website is: www.amarse.net .
Check it out while we will attempt to keep you informed via email
We would like to hear more about what is happening in your lives. Let us know as we very interested in what's going on with our friends and family. Please DO email us with your thoughts and comments and ideas too. Thanks
Lot of Love,
Fred Reed and Judy Law
AMARSE
MT40