Howdy Everybody,
UPDATE #11 06/15/06 through 06/19/06.
The period 4/1 thru 6/07 has been covered in Updates 1 through 10.
We are very interested in hearing from ya'all. If you have missed out on any of the previous emails and would like us to re-send them, please let us know.
Please let me know if these emails containing pictures are too large and we will send you a version with text only.
06/15/06 THURSDAY Brewerton, NY
We awoke in our "little tree house", so to speak. AMARSE was still suspended in the TravelLift hoist awaiting parts. Donna was up early packing and re-packing for her departure this morning. We lowered her bags and belongings down from the sundeck by using ropes.
At 7:45 am, George, the marina owner, drove off to Syracuse to drop Donna at the Greyhound Terminal. A relatively short bus ride of a little over 5 hours would bring her to her daughter's house in Pennsylvania. Debbie would pick her up from the "Hound". Judy and I tried our best to convince her to stay on for more adventure, but she had some important priorities to attend to in the near future. Oh, well, we will miss her as we had a wonderful time together.
We did some shopping and had lunch at the Bamboo Garden. It was quite good. Upon our return to the marina, the parts were in and the installation progressing. Unfortunately, the hose they ordered for my washdown pump was the incorrect size so we will have to defer that permanent repair. Several of our friends from Waterford arrived this afternoon. We finally "splashed" the boat and busily worked to bleed air from the intake systems and re-organizing the boat equipment.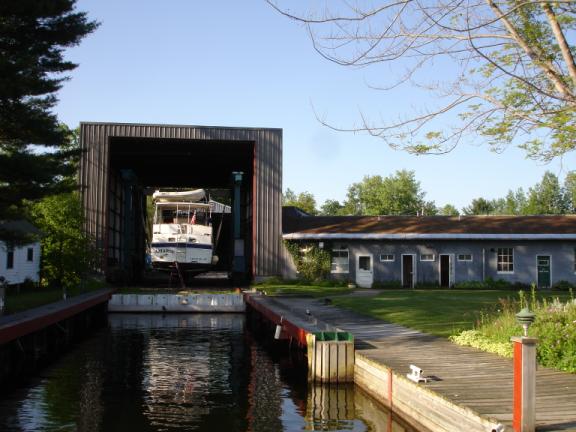 We loaded up with fuel and water in preparation for our morning departure.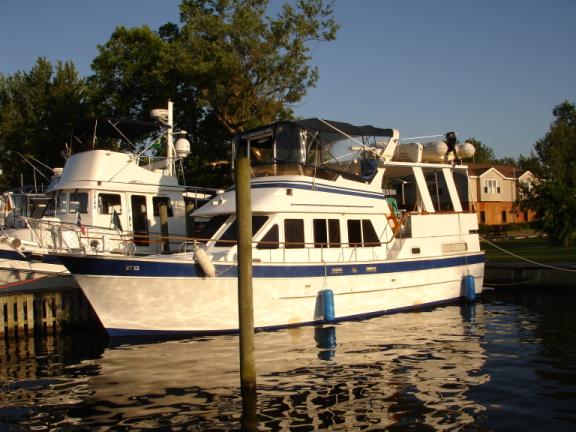 Needless to say, the repair bill was a shocker. I don't mind paying for good work and value, however, I abhor inefficient work techniques and lousy results. Our marina overnight stay was good and I can recommend Ess-Kay Yards for that, however, I cannot recommend any repair work here.
06/16/06 FRIDAY Brewerton, NY to Henderson Harbor, NY
The early morning conditions were near perfect. The air was clear and nice and the water still and reflective. At 6:50 am, we eased away from the slip. Lock #23, just a few miles away, would provide the last 7 feet of drop on the Erie Canal prior to our transition to the Oswego Canal.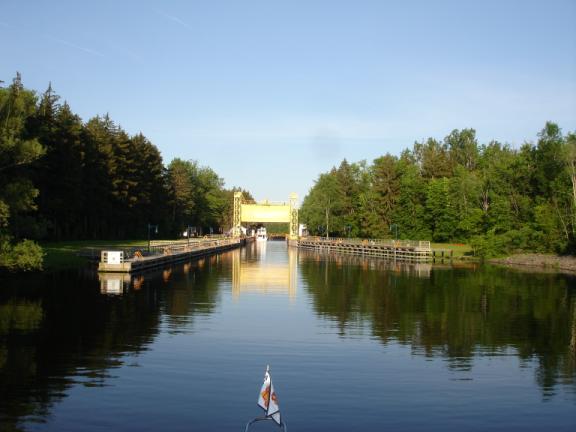 At 8:15 am, we had now completed the 160-mile eastern portion of the Erie Canal and turned north to begin the 24 miles and 7 locks of the Oswego Canal. Lock #1 is unique in that it is collocated with the only lift bridge on the Oswego system.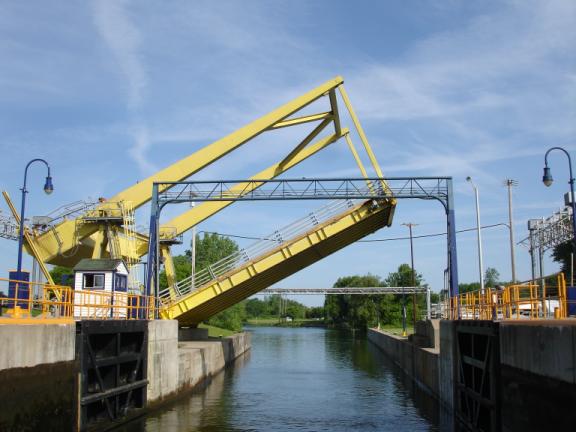 With the temperature in the low 70's and very light winds, we enjoyed the scenery and the experiences very much.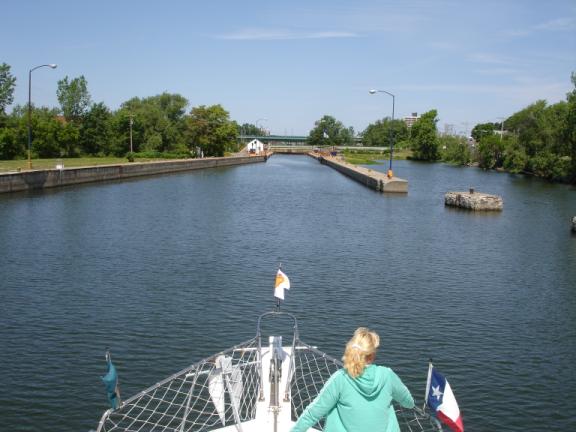 There is no Lock #4 so that number is skipped. The currents at the entrance to Lock #5 are tricky so any of you coming this way, please use extra caution.
At 12:40 pm, we cleared the jetties and passed the lighthouse leading us into Lake Ontario.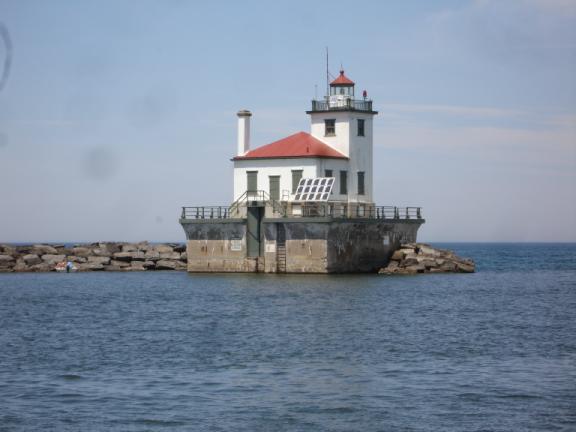 The water is a beautiful, clear blue and indicated 56.6 degrees. The air temp of 66 degrees and winds of only 5 to 10 mph and seas about 1-2 feet with an occasional 3 footer made our crossing nice and comfortable.
At 16:20, we rounded the buoy into Henderson Bay. Thirty minutes later, we were in Henderson Harbor area. We motored around for about a half hour and picked up an empty mooring ball for the night. We had tried to call the yacht club for permission but didn't have any luck. A nice guy from the yacht club came by in his sailboat to inform us that all the moorings were privately owned. After chatting for a while, he agreed that an overnight probably wouldn't be a problem there. He was even nice enough to invite us to tie up at the yacht club as his guests. We gracefully declined as we needed to depart early. I replaced the radar antenna and the TV antenna to their respective places on the arch. We will need to take them off again before Chicago but that will be a few months from now. In the peaceful evening, we enjoyed a salad, Emeril's Chicken/Apple sausage, applesauce, and butter/herb mashed potatoes. This is one of my favorite meals. Yummie!!
I was nice to be securely attached to the mooring as the strong storms came in over night. Lots of thunder, lightning, and winds, however, we were able to rest well.
Location N43 51.300 W076 12.270.
06/17/06 SATURDAY Henderson Harbor, NY to Cape Vincent, NY
The thunderstorms came in about 4 am. They caused their usual noisy ruckus and left quickly. By 8 am, the sky conditions were improving to a breezy, cool, and overcast morning. We dropped the mooring and retraced our path out of Henderson Bay. Lake Ontario was still stirred up a bit from earlier weather and we rolled back and forth in 3 and 4-foot seas. Nothing wanted to stay put. I can't tell you how many times we picked up the charts and books that had been tossed to the floor. Our stepstool would slide rapidly from one side to the other. Fortunately, we didn't have too far to travel and we were pleased to be advancing forward.
By 11:10 am, we were tied up to the city dock at Cape Vincent, NY. Several other boaters helped us secure the lines making our arrival easy and pleasant. Cape Vincent, NY is best known as "the place where the Lake meets the River".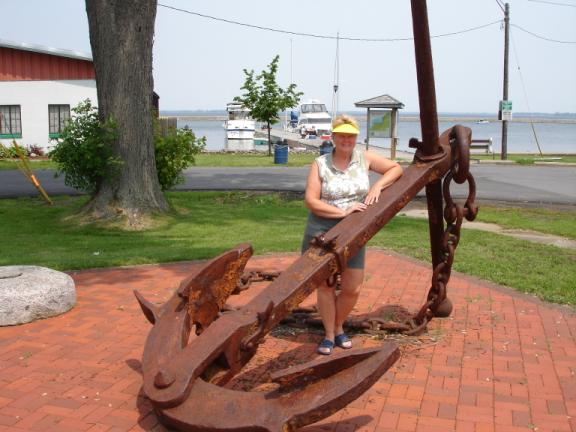 It is here that Lake Ontario ends and the St. Lawrence SeaWay begins. This marks the beginning of the longest fresh water passage on the continent flowing 1600 miles to the northeast. AMARSE will only travel a very short way on this river.
It is the town-wide yard sale day here in CV. With wonderful weather, the lawns and driveways were filled with people and tables of "priceless treasures" offered for a song. We checked out a couple but quickly conceded that we had no room for anything else no matter how great the bargain.
Lunch at Ann's Fisherman's Fare consisted of a bowl of chili for Judy and a bowl of Clam Chowder for me. Pretty good.
We walked around the town and enjoyed the architecture of the older homes and buildings.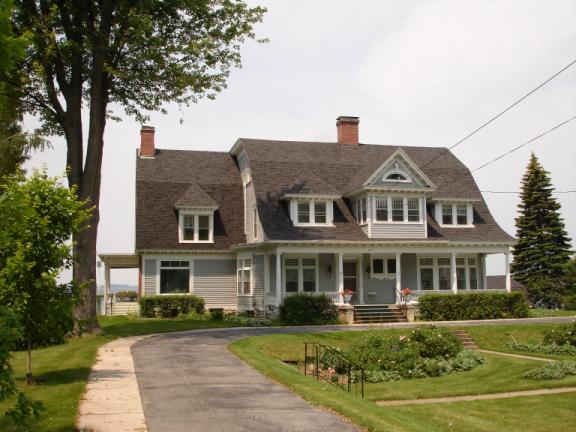 We visited the Department of Environmental Conservation laboratory and aquarium. The DEC does studies on the fish to evaluate their health and well-being. The DEC building is very nice and includes dock space for visiting boaters.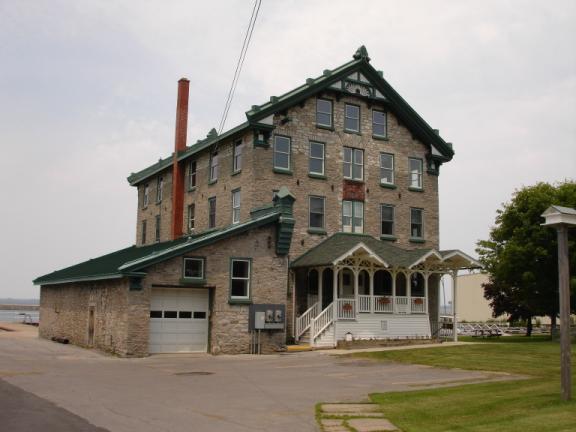 Tonight's special at Roxy's Hotel was Prime Rib. With our hearts set on a big slab, we took our seats and we were soon informed that they had already sold out all the Prime Rib. Disappointed, we ordered the fresh Haddock and were informed that too was sold out. Well, what a revolting development. We decided to go elsewhere and chose Aubrey's Restaurant for their Haddock dinner. It was pretty good but we are still waiting for that perfect one.
Upon our return to the docks, we chatted with a local sail boater. He helped fill us in on some of his favorite spots around this Thousand Island region.
LOCATION N44 07.803 W076 20.034
06/18/06 SUNDAY Cape Vincent, NY to Alexandria Bay, NY
HAPPY FATHER'S DAY
After listening to the weather forecast last night, I had concluded that we would be staying right here in Cape Vincent for the next few days. The forecast was for storms and 35 mph winds.
When we awoke, it was very calm and 70 degrees. The new, revised forecast was for Hot and winds of only 10 to 15. GOTTA GO!!! WHERE? I DUNNO!!!
We cast off our lines at 8 am and headed down river along the American side of the St. Lawrence SeaWay. We passed by Clayton and were enjoying a beautiful day of boating.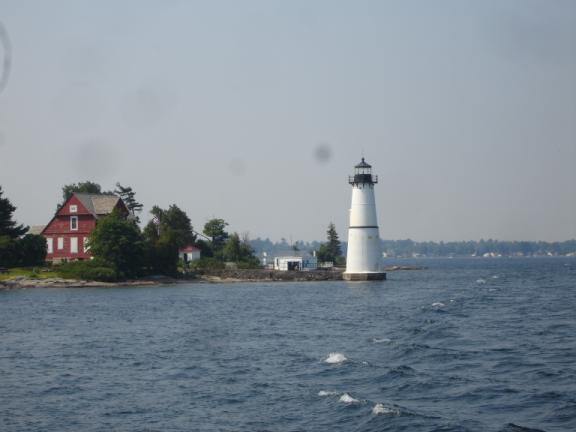 As the morning continued, the pleasure boat traffic multiplied quickly. The temps were climbing well into the 80's. Still uncertain of a destination, we stopped in Alexandria Bay, NY for fuel. The city dock just across from the fuel stop was inviting and there was an opening just large enough for our AMARSE. We tied up at about noon.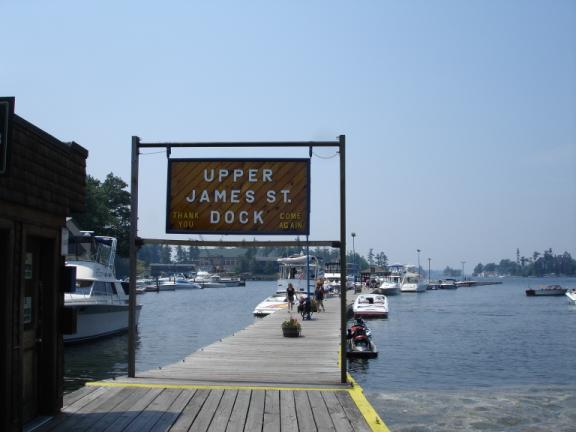 The harbor was very active and people were enjoying this absolutely beautiful day. We walked into town and found that a tour boat would take us to a famous castle. We got our tickets and boarded the shuttle to Boldt Castle. This place is just awesome. The first stop on our tour was the "Boldt Boat House".
What a place. We strolled around the grounds and inside enjoying the history and restored antique boats on display.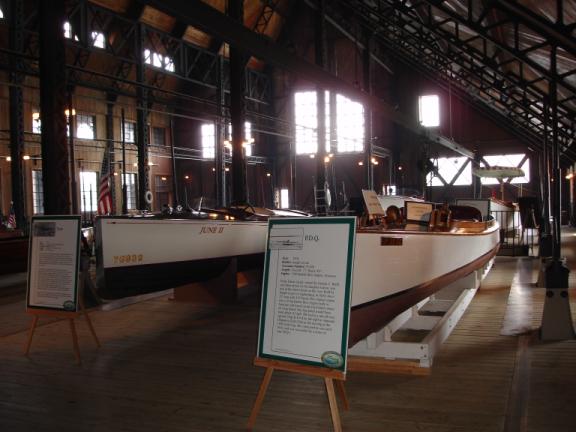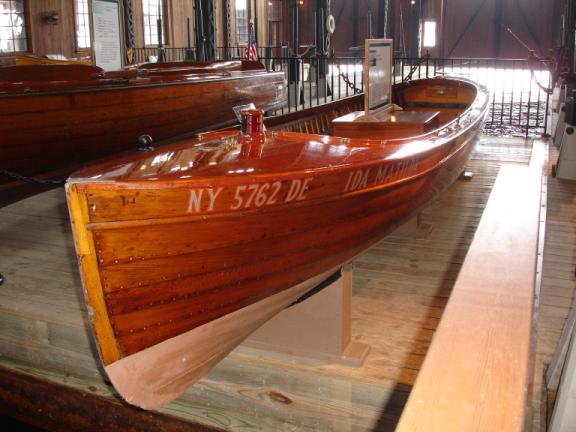 After about 30 minutes, we took the boat shuttle to the main castle. Some background information will help me explain this gorgeous place. Before the turn of the century, this area attracted the attention of about 100 wealthy millionaires. These folks constructed extravagant vacation homes and boating facilities here in the Thousand Islands area. Boat racing was a very popular endeavor among these upper class gentlemen. Each family sought to construct a more fabulous estate than the next. Mr. Charles Boldt was one such gentleman. He had made his fortunes in the Hotel business and it was clear that money was of no object. He had constructed the magnificent boat house and charming residence. Charles, and his wife Louise, soon ordered the residence torn down and began construction on a magnificent castle. It would be a tribute to the love of this couple. Construction began in 1900 and no expense was to be spared. Work continued for 4 years before tragedy struck. A telegram in 1904 informed that Louise had died and that all work was to cease immediately. So devastated was Charles that he demanded that no member of his family return to Heart Island and that the nearly finished castle be abandoned forever. The castle lay in a decaying state until 1978 when the property was bequeathed to the Bridge Authority. Restoration work commenced and has progressed since. Now, a great many tourists visit this amazing place. Judy and I were absolutely amazed at the grandiose magnificence of this place.
The archway is topped with bronze animals known as "harts". The island on which the castle was built was Hart until Mr. Boldt changed it to Heart Island. The "heart" then symbolized much of the construction theme.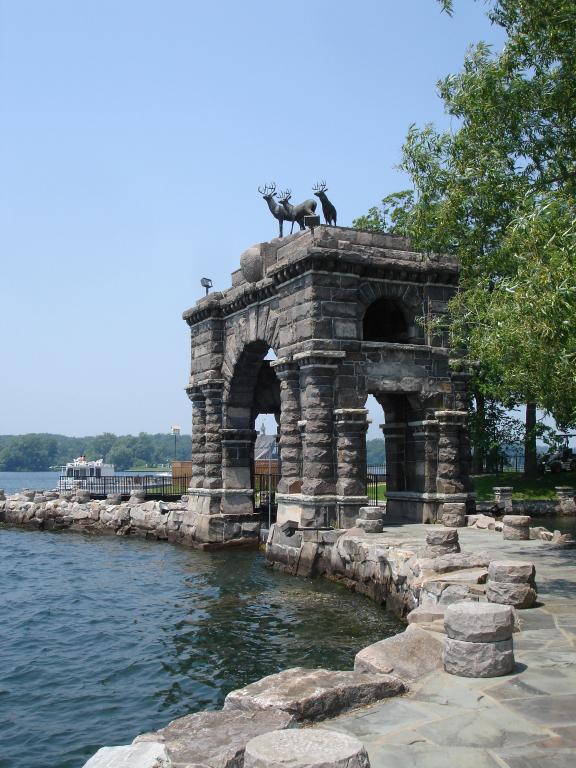 Alster Tower (also known as the "Children's Playhouse" suggests some old defense tower on the Alster River in Hamburg, Germany. Charles and Louise Boldt liked these kind of projects. It was constructed when the summer house existed.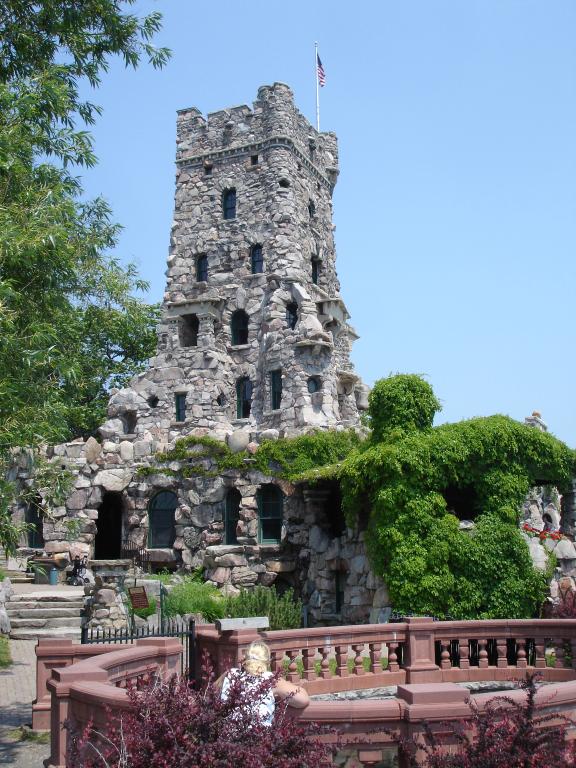 Here is the castle itself. A magnificent structure born of a dream and ended by tragic reality.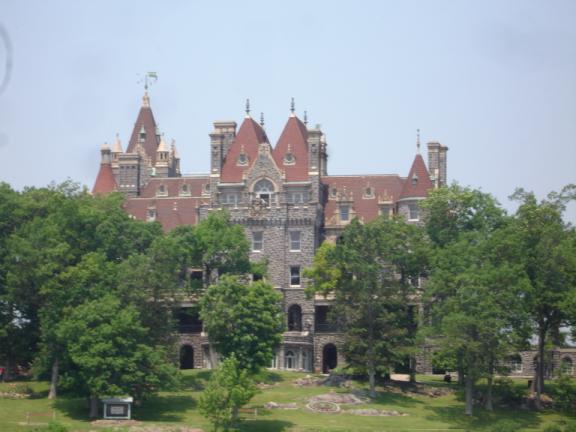 The architects, Hewitt and Hewitt, of Philadelphia were absolutely amazing.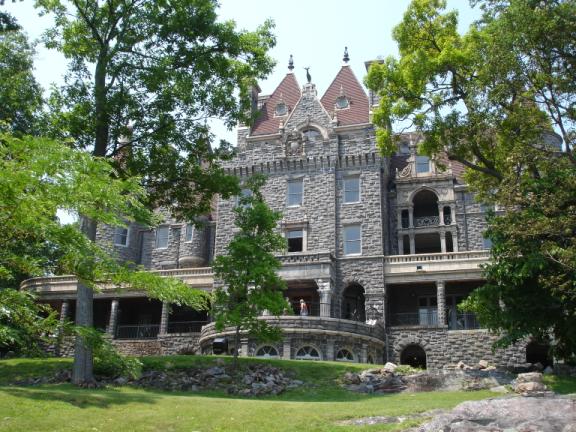 The design and construction of the Power House was not only practical but also a delight to the eyes. It housed the power generators to be used to electrify the castle. Notice the lighted clock tower and maybe your imagination can hear the loud chimes on each quarter hour.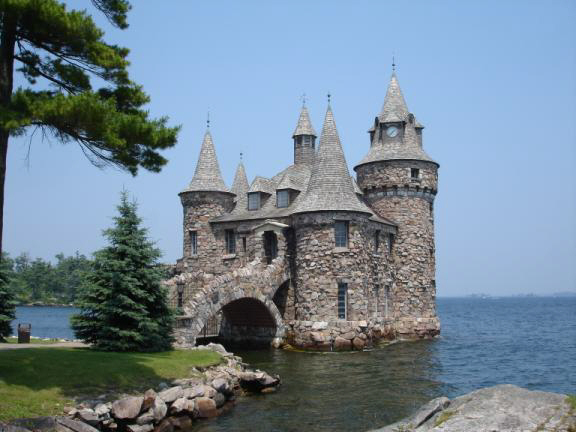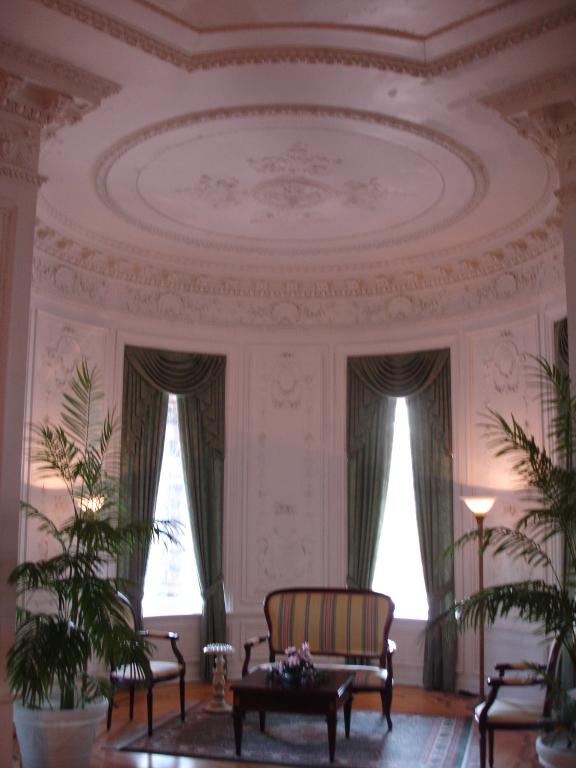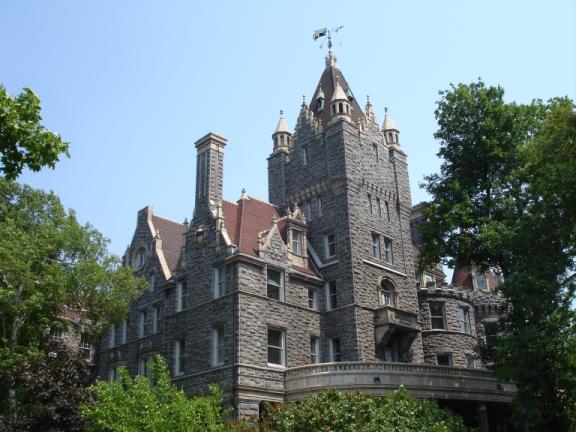 This tower-like structure is the Dove-Cote. The Boldt's collected fancy fowl and this was part of the "hennery", complete with a pigeon loft at the top. It was built between 1894 and 1896.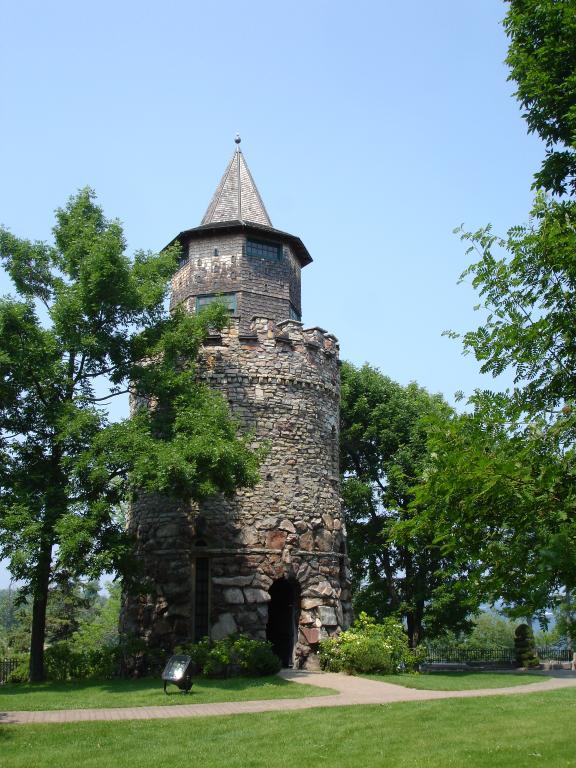 When we returned to Alex Bay, another tour was just boarding for a 2 ½ hour tour of the "Two Nations". A paddle wheeler sightseeing boat tours the island region both in the US and in Canadian waters. It may seem odd that Judy and I would take a tour like this inasmuch as we have our own boat here. It made sense to us because these folks could take us to areas that we would not know about and into areas that would be hazardous to travel with out local knowledge. We were so glad to have found these tours available.
We decided to stay the night right here and chose dinner at the "Brass Tacks" restaurant. We had an enjoyable evening. I really enjoyed the lengthy phone calls from my kids, Doug and Sharyn. I am so very honored to be their father and I love them dearly.
No power or water at these docks so we had to run the generator a while to keep the refrigerator cooled down. We slept soundly and securely.
06/19/06 MONDAY Alexandria Bay, NY
The wind was blowing and the rains were falling. The forecast had been close this time so we decided to just spend the day here relaxing and waiting for a more favorable time to cross into Canada. We had breakfast at Chez Paris and caught up on chores and bill-paying tasks.
The radar showed extensive showers throughout the area and the threat of severe thunderstorms showed us the reason to stay here.
The skies lightened in the late afternoon but we decided that it would be pushing to hard to cross to Canada. Tomorrow would be another day. Lunch and dinner are planned aboard AMARSE. The docks are nearly empty today in sharp contrast to the weekend yesterday.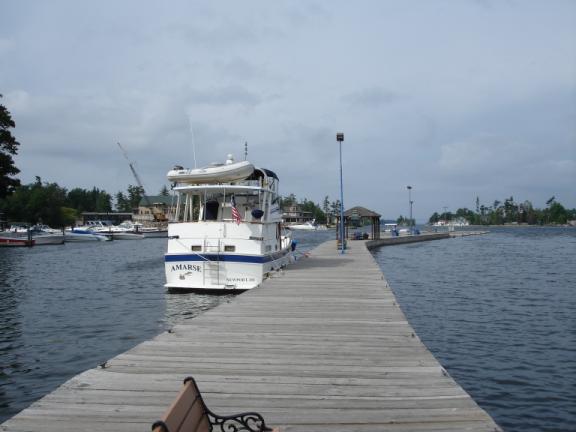 ATTENTION: SPECIAL NOTE:
Tomorrow morning, we plan to leave early for Canada. As I understand it, my Verizon AirCard that operates my computer internet will not operate in Canada. Dratz!! Perhaps we will find some WiFi but in general, our internet capability will be extremely limited for close to two months. This will probably be the last update for a while. I hope you have enjoyed them so far. If I can, I will post as available.
Judy's phone will be out of service in Canada. Fred's phone will be available throughout the trip in Canada. I have North American Service and hopefully it will be OK. We can be reached at 210-296-4933. Please call us if you like, aye.
"AMARSE". is pronounced "AM-ARE-SAY". Our website is: www.amarse.net .
Check it out while we will attempt to keep you informed via email
We would like to hear more about what is happening in your lives. Let us know as we very interested in what's going on with our friends and family. Please DO email us with your thoughts and comments and ideas too. Thanks
Lot of Love,
Fred Reed and Judy Law
AMARSE
MT40