UPDATE#16 05/05/2010
Howdy Everybody,
The adventures of 2006, 2007, 2008, 2009, and thru 05/04/2010 have been published on the website. We continue with the latest edition.
UPDATE 2010 #16 05/05/2010
At last update, we were traveling on a Yucatan adventure in Mexico. Welcome back to our continuing adventure…
5/5/10 TUESDAY MERIDA, SAN CRISANTO, XCAMPO, MERIDA
In the small village of San Crisanto, we arranged for a small boat to take us through the mangroves and canals. At their in-town office, we purchased tickets for only about $7 for both of us. Following the guide on his motorcycle, we drove over to the entrance of the Manglares.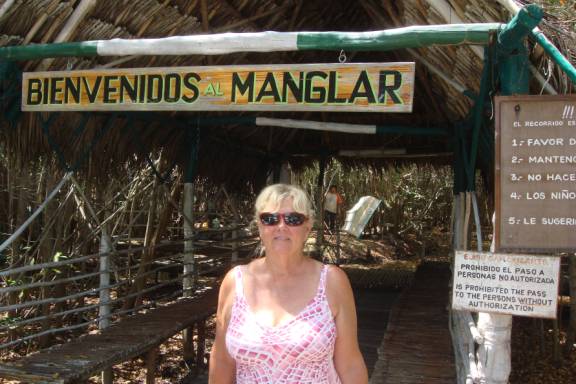 Using a pole for propulsion, our boatman slithered us through the shallow, narrow canals.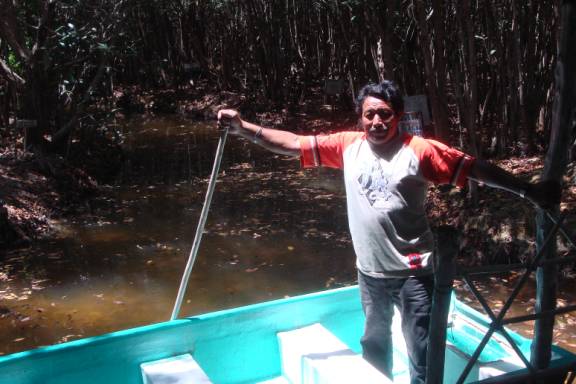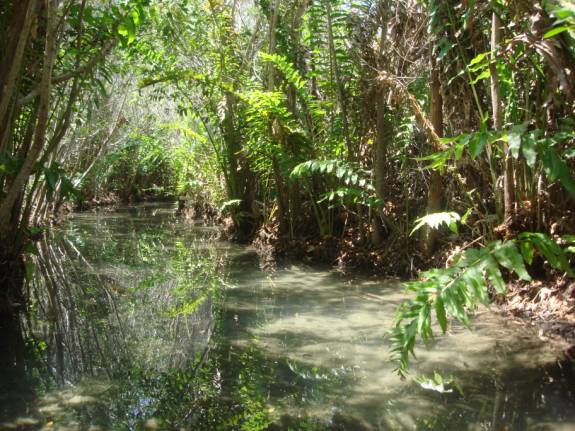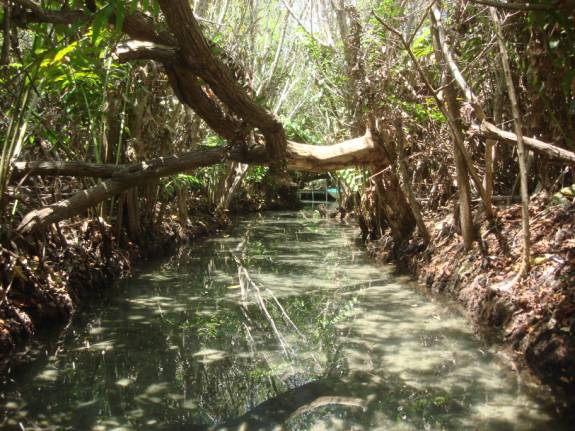 A small wooden dock allowed us to get off the boat.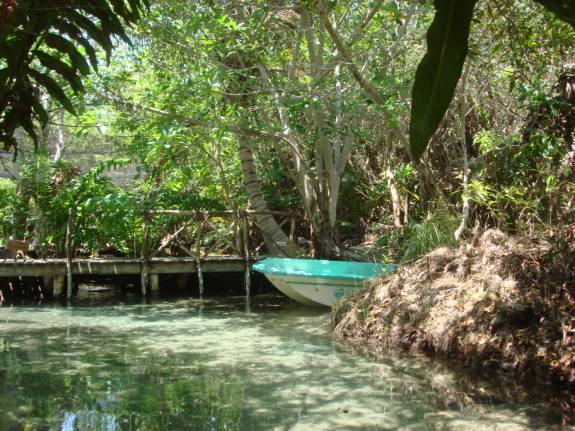 A lovely, clear water cenote provided the perfect opportunity for a relaxing dip in the crystalline spring.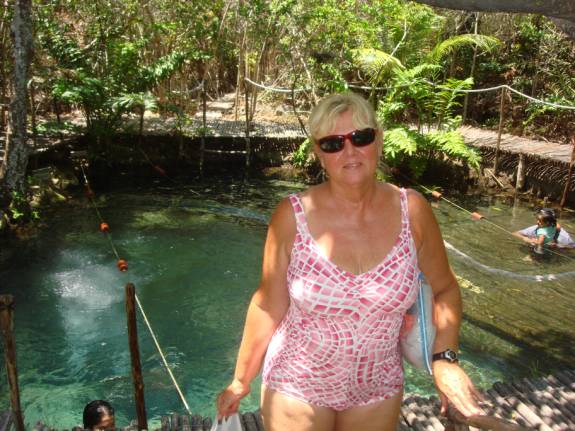 Nearly driving me crazy, little fishes kept nipping and nibbling on my arms, legs, and chest hairs.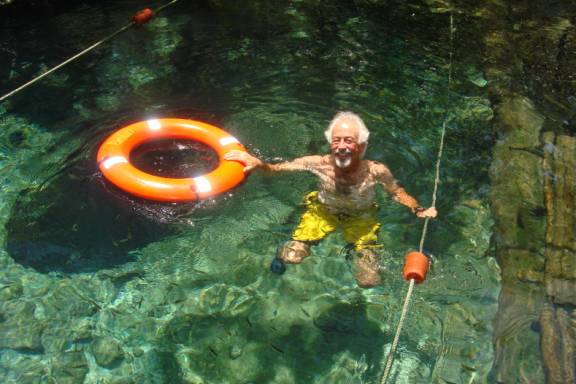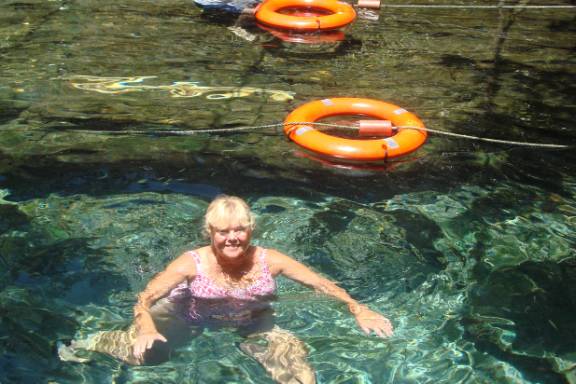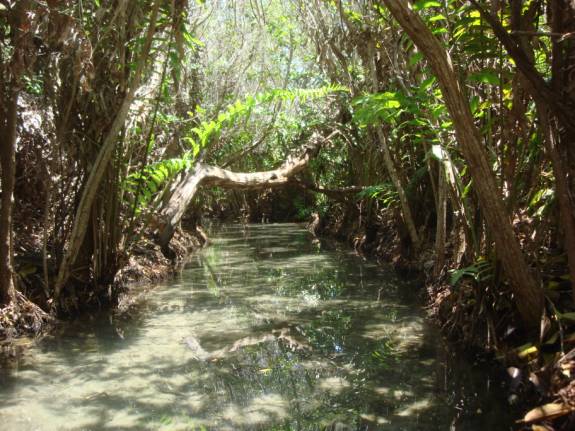 A gigantic termite nest houses a swarm that was voraciously consuming the deadwood in this dense jungle setting.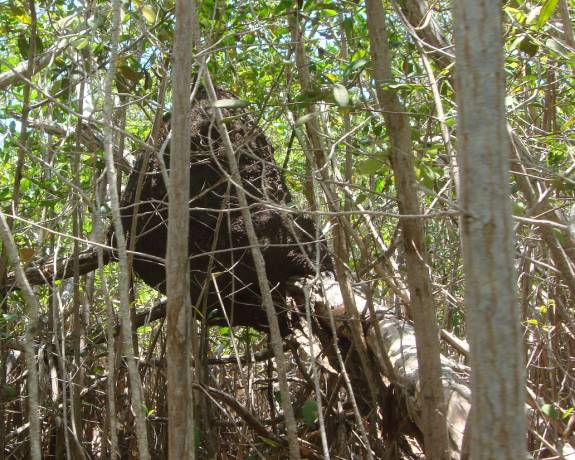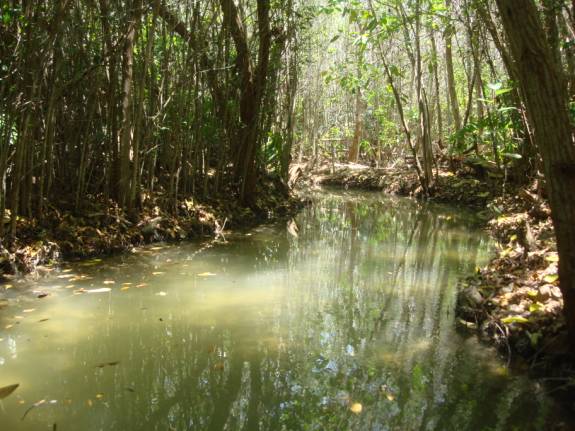 With barely enough room to pass, we glided by another group headed toward the spring.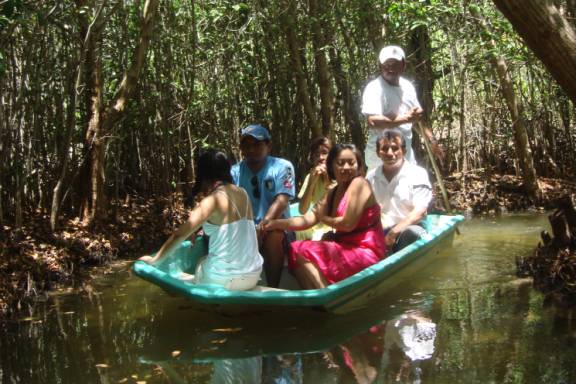 We continued our adventure with a visit to the area's coastal beaches.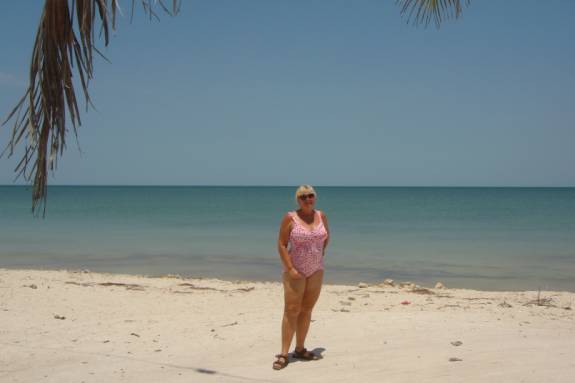 Telchac Puerto…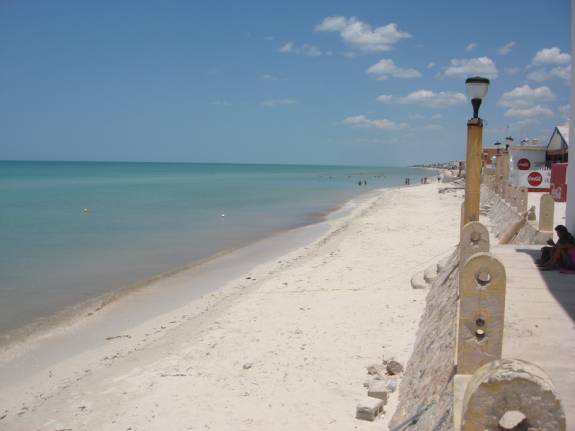 Lots of damages were seen and obviously were the result of various strong hurricanes that have slammed this area of the Yucatan.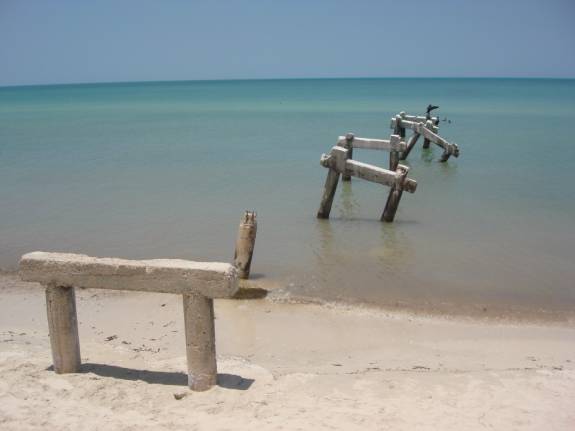 The small coastal village of Telchac Puerto…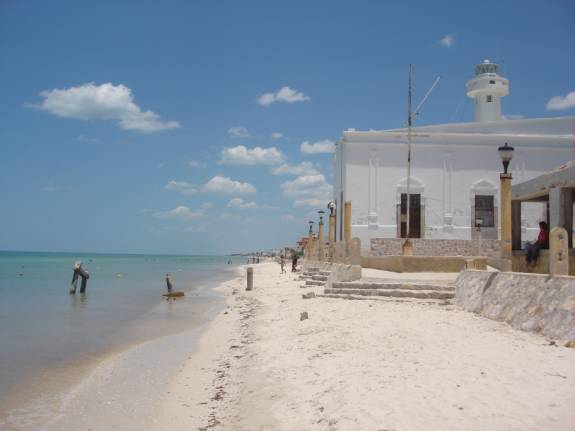 The lighthouse at Telchac Puerto…
Remotely located, we visited the little known archaeological site of XCAMBO.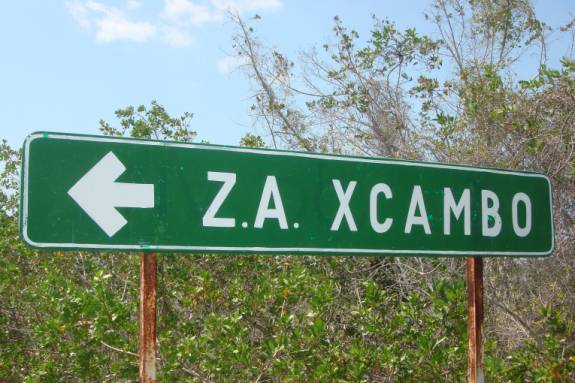 Xcambo was an important salt and salted fish distribution center in its day. It supplied Chichén Itza, Uxmal, Izamal, and the surrounds, with their wares and products.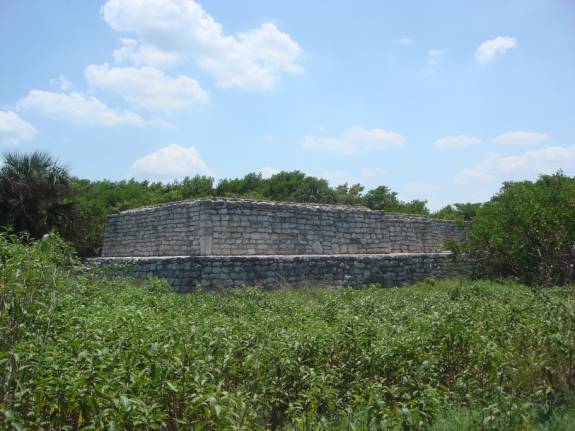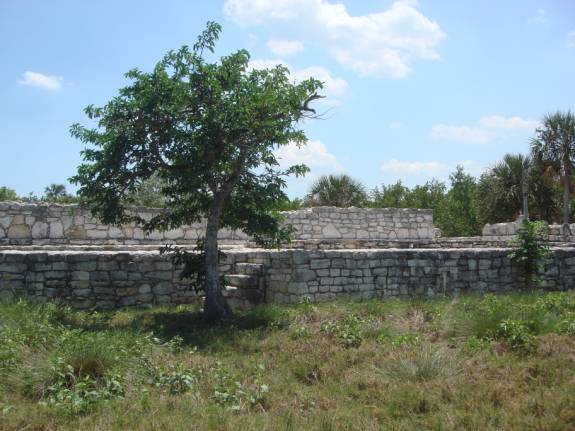 Templo de la Cruz…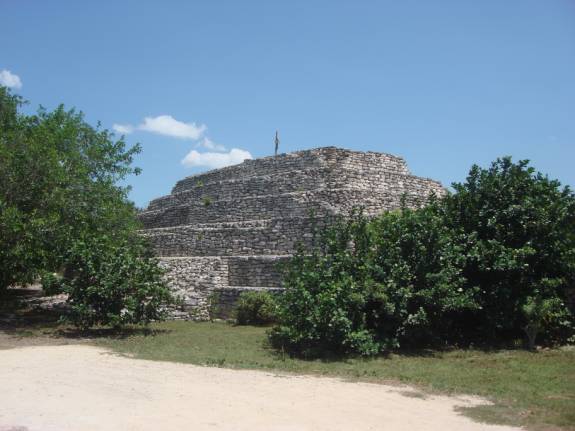 Immediately after entering the site, we find a16th Century chapel (La Capilla de La Virgen) built for the catholic order that arrived after the Spanish Conquest.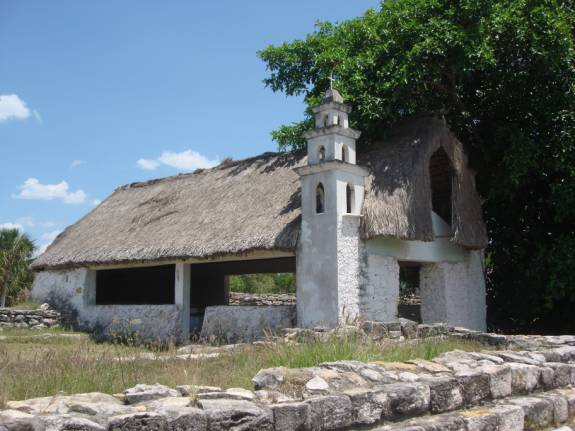 Temple of the Cross and chapel…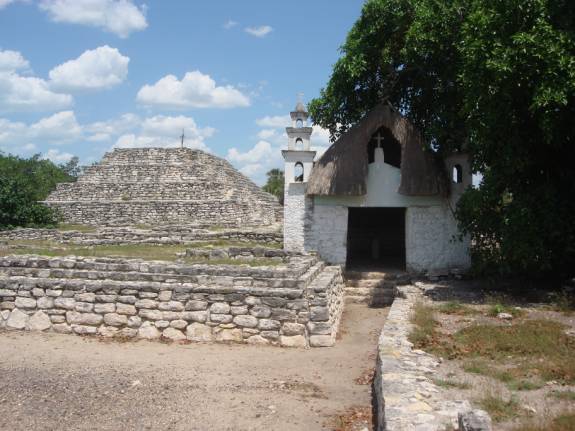 Templo de la Cruz (Temple of the Cross)…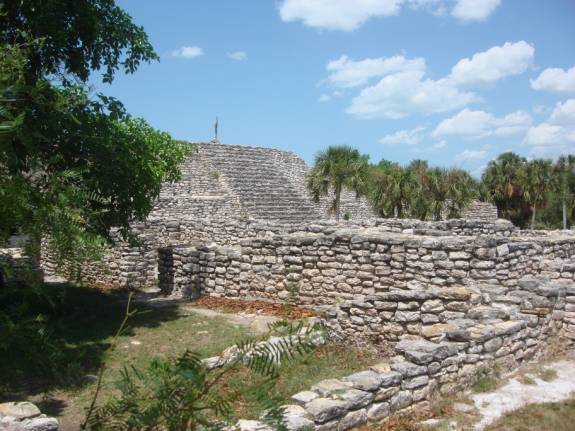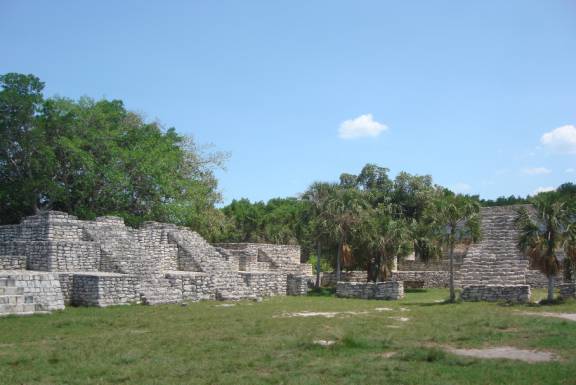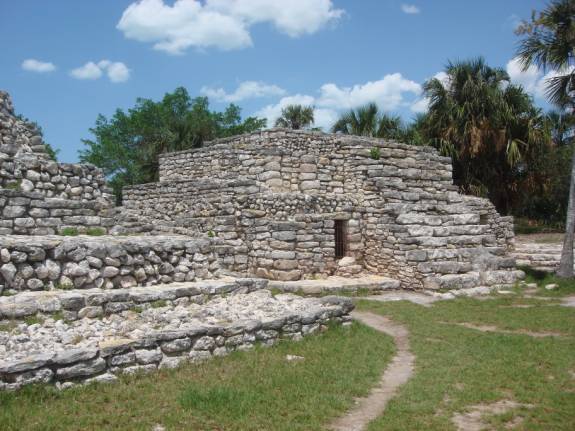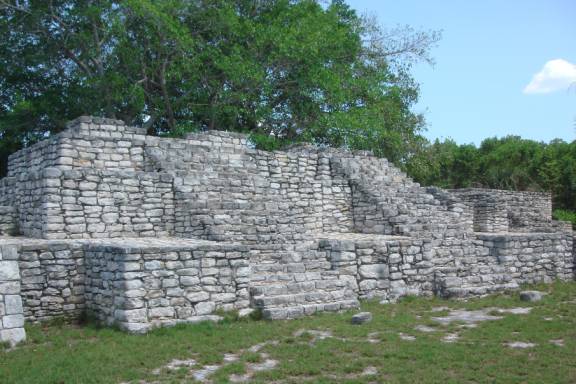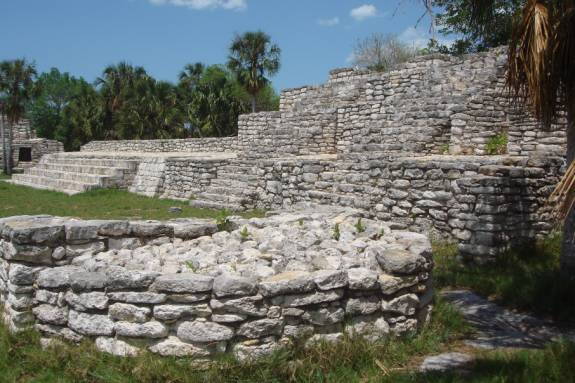 The Temple of the Little Faces contains small faces made of stucco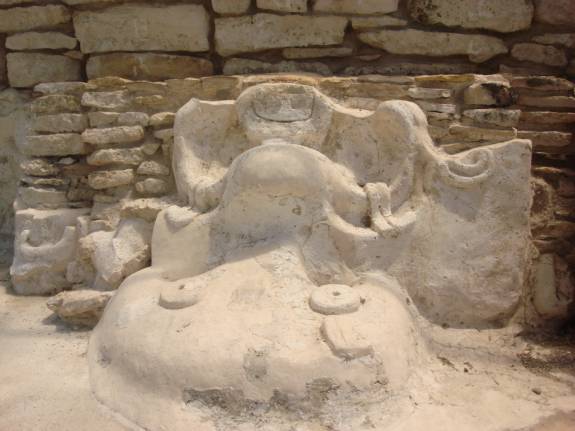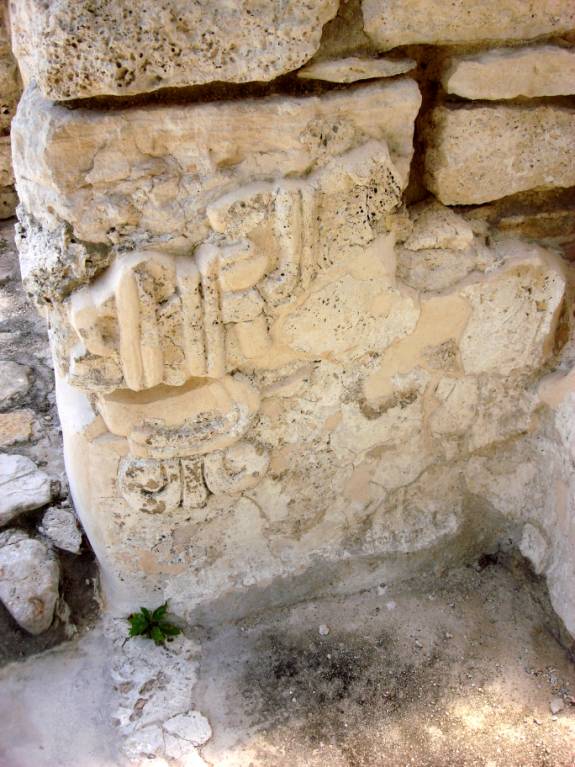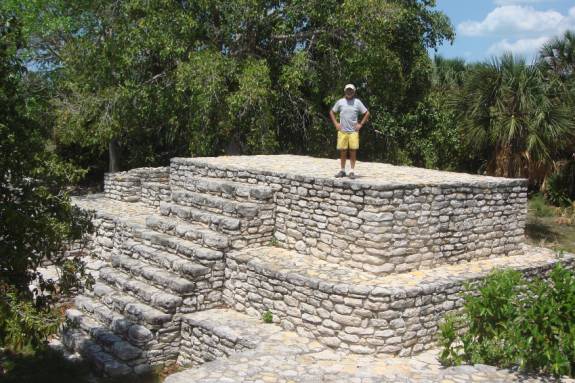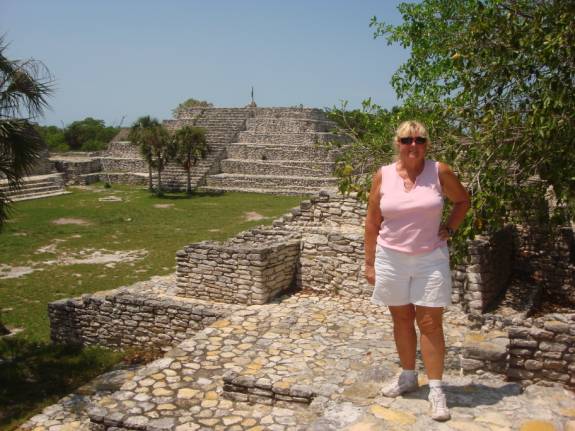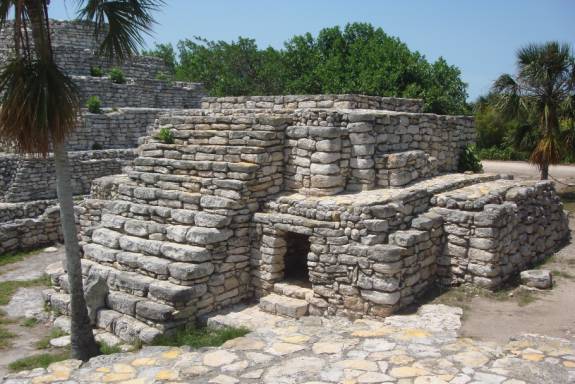 Returning to Merida, we saw this Iglesia in one of the towns.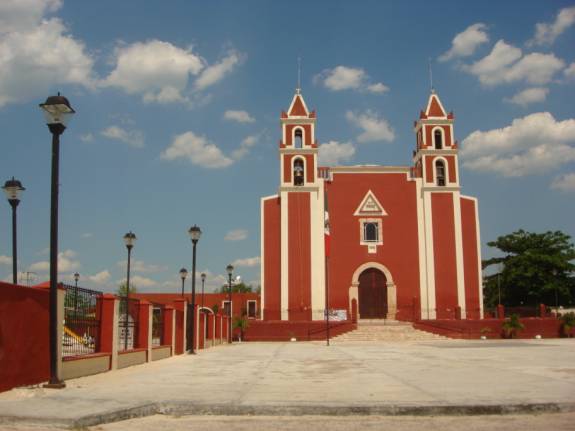 Each time we return to the Hotel Casa Lucia, we marvel at our good fortune in being here. Our original reservation period was over and we decided to stay here longer than planned. Our low-rate reservation tarifa could not be extended, however, I was able to bargain with the desk manager for an extremely favorable rate by paying "effectivo" (in cash). We ended up paying about a third of the posted rate.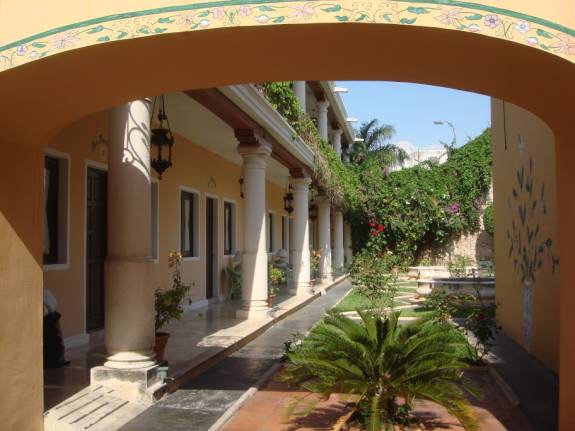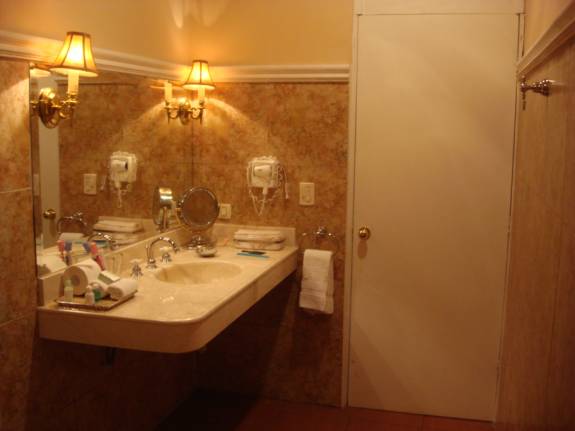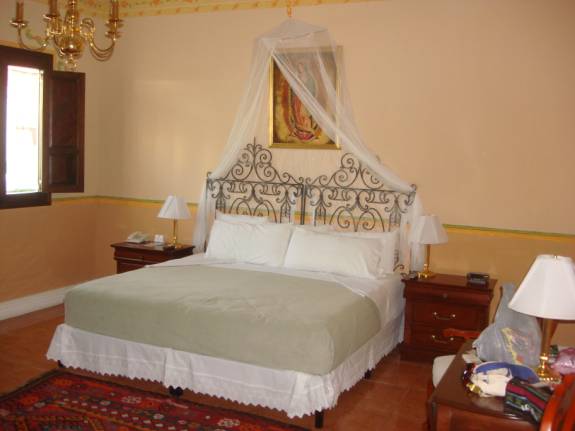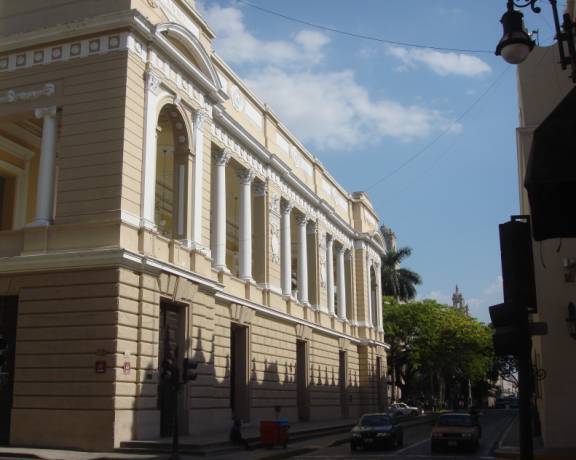 Fortunately, the doors to the central Iglesia were open for our viewing.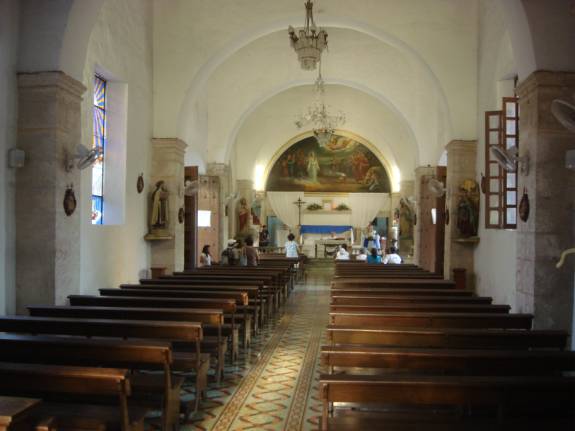 Located at the side of Parque Santiago, we found a little fonda, Cafeteria La Villa, which served wonderful food. Located a few blocks from the main zone, the choices were scrumptiously delicious and very economically priced. I especially enjoy their Caldo de Pavo (Turkey Soup). My beverage choice was Horchata. In Mexico, horchata is made of rice, sometimes with vanilla and always with cinnamon.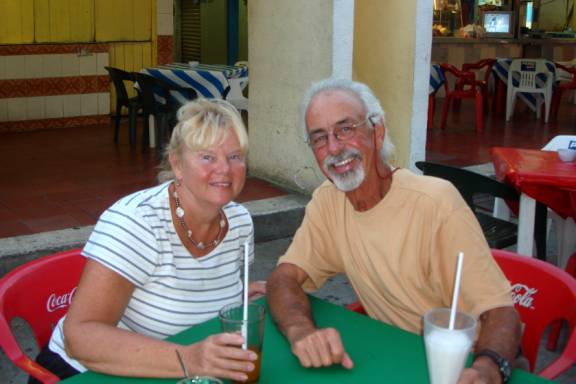 The Iglesia at Plaza Santiago…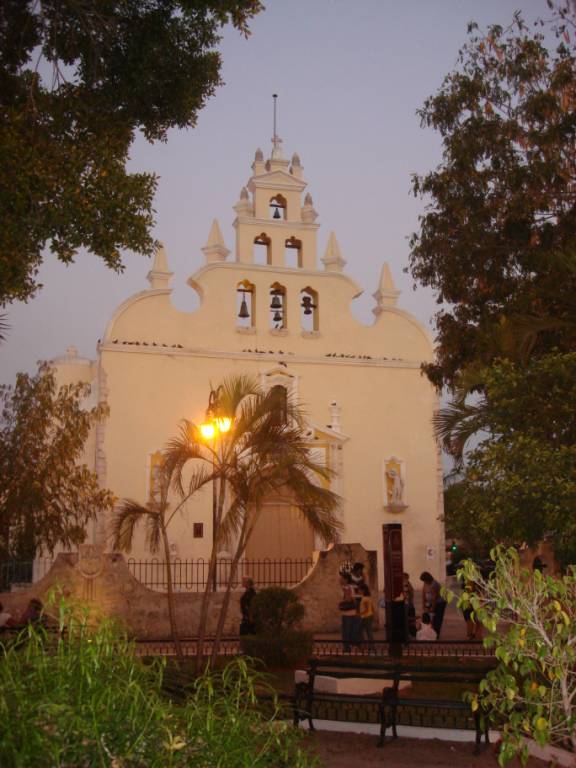 Fountain at the Plaza Santiago…
It was with great pleasure that we returned to the Teatro Peon Contreras for another spectacular evening performance. We purchase tickets earlier this afternoon for the "Guelaguetza". One thing that is nice about the cultural performances is the low ticket prices. For less than $4 each, we could enjoy a great event.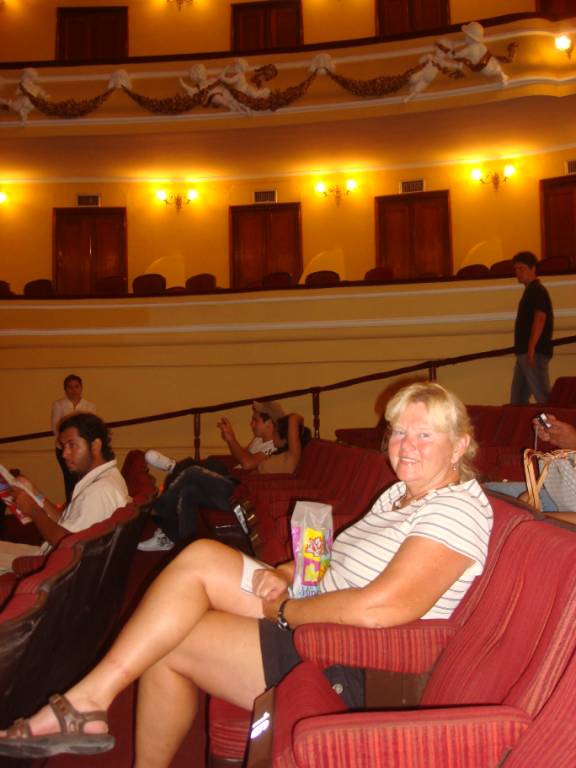 The Mexican people have an intense sense of pride in their heritage and their traditions. The prominence of folkloric dance plays an important role in preserving and promoting their history and social significance. The origins of the Guelaguetza are founded in the pre-Hispanic era and are dedicated to their corn god. The Guelaguetza centers on traditional dancing in costumed groups, often of only one sex. Each costume and dance usually has a local historical and cultural meaning.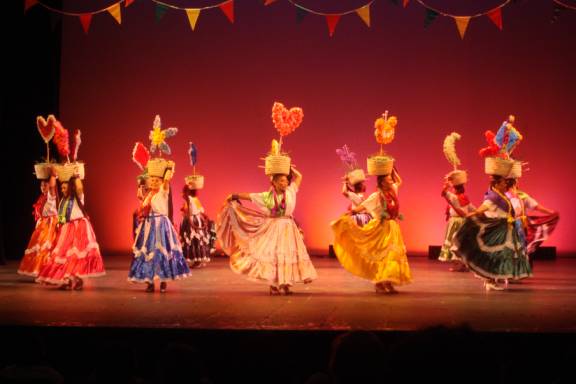 The variety of different dances and costuming typified the regional diversity of life in Mexico during years gone by.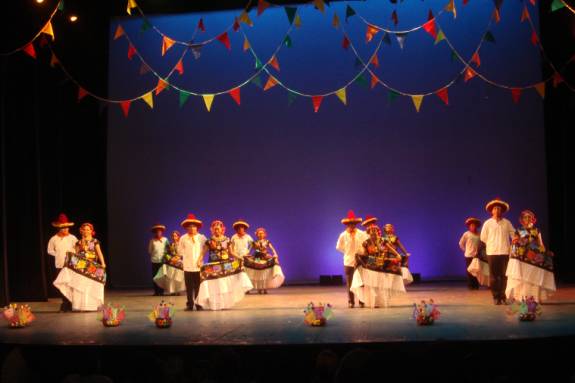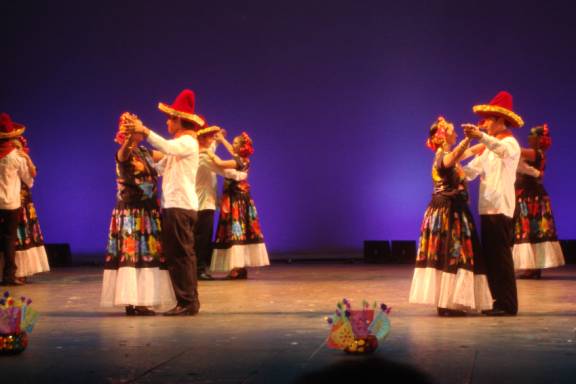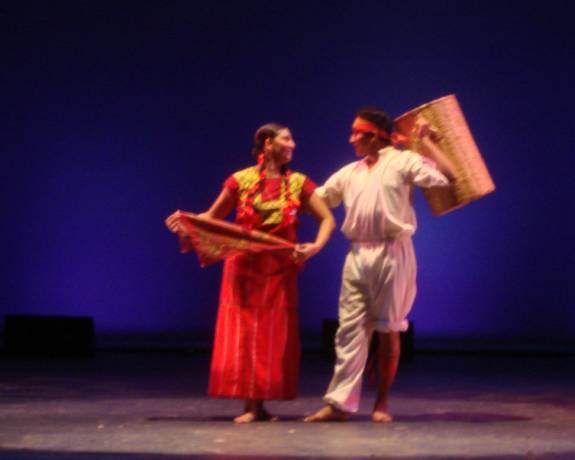 The dances are usually constructed to tell an intricate story relevant to there lifestyle.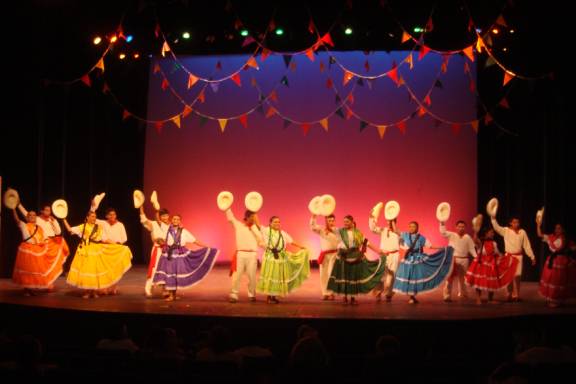 The dances and traditions of Guelaguetza are more frequently associated with the Oaxaca region of Mexico. It is a special treat to be able to see it performed here in Merida.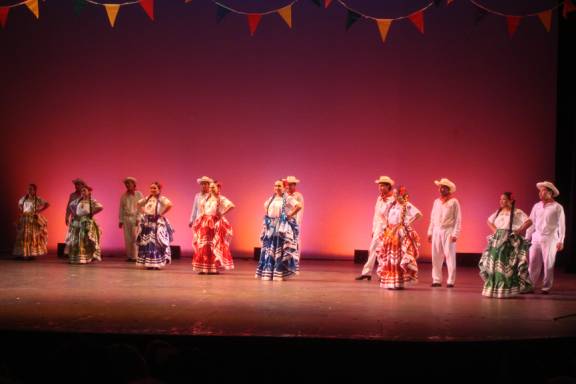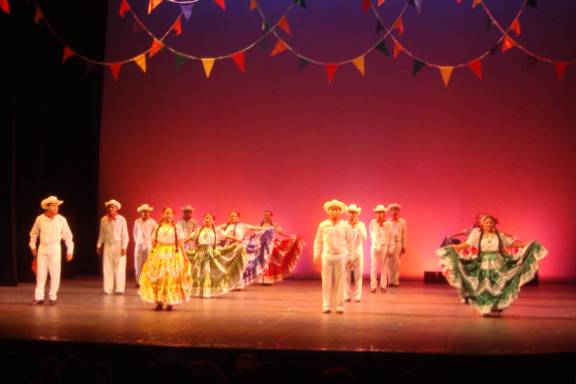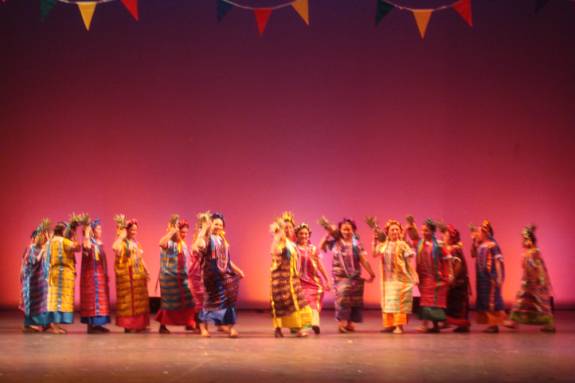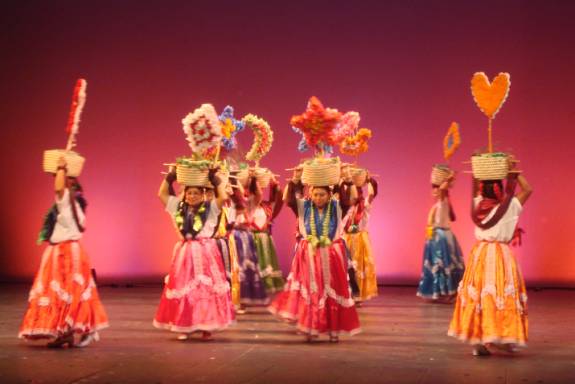 Folkloric dances are enhanced and highlighted by elegantly colorful costumes and the use of simple props to embellish the storyline. In this production, huge, stilted figures towered over the other performers.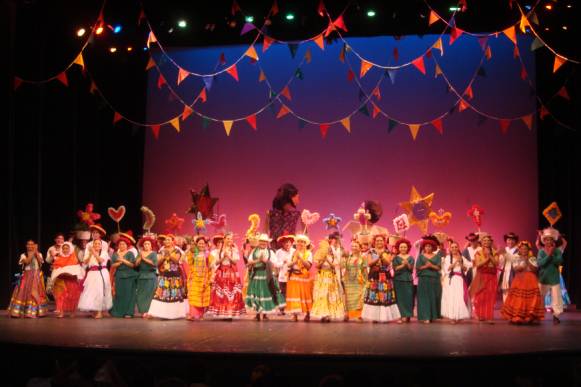 Our Yucatan adventures will continue in the next update. You can scroll up on this page and then select the NEXT button on the left side of your screen to advance to the next update. Enjoy!!!
CONTINUING UPDATES ARE IN PROGRESS…
WATCH FOR THEM, COMING SOON…
POST SCRIPT:
We sincerely hope that you will review the previous years of compilations to give context to the current editions. Please let us know if you have any special suggestions and thoughts.
REMEMBER: The website is now fully active and you can visit it at any time. You can also review any of the previous logs from the years 2006, 2007, 2008, and 2009 to learn more about the crew and their many adventures. Enjoy.
ATTENTION: SPECIAL NOTE:
You may contact us via email anytime.
Thanks for allowing us to share our life and adventures with you.
Lotsa Luv,
Fred Reed and Judy Law
AMARSE
MT40
"AMARSE" is pronounced "AM-ARE-SAY".
Our website is: www.amarse.net .
CONTINUING UPDATES ARE IN PROGRESS…
WATCH FOR THEM, COMING SOON…