UPDATE#06 02/21 thru 02/XX
Howdy Everybody,
The adventures of 2006, 2007, 2008, 2009, and thru 02/20/2010 have been published on the website. We continue with the latest edition.
UPDATE 2010 #06 02/21/10 thru 02/28/10
At last update, we were in Boat Harbour in beautiful Marsh Harbour, Abacos. Welcome back to the Bahamas…
02/21/10 SUNDAY MARSH HARBOUR, ABACOS, BAHAMAS
Judy and I hopped in the dinghy and sped off to Hopetown Harbour at Elbow Cay. The seas were calm and the weather pleasant.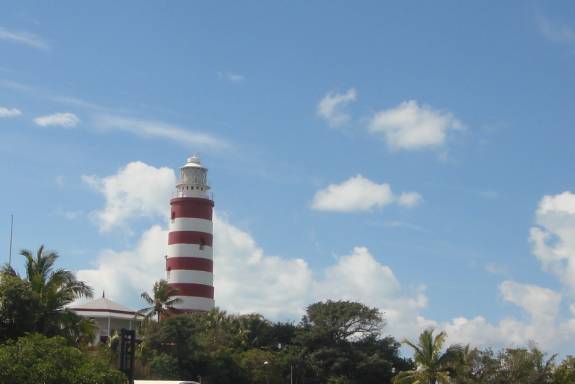 In all the years we've been coming here, we had never taken the opportunity to tour the famous lighthouse.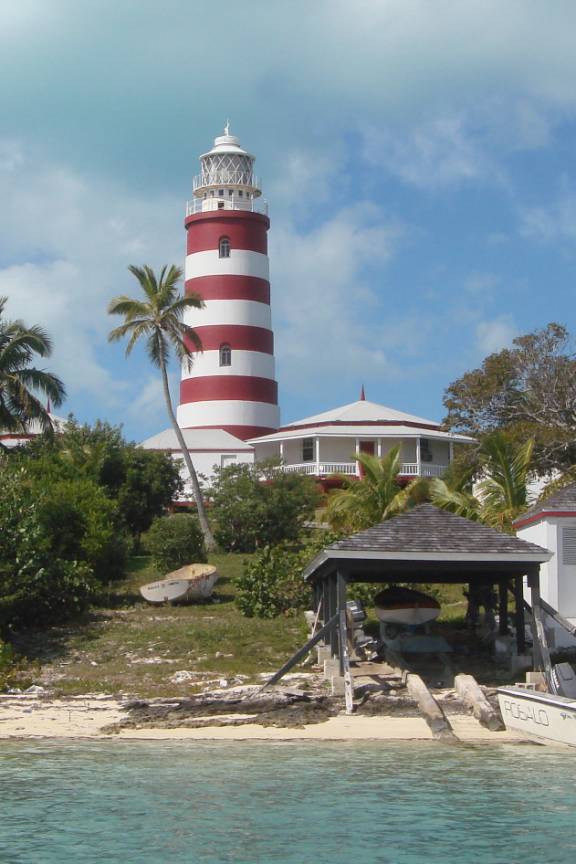 We tied up to the dinghy dock just in front of the lighthouse walkway.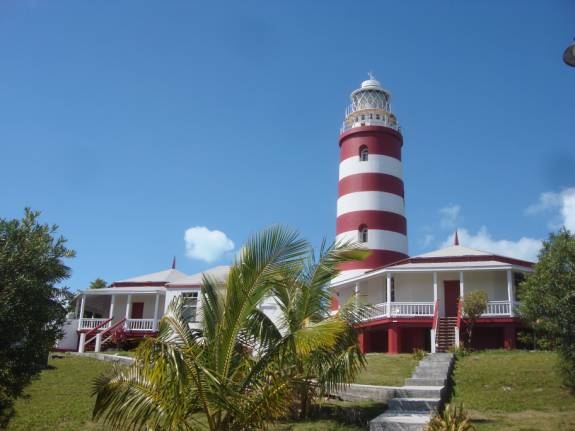 Built in 1864, the historic landmark is presently maintained by a preservation society.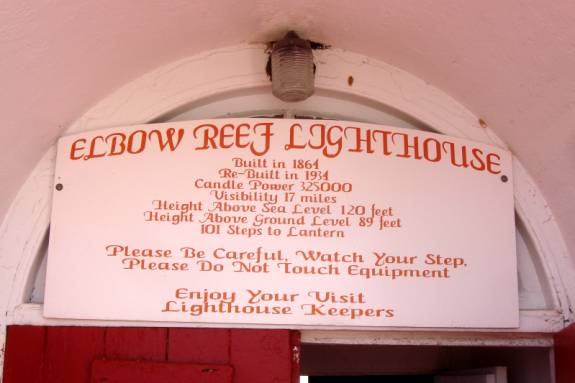 A wooden-stepped, circular staircase climbs to the top balcony.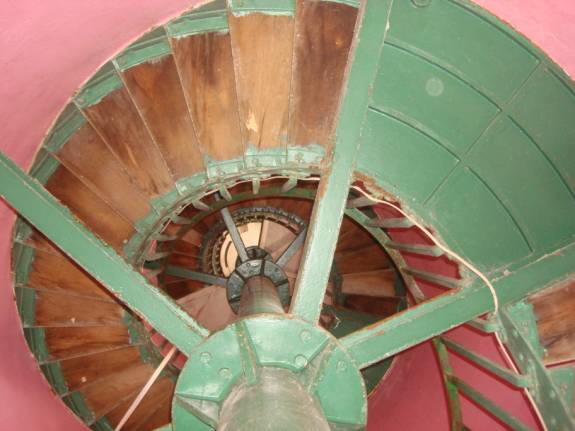 An oil-fired flame produces the light. This lighthouse is one of the few remaining in the world that still uses the antiquated method.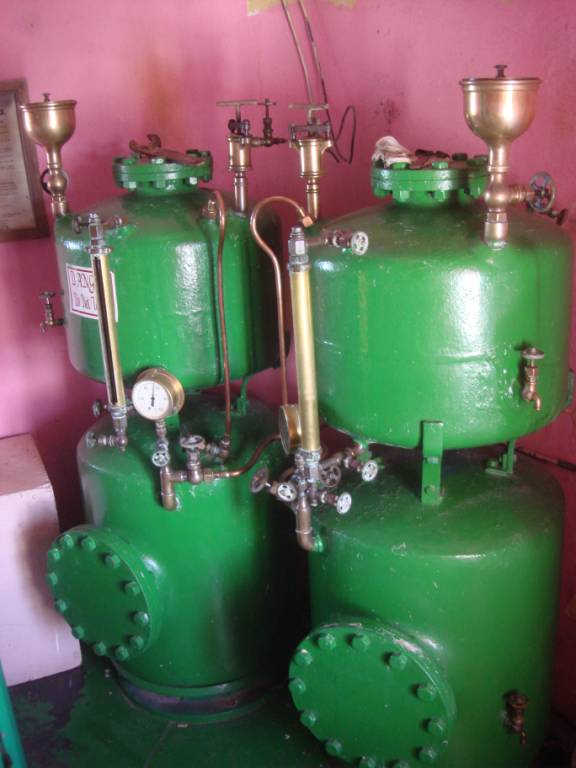 From the circular balcony, the picturesque views of the area are spectacular.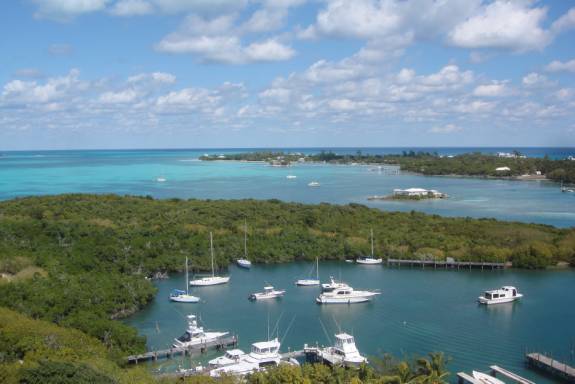 The amazing colors of the Sea of Abaco are unmatched in their beauty.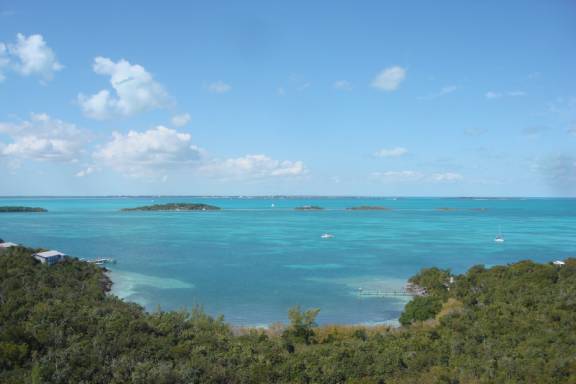 Within Hopetown Harbour, mooring balls can be rented to secure transient vessels. Some folks like to stay right here in this harbor for the season.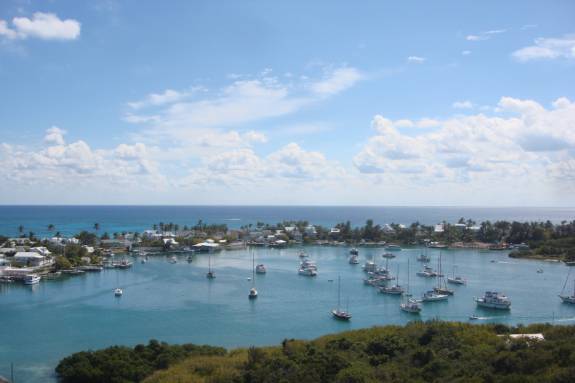 The antique mechanisms still provide reliable service, night after night.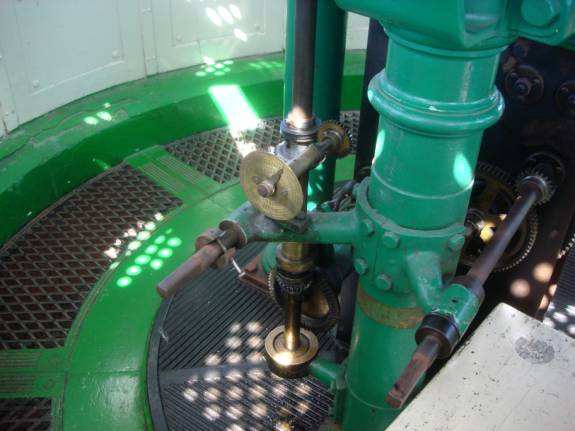 The light produced by the single burner flame is amplified and concentrated through a series of Fresnel lenses.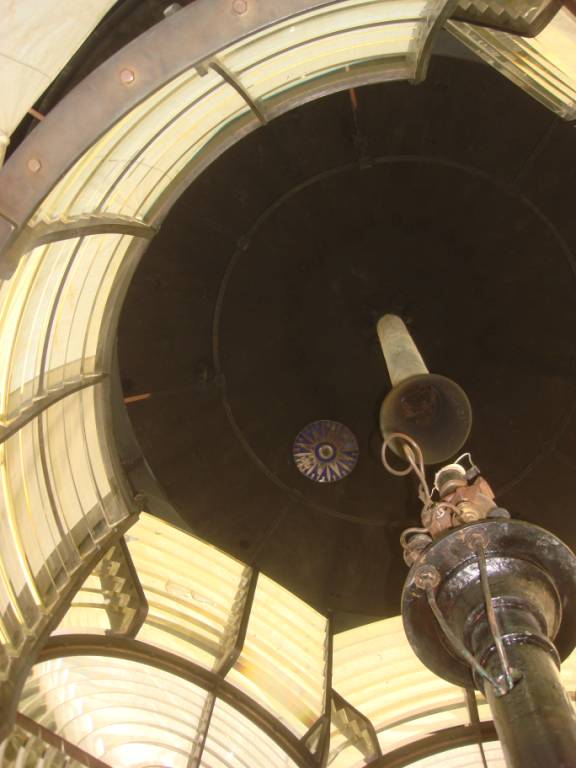 The cable and gear arrangement provide the motive power to turn the huge lens that bleats out the easily recognized pattern.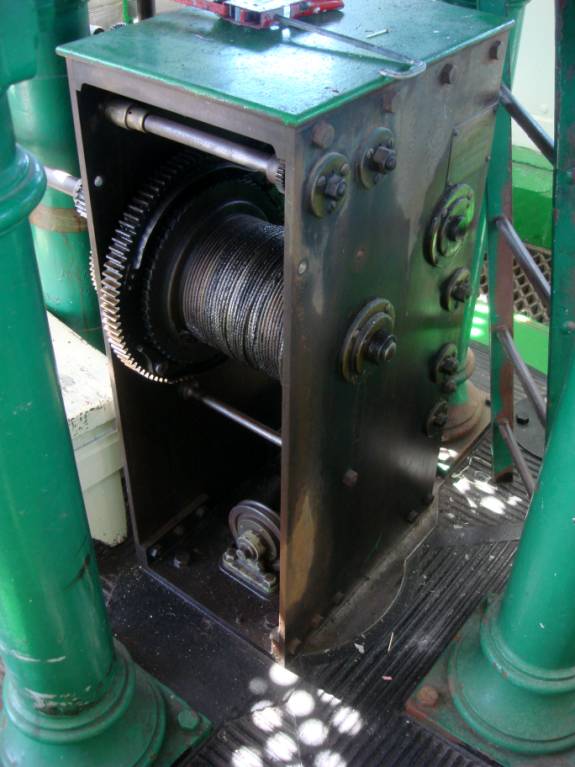 "Watch your head, Judy…"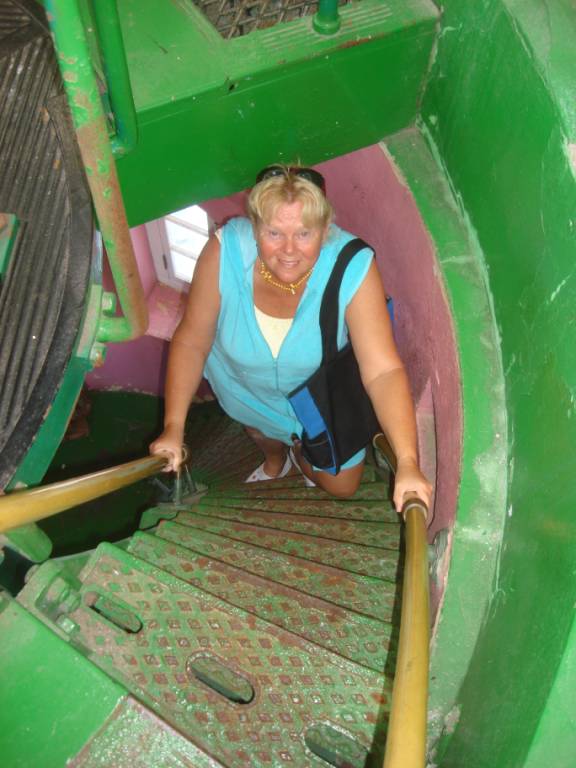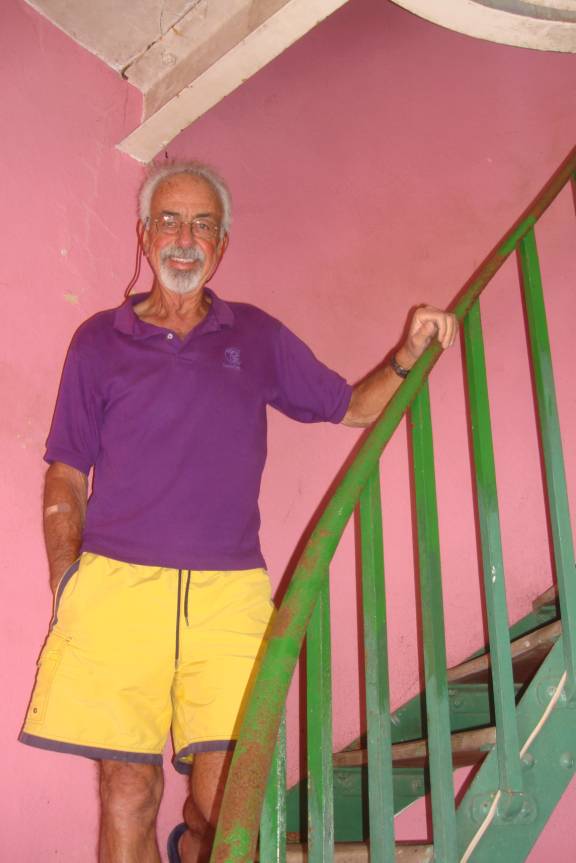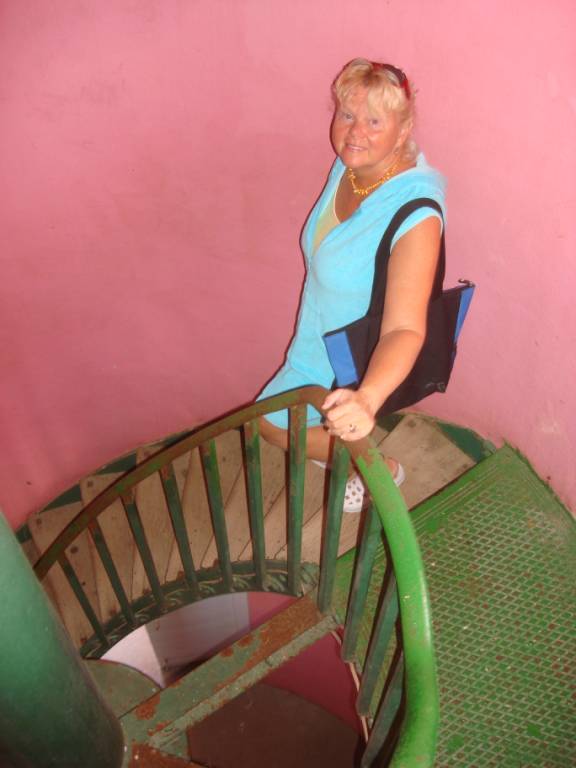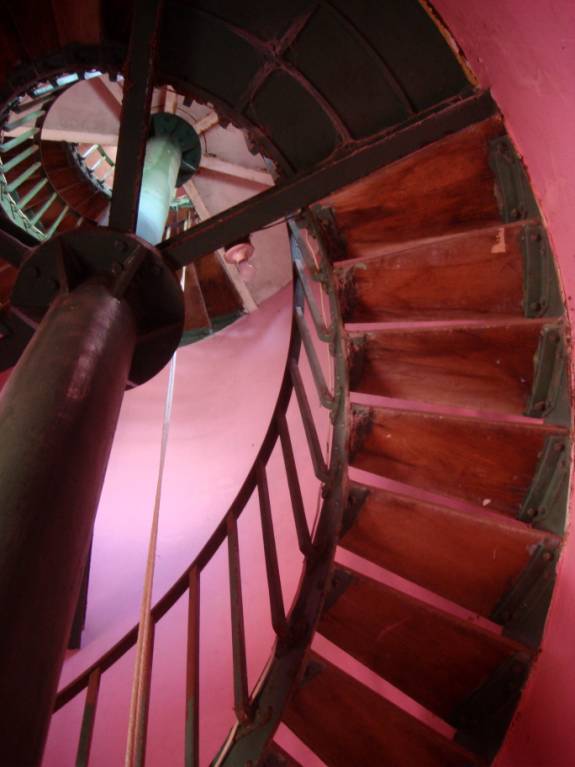 The lighthouse is 37 meters or 120 feet tall.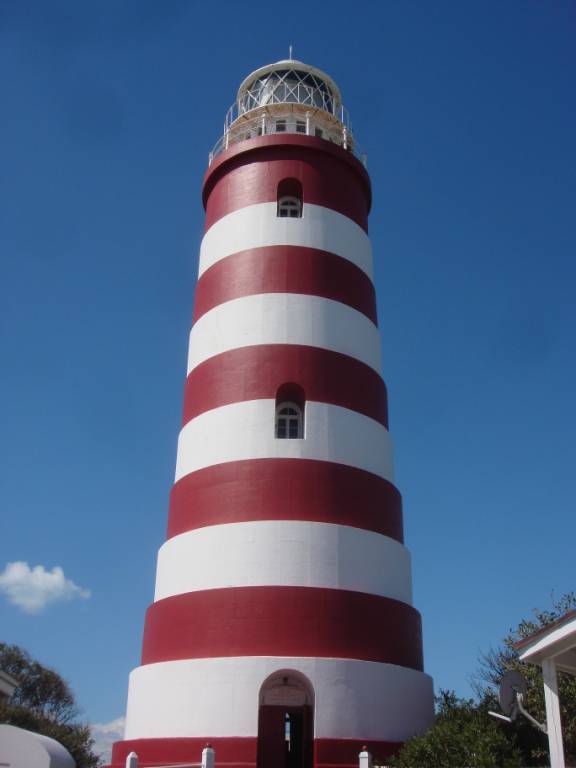 A Bahamian Curly Tail lizard…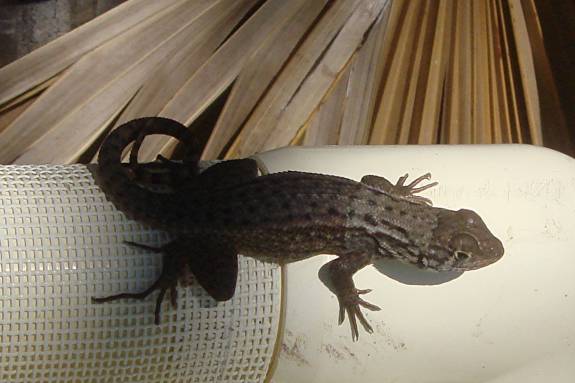 After our tour, we cruised around the mangrove areas and side channels of Hopetown Harbour.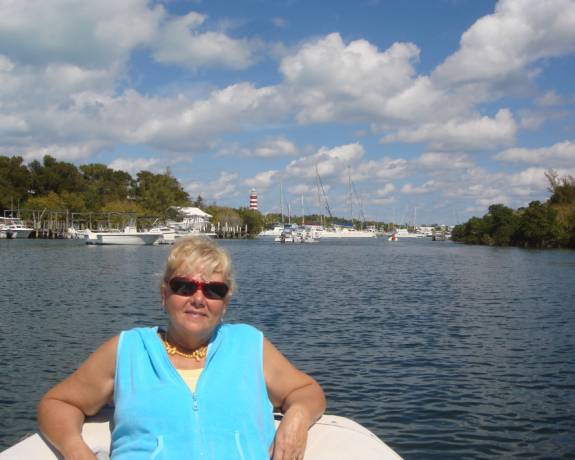 02/23/2010 TUESDAY MARSH HARBOUR, ABACOS, BAHAMAS
Planned and arranged by Leslie and Doug Folkerth (HAPPY CLAMZ), the, soon to be famous, "Meatloaf, à la mode" night was held at Jamie's Place restaurant.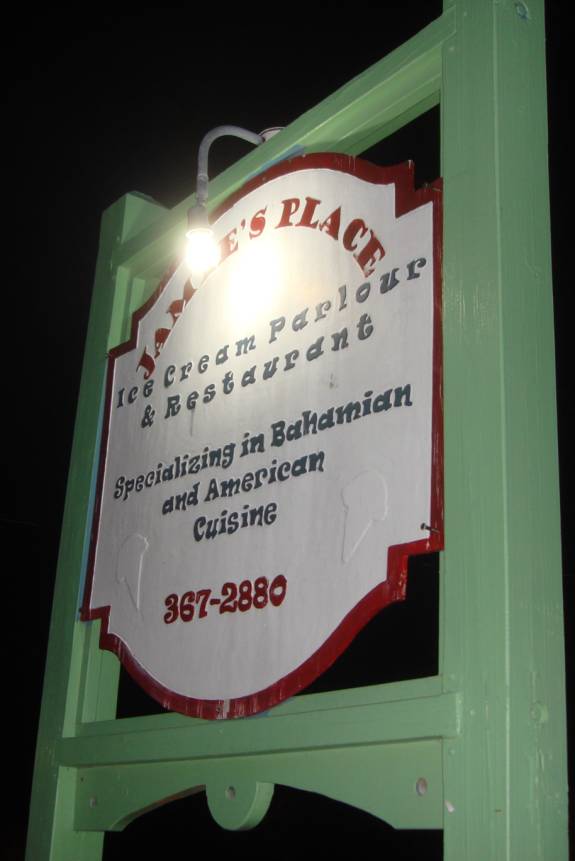 51 generally mild-mannered cruising folks quickly turned into 51 ravenous jackals, as they tore into the huge portions of savory meatloaf. Served with salad and two side dishes, most even had leftovers to take home. The cute name derives from the complimentary, ice cream dessert that was provided especially for the group.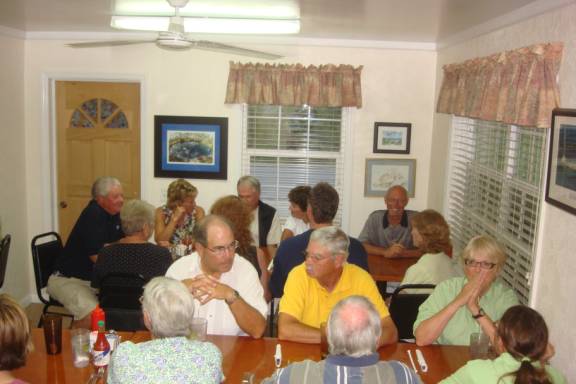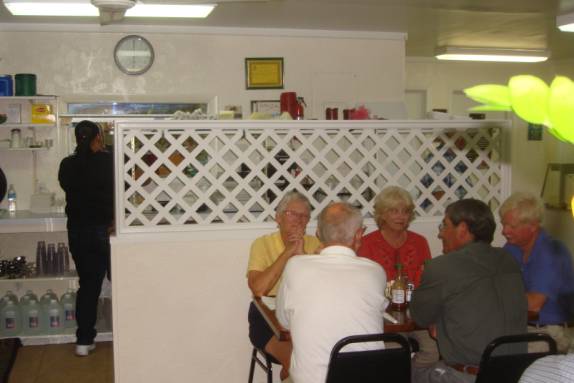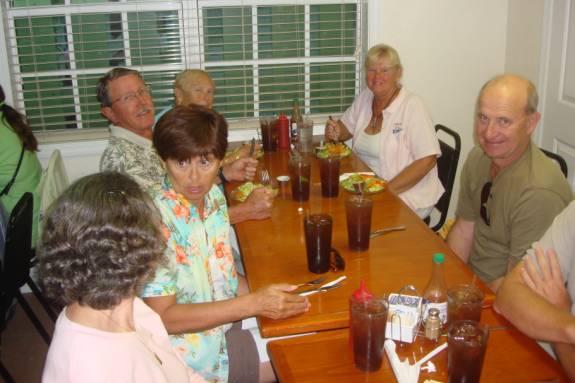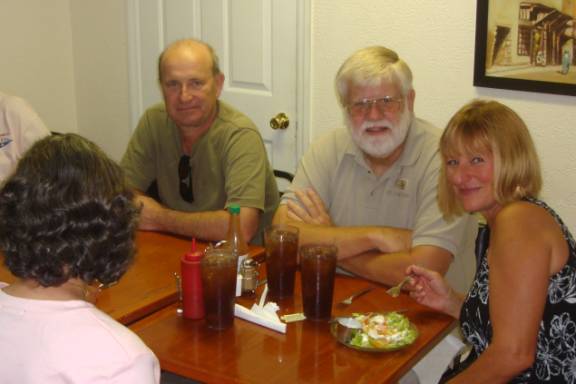 With full bellies and contented hearts, the satiated chowhounds waddled back to their boats or cottages. Thanks so much, Doug and Leslie. You'z guy'z always make your event ideas such a great success. It was a beautiful, warm evening.
02/24/2010 WEDNESDAY MARSH HARBOUR, ABACOS, BAHAMAS
HAPPY BIRTHDAY to JUDY'S YOUNGEST GRANDDAUGHTER, EMILY…
Although still pleasant, the weather had become much cooler and was overcast throughout the day. Most of the cruisers chose a light jacket for the evening gathering at the picnic table area.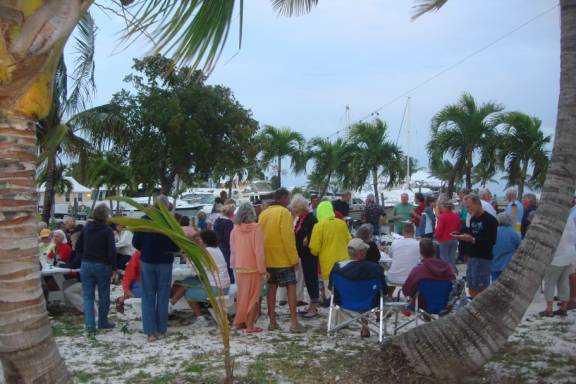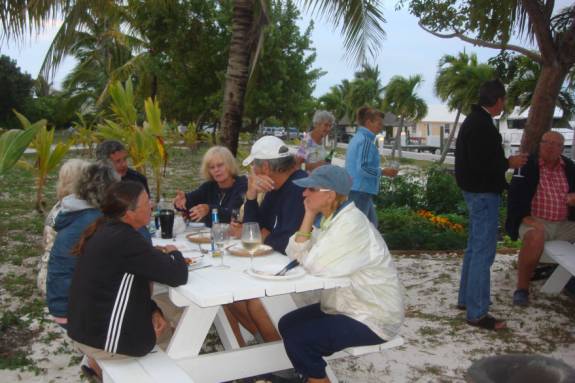 It was what we call, "a Pitch-In", or a Pot Luck Dinner. The variety of selections was mind-boggling.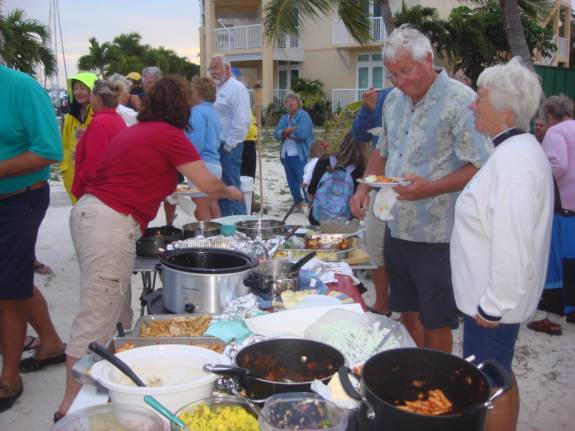 02/25/2010 THURSDAY MARSH HARBOUR, ABACOS, BAHAMAS
Judy and Rita (MAGNUM OPUS) did their own water aerobics session today. The normally organized, group event was cancelled today. It had been very windy overnight. As a result, one of Judy's favorite sandals had blown overboard. We searched every nook and cranny around the marina and harbor for the elusive, pink and black piece of footwear. When something goes missing, we say that it has gone "Walk-About". The "flotsam" was nowhere to be found.
Each year, the Ministry of Tourism hosts an appreciation and welcome event for the winter residents. This year's "People-To-People gathering was held at the Government House in Marsh Harbour.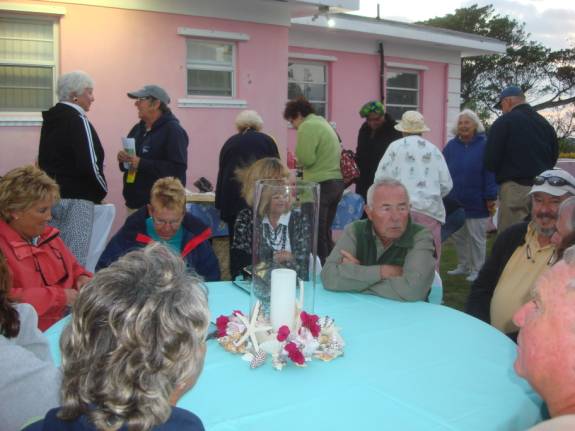 Paul and Sue Graham (ODYSSEY) were there…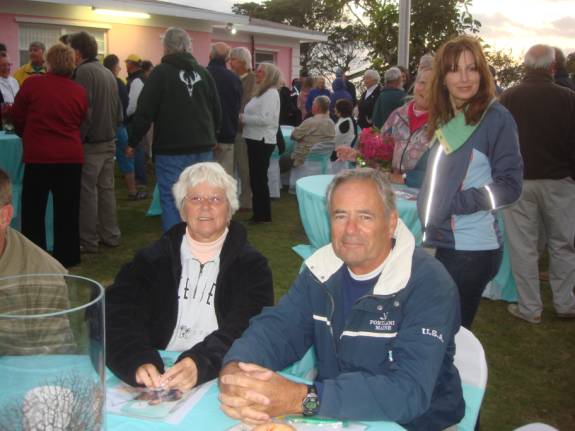 Bob Williams, Brenda Baker (BRENDA J), Barb Bluto (CHABLIS), and Judy Williams (SHADE MOR) were among the honored guests…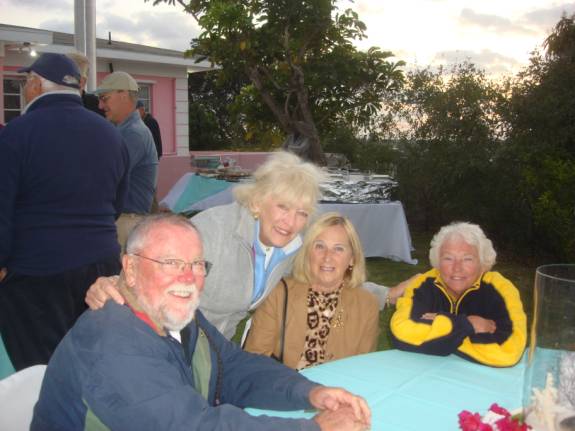 There was singing, dancing, music, food, and fun for all…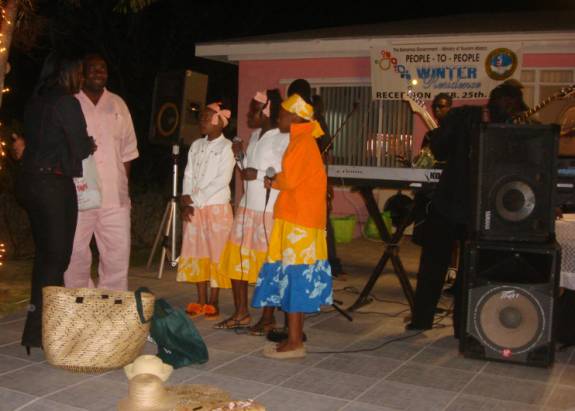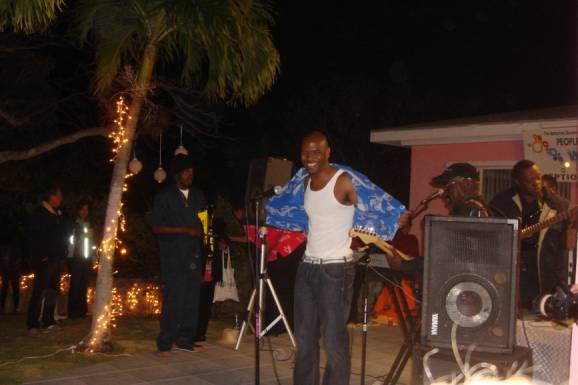 The Spring City Rockers displayed their talents in a colorful, mini-Junkanoo rush.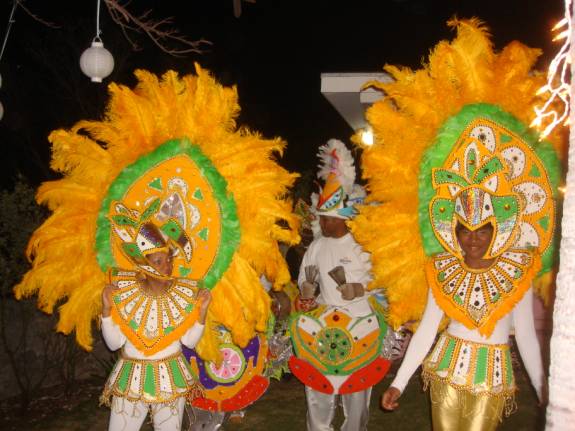 Sandy (CRITCHER CAT) shines with the friendship and great rapport that we winter residents share with the local Bahamians.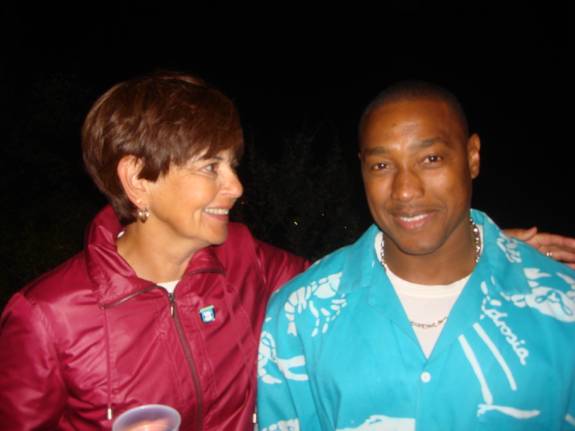 Doug Folkerth (HAPPY CLAMZ) sang a special tribute song to Glender Knowles (our favorite bus driver). Entitled "I'm Looking Over My Dead Dog Rover", the rendition brought smiles and chuckles from everyone.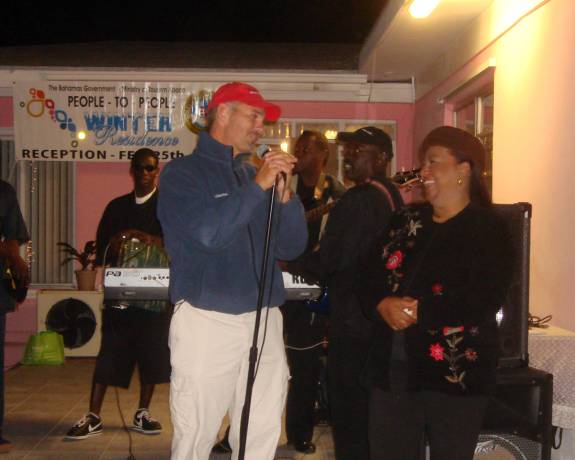 02/26/2010 FRIDAY MARSH HARBOUR, ABACOS, BAHAMAS
Each Monday, Wednesday, and Friday, the RMHYC hosts a morning meeting at 8am over VHF radio channel 78. Neil (SILVER QUEEN) announced, much to Judy's elation, that he had recovered her wayward sandal floating in the harbor. Wow, what a relief… Judy is happy again. Thanks, Neil!
Judy and I were honored as guest for dinner aboard SHEARWATER. Fred and Sidonia had their gorgeous yacht shipped all the way from the Pacific Northwest to Florida this year so that they could be with their Royal Marsh Harbour Yacht club cruising family. A talented yachtsman, Fred had the vessel especially designed and built to his own specifications. WHAT A BEAUTY…! I'll drink to that…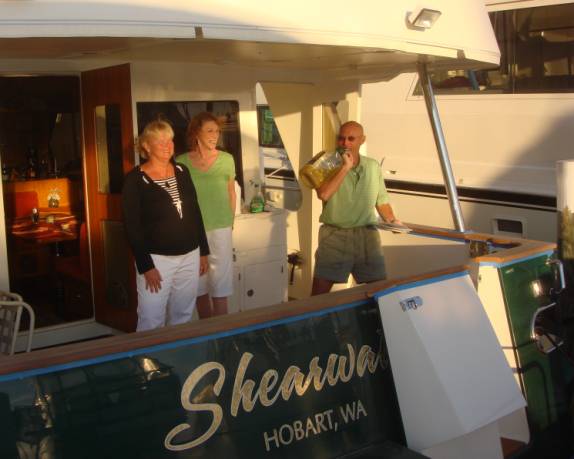 Judy (AMARSE), Vanessa (S/V TALLY HO), and Diane (DOUBLE TROUBLE) enjoyed appetizers on the bridge.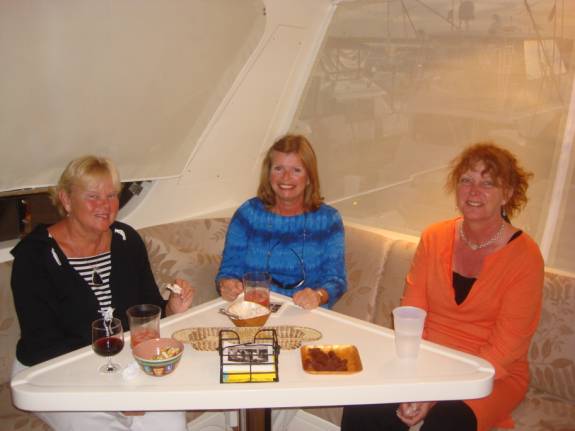 Our gracious hostess, Sidonia, always has a loving smile for everyone…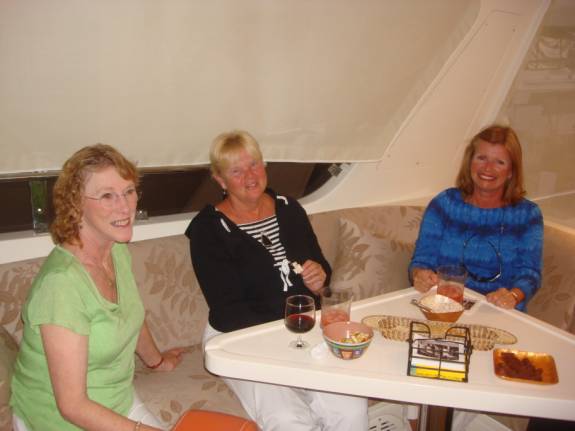 Their son, Mike (DOUBLE TROUBLE) and Andrew (S/V TALLY HO) were there…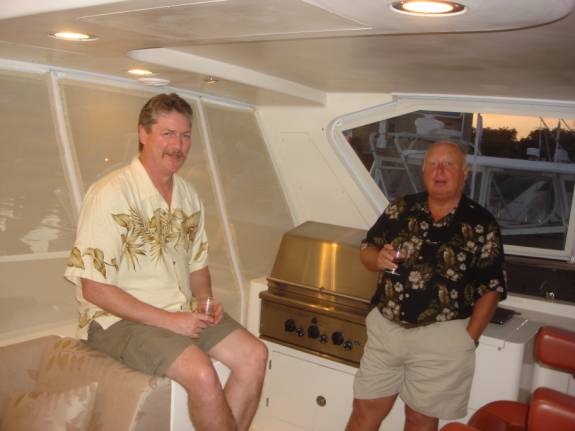 A wonderful dinner started with a mixed salad, and then continued to delight us with Alaskan Salmon, cheese grits, and a spinach soufflé. For dessert, Judy made brownies and Vanessa brought a delicious, Lime Cream Pie. It was a very special evening.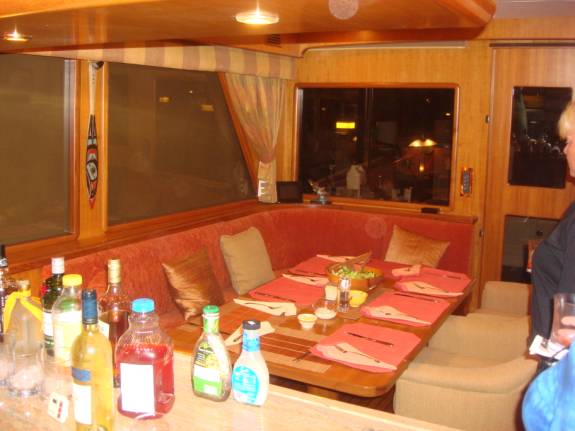 02/27/2010 SATURDAY MARSH HARBOUR, ABACOS, BAHAMAS
The wind was calm and the morning was beautiful. At 8am sharp, SEAFOOD SEACHER pulled from her slip on Dock 5 with a crew of eager fishermen.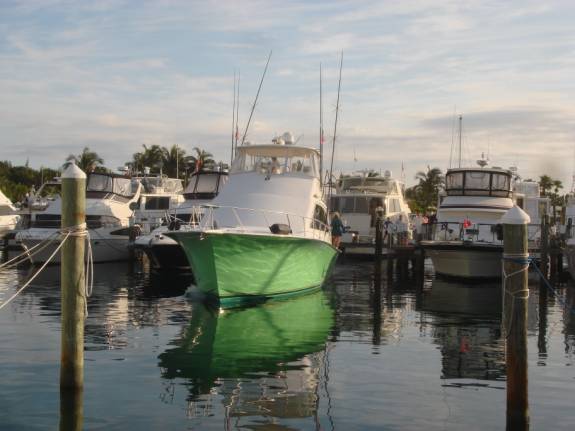 Under the command of Jack and Sue Powers, Judy (AMARSE), Judy (SHADE MORE), and Robert (MAGNUM OPUS) headed out through the South Man-O-War passage cut toward the fertile area of the Atlantic Ocean fishing grounds in search of some deepwater bottom action.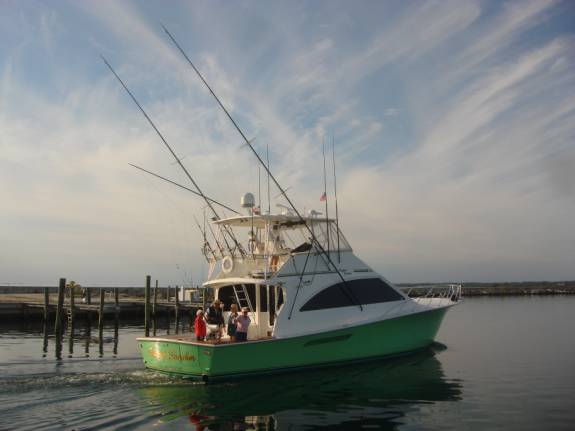 About noon, Jack skillfully backed their beautiful, green vessel into her slip.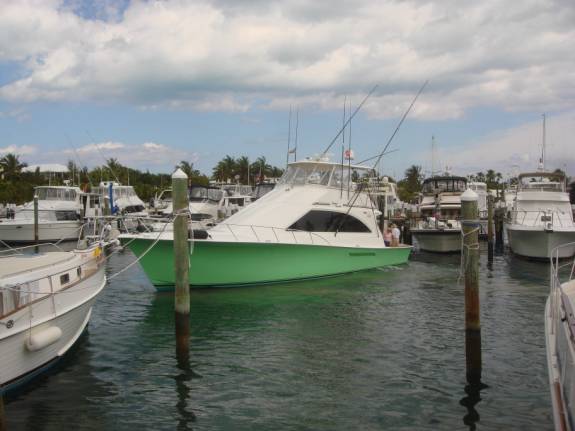 Just by the big smile on her face, I knew that Judy had a great time.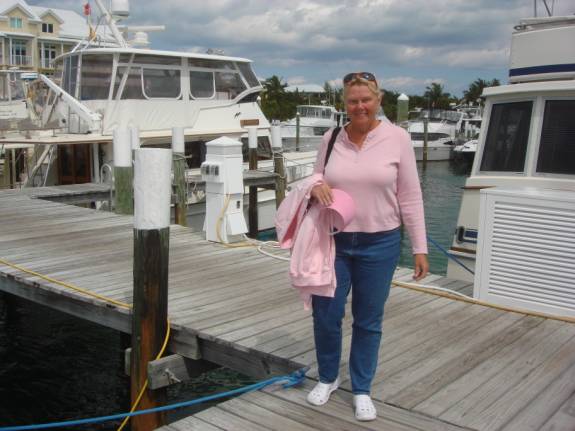 The larder of their catch included numerous Strawberry Grouper and a large Margate Snapper. Unfortunately, Mister Shark decided to rob them of most of the big snapper.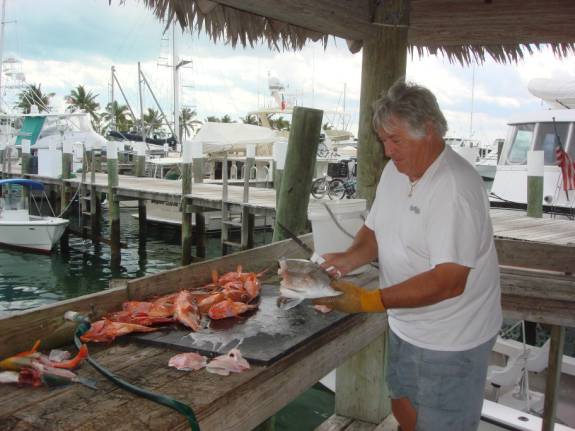 The magnificent Strawberry Grouper, reeled in by Judy, would have made a marvelous trophy mount, but I would make an even better dinner meal.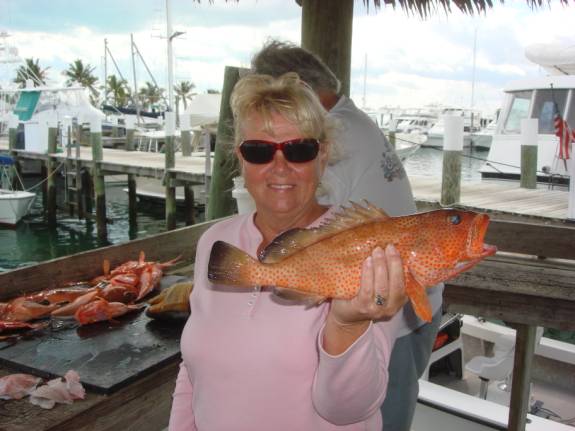 Jack and Sue are wonderfully skillful in the art and technique of fishing. They are the most generous folks you could imagine and are very knowledgeable and willing to teach their fortunate guests how to maximize the catch.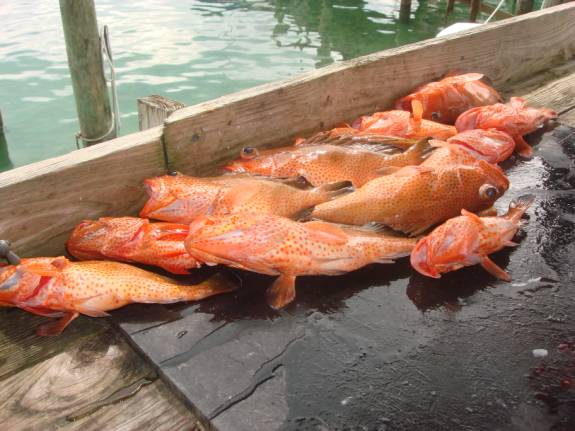 Being hauled rapidly from depths of over 100 feet, there is insufficient time for the fish to decompress and equalize their internal pressure. This rapid assent causes the fish's eyes to bulge to the extreme. The Strawberry grouper is prized for both its color and delicious flavor. Thanks, Jack and Sue…!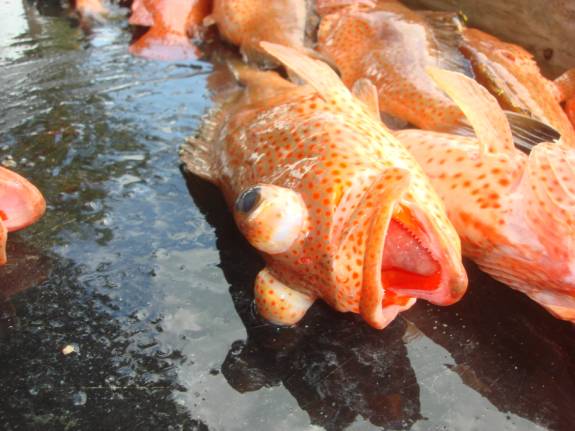 Of course, dinner was the catch of the day. Lightly pan-fried in peanut oil, what could have been better?
Big storms hit overnight, accompanied by strong, gusty winds and power outages. It's so good to be secure in this protected marina at the Abaco Beach Resort and Boat Harbour. It wasn't very nice welcoming weather for JD's son, Joe, Jr., his wife, Melody, and their friend, Tim, to be coming aboard ADAMAS DE MARIS for some vacation time.
02/28/2010 SUNDAY MARSH HARBOUR, ABACOS, BAHAMAS
HAPPY BIRTHDAY to JUDY'S GRANDDAUGHTER, ASHLYN LAW
It was clear, breezy, and in the 60's F when I got up at 5:30am. The power was still off, or at least I thought it was, until I realized that I still had the main AC power switches turned off from when I shutdown the generator last night. That is my normal pattern after shutdown when at anchor. Of course, all was up and running when I flipped the switches to shore power… DAH…
I spent much of the day preparing my special Bolognese sauce. It sure is a lot of work the way I do it, but the results are well worth it. I think our special guests, Linda and Tom (TOMLIN TOO), enjoyed the dinner aboard AMARSE as much as we did. It is always such fun to just sit and chat with these dearly loved friends. All too soon, they will be leaving for destinations West and North.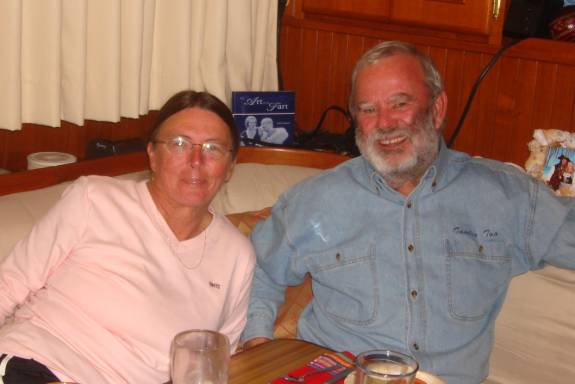 CONTINUING UPDATES ARE IN PROGRESS…
WATCH FOR THEM, COMING SOON…
POST SCRIPT:
We sincerely hope that you will review the previous years of compilations to give context to the current editions. Please let us know if you have any special suggestions and thoughts.
REMEMBER: The website is now fully active and you can visit it at any time. You can also review any of the previous logs from the years 2006, 2007, or 2008 and learn more about the crew and their many adventures. Enjoy.
ATTENTION: SPECIAL NOTE:
You may contact us via email anytime.
Thanks for allowing us to share our life and adventures with you.
Lotsa Luv,
Fred Reed and Judy Law
AMARSE
MT40
"AMARSE" is pronounced "AM-ARE-SAY".
Our website is: www.amarse.net .