UPDATE#20 07/04 thru 07/09
Howdy Everybody,
The adventures of 2006, 2007, 2008, and 2009 through 07/03/09 have been published on the website. We continue with the latest edition.
UPDATE 2009 #20 07/04/09 thru 07/09/09
At last update, we were at San Antonio, Texas visiting with family and friends, while all the time preparing and getting totally hyped up for our adventure trip to Peru and Ecuador.
07/04/09 SATURDAY SAN ANTONIO, TX to LIMA, PERU
Starting with this update, you are invited to embark with us on a two-month adventure to the South American countries of Peru and Ecuador. Due to the large number of pictures that we wish to share, you may wish to enjoy the whole series of updates covering our trip.
VAMONOS means LET'S GO! Judy and I were up at 03:50am with eager anticipation. Precisely as arranged the day before, our Yellow Taxi was ready and waiting at 04:45am to whisk us to the airport. Including tip, we shelled out a $22 fare.
With only our 22" backpacks, with pull-along wheels as carry on luggage, we zipped through TSA security by 05:15a. Although they had an earlier flight going out, Delta Airlines wanted another $50 each for a change fee. No Way, Jose…
With an exact on-time departure of 6:45am, we arrived in Atlanta at 10:15am for our change of plane that also made an on-time departure at 11:30am. Arriving in Ft. Lauderdale at 12:30pm, we would have to wait until 5:15pm for our next flight, non-stop to Lima, Peru aboard Spirit Airlines.
With a couple of hours time change, we landed at Lima about 9:40pm. The lines for Immigrations were quite long but seemed to operate with efficiency. Customs uses a system like a traffic light to assign special luggage inspections. When you push the button, you will get either a "green" light or a "red" light. With our green lights illuminating, we passed easily through the Customs checkpoint. An ATM machine in the arrival area conveniently provided us with enough startup cash in Peruvian Soles.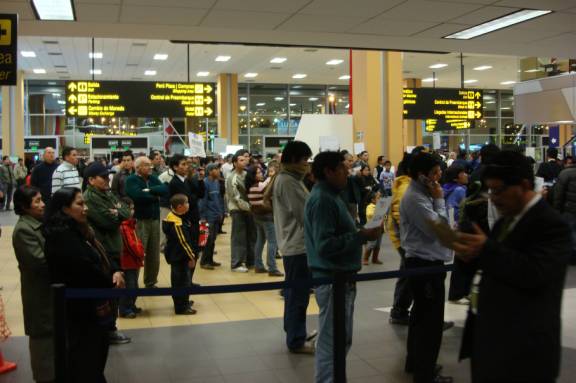 Our trusted taxi driver and friend from last year, Senor Juan, was standing by to assist us and transport us to our favorite hostal in Lima central. Our first order of business was to get Yellow Fever shots at the airport clinic. After considerable waiting because of a medical emergency aboard another inbound flight, we received our immunizations and entries into our personal shot records. The painless injections will take 10 days to become effective and will be required for our border crossing into Ecuador later this month. The cost for the shots was 85 soles, or about $30 US dollars each. If we had gotten them in the states before our trip, the cost would have been several hundred dollars each.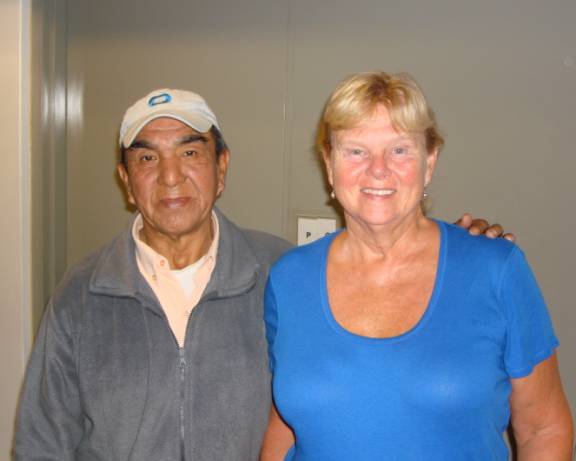 It was 12:45am as we were leaving the airport. In very light traffic, Senor Juan dropped off the very tired travelers at the Hostal San Francisco at 1:15am. After his unscheduled 3-hour waiting time, we felt obliged to give him a handsome bonus for his faithfulness.
As anticipated, our reserved room #304 was ready and welcome.
07/05/09 SUNDAY LIMA, PERU
The Hostal San Francisco is located at Jirón Azangaro, 127, near the heart of Lima's central historical district. We have stayed here several times before and have always enjoyed their hospitality. Nothing fancy, mind you, but clean, safe, and comfortable enough for our needs.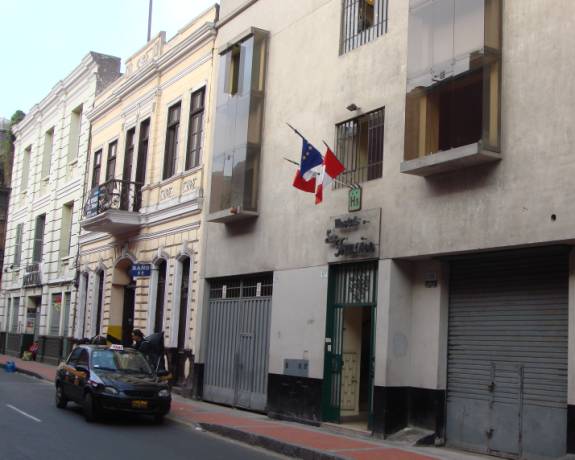 Not wanting to waste any valuable adventure time, our alarm sounded at 8am. Of course, we would not want to miss out on a delicious, nutritious breakfast at our favorite spot, Pancho Fierro's. It's just around the corner and the bill came to less than the equivalent to $4.50 US.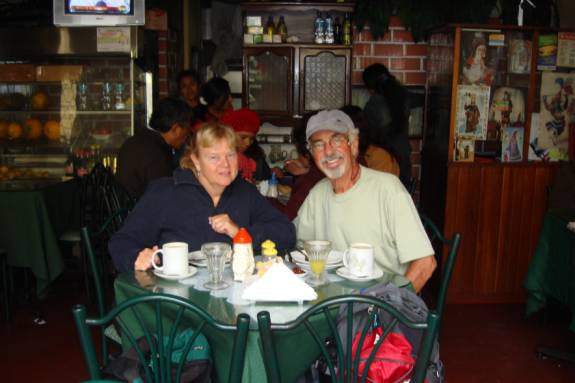 The café/restaurant looks out toward the Monasterio de San Francisco.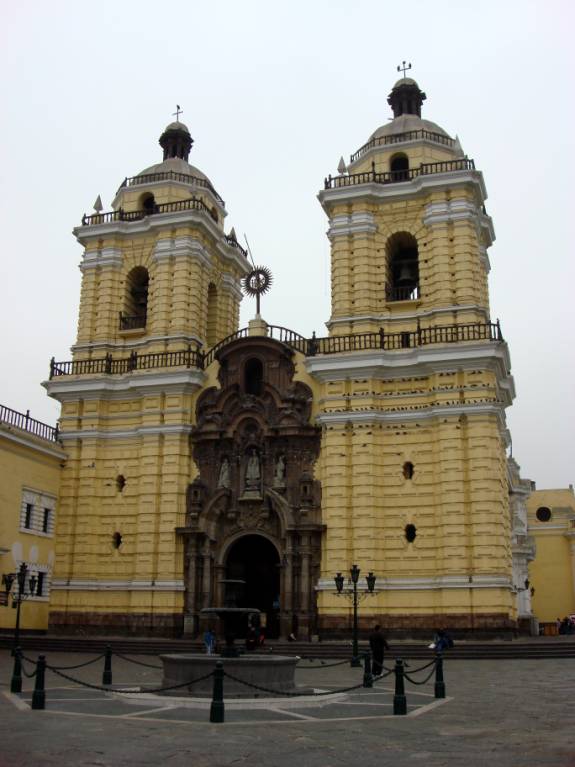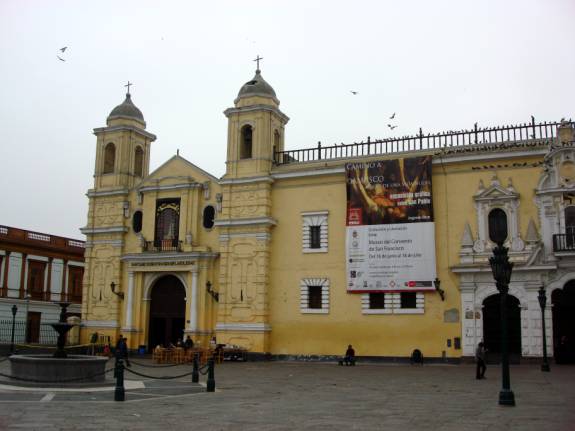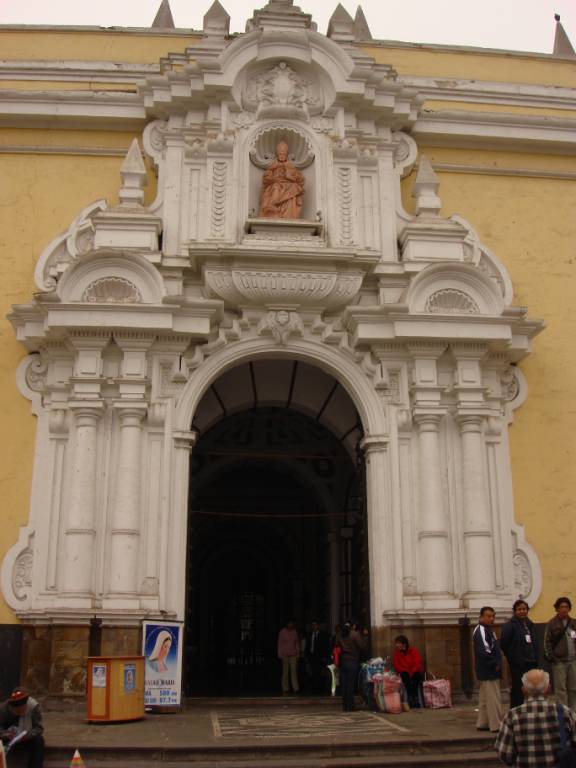 Again this year, we were fortunate to be in Lima on the first Sunday of the month. On certain dates, the National Symphony Orchestra holds a concert at the Museo de Nación. The admission tickets were a mere S/.10 or approx. $3.50 each. The museum building is quite modern and houses an impressive collection of artifacts.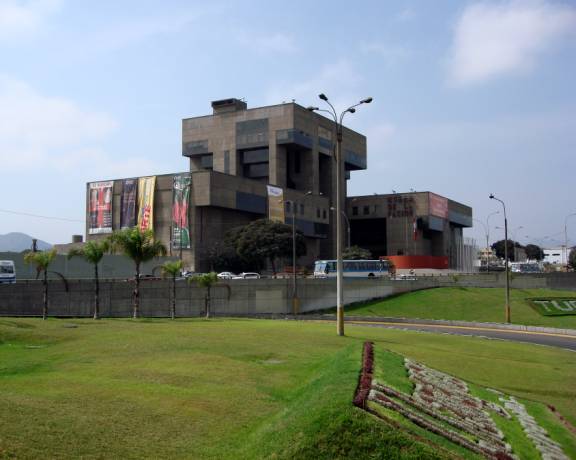 Having acquired our tickets, we toured the galleries of the museum. This gold mask is indicative of the grandeur of royalty in the Inca Empire.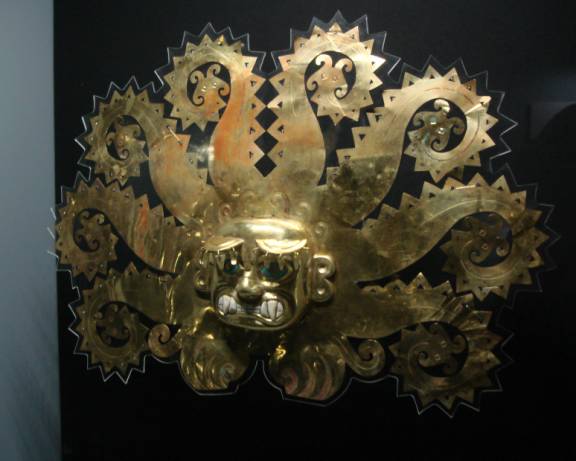 The ancient pottery collection is very impressive with artifacts dating from Chimu, Wari, Moche, and Inca cultures.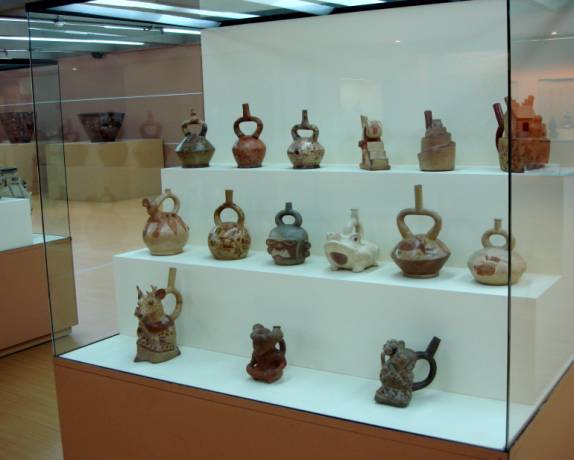 Post Conquest artwork is featured in several galleries highlighting an array of religious arts.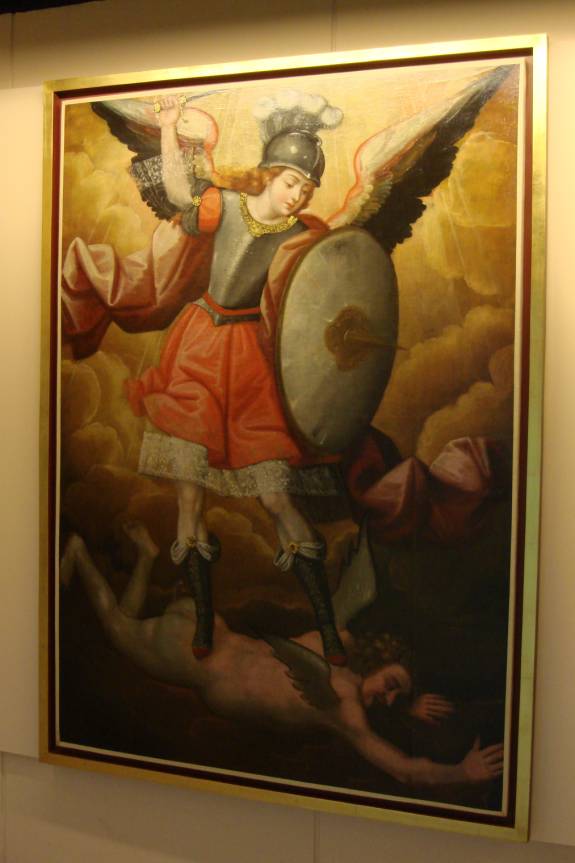 I found many examples of pre-Inca and Inca period pottery to be fascinating.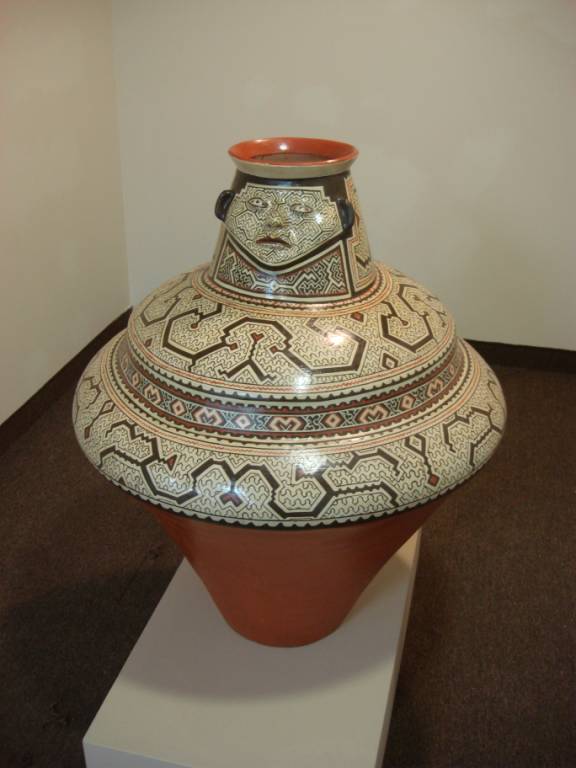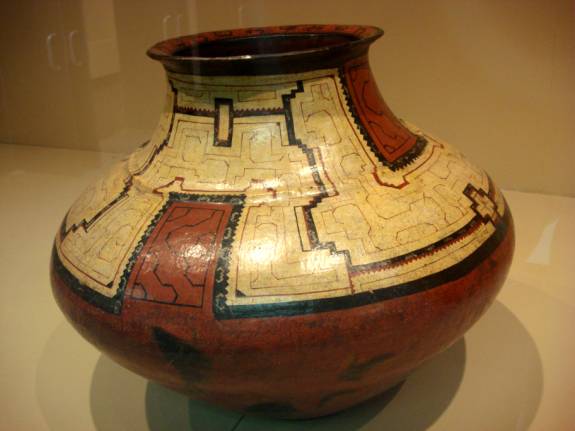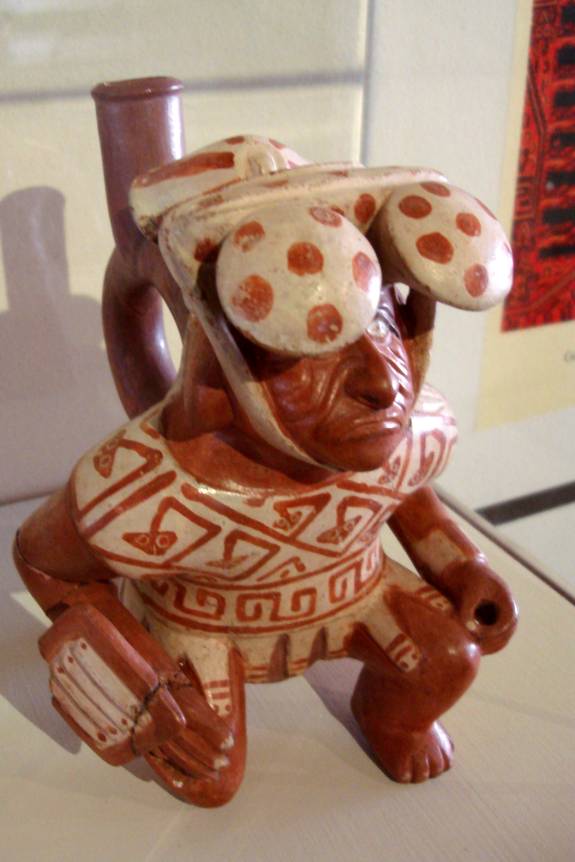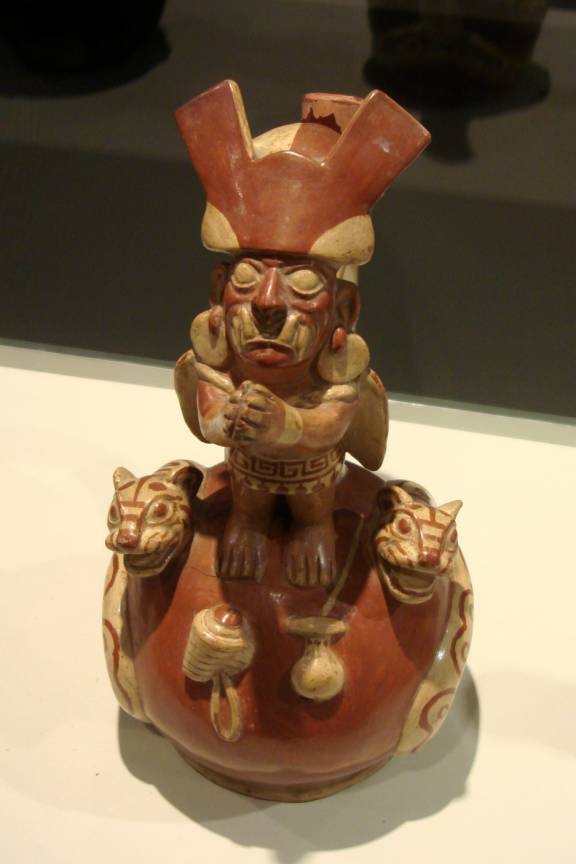 A mummified head was on display…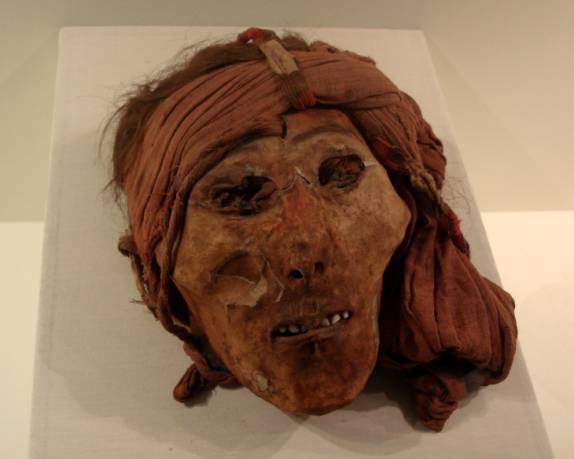 There was an obvious preoccupation with so-called "Naughty Pottery".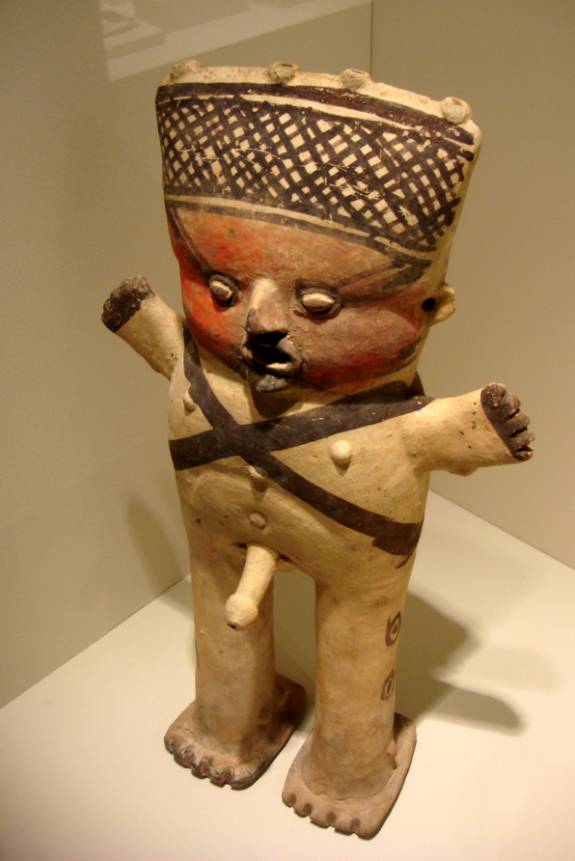 The primary reason for our being here was for the Orquestra Sinfónica Nacional.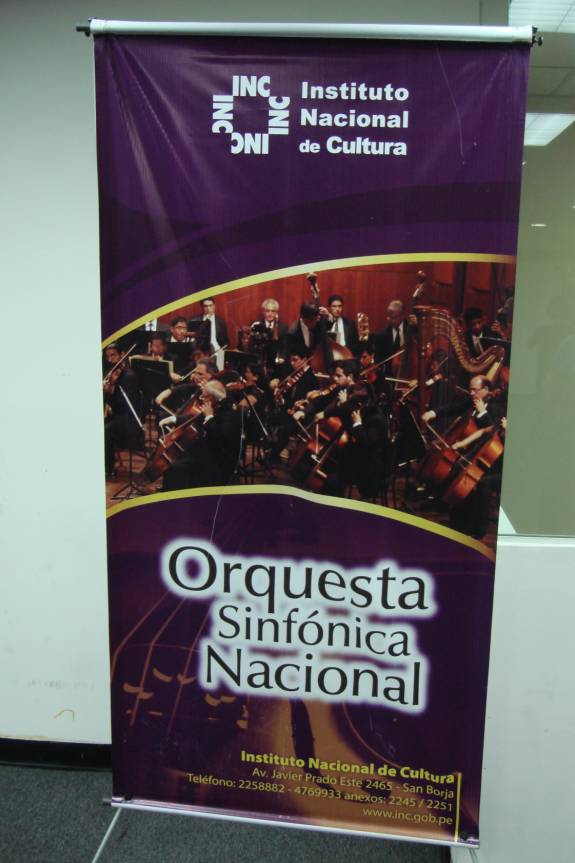 Once again, we thoroughly enjoyed the musical event.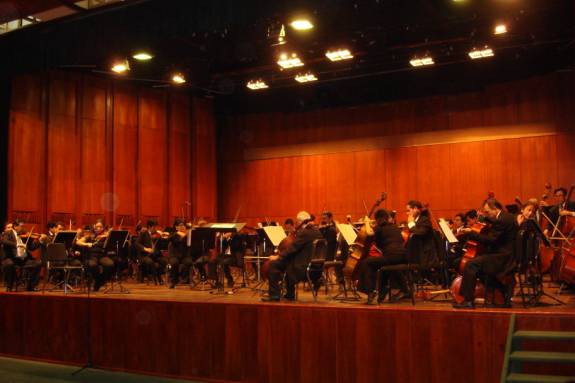 During intermission, the patrons gathered to relax on this sunny Sunday.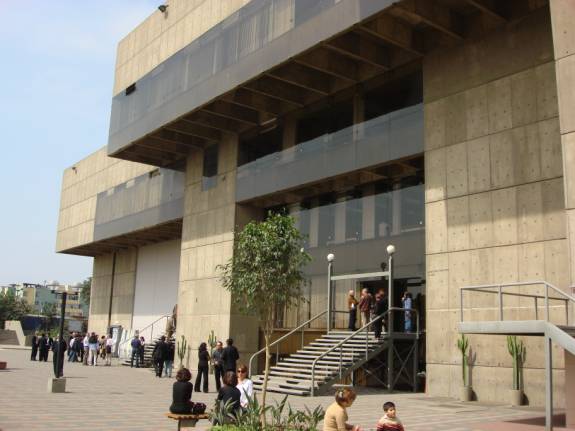 The public bus system can be quite confusing and a bit overwhelming. We disembarked from one bus after it made a turn in an unexpected direction. While walking through a nearby neighborhood, we encountered a funeral procession. In much of Peru, the custom is for friends and loved ones to take turns carrying the coffin along the streets. The bereaved follow along and toss flower petals upon the coffin and roadway. Often, the empty hearse leads or is awaiting the deceased and followers somewhere ahead. Customs may be very different throughout the world; however, the ultimate purpose is always to bid farewell to that special one who has recently passed on.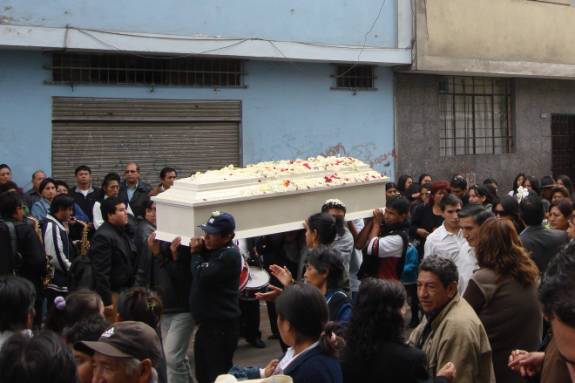 The rest of our walk through a questionable neighborhood gave us some tense moments. We just had the feeling that it was an area that could be unsecure and perhaps problematic. The solution came in the form of a taxi moving us onward to a safer environment.
Back near the central historical district, we marveled at the beauty of the Congreso building.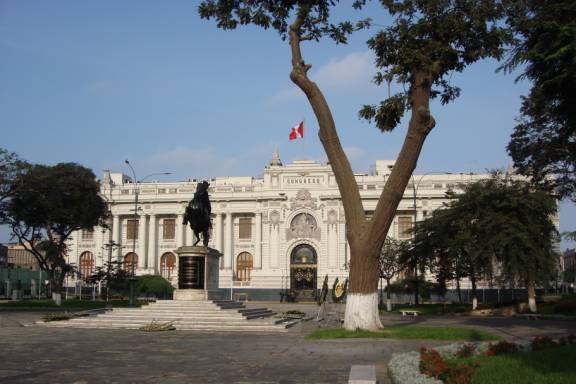 Lining a side of the Central Plaza de Armas, the stately Presidential Palace is a masterpiece of architectural beauty.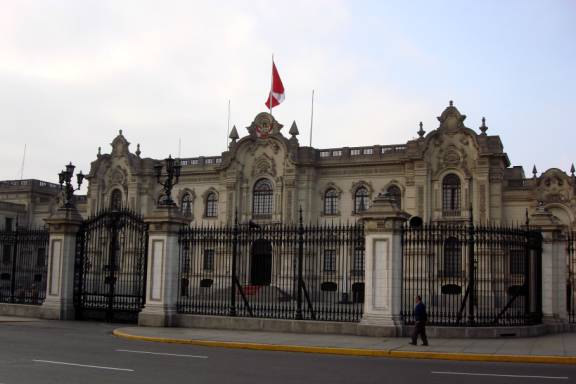 On an adjacent side of the Plaza de Armas, the National Cathedral rises above.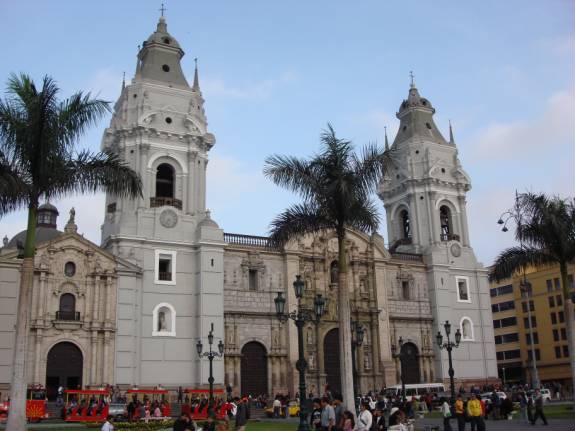 Attached to the Cathedral, the Archbishop's Palace boasts wonderful carvings and huge wooden balconies.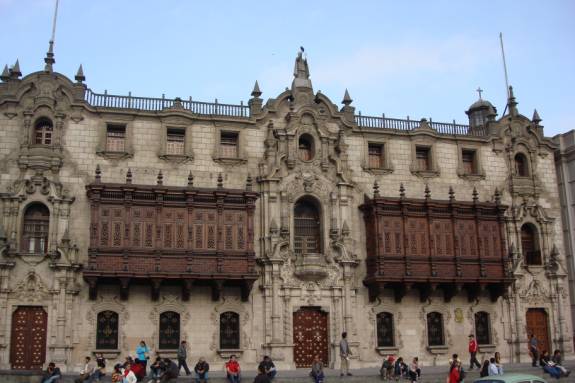 Behind the Presidential Palace area, a large park setting gathered lots of Limeños in typical Sunday fashion. It was kind of a carnival type atmosphere without any particular purpose other than enjoying life.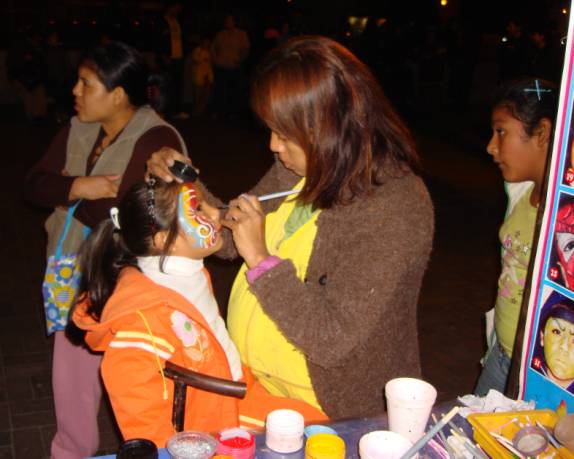 There was definitely a sense of hilarity as these fellows "bumped" their way through the crowd.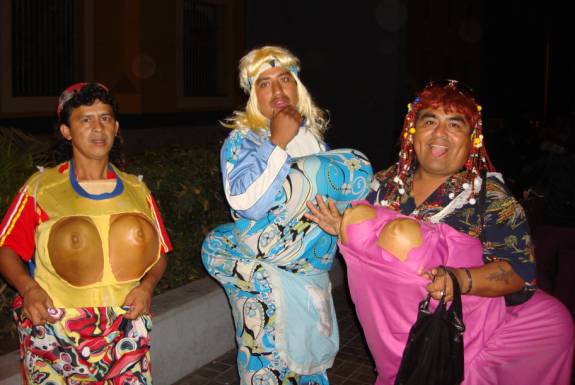 When Lima is lit up, it is visual splendor. The central historical district provides a gorgeous setting for an evening stroll. The National Cathedral and Plaza fountain are inspiring.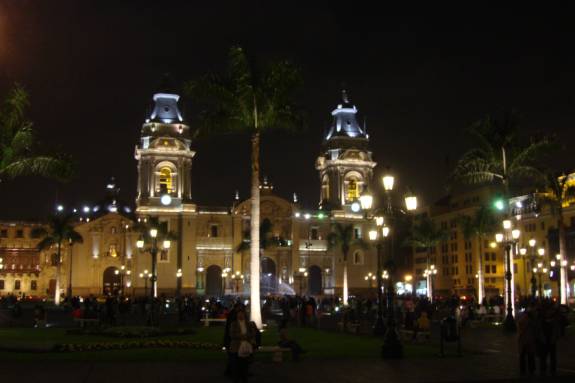 We took a scenic ride around the area in this sightseeing, train-like vehicle. It was fun to share the beauty of Lima with so many of the local inhabitants and other Peruvian visitors.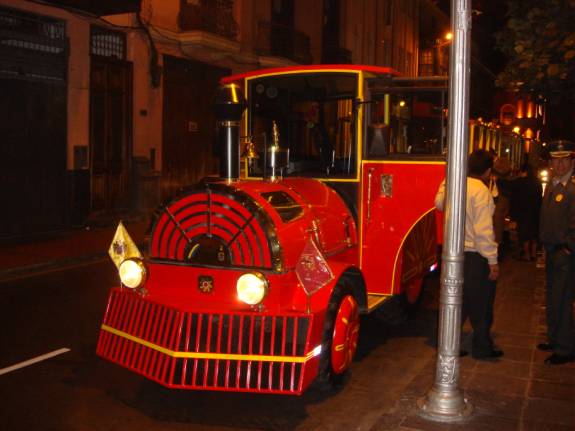 The Archbishop's Palace…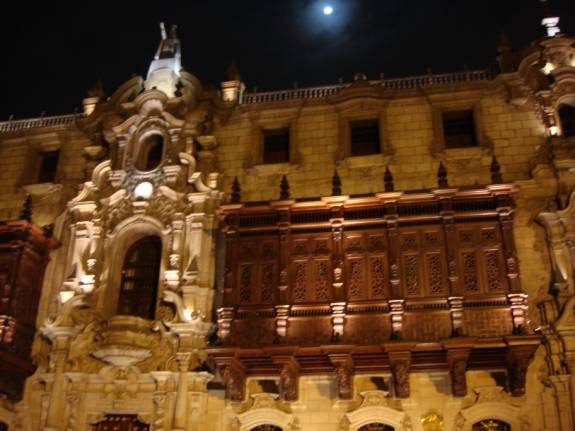 We returned to Pancho Fierro's Restaurant for a delicious and economical meal. Following dinner, we strolled around the secure city areas enjoying the sights that abound. In Peru, casino slot machines are called, "Tragamonedas". The translation is, "brings money". There are numerous establishments boasting lots of machines. We chose one such and, although we were not big winners, we did play on the centimes machines for a long time and managed to lose less than $4 US.
It was, most certainly, an action-packed and fun-filled day here in Lima.
07/06/09 MONDAY LIMA, PERU
The alarm sounded at 8am. As you may have guessed, we had breakfast at Pancho Fierro's.
It is a bit of a walk to the nearest public bus stop. The buses are restricted from the city's historical center. Out of the huge number of destinations and routes displayed on the buses' marques, we found one to take us to the Miraflores district of the city. Miraflores is an upscale zone that borders to the shores of the Pacific Ocean. The streets are lined with affluent shopping opportunities and modern high-rise buildings. A steep cliff falls dramatically to the ocean surf.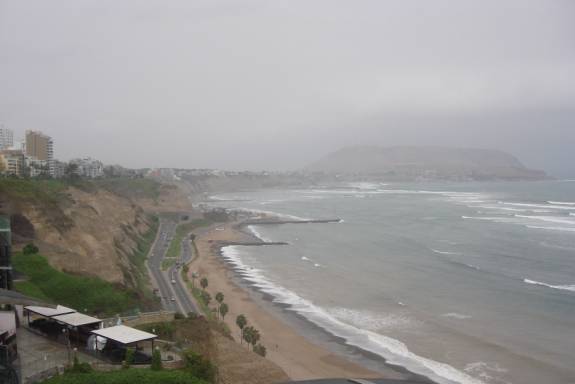 Brisk, on-shore breezes are forced upward against the cliffs producing rising air currents that are ideal for parasailing and paragliding. Anyone interested in trying this sport out? A ride would cost you $50 US.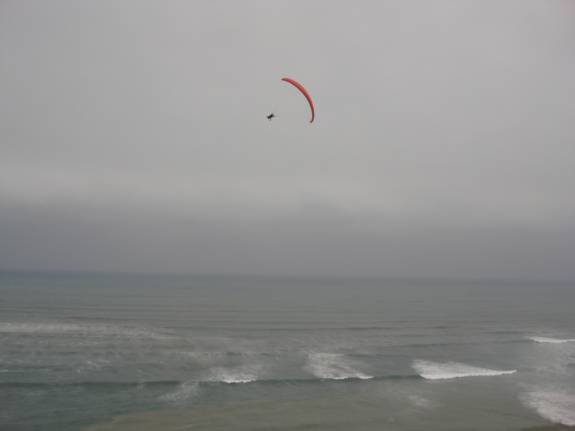 Businessmen and luxury-level tourists find deluxe accommodations at the J.W. Marriott hotel. Other major hoteliers have upscale accommodations nearby.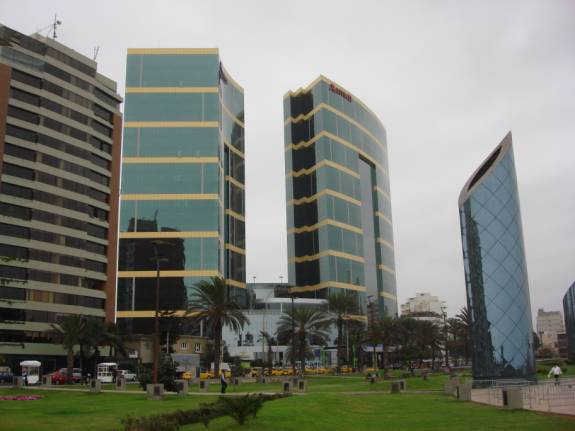 This famous statue is the centerpiece of Lover's Park.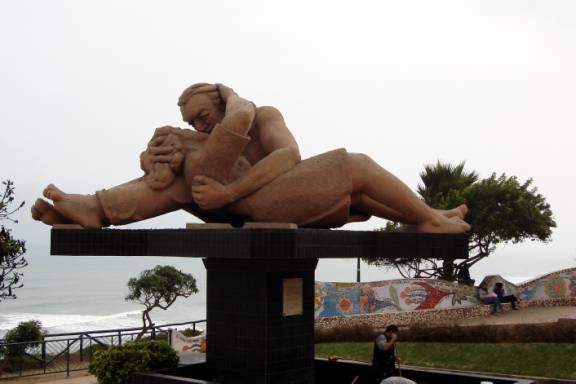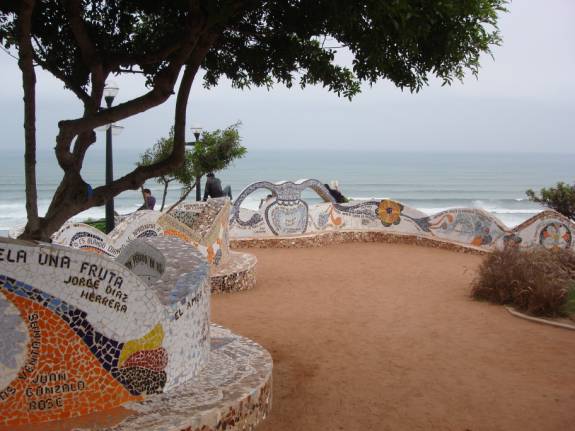 Returning to the central historical district, we boarded the "Arequipa/Tacna" public minibus. Fares equal about 35 cents.
The rooftop area at the Hostal San Francisco contains a provided area available for self-directed cooking, eating, drinking, or just hanging around. It is a nice convenience for the guests.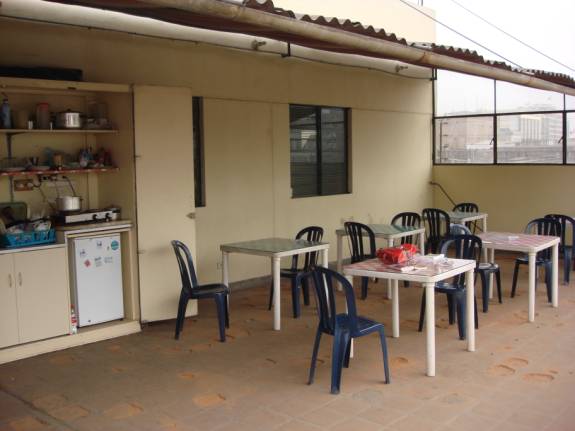 It wasn't long before we were out walking and exploring again. Notice the exquisite carvings on the wooden balconies of the Archbishop's Palace.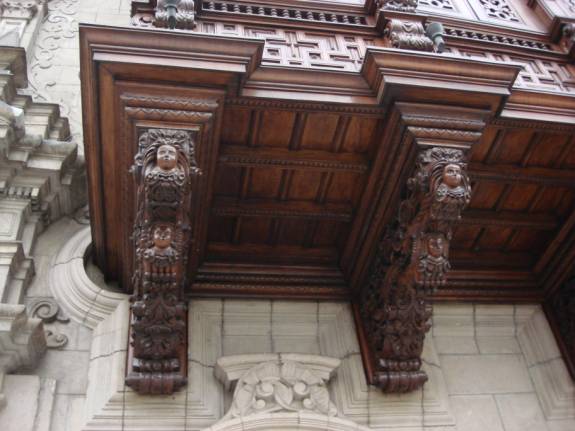 The brass adorned, wooden doors lie below the balconies.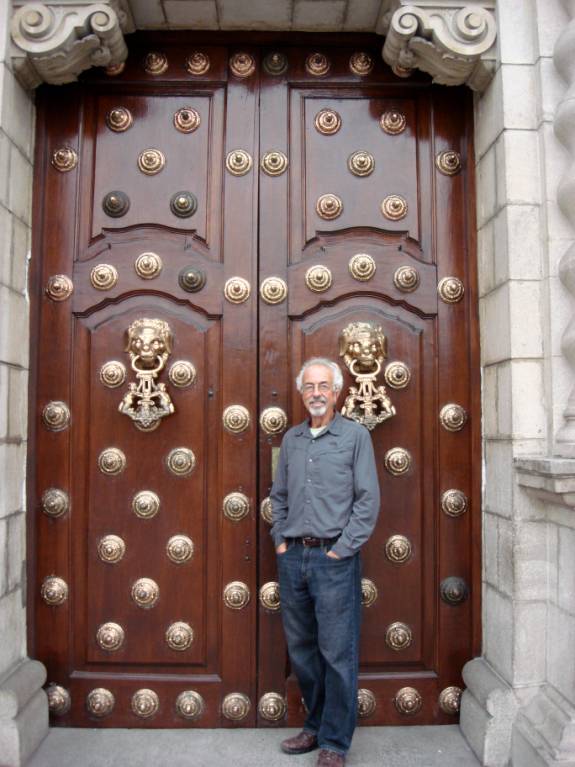 Of course, Judy was anxious to visit the area of jewelry bead shops. I suppose it is politically correct for me to say that, "I was so delighted to see her reveling in her crafting desires." On the other side of the coin, "beads shopping just ain't my thing." I guess I was somewhat useful as a translator and hard bargainer.
There was lots and lots of walking today and we were tired. Dinner was very good at "Pollos ala Brasa" that specializes in rotisserie chicken. A quarter of a chicken, fries, salad, and a large beer won't set you back more than 3 or 4 dollars equivalent.
07/07/09 TUESDAY LIMA to HUANUCO, PERU
No late sleepers today, the travelers had to wake up with the 6:45am alarm. All packed and ready, we still had time for breakfast at Pancho Fierro's. Café con leche, juice, scrambled eggs with ham, bread rolls, and jam would stave off our hunger for quite well. On the way back to the hostal, we met up with Ivette. She works for the hostal and has been extremely helpful and very friendly during our stays at the Hostal San Francisco. In recognition, Judy gave her one of her handmade pieces of jewelry.
At 8:15am, our favorite taxi driver, Senor Juan, took us to the GM Internacional bus terminal at 28 de Julio, 1275. Having purchased our tickets the day before, we took our seats #3 and #4 for a 9:15a departure.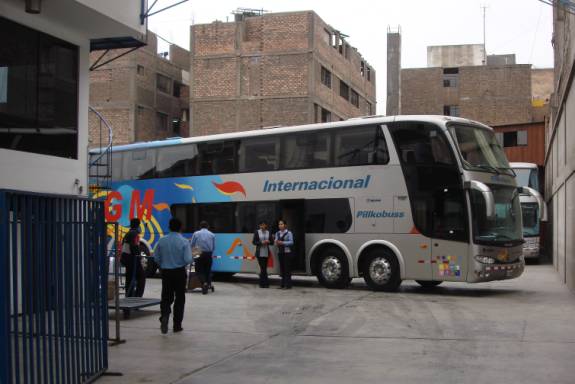 The bus headed east, climbing high into the Andes Mountains.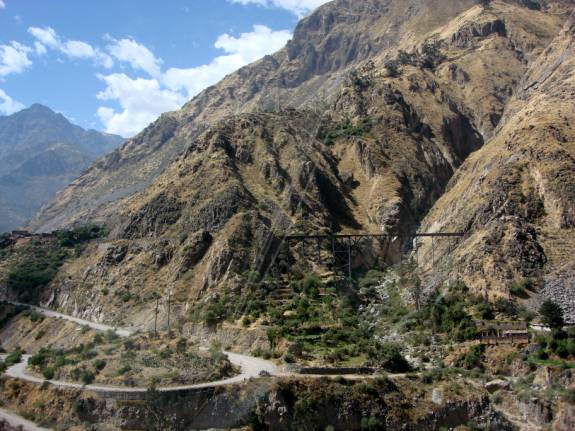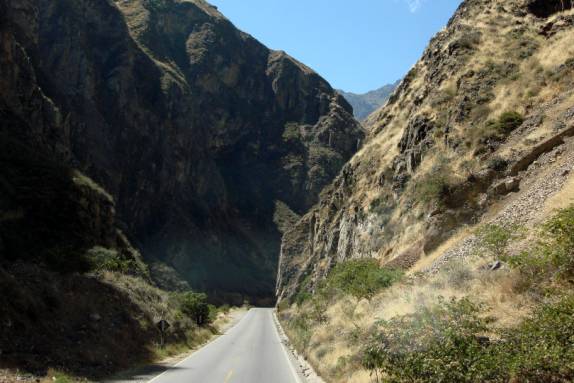 The roadway leads roughly parallel to the train route that we took last year through La Oroya. La Oroya was once the highest rail station in the world.
Our route differed this time as we headed in a more northerly direction through Cerro de Pasco at 3:30p. Cerro de Pasco is the highest city of its size in Peru and at 13,973 feet (4,380m) elevation, it is one of the highest cities in the world.
The GM Internacional bus arrived at the city of Huanuco at 5:45pm.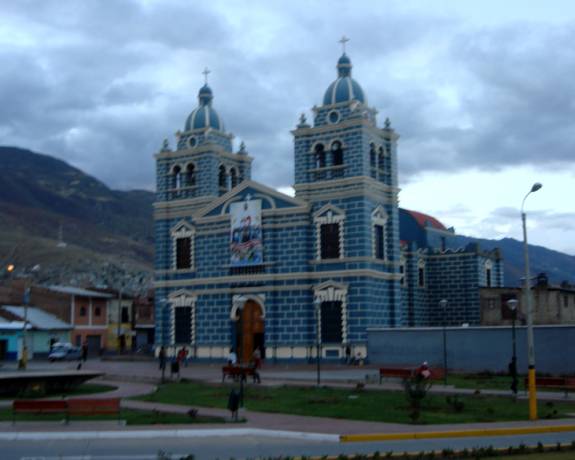 From the bus terminal, we walked to the central Plaza de Armas and our Hostal Las Vegas that faced the plaza. The Municipal Building was decorated and illuminated.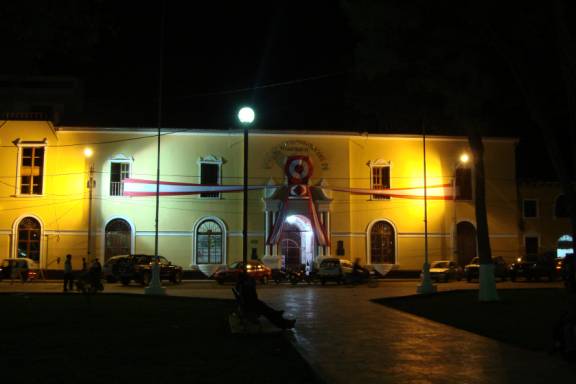 The fountain in the Plaza de Armas was brightly lit and very beautiful.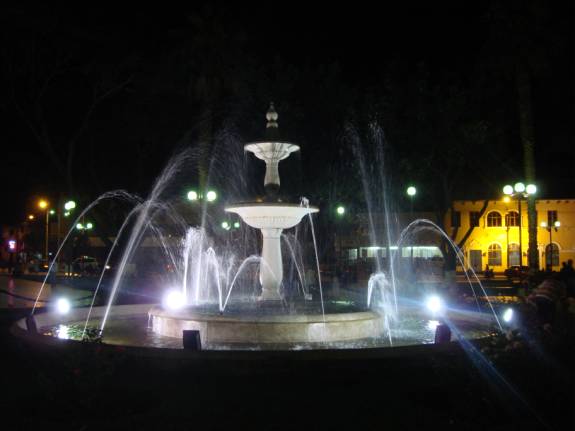 No, this is not our hotel. This picture is of the most upscale hotel in the city.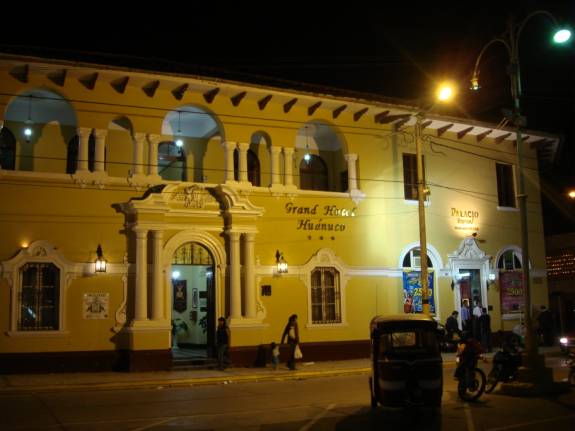 Our hotel, Hostal Las Vegas, met our expectations for a small, clean, secure, and quiet place to rest. Fancy? Well, perhaps not, however, at S/.35 per night (about $12), we viewed it as a real bargain.
The plan was to stay only one night here before continuing our adventure toward Pucallpa. The trip to the appropriate bus station for tickets changed all that. All of Peru was being crippled by a "PARO". A paro is the equivalent of a workers' strike. We learned that there would be absolutely no bus transportation available throughout the country for at least several days. Seeking concessions from the government, the Paros would effectively shut down the countries transportation system. To further disrupt mobility, striking groups place tree limbs and huge rocks across the roadways that close off all access. Another favorite tactic is to set huge old truck tires on fire in the middle of the road. Many other businesses and groups will act out in support, complicating the situation even further. Other than a huge inconvenience, there is little to fear as long as one does not attempt to violate their blockades. For us, we viewed it as another aspect of the adventure. We were in a great place to rest out the unexpected delay.
Transmar Bus Company told us that they might have a bus going on Friday but were not willing to start selling tickets. To reduce possible risk and, perhaps, political tensions out in a very remote area, we made a decision to alter our plan and return to Lima when possible. Of course, there would be no morning bus back to Lima either.
After a delicious dinner of rotisserie chicken, we retired to our hotel about 9pm. The streets were getting very empty of people and we were the only "gringos" that we have seen in the town.
07/08/09 WEDNESDAY HUANUCO, PERU
We were out and about at 7:10am. A walk to the GM Internacional Bus terminal yielded only enough information to inform us that no bus would be available because the "carreteras" (highways) were all still closed because of the countrywide protest (Paro). They did, however, agree to sell us advance tickets for Thursday with the caveat that they were still not sure what would transpire then. Tickets for the return to Lima cost about the equivalent of $12 each.
In keeping with the countrywide protests, the local people joined to march on the government center.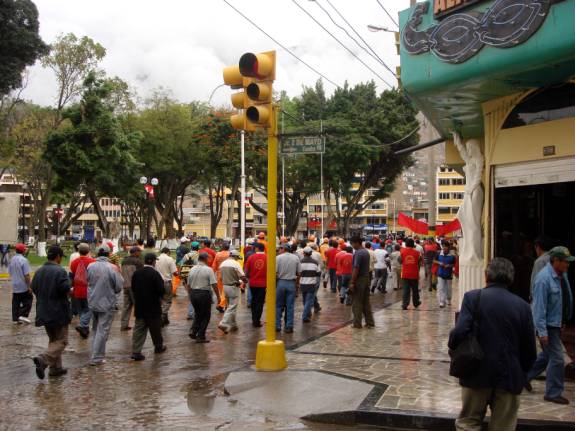 In a misty rain, they sought to have the governing body hear their pleas.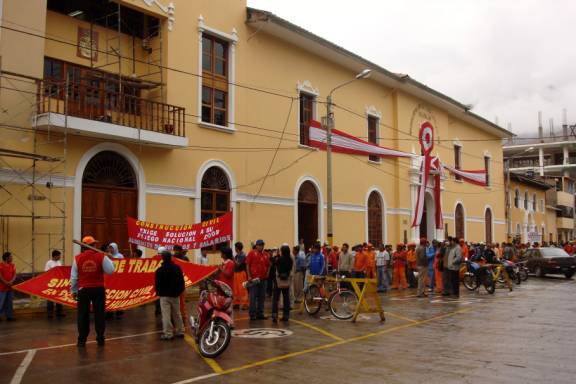 Our time was not wasted here in Huanuco. We strolled about the town and found it to be quite lovely. A park-like area parallels the river where fabulous flowers bloom along the walkways and banks.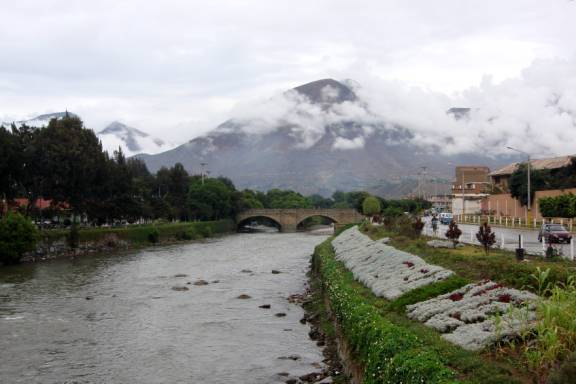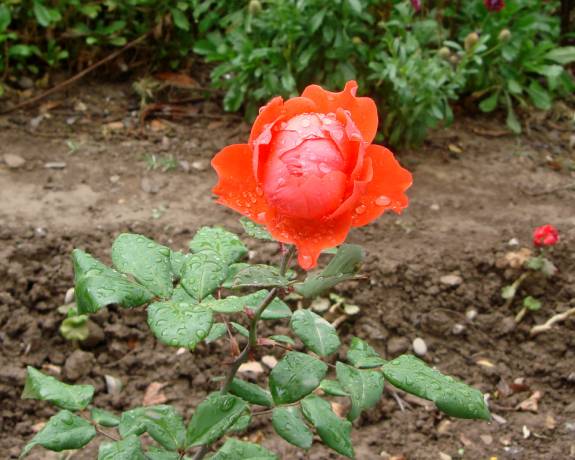 The Paros and protest demonstrations continued throughout the morning hours.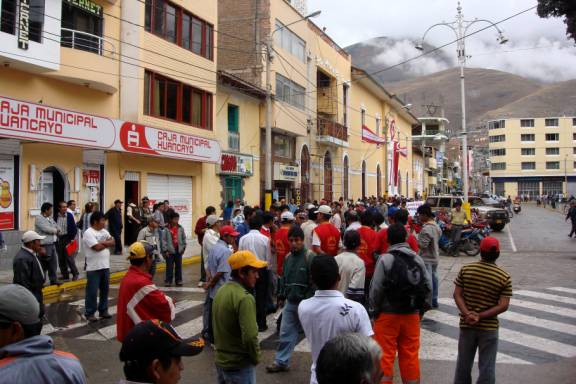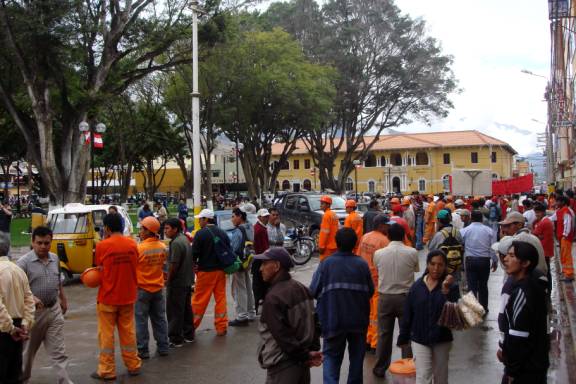 While the locals concentrated on political issues, we focused our attention on the niceties of the town.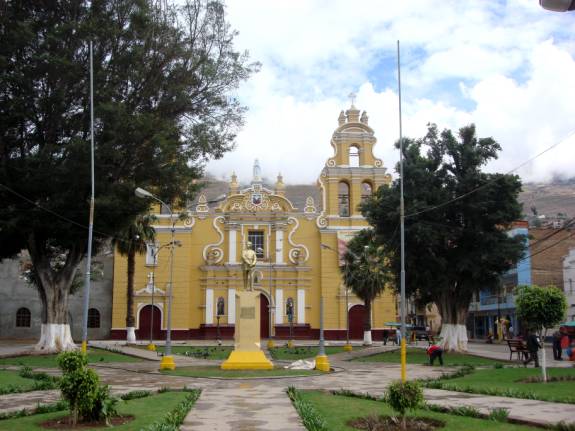 A school…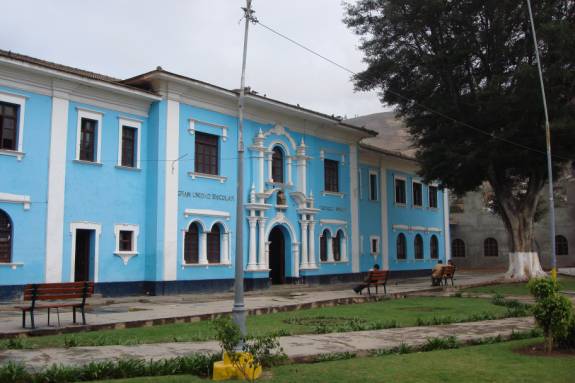 The protestors formed a march through the city streets. Most of the businesses were careful to close their doors as the procession approached. Perhaps, they were being careful to avoid any confrontations or repercussions from an apparent lack of sympathy.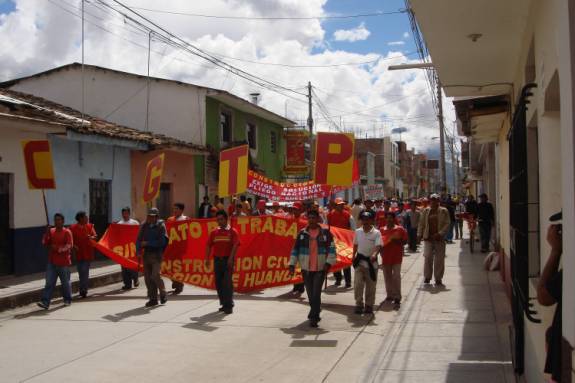 Located adjacent to the central Plaza de Armas, our Hostal Las Vegas was central to the city and to the activity.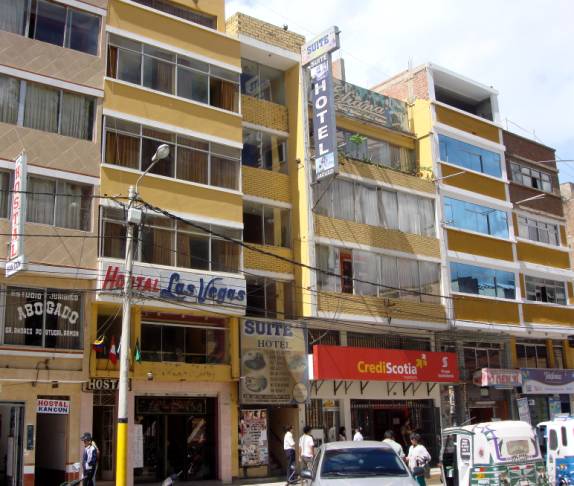 Outside the Provincial Municipal Building of Huanuco, the gathering was gaining momentum.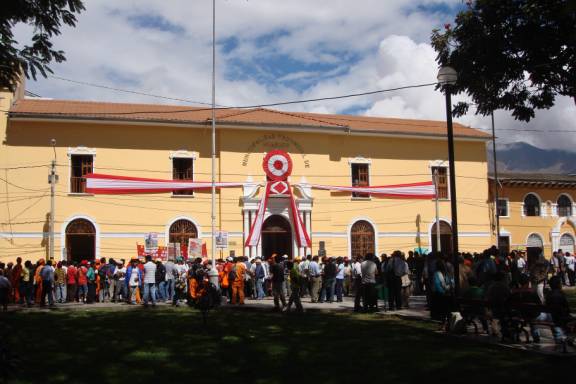 The city has several lovely plazas similar to this one.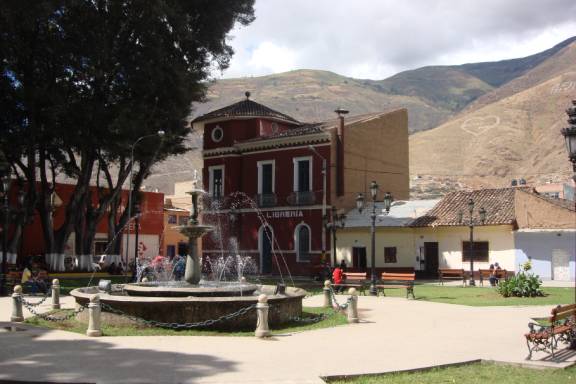 Judy and I are fascinated with suspension bridges and try to take every opportunity to make the walk across them.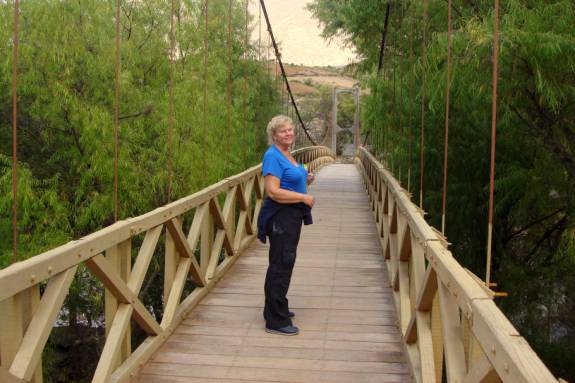 Six km from Huánuco, the interesting Temple of Kotosh lies in ruins. At more than 4000 years old, this site predates the Chavín era by more than a thousand years. Varying degrees of settlement appear to have continued here throughout the Chavín era, though lacking some of the monumental structures and sculpture typical of that period. Evidence indicates the existence of the Inca culture and its occupation leading up to the Spanish Conquest.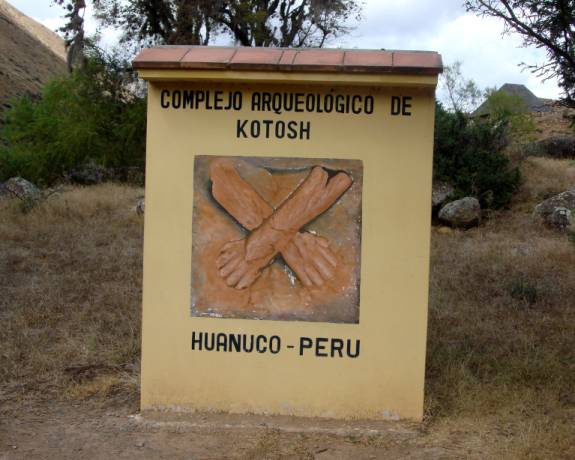 The most important feature of the Kotosh complex is the "crossed-hands symbol" modeled prominently into the temple. This symbology of the earliest culture remains a mystery and, archaeologists seem to know very little about its actual meaning or intent. About a year following the 1960 excavation, the male set of hands became missing. The other of the two originals (the female hands) lies in the Museo de Arqueología (Archeology Museum) in Lima.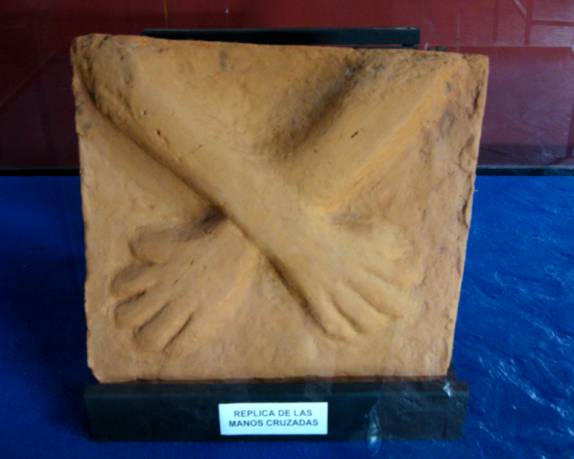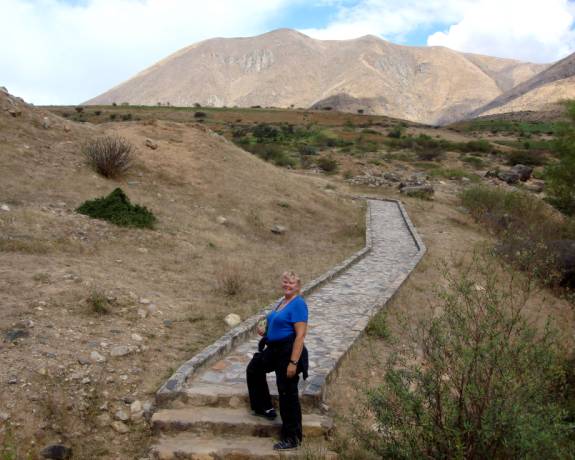 The Temple of the Crossed Hands was constructed in square plan format. The temple has a single entranceway and contains a niche on each side facing inwards. Below each niche, modeled in mud plaster, is a pair of crossed human forearms. Originally, one emphasized the female form and one emphasized the male form. Around the interior of the temple is a low stone bench and there is a fire-pit centered in the floor.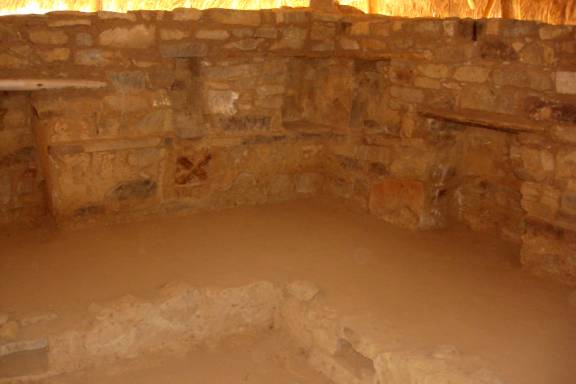 Today, in generally poor condition, the site consists of three, stone-built enclosures that appear to be sacred in nature. We found it very interesting to be at one of the oldest known sites in all of the Americas.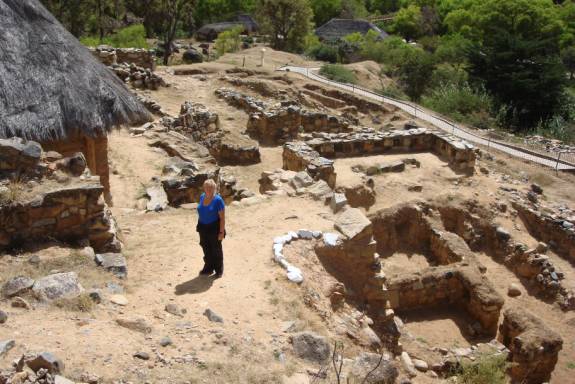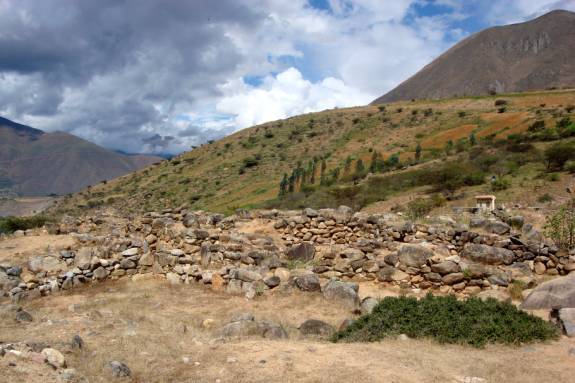 The earliest of buildings, some of which have interior wall niches and mud-relief decorative friezes, date to the end of the Late Pre-ceramic Period (circa 2000–1800 BC). The site also contains remains of later cultures in the area. Overlying temple structures and a style of pottery known for the Wari Culture representative of the Initial Period. In turn, these buildings and ceramics were built over by Chavín culture materials (Early Horizon; 1000–400 BC).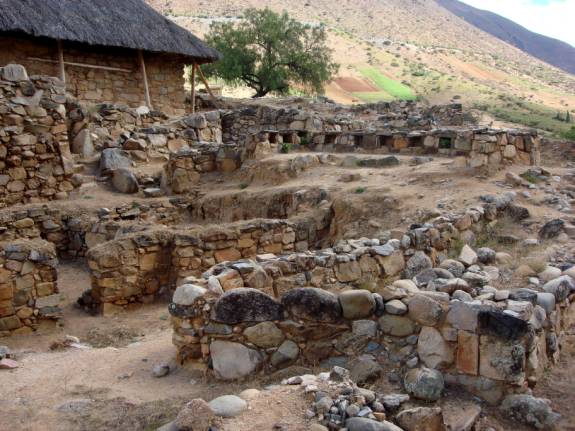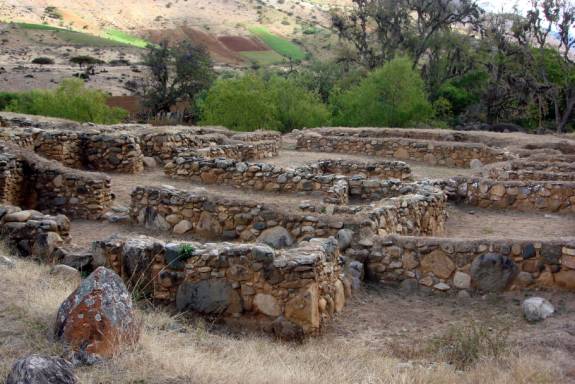 At the agreed time, we found our taxi driver waiting patiently for our return to the city center.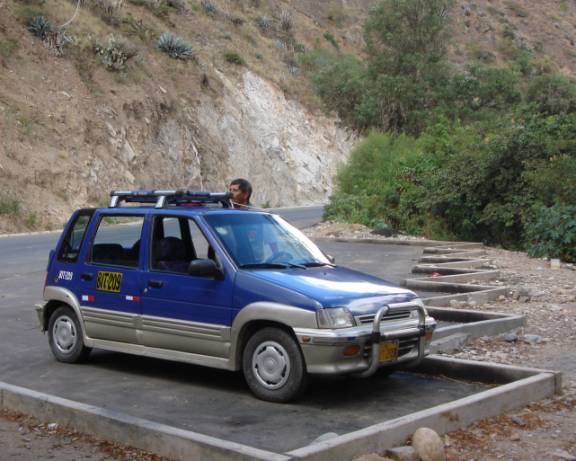 Throughout Peru, it is common to find a myriad of Chinese restaurants. They are called a "Chifa" and often serve tasty and economical meals. Our choice for dinner was Chifa Xu.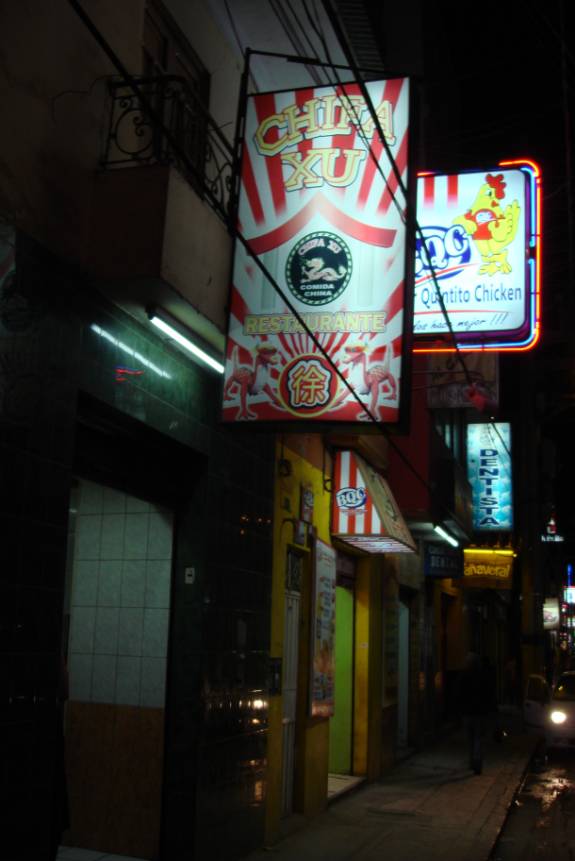 As half anticipated, we learned that our Thursday bus tickets would not get us out of town as hoped. The attendants at the bus station were cooperative in changing our departure to Friday along with the same optimistic caveat.
The jingle-jangle of the Tragamonedas beckoned us into the Torre de Babel casino. With luck on our side, we managed to double our winnings this time. Of course, our betting stakes are very small, as was the payout.
We returned to our hostal about 10pm to find out that the tour we had planned for tomorrow had been cancelled due to the extended Paro strikes. Oh well…
07/09/09 THURSDAY HUANUCO
The effects of the Paro strike and subsequent cancellation of our bus and tour were not enough to deter our ambition to have a good time here in Huanuco. This picture shows our favorite Tragamonedas casino on the corner near the Plaza.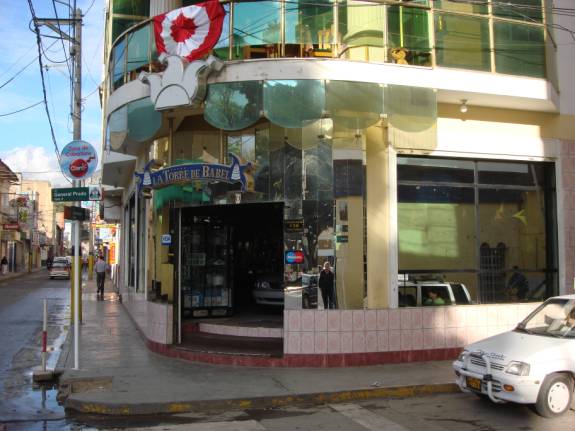 Again this morning, we had a delightful, light breakfast at Café San Felipe. I especially enjoyed their rich coffee and a flaky pastry filled with "manjar", a sweet, creamy, caramel-like paste made from cooked milk.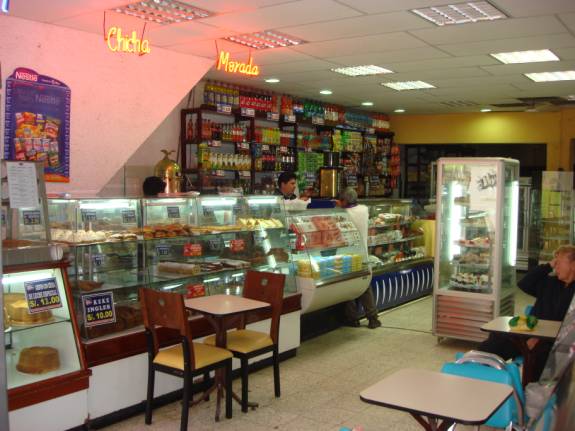 The weather had improved to provide us with some lovely views of the mountains, river, and flowers.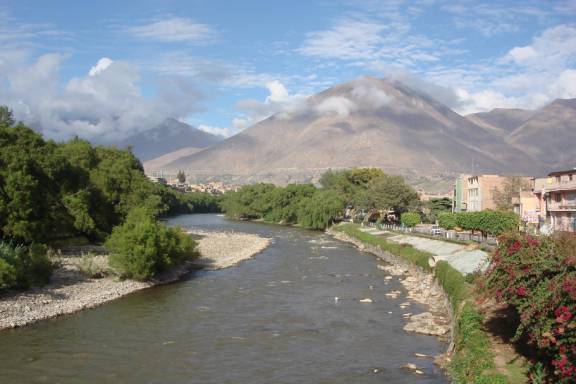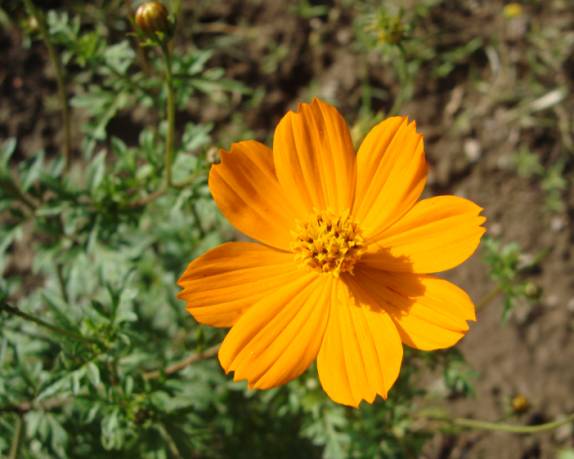 The relaxing day provided the perfect opportunity for a luster on my shoes. Most central plazas have setups for shining shoes. Sometimes, they are groups of kids trying to make a few soles, other times, there are syndicated, shoe shining specialists like this one. For a little more than 50 cents, your "zapatas" will look like new.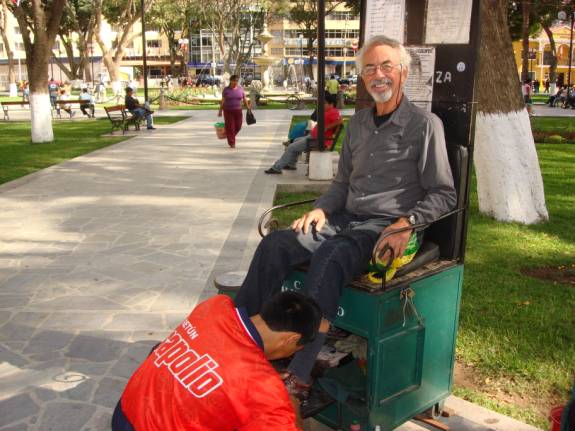 There were no open protests today, although the main roads in and out of the city were still closed. None of the trucks or buses were operating today.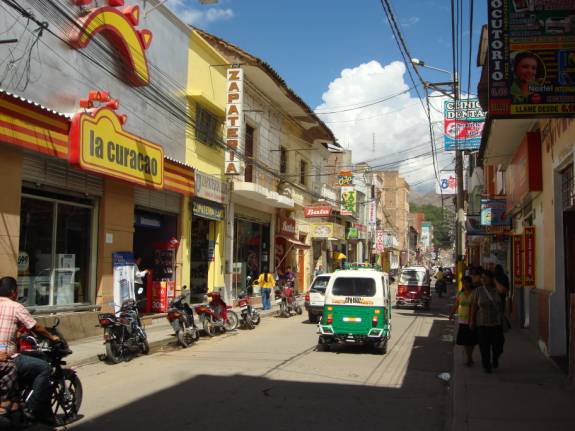 We did lots of walking around and enjoyed the visit to the local market.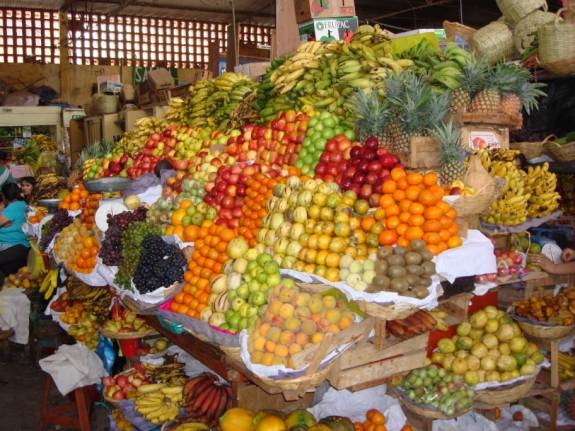 Some of the best juice drinks and fresh fruit salads that you could ever imagine can be found at these market sites.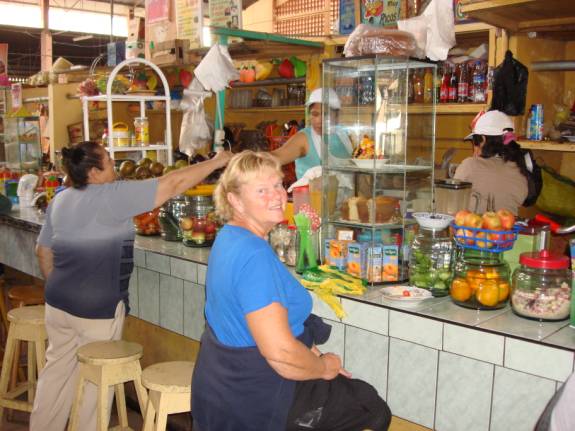 This market was spotlessly clean and the meat products were proudly displayed. It was obvious from the smile on the Senora's face that she took immense pride in her shop and products.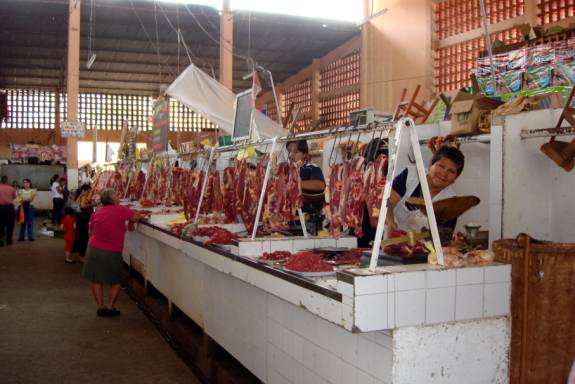 Peru is a major producer of potatoes. At this stand, many, many varieties of "papas" were available to suit any discriminating taste. I'd bet our good friend, Henry (OH HENRY), a potato farmer from Canada, would be fascinated by the endless choices of quality products.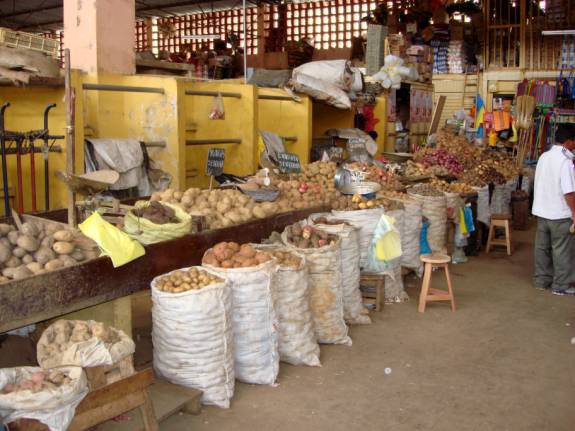 A pleasant walkway along the river…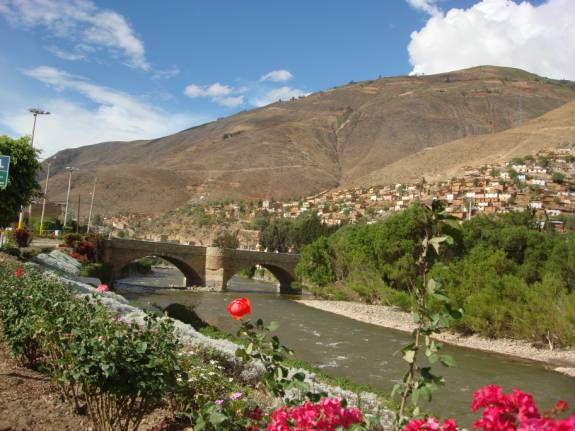 This unusual kiosk was very interesting, although I'm not sure of its actual purpose.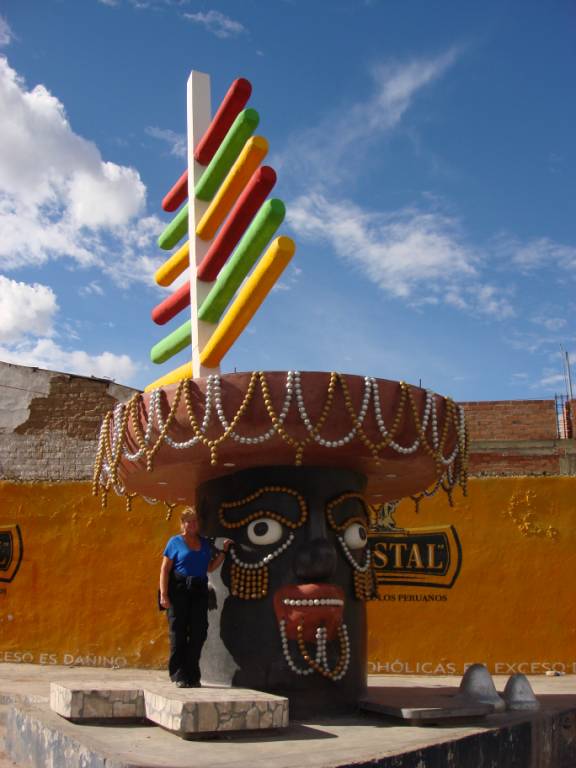 A common form of local transportation is the Moto-Taxi. They come in many styles. Passing in front of our hostal, this hardtop version is the most prevalent in Huanuco.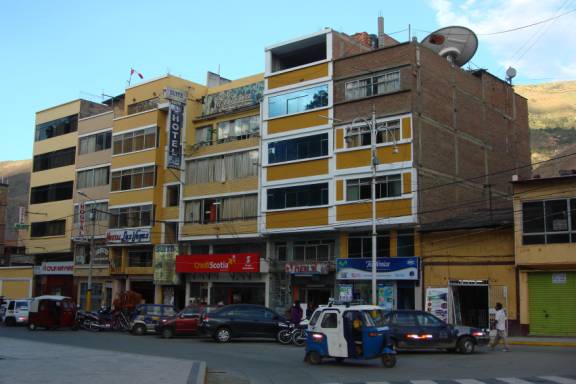 In the late afternoon, the atmosphere in the Plaza took on a happy, jovial tone. A troupe of street performers put on a variety show in hopes of generous donations from onlookers.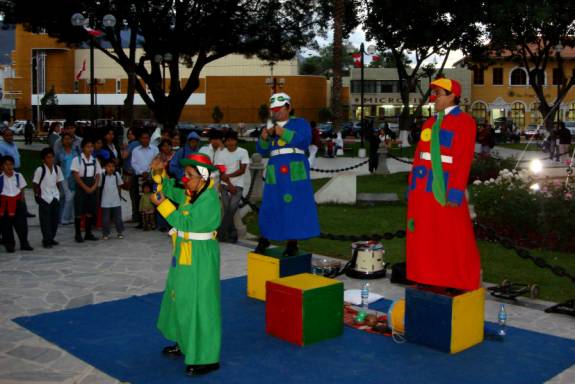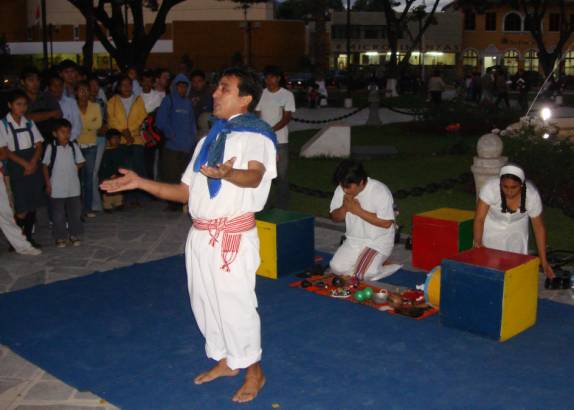 After dark, we were treated to a street celebration and procession. These kids had made up their banner art with the crafty use of tissue paper, plastic film, and wooden sticks. Cool stuff…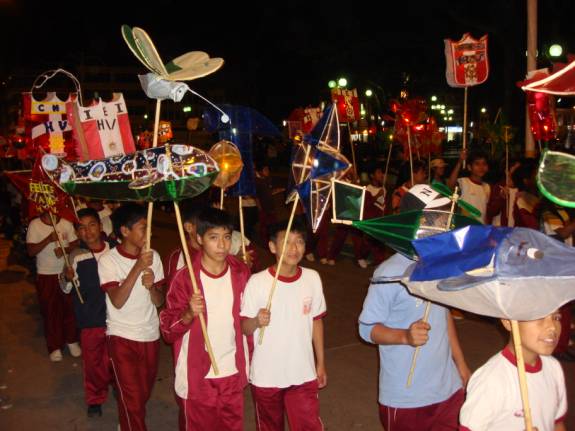 Dressed in festive "trajes", some of the costumed participants were spectacular.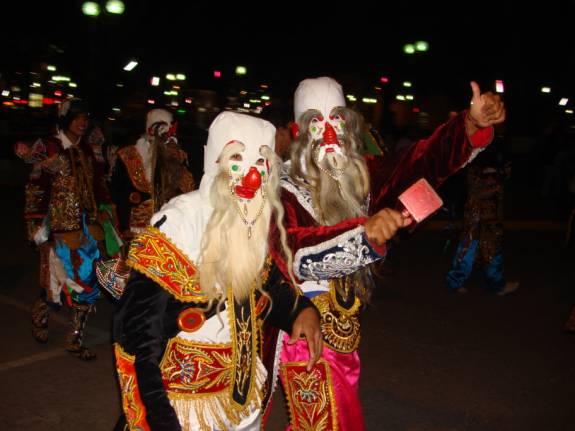 The costumes and traditions often portray the historical struggles that the indigenous people have endured while emphasizing religious and political undertones.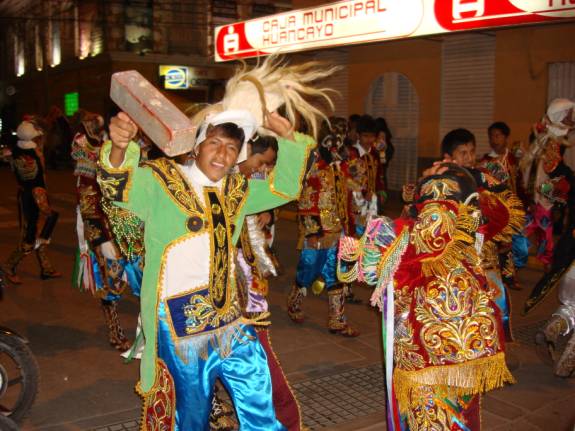 I love the outfits. I wish I understood more about their actual meanings. I think the ornate "trajes" often represent the conquering Spaniards.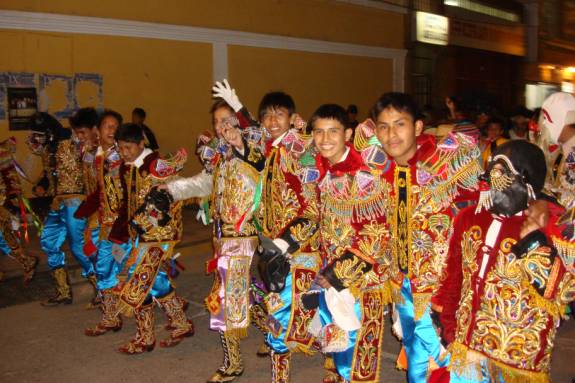 These outfits might represent the peasant class…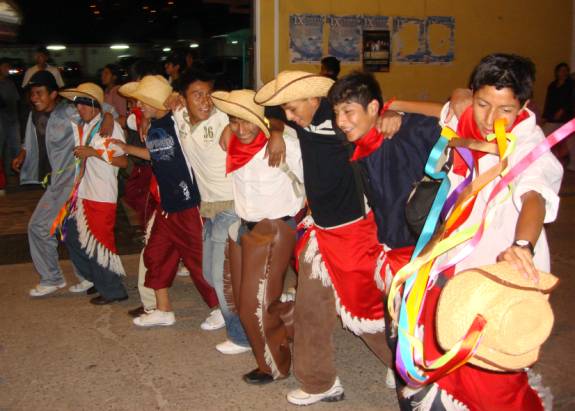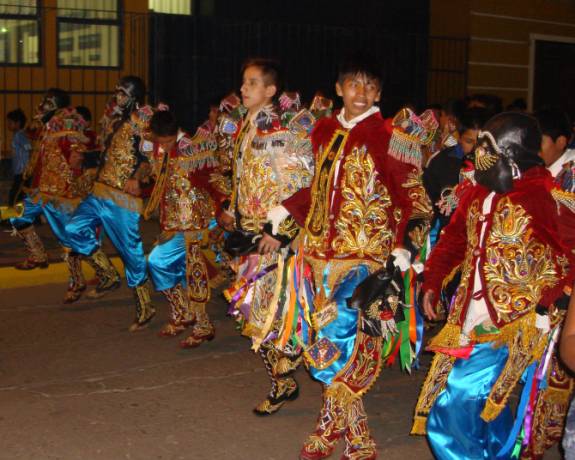 We returned to the Chifa Xu to enjoy the best Chinese meal of our trip. We ordered "Arroz Pollo con Verduras" or sautéed chicken strips, fried rice, and crispy vegetables in a tasty sauce. Yummy. With wonton soup included, the tab was just slightly more than the equivalent of $3 US.
Perhaps tomorrow, the Paro will be lifted and we can return to Lima. We'll know more early tomorrow morning…
CONTINUING UPDATES ARE IN PROGRESS…
WATCH FOR THEM, COMING SOON…
POST SCRIPT:
We sincerely hope that you will review the previous years of compilations to give context to the current editions. Please let us know if you have any special suggestions and thoughts.
REMEMBER: The website is now fully active and you can visit it at any time. You can also review any of the previous logs from the years 2006, 2007, or 2008 and learn more about the crew and their many adventures. Enjoy.
ATTENTION: SPECIAL NOTE:
You may contact us via email anytime.
Thanks for allowing us to share our life and adventures with you.
Lotsa Luv,
Fred Reed and Judy Law
AMARSE
MT40
"AMARSE" is pronounced "AM-ARE-SAY".
Our website is: www.amarse.net .