UPDATE#19 07/01 thru 07/03
Howdy Everybody,
The adventures of 2006, 2007, 2008, and 2009 through 06/30/09 have been published on the website. We continue with the latest edition.
UPDATE 2009 #19 07/01/09 thru 07/03/09
At last update, we were in San Antonio, Texas.
07/01/09 WEDNESDAY SAN ANTONIO, TX
Throughout the morning, Judy and I were busy getting ready for our upcoming land adventure to South America. Taking care of packing, bank business, utility concerns, and all the chores necessary to prepare for an extended absence managed to steal away every minute of every hour. At the bank, we obtained our American Express Travelers Checks and a reasonable supply of crispy, new series dollars. In most foreign countries, American Express TC's are the most recognized. It is equally important to have new series, untainted dollar bill. Most money exchanges and changers will not accept torn, worn, or older bills due to the problems of counterfeit activities.
The highlight of our day was the opportunity to visit with good friends. Living about 30 or 40 minutes north of us, Jack and Mary Kelly have a lovely home in the Texas foothills. I always enjoy the times when we can visit with them. Jack continues as Chief Pilot for a major player in the trucking industry. I had the good fortune to work with Jack for several years between retirements.
It was a great time to relax and enjoy at poolside. This is Texas Hill Country living at its finest.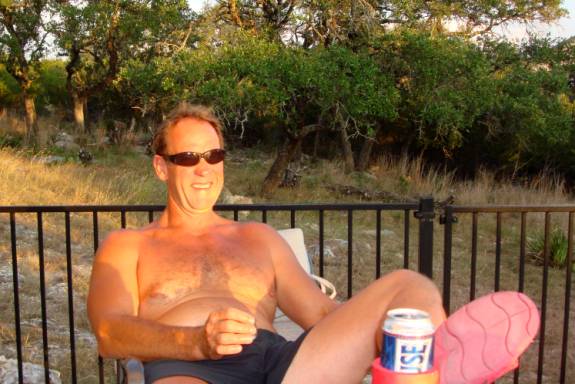 As you might expect, Mary was a very gracious hostess for our visit. She planned, organized, and delightfully implemented a wonderful dinner featuring Mexican style fajitas with all the imaginable fixin's.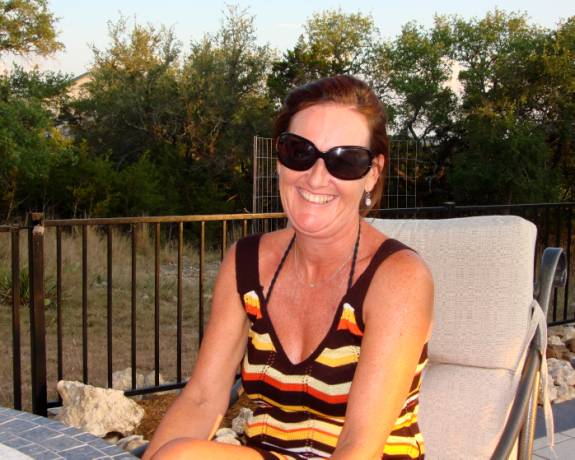 Judy enjoyed a wonderfully relaxing afternoon and evening…
Of course, Jack and I had lot of reminiscing to do. It was lots of fun to catch up on all the new developments in his life and he was interested in the adventures and experiences that we've had. I must admit that I often miss the kind of times we shared together over the years. I will always appreciate the memories. What better way to commiserate than over a good cigar and a cold drink?
We had such a wonderful time that literally flew by in a flash. Somehow, someway, it was almost 11:30pm before we left for home.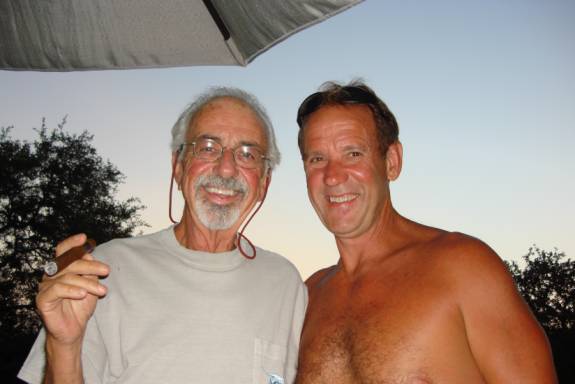 07/02 thru 07/03/09 THURSDAY/FRIDAY SAN ANTONIO, TX
Both days were busily occupied with last minute planning, packing, re-packing, and accomplishing various tasks in readiness for our trip. It was mind boggling to even view the list of stuff that still needed to be done. We are not the type of adventurers that rely on a travel company for our trip organization. In harmony with Judy, I endeavor to do the all the itinerary planning on my own. At times, it is a daunting task, however, we find that it results in a totally independent adventure filled with uniquely satisfying times.
As time permits, I will chronicle our experiences, provide lots of photos, and attempt to journalize our daily activities. Whether for sole entertainment enjoyment for armchair travelers, or to provide information that might be helpful to others that wish to plan their own trips, you are invited to embark with us as each update is published. Above all, please enjoy… Please let us know how you enjoy the trip…
CONTINUING UPDATES ARE IN PROGRESS…
WATCH FOR THEM, COMING SOON…
POST SCRIPT:
We sincerely hope that you will review the previous years of compilations to give context to the current editions. Please let us know if you have any special suggestions and thoughts.
REMEMBER: The website is now fully active and you can visit it at any time. You can also review any of the previous logs from the years 2006, 2007, or 2008 and learn more about the crew and their many adventures. Enjoy.
ATTENTION: SPECIAL NOTE:
You may contact us via email anytime.
Thanks for allowing us to share our life and adventures with you.
Lotsa Luv,
Fred Reed and Judy Law
AMARSE
MT40
"AMARSE" is pronounced "AM-ARE-SAY".
Our website is: www.amarse.net .