UPDATE#17 05/01 thru 05/31/09
Howdy Everybody,
The adventures of 2006, 2007, 2008, and 2009 through 04/30/09 have been published on the website. We continue with the latest edition.
UPDATE 2009 #17 05/01/09 thru 05/31/09
At last update, we were aboard AMARSE in Brunswick, GA.
05/01/09 FRIDAY BRUNSWICK, GA
The morning was occupied with more varnishing on the brightwork of AMARSE's teak. Dave Bluto made some deliciously fresh cinnamon rolls for our breakfast enjoyment. Yummy, yummy…
Every first weekend in May, the city of Fernandina Beach, Florida hosts "The Isle of Eight Flags Shrimp Festival".
Judy and I made the hour-long trip to the waterfront fairgrounds. It was a beautiful day to start the three-day event. The streets were lined with numerous vendors specializing in artwork and craft specialty items. The kickoff event was the "Miss Shrimp Festival 2009" pageant. A terrific lineup of north Florida's bevy of beauties competed for the annual honor.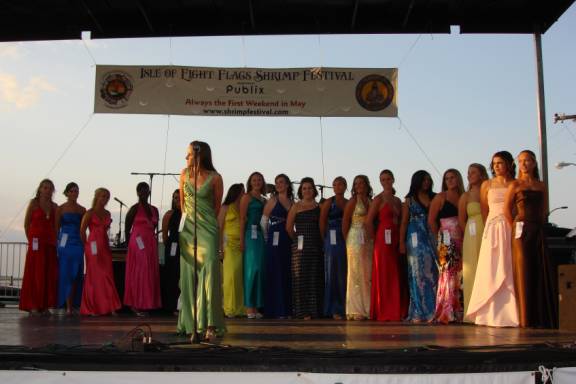 Various other events and contests, as well as the perusing of the many booths, preceded the evening program.
A magnificent musical group entertained us with a rousing performance. KTG, a Jacksonville based show band, were a joy to listen to.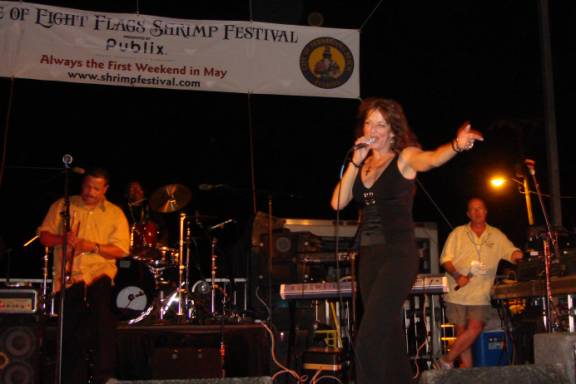 Under the cover of darkness, a stealthy pirate ship arrived to the dock and the streets and stage filled with wenches, pirates, and buccaneers. They called it the "Invasion of the Pirates.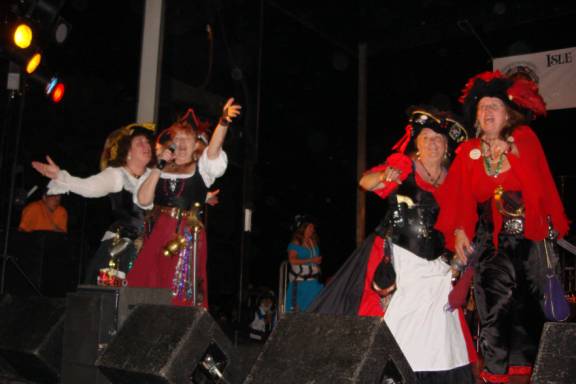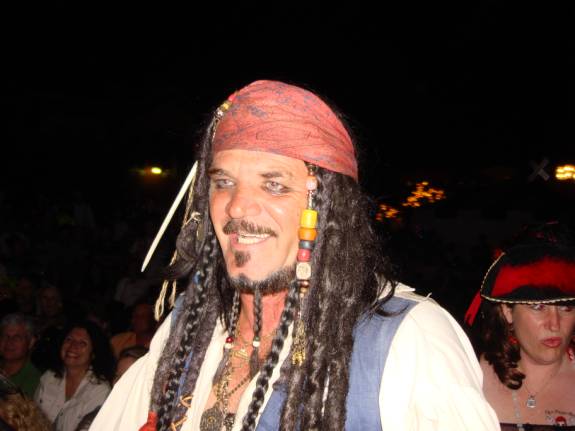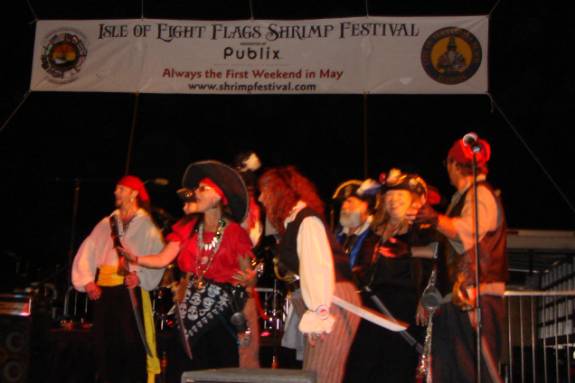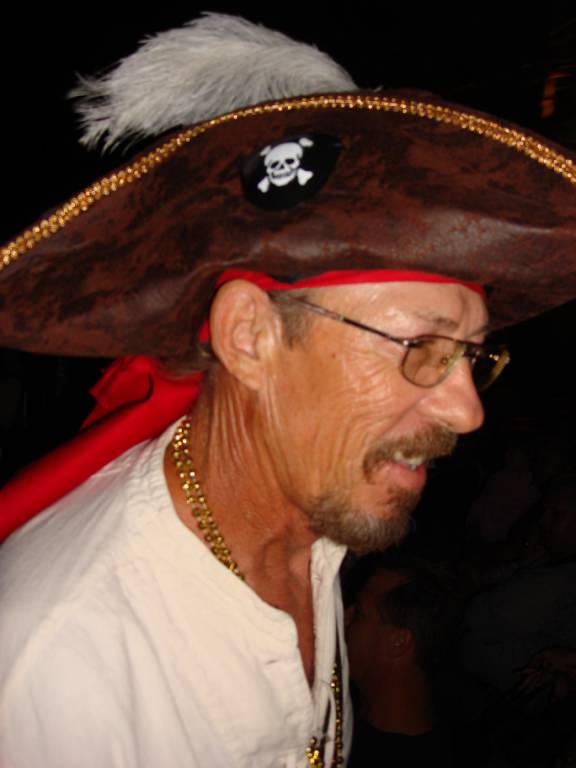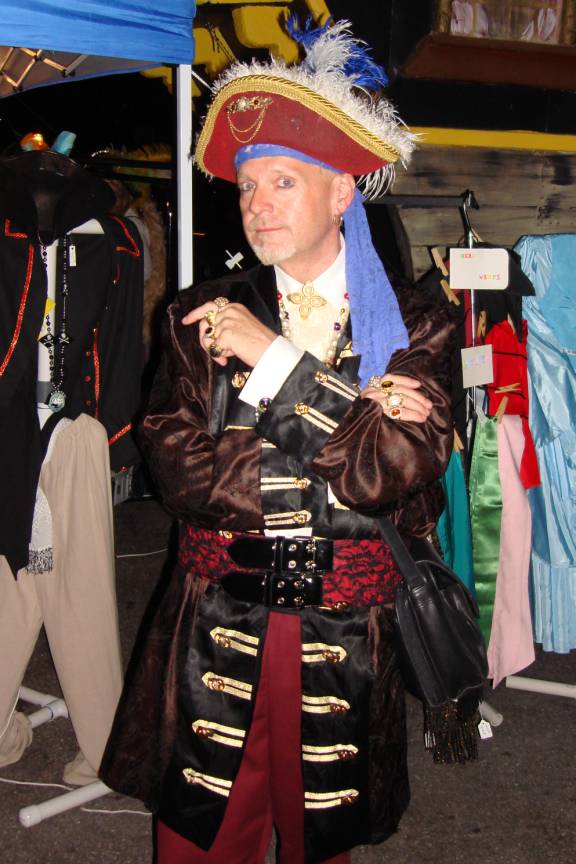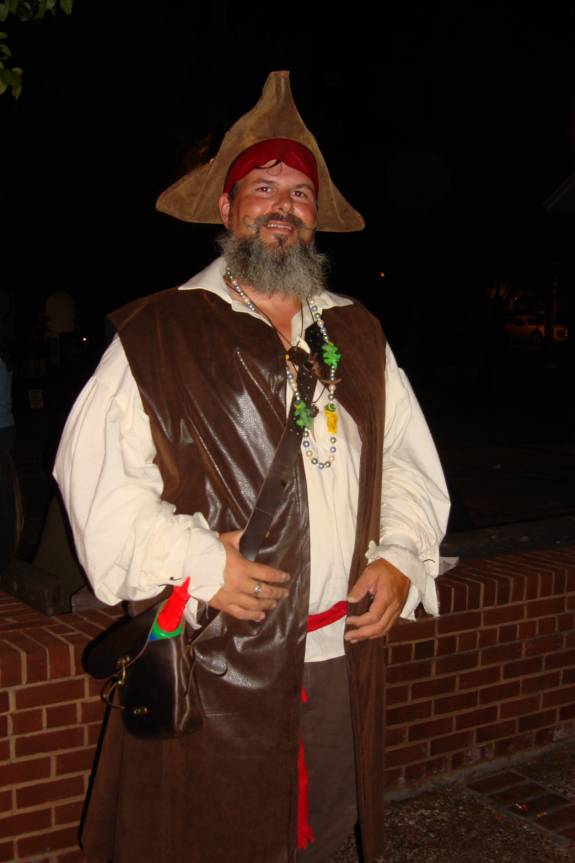 The evening culminated with a brilliant fireworks display fired from barges in the harbor.
05/02/09 SATURDAY BRUNSWICK, GA
In the morning, we had a nice visit with Robert and Carolyn Wilson (SEA ISLAND GIRL) and Dave and Barb Bluto (CHABLIS).
Judy and I made the drive again to Fernandina Beach, FL for the second day of Shrimp Festival. The traffic was heavy and congested because of a faulty railroad-crossing signal. Arriving at the waterfront at 3:30pm, we had missed the opening music band. Oh, well…
At 4:30pm, the "Rock & Pop Masters - RPM", treated us to a performance. Featuring famous original artists from the 70's and 80's, the group included Robbie Dupree Steal Away – Hot Rod Hearts; Larry Hoppen (of Orleans) Still the One - Dance with Me - Love Takes Time; David Jenkins (of Pablo Cruise) Love Will Find A Way – Whatcha Gonna Do – I Go to Rio – Don't Want to Live Without It – Find Your Place in the Sun. Most of the backup musicians were also members of well-known groups of our past youth. It was a tremendous show that had us singing and reliving those glory days of rock and pop music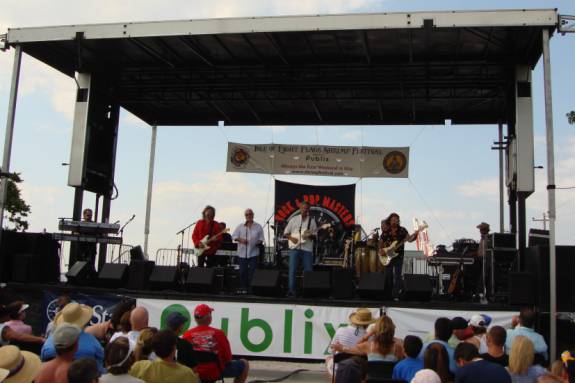 The festival events closed down at 6pm. We drove back to Brunswick.
05/03/09 SUNDAY BRUNSWICK, GA
Just a beautiful flower…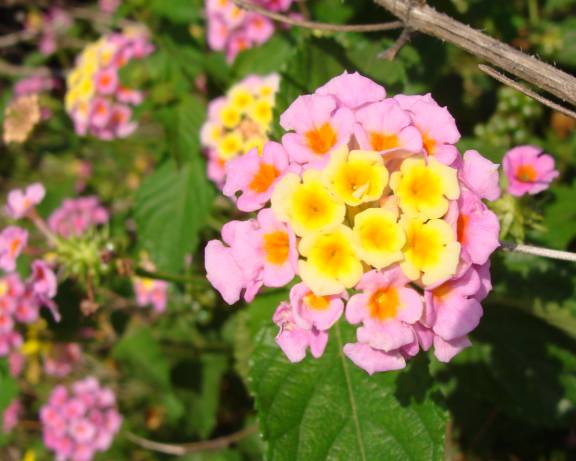 11:00am Jimmy Parrish and the Ocean Waves Band played beach music in a copycat style more typical of Jimmy Buffett.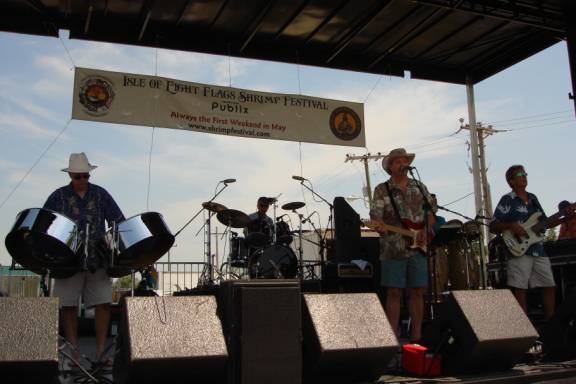 Pirates roamed throughout the festival grounds.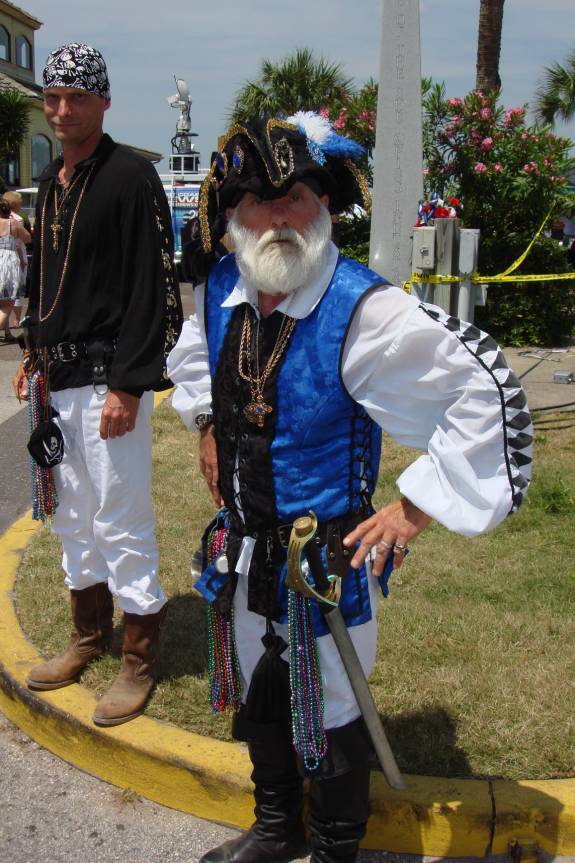 1:00pm Blessing of the Fleet & Decorated Boat Parade. Lots of boats moved back and forth through the harbor. A priest offered the blessings to all that passed by.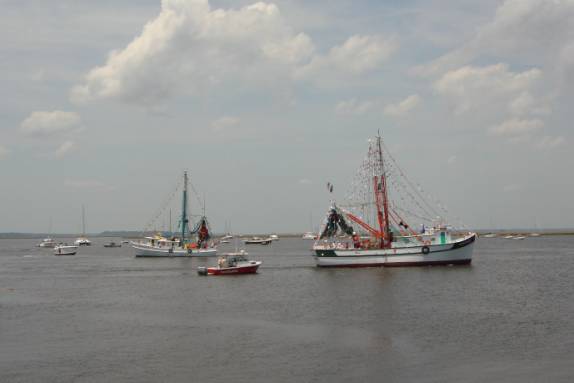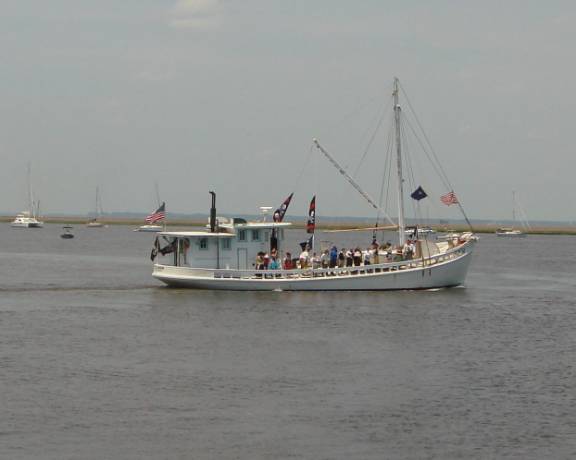 Even the Coast Guard cutter and TowBoat/US received the ceremonial rite…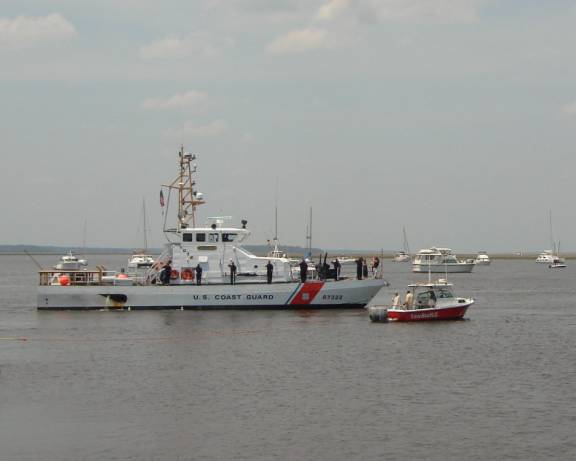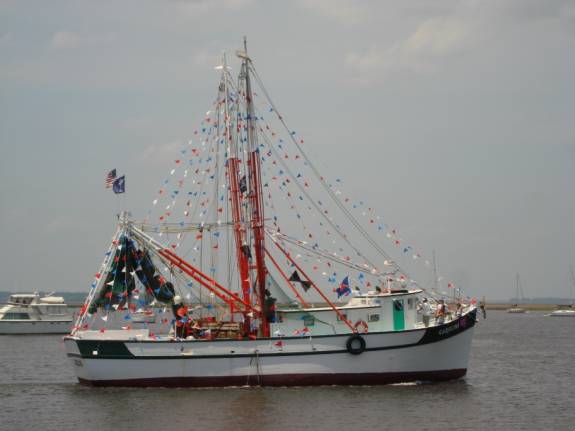 2:30pm The Swingin' Medallions have been around since the early 1960's. Their style of music is mostly beach music, frat rock, R&B, and shaggin' music. Most of you will remember their recording of "Double Shot (of My Baby's Love)". The song became an over a million seller in 1966, and has been a party classic for decades. "She Drives Me Out Of My Mind" and "Hey, Hey, Baby" were top 40 hits in 1966 and 1967, but "Double Shot" remains the signature song of the Swingin' Medallions.
The members of the Swingin' Medallions have changed over the past thirty years, with John McElrath being the leader and only member to be performing today. They are a very high energy and fun stage band.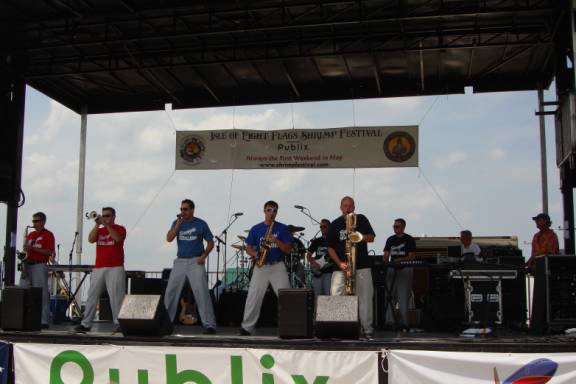 The party girls were out in full force and seemed to having a wonderful time.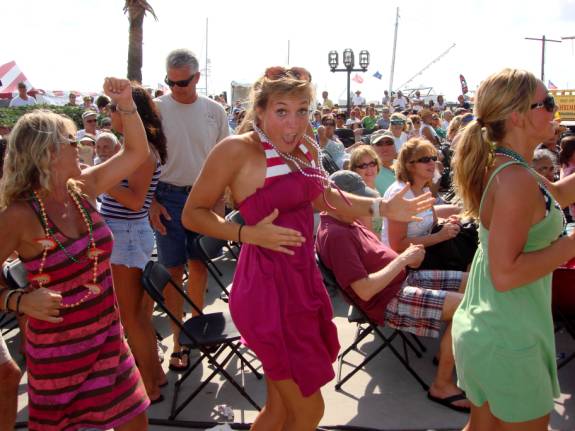 05/04 – 05/06 BRUNSWICK, GA
The next few days were occupied doing boat chores and miscellaneous routine things.
05/07/09 THURSDAY BRUNSWICK, FL to CORAL SPRINGS, FL
At 8am, we departed the marina by car headed for south Florida to visit Fred's daughter, Sharyn, and his son-in-law, Jeff.
We stopped briefly to visit with Brian Fitzpatrick and Trey at the Halifax River Yacht Club.
Our lunch stop was at Kentucky Fried Chicken. We have wanted to try their new grilled chicken menu offering. Neither of us was impressed at all.
We drove onto the Florida Turnpike at Ft. Pierce, continuing to Lantana. Two other toll roads brought us to Coral Springs, a community near Ft. Lauderdale. The tolls totaled $7.70 for our sections of the route.
I made up a big pot of Italian Pasta Fagioli based on Dave Bluto's excellent recipe.
05/08/09 FRIDAY CORAL SPRINGS, FL
It was an enjoyable day visiting and relaxing.
In early evening, we attended a concert on the green at the Coconut Creek Shopping Center. The band played lots of classic rock songs from a mobile stage set up by the municipality. We brought our own chairs and had a good time. The band wasn't bad but not great either.
05/09/09 SATURDAY CORAL SPRINGS, FL
Sharyn and Judy went out early to find bargains at the local garage sales. Jeff and I stayed home and relaxed over coffee and the newspaper.
Hollywood Beach was hosting the "Red, White, and Bluegrass Festival" this weekend. A great lineup of performers came from all over the country to belt out their bluegrass and mountain music tunes.
A family group, called Gold Heart, performed on the band-shell stage. They were exceptionally good and can be credited with writing most of their own music.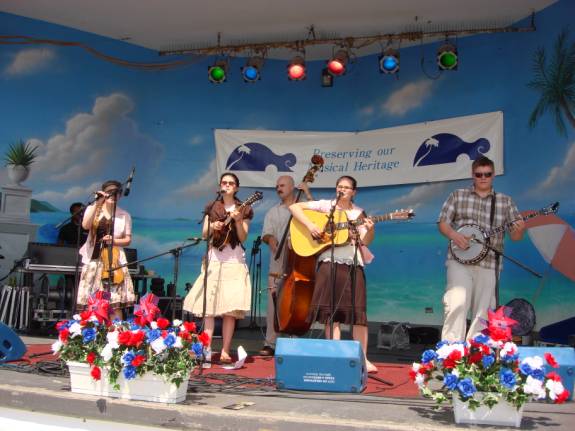 There were numerous stages along the beach and broadwalk areas. It was an absolutely beautiful day except that the temperatures we unbelievably hot. We sought out some shade and were able to listen to Augie Blaylock & Redline from our vantage point.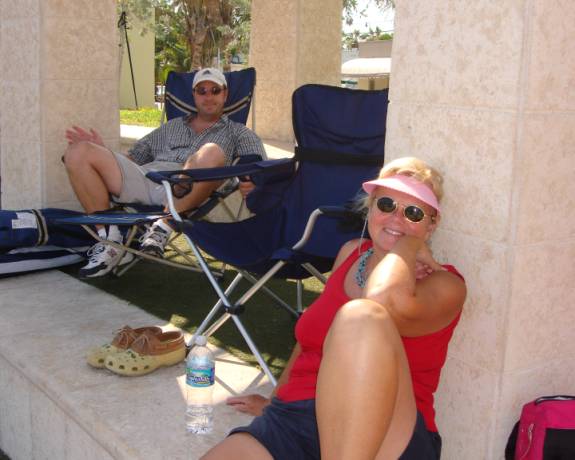 While the music played, the kids kept wet and cool in this neat fountain that sprays randomly. Oh, to be young again…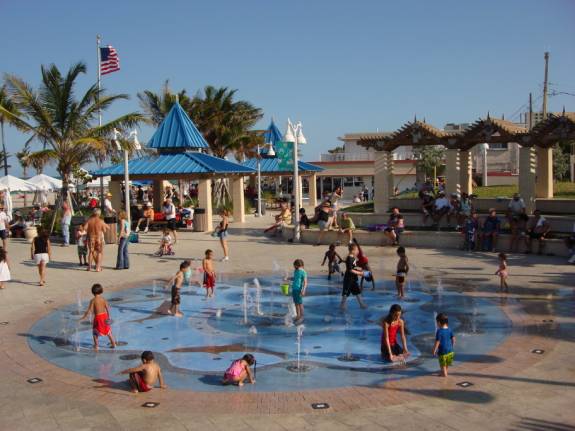 The big draw band for today was the Dan Tyminski Band. Tyminski plays guitar and sings for Alison Krauss & Union Station. He is generally regarded as one of the most talented performers on the bluegrass scene. He attained special notoriety after providing the singing voice for George Clooney in O Brother, Where Art Thou? His performance of "I Am a Man of Constant Sorrow" won "single of the year" honors at the 2001 CMA Awards and a 2001 Grammy for country collaboration of the year. Including his tally with Union Station, he has won 10 Grammy Awards. This is what Bluegrass music is all about...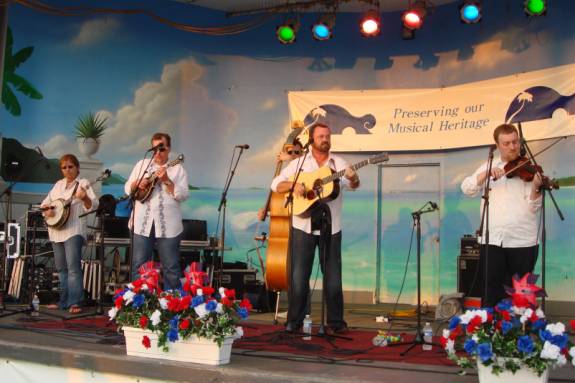 05/10/09 SUNDAY CORAL SPRINGS, FL
HAPPY BIRTHDAY to MY BROTHER, DOUG…
Jeff and Sharyn attended early church services while Judy and I relaxed on the poolside patio.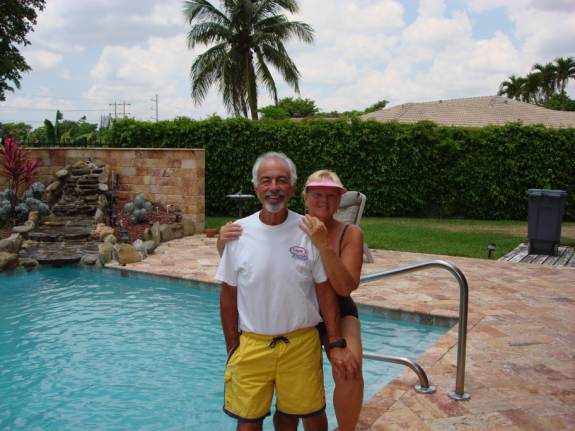 A cooling swim in their gorgeous pool was refreshing and very enjoyable.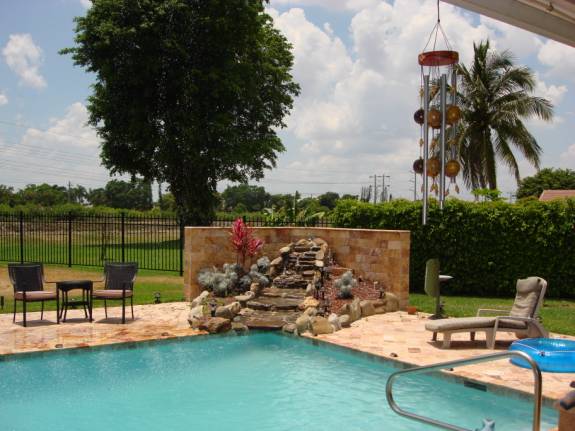 In the afternoon, we returned for the second day of the Red, White, and Bluegrass Festival. The big stage on the beach was set up for today's events. Several groups performed.
At 4pm, "Palms Bluegrass" took the stage to open the beachside music scheduled for the evening.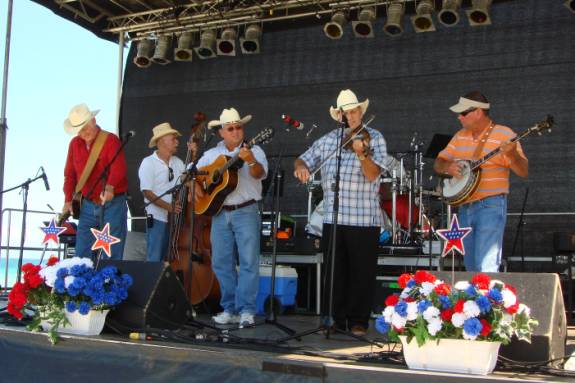 Bringing our own folding chairs, we had a great spot to watch and listen to the bluegrass sounds.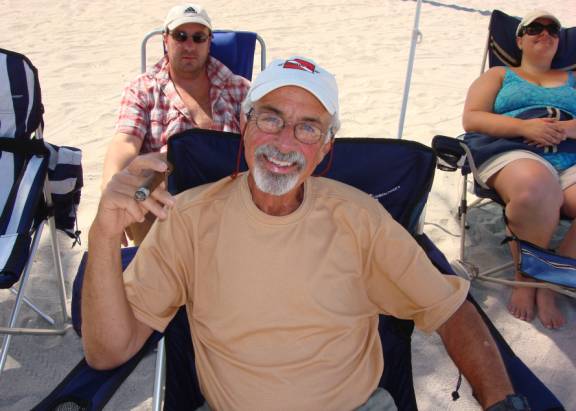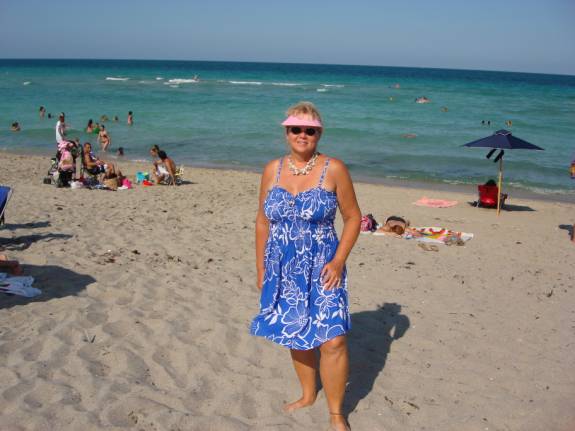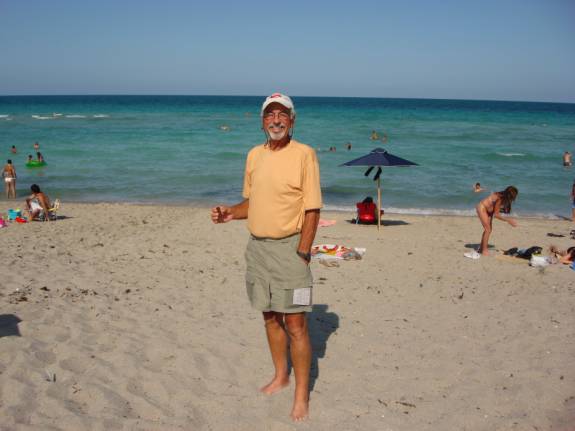 At 6pm, the Wildwood Valley Boys put on a terrific show. The fiddle player was nothing less than awesome. Their bluegrass style was very enjoyable.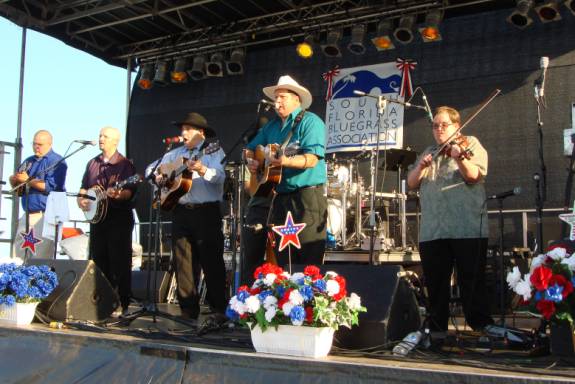 Marcia Ramirez did her set of folk and country bluegrass. She also plays keyboards for the Patty Loveless band.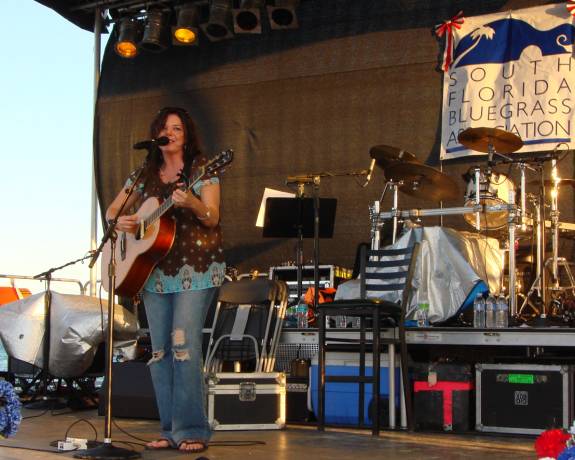 The show headliner was Patty Loveless. Although more of a country star, she has some bluegrass in her blood.
Patty is well known for her amazing 20-year career that has taken her from a coal-mining family in Pikeville, Kentucky to the Opry and to the top of the country music charts. Her country music fame includes a string of top 10 hits. The CMA has honored has as "Female Vocalist of the Year," and "Album of the Year" for When Fallen Angels Fly, and the ACM has recognized her as "Female Vocalist of the Year" for two years in succession. She has received nine Grammy nominations, the most recent in 2008 for "Best Country Album (Vocal or Instrumental)" and "Best Country Collaboration with Vocals."
It was a wonderful performance but much, much too short. Her gig tonight was less than one hour and didn't even include an encore song. I love her songs and music so, naturally, I was hoping for lots, lots more from her appearance. Oh, well, I guess I'll just have to fire up the iPod for more…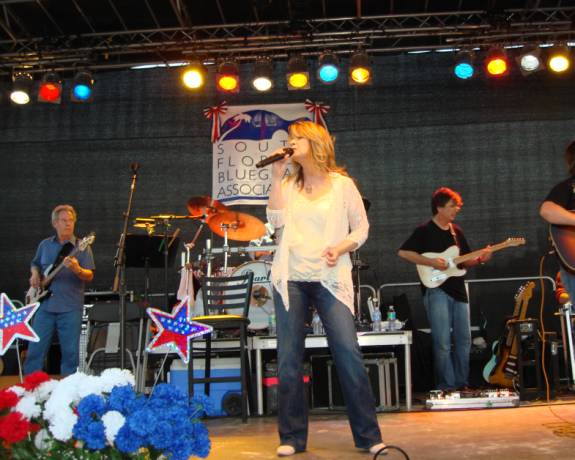 05/11/09 MONDAY CORAL SPRINGS to TITUSVILLE to BRUNSWICK
We left Sharyn and Jeff's at 8:15am. This time, we took I-95 to save on the toll charges.
While on the road listening to the radio, we learned that the Space Shuttle was scheduled for flight this afternoon. Having seen two launches last year, we were excited at this opportunity to see another. As most of you know, the Shuttle program is scheduled to shut down in 2010. We won't have many more opportunities to see the spectacle.
Having extra time on our hands, we dawdled along and made a few stops along the way. From a small park, located in the vicinity of the Sears store in Titusville, we selected a great spot to watch the liftoff. We parked in the Sears lot and walked over to the park with our folding chairs. We brought enough stuff for a picnic type lunch.
According to schedule, at 2:01pm, the horizon lit up with the blazing, rocket ignition. Moments later, the loud rumble and roar of the massive engines filled the air. It is really quite a sight to see. Note: the building on the right is the VAB (Vehicle Assembly Building). It is the largest single-story building in the world.
In the 1960's, my Dad was involved with the design of the inertial guidance systems for the Apollo Rocket Program at MIT. I guess it is only natural that I have always had this intense interest in the space programs.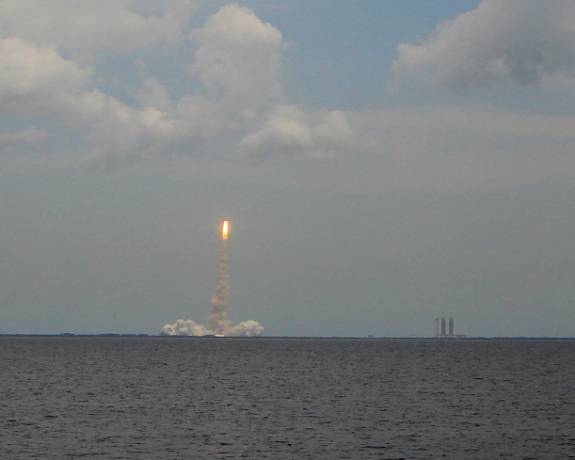 After the launch, we headed back to Brunswick Landing Marina and our beloved AMARSE.
05/12/09 TUESDAY BRUNSWICK, GA
It was another day of working on the boat with the list of chores being added to and some removed as accomplished. I made repairs to one of the bilge pumps to return the system to full working order. I serviced the batteries, ran the engines, exercised the transmissions, tested out the air conditioning units, and managed to cross off a couple of other minor items.
Bill Seward is here aboard TORTUGA. It was good to see him again. As you may remember, we crossed paths on the Bahama Bank as he was arriving and we were departing.
Bill is a great chef too. He prepared a sumptuous dinner for Judy and me and invited Dave and Barb (CHABLIS) to share the fabulous repast. Soon, TORTUGA will head north to continue the voyage of America's Great Loop Cruise.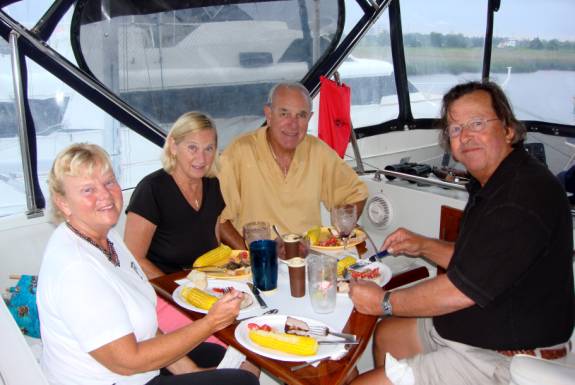 05/14/09 THURSDAY BRUNSWICK, GA
At 9:30am, we left to drive Bill Seward (TORTUGA) to the Jacksonville airport for his trip to San Antonio. I have affectionately nicknamed him, "Steamboat Willie".
I activated my Verizon aircard today so that we would have internet capability while we travel this summer in Texas and the Midwest.
05/15/09 FRIDAY BRUNSWICK, GA
We accomplished a lot more work on AMARSE today. There are so many chores to do to have her ready to "Summer-ize".
In the evening, we went to the Casino Theatre on St. Simon's Island. The Casino Players production was well done. It was a good story, but not rousing, about four English women who try to find "themselves" with a trip to Italy. The timeline was set in 1922.
05/16/09 SATURDAY BRUNSWICK, GA
We had originally planned to have AMARSE hauled out of the water and stored on dry land for the summer. We had considered several locations in the area but finally opted to have her remain in the water here in Brunswick. Sherrie, our capable and reliable dockmaster, was enlisted to take careful watch over our "Home, Sweet Home" while we would be away. She came by for a complete familiarization of the layout of switches, components, and operations. Both Judy and I are very comfortable that she will be just the right person to oversee AMARSE.
Part of the "Summer-ization" included removing all of the bimini enclosure to eliminate the chance of any wind damage. AMARSE looks a bit naked stripped of her robes.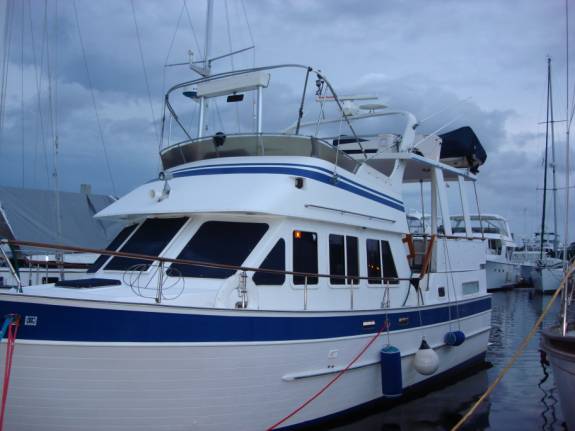 Lots of extra dock lines and fenders were added to provide an extra measure of security.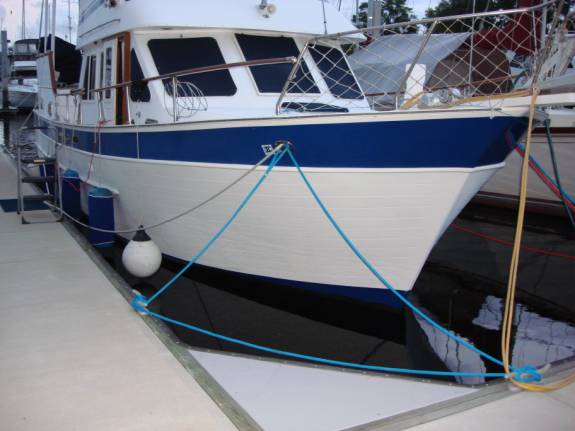 05/17/09 SUNDAY BRUNSWICK, GA to GAUTIER, MISSISSIPPI
We got an early start this morning for our land trip west. We said our heartfelt thanks and temporary goodbyes to AMARSE as we walked up the dock ramp.
Our drive took us to Jacksonville, FL where we joined the I-10 Interstate highway westbound. At the generous invitation of our cruising friend, Jimmy Ethridge (SIMPLY SOUTHERN), we enjoyed the evening and night with him. Unfortunately, Betsy was out of town that night.
Jimmy took us to Taranto's Restaurant in Ocean Springs, MS. Judy had a grilled shrimp dinner while I thoroughly enjoyed a bowl of Gumbo and some of the best boiled, seasoned, very large shrimp that I've ever had the privilege to consume. At very reasonable prices, the one-pound plateful of shrimp lists for only $6.99. The Gumbo was excellent too.
Jimmy is a great guy and we always enjoy being with him.
05/18/09 MONDAY GAUTIER, MS to LUFKIN, TEXAS
By 7am, the Buick wheels were turned toward Texas. I-10 and highway 69 took us to Lufkin by 5:45pm.
It was wonderful that all three of Judy's sons could be there to visit. Together, the "boys" enjoyed a brew-ski and a cigar on the patio area.
(L to R) Scott, Chris, and Mark… Fred is standing in back.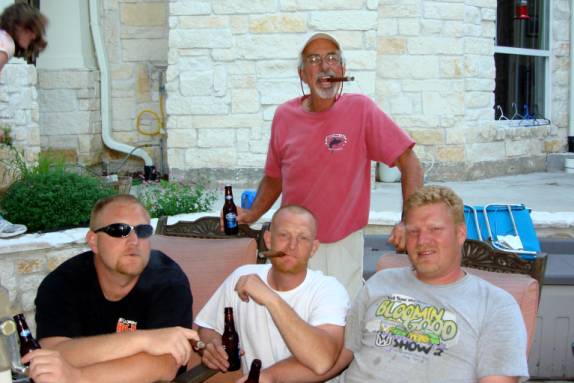 Dawn prepared a great dinner featuring her famous "Chicken and Dumplings".
05/19/09 TUESDAY LUFKIN, TX
Once again, our comfortable accommodations were in Mark and Dawn's guesthouse. It is the type of lovely little house that we could be happy living in (if we were land dwellers).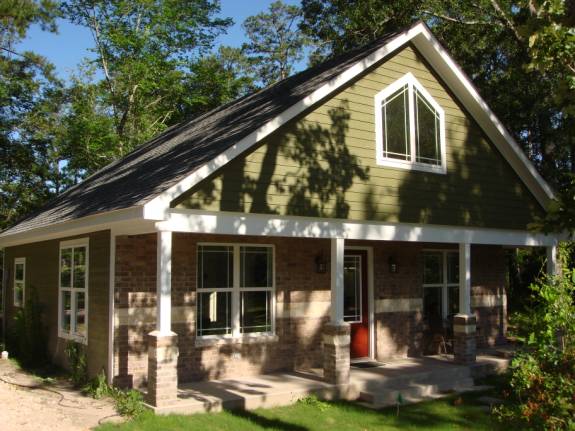 Now back in Texas, we had to get the car inspected and Judy renewed her driver's license at the DPS office.
Mark took us all to their favorite Japanese restaurant, Little Tokyo, for a fabulous, grill-side lunch.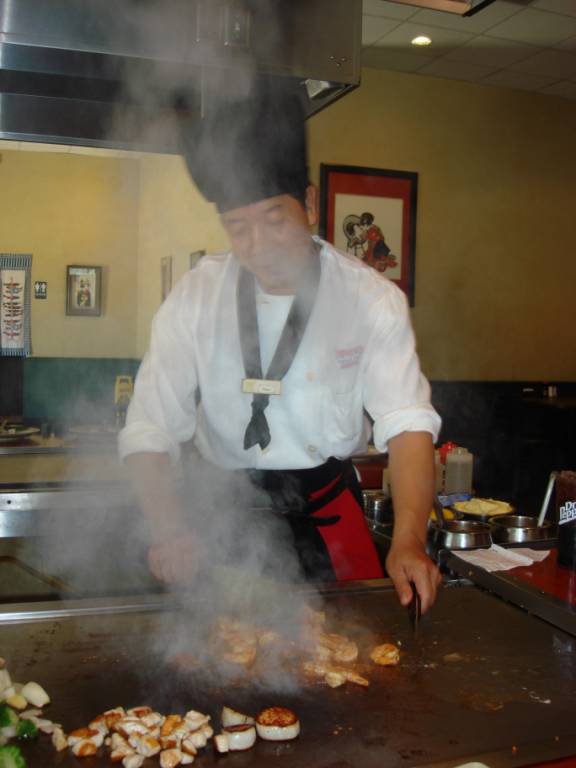 For dinner, I made a big pot of Italian Pasta Soup that everyone, including the kids, enjoyed.
For the evening entertainment, we all went to the Angelina College Auditorium for a band concert featuring the Hudson School District's array of school bands. Judy's number one grandson, Tyler, played trombone with the 6th grade band group. We were delighted with the high quality of all the performances by the various class groups. The "kudos" were well deserved for the music staff and for all the kids that have taken their music so seriously.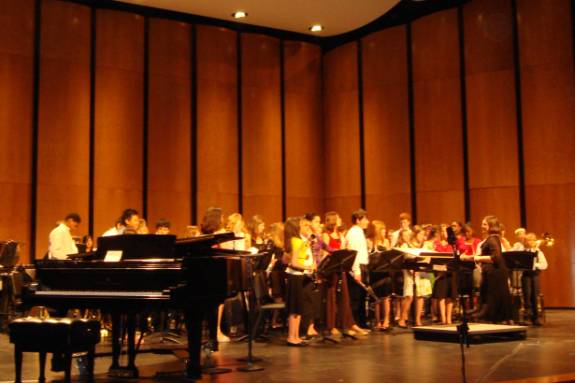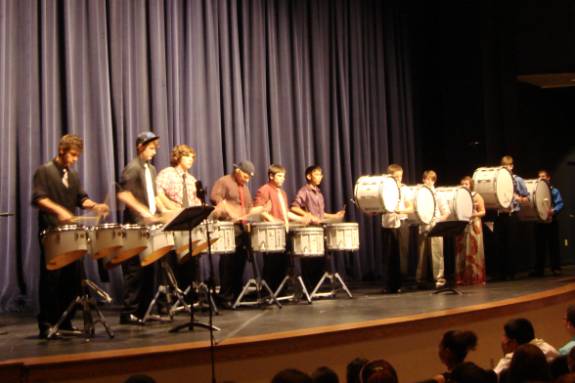 05/21/09 THURSDAY LUFKIN, TX
The girls went to lunch at the local Teahouse. It is not really the kind of thing that most guys would enjoy but it was fun for the gals to be together without being disturbed by any masculine influence.
Tyler visited with us at the guesthouse. The circular staircase leads upstairs to a large area that would be perfect for a sleepover.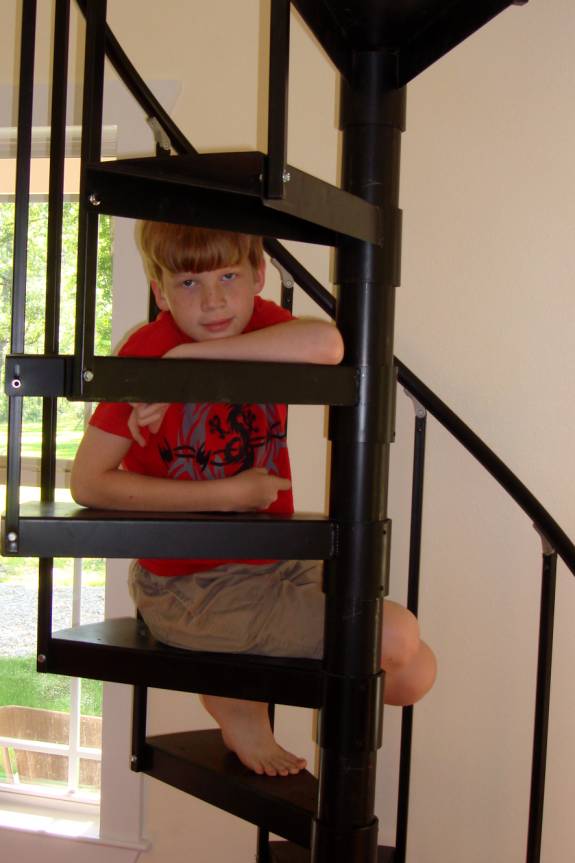 Unfortunately, Chris had to leave to return to work in Arkansas.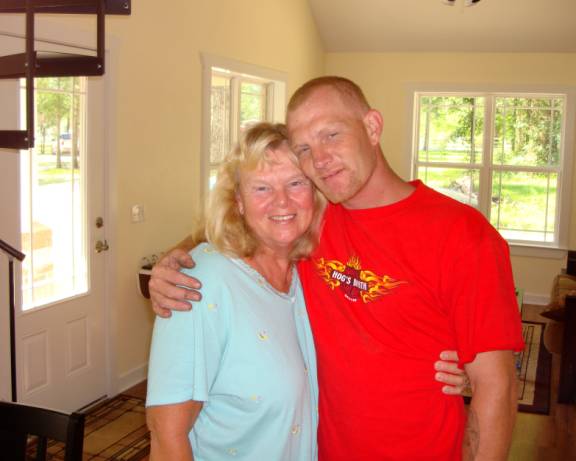 Mark was busy again today laying out the foundation for the new house that he is constructing on a lot behind the "big house". When completed, Dawn's parents will live there. Mark is a very talented and capable builder.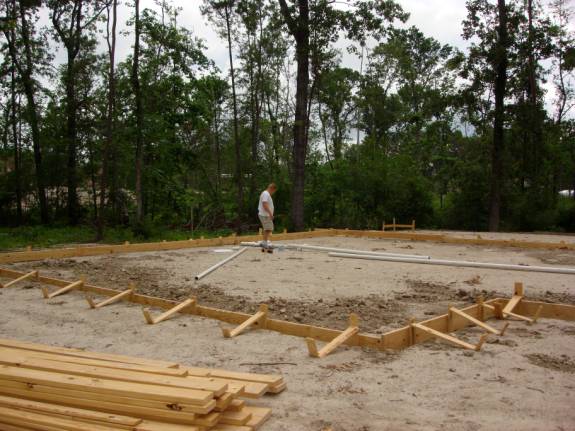 For dinner, Dawn made a Steak n' Potato Casserole that was delicious. She always plans and provides great meals for her family and guests.
05/24/09 SUNDAY LUFKIN, TX
The boats were loaded on the trailers for a day trip to Lake Sam Rayburn. Located less than an hour from Lufkin, the lake is the largest in Texas.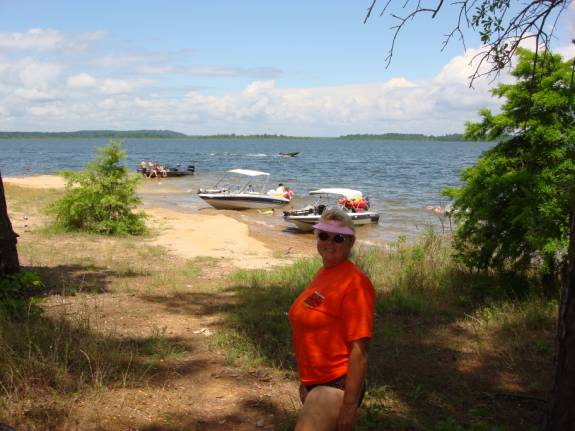 Judy, Lexi, Sarah (Judy's daughter-in-law and Scott's wife), and Ashlyn…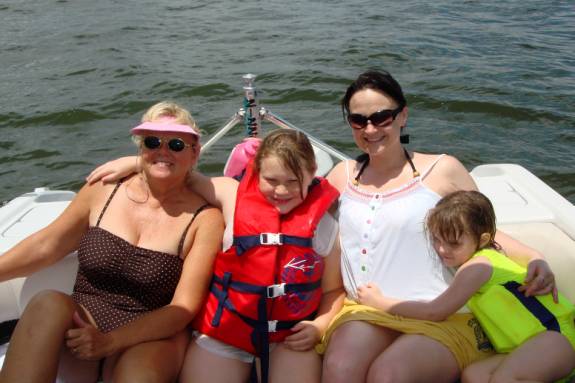 Sarah and Lexi…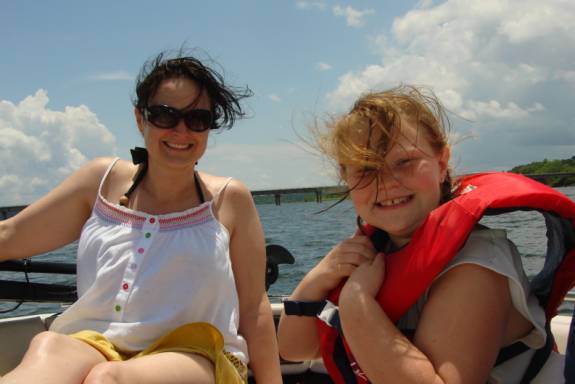 Mark's boat is equally suited for fishing and other water sports.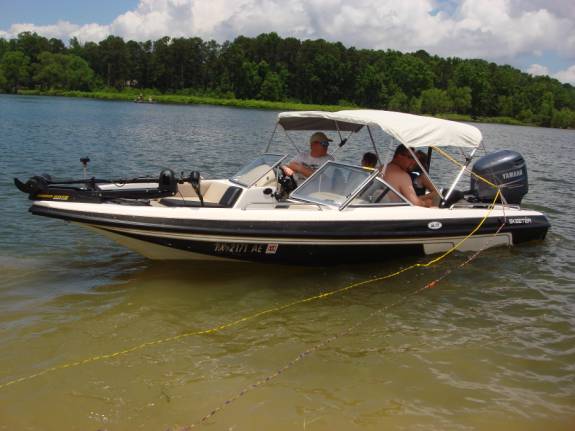 Judy lounging on Scott's boat…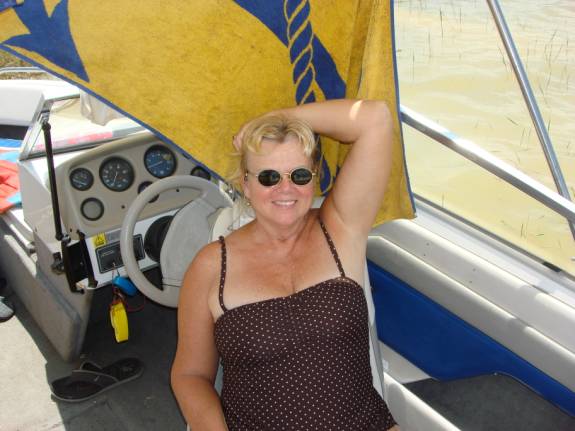 Judy jumped at the opportunity to do some water skiing. It had been many years since she had slipped her feet into these kinds of footholds. She definitely had not lost the technique.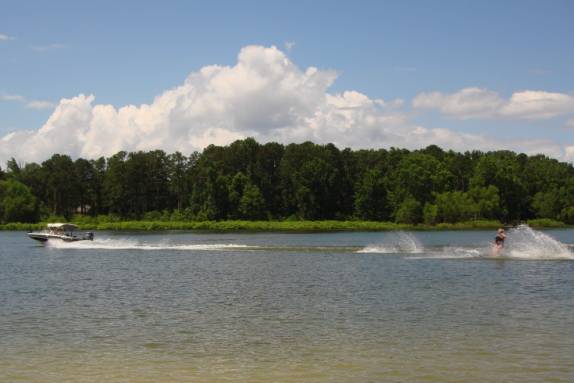 Well, I had no intension of being outdone by her, and probably hearing about it for the next century, so I accepted to take the challenge too. It has been well over 20 years since I had grabbed the towrope handles.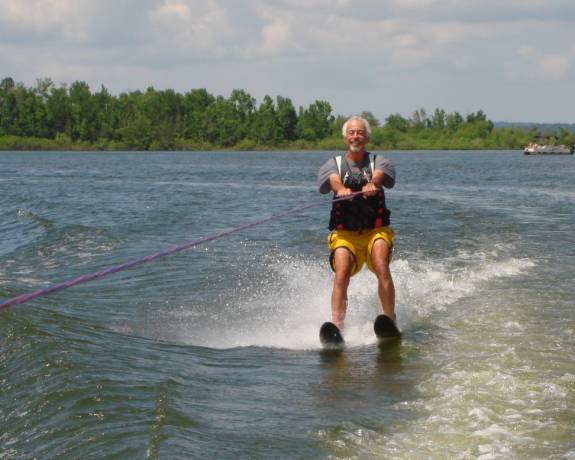 Mark got quite a kick out of towing us and I think he was surprised and impressed at how well we did.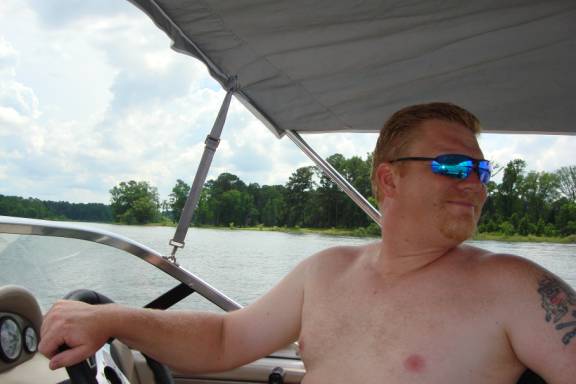 05/25/09 MONDAY LUFKIN to SAN ANTONIO, TX
We departed Mark and Dawn's house in Lufkin at 10am. After driving almost an hour, I realized that I had left a package at their house. Of course, that meant turning around to return. Heading out again, we had lost several hours of travel time and added a bunch of extra miles. We took the back way through Crockett and Bastrop to shorten the overall mileage. It was 6pm before we finally got to the house in San Antonio.
Since the house has been sitting idle, we had to turn on the water, electricity, and natural gas. All in all, the place was in very good condition. Chores and cleanup will occupy our efforts for a while.
05/26/09 TUESDAY SAN ANTONIO, TX
The patio was quite dirty and needed some serious cleanup. We went to Harbor Freight where I bought an electric pressure washer. It worked very well to remove the dust and dirt buildup.
05/27/09 WEDNESDAY SAN ANTONIO, TX
Our plans for the summertime travel are coming together. Changed from the original plan for a road trip to Alaska, the new plan is to go to Peru and Ecuador for two months of sightseeing and adventure. Our flights would be from San Antonio to Ft. Lauderdale, then on to Lima, Peru. The rest of the trip is being planned as land travel. The airline reservations to Florida were arranged today.
We agreed to meet our friends at El Jarro Mexican Restaurant for drinks and dinner. They feature spectacular margaritas and their chips are served with some of the best salsa that we've ever experienced.
It was great to see our friend, Scott Kee, again. We worked together for many, many years. He is the senior member of the "Three Amigos".
Scott's gal, Mary, and Judy have become very good friends too.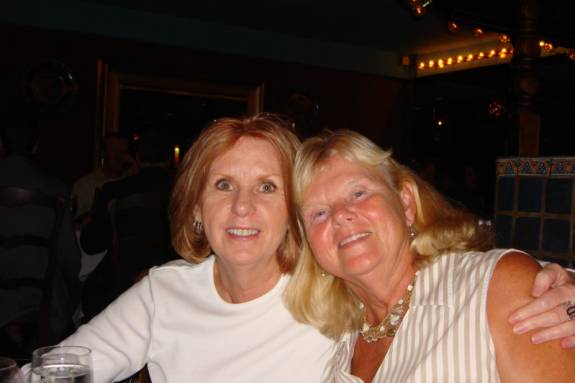 Joe Fugate is the junior member of the "Three Amigos". I guess that puts me in the middle…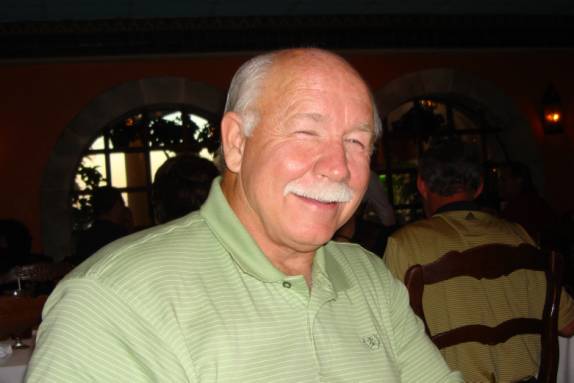 05/28/09 THURSDAY SAN ANTONIO, TX
In the morning, I worked on the house air conditioning system. After replacing a motor capacitor, I finally found the actual problem as a stuck relay. I was able to free it up and return the unit to operational status. Not having air conditioning in San Antonio is tantamount to a near disaster situation.
Bill Seward (TORTUGA) was visiting San Antonio for a week or so while his boat is back in Brunswick too. For dinner, we went to Chris Madrid's Restaurant. The place is an icon renowned for their huge burgers. Bill had been a steady customer for many years. I don't know whether or not their quality has slipped permanently, but we all were disappointed with our meals. Hopefully, they will get their act together and restore excellence between the buns.
05/29/09 FRIDAY SAN ANTONIO, TX
HAPPY BIRTHDAY to MY DEAR SISTER, CAROL EDITH ANN ELIZABETH JOAN CAMILLE REED KENNEDY POCO (that's what I've learned to call her for many, many years)
05/31/09 SUNDAY SAN ANTONIO, TX
When we first got home, we found that a feline family had set up housekeeping in our back patio. Apparently, the feral mother had her litter while in our back yard. Since there is a wall and enclosed area, the young kittens were unable to leave the yard. The mom could climb out but the kittens mostly just hid under the patio deck. The mom would come and go as she pleased.
The skitterish youngsters would scurry off under the deck with any little sound or movement. I could not resist the urge to offer them some food to try. Starting with plain milk, they eagerly lapped it up. They quickly graduated to evaporated milk and on to the kitten versions of canned cat food. The cats are definitely wild ones and would never show any interest or affection toward humans. I don't know if their fears were natural instincts or whether their feral mother cat had taught them to be this way.
Judy was surprised at my interest in the little creatures. We had a lot of laughs about my "new sensitivities", etc, etc…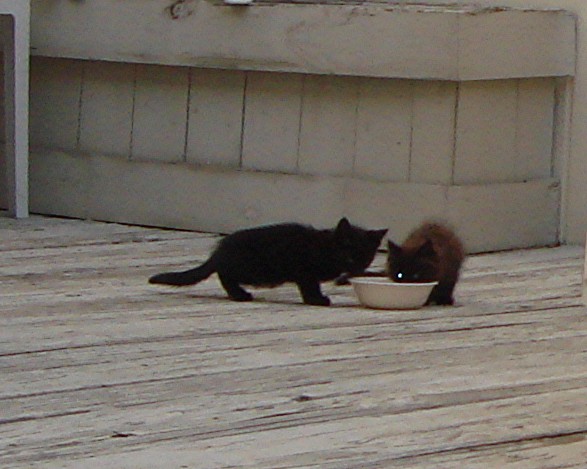 CONTINUING UPDATES ARE IN PROGRESS…
WATCH FOR THEM, COMING SOON…
POST SCRIPT:
We sincerely hope that you will review the previous years of compilations to give context to the current editions. Please let us know if you have any special suggestions and thoughts.
REMEMBER: The website is now fully active and you can visit it at any time. You can also review any of the previous logs from the years 2006, 2007, or 2008 and learn more about the crew and their many adventures. Enjoy.
ATTENTION: SPECIAL NOTE:
You may contact us via email anytime.
Thanks for allowing us to share our life and adventures with you.
Lotsa Luv,
Fred Reed and Judy Law
AMARSE
MT40
"AMARSE" is pronounced "AM-ARE-SAY".
Our website is: www.amarse.net .