UPDATE#15 04/01 thru 04/15
Howdy Everybody,
The adventures of 2006, 2007, 2008, and 2009 through 03/31/09 have been published on the website. We continue with the latest edition.
UPDATE 2009 #15 04/01/09 thru 04/15/09
At last update, we were aboard AMARSE at Man-O-War Cay in the Abacos, Bahamas. At Edwin's Boat Yard, they were just finishing up the bottom job on the boat before we headed west from the Bahamas.
04/01/09 WEDNESDAY MAN-O-WAR CAY to HAWKSBILL CAY ANCHORAGE
Judy and I have inspected, approved, and paid for the fine work accomplished at Edwin's Boat Yard.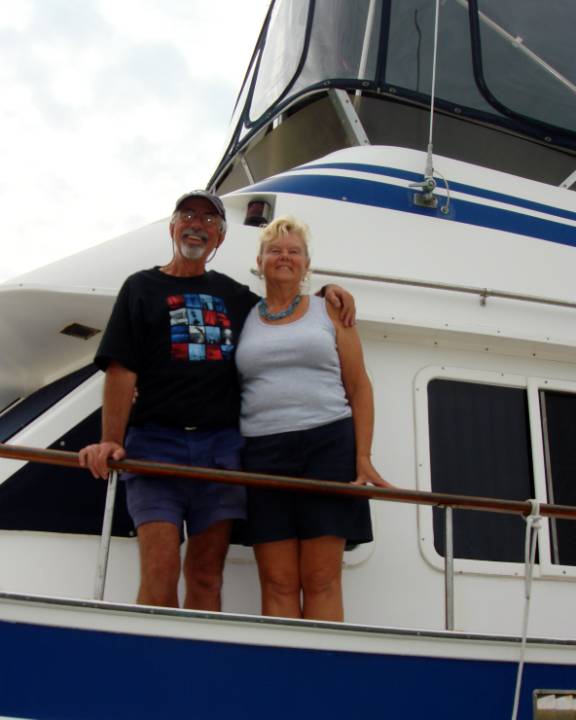 In just a few moments, AMARSE will be "splashed" back into the waters at Man-O-War Cay.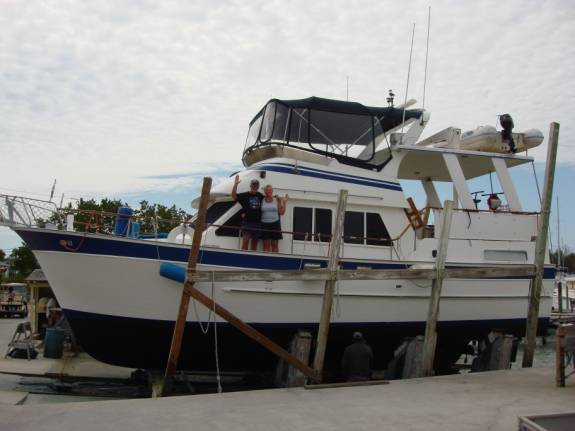 We had to wait for the tide to come in enough to launch AMARSE. Getting underway at 11:10am, we head westbound in the Sea of Abaco. Our chosen route traverses the very shallow areas of the "Don't Rock Passage". We must have a high tide to make it through. Two hours later, with the sun favorably at our backs, we could visually locate the deepest pathway through. Even though we have made this passage successfully several times now, it is always a little tense because the sand bars can shift over relatively short times. We safely made it through with depth to spare. Deeper draft boats must use the "Whale Passage".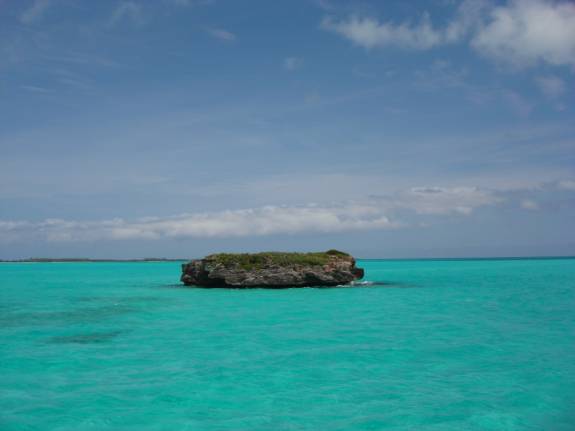 When we reached the Hawksbill Cay anchorage at 17:35, CHABLIS was already anchored. Weather conditions were nearly perfect for a comfortable night.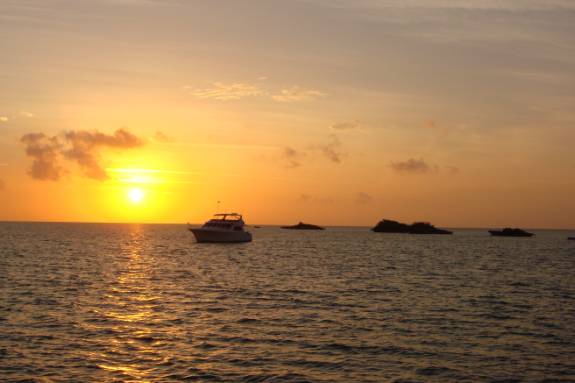 We had traveled 59.6 statute miles at a moving average speed of 8.9 mph.
POSITION N26 56.048 W077 47.704
04/02/09 THURSDAY HAWKSBILL CAY ANCHORAGE to LUCAYAN CANAL WATERWAY
At 7:05am, the anchor was up. The plan was to go to Great Sale Cay and anchor for the night. Checking the weather forecast for the night indicated that the wind direction would make it very uncomfortable in that slot. Communicating with CHABLIS in late morning, we concurred that the Lucayan Waterway would offer much better protection from the wind. It would take us more out of the way but offer a greater margin of comfort and safety.
What to our wandering eyes should appear? That looks like TORTUGA! A radio call confirmed that it was our good friend, Bill Seward. As we were leaving the Bahamas, he was just arriving. Bill had been in the same marina with us for years in Rockport, TX. After many fun times and several rides aboard TORTUGA, we found ourselves much more interested in trading in our sailing life for the trawlering life. By the way, Bill is one of the most skillful boat handlers that I've met.
Although our time together at this chance meeting was all too short, it was great to see him again. He was traveling with SEA YA.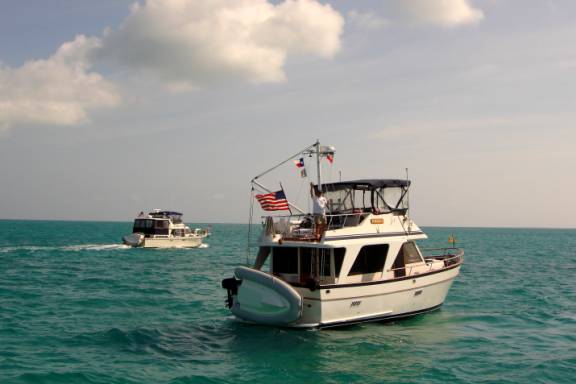 By 1:35pm, we had rounded Mangrove Cay and passed Cormorant Point at 3:05pm. The tide was favorable to pass through the shallow channel area leading to the mouth of the waterway and we traversed without any problem.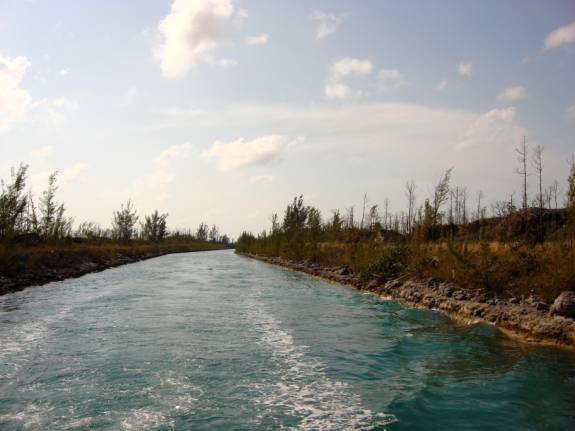 Dave had led the way into the canal and found a great spot against a concrete wall to tie up. A couple of cargo boat guys helped him tie securely to the trees. At 5pm, AMARSE found a spot right behind CHABLIS. As you can see, there are no cleats so tie-up is a bit flimsy but we felt secure with numerous lines to various trees and stumps. We had to use caution, as some were poisonwood.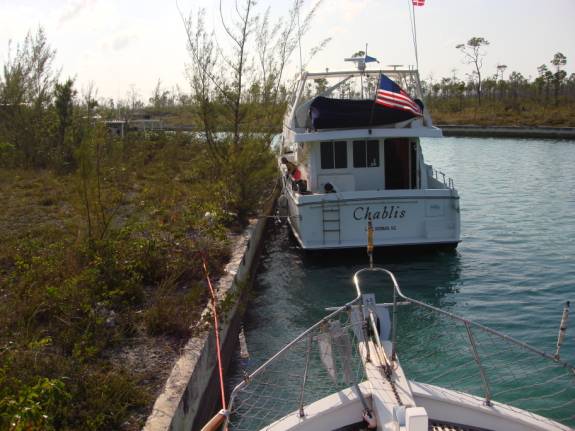 Dave prepared a fabulous dinner of linguine with red clam sauce for our enjoyment.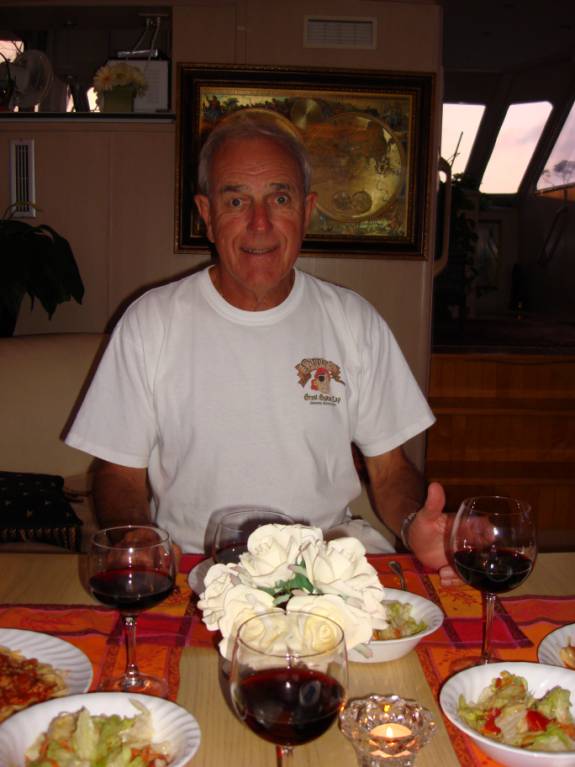 The Bluto's are always so generous and gracious. CHABLIS is such a beautiful boat and Dave is a fantastic chef.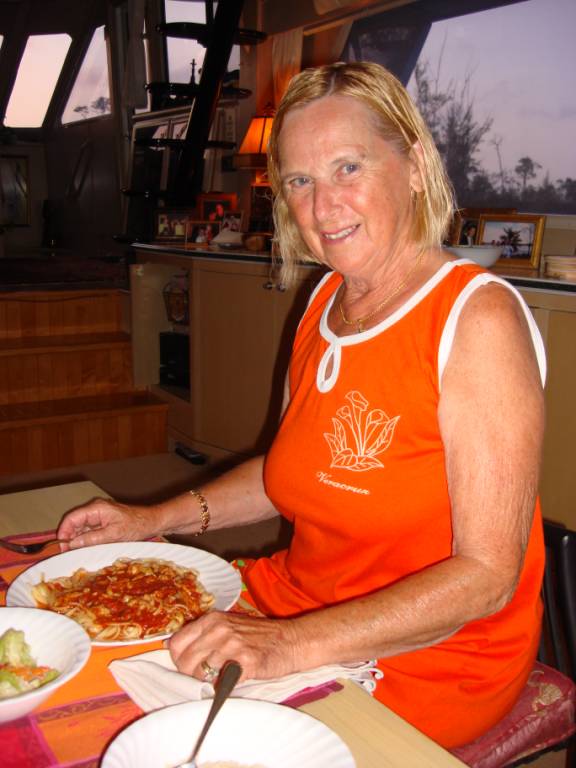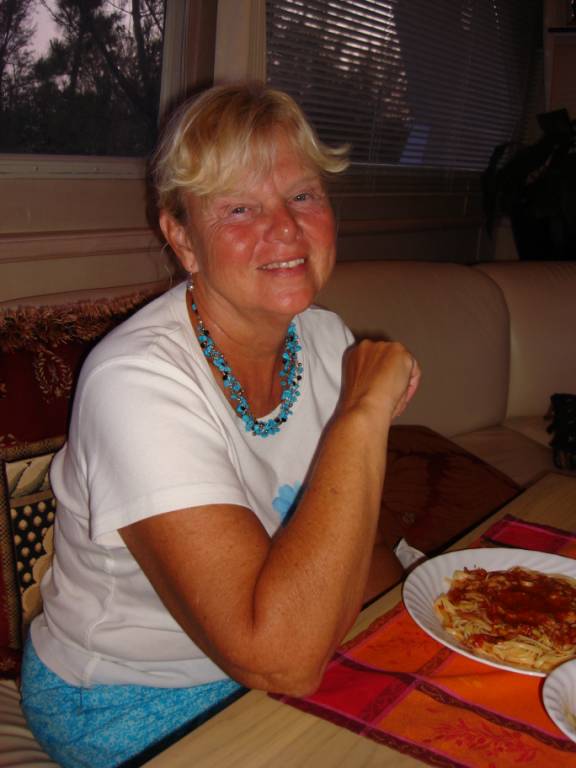 Our travels today included 82.1 miles at a moving average speed of 8.3 mph.
POSITION N26 34.608 W078 36.430
04/03/09 FRIDAY LUCAYAN WATERWAY CANAL
It was quite windy but we were secure against the seawall. CHABLIS had a previous invitation to stay with friends further down the waterway and they headed out about 1pm. I took the opportunity to do some routine maintenance including changing out the Racor fuel filters.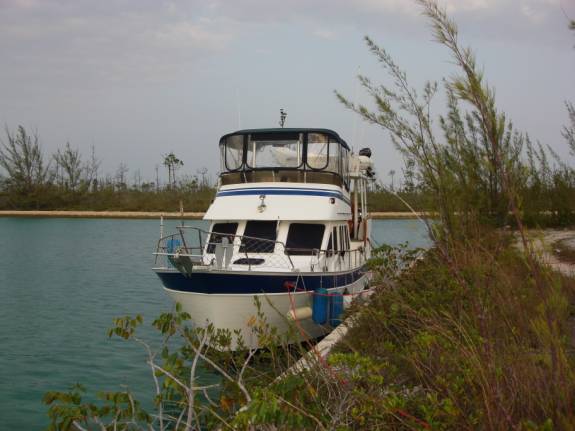 04/04/09 SATURDAY LUCAYAN WATERWAY WALL to MANATEE POCKET, FLORIDA
Still mostly dark, we departed in the dim light of early dawn at 6:30am. Thirty-five minutes later, we were out of the Dover Channel on a good high tide. We saw nothing less than 7.7 feet.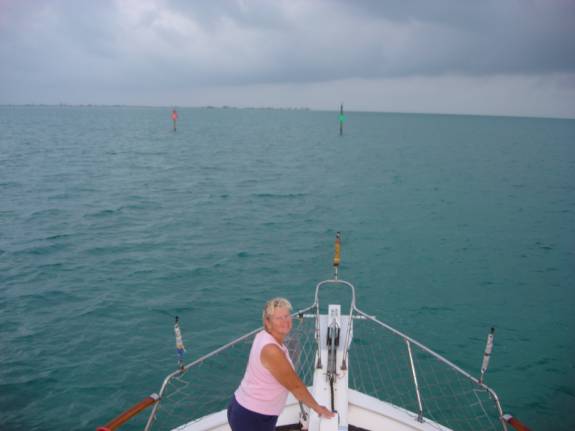 With an outgoing tide, we cruised along at a respectable 10 mph reaching our Memory Rock waypoint at 10:32am. This point carried us off the Bahama Bank into the deep waters of the Atlantic Ocean Gulfstream. Seas were on the beam between 2 and 4 feet with NW winds of 10-12 knots. The water temperature was around 77 degrees F and the air was almost 80 degrees F.
It wasn't long before our first freighter crossing. Note the wake coming off the bulbous bow extension.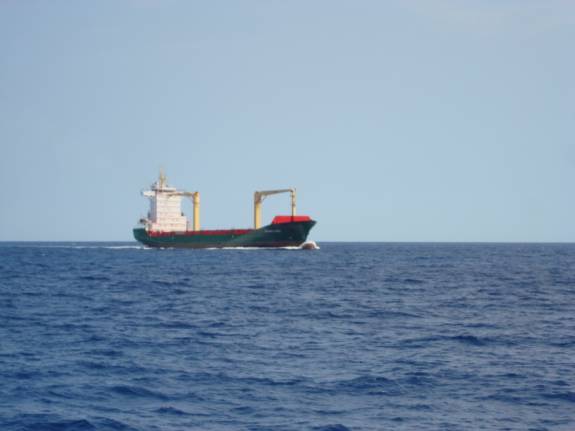 Most of the way, we had the entire ocean all to ourselves.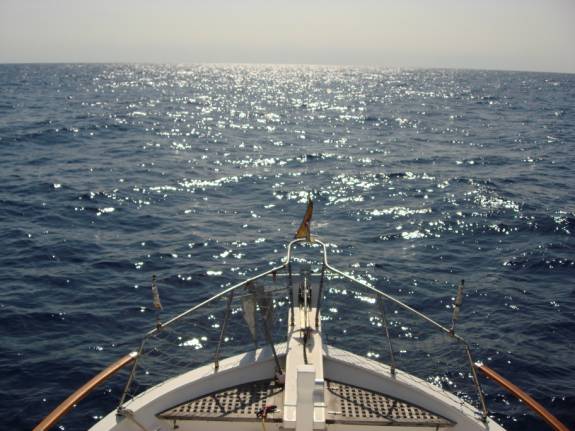 Coming through the St. Lucie Inlet at 5:45pm, we continued into the anchorage area of Manatee Pocket and achieved a well-found anchor at 6:22pm.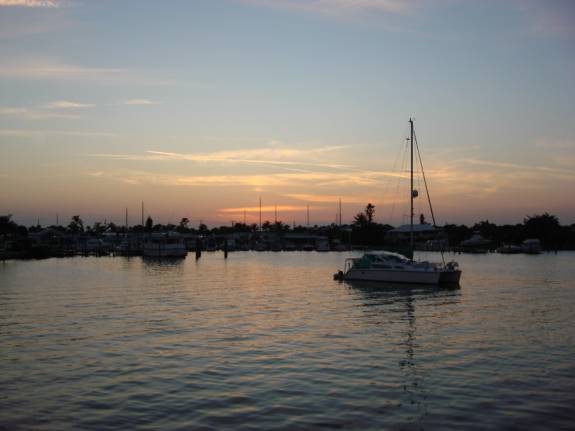 We cleared the Customs and Border Protection formalities over the phone, which was made relatively uncomplicated due to our pre-clearance use of the Local Boater Option (LBO) cards and procedures.
Ivor and Susan (LAZY SUSAN) came from their home in the Stuart, FL area to meet us for dinner. We lowered the dinghy and motored over to go to Shrimper's Restaurant.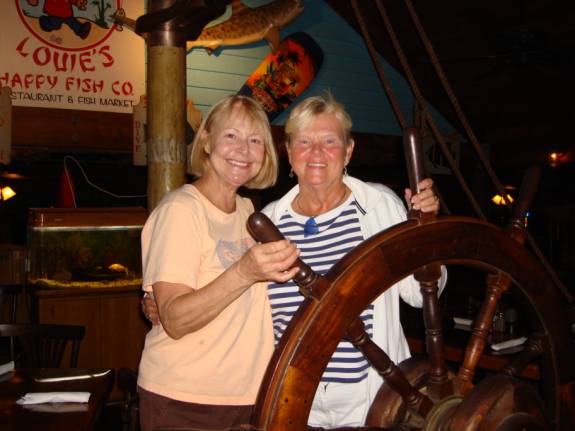 Ivor had a welcome hug for Judy.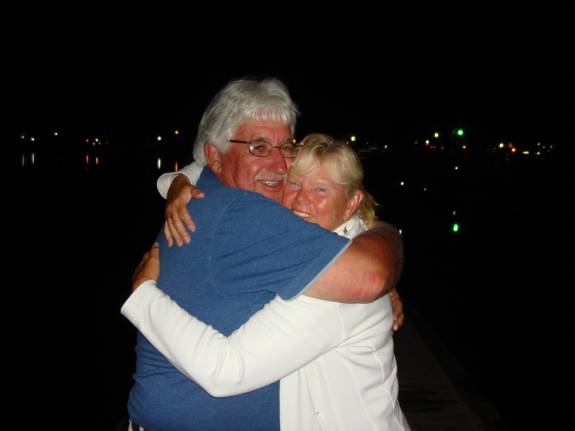 Susan had a welcome hug for me. They have been such good friends for years since we traveled with them on part of the Great Loop.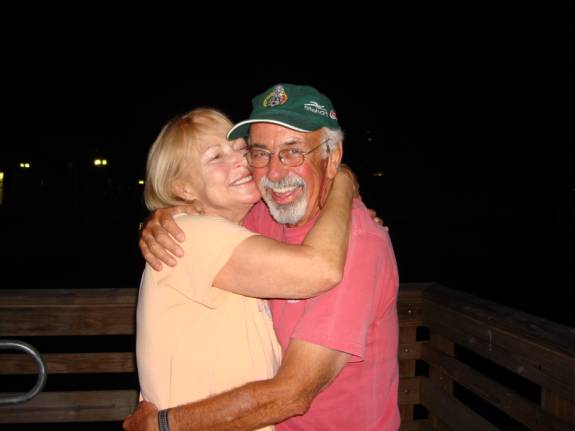 Today, we had traveled 109 miles at a moving average speed of 9.3 mph.
04/05/09 SUNDAY MANATEE POCKET, PORT SALERNO, FL
We used the dinghy as our mode of transportation today. From a dock near the West Marine store, we moved around the pocket to tie up at Finz/Bare Bones Restaurant. We walked to a great veggie stand and a Mexican market store.
Our dinghy adventure continued with a trip of well over an hour along the section of the Okeechobee Waterway that led to the mooring field area of Stuart, FL. It was rough and wet but fun.
Our walk from the new dinghy dock took us to the historical district. Unfortunately, most everything was closed on Sunday. We had a short visit with Larry and Sue at SUE SEA Q4 at their anchorage. It was a long, rough ride back to Manatee Pocket, especially with all the wakes of passing boats returning from their weekend fishing excursions.
04/06/09 MONDAY MANATEE POCKET to VERO BEACH MOORING FIELD
Our intended early departure was delayed because I had a bit of a headache. The mud-caked anchor reached the stops at 7:10am and we motored slowly out of the Manatee Pocket.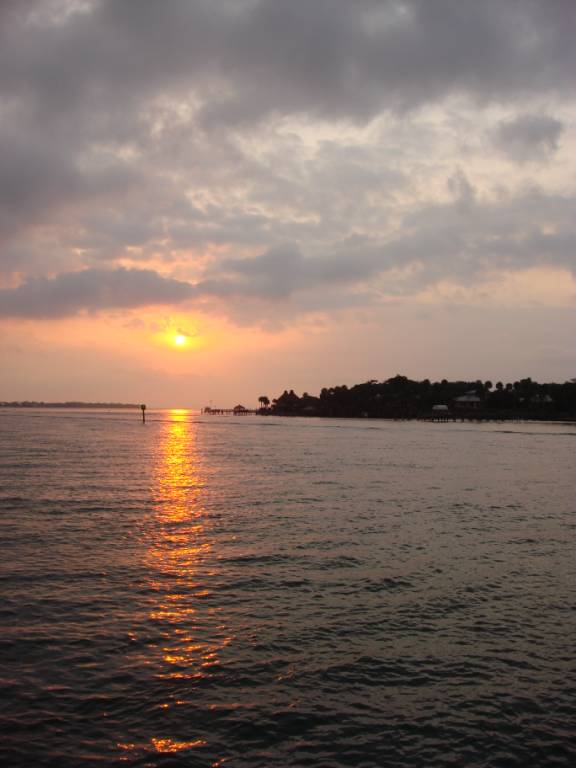 With approaching windy weather on our heels, we decided to bypass Nassau Petroleum as a fuel stop. At 11:38am, we were tied up to mooring #49 out in the "back 40".
The wind soon picked up very strong. A 45' trawler came to raft up. It was kind of like the Clampetts arriving complete with a howling beagle dog. Judy and I worked to get them safely secured. I had to lower the dinghy to attach security lines to the mooring ball, which turned out to be another comedy event with their short lines and the windy conditions. We then had to tow them in their dinghy to the city dock because their outboard motor was inoperative. Oh, well….
We took the free bus to Target, Walgreen's, and Wal-Mart. The 5:15pm bus returned us to the city dinghy dock.
04/07/09 TUESDAY VERO BEACH
The anchor wash-down pump was inoperative. We had to move everything out of the V-berth storage area to gain access to the pump and relays. Troubleshooting indicated that the pressure switch contacts had melted plastic supports. I replaced it with a spare unit rated at 20-40 psi.
The next job was to replace the deck down switch for the windlass. We have been lowering the anchor using the upper helm remote switch. This was a good opportunity to install a new switch, giving us foredeck capability again.
At 2:05pm, we hopped the bus to Beall's department store and Lowe's hardware. After a quick walk to Sam's and Wal-Mart, we took the 4:15pm bus to the marina. It took most of the evening to inventory the v-berth storage and straighten up the cabin. It was a very busy day, however, we sure accomplished a lot.
04/08/09 WEDNESDAY VERO BEACH to TITUSVILLE, FL
The winds had died down and it was a beautiful morning. Slipping the lines from the mooring ball and the "Clampett's", we motored over to the fuel dock for their 8am opening. We took on 150 gallons of ValveTech diesel at a little over $2.31/gallon with the 5-cent discount for over 100 gal. We have put 35.6 hours on the engine tach since leaving Boat Harbour in the Bahamas.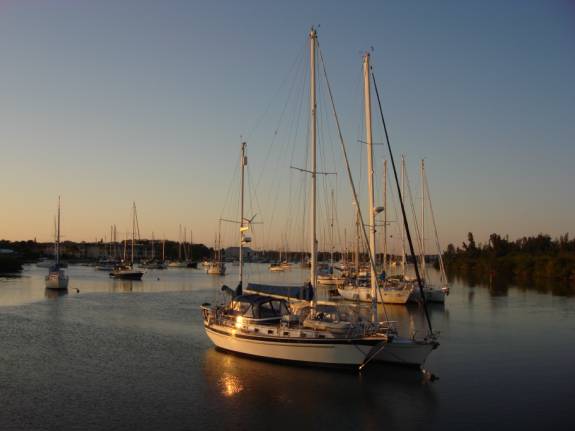 At 8:47am, we were underway for the ICW. Along the way, numerous, playful dolphins joined us.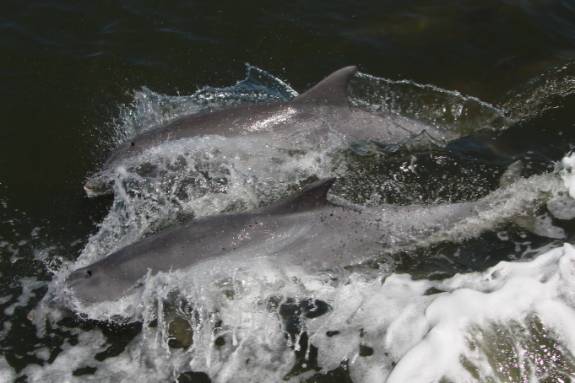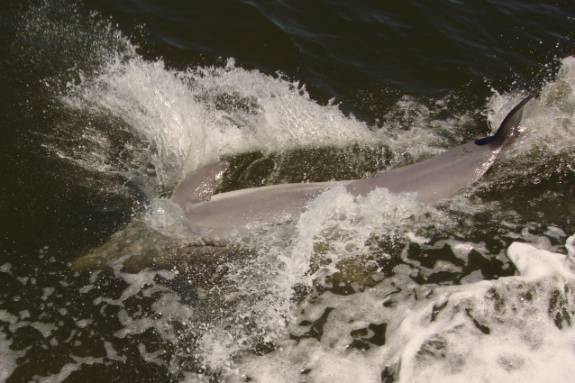 LADY DI, with Rick and Diane, had passed us but had waited at the Titusville Bridge to make it through on the same opening.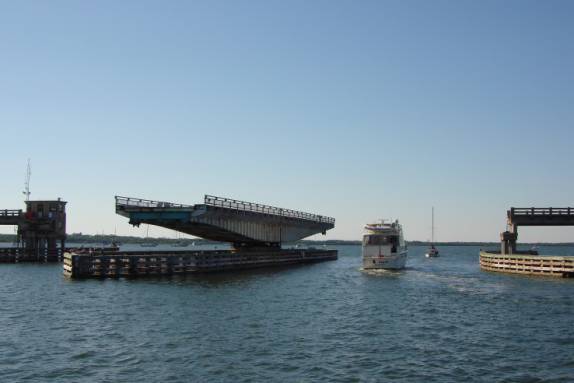 Rick and Diane went into the Titusville Marina. At 5:05pm, AMARSE chose a tranquil spot to anchor outside the Titusville harbor amongst a group comprised predominantly of sailboats. Although we were very secure, a directionally shifting wind sometimes gave the illusion of dragging at anchor. Of course we weren't, but the deceptive effects of randomly shifting boats often makes you wonder if you might be.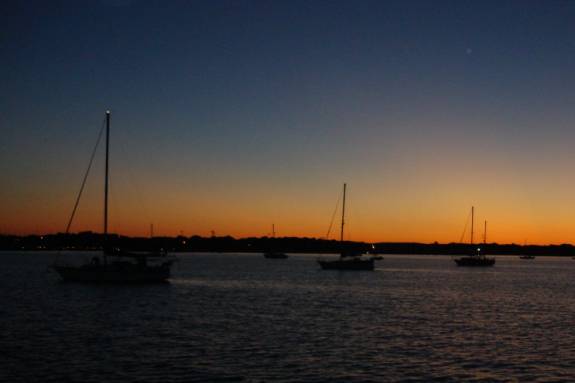 Our dinner included a pleasant cocktail hour, Mexican shrimp cocktails, and ravioli in a butter, toasted walnut, and balsamic vinegar reduction. Oh, Yummy…
The odometer showed 73.6 miles traveled at an average moving speed of 8.8 mph.
POSITION N28 37.418 W080 48.167
04/09/09 THURSDAY TITUSVILLE to HALIFAX HARBOR YACHT CLUB, DAYTONA, FL
HAPPY BIRTHDAY, NICK LAW (Judy's #2 grandson)
At 7:15am, our anchor came up as we headed for the Haulover Canal, passing under the bridge at 8:23am. The early morning conditions were fantastic.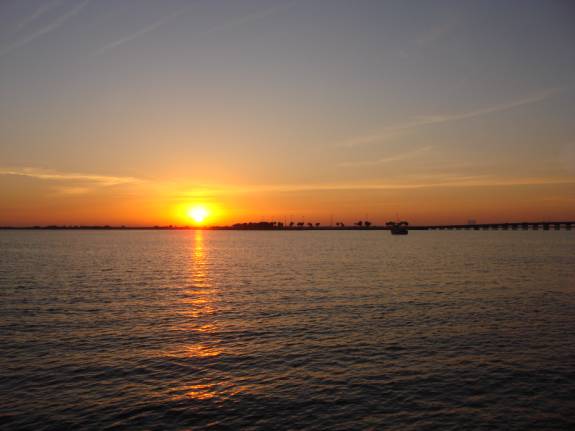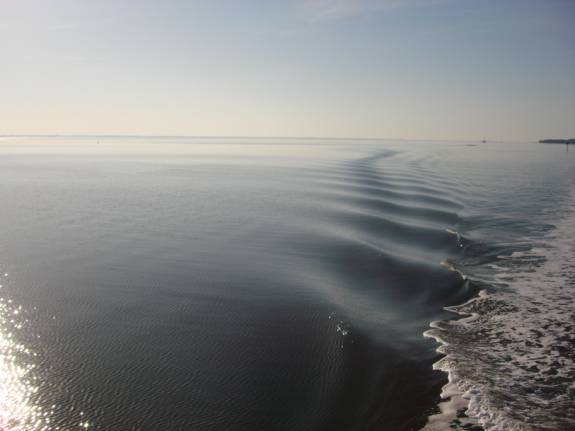 By 11:25am, we were passing under the George Musson Bridge just north of New Smyrna Beach at mile marker 845.
Carefully entering the channel, we tied up at the north end of the center dock at the Halifax River Yacht Club. Brian Fitzpatrick is the gracious and helpful dockmaster of the friendly facility. Trey is the assistant.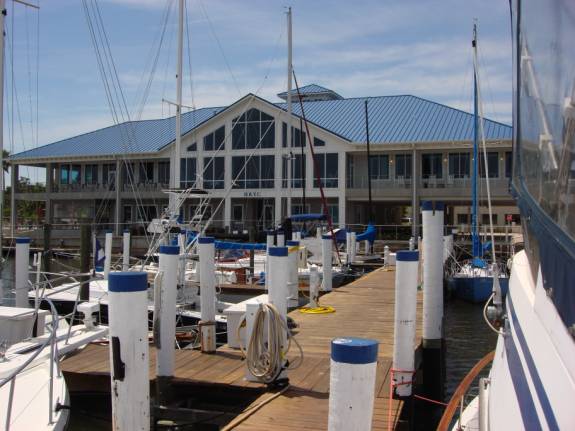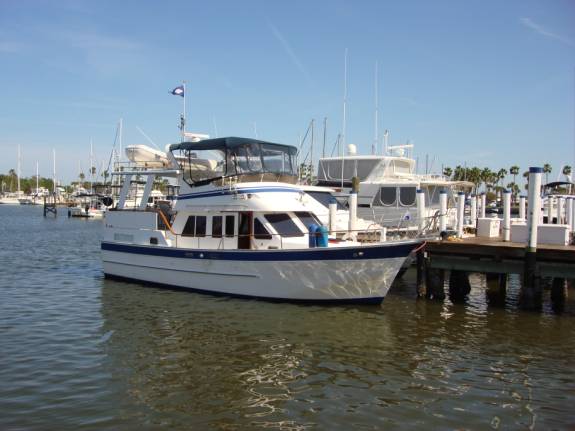 We had a nice tour of the beautiful clubhouse, bar, and restaurant facilities.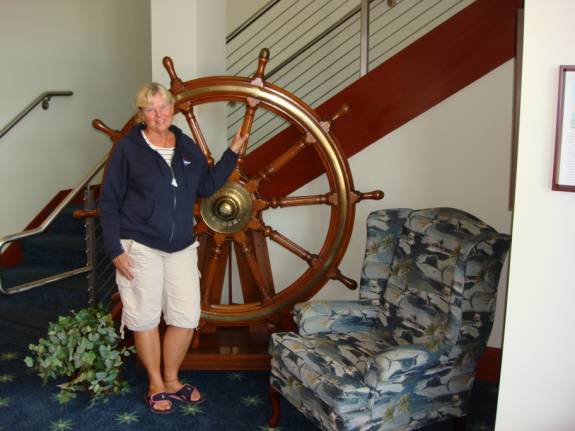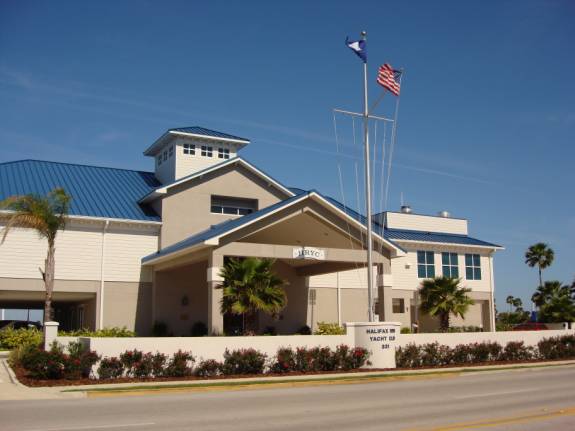 Judy and I took a pleasant walk along Beach Boulevard doing a little window-shopping along the way.
Our Chicagoan friends, Rick and Diane, arrived a bit later at the North Dock. Together, we had our first round of cocktails aboard LADY DI and more cocktails with dinner in the Flag Room of the yacht club. It was delicious and their company was great.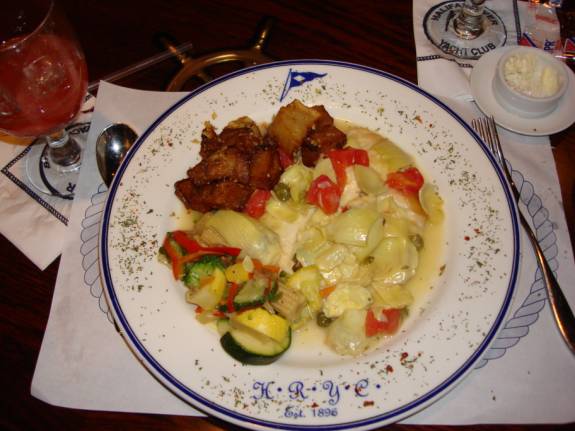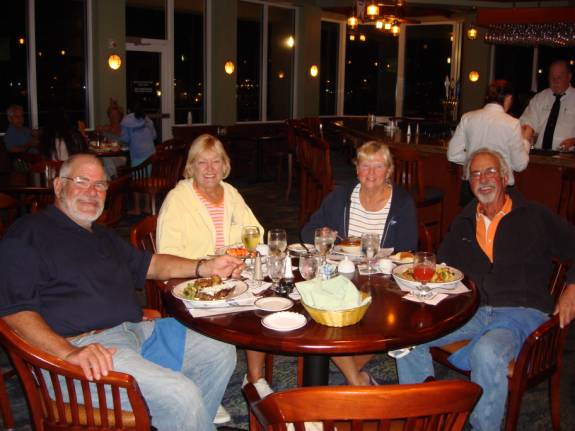 Today's travel tallied at 48.2 miles at a moving average speed of 8.1 mph.
POSITION N29 12.468 W081 00.972
04/10/09 GOOD FRIDAY DAYTONA BEACH, FL
Judy and I arranged for a weekend rental car from Enterprise. They didn't have an economy car available so they upgraded us to a Jeep Wrangler convertible. Oh, too bad, huh…
We picked up Rick and Diane and put down the Jeep's top. It was an absolutely beautiful day and we decided to take a ride along the world-famous Daytona Beach.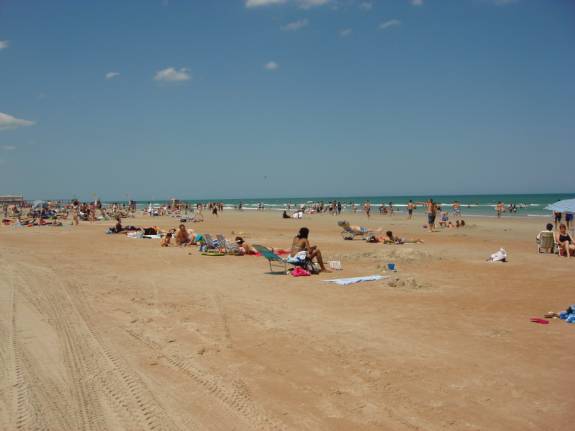 Rick and Diane couldn't resist the urge to stand up on the seats to get a better view.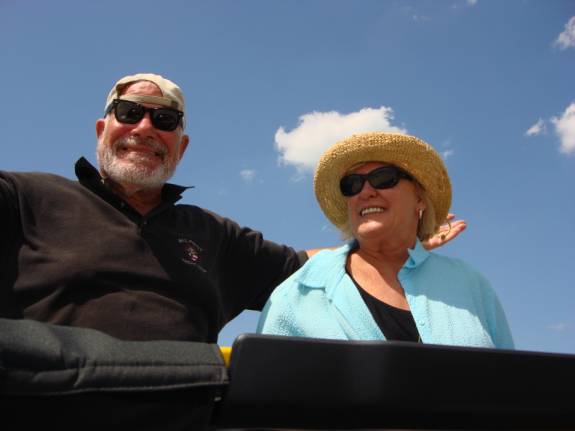 The beach was relatively crowded with scores of Spring Breakers.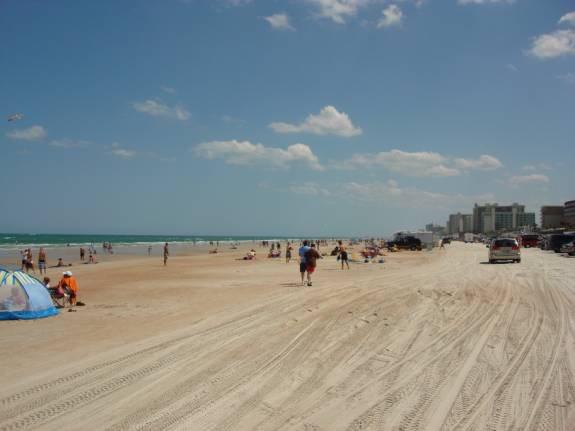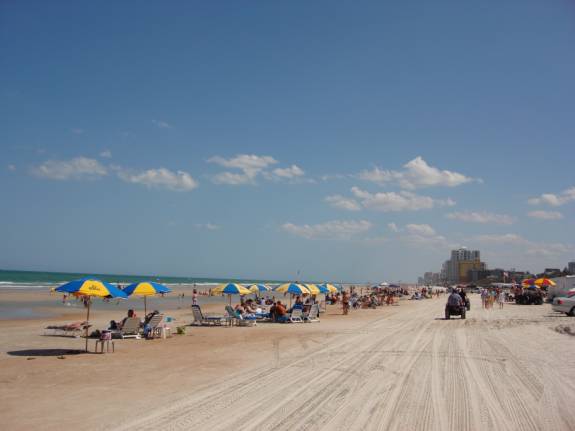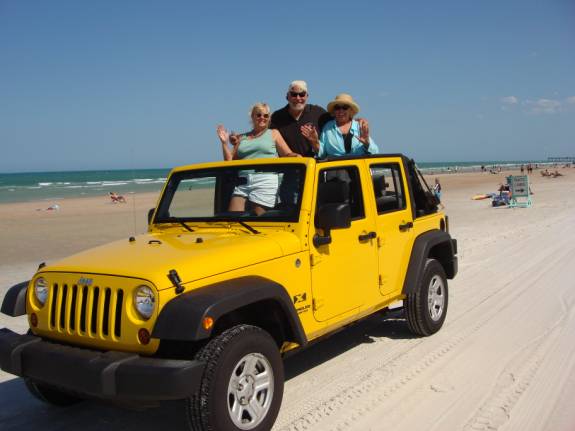 For lunch, Rick took us to D&J Seafood near the high bridge at A1A and Dunlawton St. It was excellent.
As the afternoon waned, we searched out other entertainment for the evening. Judy and I went to the nearby ballpark for a Chicago Cub's Farm Team game between the Daytona Cubs and the Brevard County Manatees. The Cubs won the game 7 to 6. They even had a nice fireworks display after the game.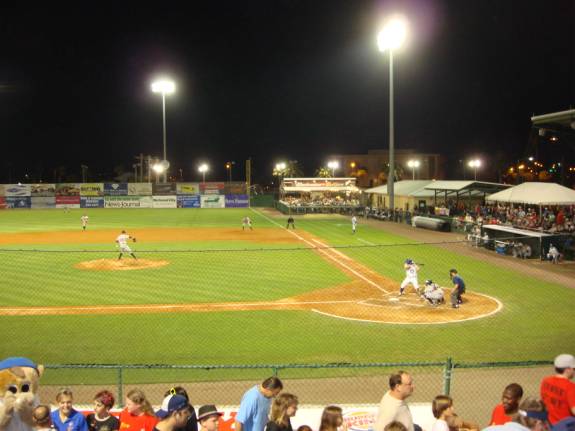 04/11/09 SATURDAY DAYTONA BEACH, FL
HAPPY BIRTHDAY, KATHY SALES (LO KEE)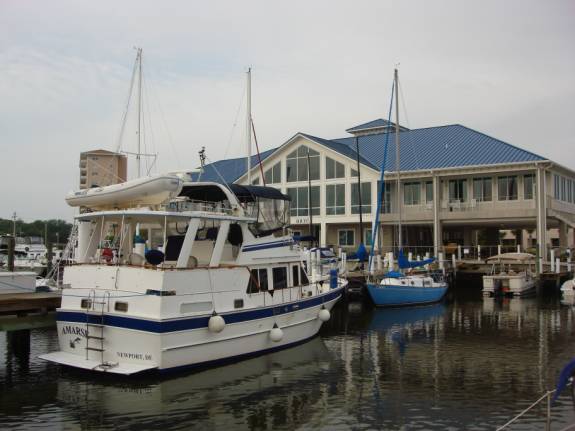 Rick and Diane joined us to look for sundeck furniture. Most of the shopping was unsuccessful.
We went to the Ponce Inlet Lighthouse. At 175 feet, it is the tallest one in Florida.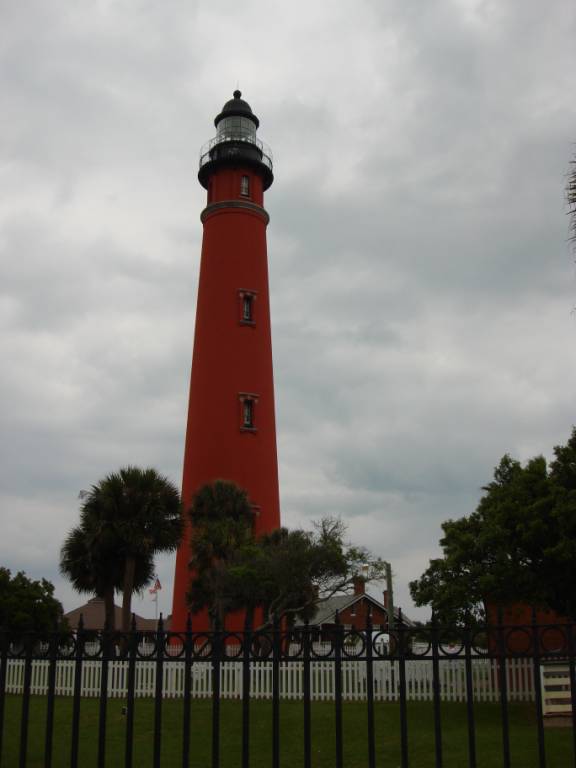 As part of the museum, they have an antique boat collection on display. Perhaps when this boat was built, this might have been a cool name. With all the modern changes in the connotations of the English language, I'm not sure that too many of today's watermen would be interested in choosing this name for their boat.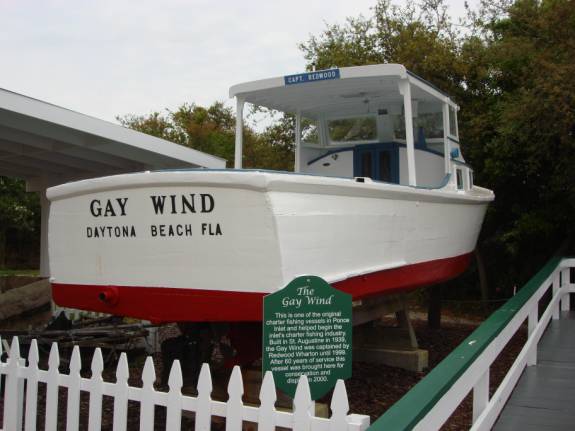 Fred and Judy at the entrance to the tallest lighthouse in Florida.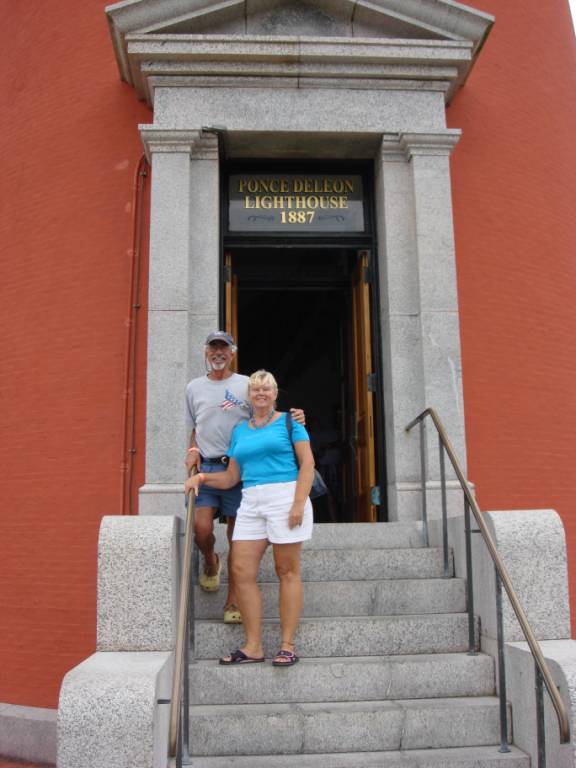 I didn't count the steps, but the lighthouse is 175' tall.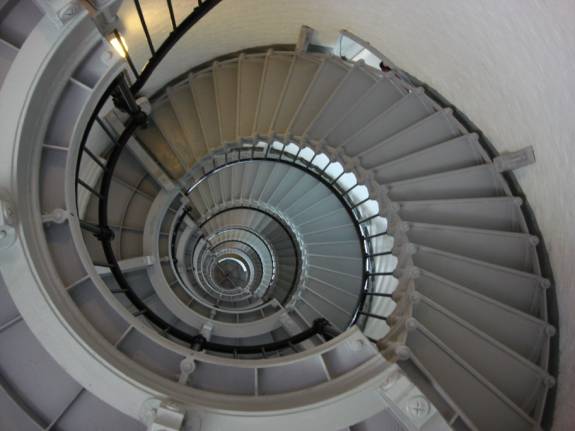 A great view can be had from the top catwalk.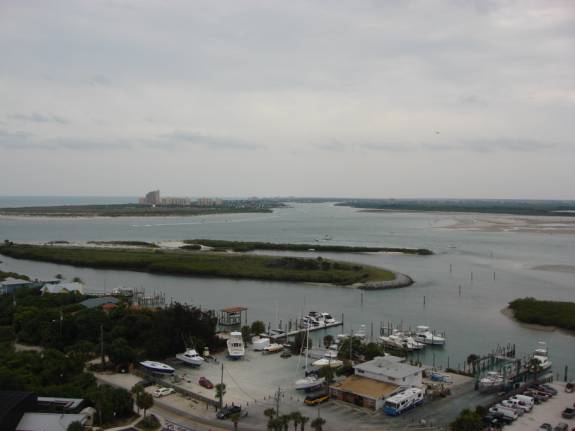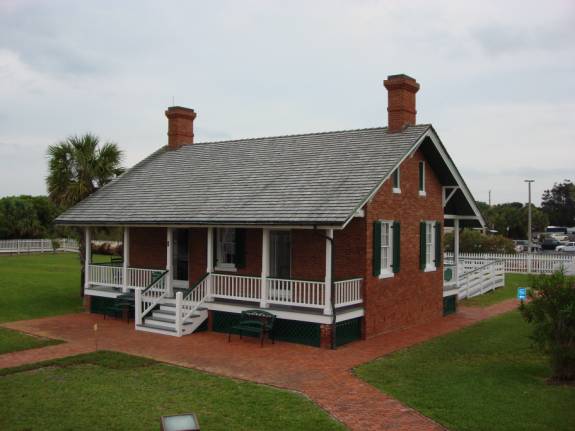 A nice museum displays light mechanisms complete with Fresnel Lenses.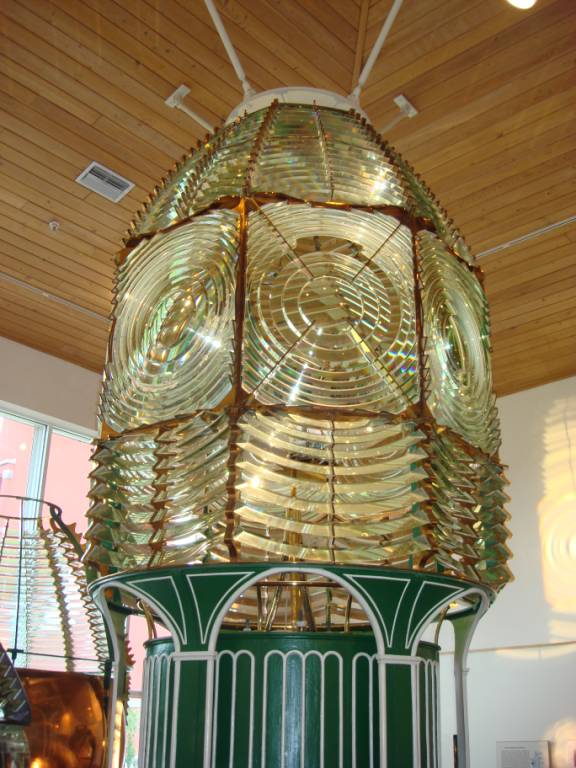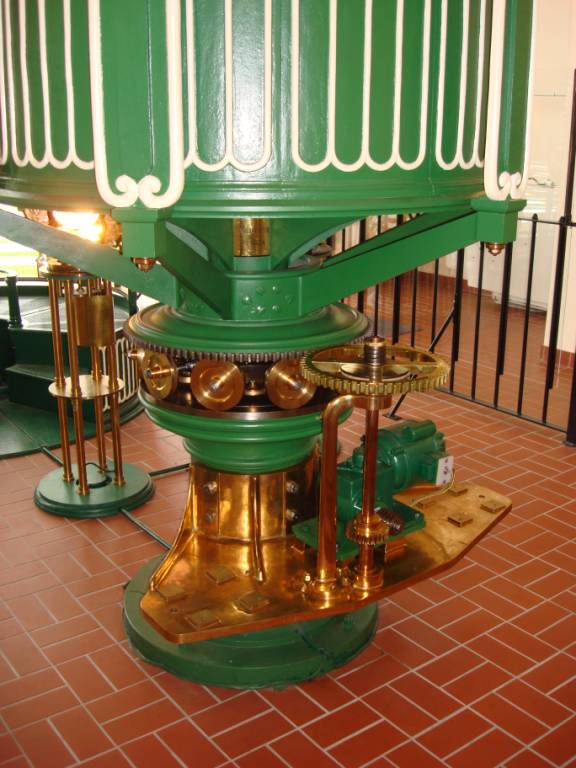 Judy Law…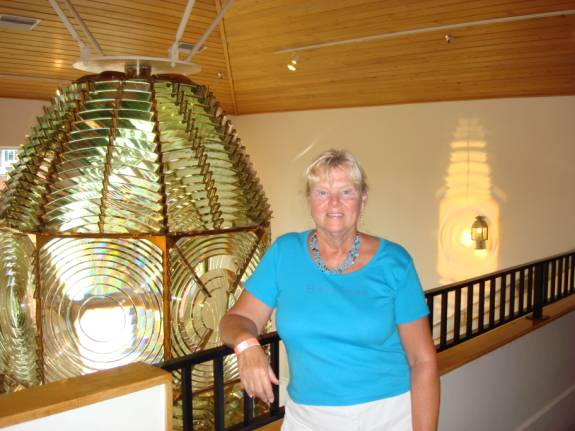 Fred Reed…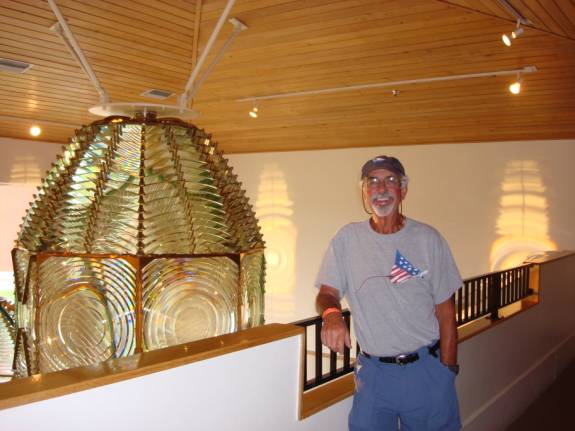 For lunch, we took a local recommendation to go to the North Turn Racing Restaurant. On this stretch of Daytona Beach, NASCAR racing was born. They no longer race along the beach, but the pictures allowed us to relive those fabulous times.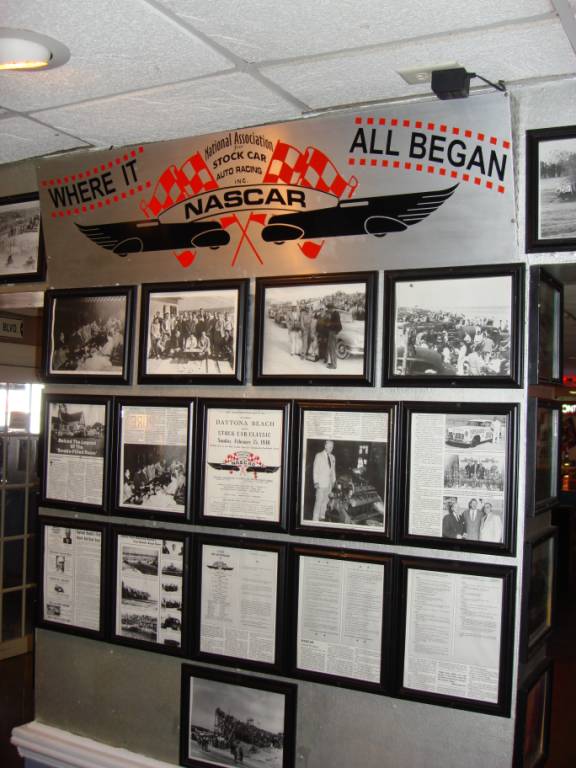 This is how the beach looks now…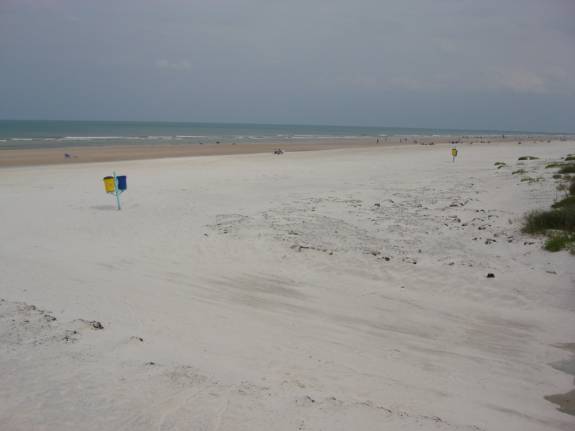 This picture shows how it looked back in the days of early NASCAR racing.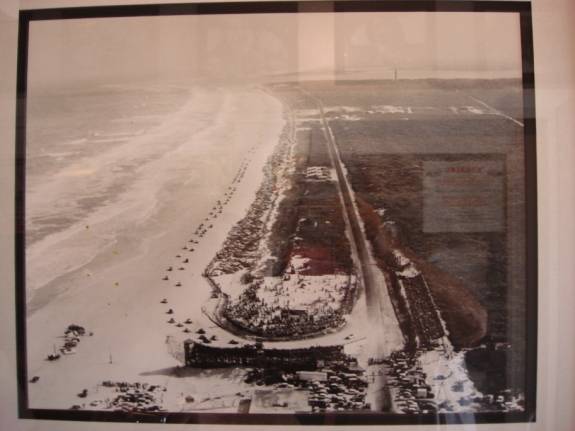 Later in the afternoon, we went to Palm Coast Casual furniture store in Holly Hills near Ormond Beach on Route 1. Looking very good, we chose a 36-inch table for the sundeck. The salesman was very convincing touting a lifetime warranty. We managed to get it loaded into the Jeep.
I had race fever so we found an oval track in New Smyrna holding events tonight.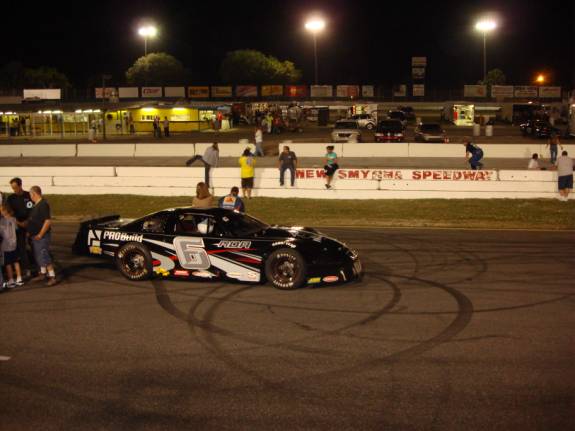 The sanctioning body was FASCAR (Florida Association of Stock Car Automobile Racing).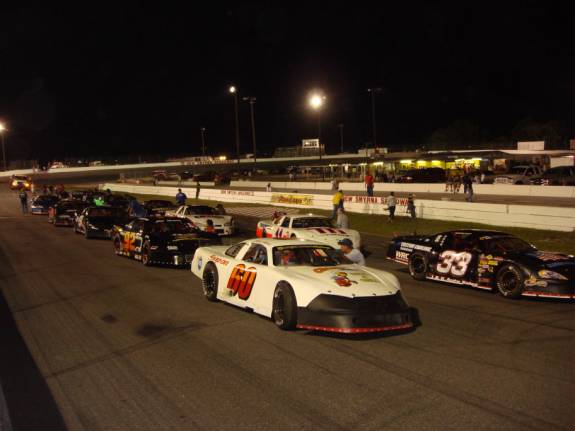 Judy seemed to enjoy the races and the ice cream too.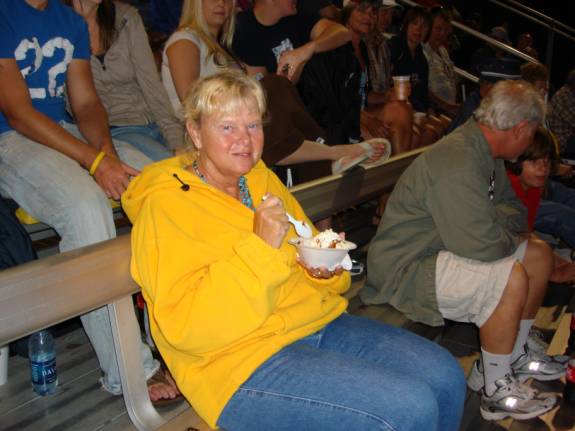 Back at AMARSE, it was a beautiful night in the marina. We sat out on the sundeck, around our new table, listening to Rod Stewart music while I enjoyed a cigar. It was so very nice.
04/12/09 EASTER SUNDAY DAYTONA BEACH
Having a rental car enabled us to do some sightseeing in the area. We decided to visit Ft. Matanzas.
Built by the Spanish from 1740-42 to protect the southern approach to St. Augustine, Fort Matanzas was proclaimed a national monument in 1924. The Fort was sited on Rattlesnake Island and has a commanding position over Matanzas Inlet. The US National Park Service operates a free ferry boat service to the island on a regular basis.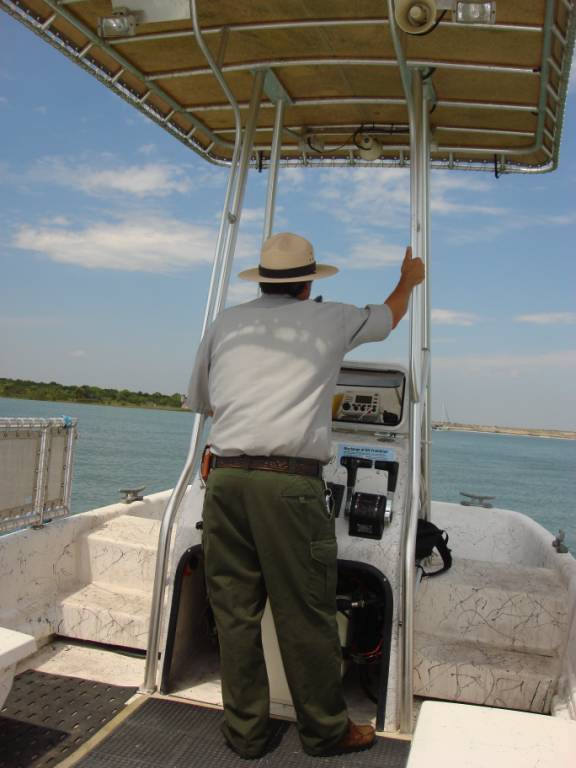 The fort is constructed of coquina, a common shellstone building material found in the area. Convicts, slaves, and troops from Cuba were used as construction labor.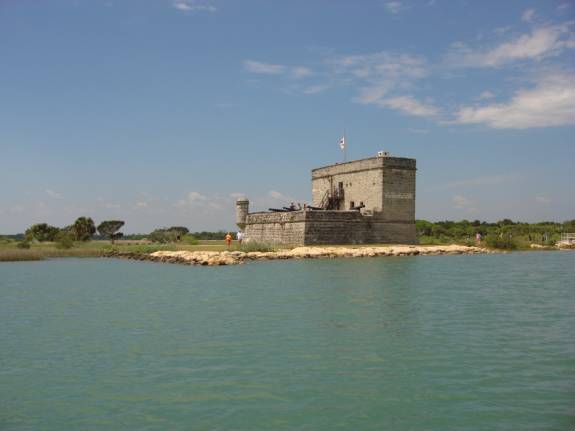 The standard staff for the fort was one officer in charge, four infantrymen, and two gunners, though more troops could be stationed if necessary. All soldiers at Fort Matanzas served on rotation from their regular duty in St. Augustine.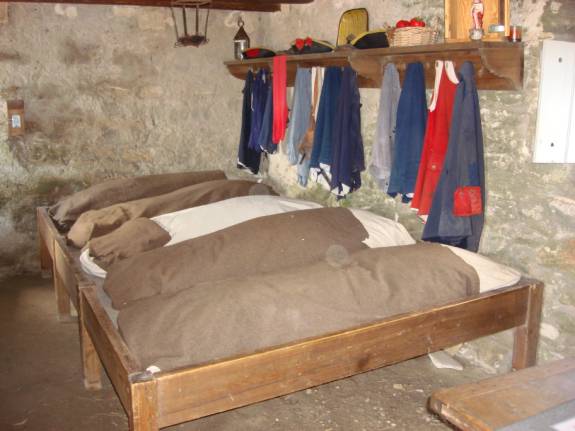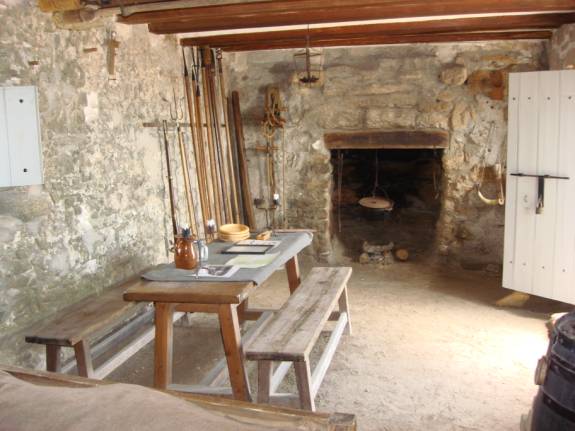 Five cannons were placed at the fort, four six-pounders and one 18-pounder. All guns could reach the inlet, which at the time, was less than a half mile away.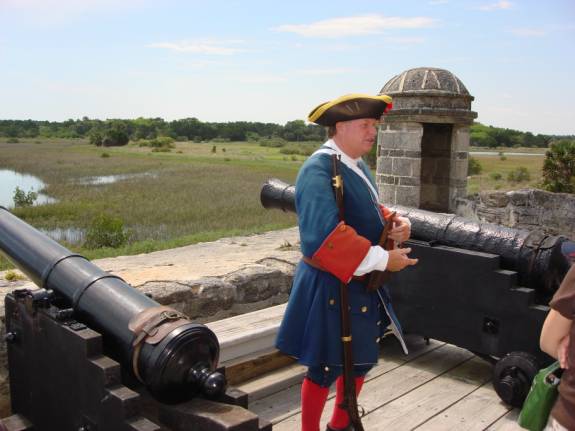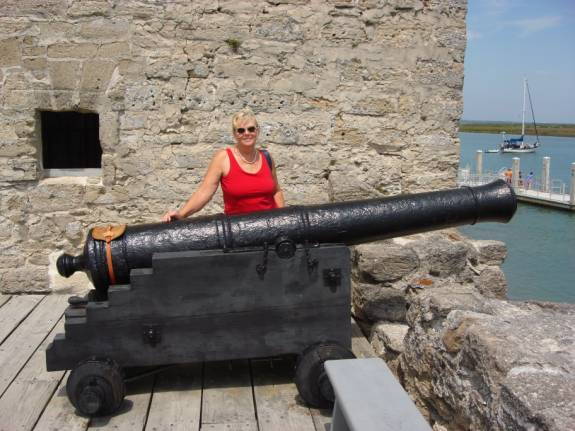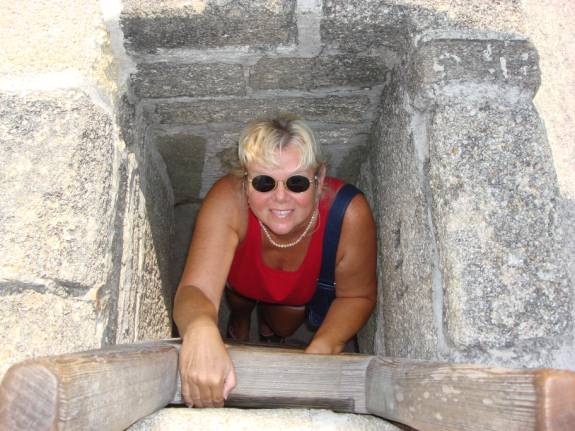 The fort is 50 feet (15 m) long on each side with a 30-foot (9.1 m) tower. The marshy terrain was stabilized by a foundation of pine pilings.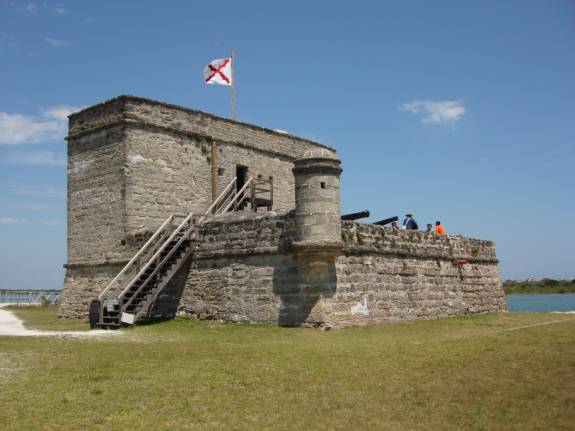 Our day's activities continued in St. Augustine. After a nice lunch at Hurricane Patty's on Oyster Creek, we went downtown to watch the annual Easter Parade.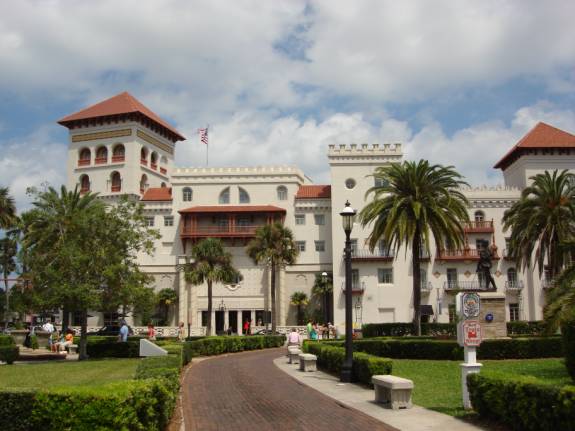 The parade was very good and had lots of participants. I have only included a few pictures of the event.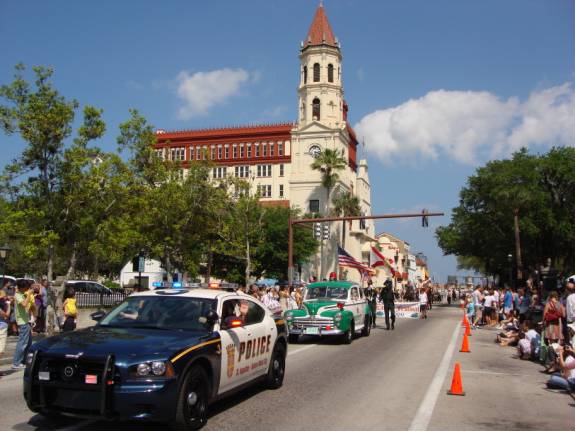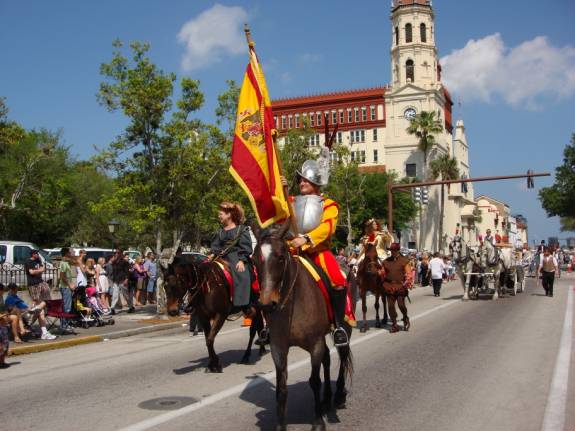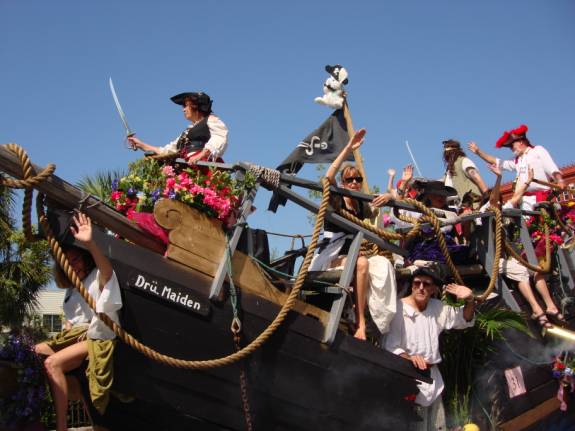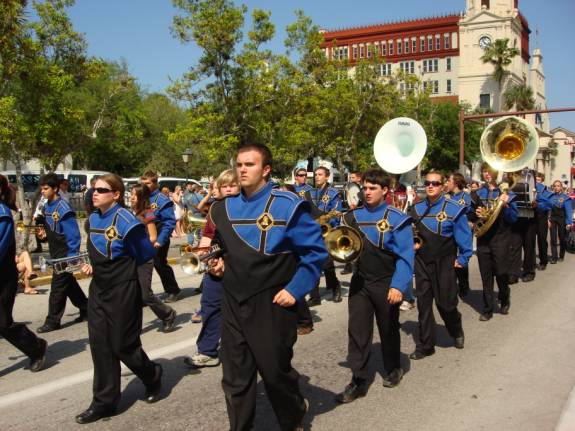 04/14/09 TUESDAY DAYTONA BEACH, FL
We had returned the rental car yesterday morning. There had been heavy rain, thunderstorms, and high winds all last night and up until noon today.
From the downtown transfer station, we took the #7 bus to Nova/Beville Wal-Mart and Sam's Club stores. We each bought a $3 day pass that allowed us some extra sightseeing opportunities.
The News-Journal Center is a wonderful auditorium for varied performances. At 7:30pm, we attended a Woodwind Concert featuring a saxophone quartet accompanied by a group of nine flutists. The Daytona State College hosted the enjoyable event.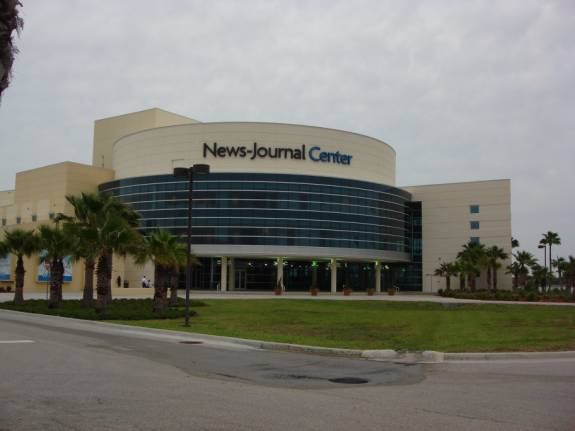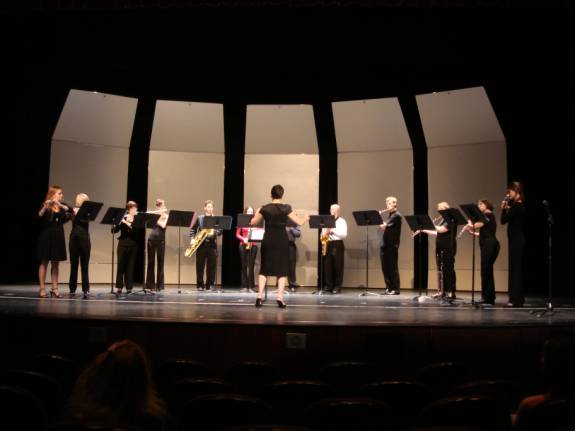 04/15/09 WEDNESDAY DAYTONA BEACH to FT. GEORGE RIVER, FL
Having thoroughly enjoyed our stay at the Halifax River Yacht Club in Daytona, we continued our adventures northward. Our lines were slipped from the dock at 7:09am.
A dredge was operating in the ICW bypass near Ponce Inlet.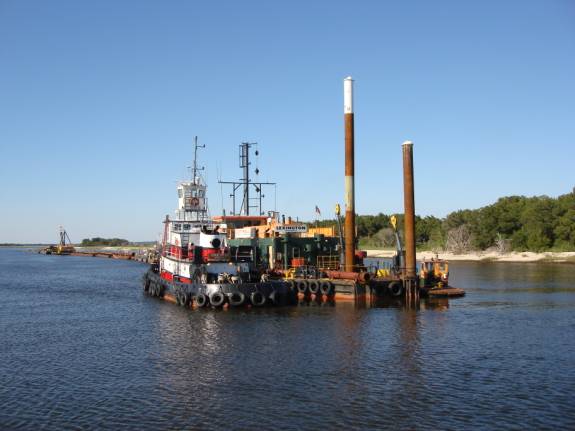 As the clock struck 6pm, AMARSE dropped her hook in the Ft. George River just a short distance from The Kingsley Plantation at mile marker 735.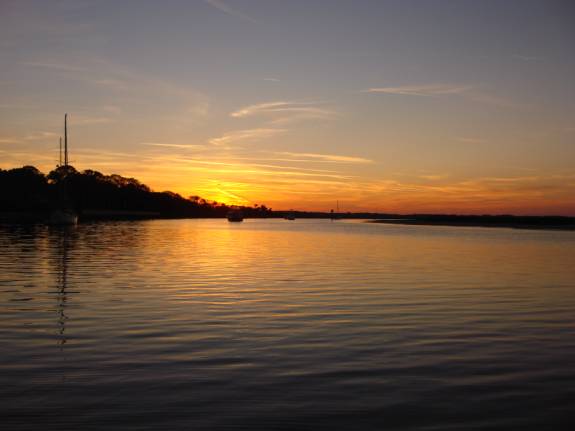 The odometer reading showed 96.3 miles traveled at a moving average speed of 8.8 mph over a moving time of just under 11 hours.
POSITION N30 26.420 W081 26.094
CONTINUING UPDATES ARE IN PROGRESS…
WATCH FOR THEM, COMING SOON…
POST SCRIPT:
We sincerely hope that you will review the previous years of compilations to give context to the current editions. Please let us know if you have any special suggestions and thoughts.
REMEMBER: The website is now fully active and you can visit it at any time. You can also review any of the 2006, 2007, or 2008 logs and learn more about the crew and our previous adventures. Enjoy.
ATTENTION: SPECIAL NOTE:
You may contact us via email anytime.
Thanks for allowing us to share our life and adventures with you.
Lotsa Luv,
Fred Reed and Judy Law
AMARSE
MT40
"AMARSE" is pronounced "AM-ARE-SAY".
Our website is: www.amarse.net .