UPDATE#34 12
/11 thru 12/
20
Howdy Everybody,
The adventures of 2006, 2007, and 2008 through 12/10/08 have been published on the website. We continue with the latest edition.
UPDATE 2008 #34 12/11/08 thru 12/20/08
At last update, we were aboard AMARSE at the Abaco Beach Resort and Boat Harbour Marina in the Bahamas.
12/11/08 THURSDAY BOAT HARBOUR
It continues to be a little windy here in the Abacos. The weather is absolute gorgeous otherwise and we have very pleasant temperatures in the low 70's F during the day and mid 60's at night. These conditions are excellent for sleeping at night and walking in the mornings.
Here in the Bahama Islands, his type of dog is known as a "Pot-Cake" dog. There are numerous, similarly looking dogs that seem to roam about freely. The origin of the unusually different name came from years ago when these type dogs were fed the leftover scrapings from the cast-iron pots in which the natives made cornbread or, as more commonly called, "Johnny-Cake". Nowadays, these canine descendents know exactly where to go to be fed by sympathetic visitors. Guessing by the scratch marks and crusty paws, it appears that this little fellow may be suffering the bites of a few thousand fleas. Cute as he may be, I don't think that I will get too close.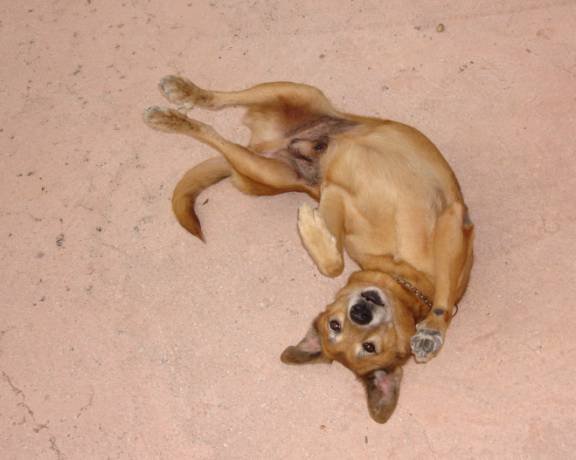 During our morning walks, we see numerous examples of this lovely, tropical tree called, the "Christmas Palm". The name comes from the beautiful red and green berries that grow from the main stalk.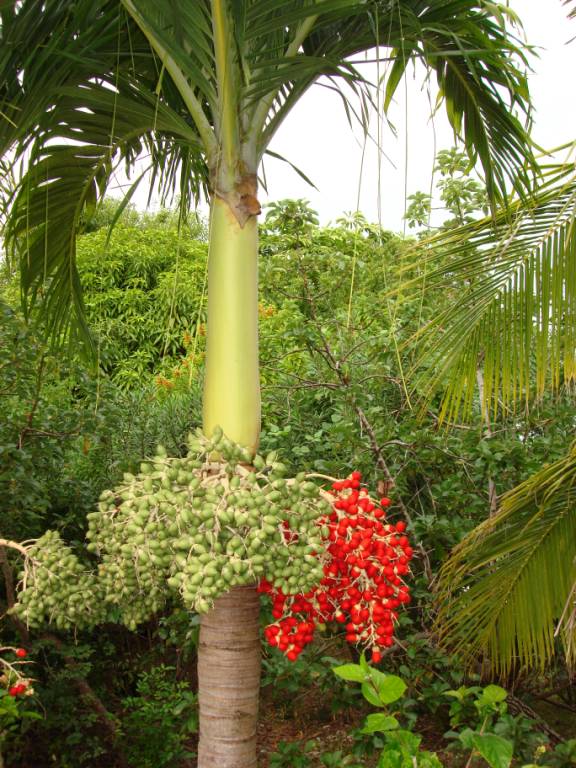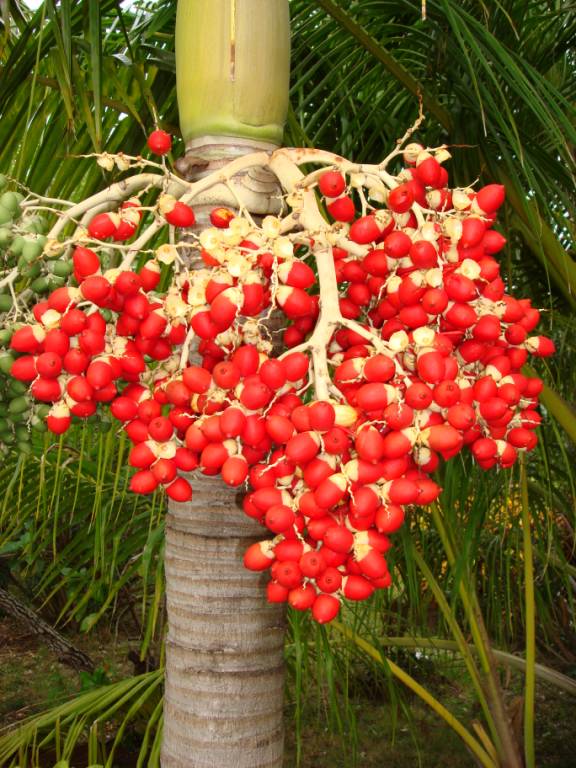 Boat Harbour Marina, where AMARSE is berthed, is collocated with the Abaco Beach Resort. This is one of the resort's, hotel-style buildings. The grounds are quite lovely.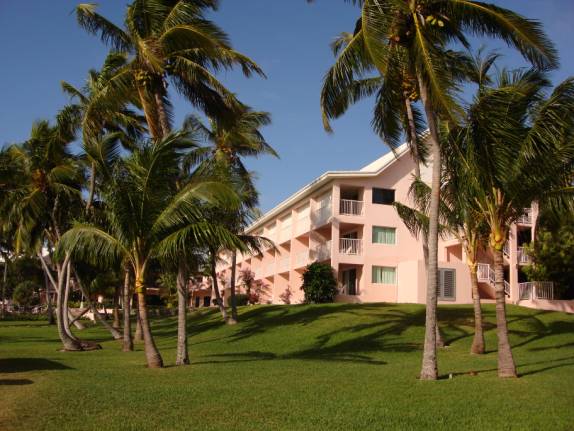 Some of the girls have been walking at a furious pace everyday. Their daily speed walk takes them over 4 miles and seems to be taking a toll on those tender "tootsies". Judy has developed a nasty blister on the ball of her foot and another of her walking partners has that toe blister. Lots of others have been bothered with similar painful foot problems. It is "First-Aid" time for these "ouches". Oh No, Oh No, I'm not going to kiss it and make it better…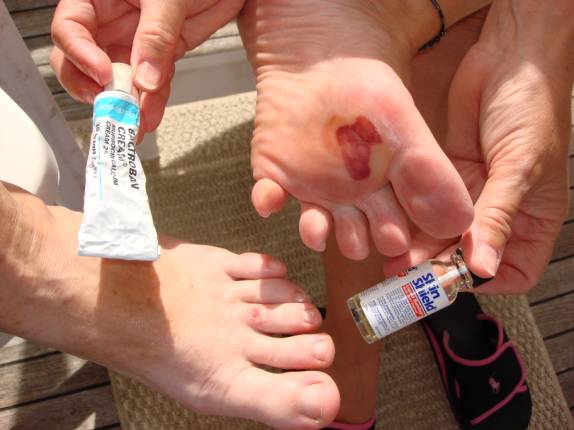 With Hawaiian heritage, Wink (yellow shirt) is an expert at all things tropical. Here, he is giving a short seminar on how to shuck a coconut to a fledgling beginner. John Thomassen (OUR TIME), an Ontarian from Canada, comes from that northern area in Ontario where there weren't very many coconuts for him to practice with, however, he aptly demonstrated that he was a great student and a quick learner.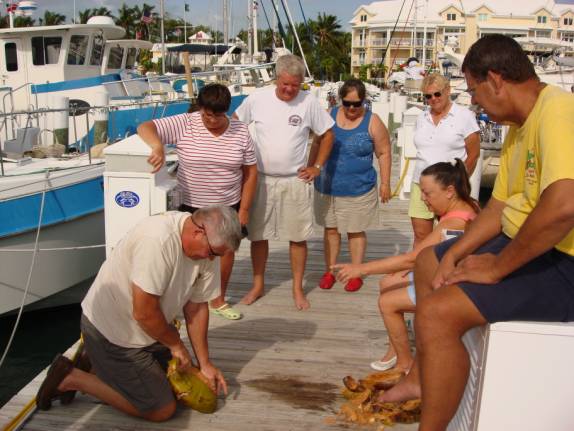 After peeling away the tenacious husk, a skillful rapping will crack and split the inner nut. By gosh, I think he's got it…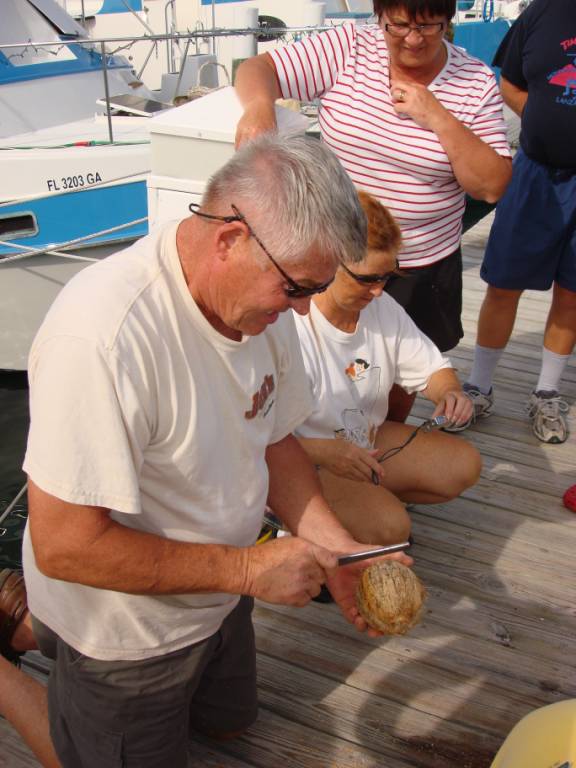 Wink and Wilma sip some of the sweet coconut milk from its own loving cup.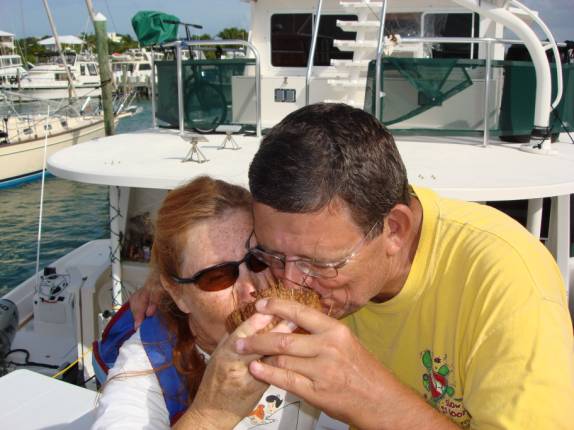 Ann (RAGGEDY ANN) holding "Scrappy", Shirley (M/V TALLY HO), Judy (AMARSE), and Mary (PROPINQUITY) were on hand to audit the seminar.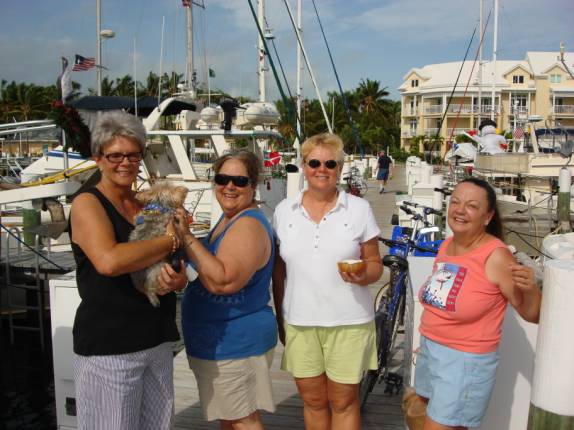 I continued my work in the engine room to identify and mark various wires and power cables connecting the DC electrical system. Using colored tape and colored wire ties, I am hoping to make future identification and troubleshooting much easier.
Wink and Wilma hosted our dinner aboard JOHN HENRY. Wink prepared a saucy, beef stir-fry served over rice. Judy made crisp lettuce wedges heavily drizzled with fresh blue-cheese dressing and crumbles. Andrew and Vanessa brought a fruit custard with whipped cream. Wilma made "Haupia", which might be described as "stiff pudding squares". As I understand it, the Luau dessert is coconut flavored made by soaking milk in a coconut and solidifying it into squares. Wink's Dad loved "haupia" and it was one of his favorite sweets.
At evening game time, Judy clinched the six rounds of "Apples-to-Apples" to win the card game. We had lots of laughs and we also suspect that a certain amount of interactive nepotism was going on behind everyone's back.
Once again, I was up until after 2am. This time, I was preparing and sending picture files to Rita for inclusion in the RMHYC newsletter. I seem to lose all track of time.
12/12/08 MONDAY BOAT HARBOUR
Judy was able to get out to walk a bit today but those pesky blisters caused her significant discomfort and pain. We joined Bette Bauereis at the resort pool for water aerobics.
At 7pm, many of us gathered on the beach to enjoy the resort's "Full Moon Party". The resort had offered a special, 2-for-1 admissions pricing for all RMHYC members. This brought the masses of cruisers out of the woodwork and onto the sands.
Mike and Pat Beneville (LIBATIONS IV) were enjoying the great party…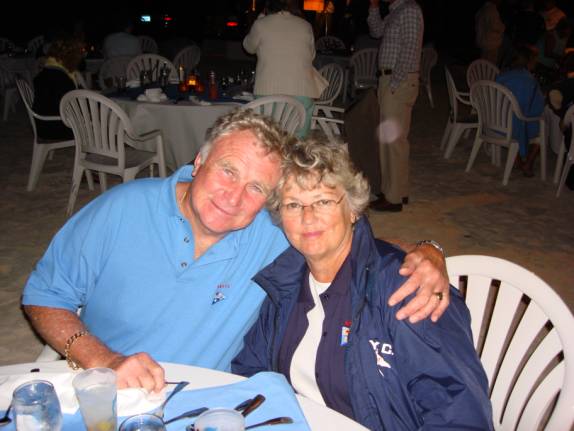 The band was terrific. Entitled, the "Impact Band", they played a wonderfully varied selection of tunes. They have mastered the famous "Motown" sound.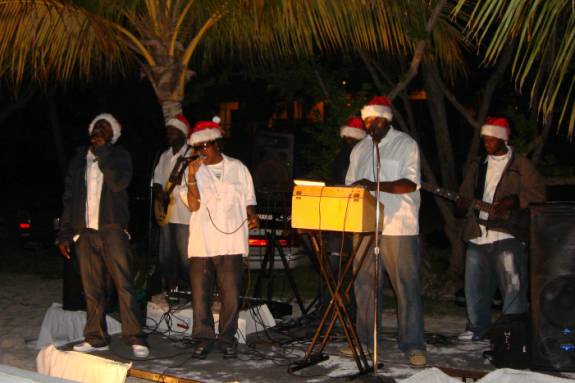 The well stocked bar started serving the thirsty folks…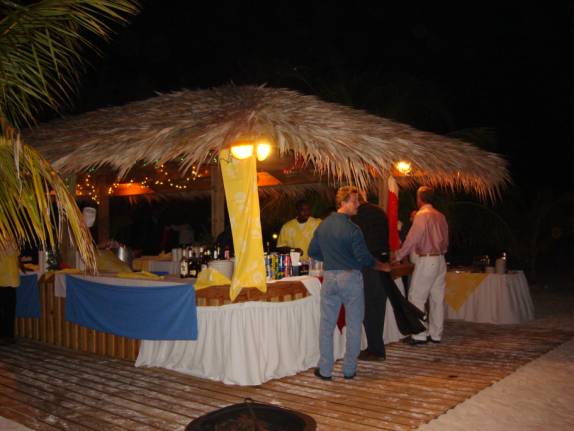 The pristinely groomed, sandy beach was neatly arranged with lots of tables and chairs. Tiki torches accented the beach theme.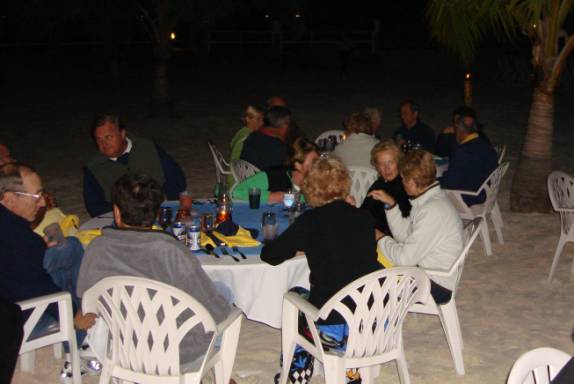 Fred and Judy (AMARSE)…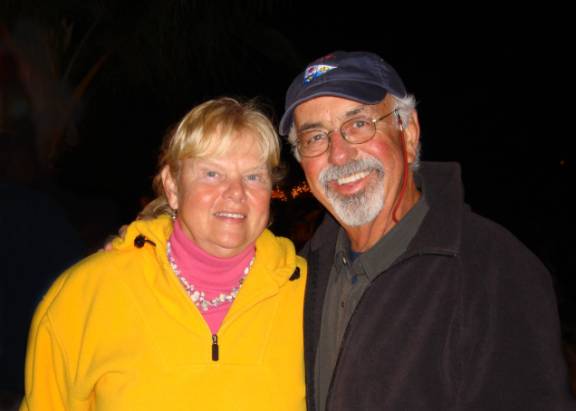 This is what it was all about, the strikingly bright, "full moon".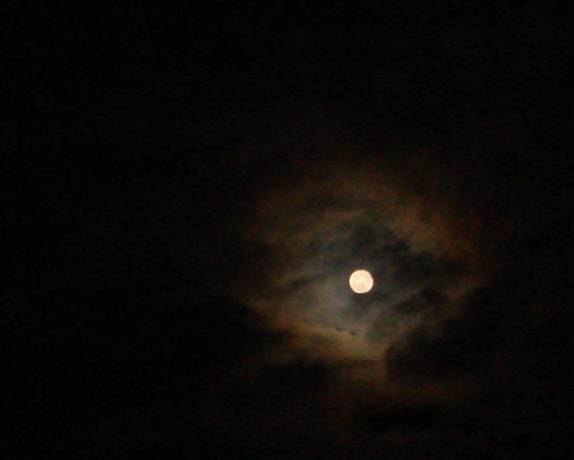 Everyone was milling about enjoying the music, drink, food, and camaraderie.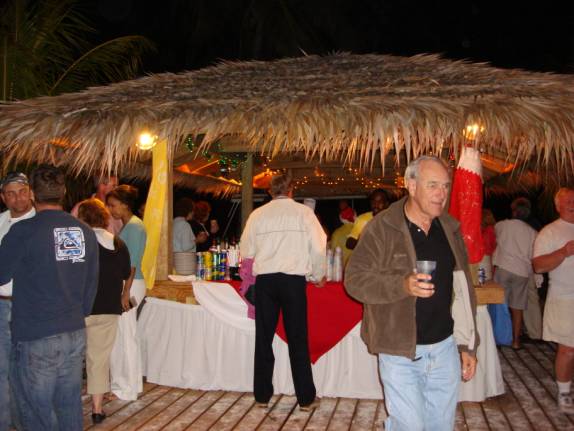 What would a beach party be without a huge bonfire? They had a wildly, hot blaze roaring in the sand dugout.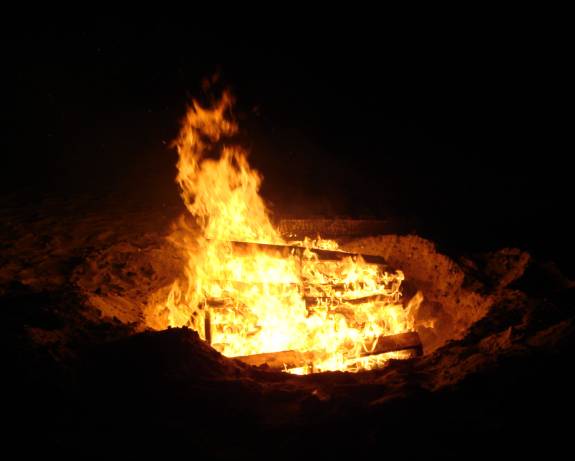 RMHYC friends, Dick and Ann (RAGGEDY ANN) and Ray and Pat (REFLECTIONS)…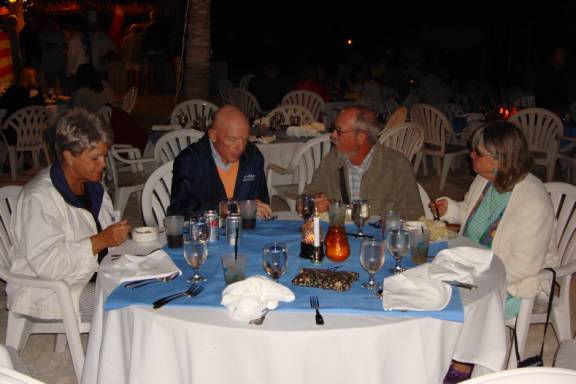 Carolyn Wilson knows now, for sure, that Santa Claus is really real…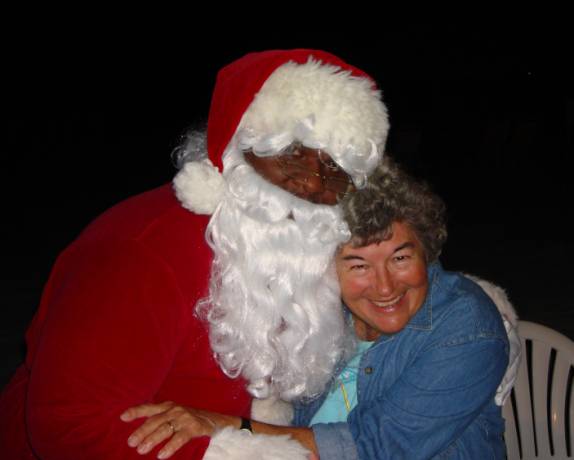 Everyone could have easily been full from the delicious appetizers of Conch Salad and Wahoo Salad snacks. That didn't stop the chef from serving the dinner course. The foil twists contain roasted conch and veggies that everyone raved about.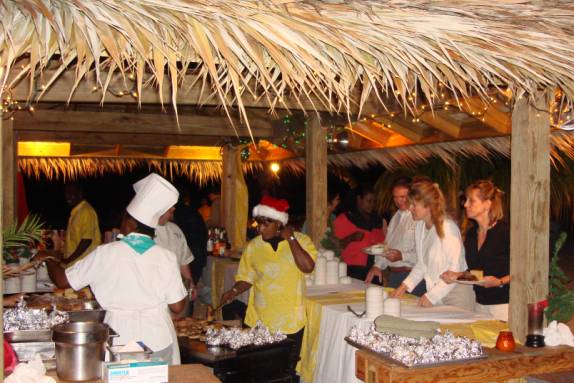 Other Bahamian specialties included grilled Wahoo and chicken. Of course, there were plenty of side choices to tempt the palate. How about a huge chunk of that "Johnny Cake"?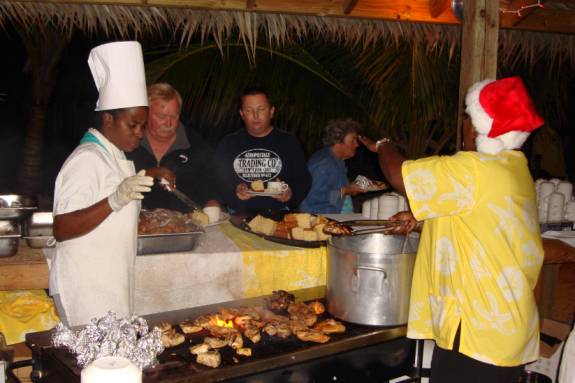 The bandmaster (right at controls) organized this talented group of locals. He is also one of the bellmen at the resort.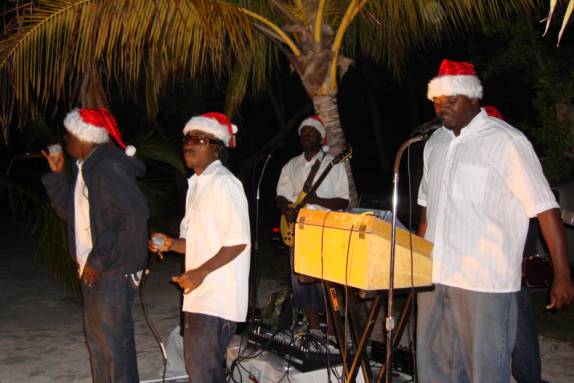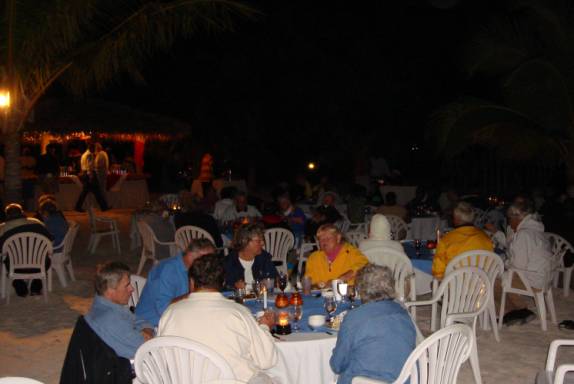 Many of the group were ready to "howl" under the light of the full moon.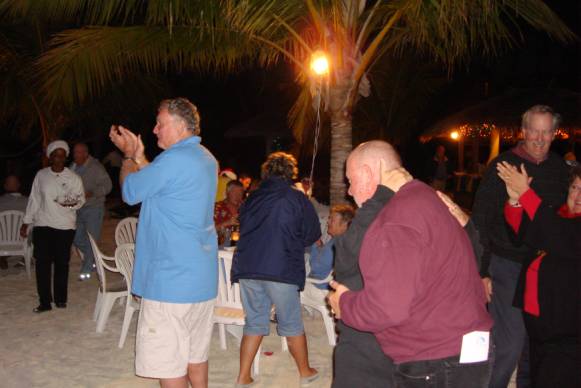 Della captivated her audience with several magnificently performed tunes. Everyone begged for more. At most times, Della is the lead drink mixologist at the resort's pool bar.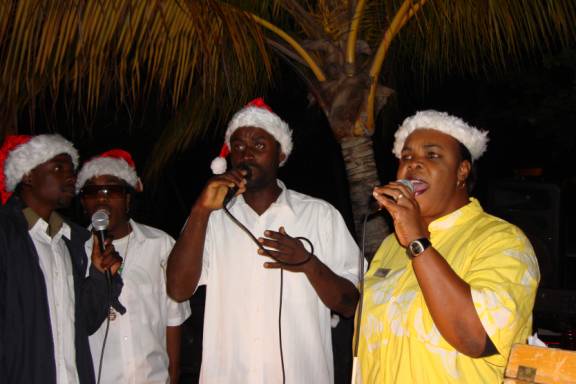 For those willing to brave the intense heat of the bonfire, sticks with marshmallows were available for roasting.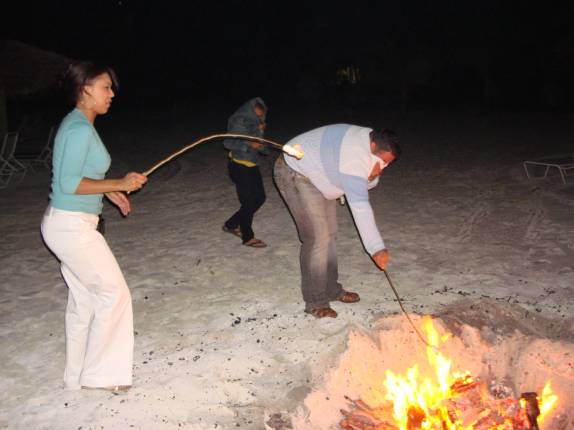 Judy Williams (SHADE MOR) maintains a respectable distance from the fiery embers yet inched in just close enough for a perfectly golden brown tint on those sugary, white puffs.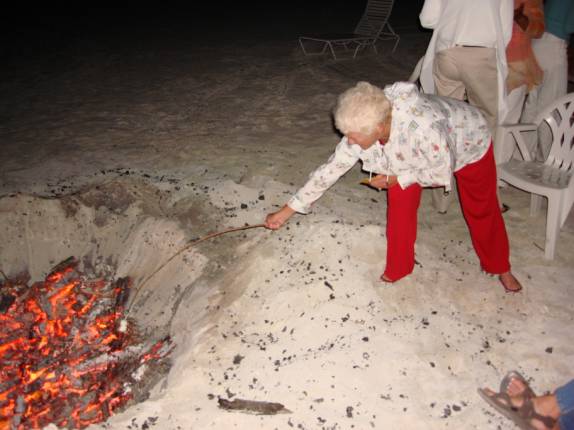 Add a couple of graham crackers, some rich chocolate, and, voila, Judy has put together the finest "s'mores" in all the land…
Ahhh, finger-lickin' goodness...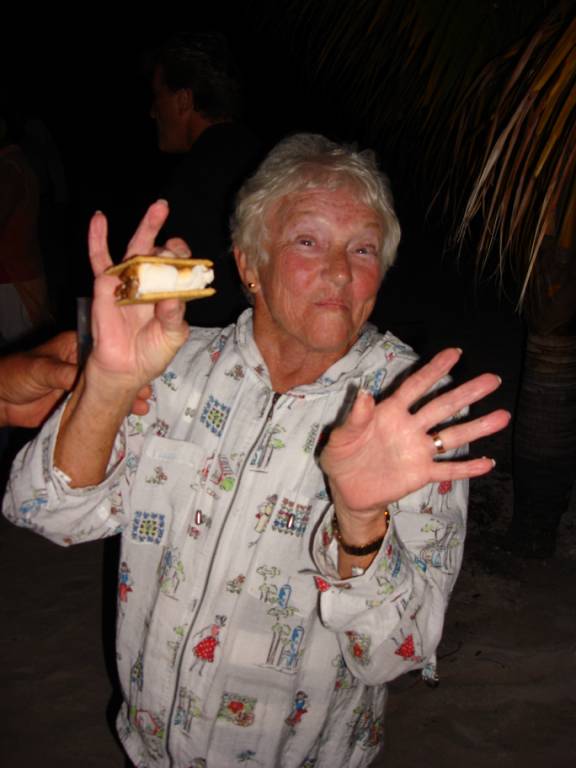 Away from the fire, the chill of the night and the seaside air had Milt Sales (LO KEE) bundled up in his fleece jacket.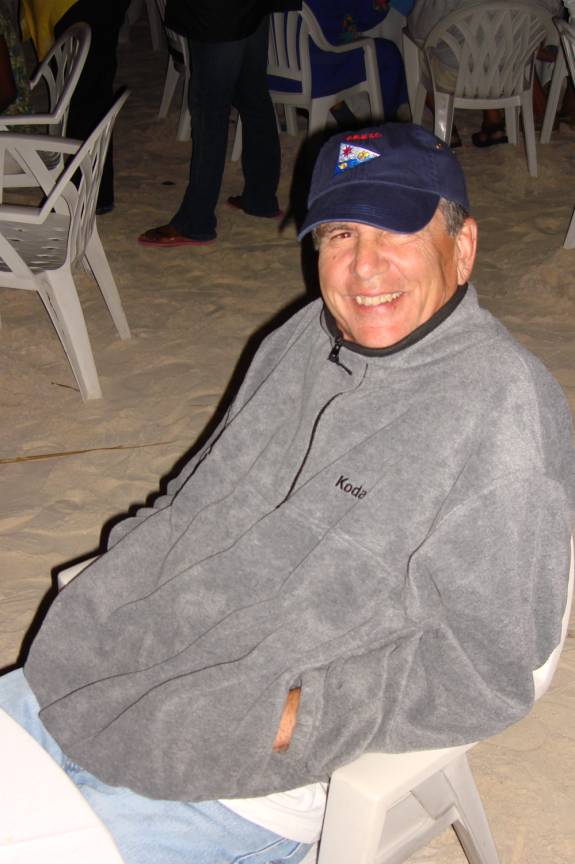 Now that was a nice bonfire…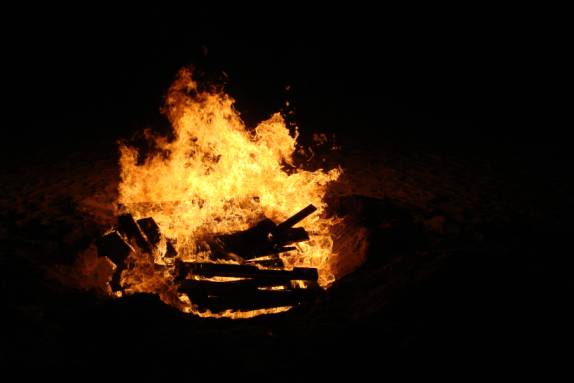 For Mike and Pat (LIBATIONS IV), the flames of love still burn brightly.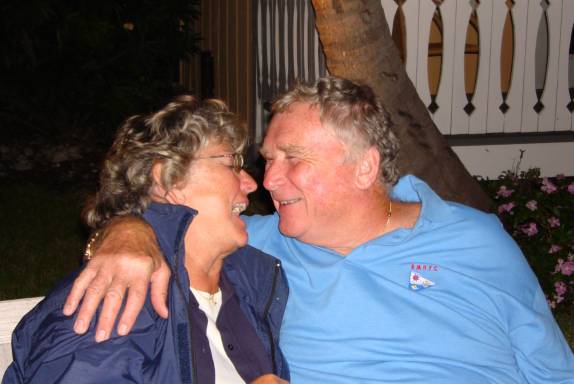 These kids better watch out for all those "sparks" under the glow of that full moon…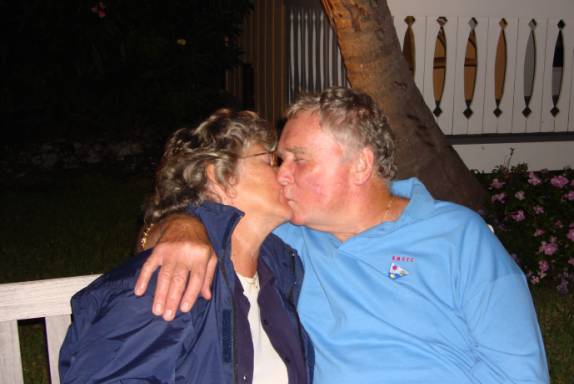 12/13/08 TUESDAY BOAT HARBOUR
When I say that it was cool and windy, you must understand that this is a relative set of terms. Cool might mean in the sixties F, and windy might mean anything more than peaceful calm. Given the explanation, today was windy and cool.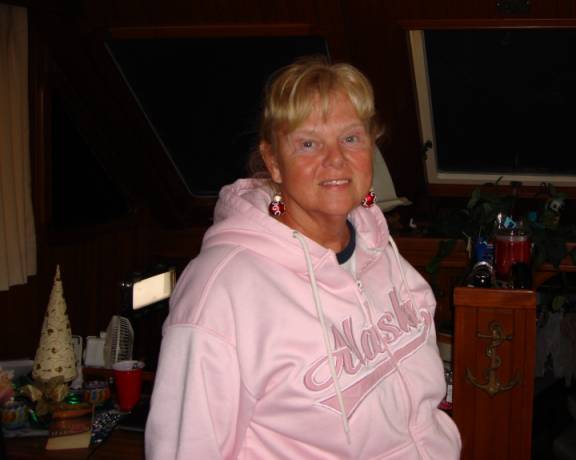 Today, the big event in Marsh Harbour on Great Abaco Island was the Annual Christmas Festival. It was a huge success and beckoned a large crowd of local residents. The Royal Bahamas Defense Force Marching Band played some of their rousing selections.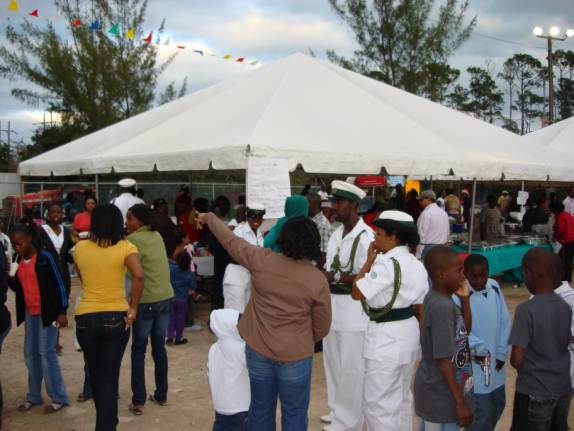 A covered tent provided protective seating for dignitaries and spectators alike.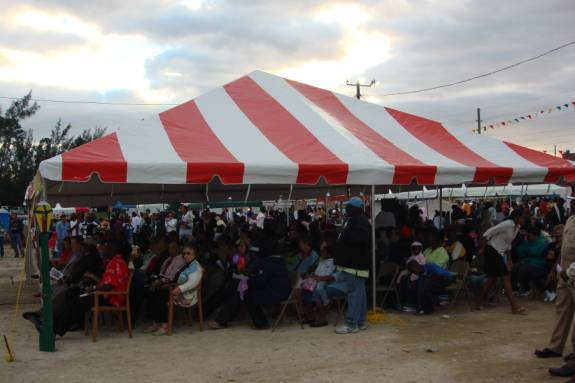 This brightly clad young lady performed in a costume emphasizing the national colors of the Bahamas.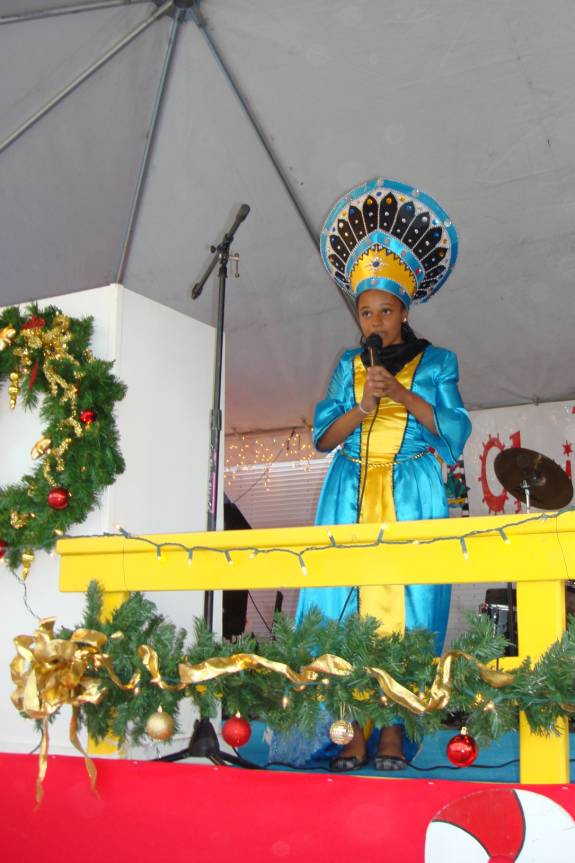 Now, let's all sing together in Bahamian style…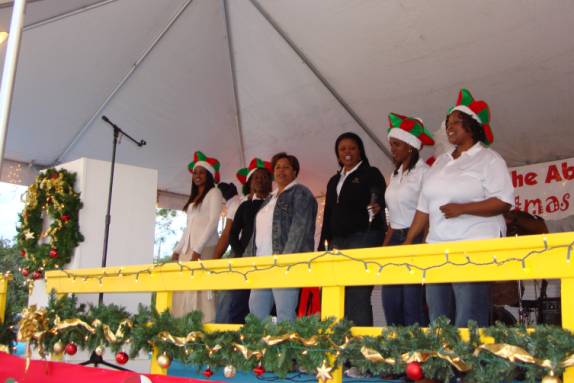 Rumor has it that the US President-elect came to the island just to pose with the lovely Judy… Did anyone else see this on CNN news?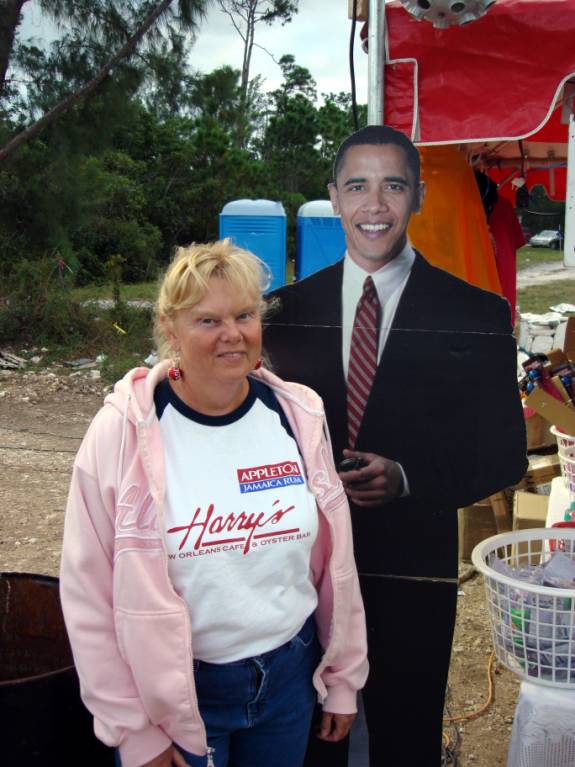 Lots of tent booths were aligned to sell various decorations, jewelry, crafts, and other items to the spectators.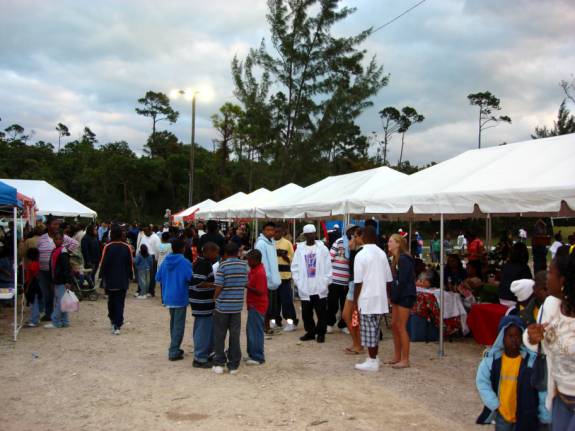 Giving the keynote address, the Prime Minister of the Bahamas, took the stage to a cheering audience. The Right Honourable Hubert Alexander Ingraham was sworn in as the fourth Prime Minister of The Bahamas on May 4, 2007, following the general election in which the Free National Movement (FNM) party triumphed over the Progressive Liberal Party (PLP). Prime Minister Ingraham is also Minister of Finance. He grew up here in Abaco and retains his strong ties with the local island people.
It was very refreshing to see a national leader milling about amidst the people. No large contingent of security was needed and no stringent protective actions were required. It was a feeling that I imagine was prevalent in the early years of the US government. I think that we all wish that those days could somehow return.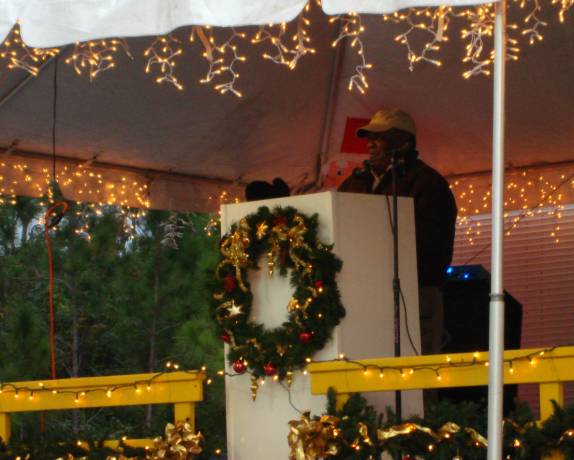 Food vendors were doing a brisk business hawking Bahamian specialties.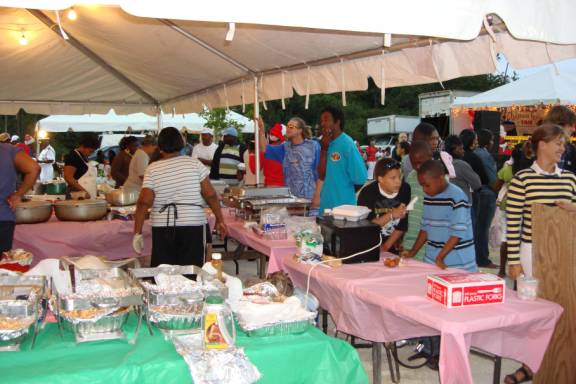 A razor-sharp chef's knife slices and dices through chunks of fresh conch for the makings of conch salad.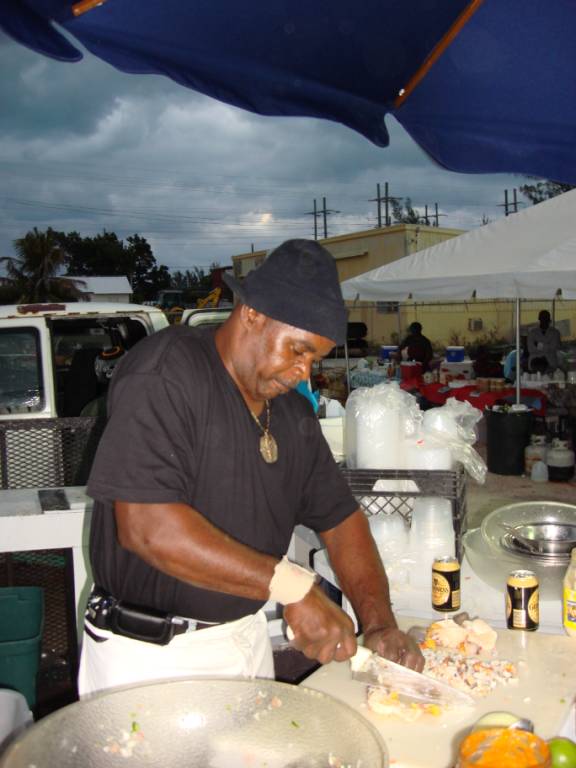 …And the band played on…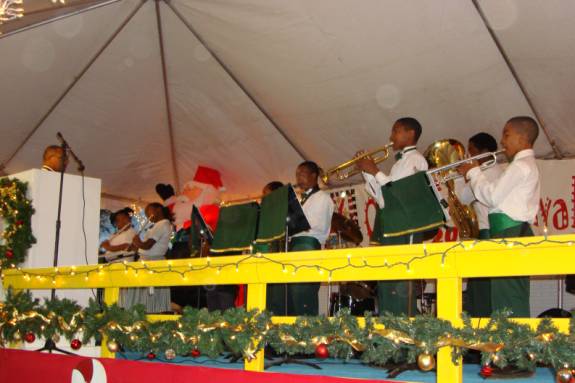 I was extremely fortunate to have the opportunity to meet the Prime Minister, in-person, and to pose with him for this memorable moment. (...captured by my personal, ace-photographer, Judy Law)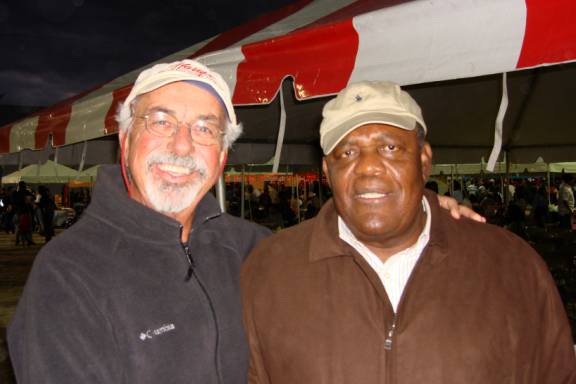 The crowds continued to grow and many families brought their children out for the show.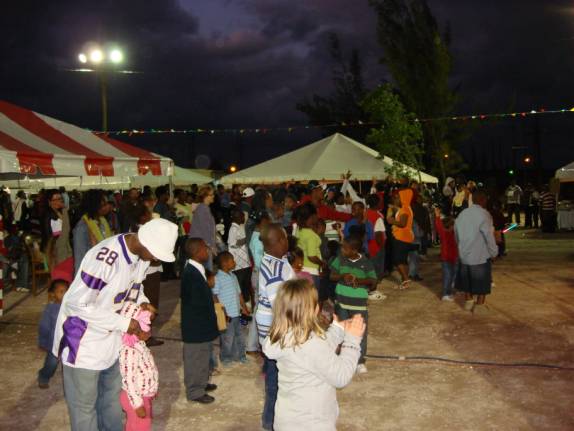 And a big show for the kids it was. SpongeBob SquarePants is the fictional main character of a Nickelodeon animated television series. He is a naive and goofy sea sponge who works as a fry cook in the fictional underwater town of Bikini Bottom. SpongeBob SquarePants was right here, live and onstage…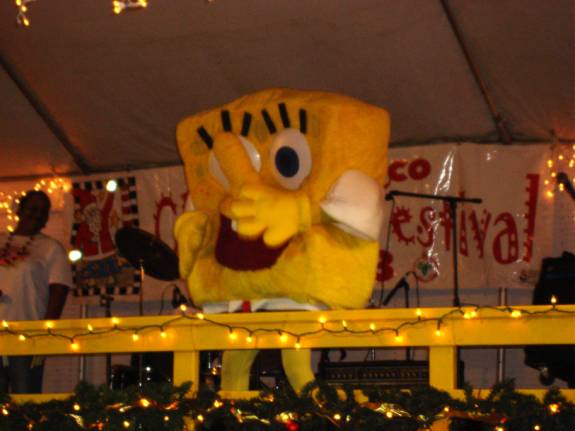 Another Nickelodeon star, Dora, the Explorer was here tonight… In every episode, Dora goes on an exploring trip to find something or help somebody. Dora always asks the viewers at home to help her find new ways to get to the places with the help of Map.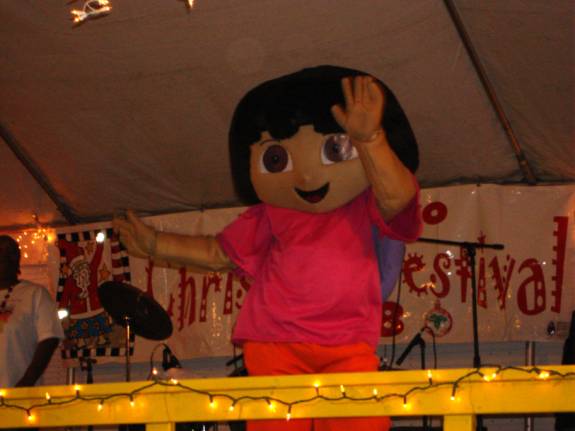 And Dora, the Explorer's best friend, a monkey named "Boots" was here with her…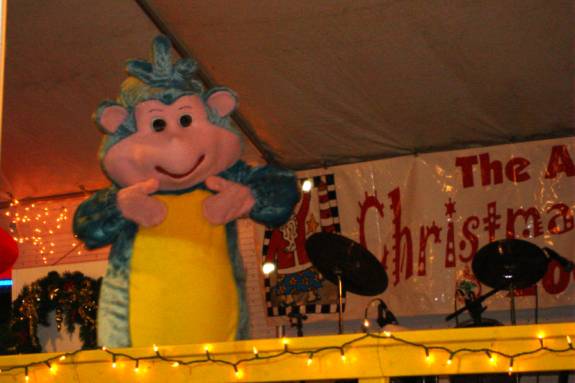 The kids went wild when their hero, Spiderman, jumped, leaped, and tumbled across the stage. Kids around here will be talking about this special night for a long time.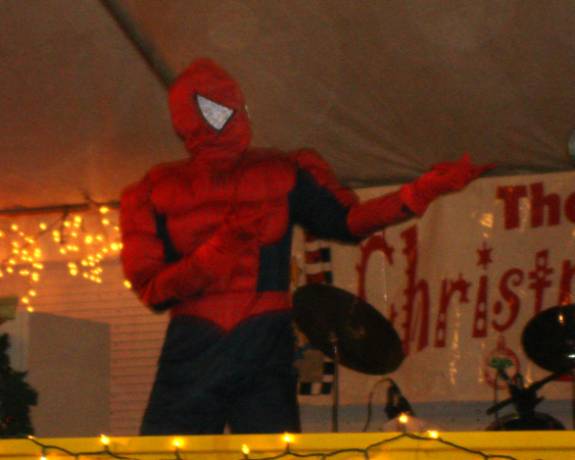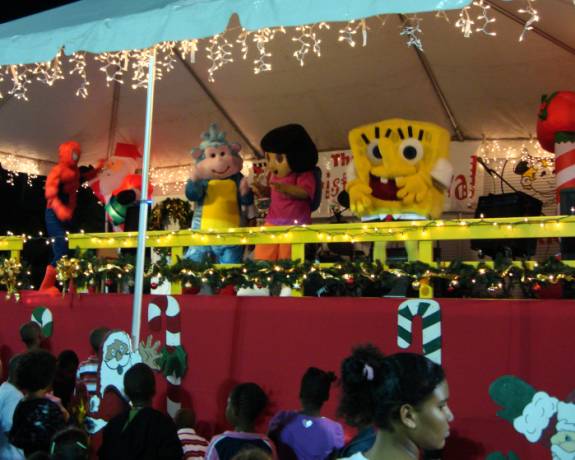 The festival featured a ceremonial tree lighting event.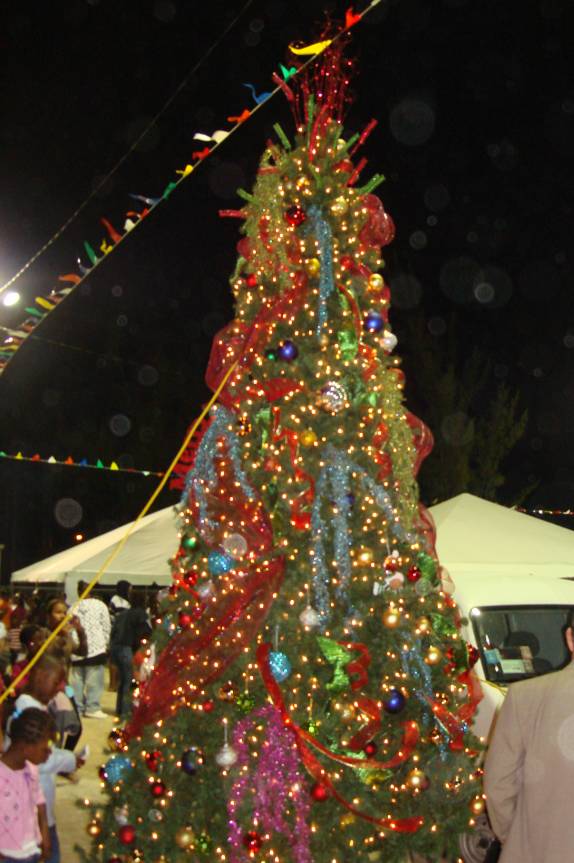 SpongeBob was available after his show to meet and greet youngsters of all ages.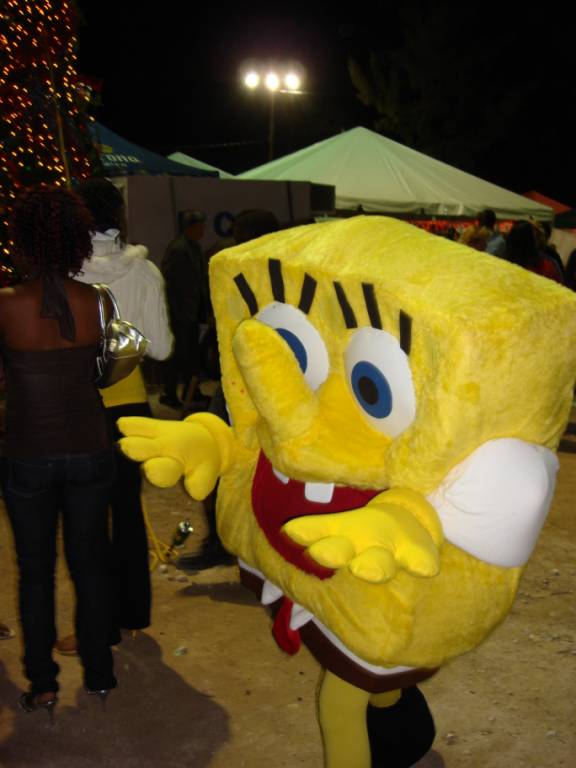 Although there was a Junkanoo rush planned, we felt that it was scheduled a bit too late for us. In the dark, we rode our bikes the distance back to the marina bucking a brisk headwind that made all the pedaling quite a challenge.
12/14/08 SUNDAY BOAT HARBOUR
Another day of cool temperatures and brisk wind restricted our travels onto the Sea of Abaco.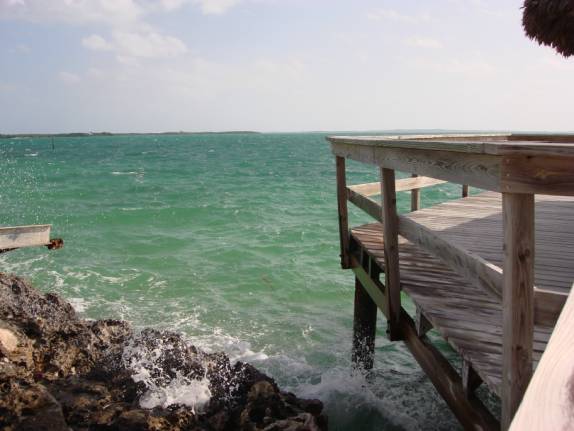 It was the kind of day that lent toward inside activities. I worked on pictures and update projects all day and well into the night.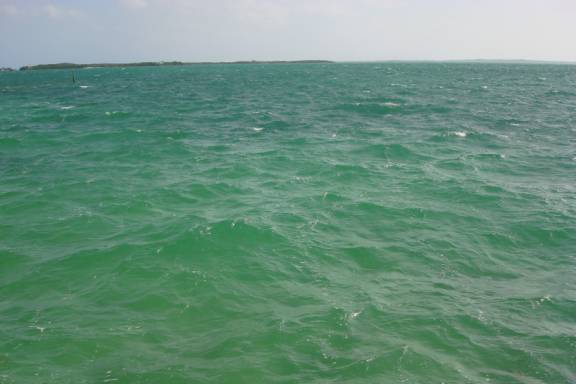 Once again, I lost track of time and stayed up until 2:20am trying to catch up on the website logs. Sometimes, it makes me wonder…
12/15/08 MONDAY BOAT HARBOUR
It rained a lot all day today. Now, you might think that that's bad, however, when we get this kind of day, we are sometimes fortunate to have Judy Williams (SHADE MOR) arrange for "game day" at the Angler's Bar. When the call went out, lots of folks from the RMHYC gathered around the tables with friends to play the games of their choice. Eight of us played "Farkle" while others enjoyed their choices of Mexican Train Dominoes, Golf card game, or Abaco Horse Racing. Everyone always has a great time at these fun gatherings. Thanks, Judy Williams, for brightening up everyone's day.
On the short walk back to AMARSE, we got a bit drenched by the burst of a heavy rain shower.
12/16/08 TUESDAY BOAT HARBOUR
The morning brought extra delight with clear, blue skies, and a settled wind. Lots of folks gathered for the morning walk at 8:30am.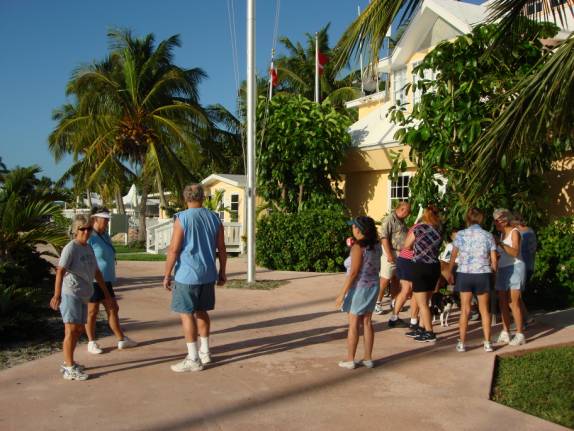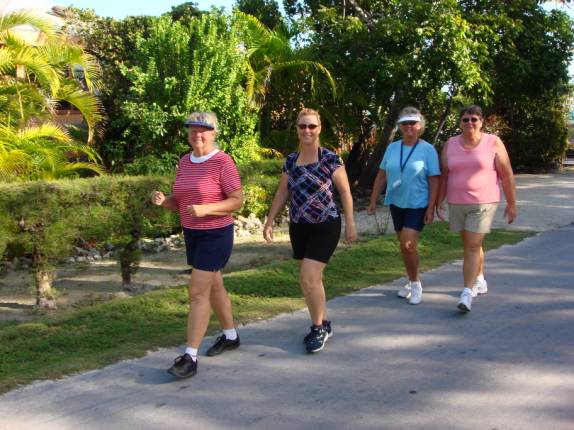 At 11am, the management of the resort arranged to meet with the resident members of the RMHYC cruisers to discuss their plans to address the issue of internet problems. I was pleased with their approach and openness to discuss our issues and needs. The new management structure appears sincere and that is a refreshing promise of great things to come. Let's all hope their expression of concern manifests into fruition.
Nothing very special was planned for our evening; however, there was a cheerful feeling that filled the air around Dock 4. Folks seemed to dress up a little more special tonight, perhaps because everyone was just plain happy to be here and to be together with our friends.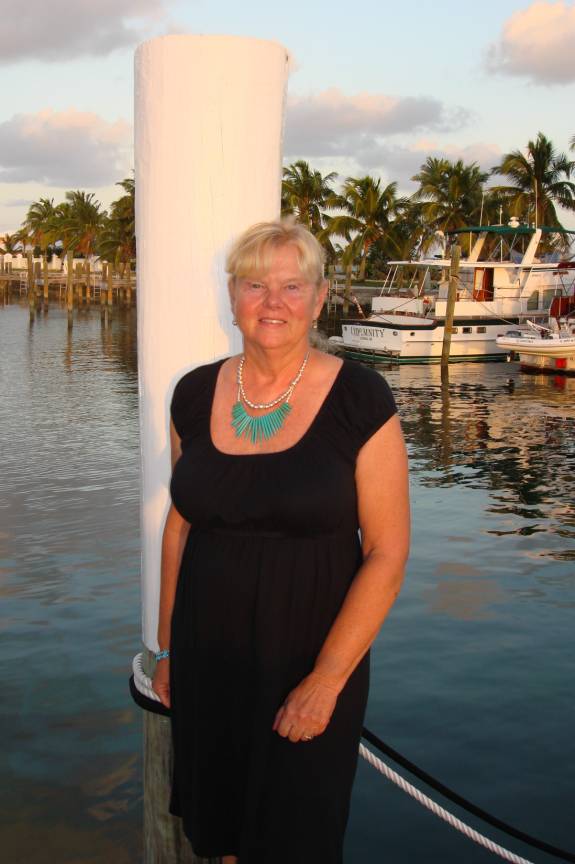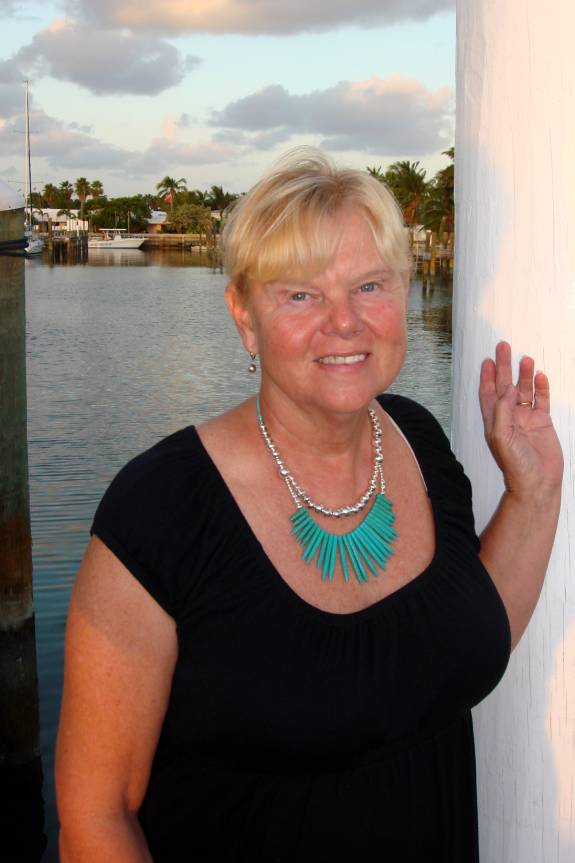 Although I can't explain exactly why, but even the appetizers seemed a little bit more special tonight.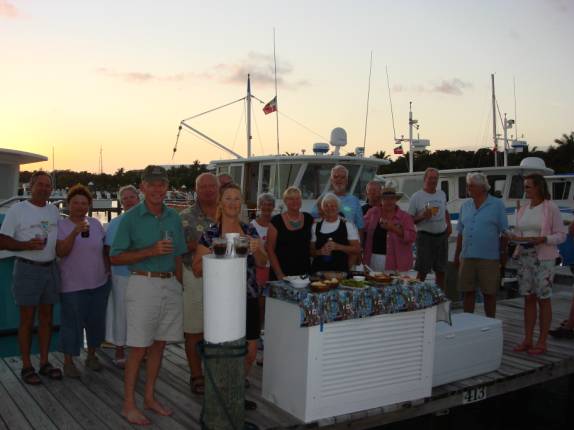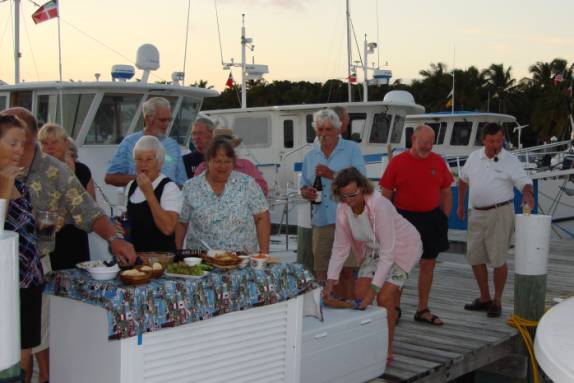 Tonight, even the notes from Sue's Conch Horn sounded clearer and in a more perfect pitch and tone to beckon the sun's return.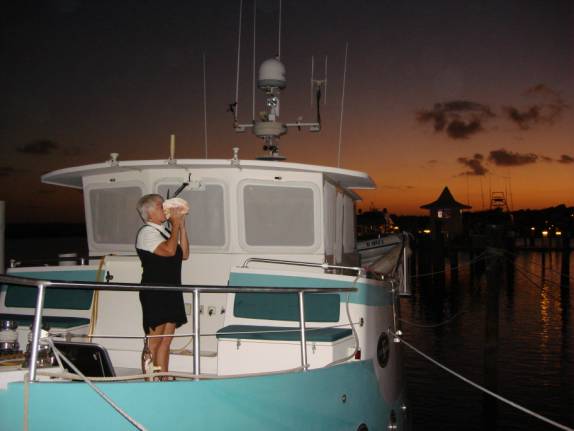 12/17/08 WEDNESDAY BOAT HARBOUR
Just moments after 8:30am, the walkers quickened their stride….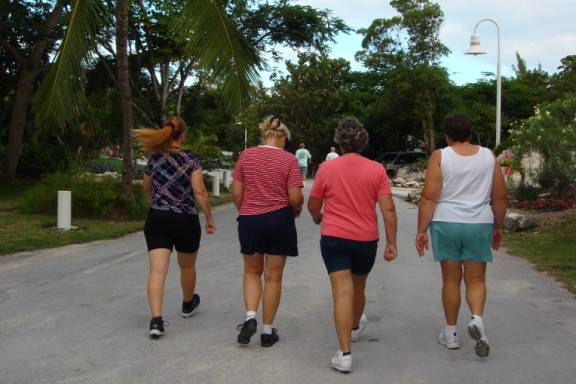 THE SILVER FOXES held a snowman-naming contest to raise some money for a Haitian fellow that cleans boats for some of the club members. For a dollar a try, you had the opportunity to provide the white, fluffy, carrot-nosed symbol of winter with an affectionate name. Ed and Shirley (M/V TALLY HO) took home a bottle of rum for their entry naming him, "MARSHY". The name conjured up a double entendre of our island home, Marsh Harbour, and, secondly, his familiar resemblance to Marshmallows.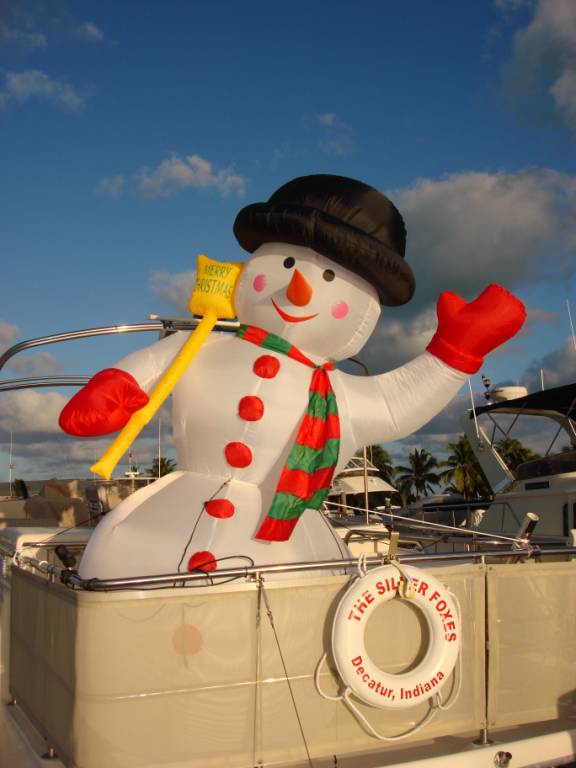 Judy and I rode our bikes to a rummage sale to benefit the school at Every Child Counts. The learning place specializes in working with disadvantaged children and provides specialized programs to aid in their development. Many of the island's foreign residents, both permanent and seasonal, often assist as volunteers with this effort. At the sale, Judy bought some pieces of fabric and I bought a nice little daypack.
My new pack provides the ideal segue into my next thought. I urge you to take a look at the YouTube presentation about our good friend's charitable work in Guanajuato, Mexico. Bob Allen has conceived and developed a benevolent program to bring educational supplies and book backpacks to many of the economically disadvantaged kids in rural areas. Bob has devoted his efforts to fostering the expansion of the program and would love to have folks help support the program with their moral and financial assistance. To learn more, take a look at: www.youtube.com/watch?v=4jrMgyh94zU or go to www.youtube.com and search for Bob's Backpacks. Maybe you'd like to help too.
Ed and Shirley graciously shared their bottle of spirits with the dock group. Even the promoter, Jim (THE SILVER FOXES), gets to pour himself a tall one. Wilma (JOHN HENRY) (in red) organized the fundraiser.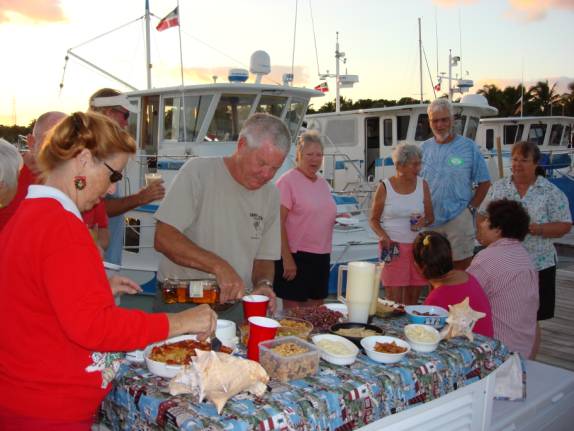 Sue's familiar sounds signal the setting sun's retreat…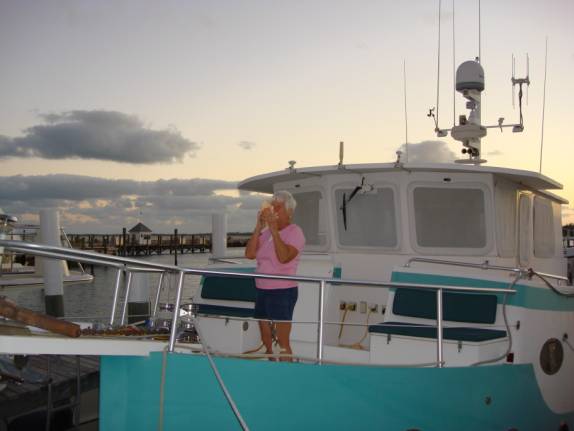 12/18/08 THURSDAY BOAT HARBOUR
This morning's water-aerobics session had 16 participants. Many of them had already begun the day with a walking routine. Lots of folks here have a zest for life and endeavor to take steps to enhance their everyday enjoyment. Bette Bauereis leads the group with fun exercise moves to the music of the Beach Boys. No wonder the tri-weekly sessions are becoming so popular.
I helped Judy with the maintenance project of the day. Using a long-handled roller, she applied a coat of water-repellant material to the bimini top made of Sunbrella fabric. We used a bit more than a full gallon of the liquid to apply the single coat. The stuff we used is labeled by MaryKate and purchased from West Marine. A gallon jug of the precious liquid will eat up most of your hard-earned, fifty-dollar bill.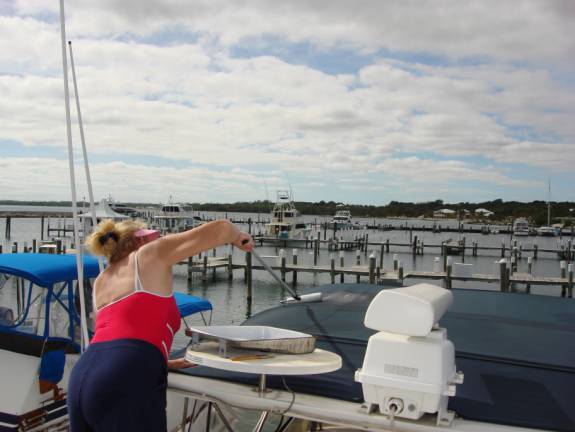 "Laissez Les Bon Temps Rouler" which translates from the French to, "Let the Good Times Roll".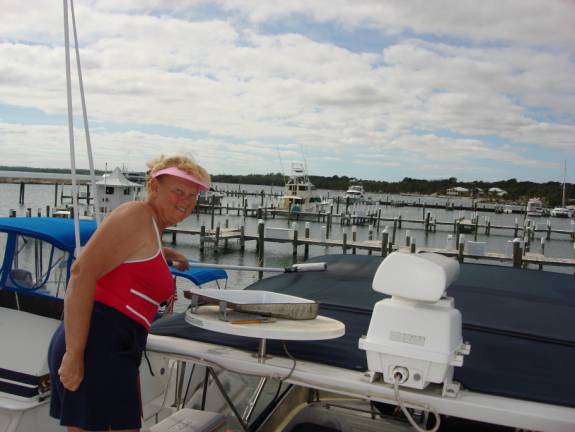 Reach and stretch… Reach and stretch… Reach and stretch…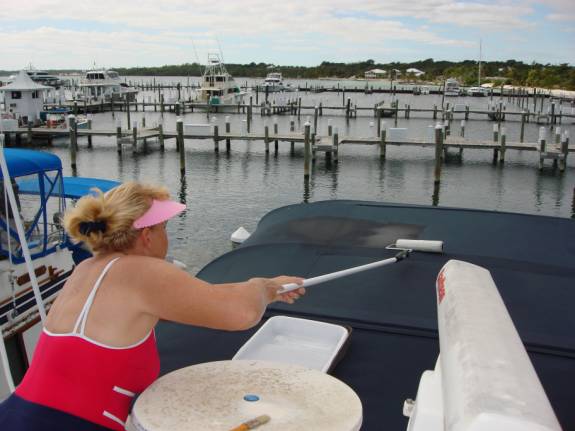 We returned to Every Child Counts (ECC) for a special addition to their sale. A local photographic artist had donated numerous matted prints to benefit the school program. I chose a nice photographic print of newly hatched, baby turtles scurrying across the sand toward their new ocean home.
As we left, I spotted this strange looking creature resting peacefully on the stair railing. I have no idea what it is or anything about it. I do know that I've never seen another one like it before. Perhaps you know something about this unusual critter. It remained motionless and I didn't attempt to disturb it.
The science of geology fascinates Wink. He offered to take me on a rock-hunting quest in search of unusual formations.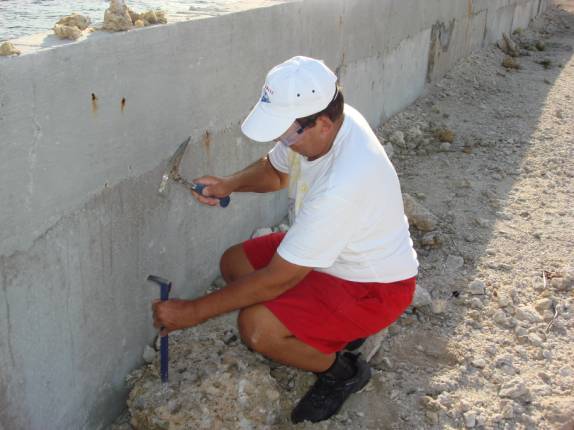 His efforts located these lovely formations containing Calcite crystals.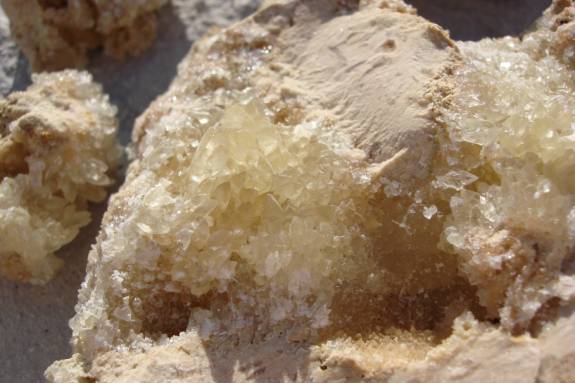 This is an example of some fossilized coral…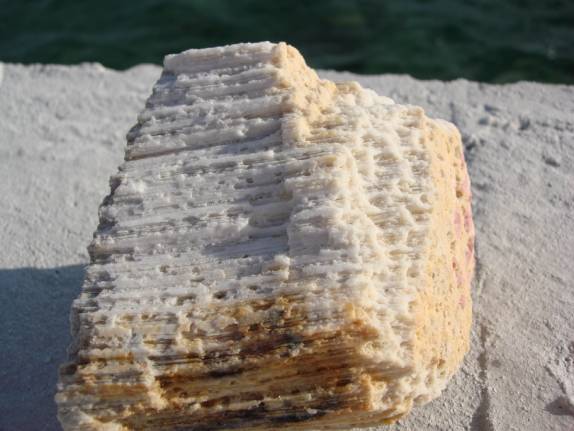 More Calcite crystals… The crystals are a form of Calcium Carbonate.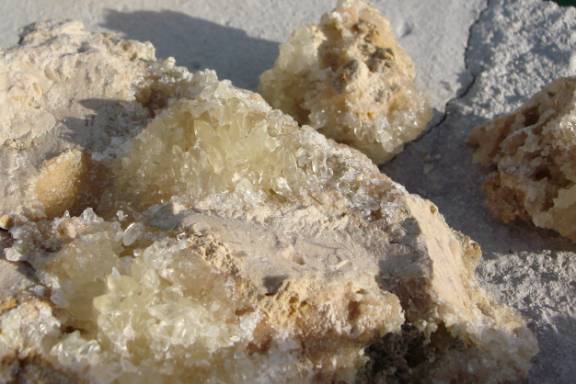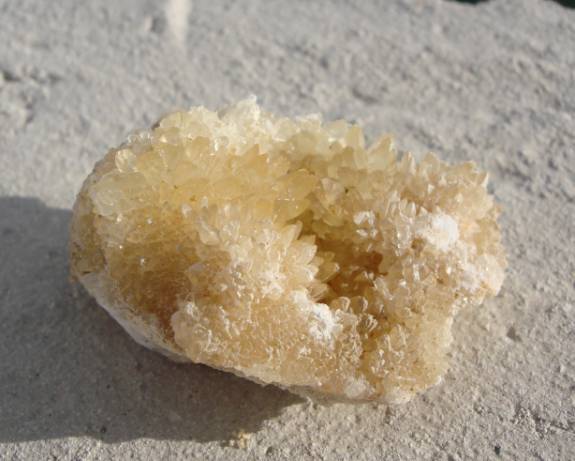 Some of the girls gathered aboard JOHN HENRY for a jewelry-making session. Judy taught them the art of making Christmas Tree Pins using wire and beads.
12/19/08 FRIDAY BOAT HARBOUR
After the morning walk, the group of RMHYC members gingerly stepped into the cool waters of the resort pool.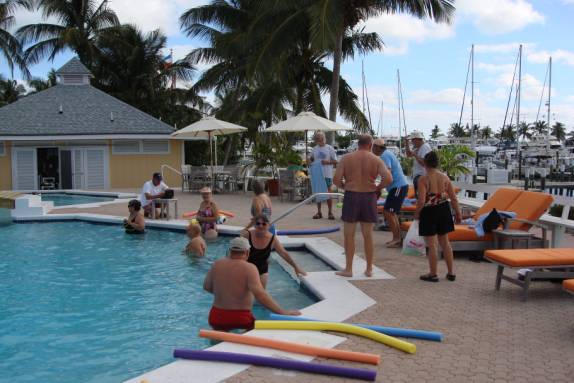 Bette Bauereis (TAR HEEL) started the session with the warm-up routine.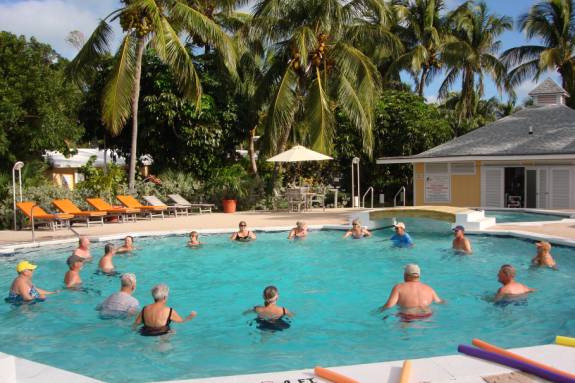 Everybody seems to have fun bobbing and kicking to the energetic sounds emanating from the portable iPod player.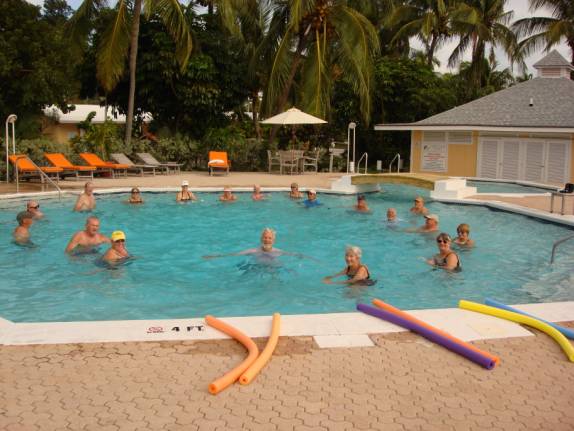 After a half hour of standard moves, Bette transitions the group to "deep water aerobics" techniques. Using the foam noodles, she orchestrates the rhythmic motions designed to strengthen muscles and improve flexibility.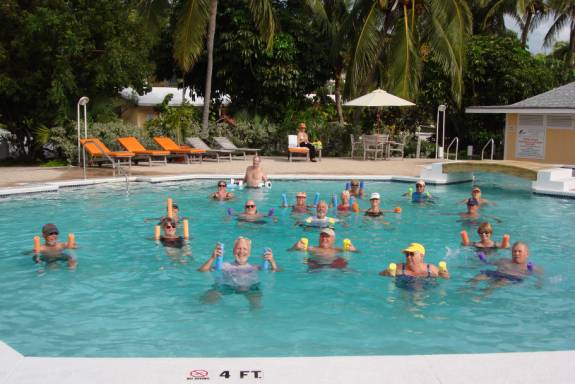 As we walked back from the pool, I thought that I might be meeting face-to-face with the famous "Wild One", Marlon Brando. Of course, when I took a closer look, I realized that it was Dave Bluto and his lovely bride, Barbara, scooting off to market.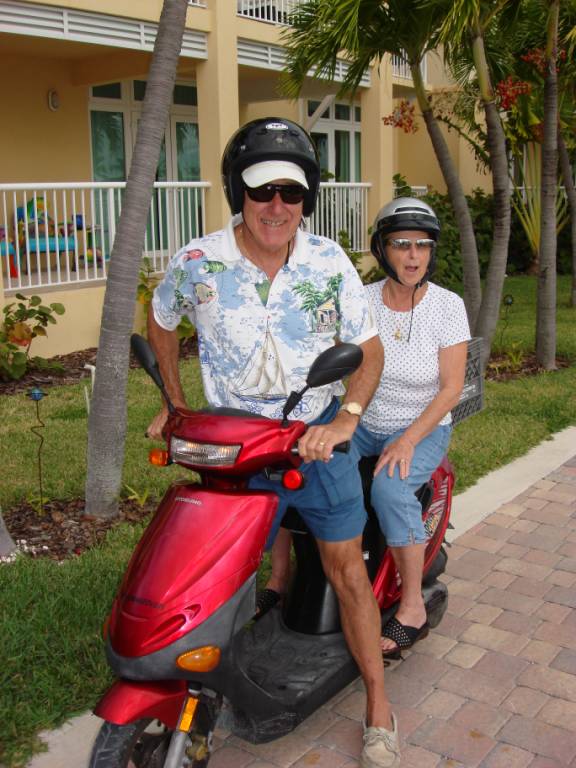 Judy Law (AMARSE) and Sue Graham (ODESSEY) are a couple of chicks that really know how to use their "noodles".
Wendy (Canadian ODESSEY) snips her husband's hair at the dockside. Vic remained nearly motionless hoping to avoid any inadvertent nicks. She did a real nice job and Vic looked dashing with his new coiffure.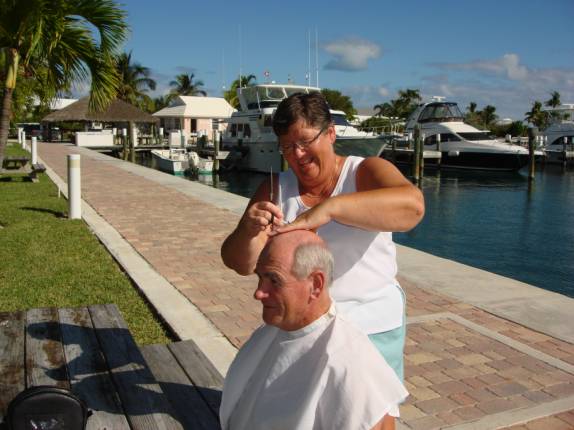 Here are some more examples of Judy's beautiful jewelry designs.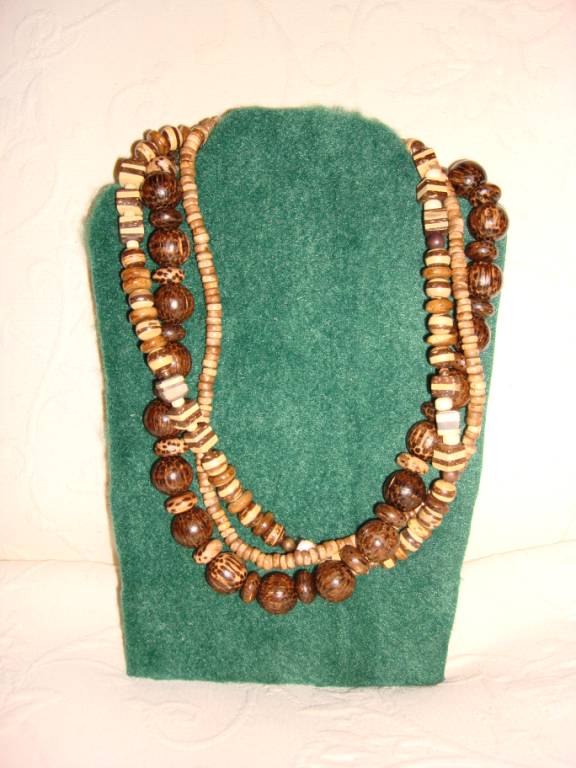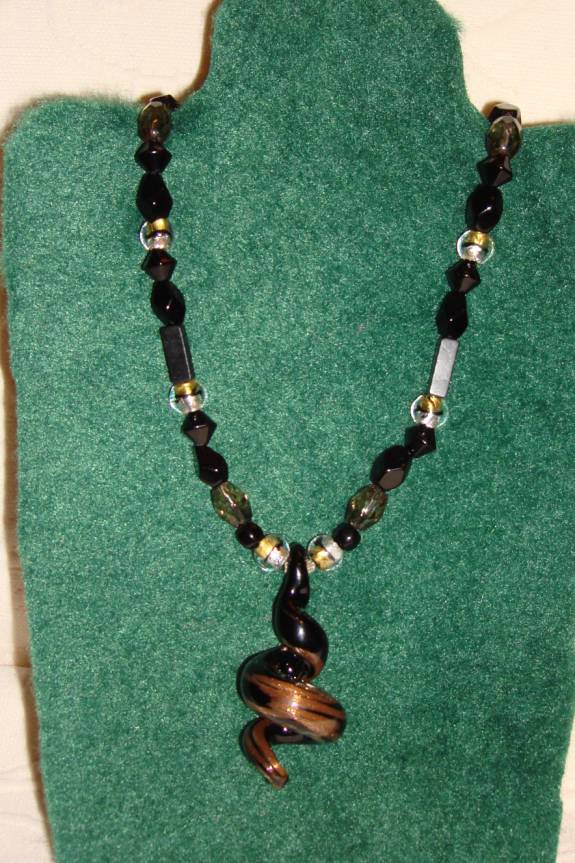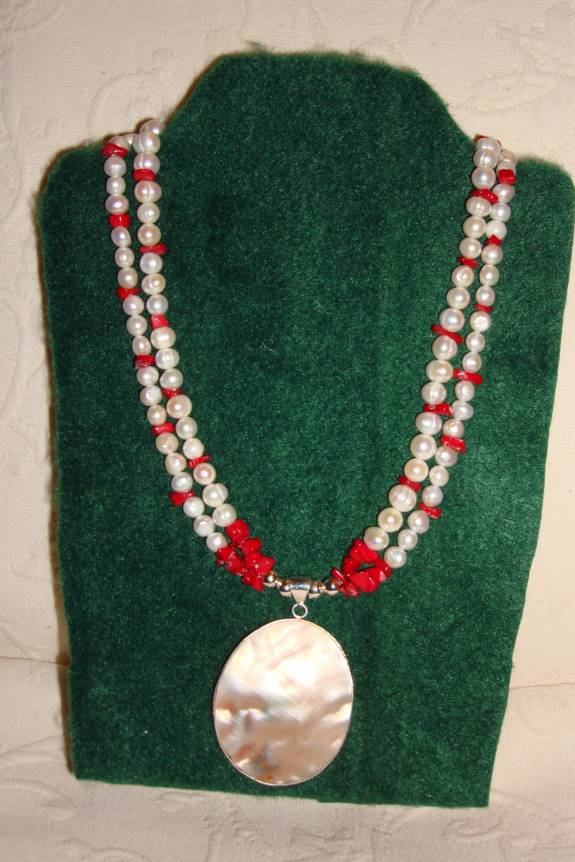 This is one of my personal favorites. I love the color combinations.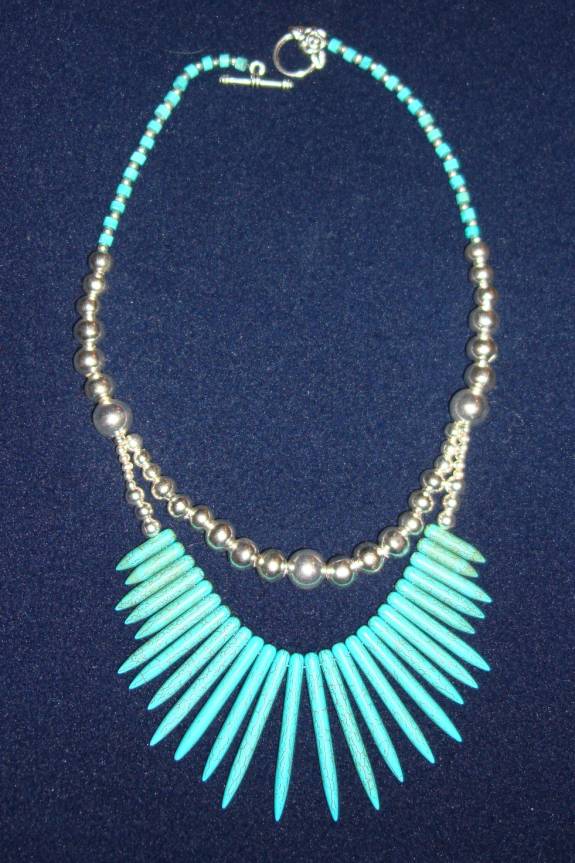 Ed and Shirley Zellers (M/V TALLY HO) are looking sharp as they head out to Mango's Restaurant for the evening boat parade event.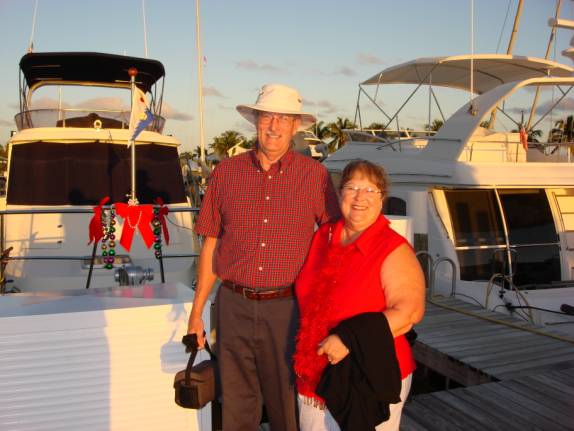 Judy (AMARSE) had on her RMHYC top as we headed out to the boat parade event…
Fred (AMARSE) was wearing his RMHYC white hat…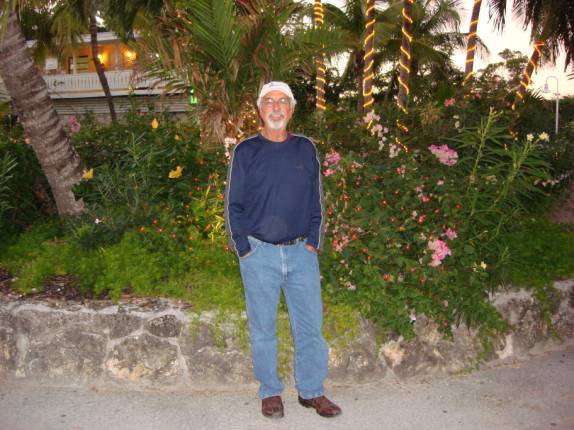 Sunset photo taken across Marsh Harbour from the dock at Mango's… The boats are docked at Harbourview Marina next door.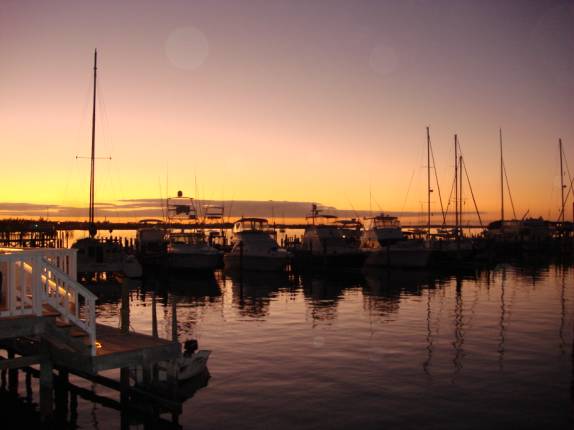 The manager of Mango's Restaurant and Marina arranged for an RMHYC, special-price event at their Gazebo to enjoy tonight's Christmas boat parade. Soon, there was a continuous lineup at the outdoor patio bar.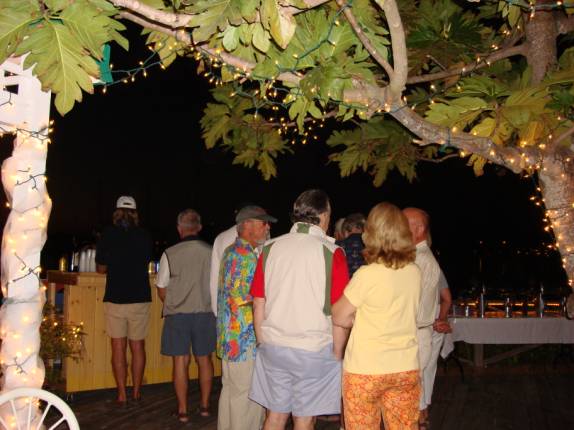 David (TERALEE), Steve (CHRISTMAS), and Terry (TERALEE)…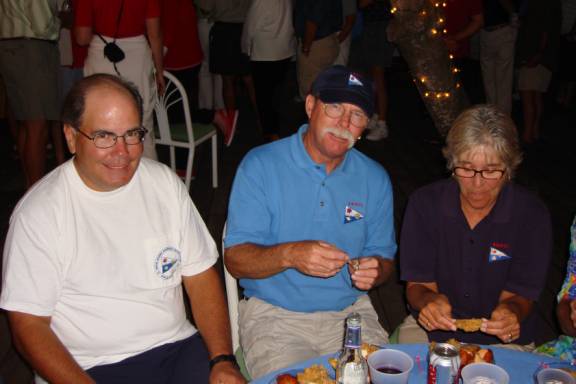 Ray and Pat (REFLECTION)…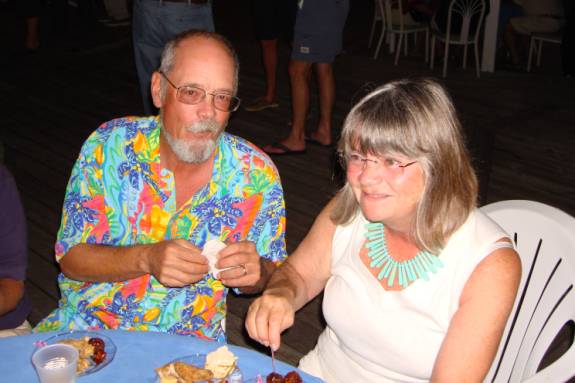 Roberta and Steve (INDEMNITY)…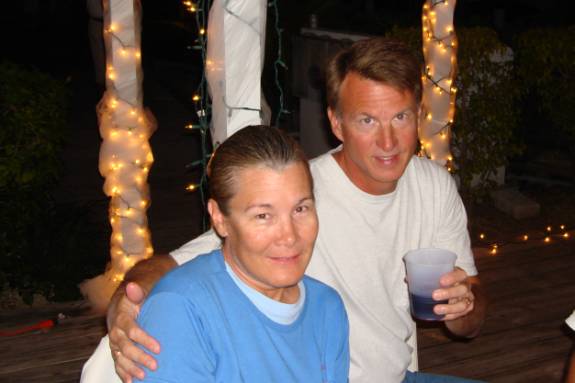 A bunch of RMHYC partygoers at Mango's gazebo for the Christmas Boat Parade…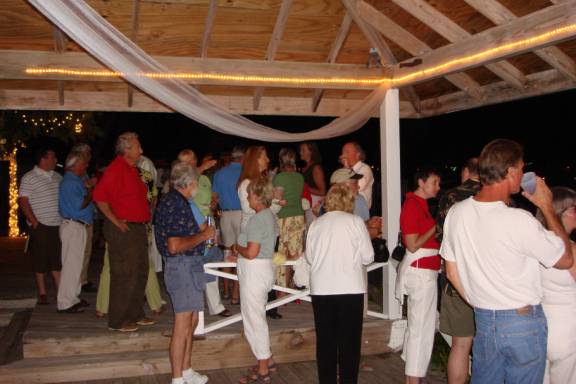 Although I tried, I wasn't able to clearly capture any photos of the brightly decorated boats gliding past the dock that night. We all enjoyed the evening.
12/20/08 SATURDAY BOAT HARBOUR
Judy hosted a small group of gals on the sundeck of AMARSE to share jewelry-making ideas.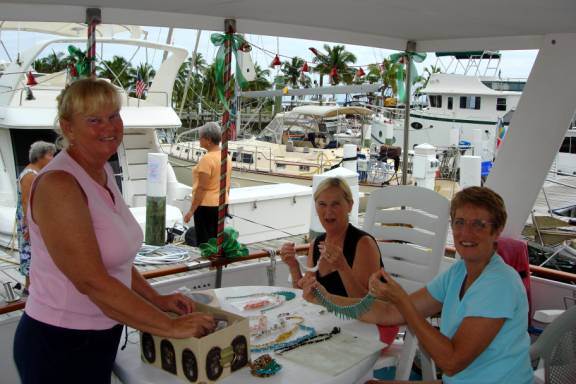 The S/V TALLY HO was just returning from a day sail. The first order of business is to grab the docking lines from the pilings. Ray and Pat (REFLECTION) tend the portside while Vanessa reaches for the starboard spring line. Andrew gracefully maneuvers the Hunter into her slip on dock 4. A bunch of dockmates were on-hand to lend assistance with their arrival.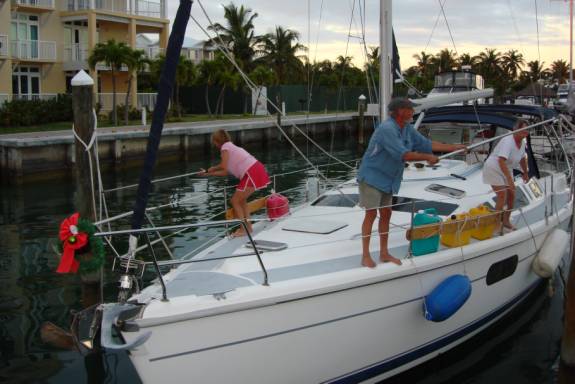 The evening gathering of the Dock 4 cruisers stretched on into the dark hours. Of course, in these short days of December, dusk comes quite early.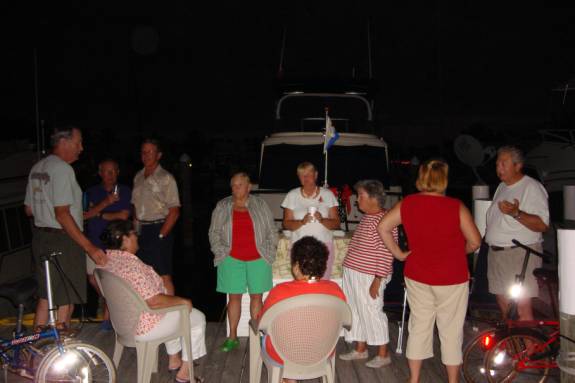 CONTINUING UPDATES ARE IN PROGRESS…
WATCH FOR THEM, COMING SOON…
POST SCRIPT:
We sincerely hope that you will review the previous years of compilations to give context to the current editions. Please let us know if you have any special suggestions and thoughts.
REMEMBER: The website is now fully active and you can visit it at any time. You can review any of the 2006, 2007, or 2008 logs and learn more about the crew and our plans. Enjoy...
ATTENTION: SPECIAL NOTE:
You may contact us via email anytime.
Thanks for allowing us to share our life and adventures with you.
Lotsa Luv,
Fred Reed and Judy Law
AMARSE
MT40
"AMARSE" is pronounced "AM-ARE-SAY".
Our website is: www.amarse.net .