UPDATE#29 10
/01 thru 10/30
Howdy Everybody,
The adventures of 2008 from 1/1/08 through 09/30/08 have been published on the website. We continue with the latest edition.
UPDATE 2008 #29 10/01/08 thru 10/31/08
At last update, we were aboard AMARSE docked in Brunswick, Georgia.
10/01/08 WEDNESDAY BRUNSWICK, GA to SAN ANTONIO, TX
Early in the morning, AMARSE was being readied for her respite in Brunswick while we fly off to Texas. To keep her safe in our absence, we cleaned out the refrigerator, flushed the drains with fresh water, shut down the propane gas system, and closed the remaining through hull valves to the air conditioning system and various intake valves. Electrical system was set for minimum requirements and electronics were isolated. Our heartfelt thanks once again to this wonderful boat and our waterborne home led to the promise of our rapid return.
In Judy's Buick Riviera, we departed the marina at 8:20am. The Flying J station at I-95 exit 29 offered the lowest gas prices around. We filled up with mid-grade gasoline priced at $3.529/gal. (Regular Unleaded was $3.419). These prices were 20 to 25 cents per gallon less than in town and were 36 cents less than at I-95 exit 3 near the GA-FL border.
We were able to leave the car at the General Aviation terminal. After disconnecting the battery posts, we were given a ride to the main terminal for our Continental Airlines flight. Aboard the regional jet operated by Express Jet Airlines, the flight departed on time at 12:15pm. This commuter airline carrier takes quite good care of their passengers and they even offer a nice little snack box to stave off the nibbles.
After a stopover and change of planes in Houston Intercontinental, we landed in San Antonio as scheduled at 3:40pm. Our good friend and neighbor, Barb, came to pick us up for the short ride to our house.
We were very pleased to find that everything was in good shape and it didn't take long to get everything up and running. The electricity was switched on, the gas valve repositioned, the water valve opened, the hot water tank flushed, and the plastic wrapped toilets unsealed. The charger topped off the truck battery and she started right up. Life is good!
A shower followed by a quick change of clothes and we were off and headed for El Jarro Restaurant for a friendly get-together. The group consisted of Joe Fugate, Roxanne Cady, Scott Kee, Mary, a couple of their friends, Bill Seward (Steamboat Willie), Judy, and Fred. It was so great to see them all again. We have been close friends for many years.
10/02/08 and 10/03/08 SAN ANTONIO, TX
Our days were occupied with general day-to-day stuff. Nothing very special to mention except that we enjoyed being back in The Great Republic of Texas.
10/04/08 SATURDAY SAN ANTONIO, TX
This morning was reserved for the long-awaited wedding of our dear friends, Joe Fugate and Roxanne Cady. We primped and fluffed ourselves in readiness. Our crocs were traded in for polished leather shoes, t-shirts exchanged for neatly pressed shirts, and cargo shorts replaced with long, dress pants. Now, tell me, ain't we sumptin' ryte purdy-like?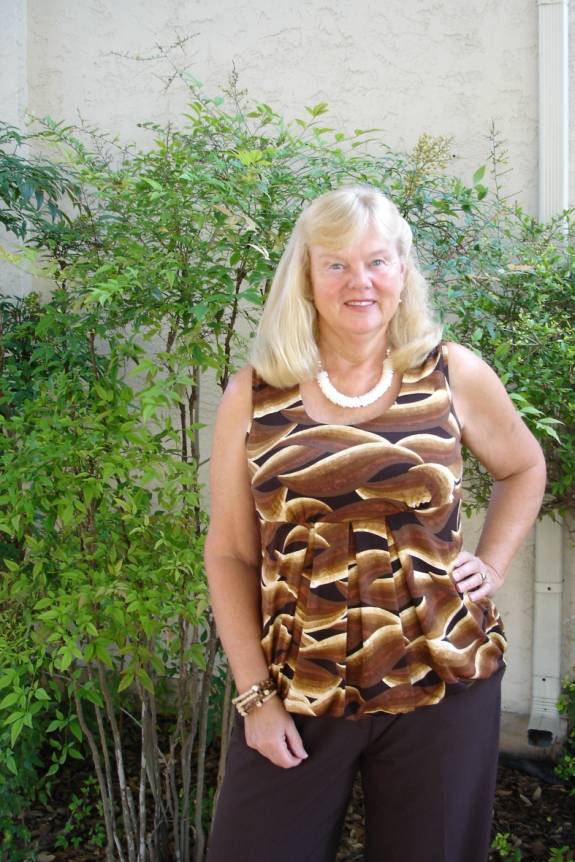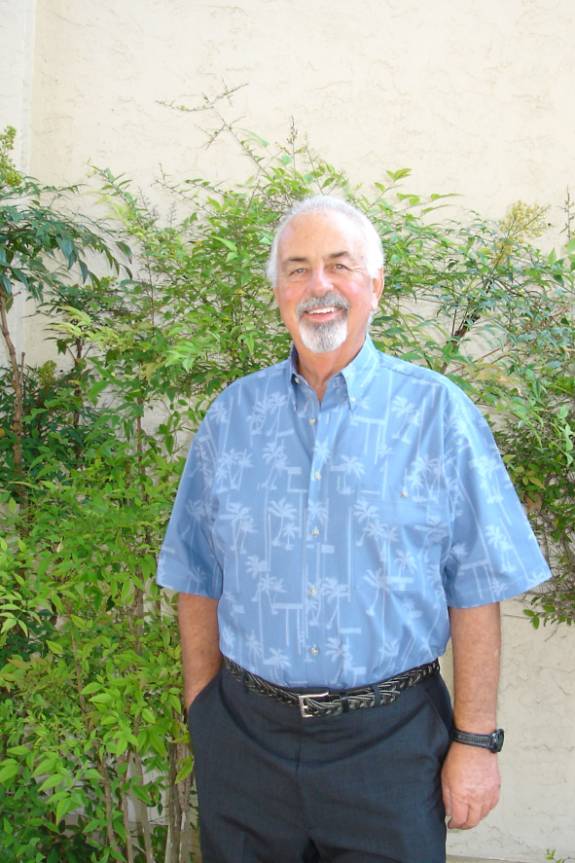 The 10 o'clock wedding was held at the St. Sophia Greek Catholic Church in downtown San Antonio.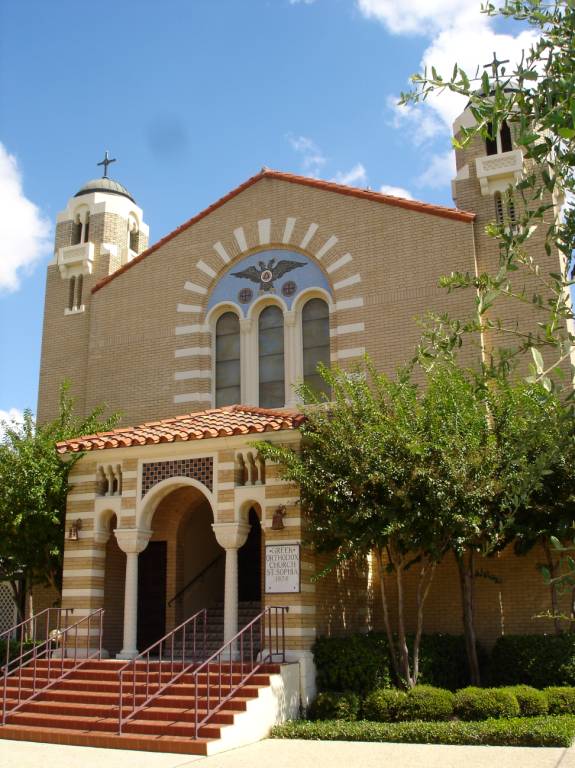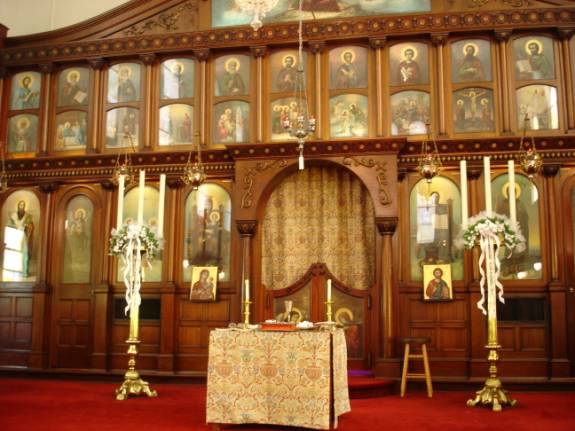 The priest, Father Dan, officiated the traditional Greek ceremony in all its glory.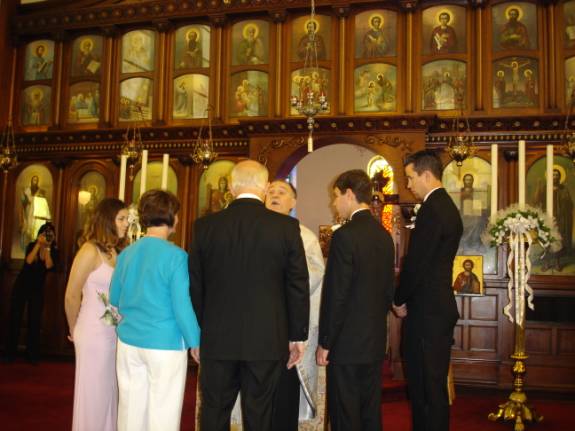 As it has been for centuries, the bride and groom are joined together with the crowns.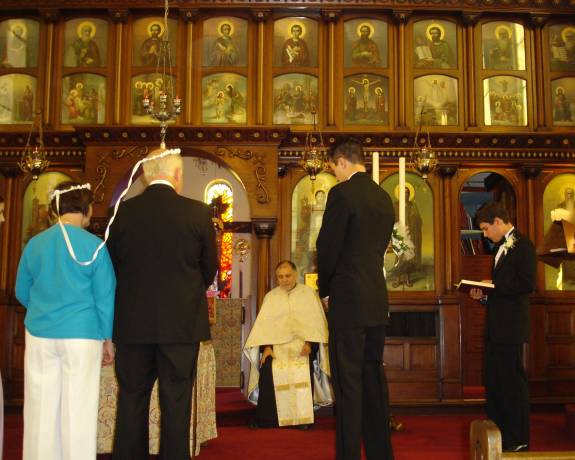 It was a great honor for them to have Garrett, Joe's son, cant the words about the responsibilities of a husband and wife.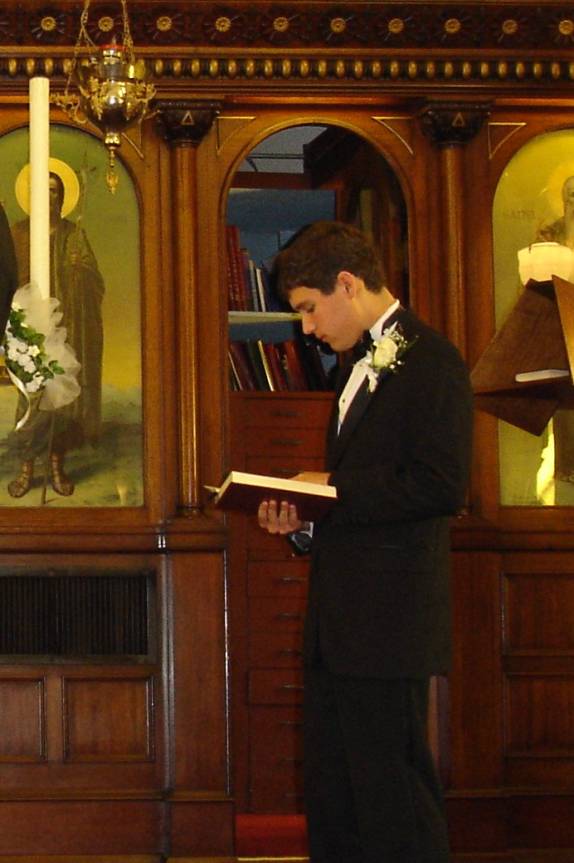 In a wonderful display of families joining together, Joe's daughter, Kyra, was Maid of Honor, Joe's son, Garrett, was the Best Man, and Roxanne's son, Matt, stood up for his Mom.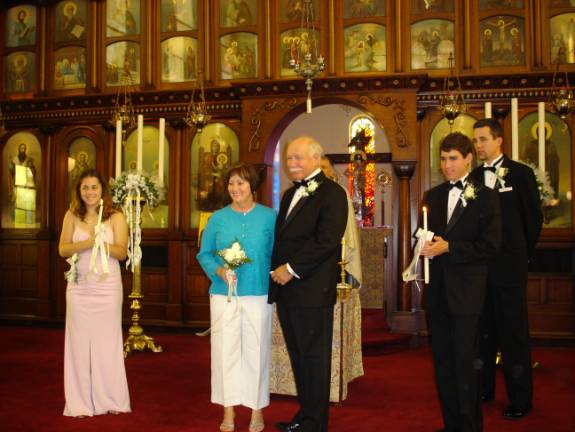 Joe's brother, Mike, came in from Florida to perform ushering honors.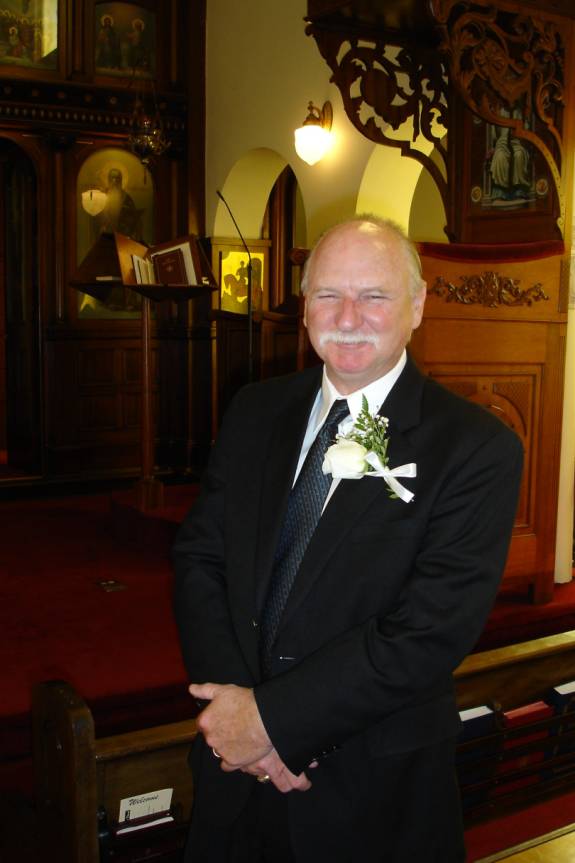 It was wonderful for me to be able to see Garrett and Kyra again. Joe and I have been close friends for over 30 years and I have known these fine young people since they were just little babies.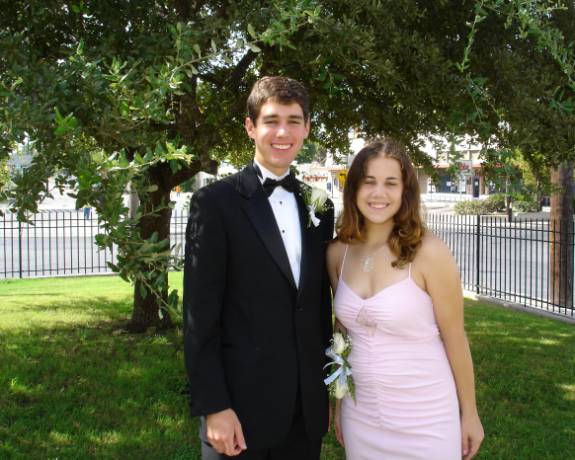 JP, Joe, Raul, and Len represent the backbone of the flight department were Joe is the Chief Pilot.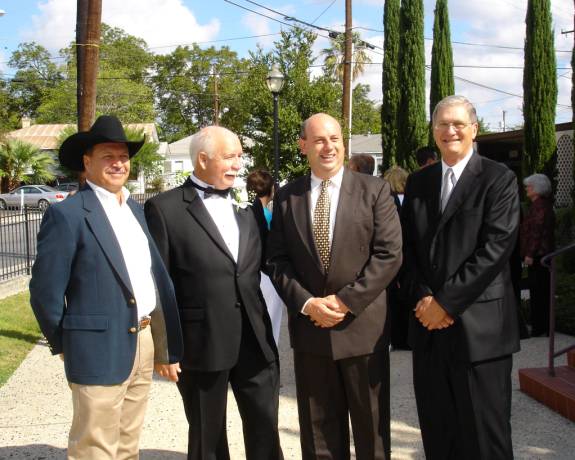 Friends, Mary and Judy, look stunningly beautiful. Their smiles radiate and bring joy to all. In my book, they are a couple of really cool chicks.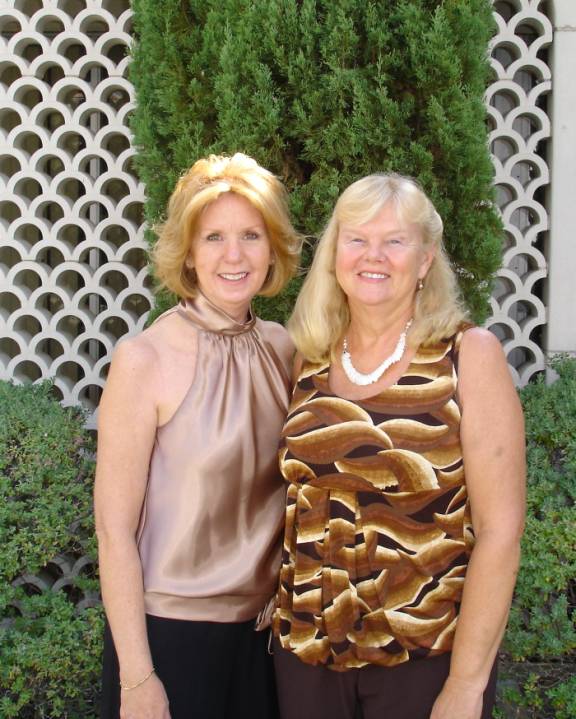 Judy and the lovely bride, Mrs. Roxanne Cady Fugate...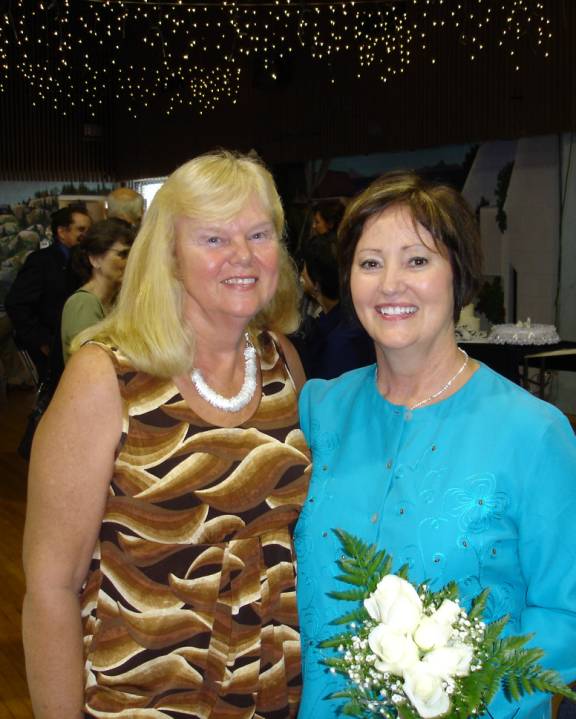 'John, The Greek' Catering, served a delicious luncheon. The reception was held in the activities building of the church. In this picture, the backdrop is a mural of a Greek village that has been painted around the room walls.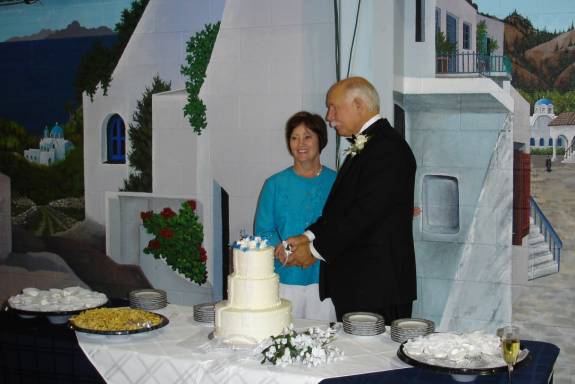 Cake anyone?
It is our sincere hope that they live long, prosper, and find everlasting joy in each other. We love them both very much!
10/06/08 MONDAY SAN ANTONIO, TX
HAPPY BIRTHDAY to my wonderful daughter, SHARYN.
HAPPY BIRTHDAY to my DAD, FRED E. REED (He had to leave us for heaven almost 40 years ago but has always been close to my heart and held lovingly in my thoughts. When I was a young lad, he taught me a lot about being a sailor and a mariner. I continue to be constantly guided by his teachings.)
Our dinner plan was to host the newly-weds, Joe and Rox. Although Rox wasn't feeling up to a night out following her recent illness, she urged Joe to come over while she gained back more strength.
I prepared one of my favorites, Mexican Shrimp Cocktails (Coctels de Cameron). I make them by combining finely dicing tomatoes and onions, a squeeze of lime, a few dashes of Worcestershire sauce, some cocktail sauce, and spicy V-8 juice. The mixture coats the glass of small shrimp. I added some large shrimp with tails on to give it a more festive look. I accompanied the appetizer with sliced tomatoes, cucumbers, and Queso Fresca (Mexican crumbling cheese).
For the main course, I oven roasted a Pork Tenderloin wrapped in bacon. Everything came out very delicious.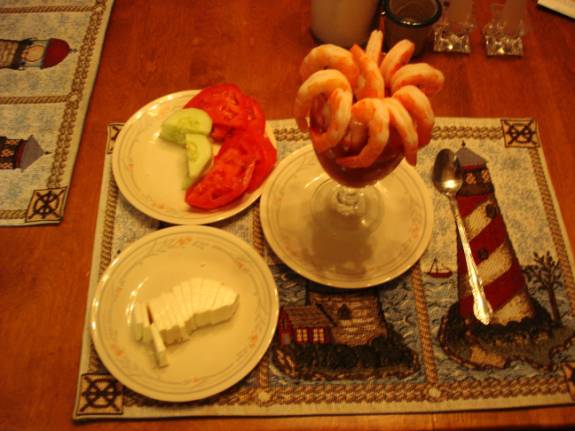 10/08/08 WEDNESDAY SAN ANTONIO, TX
Spent the day running around between auto shops trying to resolve the problem with the tires on the truck. Rotating and balancing didn't solve the vibration shimmy. Following a recommendation, we took it to Car-X on Nacogdoches to be looked at. They gave us the run around and I think they were drumming up unnecessary business. We paid the $50 bill and learned absolutely nothing. I'm glad that they were not successful in leading us further down that primrose path. Live and learn.
We took it back to Sam's Club where they graciously and competently rechecked their work reassuring us that they had done a great job.
Most evenings have been occupied with organizing pictures and update logs.
10/09/08 THURSDAY SAN ANTONIO, TX
One of the things that we do in San Antonio is to take care of our medical checkups. This morning I went to Lab Corp to offer up my arm to the phlebotomist. They only needed one vial of blood to accomplish a myriad of tests.
Gratefully accepting their dinner invitation, Judy and I had the privilege of sharing the evening with newly-weds, Joe and Roxanne, at their lovely home. Roxanne is an accomplished interior decorator and she has done a magnificent masterpiece of their place. She is also a wonderful cook. The main course was her special lasagna. Her Bolognese sauce has to be the very best that I have ever tasted. Somehow, I don't think she gave me the entire secret of her fabulous recipe. As an extra treat, Scott Kee and Mary came by to say hi and visit. It was a great evening and we were so happy to see Rox feeling better and stronger all the time.
10/10/08 FRIDAY SAN ANTONIO, TX
Since we don't have internet access at the house, I am relegated to using the facilities of the public library. Judy dropped me off while she went shopping at some of her local favorite stores.
I am so lucky to have the great honor and privilege of having this wonderful woman in my life. Along with everything else, she cheerfully made one of my favorite meals for dinner. She lovingly prepared tender chicken breasts sautéed in mushroom sauce. Oh boy, that was sooooo goooood!!!!!!
10/11/08 SATURDAY SAN ANTONIO, TX
Happy Birthday to my Mom, Isabel Reed. (Although she left this earth for heaven many years ago, she will always be fondly remembered and deeply loved).
Once again, Judy dropped me at the public library to use the internet and work on my logs and updates. She joined Roxanne at the Live Oak Center for a jewelry-making show. They both creatively enjoy making things of beauty.
Mary hosted a big birthday bash for Scott Kee. Although the actual date is not until this coming Thursday, this evening worked out better for everyone especially since we could be there. We gathered at Panchitos Restaurant to enjoy the special occasion and to savor some excellent Mexican food.
Scott and I have worked together and played together for over 30 years. I've always been a little jealous of how he seems to continuously attract the pretty girls. Just look at that twinkle in his eyes as Judy and Debbie flirt with him.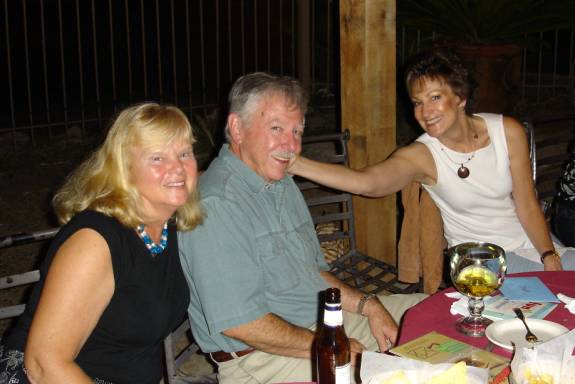 The newly-weds, Joe and Roxanne, were there…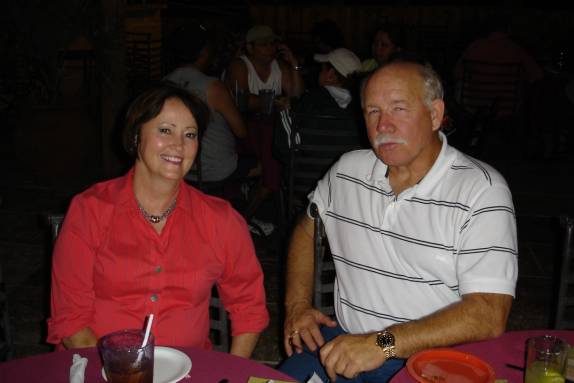 Mark and Lauren Weiss were there… Scott's friend and neighbor, Carol was there…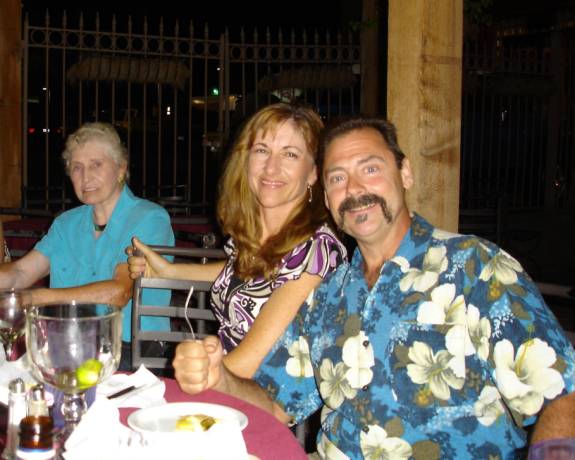 Brian Kee, Scott's son, was there….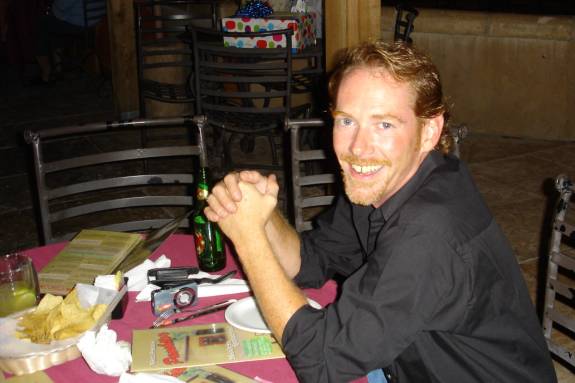 Clyde and his wife, Margo, are Mary's friends and they were there…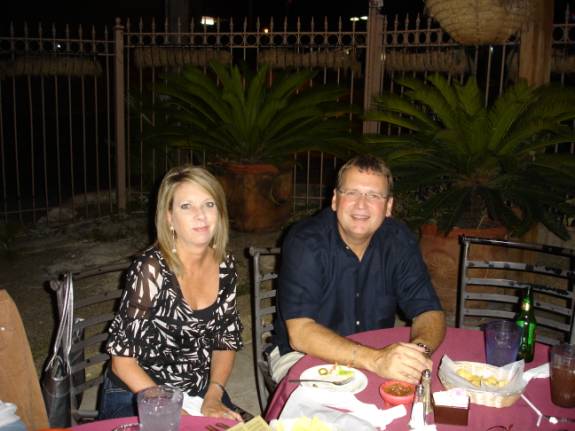 I don't know how it happened but it seems that some of the gifts were associated with his favorite part(s) of the female anatomy. I guess he must have always wanted to be a plastic surgeon or something. What do you think? Mary looks a little embarrassed while Scott looks totally intrigued with the technical construction.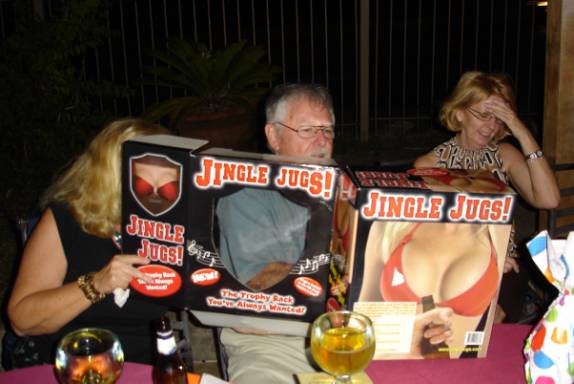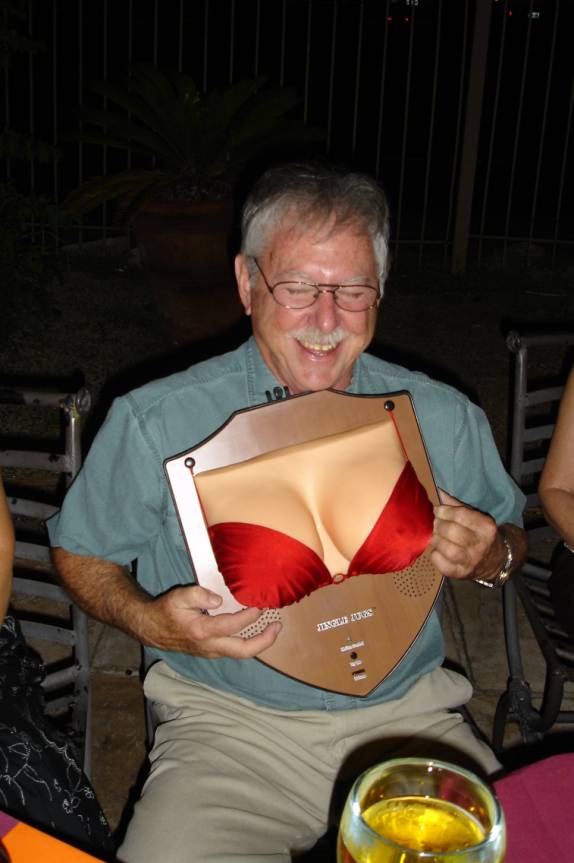 One of the gifts was this beautifully carved, wooden motorcycle. Scott has a vintage BMW motorcycle. I would think that the other gifts go well with motorcycles too. Babes, Beer, Boobs, and Bikes… What could be better?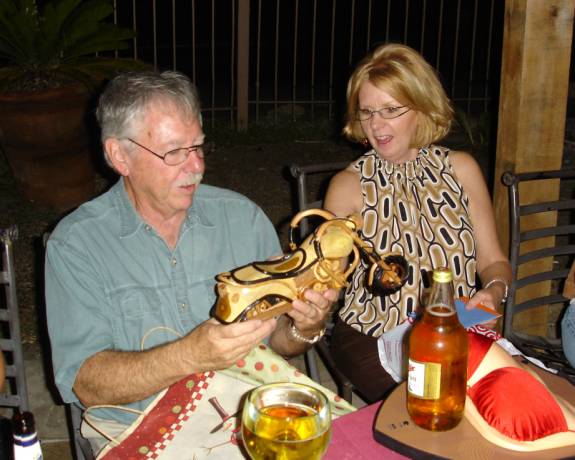 Even the birthday cards seemed to carry the theme to the extreme…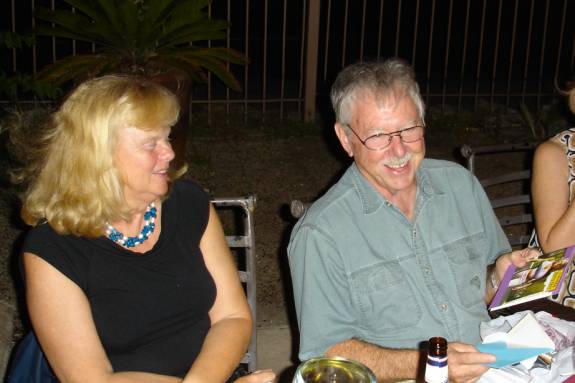 The mere push of a button and it plays a catchy tune that would even bring a smile to Jimmy Carter's face.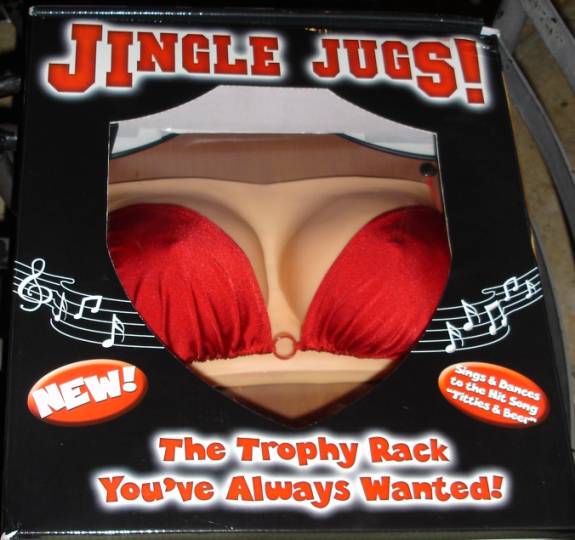 It was a great party, hosted by a great gal, for a great guy! Thanks Mary.
10/12/08 SUNDAY SAN ANTONIO, TX
Judy and I drove out to Bulverde, Texas to visit Jack and Mary. Jack is the Chief Pilot for Rush Enterprises. For several years, I had the great honor to fly with Jack. I must say that I sometimes miss those wonderful glory days.
Jack and Mary are very happy together. Just look at those smiles. Too bad we can't spend even more time enjoying their company.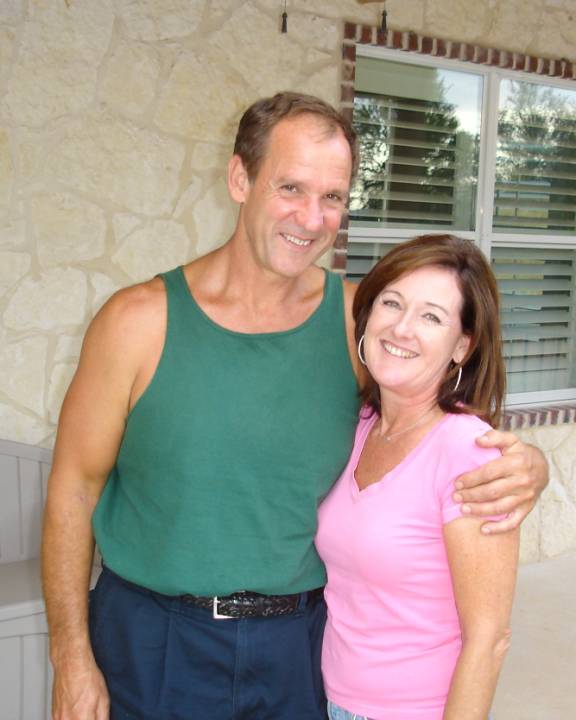 10/14/08 TUESDAY SAN ANTONIO, TX
Finally, I finished up the complete series of logs and updates for the Peru trip. There were 14 updates needed in the series because of the many pictures that we wanted to share. I hope that everyone enjoys the published material.
10/15/08 WEDNESDAY SAN ANTONIO, TX to LUFKIN,TX
When we return to Texas, we try to schedule our medical checkups and annual physicals. I was pleased to receive a clean bill of health from Dr. White. Everything was A-OK and my lab work came back with great numbers. Cool…! I hope to enjoy this life for many more years…
Judy had everything packed and ready for us to drive to Lufkin, Texas. With periods of very heavy rain showers, it took us almost 6 hours to get there. We will be houseguests of her son, Mark, and his wife, Dawn. It will be a grand reunion of all her immediate family this weekend. It has been many, many years since all have been able to get together at the same time.
Mark had the newly released DVD of Indiana Jones and the Crystal Skull. We found it very interesting since much of it is based on archaeology in Peru. Of course, everyone seems to like movies starring Harrison Ford.
10/16/08 THURSDAY LUFKIN, TX
HAPPY BIRTHDAY, FRANCIS SCOTT KEE
Today, Scott is officially older than Methuselah and he was 969 years old. Oh yah, I know that Scott doesn't look that 'old' now, but I can remember when he did. Happy Birthday, good friend…
We checked out the new guesthouse project that Mark is building on his property. It is coming along nicely. He has been working extra vigorously to have it completed for this visit weekend. Although the schedule fell a little short of the plan, it was nearly ready and would be far enough along for Chris, Becca, and Emily when they arrive. Judy helped Mark put down the beautiful wood flooring today.
Mark and Dawn took us, and brother Scott, to lunch at Cheddar's Restaurant. Thanks, it was delicious.
Scott volunteered to slow cook his special recipe for Carne Guisada, a savory Mexican stew. It had excellent flavor.
Chris, Becca, and Emily arrived after their long drive from Oklahoma. The family was complete and Judy had all her three sons, their wives, and 6 grandkids all giving her big hugs and lovings. She was in her glory. There was her oldest son and his family; Mark, Dawn, Tyler, Nick, and Alex. There was her middle son and his family; Chris, Rebecca, and little Emily. There was her youngest son and his family; Scott, Sarah, Alexis, and Ashlyn.
Chris and his family had the honor of being the very first overnighters in the new guesthouse. Judy and I had the privilege of sleeping upstairs in the 'big house'. Fortunately, Scott and family live nearby in the same town.
10/17/08 FRIDAY LUFKIN, TX
Uncle Mark was keeping a close eye on little Emily to make sure she doesn't crawl too far. She is at that age where she can really zoom around on all fours.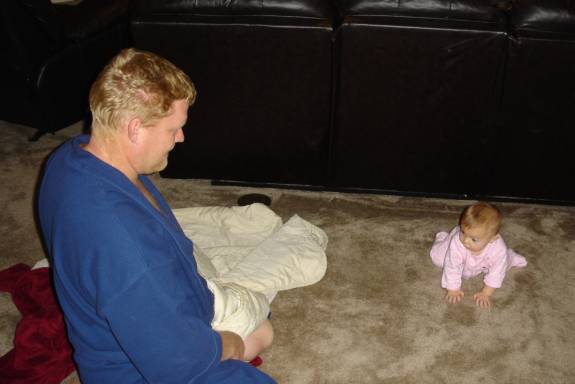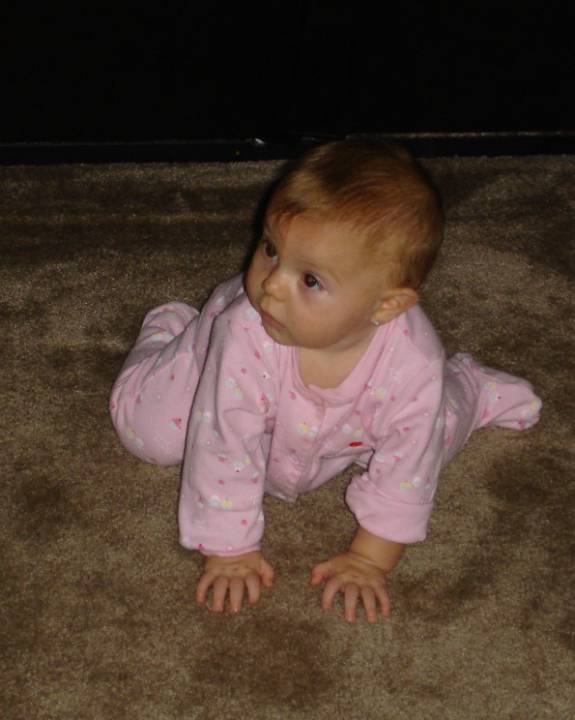 For most folks, nobody can cook quite the same as Mom does. Chris and Mark talked Judy into cooking Bacon and Eggs for them just like she used to do.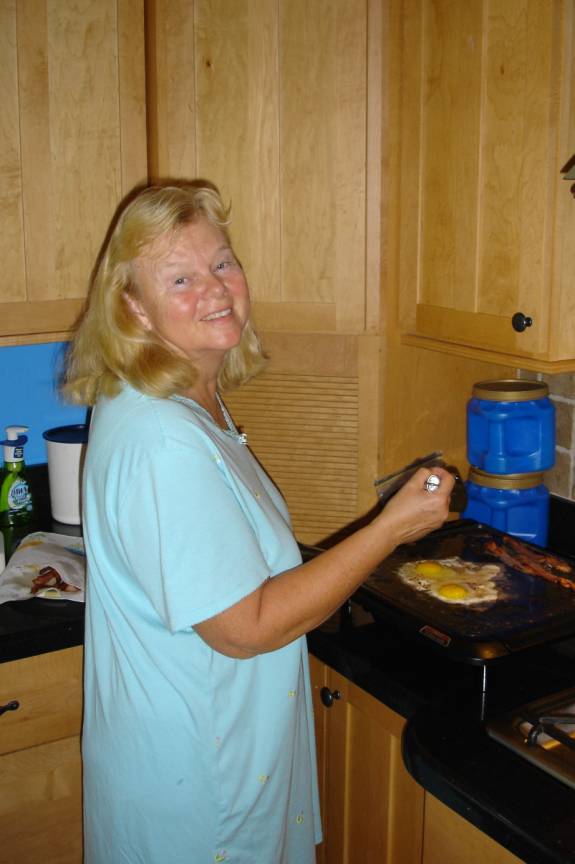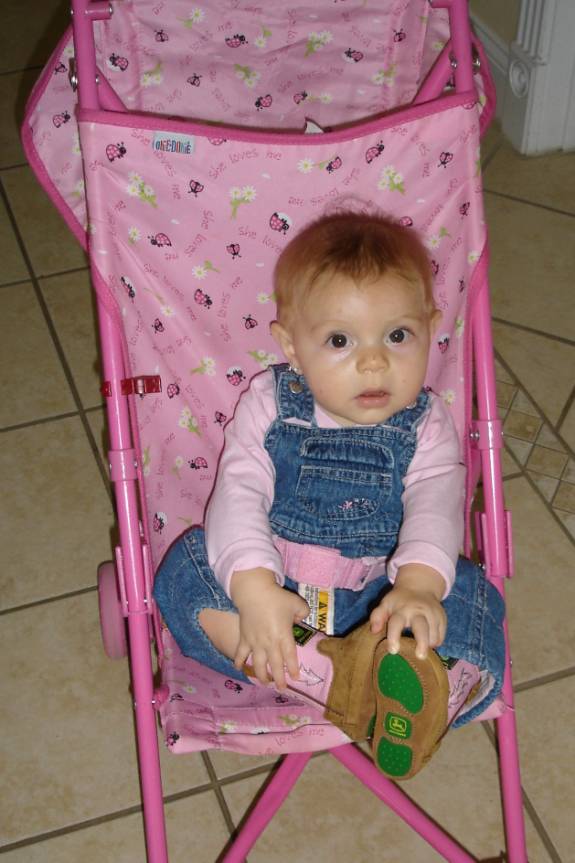 This was the first time that Judy has had the opportunity to see her youngest grandchild. Emily is so cute and bright-eyed.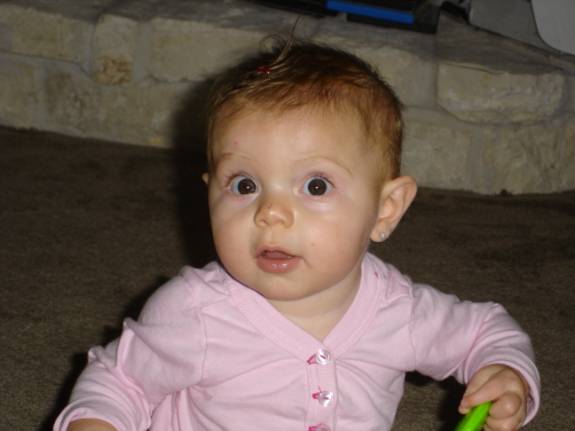 Mark, Chris, and I worked in the Barn Garage on my Nissan Pickup. Using Mark's lift and air-tools, we gave the front brakes an overhaul. We replaced the pads, had the rotors refaced at O'Reilly Auto Parts, scrubbed out the wheel bearings in the parts cleaner, and repacked them with high-temp grease. We offer them our special thanks for all their generous time, knowledgeable expertise, and caring helpfulness. It sure saved us a lot of greenback bucks.
Dawn prepared her special recipe for Ground Beef Stroganoff. I made a version of Mexican Shrimp Cocktails for those interested. Although it tasted all right, I don't think that those tiny shrimp were as good a quality as those I get from Wal-Mart. The "Wally-World" brand of frozen shrimp is really firm and tasty.
(From left to right) Sarah, Ashlyn, Grandma Judy, Alex, and Alexis (Lexi).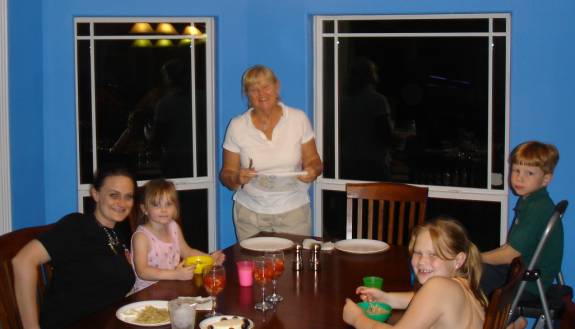 10/18/08 SATURDAY LUFKIN, TX
I got really angry with my health insurance designated prescription provider this morning. We realized that we are being severely ripped-off on our mail order prescriptions from Caremark. Here is how wickedly bad they are; we ordered one generic brand of cholesterol medicine from Caremark. We were billed $107.85 for the 90-day supply. I contacted the pharmacy at Wal-Mart and was told that the same 90-day supply would only cost $10. That means that Caremark is charging one-thousand-seventy-one percent more than Wal-Mart, that's right, 1071% more. Their response to my email stated that they were aware of the difference, however, that was how our insurance program was being handled. With a $2200 deductible, that kind of treatment hits us hard in the pockets. Don't you think that might be irresponsible or perhaps even criminal behavior on their part? Just so you know, CVS and Caremark are the same family of companies. Oh well, we all know what to do next time, don't we.
On a much more pleasant note, it was wonderful fun being with the family. The cousins all had a good time playing together.
Nick and Emily…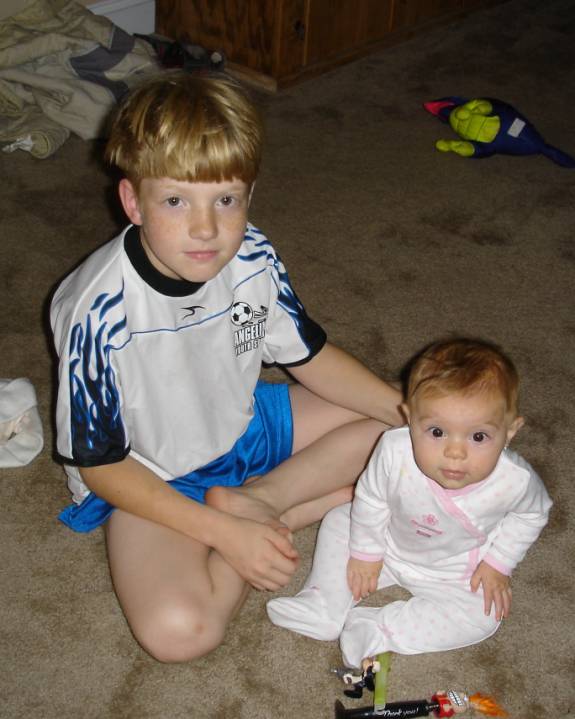 Alex and his cousin, Emily…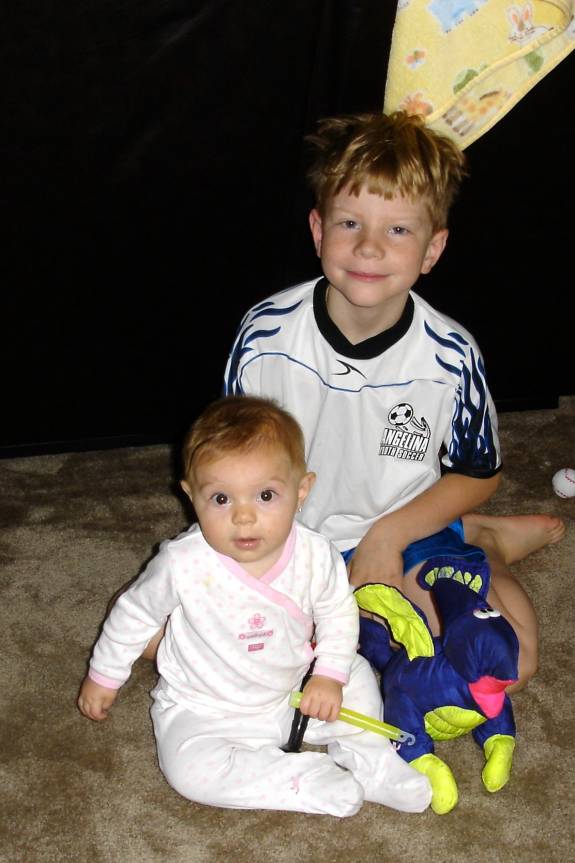 Saturday is soccer match day everywhere. Judy enjoyed watching Alex competitively attack the ball against the opposing team.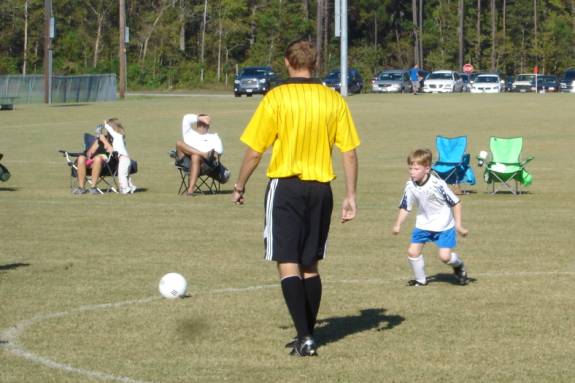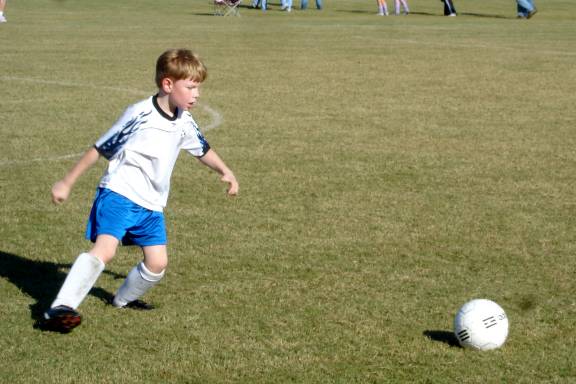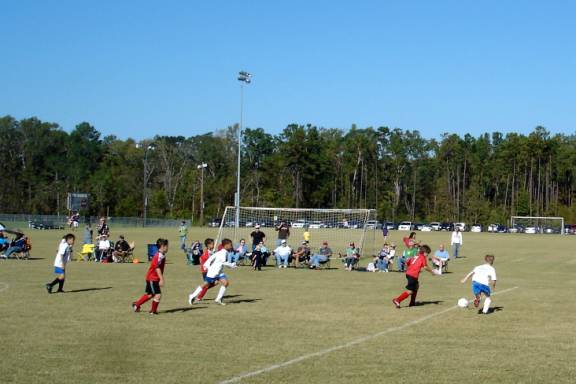 Nick (left) has become an accomplished player and is excelling at the sport. As a former soccer coach, Judy enjoyed watching the progress that the boys are making in sports.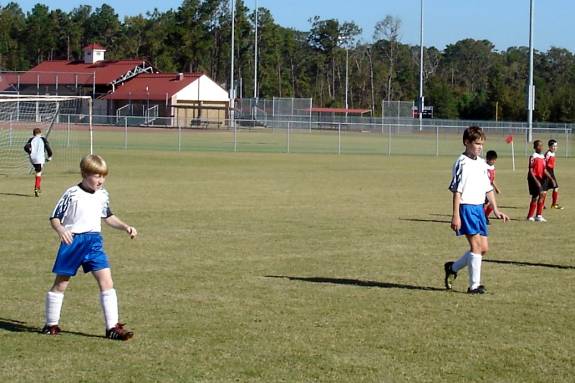 Nick and Alex…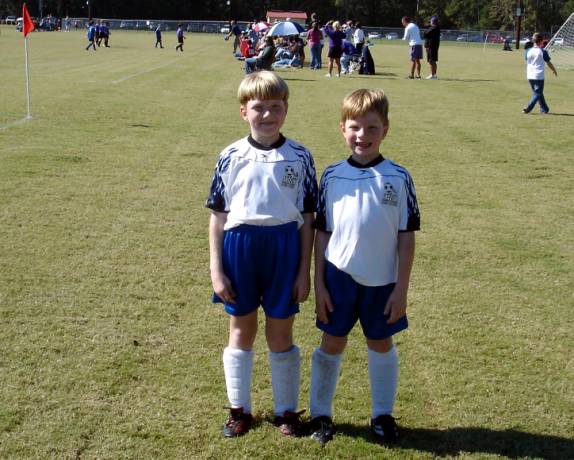 I think I'm starting to gain a bit of favor with little Emily.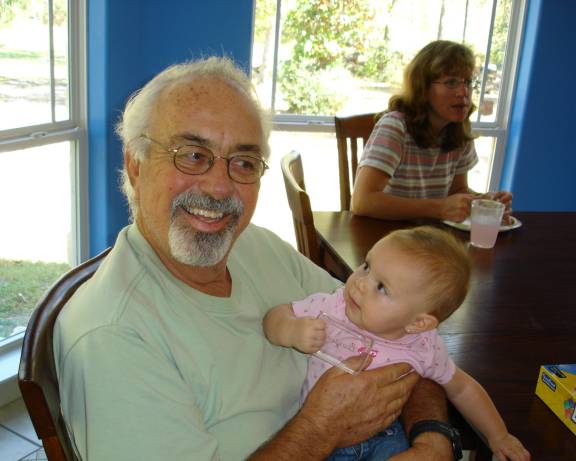 Judy is really enjoying this first visit with her grandbaby.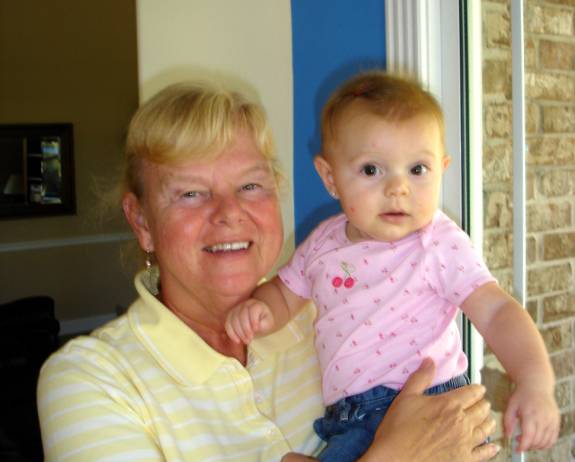 Alex, Dawn, and Nick in the foreground… In the background, that's Judy holding Emily and that's Tyler in the orange shirt…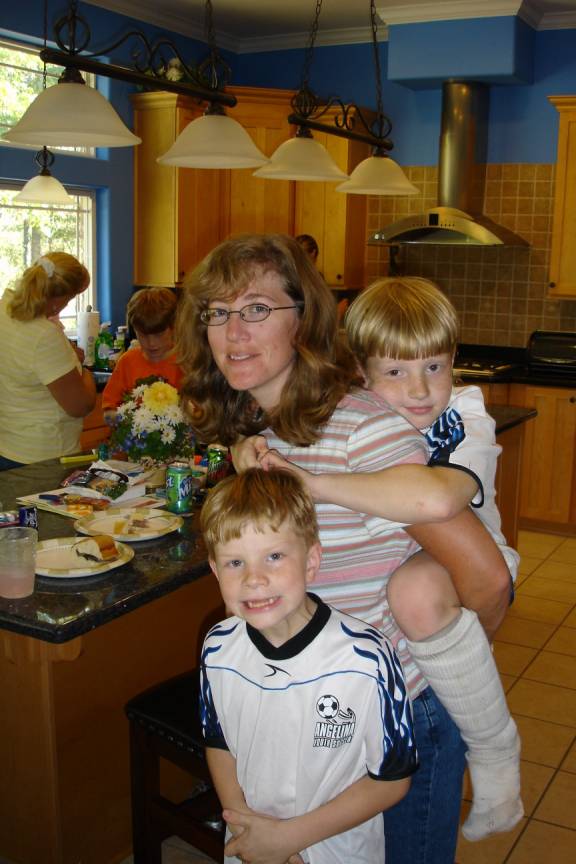 The proud parents, Rebecca and Chris, show off their beautiful baby Emily. Emily's cousin, Alex, jumped in to join them for the picture.
Chris and Emily…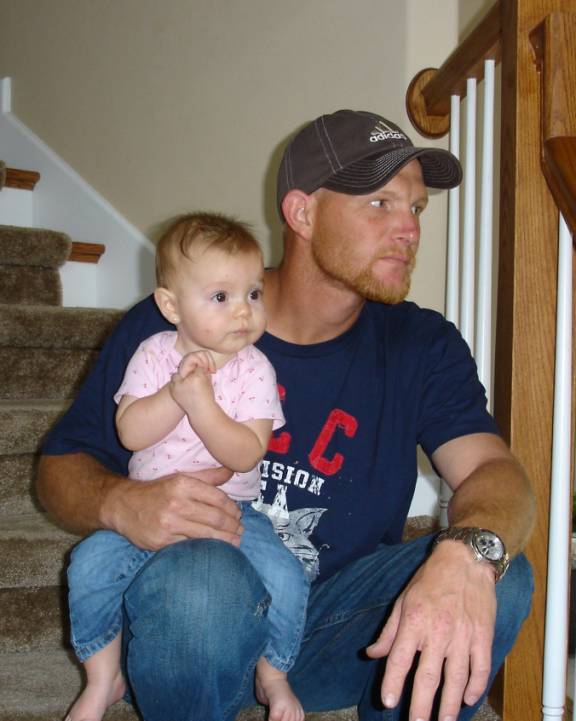 Ashlyn…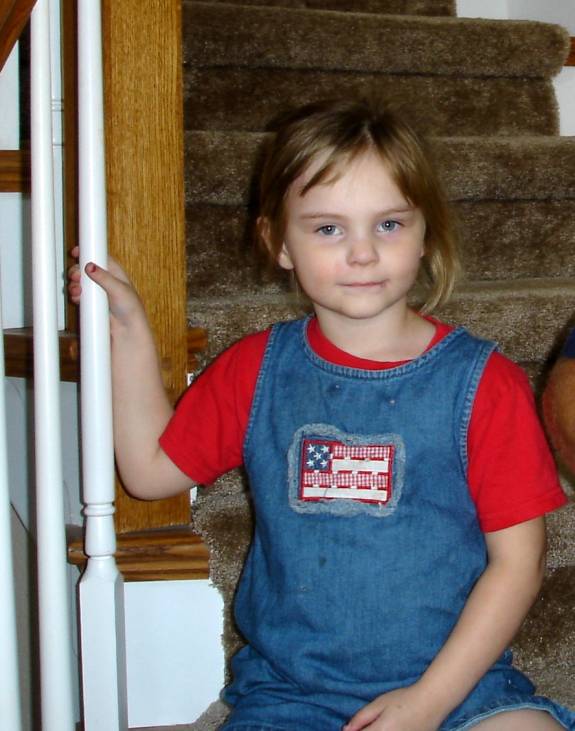 The proud Papa, Scott, with his two lovely daughters, Alexis and Ashlyn...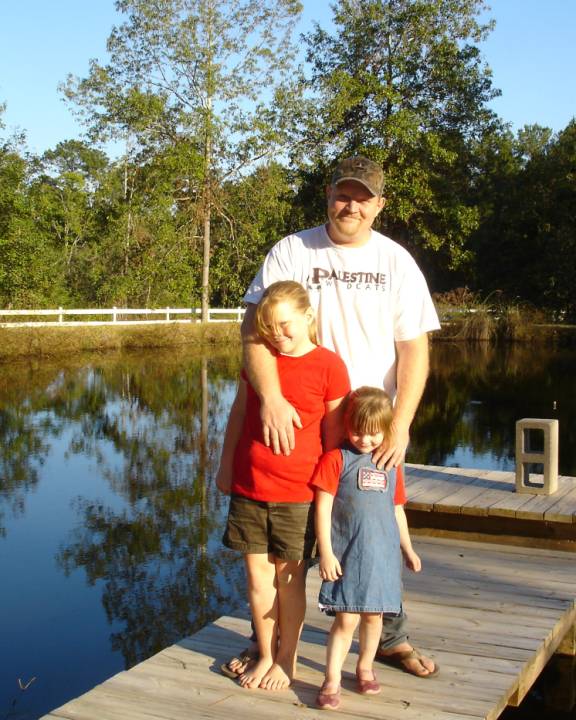 Even though his t-shirt proclaims the Palestine Wildcats, Scott hooked onto a totally different kind of 'wild cat' with this catfish. (Note: Palestine, Texas is pronounced "PAL-ESS-TEEN").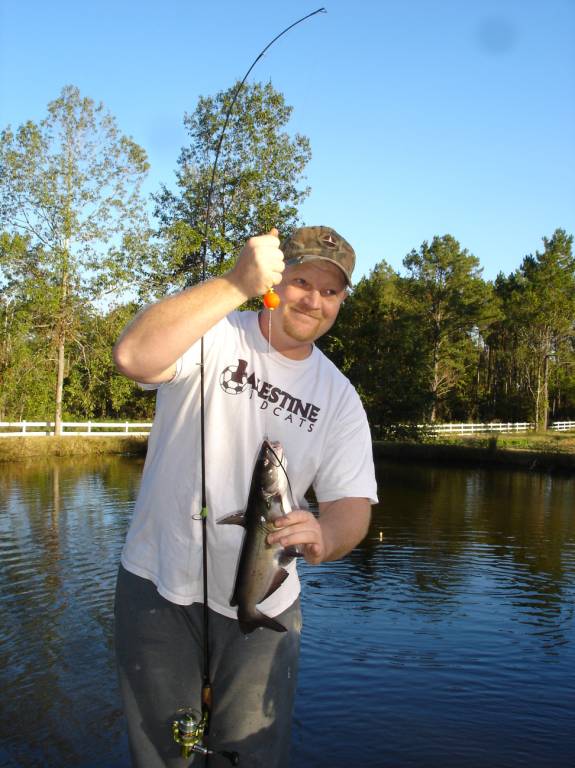 Judy, Lexi, Ashlyn, and Mark take turns casting a line…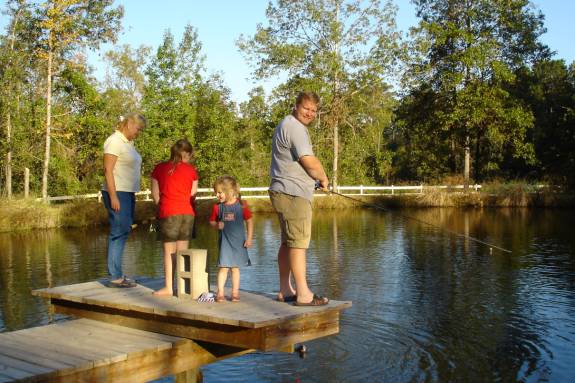 Yahoo, Lexi got her a nice one…
It looks like Papa wants to tease Lexi with that slimy catfish…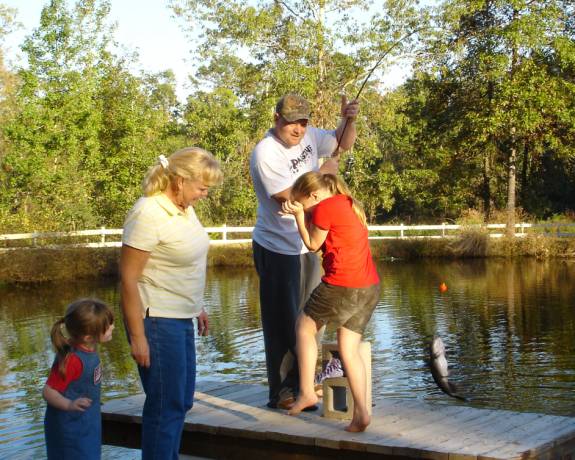 If you ever wondered what Judy looked like as a young girl, take a look here. They say that Lexi bears a very strong resemblance to how Judy looked back then. From my perspective, I'd say that Lexi is very lucky and that she will grow up to be the major beauty that Judy is now.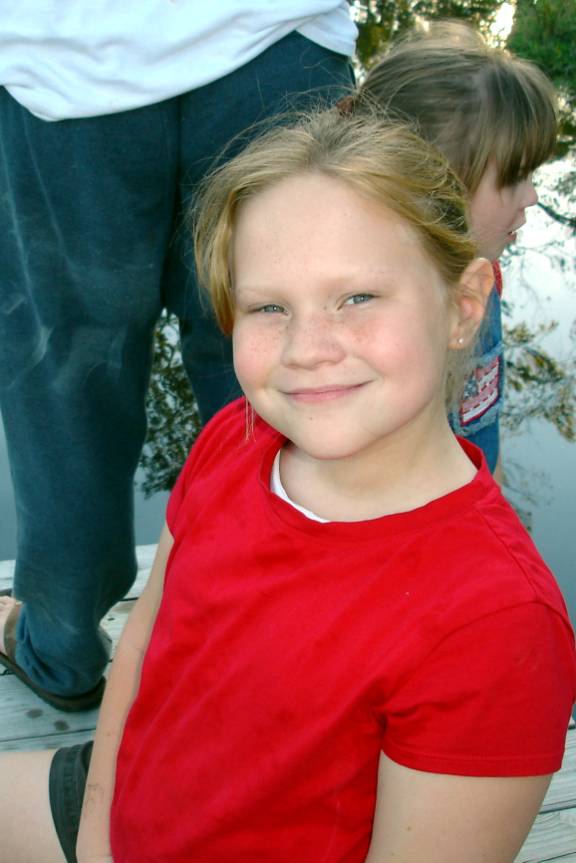 Almost the entire family was together for this photo. Unfortunately, Sarah couldn't join them tonight.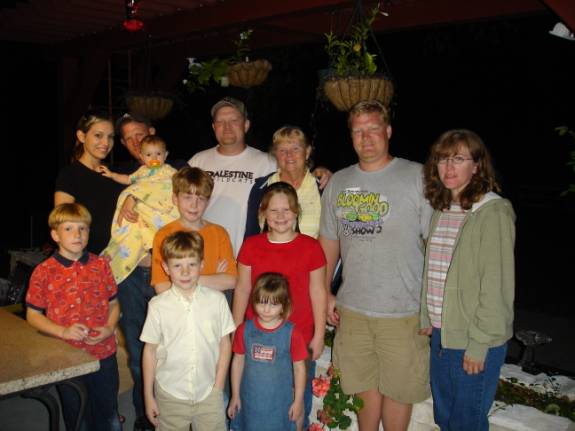 Our wonderful hosts for the reunion, Dawn and Mark…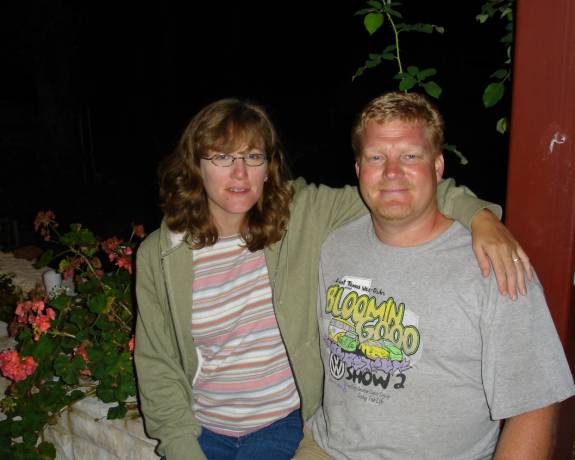 10/19/08 SUNDAY LUFKIN, TX to SAN ANTONIO, TX
It was a gorgeous Sunday morning at Dawn and Mark's fabulous home. The light was just right to snap this photo. As you may remember, Mark finished building the house about this time last year. They have made lots of improvements since then.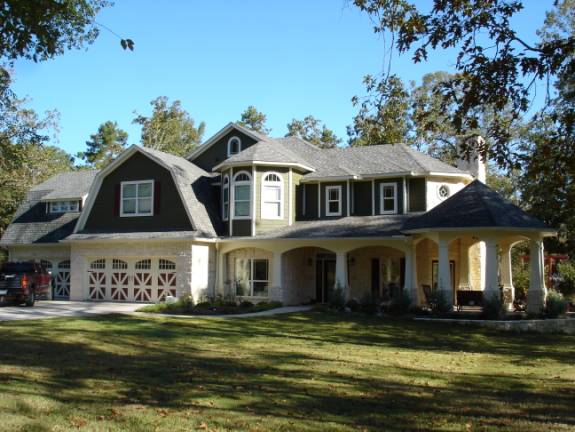 This is the adjacent guesthouse that Mark is currently building. I really like the design and layout of the place.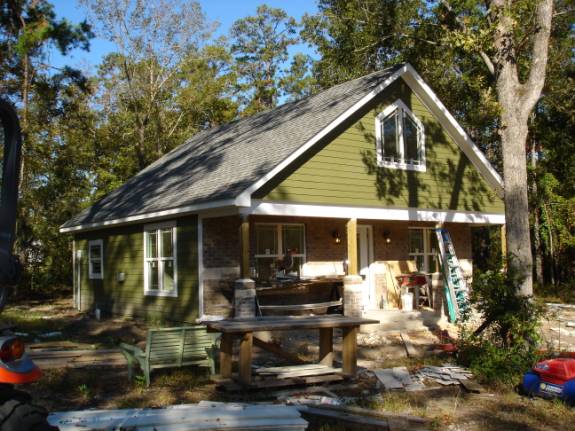 Notice the beautiful hardwood flooring that Mark (son) and Judy (Mom) installed just recently.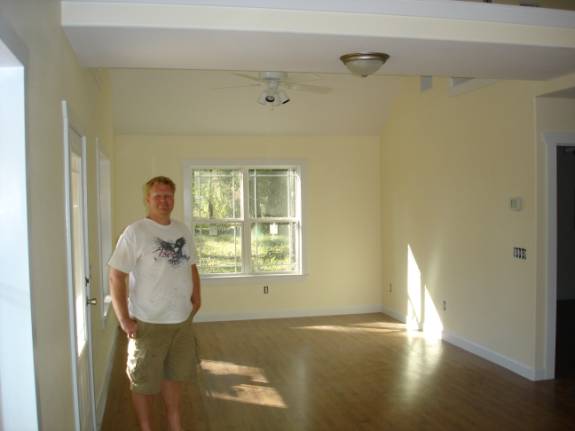 The delightful patio area is perfect for barbequing and hosting family and friends in true Texas style.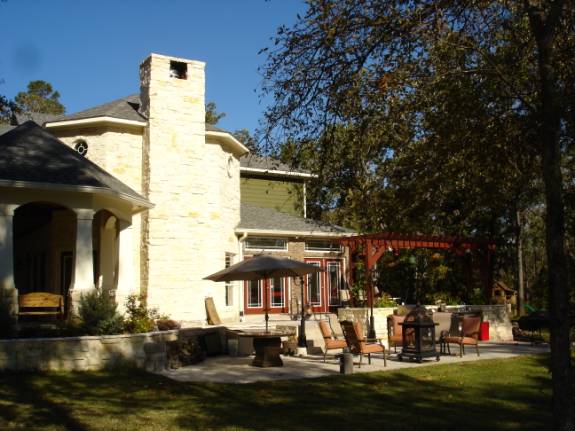 Becca and little Emily as they get ready to leave with Chris to make the long drive back to Oklahoma...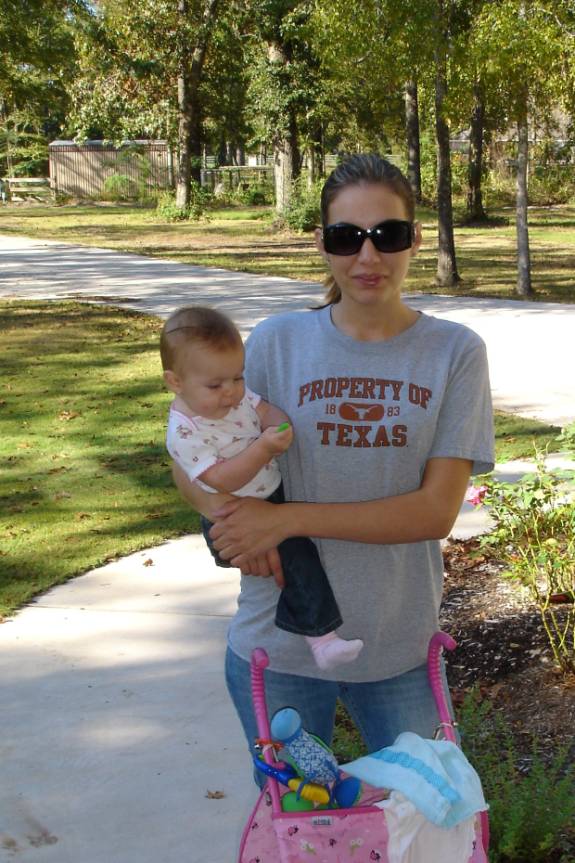 Judy, Scott, Sarah, Lexi, and little Ashlyn…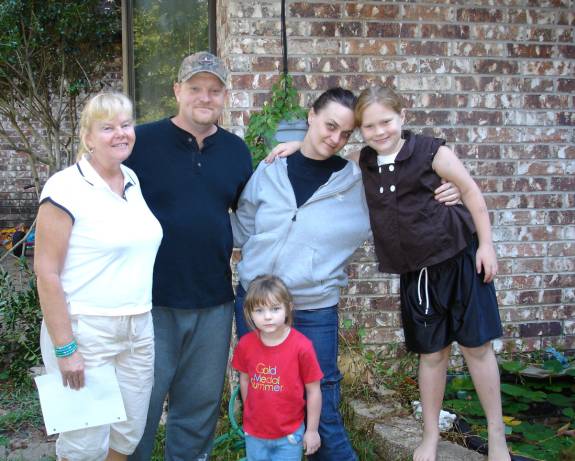 With all of the 'good-byes' shared, we departed for San Antonio at 10:35am. It has been a wonderful time for this family to share and exchange their love for each other.
We delayed our lunch stop until we got to Schoebel's Restaurant in Columbus, Texas at I-10 exit 196. We have enjoyed stopping there many times. Their soup and salad bar has a nice variety and the meals are well prepared. There are always leftovers to take home from the generous portions.
Since we have no internet connection at the house, we stopped off at the library for a quick check of emails and to send some that we couldn't get out from Mark's provider. By 5:30pm, we were home for the night.
For dinner, I prepared a Mexican style shrimp cocktails (Coctel de Cameron). I made the sauce using spicy V-8 juice, finely chopped roma tomatoes and onions, a little soy sauce, a few dashes of Lee & Perrins, and a few shakes of kosher salt. I put the sauce over the good-tasting, small shrimp from Wal-Mart. It was just the perfect choice for a light meal.
Judy was quite tired and headed off to bed. I should have been declared and certified "Nutz" for staying up until 1:30am working on logs and updates.
10/20/08 MONDAY SAN ANTONIO, TX
Early voting for the 2008 Presidential Elections started today. Since we will be back on AMARSE on November 4th, we went to the Thousand Oaks Library to join the long line that had already formed. Because of technical problems with a computer printer, voting officials had to hand-write each sticker for each person. Of course, this was very time consuming and the line barely inched along. After about an hour and a half, our ballots had been cast and we had performed our civic duty.
While Judy visited the dentist office for cleaning and routine checkup, I utilized the services of the library internet.
At 6:30pm, we met up with Scott and Mary at the El Jarro Mexican Restaurant. Along with awesome margaritas, they serve the best chips and fresh salsa that I've ever tasted. Their queso dip (cheese) is fantastic, as are their dinner meals. For tonight, just cocktails and a snack seemed to fit the tempo while we visited with these great friends. It will be altogether too long before we get to see them again. If the Captain ever takes a break from flying all over the world, maybe they will come to visit us in the Bahamas this winter.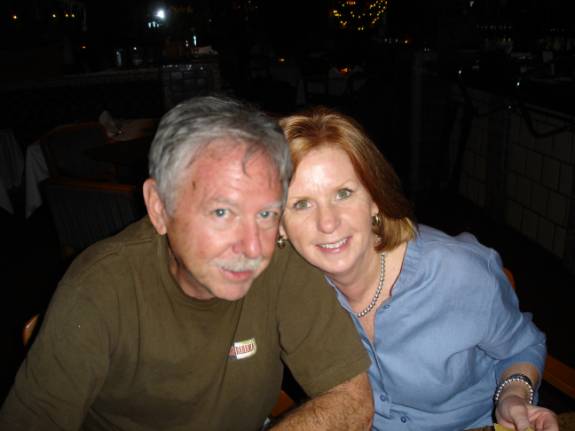 10/21/08 TUESDAY SAN ANTONIO, TX
It was my turn in the dentist office this morning for my cleaning and checkup. "Look, Ma - No Cavities"!
Bob Allen arrived from his home in San Miguel de Allende this afternoon around 2:30pm. Riding with friends, they traveled all night long using the Mexican toll roads that cross the US border at Laredo, Texas. Although they are quite expensive, these direct highways are the safest and most expeditious routes to take during the nighttime hours. Bob comes up to the US a couple times a year to visit the VA Hospital and stock up on supplies that are unavailable in Mexico. I buzzed him around to Best Buy, Northern Tools, Pet Smart, Sam's Club, and Judy helped him find the bargains at Kohl's.
Bob is a very interesting fellow. We have been friends for many years and we always enjoy our visits with him in Mexico. He is currently administering a highly successful program to help underprivileged kids in small Mexican towns. Through individual and corporate donations, Bob arranges and distributes backpacks and school supplies to school kids. For more information about his program and works, take a look at the YouTube clips on your computer. Just search for "Bob's Backpacks" on the You Tube website.
In as much as we are leaving tomorrow morning, Bob will be overnight at Joe and Roxanne's. He sure had a load of stuff to take back to Mexico.
10/22/08 WEDNESDAY SAN ANTONIO, TX to JACKSONVILLE, FL to BRUNSWICK, GA
Finishing packing and closing up the house were our first orders of business this morning. While Judy shrink-wrapped the toilets and covered up the drains, I closed the valves on the gas and water, left the truck with Sta-Bil in the gas tank and the battery disconnected, and shut off all the electricity. Asking for her continued best behavior, we thanked the house for a pleasant stay again this time. Hopefully, she will be in great shape when we return in the spring.
At 9:45am, Judy drove Barb's car to the airport. Although she had been fully released by her eye surgeon to drive, Barb felt more comfortable for Judy to drive the first part there. She had just had cataracts removed on Monday. Isn't modern eye-care amazing? Thanks again, Barb. She is such a good friend and neighbor.
The Continental Airlines Boeing 737 departed on time at 11:50am. TSA security had been quick and efficient. With a change of planes in Houston, the second Boeing 737 landed on time in Jacksonville at 5:20pm. By 6pm, we had our bags, returned to our car, hooked up the battery, and were starting the drive north to Brunswick. Although we didn't need any yet, we were pleased to see that the prices for gasoline have dropped dramatically to $2.399/gal for regular unleaded. Let's all hope that falling fuel prices helps to jumpstart the economy and ease the burden on 'them Yankee-Northerners' with their brutal heating bills.
By 7:30pm, we were delighted to be back home aboard AMARSE. We sure do love our life on this wonderful and comfortable boat.
10/23/08 THURSDAY BRUNSWICK, GA
The tasks and activities of readying the boat for its winter sojourn to the Bahamas started today. I renewed the state registration for the dinghy by internet and that should cover that requirement until 12/2010.
I installed a new rearview mirror in the upper helm station while Judy conducted a complete inventory listing all of our ship's food supply. Judy picked out new rugs for the aft cabin floor to spruce up the décor. My task was to obtain and replace the safety flares in compliance with Coast Guard regulation. Brian at American Diesel was helpful (as always) with expert knowledge about AMARSE's Lehman powerplants. He suggested that the cuprous-nickel style transmission coolers should last more than 2000 hours, however, the straight copper ones have a shorter life cycle. Having CuNi coolers with only 1500 hours, we shouldn't need to change them this year. He also informed me that the spin-on adapter modification for the secondary fuel filters is not suitable for these engines since the location of the main heat exchanger interferes with the operation, now that's too bad.
10/24/08 FRIDAY BRUNSWICK, GA
I placed an order for spare Racor fuel filters from MarineFilters.com, replaced the hinge bushing on the refrigerator, and freed up a sticking thru-hull valve. The marina office gal, Cindy, kindly faxed out my request for the US Customs and Border Patrol user fee decal. Their new, improved web order site is not functioning at this time. Hopefully, we will receive it before our departure date.
10/25/08 SATURDAY BRUNSWICK, GA
The project list came down to replacing both of the sundeck light fixtures. I planned about a one-hour timeframe to exchange the similar units. Wow, was I wrong again. I decided that the entire circuit had to be rewired and a new, special 4-prong plug would be required. Much of the rest of the day was spent chasing down the right parts for the job.
At 5pm, we were invited to BOOMERANG, the Fusion sailing catamaran of Don and Lynn from Picton, Ontario. We had a very pleasant evening and learned about some of their exciting plans to cruise the southern Bahamas this winter.
10/26/08 SUNDAY BRUNSWICK, GA
We slept in this morning until 9:45am. Somebody had been up again very, very late working on logs and updates. The time required to keep these updates going is phenomenal.
The deck light project continued with the running of new wires through the sundeck roof. The new wiring had to be pulled through very small conduit tubing, first across, then aft to the starboard corner where the plug connection was installed. After the plug unit was connected, it had to be attached by drilling and screwing into the fiberglass ceiling. The newly installed fixtures are an improvement with a pair of dual-function, halogen bulbs in each. Tomorrow will be reserved to finish up this job.
There is a grassy, park-like field that parallels the marina docks. A political rally/party was being held for Kathryn Kasper's campaign for county office. It was a very nice setup with a very good band playing sensible music. Unfortunately, not many people showed up and for those that did, swarms of vicious, No-See-Ums, the biting sand gnats, quickly drove them away. Only the diehard supporters withstood the insect invasion. For some, I'm not sure if they were dancing or just moving around smartly to avoid any more bites.
We left with Carolyn and Robert Wilson in their Jeep for dinner at MudCat Charlie's Restaurant in Darien, GA. I know that you've heard us brag on this place before and for good reason. Judy had Fried Grouper and I chose their specialty Crab Stew with a side of stir-fried veggies. After our friends dropped us off, we went to Walgreen's and the Winn Dixie grocery store and didn't get back to the boat until after 11pm.
Judy was smart and went to bed. I, on the other hand, stayed up until almost 2am working on the computer to fix an alignment problem with my website pages. Perhaps I should cut back a bit on the caffeine.
10/27/08 MONDAY BRUNSWICK, GA
Again, it was cool and windy but the bright sun soon made it comfortable.
I finally finished installing the sundeck lights. I am sure glad that I don't have to pay myself by the hour. I'd be broke in no time flat.
The dinner menu consisted of pan sautéed, Tilapia loins with a light butter and lemon flare. Fresh corn-on-the-cob was the perfect accompaniment to this delicious meal.
10/28/08 TUESDAY BRUNSWICK, GA
It was very cold again overnight. Perhaps for some of you Northerners, this would be a veritable heat wave, however, we are certified and confirmed "Wimps". Although quite windy, the sun is helping to make it bearable. It must be getting time to move further south.
The chore list continues to work its way down from the top but the list keeps getting longer as we add things to the bottom. In the engine room, I cleaned the orifices in the portside, main heat exchanger by shoving a brass rod down through the inside holes to clear them of any restrictions. I do this about twice a year to ensure the adequate flow of cooling seawater to transfer heat from the closed engine freshwater cooling system. Small pieces of dirt, weeds, debris, and an accumulation of salt residue tend to build up across the openings. With excess blockage, the engines could overheat and cause some damage. We sure don't want any part of that problem. At the same time, I changed out the pencil zinc that protects the exchanger from electrolysis.
The main drinking water on AMARSE comes from two large tanks. It is pumped through a multipurpose filtration system that removes particulates, removes iron and rust content, and eliminates the chlorine before reaching the faucets. I replaced the filter element with a new one. They are a bit on the expensive side, but the element gives the water both improved taste and enhances the safety factor. For our drinking water and icemaker, we give it a second filtration stage through a Brita pitcher. We seem to always have good water onboard with this scheme.
On another chilly night, a steaming bowl of spicy chili sounded like just the right choice. My recipe consisted of a pound of Jimmy Dean 50% reduced fat sausage browned in EVOO (extra virgin olive oil), ½ medium onion, strips of sweet red peppers, 1 can Fire-roasted, diced tomatoes, ½ pkg Sazon, ¼ cube of black mushroom concentrate, 1 Tbs Chili Pasilla power, 1 Tbs Cumin powder, ¼ cup of black coffee, 1 can of Rotel, and seasonings to taste. OK, perhaps I forgot to include an ingredient or two to the list, but it sure had great taste.
It was so chilly tonight that we had to run the heat pump longer than we would have liked.
10/29/08 WEDNESDAY BRUNSWICK, GA
Again, it was very cold overnight dipping down into the 30's. Although quite windy, it did decrease somewhat during the wee hours of the night. The combination of warm blankets and some cozy snuggling had managed to keep us quite comfortable overnight. We had to run the heat pump again this morning to warm the cabin. As you can imagine, Judy was all bundled up when she went out for her morning walk.
After a pleasant visit with Dave and Barb Bluto on CHABLIS, we had lunch at the City Buffet Chinese Restaurant in the Glynn Mall. It is a good, spotlessly clean place that has a nice selection. You can usually expect to see me filling my plate with a mound of chilled shrimp.
Our agenda included picking up a bunch of marine supplies from the local boating stores. At West Marine, Angie helped us by exchanging a split boat fender. The 10" X 26", Big B model made by Taylor is very ruggedly constructed and the company guarantees them for life. Unfortunately, this one split at a seam rendering it useless. Fortunately, it was cheerfully replaced. Somehow, it was difficult to change over the lines to the new one. The retaining knots were securely jammed in the center tube making it a challenge to pull through. Through perseverance and brute force, we were eventually successful.
10/30/08 THURSDAY BRUNSWICK, GA
Although it was another chilly night reaching down into the 40's, the trend seems to be tempering and the wind seems to be subsiding.
Judy cheerfully undertook the laundry chores without nary a complaint. She always works so hard to keep us happy and comfortable.
My first project was to replace the light socket in the forward part of the engine room. The fixture is solidly serviceable, however, the socket has deteriorated to the point of replacement. Same model parts are not available so I had to adapt a double contact, 12-volt, Cole Hersey 26100BP bulb holder to fit. I had to carefully drill into the brass cylinder and attach it to the frame with a small sheet-metal screw. It worked out nicely to save the whole fixture.
While working on a generator start problem, I talked to my friend, Scott Kee. He suggested that the tripping of the circuit breaker might be the result of increased resistance from a faulty ground. I followed his advice to remove and clean the connections with a wire brush on both the generator and the battery cables. It seems to have eliminated the problem. Yippee! You know, that Kee boy must be some kind of genius or something.
At 6:10pm, Dave and Barb Bluto picked us up to attend a concert at the Glynn Academy Auditorium. Judy and I had gotten us tickets for this performance over a month ago. We were excited with anticipation. At 7pm, the fabulous US NAVY COMMODORES Jazz Band commenced their repertoire with the US National Anthem. It is always a great honor for me to come to my feet and place my hand on my heart in recognition of this wonderful country of ours.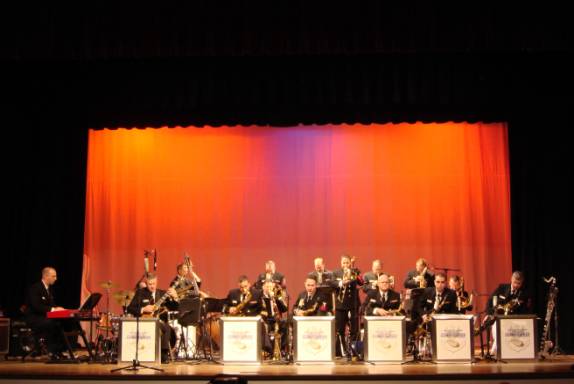 This is the fourth or fifth time that I have been present for a Commodores concert. They are, without a doubt, a premiere musical treat.
After several familiar and catchy arrangements, we were treated to the female vocal styling of CPO Yolanda Pelzer. Let me tell you, you should hear this gal belt out the tunes. She awed us with her mini salute to Natalie Cole. She not only has the sounds, she also has the style and expressions to treat you musical sensations with delight. I could listen to this melodious vocal talent for hours on end.
Their performance was nothing less that magnificent and I sincerely urge you to attend one of their tour dates whenever possible.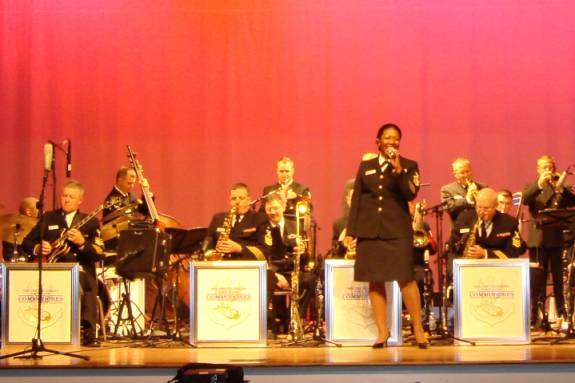 10/31/08 FRIDAY BRUNSWICK, GA
Jim Jacobs is a financial manager at our local Wachovia bank in downtown Brunswick. He is always cheerfully ready to help with your banking needs. We made some arrangements through his help and recommendations. He is a good man and always helpful.
I have been interested in locating someone to checkout and recondition our fuel on board AMARSE. Diesel fuel has the nasty habit of growing algae and microbes in the collected moisture in the tank. This leads to fuel contamination and slime that can clog the fuel filters and prevents fuel flow to the engines. We last had the process done in the spring of 2006 and I wanted to ensure that we would not have any upcoming problems for the future crossings of the Atlantic Gulf stream this winter.
Through recommendation, Joe Tinsman came to AMARSE for an assessment of our dual tank situation. I had opened up the tank port access plates for his visual inspection. He gave us good news that the tank condition looked good overall and that he would recommend that we polish the remaining fuel in the tank. Polishing entails the cyclical filtering of the fuel at pressure and volume to remove most traces of particulate contamination and moisture. He will return with the appropriate equipment on Wednesday for the 3 to 4 hour process.
The steering system aboard AMARSE is controlled hydraulically. Turning the steering wheel caused manual pumps to force fluid against a cylinder and actuates the rudder surface to move in the desired direction. Desiring a trouble-free operation, I checked to make sure that the fluid levels and reservoir pressure were as specified. Everything checked out fine and that system should be ready for service. We try to perform a significant amount of preventative maintenance to reduce those kinds of potential problems that might be anticipated.
Don and Lynn joined us to St. Simon's Island. Tonight was opening night for the Island Players' Production of "Annie Get Your Gun". Written by Irving Berlin, the musical play was on stage at the historical, Casino Theatre.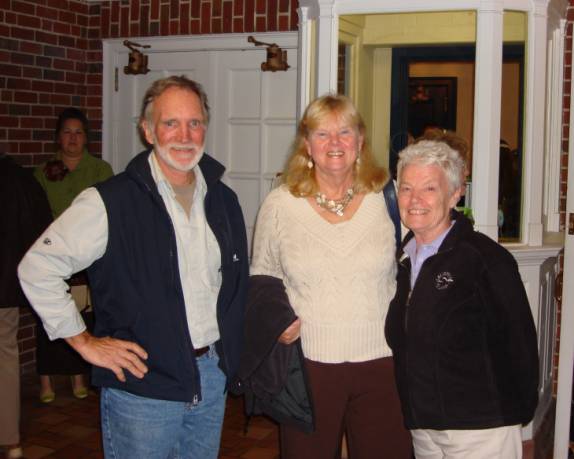 The little theatre is very nice and we were fortunate to have tickets for opening night.
The famous storyline evolves around the Buffalo Bill's Wild West Show.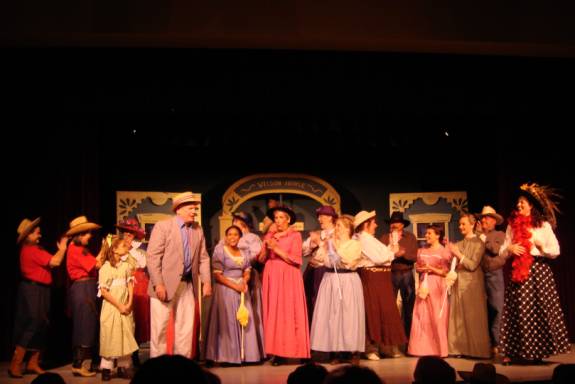 The celebrity star of the traveling show, Frank Butler, is headlined as the best shooting marksman in all the land. The show challenges anyone to compete against Frank for a big money prize. No competitor has been successful in out-shooting the handsome star.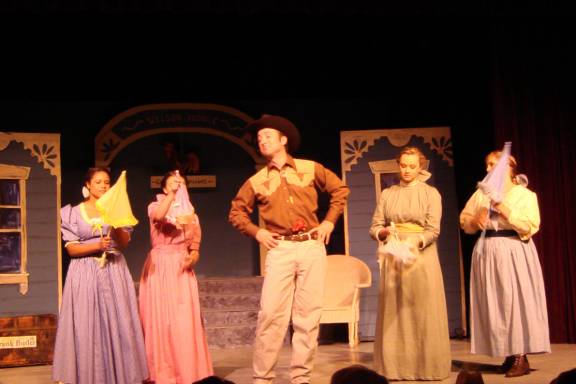 Buffalo Bill Cody barkers the challenge again...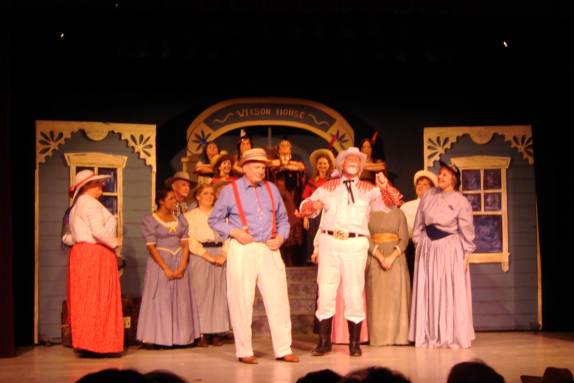 All is well until a down-to-earth country girl with no education or social graces puts him to the test and defeats him.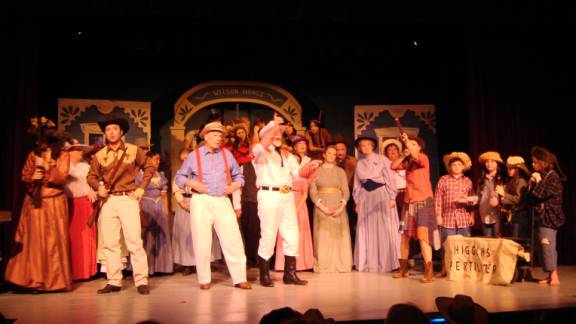 Other traveling shows are putting on the pressure to make their show bigger and better than any other. Buffalo Bill and the manager come up with a plan to include Annie in the show. Of course, Frank Butler is vehemently opposed.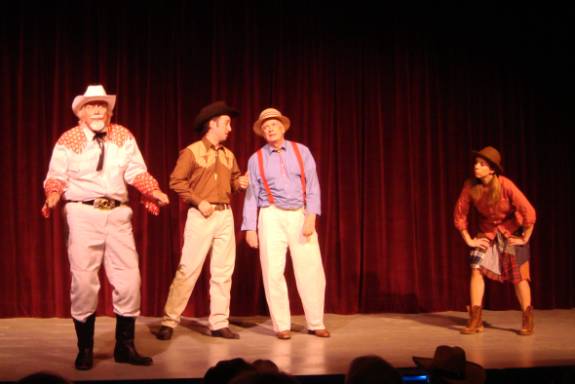 Aboard the traveling train, Annie is somewhat troublesome with her associations with her little brothers and sisters as well as the local Indians.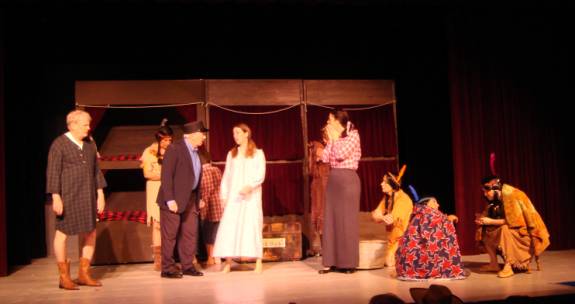 Annie has fallen in love with Frank and he has developed affection for her. Everything was fine with Frank as long as she was not the star. When she was elevated to a starring role in the show, Frank became very jealous and quit the show to join another. Both Frank and Annie were miserable and lonely without each other.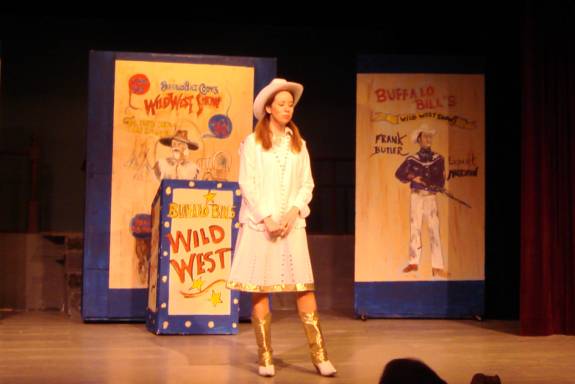 At intermission, we stepped outside for a breath of fresh, ocean air. The theatre is situated adjacent to the ocean inlet from the Atlantic. It is a lovely, tree-lined spot in the heart of the island.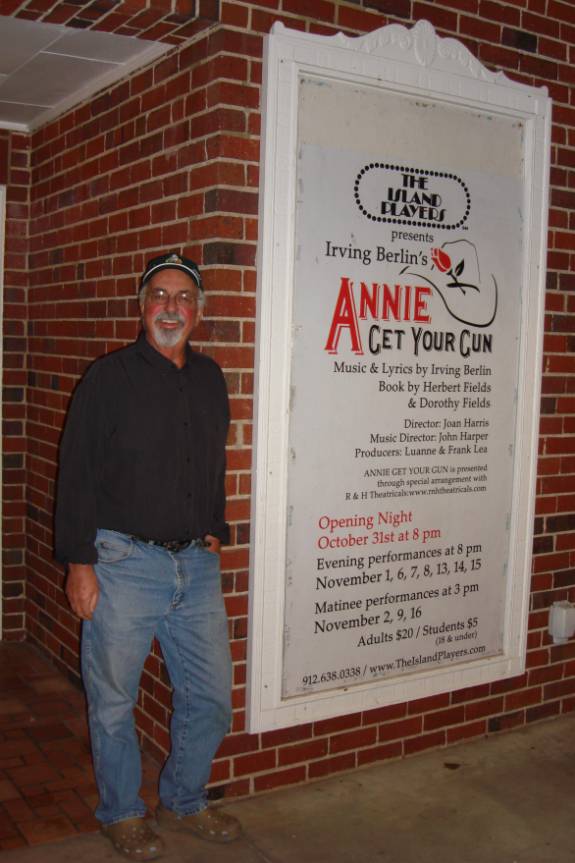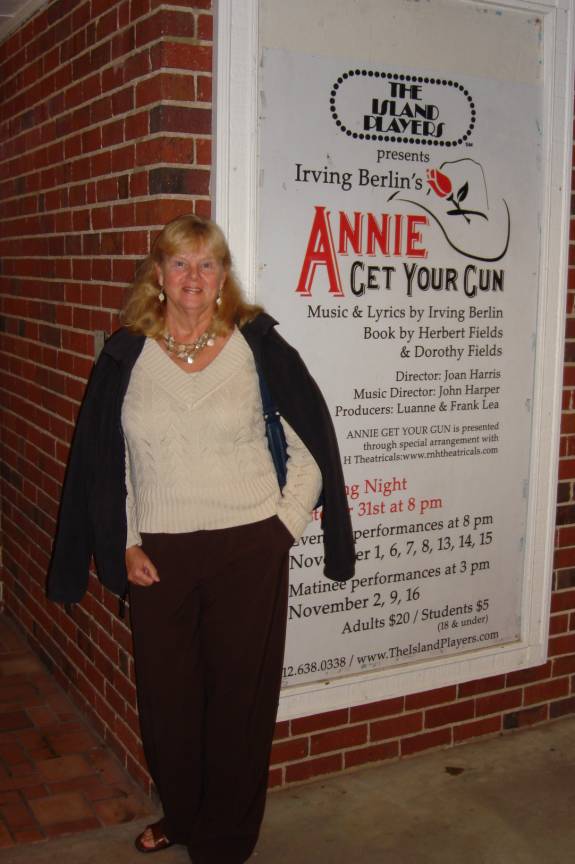 Because Indian casino action has provided him great wealth, the Indian tribal leader, Chief Sitting Bull, is persuaded to sponsor the show. He makes Annie an honorary member of the tribe and considers her like a daughter.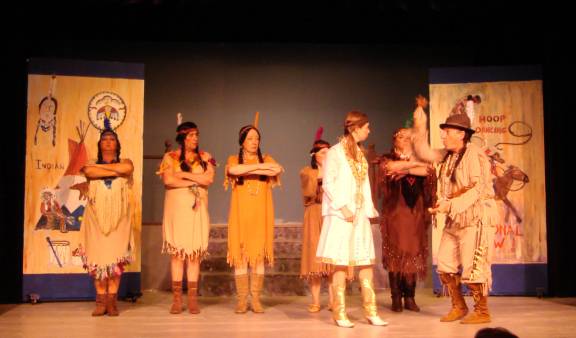 In an effort to develop a more affluent clientele, the cast of the show troupe endears themselves to wealthier, upper class folks.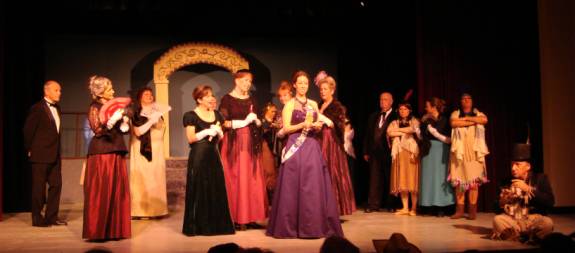 Also playing in the same town is the rival show of "Pawnee Bill" that now stars Frank Butler. Another challenge is staged to settle once and for all which is the greater marksman, Frank or Annie. The keynote song for the sketch is "You Can't Get A Man With A Gun". All the while knowing that she can outshoot Frank, Annie deliberately misses her shots.

No longer feeling degraded and inadequate, Frank rejoins to marry with Annie and bring the two to their loving, happy ending.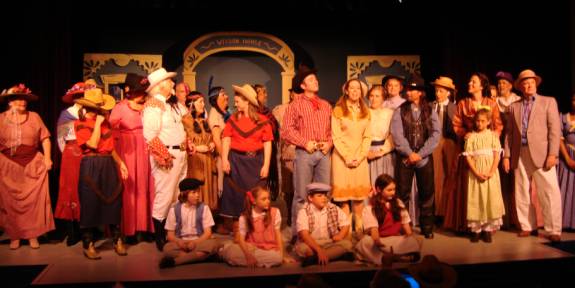 It was a delightful production that we all enjoyed. Fortunately, it was the opening night, so, after the show, we had the unique opportunity to meet the cast. The Indian squaws were hilariously funny as was Chief Sitting Bull. Their acting skills were wonderful.
Frank Butler, Judy Law, and Annie Oakley…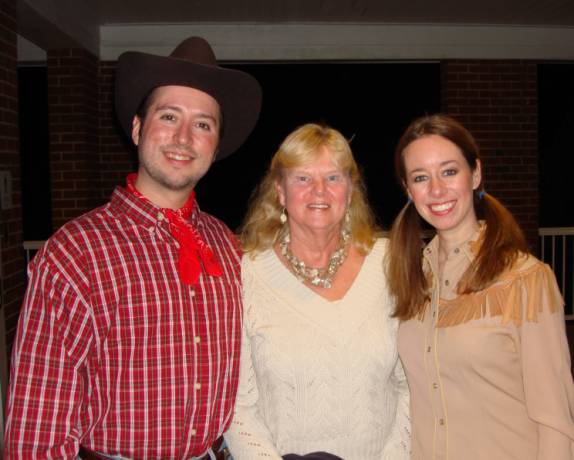 With the actors still in costume, the atmosphere was made extra special because it was Halloween night.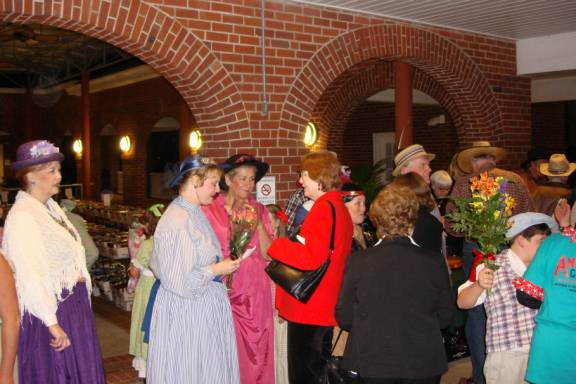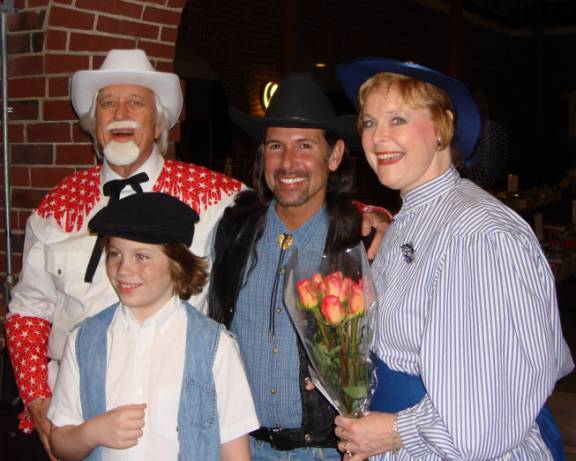 Col. William F. Cody (Buffalo Bill), Judy Law, and Pawnee Bill…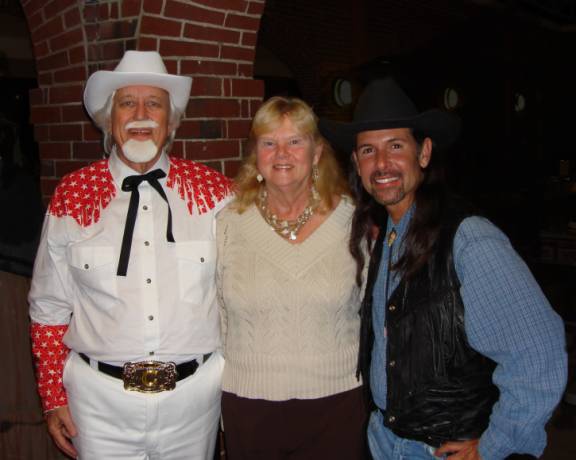 As we walked away toward the car, Brogen's Bar was hopping. Not only was this Halloween night, it was also the night before the big University of Florida "Gators" vs. the University of Georgia "Bulldogs" rivalry football game. For the fans of these two universities, this is the "Big One". If you dare come into this bar tonight, you'd better be a dyed-in-the-wool Bulldogs rooter.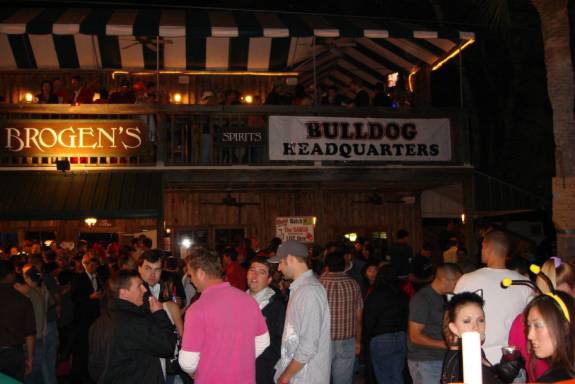 CONTINUING UPDATES ARE IN PROGRESS…
WATCH FOR THEM, COMING SOON…
This concludes this edition of the AMARSE Update logs. We hope you will join us again soon for more of our activities.
POST SCRIPT:
We sincerely hope that you will review the previous years of compilations to give context to the current editions. Please let us know if you have any special suggestions and thoughts.
REMEMBER: The website is now fully active and you can visit it at any time. You can review any of the 2006, 2007, or 2008 logs and learn more about the crew and our plans. Enjoy.
ATTENTION: SPECIAL NOTE:
You may contact us via email anytime.
Thanks for allowing us to share our life and adventures with you.
WE LUV Y'ALL!!!!
Lotsa Luv,
Fred Reed and Judy Law
AMARSE
MT40
"AMARSE". is pronounced "AM-ARE-SAY". Our website is: www.amarse.net .