UPDATE#27 0
9
/04 thru 9/08/08
Howdy Everybody,
The adventures of 2006, 2007, and 2008 thru 09/03 have been published on the website. We continue with the latest edition.
UPDATE 2008 #27 09/04/08 thru 09/08/08
At last update, we were heading back to Lima on an overnight bus from Arequipa, Peru.
09/04/08 THURSDAY LIMA
Yesterday evening, we departed the city of Arequipa by bus. We had chosen the Cruz del Sur bus line in the comfortable seats of their VIP Cruzero service. We were attempting to get some sleep or, at least, some meaningful rest.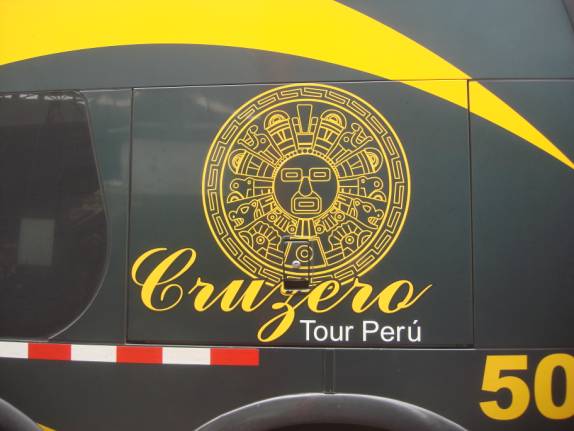 Providing almost non-stop service to Lima, the bus was only scheduled to make a quick drop-off at Paracas. On the map, Paracas is just south of Pisco and near San Martin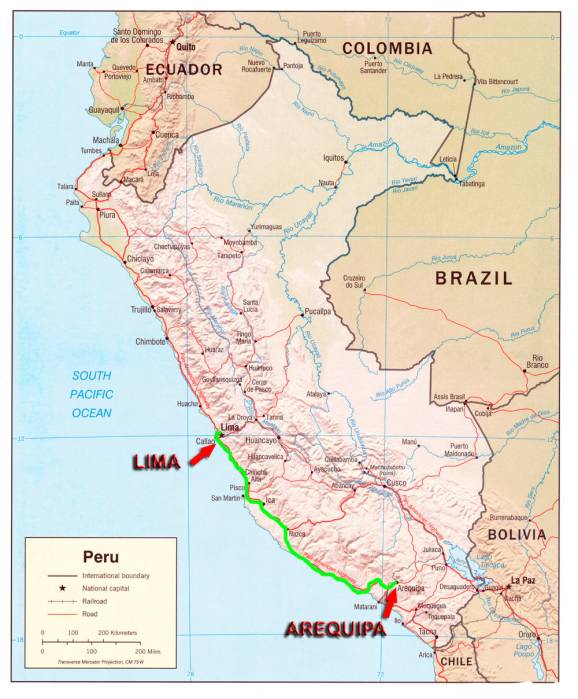 Around 7am, the bus stewardess handed out a poor excuse for breakfast. The paltry offering was merely a bread roll with cheese, two bite-sized muffins, and only hot sweetened tea or sweetened coffee. Fortunately, I had stashed some crackers and tangerines in my daypack.
When the bus made its drop-off at 8am, we knew then that there was no way for a 9am arrival time at Lima.
Our trusty wristwatches told us that it was already 11:30a as the big bus wheeled into their own terminal in Lima. Instead of the printed promise for a 13-½ hour trip, we had been rolling for 16 hours. Since there had been no delay, we strongly suspect that this is the normal arrival time. Although we had missed a lot of scenery with the night run, the trip had been as comfortable as could be expected.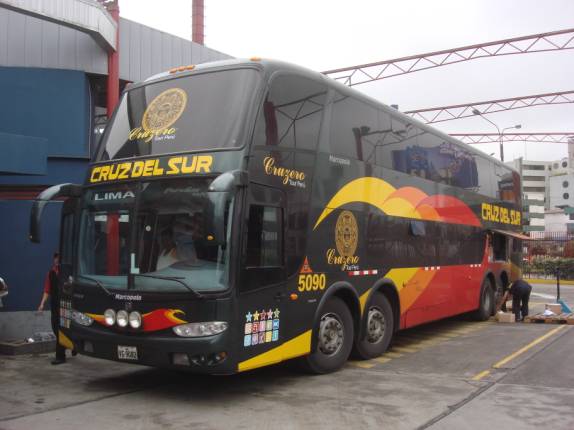 We negotiated with numerous taxi drivers to obtain an acceptable fare to central Lima. Negotiating for such small amounts is something that many foreigners resist. It is important to realize that negotiating is an accepted, even expected, business practice. In many instances, if a person does not bargain, they will not be very well respected and, furthermore, they will often be dimly viewed as somewhat foolish. At the bus station, taxi fares were being quoted at 20 Soles with marginal reductions through bargaining. We moved just down the street where we finally accepted a 7 Soles fare to take us to our Hostal San Francisco at Calle Azangaro, 127. Remember, in Peru, it is not common to tip the taxi driver.
The great folks at our hostal had #304, a nicer, larger room, ready and waiting for our arrival. It was nothing real fancy but everything was very clean, the showers were hot, the beds comfortable, and, most importantly, the staff is absolutely wonderful. All of that was available for approximately $18 US per night. I highly recommend this place for a safe, convenient, and economical choice.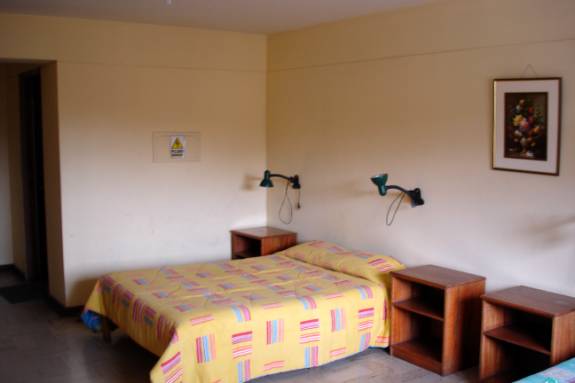 We didn't rest very long before deciding to get out and do some sightseeing. After all, this would be our last full day in Peru.
This restaurant was proudly displaying this roasted pig and some prepared pulled pork sandwiches. Although it looked pretty good, we didn't dash in for lunch. I wonder, "Would you have eaten here?"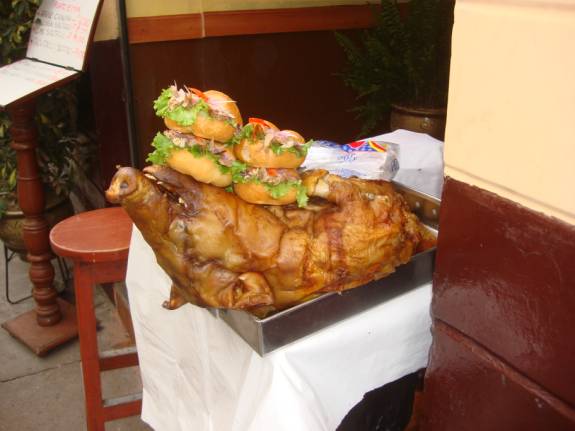 Much of the architecture in Lima is nothing less than spectacular. Even under the near constantly gray skies, we eagerly walked all around looking for different and interesting sights.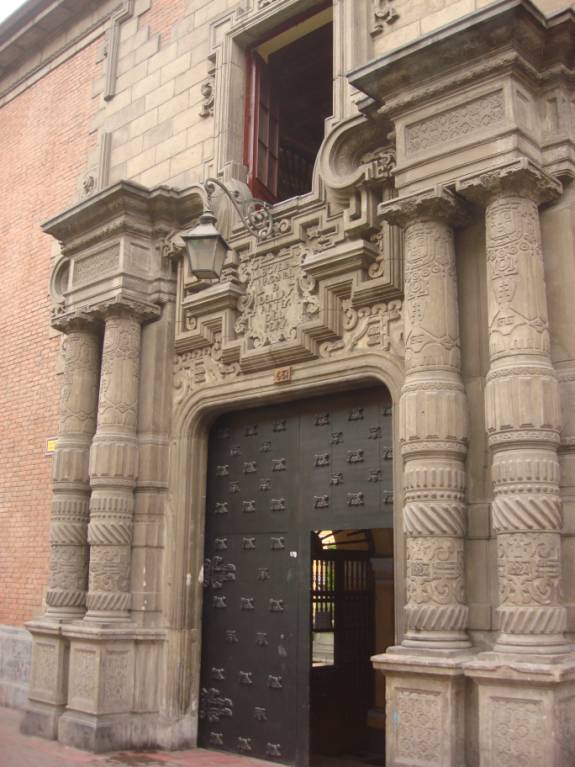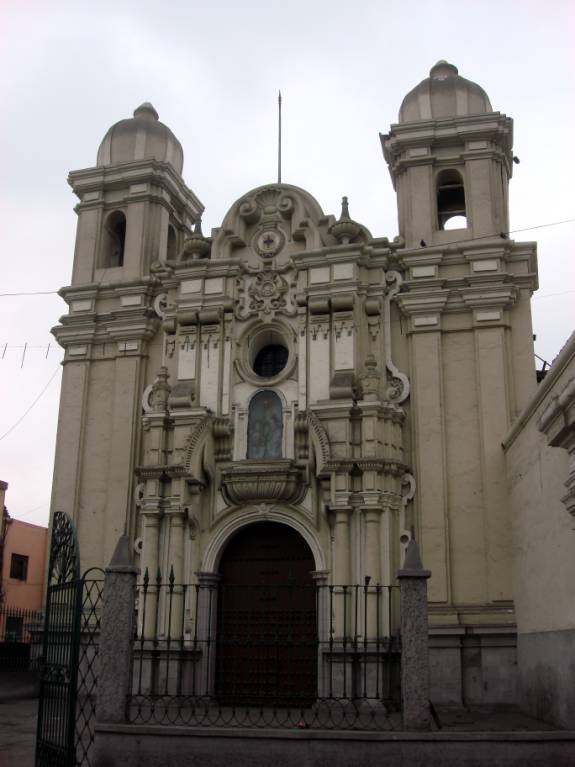 Now falling into a state of disrepair, these wooden balconies must have been extremely elegant in their better days.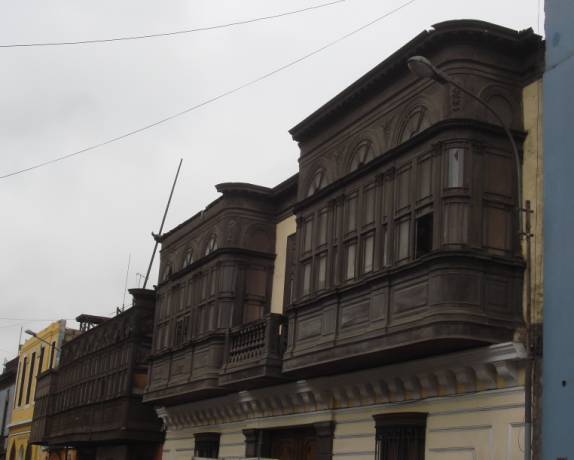 I defy you to look at these luscious strawberries without drooling. You could be savoring 2.2 pounds of plump red fruit for slightly more than 50 cents.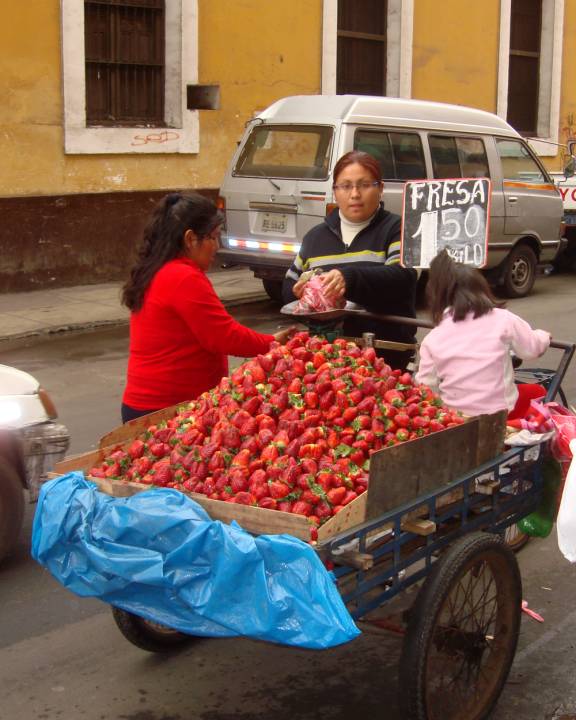 This is the backside area of the national Congreso (Congress).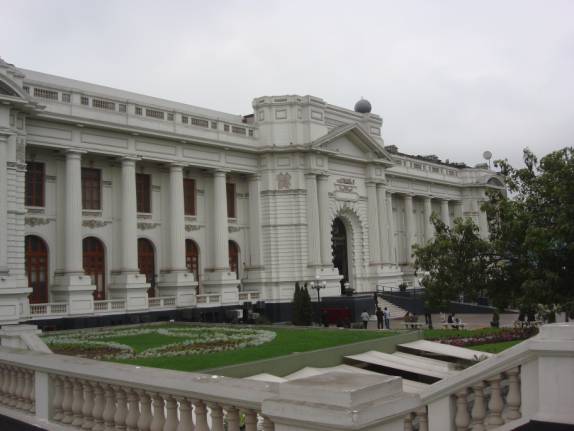 …A side view of the Congreso building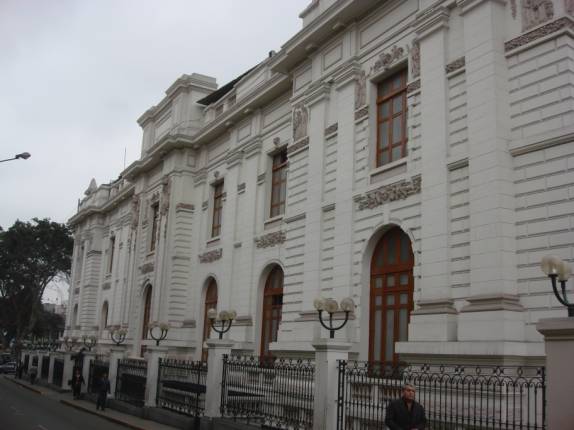 Do you think that this is a church? It may have been, however, it is presently a school, La Gran Unidad Escolar Mercedes Cabello.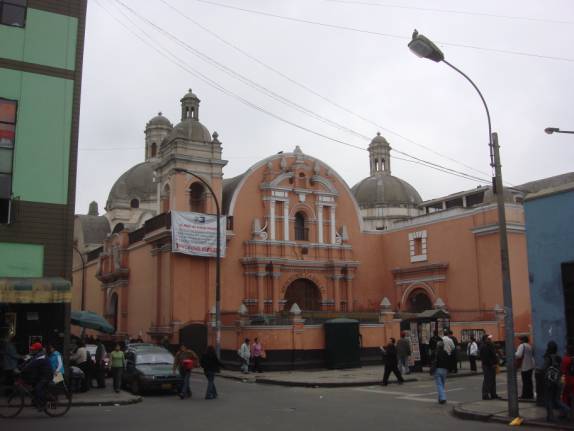 No sightseeing day can be complete without a visit to the local Mercado (market). The fish from this vendor looked very fresh.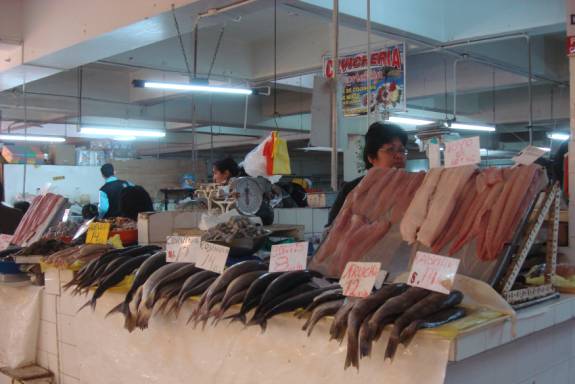 …Or maybe you're in the mood for the Pollo Entero (whole chicken) or Carne de Res (beef).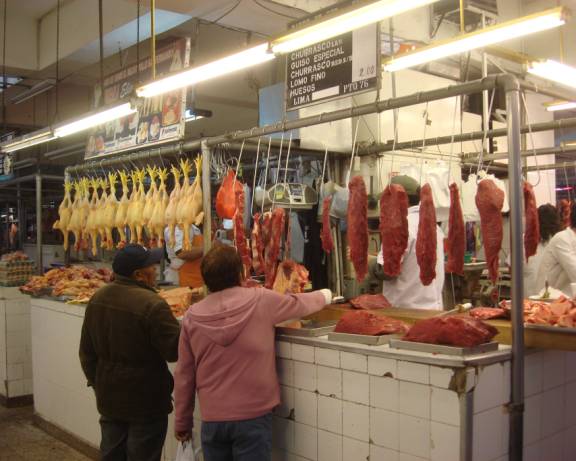 …Or how about some Tripas? You'd have the choice of stomach linings from cows, sheep, alpaca, or maybe others. Will that be chopped or whole, Ma'am?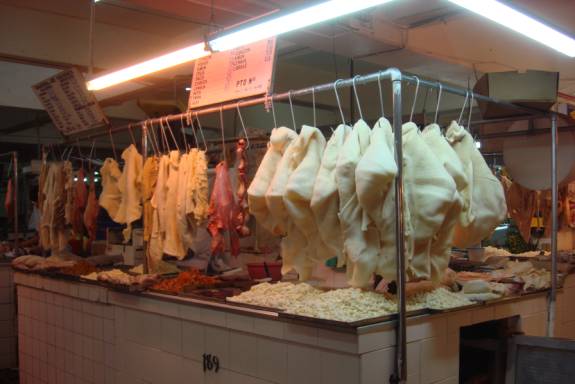 Lima has a large Chinatown area marked by a familiar Chinese archway.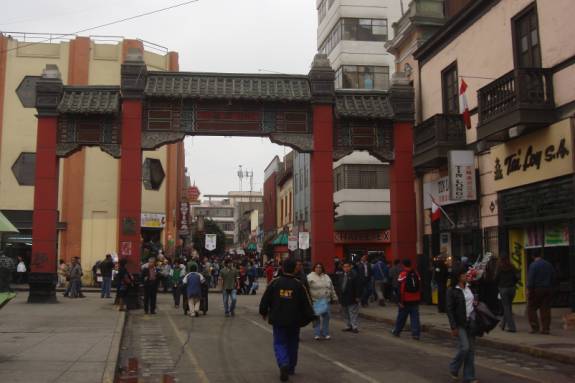 There were lots of shops specializing in goods from China. Numerous opportunities abound to partake of their delicacies and specialties at various Chifas (Chinese restaurants). The men in the yellow vests are the moneychangers. You can change Euros, Dólares (dollars), or a variety of other international currencies with them. I was always a bit reluctant to be flashing money around on the open street. You must be very careful to check each bill for damage and especially for Falsos (counterfeits). In Peru, counterfeit money is rampant. For safety reasons, we preferred to change money indoors at a Casa de Cambio (change house).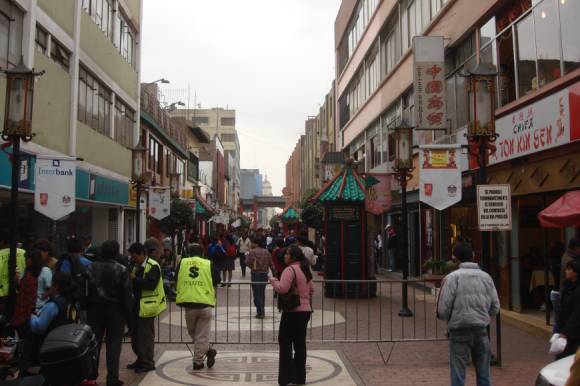 The shopping area stretched for many blocks beyond the limits of Chinatown.
How many other blue and yellow churches can you name? This one is called, "El Señor de Santuario de Santa Catalina de Sena"
Hoards of Limeños (Lima locals) strolled the streets of the surrounding area astutely shopping for the best bargains.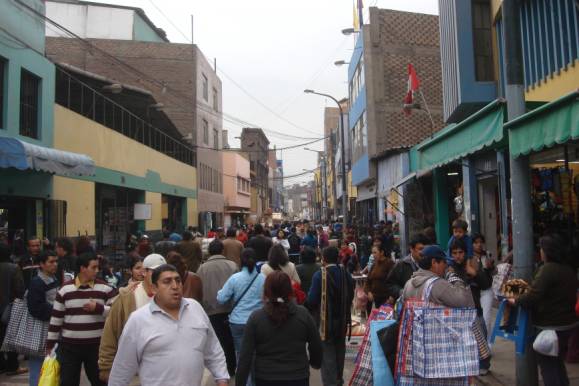 …Lima's response to the UPS driver. Lashing those crushed boxes like that, he has a promising future as a baggage handler at New York's Kennedy Airport.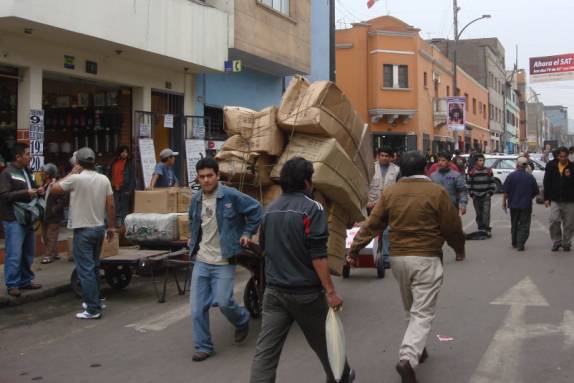 Each of these boxes weighs 11 kilograms (24.2 pounds). If you want, you can do the math to figure the load bearing capacity of this cart; I'll just guess that it exceeds OSHA guidelines. And by the way, where are his steel-toed boots and safety back strap?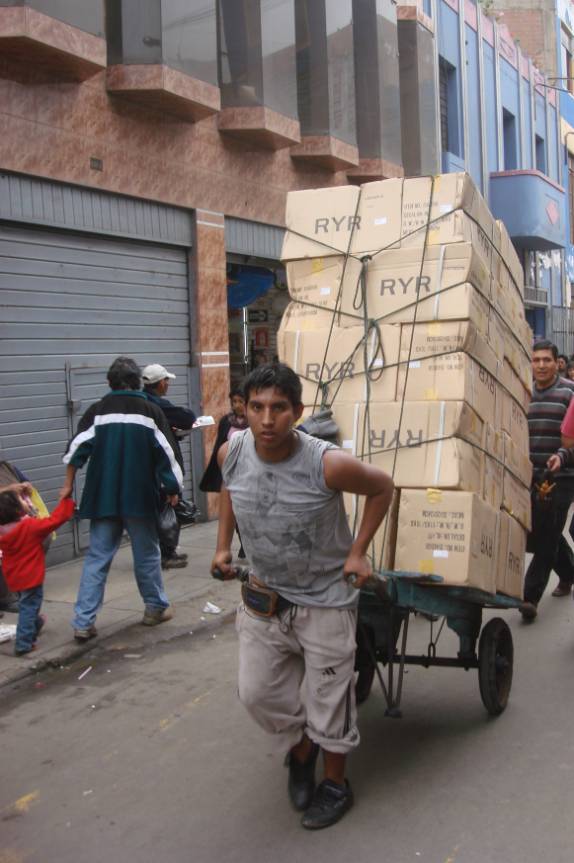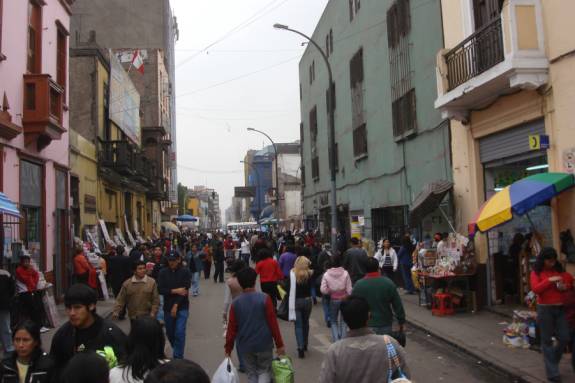 We observed numerous vendors selling these strange looking, little spotted eggs. I have no idea what bird they are from. Do you think we tried them? I think, NOT!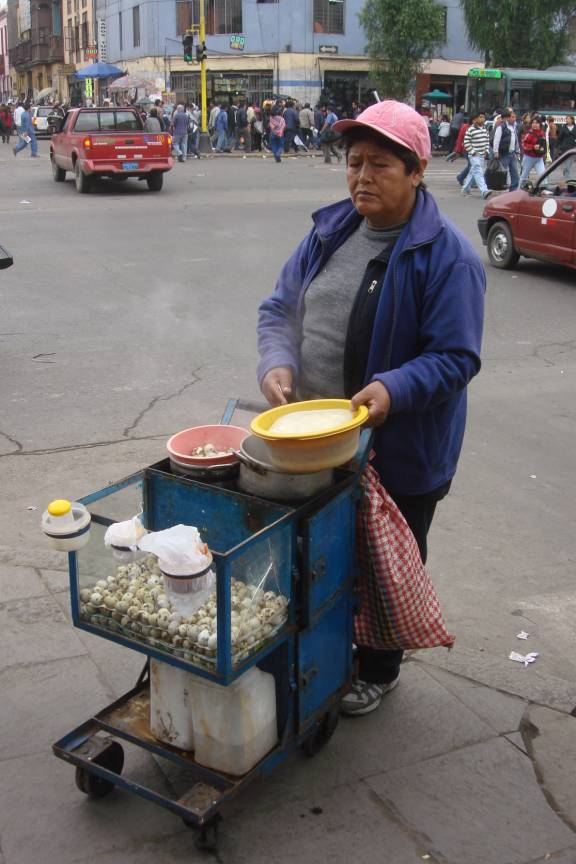 Moving closer to the historic zone, many of the buildings have been nicely restored to their former elegance.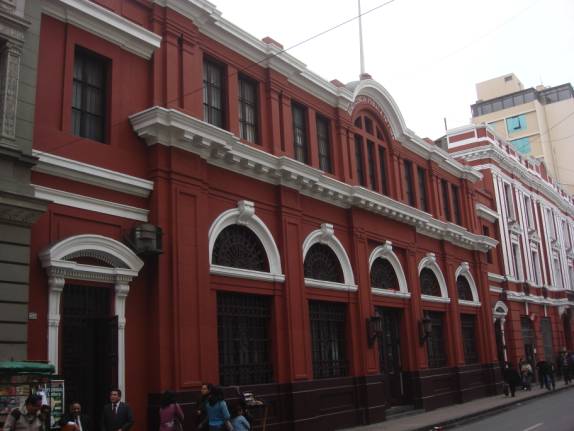 At the Aero Club of Peru, a private organization for Peruvian aviators, we had the privilege of seeing a replica of the famous Blériot XI. Born in Paris of a Peruvian father, Jorge Chávez was the first man to fly across the Alps Mountains in Europe. His aircraft was just like this one. Unfortunately, his fame was short lived because he died less than a week later in a tragic crash in Italy. In commemoration of his accomplishment, the Jorge Chávez International Airport in Lima was named in his honor.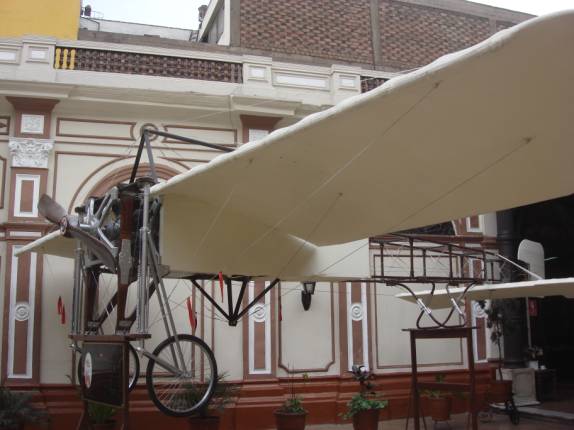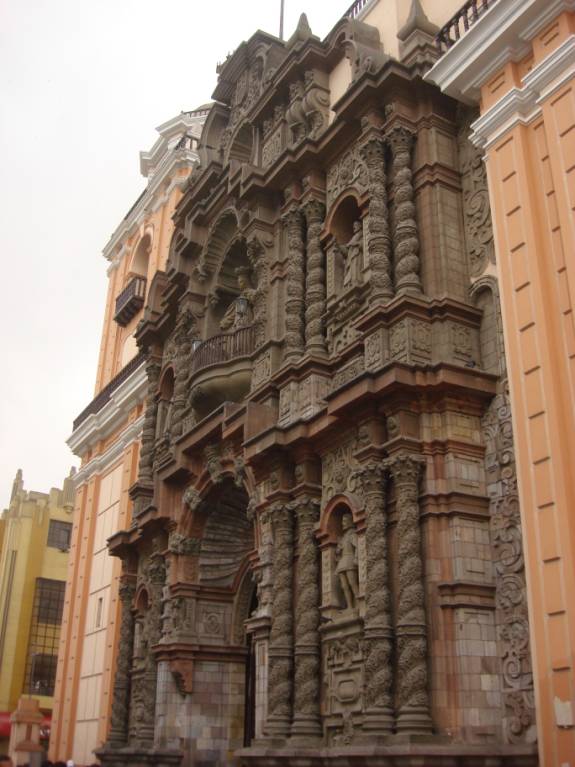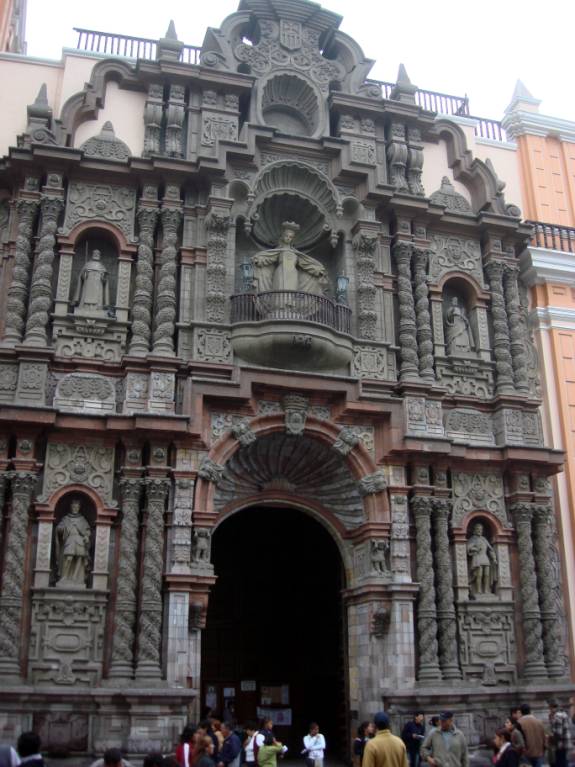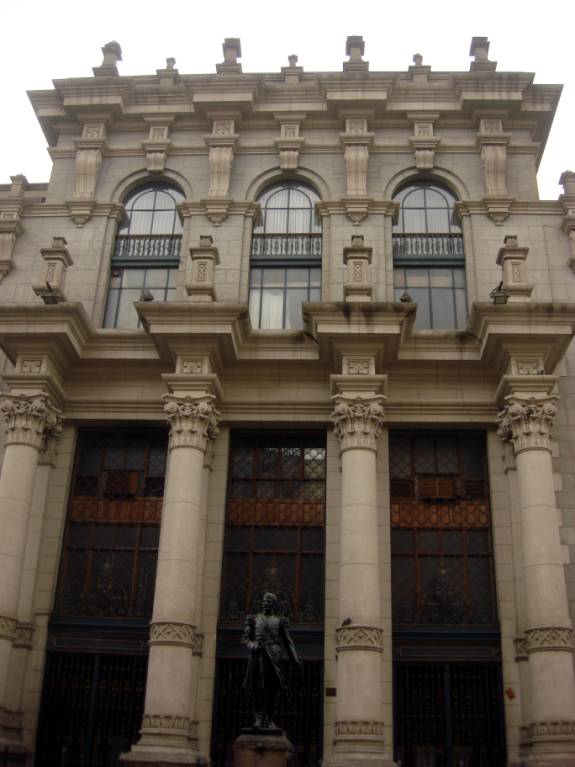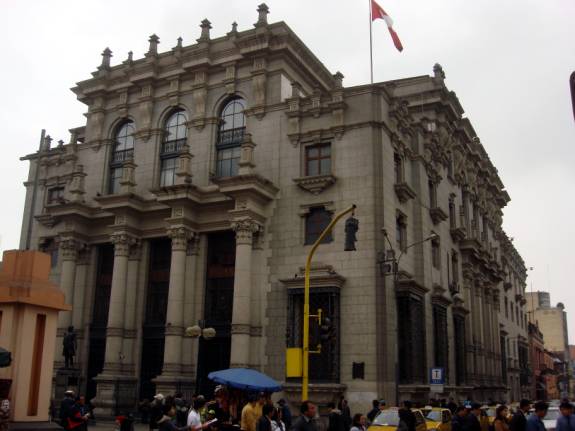 The upscale shopping area lining the pedestrian mall along Jirón de la Unión is graced with the beautiful facades of these restored buildings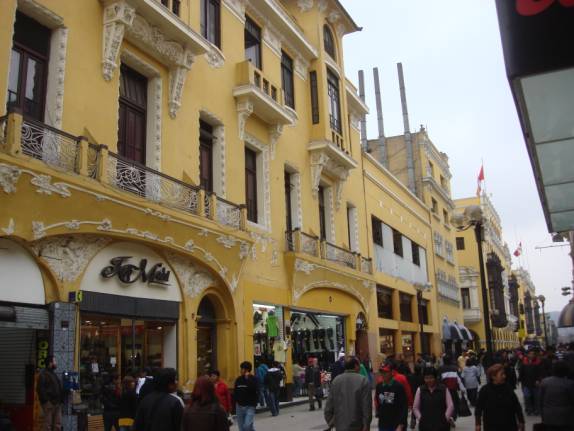 Adjacent to the Plaza de Armas, these fabulous balconies are stunningly gorgeous.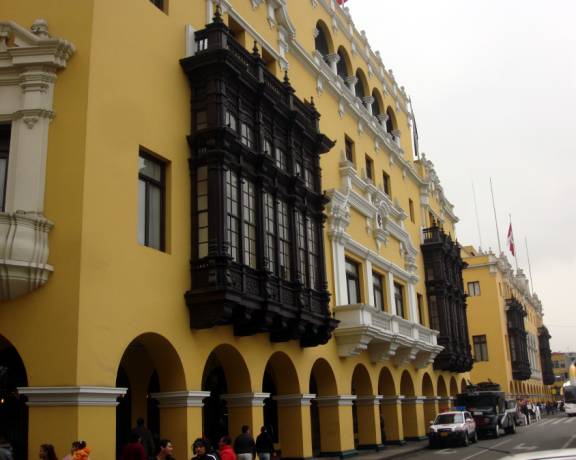 These cute cheerleaders are part of a marketing promotion for these upscale fashion shops in the modern, enclosed mall.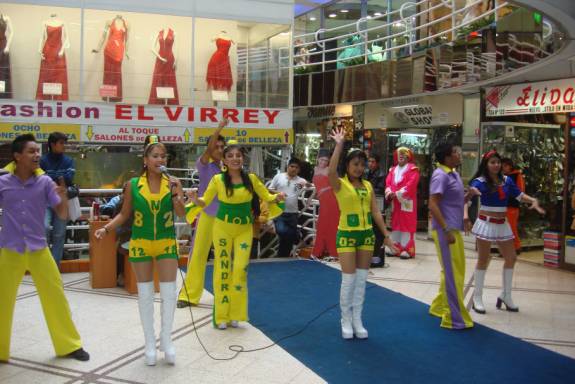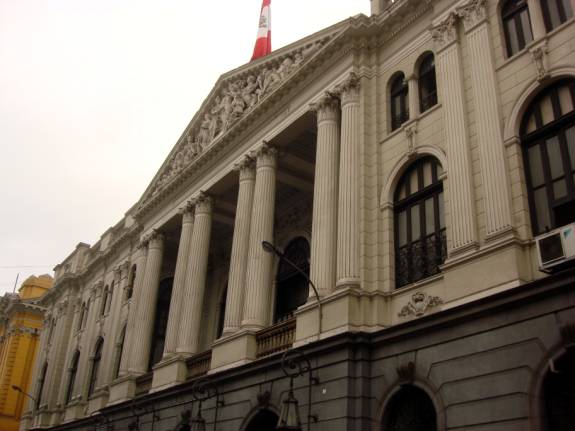 This yellow edifice houses the Centro Cultural Escuela National de Bellas Artes (Center of Culture and National School of Fine Arts).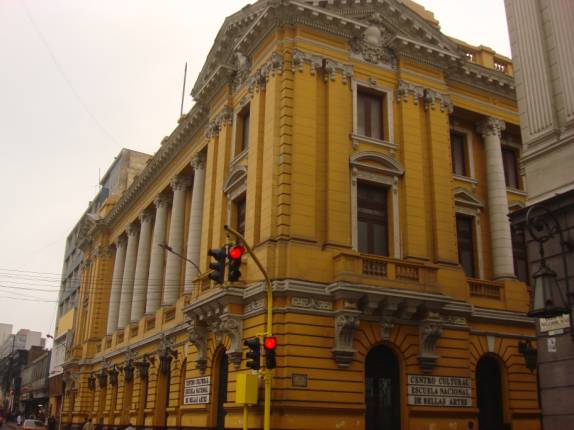 In case you were wondering, the answer is a resounding YES! Of course we had to return to the jewelry bead stores for some last minute bargains. I tell you, the woman's gone MAD; I tell you, MAD, MAD, MAD! We even had to go change some more money to help feed her insanity. Although she may be just plumb nuts, it is nicely reassuring to know that she does, indeed, make some absolutely beautiful creations.
In Peru, the sun usually sets a little bit after 6pm throughout the year. The city features seem to put on a different face under the intense spotlights.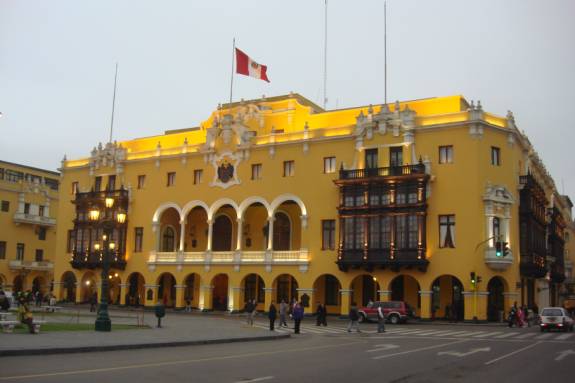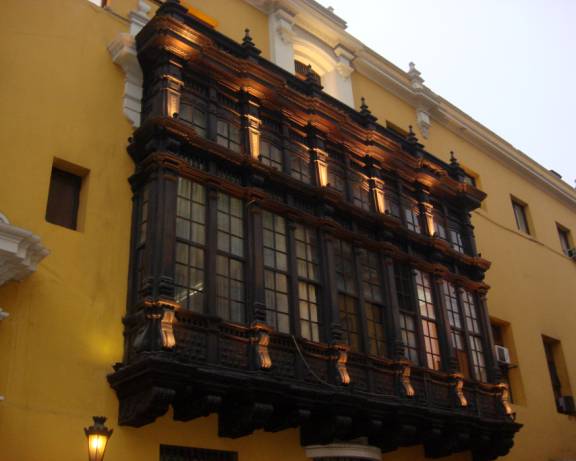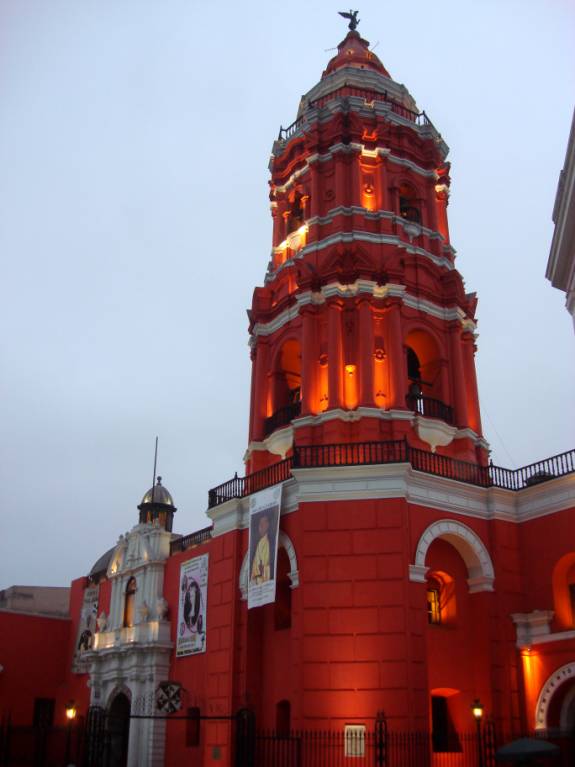 The Iglesia Y Monasterio San Francisco appears beautifully transformed at night.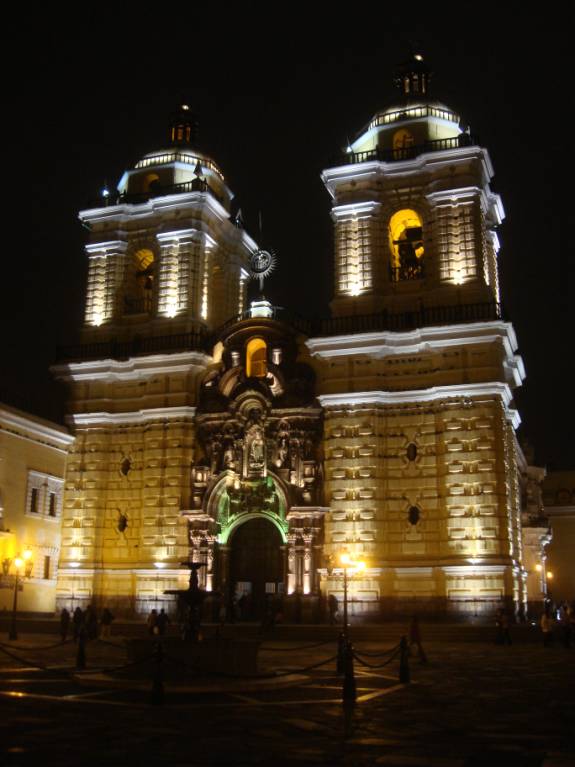 Just across from the church, we enjoyed dinner at the Pancho Fierro Restaurant. The small local eatery serves tasty and economical meals from their daily menu.
The gal at the hostal was always very nice and helpful. I thanked her saying, "Muchas Gracias por todo, Faya." She replied, "Who told you my name is 'Faya'?" I told her that the other girl that works there had told me. She started shaking her head and smiling. Then I started thinking, "Faya", sounds just like "Fea". Right away, I knew that I'd had been set up for the brunt of her friend's joke. I had assumed that her name was like 'Faya'; not so, my friends. In Spanish, the same sounding "Fea" means "Ugly Girl". Of course, I was totally embarrassed but we got to laugh it off. She explained that her friend had done this to her before and it was a big joke. I fell for it, hook, line, and sinker. By the way, her real name is Maria. I hope you get to meet her someday.
We packed up all our belongings, showered, and went to bed early in hopes of the next few hours of sleep.
09/05/08 FRIDAY LIMA – Bogotá – MIAMI – HOLLYWOOD, FLORIDA
The preset alarm clocks and Despertar (wake up call) harshly disturbed our few hours of sleep at the ungodly hour of 1:45am. Maria had arranged for a private taxi to take us to the airport this very early morning. When we left the hostal at 2:15a, the taxi was standing by to whisk us through the nearly empty streets. In the traffic of daytime, this ride would have taken over an hour. Just 20 minutes later, we were getting out of the taxi with our bags. The reasonable, prearranged fare was S./30 (about $11 US).
The relatively short line was moving painfully slow. Why? When it was finally our turn, we learned the reason was because they were changing everybody's flights. Our scheduled 5:50am flight was severely delayed and would not depart until after noontime. You know, we could have stayed in bed a whole lot longer.
We were fortunate that we could still arrive in Miami tonight, only at the much later time of 10:55pm. Others were not so fortunate as they could not make any connections in Bogotá today. They had to be rescheduled for tomorrow's flights. Unfortunately for us, we would need to occupy ourselves for over 9 hours while stuck here in the terminal area.
I found an internet kiosk and was successful in sending an email to Jeff and Sharyn who were anticipating to pick us up at 3pm this afternoon. Of course, they were not awake to respond so I had to hope that they received it okay. A check of the weather was positive since Hurricane Ike, that had been forecasted to make landfall along the Florida coast, was veering south and would pass into the Gulf of Mexico (note:eventually, it hit the Texas coast at Galveston causing massive destruction). The other storm, Hurricane Hannah, had turned northerly and was now headed toward South Carolina expected to arrive this late weekend or early next week. It was comforting to know that Sharyn and Jeff would be safe and that AMARSE would be safe in southern Georgia.
There were some expensive choices for eating in the terminal. There is nothing else around here for miles so we were necessarily subjected to their ways. We read, we wrote, and, best of all, we played our favorite dice game, Farkle. At the end of our matches, we resulted in a final tie meaning neither of us could claim bragging rights. Oh well, you win some and you lose some. Before we knew it, the hours had seemingly flown by.
Security was effectively performed and remained relatively hassle free. We had to purchase our departure tax stamp for $30.25 US per person.
After boarding the AVIANCA 757-200, the rescheduled 12:20p flight AV074 was airborne at 12:38p. A smooth landing put us in Bogotá, Columbia for our connecting flight to Miami.
Even though we did not leave the secure terminal area on our way to the next departure gate, we still had to go through 3 separate security checks conducted by 3 separate agencies. At one checkpoint, the Columbian Army removed everything from our hand luggage for closer examination. I had numerous pieces of pottery depicting a Peruvian nativity scene; the inspector hand weighed each piece to ensure authenticity.
For our Bogotá to Miami segment, we boarded AVIANCA flight AV008. The 757-200 departed on time at 6:15p CDT and taxied up to the gate in Miami at 10:55p EDT. After the short lines at the Immigrations booth, US Customs reminded us never to use pencil again on our declaration forms and waved us on through after x-raying our bags.
Fortunately, our email correspondence had gotten through. Jeff was waiting patiently at the Customs door to escort us to the nearby Toyota Sequoia that Sharyn was watching over. It was almost midnight before we got back to their place in Hollywood. We are so thankful to have these loved ones willing to take such good care of us. We both love them so much.
Everyone was soon ready for bed. Tomorrow would be a better time to share our thoughts and news.
09/06/08 SATURDAY HOLLYWOOD, FL
It was a slow paced and relaxing Saturday morning. It had been late last night when we arrived and we needed the extra time to rest up.
We gave Sharyn and Jeff a Nativity scene that portrayed the manger birth in an Andean theme. The figures of Joseph, Mary, the Wise men, and Shepard boys are all unusually dressed in typical Andean clothing. Even the baby Jesus wore the familiar woolen cap with earmuff flaps typically seen in the native highlands. It will be a conversation piece for many years during the holiday season.
When Sharyn was a young girl, I would often bring her a small silver spoon from my travels. She remembered her collection when I gave her another spoon from Peru.
For some strange reason, Judy's car battery was dead. Jeff and I jumped started the car and let it charge up. There must be a little light or something that is stuck on and draining the battery. I guess that we should have disconnected the battery terminals like we have other times. As usual, it's live and learn.
Someone suggested Longhorn Steakhouse for lunch. Of course, everyone concurred with the choice. Jeff and Judy had juicy gourmet burgers, Sharyn had a nice steak, and I had a big bowl of their special Texas Chili. Thanks, Jeff and Sharyn.
With our lunch fully settled, three of us went for a nice long swim in one of the complex's pools. Jeff chose to watch some of his favorite sports programs on the TV. The water felt great and we had the chance to chat for a nice long time. In the evening, we all went for an invigorating walk along the fabulous Hollywood Broadwalk.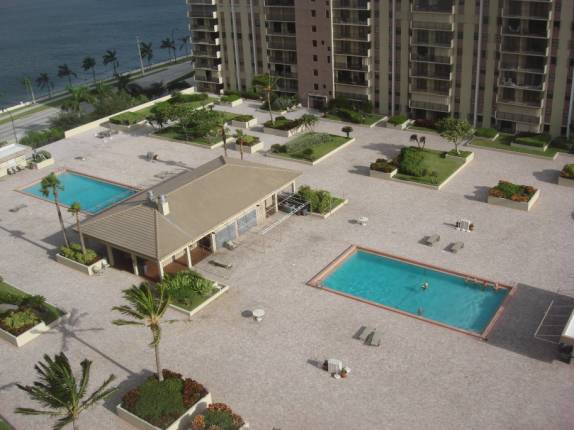 09/07/08 SUNDAY HOLLYWOOD, FL
Jeff and Sharyn were out early for their church activities. Judy and I were slow to get going and around. We enjoyed reviewing some of the photos that we took on our trip. This was the first opportunity to see them on a bigger screen than the camera itself. We have taken over 4000 pictures during our wonderful adventure trip. It sure is great to have digital cameras.
Lunch was a real highlight. Jeff and Sharyn recommended Giorgio's Deli and Bakery located right on A1A at Hollywood Beach. Luckily, we got a table on the deck overlooking the ICW (IntraCoastal Waterway). The food was great, the scenery amazing, and the chance to be together was unforgettable. Judy had sliced turkey on a baguette, Sharyn had a plate of tomatoes and fresh mozzarella slices, Jeff had the Greek lasagna, and I had the Giorgio's Platter, which was filled with delights such as Greek olives, feta cheese, tomatoes, onions, peppers, artichokes, and thinly sliced pieces of heavenly Lox. Thanks, Judy.
Although the car has been kept in the complex garage, the ocean air constantly blows through covering the vehicle with a filmy coating of dirt and salt. Jeff suggested a hand carwash place on Route 1. They did an amazing job of cleaning the car on the inside and out for only $15. They earned a nice tip too for their conscientious hard work.
Somehow, the three of them managed to scrape up enough energy to take another walk along the Broadwalk. I was zapped and decided to conk out for the night. It has been a really nice day together.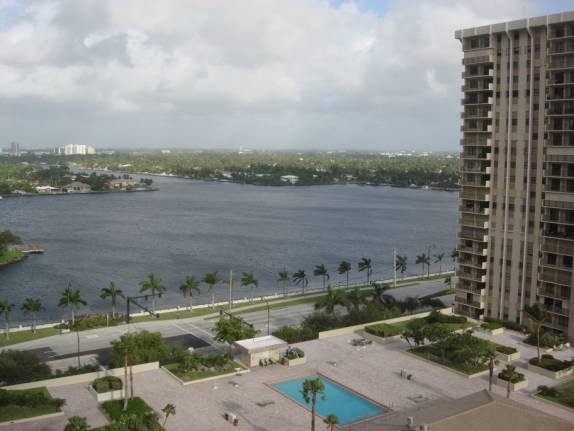 09/08/08 MONDAY HOLLYWOOD, FL to BRUNSWICK, GA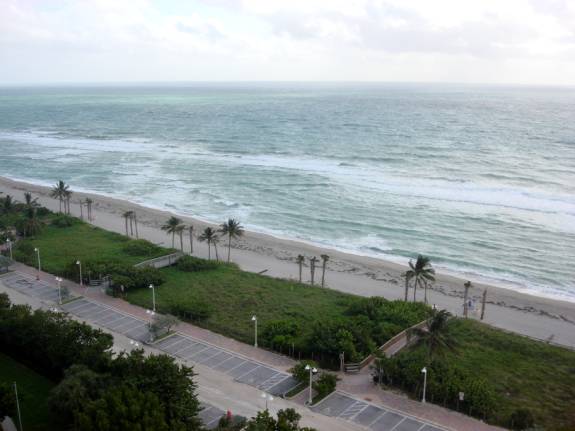 Sharyn and Jeff helped us get ready to head north. Of course, they have to get busy with their work obligations this morning. By 9:50am, we had said our goodbyes, traded hugs and kisses, and motored out of the parking garage.
We had to fill our gas tank in Boca Raton. The price at the pump was $3.97 per gallon for mid-grade. The trip from Hollywood to Brunswick was about 400 miles and the full tank would take us the rest of the way.
My camera has been steadily failing for the last week or so. The screen has deep burns in the LCD and there are some focus issues causing problems. Just north of Jacksonville, we stopped at the Best Buy store to leave it for warrantee repairs. They promised to have it ready for pickup in 2-3 weeks. They had all the receipt and warrantee information in their computer even though the camera had been bought in Texas.
At 7:05pm, we arrived at Brunswick Landing Marina. AMARSE looks so great to us and we are pleased to be back aboard.
Paul and Sue Graham had invited us to ODYSSEY. Just 15 minutes after our marina arrival, Sue was serving up dinner to the hungry travelers. That's what we call a wonderful friendship.
You might think that I would have been so exhausted that I would have headed straight to bed; NOT! This fool stayed up until 3:40am messing with picture files on the computer. Do you think I will ever learn?
PLEASE CHECK BACK FOR MORE UPDATES…
COMING SOON TO A COMPUTER NEAR YOU…
This Update edition concludes the narrative and pictures from our fantastic adventure to Peru. The Updates from this trip were published in a series because of the file size and number of pictures. You can easily identify this series on the LOGLIST 2008 by the purple highlights.
I hope you have enjoyed them in sequence and that you will have the opportunity to visit that magnificent country too.
Future updates will continue with our life aboard AMARSE and our next group of exciting adventures.
We sincerely hope you will join us again soon for more of our activities.
Please let us know if you have any special suggestions and thoughts.
Thanks for allowing us to share our life and adventures with you.
Lotsa Luv,
Fred Reed and Judy Law
AMARSE
MT40
POST SCRIPT:
Please consider reviewing the previous years of compilations to give context to the current editions.
REMEMBER: The website is now fully active and you can visit it at any time. You can review any of the 2006, 2007, or 2008 logs and learn more about the crew and our plans. Enjoy.
ATTENTION: SPECIAL NOTE:
You may contact us via email anytime.
We will have internet where ever we find WiFi service.
Our cell phones have been turned back ON. Judy has AT&T/CINGULAR service. Fred has VERIZON service. Email us if you would like our phone numbers.
"AMARSE". is pronounced "AM-ARE-SAY".
Our website is: www.amarse.net .