UPDATE#16
05

/16 thru 05/23/07

Howdy Everybody,

The period 01/19/07 thru 05/15/07 has been covered in Updates 1 through 15. We continue with UPDATE07 # 16

.

UPDATE07 #16 05/16/07 through 05/23/07.

Welcome back to the new Adventures of the trawler AMARSE. At last update, we were overnight docked at Welaka, Florida while exploring the St. Johns River.

05/16/07 WEDNESDAY WELAKA, FLORIDA to SANFORD, FL

The morning weather on the St. Johns River was clear, calm, and the temperature just above 60 degrees. At 8:40 am, we were underway from the Welaka City Dock at mile 95.1. We were tied along the southern side of the floating concrete dock with our bow to the shore and needed to pivot sharply to starboard while operating astern propulsion. This technique would keep us clear of the large piling off the end of the T-head. The current is surprisingly strong here and one needs to remain mindful of its effects. For us, we needed to angle sharply away as the current wanted to drive us into the piling. This has been a nice place to stay and there is plenty of water almost up to the shore.

The Great Blue Heron that guarded us last night was still here to wave us goodbye.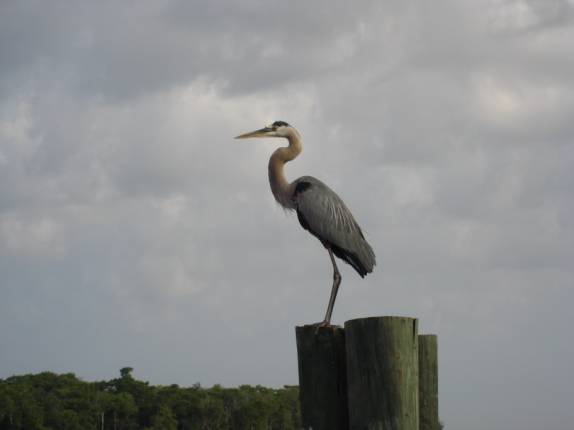 Just south of Lake George, the fishing must be pretty good in this corner. There were lots of good ole' boys in furious competition for that elusive, "big one".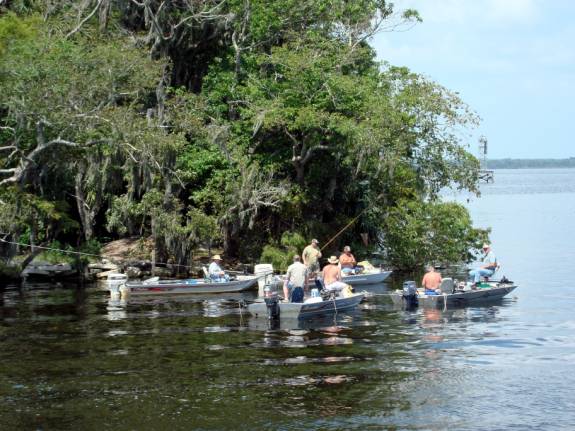 The river draws narrower as we proceed southward and upriver. Lots of cypress trees and beds of hydrilla line the banks.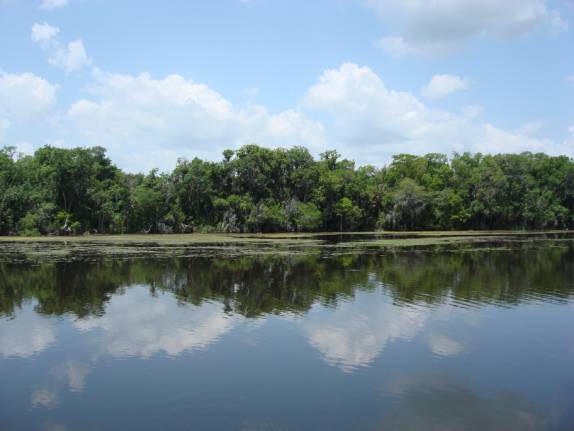 There are frequent encounters with alligators. It is amazing how they blend into the surroundings. Often, you have to be right up to them before you can distinguish them from a snag or floating log. There is more wildlife along these shores than anywhere we have been. With the right camera equipment, it would be a wildlife photographer's dreams come true.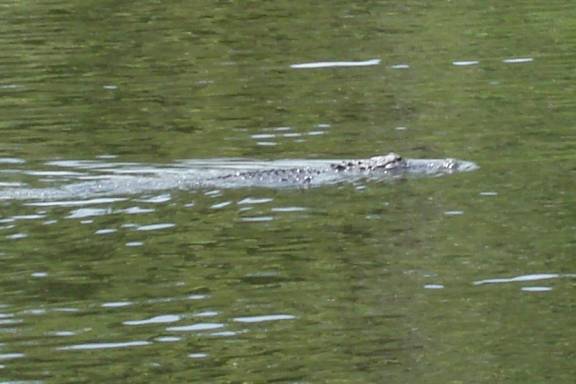 As the river twists and turns, it becomes even more beautiful.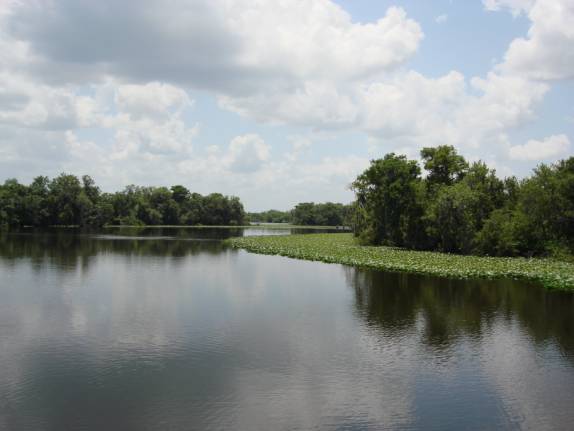 These cypress trees grow right in the water's edge. Their trunks are wide and twisted.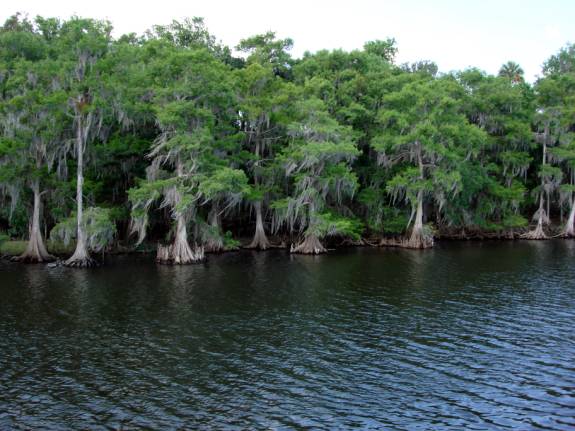 At Butcher's Bend, located at mile 152.6, we attempted to anchor twice. In the soft, muddy ooze, we were unable to find suitable holding ground. Rather than try more attempts, we decided to press on to the marina at Monroe Harbor in Sanford, Florida. In somewhat breezy conditions, the dockmaster, Luke, helped us into the lay along dock # F-30 at 5:35pm.
We were pleasantly surprised when the gal from "Carefully Blended", a large motor yacht, gave several of us a plate of warm, freshly baked brownies. Nice treat.
The docks are convenient to the historic section of downtown Sanford. For dinner, we chose Angelo's Restaurant for very good pizza and cold beer.
05/17/07 THURSDAY SANFORD, FL
It was a lazy morning and we didn't roust ourselves until 9 am. I worked all day long on the log updates. Judy continued the sanding and preparation for the varnish work that has been delayed because of weather. As if that wasn't enough, she also tackled the mounds of laundry. For those that haven't figured it out yet, Judy is a real gem. She does everything and more to make our life wonderful. It is such an honor for me to be with her and I am so fortunate to be a part of her life.
The gorgeous white Heron volunteered to maintain a watch over our bow pulpit. Those sharp eyes allowed us to rest peacefully.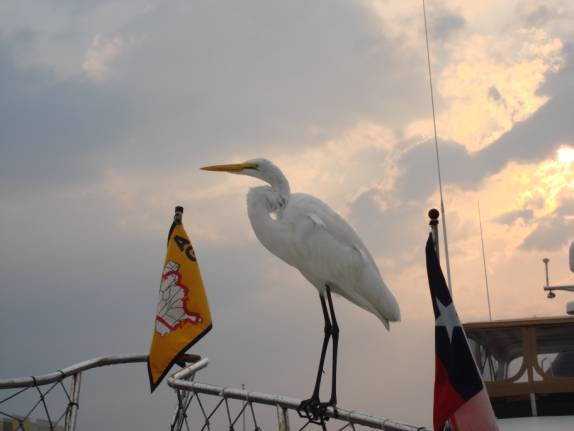 For dinner, we returned to Angelo's Restaurant on Second Street in downtown. Tonight's choice was Calzones; Steak n' Onion for Judy, Meatball Parmesan for Fred. These Calzones were the best we've ever tried. We highly recommend this place for your dining pleasure.
05/18/07 FRIDAY SANFORD, FL
Assured that the bow was safe and clear of hazards, our resident white Heron took position on the swim platform to secure the stern. He seems to have taken a particular liking to AMARSE. I think he can feel the love.
The Monroe Harbor docks are safe and secure. They are home to mostly resident boats that stay year round. Surprisingly, they say that very few transient boats come down this way. The large motor yacht to our stern, CAREFULLY BLENDED, appears to have been stationary at this dock position for a very long time. It was quite clear that the docklines had not been moved in many months, perhaps, years. Lots of other boats seemed to be bound to their slips almost permanently. Do you think that their owners have forgotten the joys of cruising?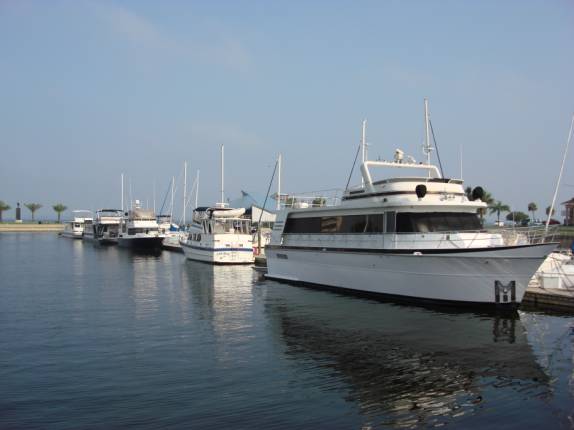 The Enterprise Rent Car driver was a bit late in picking us up at the marina. Apparently, he got lost along the way. By 10 am, we were buckled into the little, red Ford Focus and headed east. The bugs, mostly Lovebugs, were phenomenally thick and were committing suicide right and left. We were literally covered with smashed bugs and their guts smeared the windshield making it hard to see out.
After arriving at Cape Canaveral, we began our tour of the Kennedy Space Center.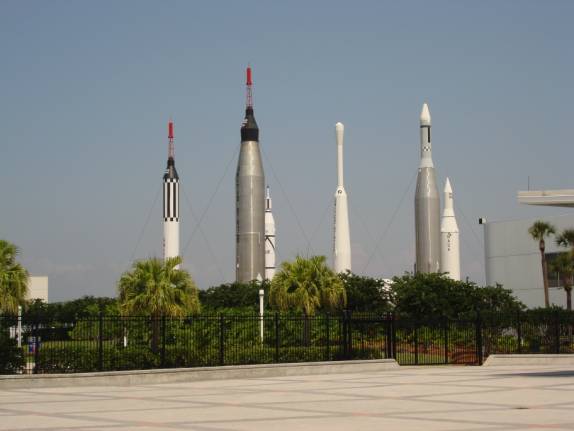 A facility bus shuttles visitors around the huge complex. Here is the next shuttle already on the pad in ready for the launch on June 8th. The assembly is usually staged on the pad as much as thirty days prior to launch. Note the gravel roadbeds upon which the shuttle crawler moves the huge spacecraft when going from the VAB (Vehicle Assembly Building) out to the launch pad. Lesson for the day: The VAB is the largest, single story building in the world.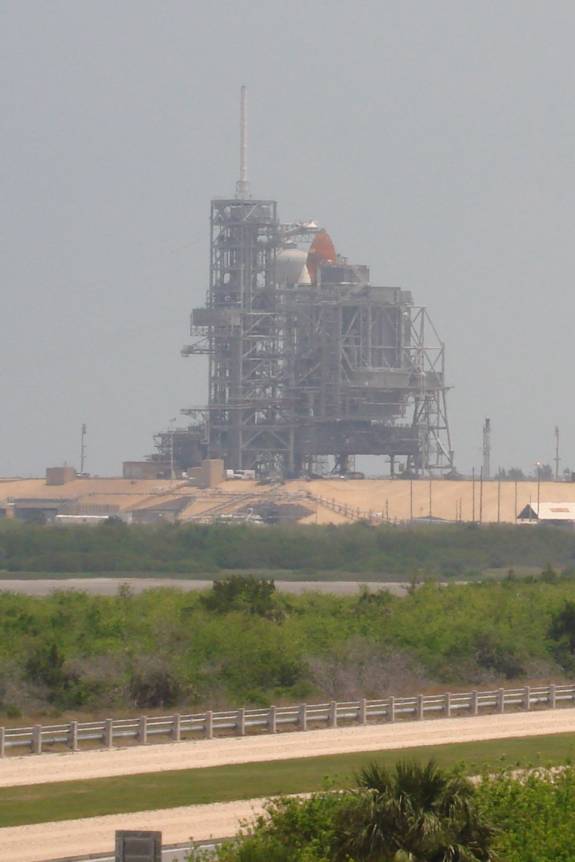 In the main section of the museum, a full size Atlas Rocket occupies a huge amount of space. Look at the size of these humongous, main rocket engines. Just imagine the thundering roar at blastoff. They told us that even at 200 feet away, the heat would disintegrate you; at 400 feet, the noise would kill you.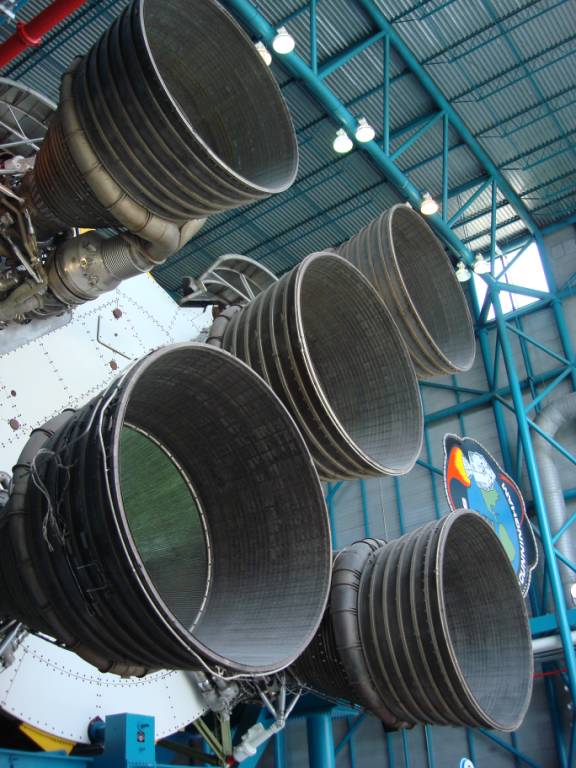 How about this Astronaut? (Or do you call them, "Astro-nettes"?)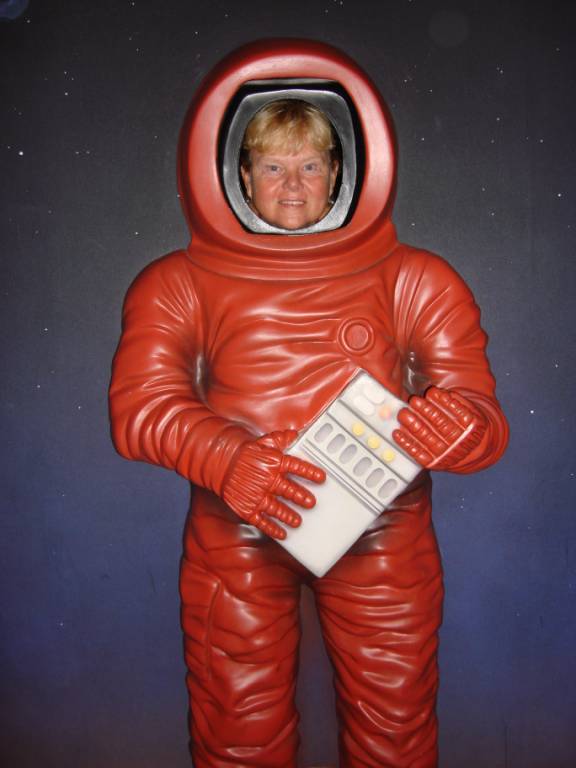 We toured the Space Station facility. There are mockups of the entire Space Station. Once they have completed the assembly process, the Space Shuttle program will be completed and will be terminated.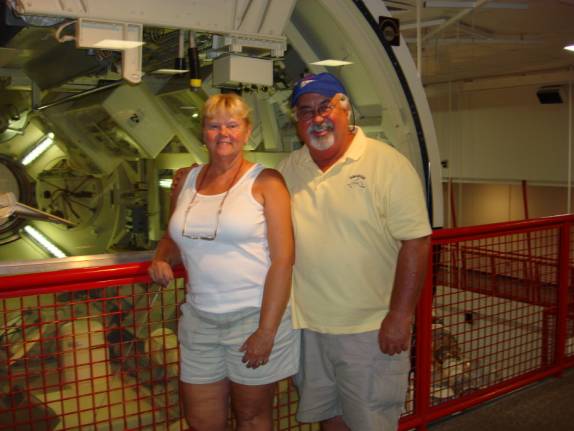 Here are a couple of Space Station Modules that are being built for launch in the near future. Some are quite large, some are much smaller.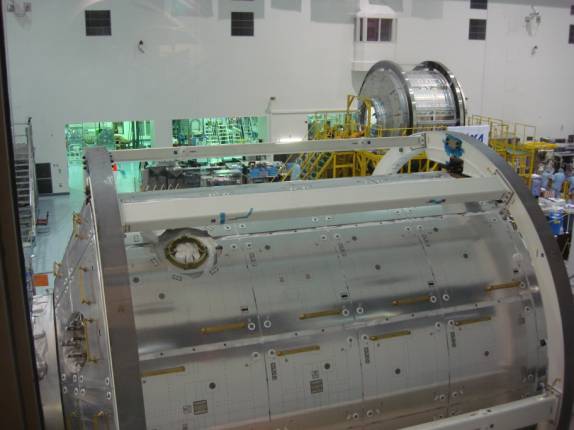 The Kennedy Space Center is a huge, tourist attraction for Florida. The facility is capitalizing on its popularity to sop up tourist dollars. The newest addition to the Center is this new amusement ride. It does not officially open until Memorial Day. We were fortunate enough to get a sneak preview of the ride during their testing and training sessions. The delay was a bit long, but we managed to be in the group of 188 folks that got to participate.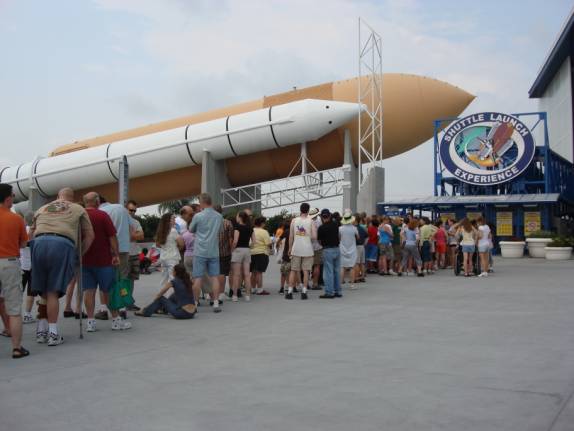 The ride is supposed to be a simulation of the sounds and feelings that the Astronauts experience during the rocket powered liftoff of the shuttle. It is a multi-media presentation with vivid screens, hydraulic motions, and vibrating seats.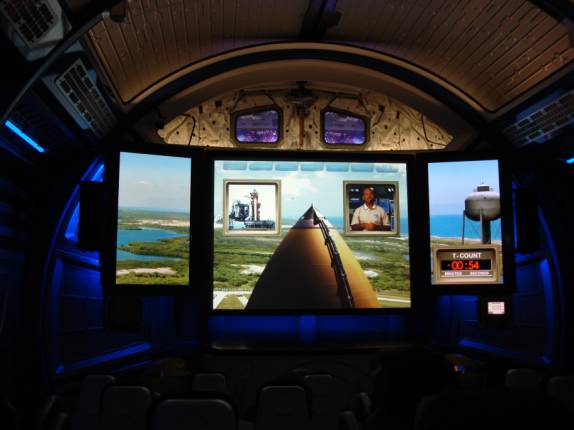 The pre-launch hype has everyone concerned that they will be subjected to massive, traumatizing forces. They don't allow any bags or loose items inside. They emphasize the precautionary warnings for those with any possible health problems. Children under 48 inches tall are not allowed on board.
This is the newest amusement ride in the country and the world. I must say that we were quite disappointed in the results. Of course, it is fun, however, I cannot imagine that this even comes close to the sensations of a real launch. Frankly, we can't understand why anyone couldn't be quite comfortable on this ride. Oh well, that's ShowBiz.
After leaving the main facility, we visited the Astronaut Hall of Fame. It is an interesting museum dedicated to the numerous Astronauts that have braved the realm of outer space. One of my personal favorites was Wally Schirra. Back in the late 1960's, he presented a young, dark-haired aviator, by the name of Fred Reed, with the Leslie B. Cutler Award for Aviation Excellence. It was one of those remarkable milestones in my life to be honored by this pioneer of space travel. Many years later, I had the good fortune to meet with the famous Astronaut and Commander of Mercury VII once again. He told me that he actually remembered the occasion. I was deeply saddened to hear of his recent passing just a few short weeks ago.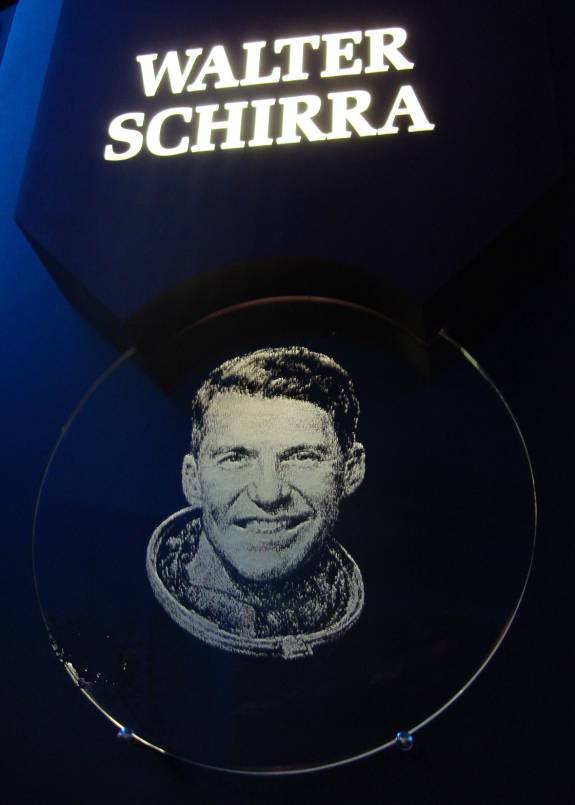 Here is the man that started it all, America's First Man to orbit in Space, Alan Shepard.
All in all, it was a very fun and educational day at the Space Center. For dinner, we tried the highly recommended, Colorado Steak House. Both Judy and I devoured the Baby Back Rib dinners. It turned out to be another successful rib meal, yummy.
05/19/07 SATURDAY SANFORD, FL
It was up and at it early this morning. Where are you going, Fred and Judy? "Why, of course, we're goin' to Disney World!"
It looked easy enough on the map, however, I still managed to make a wrong turn somewhere. After finally getting our bearings, we got to the park about 9:30 am. Tickets to the Magic Kingdom are a king's ransom in themselves. We planned to get the maximum time and value for our experience.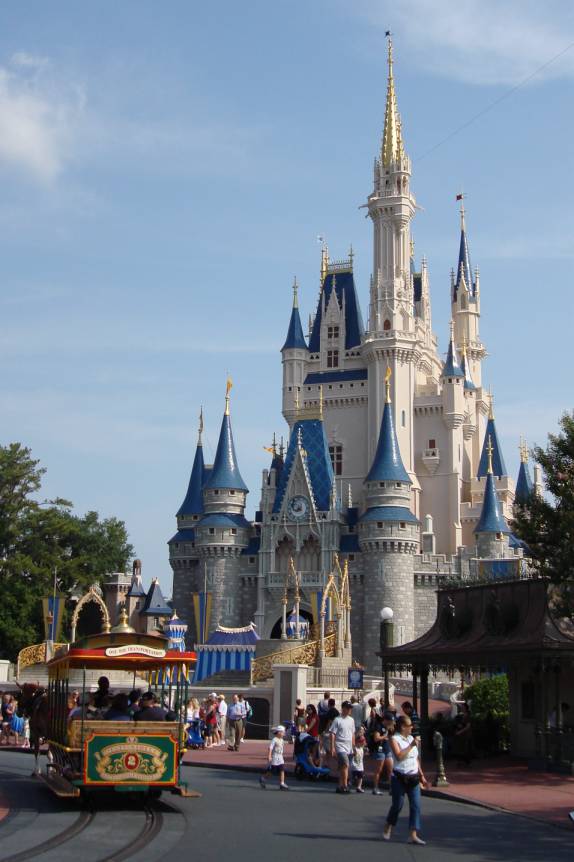 Recalling some old hints for efficient park planning, we headed immediately for Space Mountain. Judy had never ridden it before and was as excited as any kid could be. We had a mere 20-minute wait to ride. She loved it and begged for another turn. I sat this second one out while she joined the line again. I think she would have stayed right here if there wasn't so much more to see.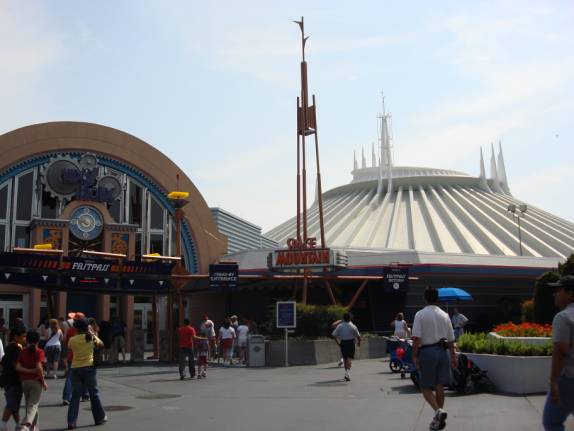 Judy, the renowned Indy racer, completed the racecourse in record time. Spectators were amazed as the driver of #27 took the checkered flag at lightning speed. Fortunately, I was on another lap at the time.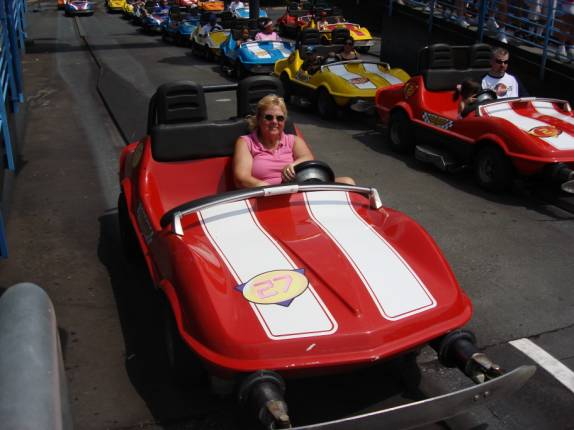 This guy obviously has an eye for the pretty blonds. Kidz will be kidz.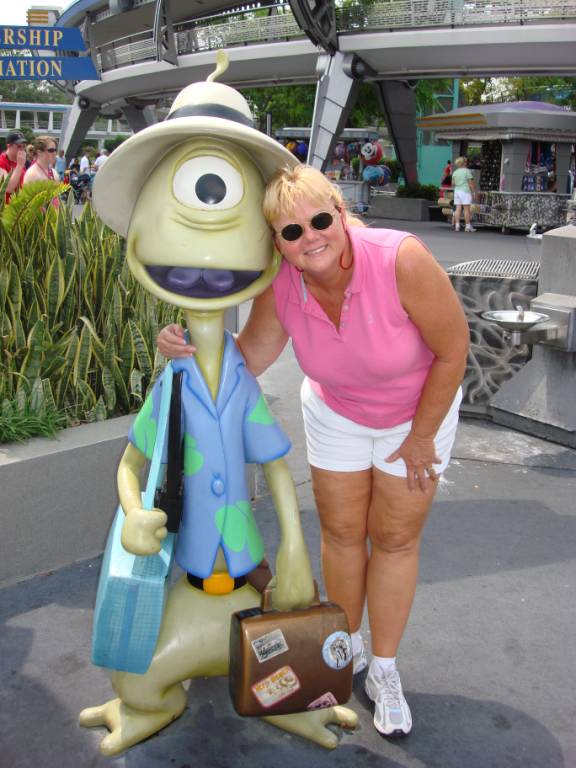 This fellow in the Pirates of the Caribbean ride seems to be slightly undernourished. He sure wouldn't look like this if he sailed aboard AMARSE for very long.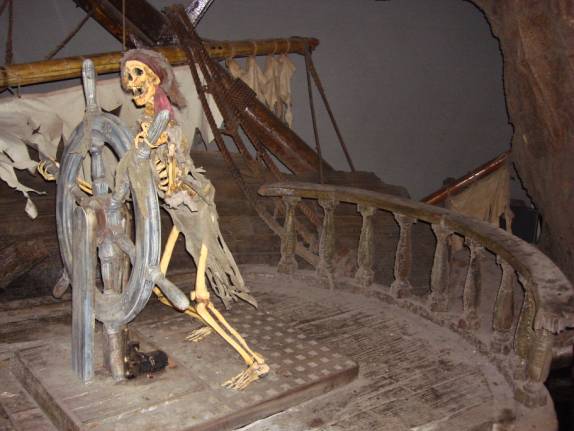 All the characters are so lifelike. This one even looks like Johnny Depp from the movie fame. I love the song line, "Ho Ho Ho Ho, its a pirate's life for me."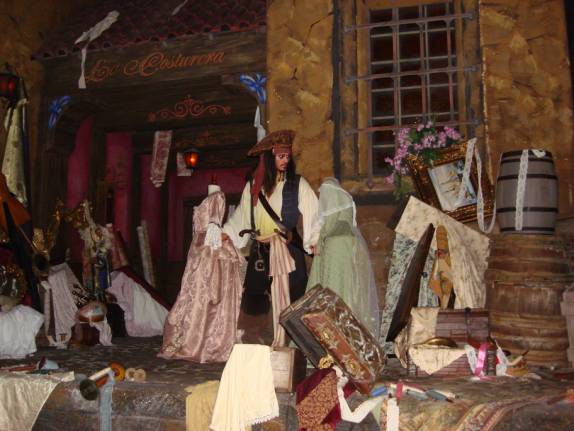 Over in Frontierland, the Country Bear Jamboree remains a classic favorite for kidz of all ages.
At 3pm, the park visitors line the streets and passageways of the park to witness the huge parade of Disney characters and floats.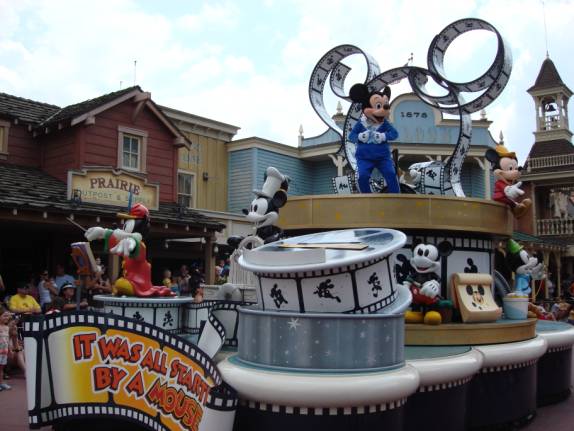 Of the seven dwarfs, this one, Grumpy, has endeared himself to so many folks. I saw one guy with a T-shirt that proclaimed, "American by Birth, Grumpy by Choice."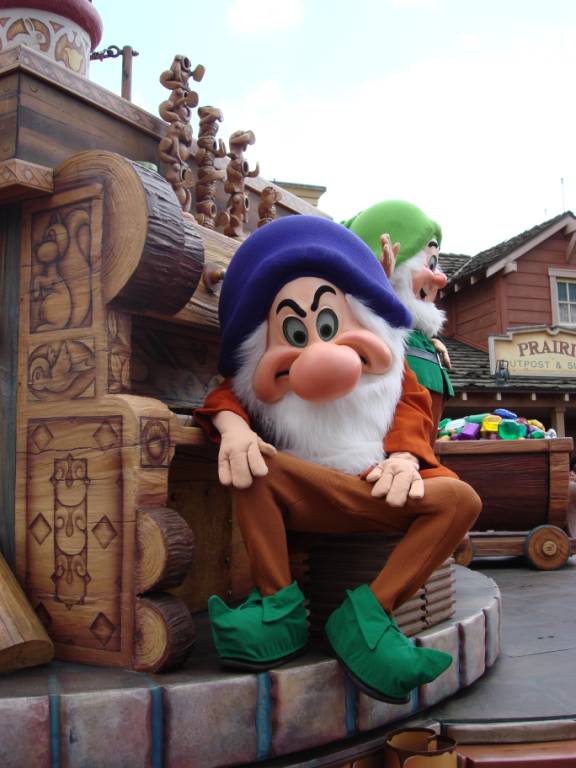 And who could forget that loveable character, Mary Poppins.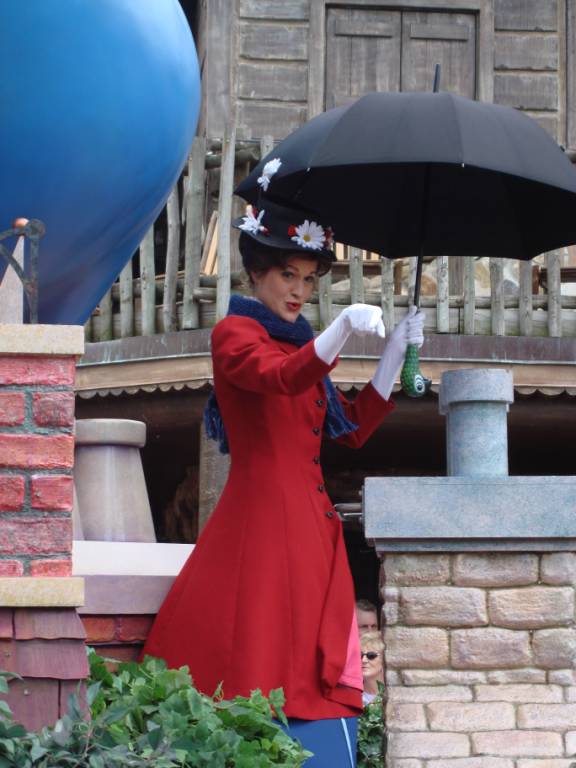 Looks like one of Scootzie's ex-girlfriends.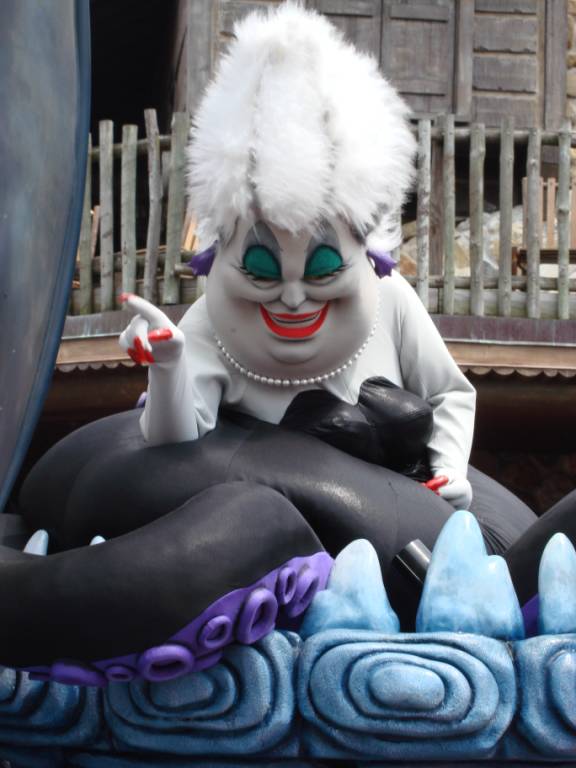 Can anyone identify those two screaming riders in the third row of the Splash Mountain ride?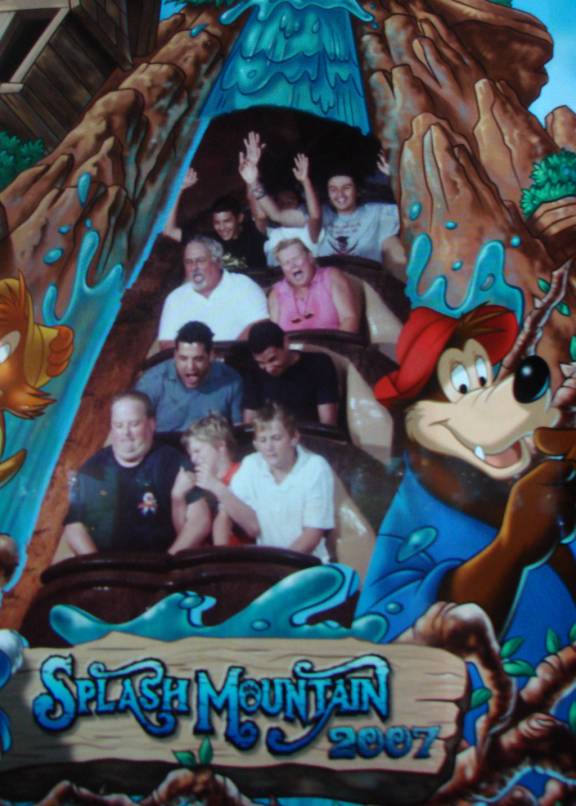 I sure hope this is a different Fred. We saw this stone in the yard of the Haunted House.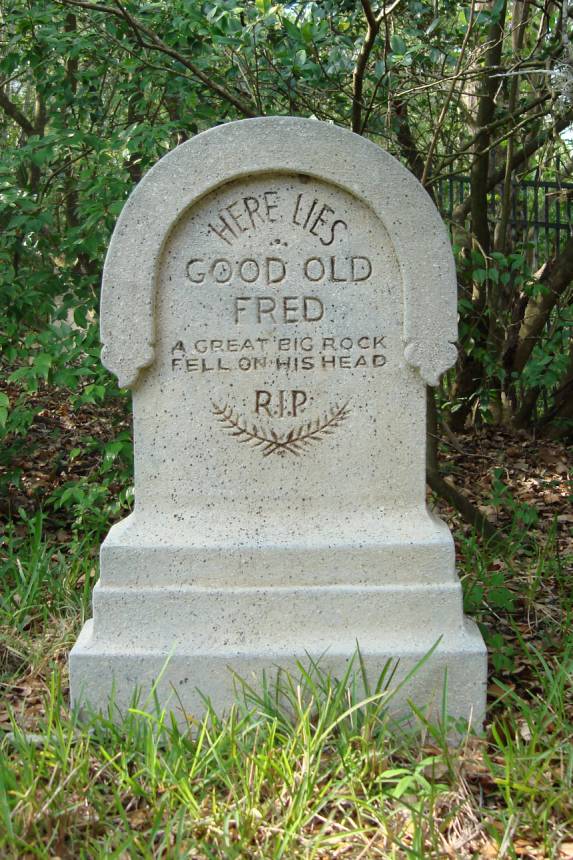 The steam railroad is always a Disney favorite when you just want to sit and rest.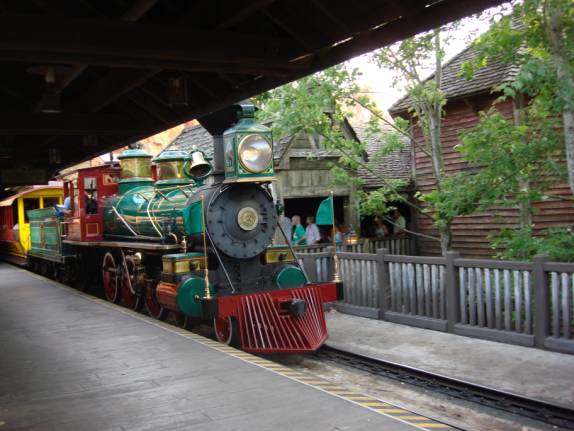 Captain Judy helps Mickey Mouse in the early cartoon, Steamboat Willy. I hope he was as glad to have her onboard as I always am.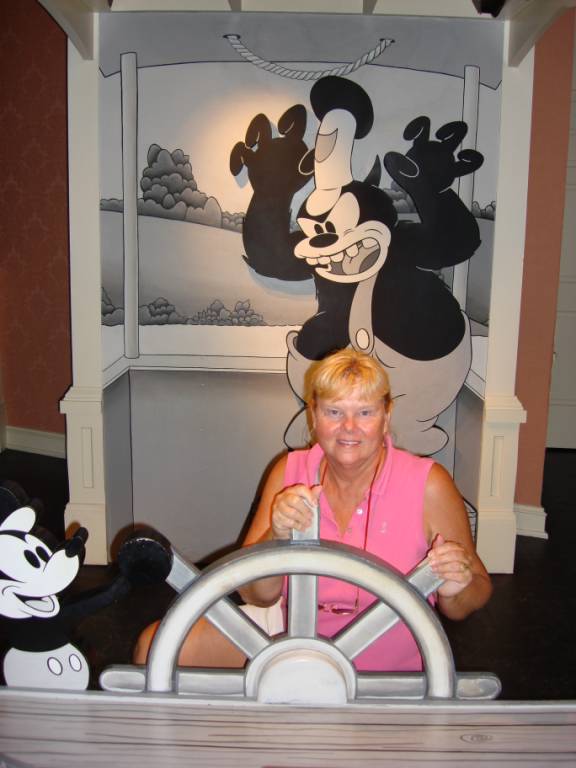 The Steamboat, Liberty Belle, is such a pretty sight. Although actually propelled by a steam engine, I am certainly suspicious that the directional control is achieved by some underwater track or cable mechanism.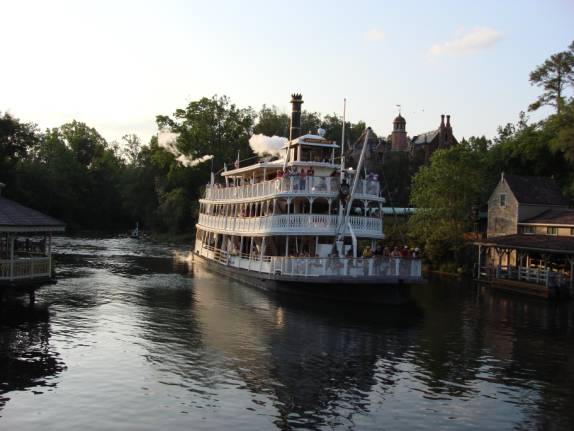 Tigger is one of the main characters in the Winnie the Pooh ride. This is one of the rides that qualify for the "Fast Pass" program. The idea is that you insert your park ticket in the FP machine and it issues a ticket usable at about an hour later in time. The benefit is that you go to the head of the line. You also receive a time stamp that indicates when you can be issued another Fast Pass ticket. Visitors can save a lot of line standing time by planning their park visit around the FP times. It may make you walk between park sections more often but sure beats the longer, standby lines.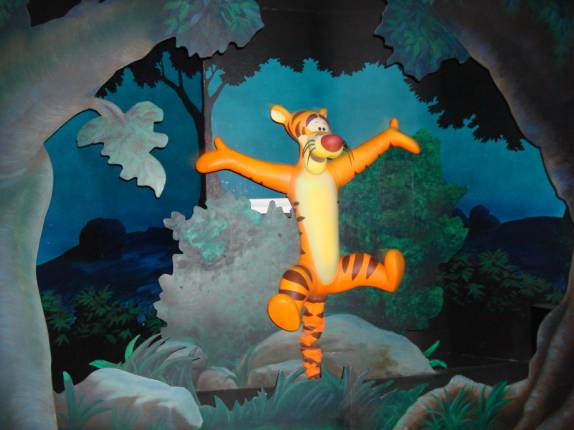 Winnie the Pooh often uses one of my favorite lines, "I Love You, Honey."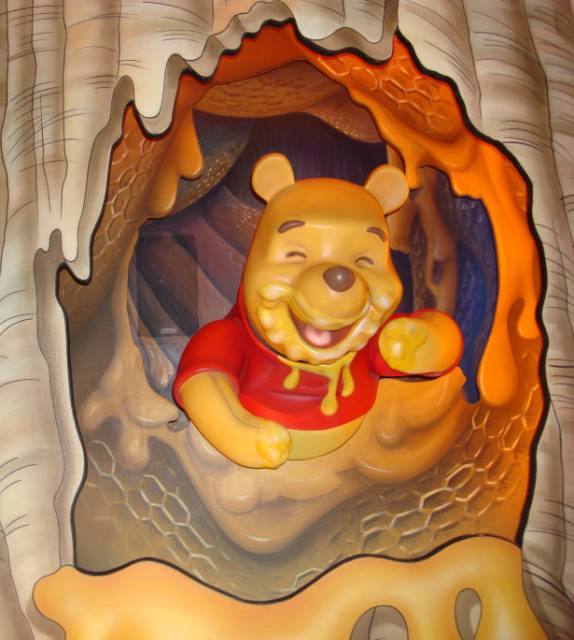 As the darkening skies of evening overtook the park, the Magic Kingdom comes alive under colorful lights. The crescent Moon and the planet Venus accent the castle.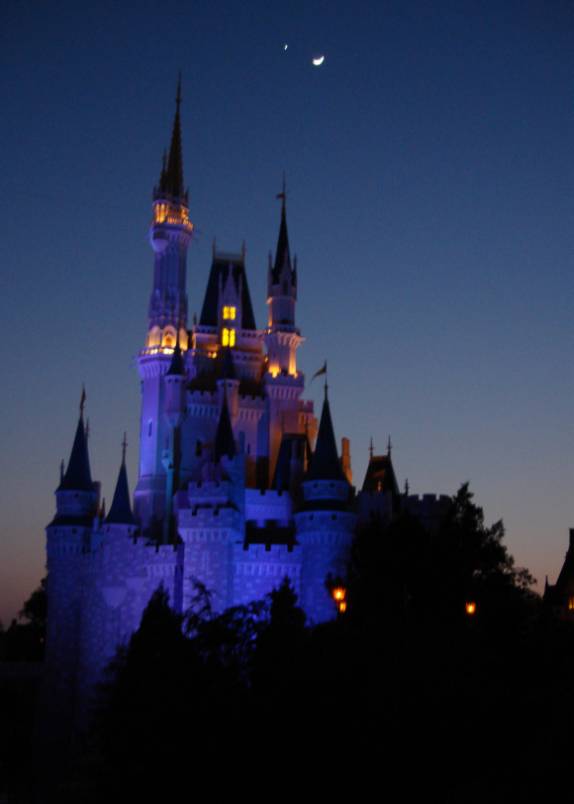 At 9pm, the streetlights are extinguished and the Main Street is filled with all the color and brilliance of the SpectaMagic parade. Beautiful, lighted floats, adorned with decorations and loaded with all of your favorite Disney characters, are a treat for all the senses. It is a sight that can turn anyone into a kid again. As tired as we were, it was delightfully magical to see. I must admit that we left before the fireworks spectacular because we were just too exhausted to keep going. The Magic Kingdom may have the power to revert your mind to that of a kid, but the body remains old and easily tires out. All in all, I think we had a remarkable time in the land of pretend.
By the time we got back to Sanford, almost everything was closed up. We found a Steak N' Shake for our late night dinner.
05/20/07 SUNDAY SANFORD, FL
Our original plans for the weekend included another day of action packed adventure. Unfortunately, we had exhausted ourselves over the last couple of days to the point that we were happier just slowing down a bit in the morning.
Sometimes, laying back is tough for Judy. She felt the urge to resume her work on the varnish job. Since the bugs have been fierce, she also took the initiative to wash down the boat. Although the bugs are non-biters, their shear numbers can make a terrible mess of the boats. They leave tenacious, dark, yucky, messy spots all over the boat. I really can't think of any negatives about this lovely place other than the existence of these messy bugs.
We took advantage of the car to do some local sightseeing and shopping.
05/21/07 MONDAY SANFORD, FL to HONTOON ISLAND STATE PARK, FL
Judy worked on washing down the boat from the evening onslaught of the bugs. While I returned the rental car, she prepped the handrails for a coat of varnish. When I returned, we agreed to spend another day here in Sanford to get more done on the varnish work. Everything looked good and the bugs didn't seem present. She started with the port handrail in applying a thin coat of Schooner Varnish. Much to her surprise, when she turned around, she saw a barrage of lovebugs attacking the railing that she had just finished. The disappointment was enormous. She has put so much into this project and, once again, an unexpected problem has destroyed her most valiant efforts. Of course, this put an end to the varnishing today. There was nothing to do but let them dry into the sticky goo and attempt to sand them out later.
Once again, we changed plans and decided to get the heck out of this bug-infested place. (too harshly spoken, it's really pretty nice here). By 11:25 am, the turning propellers motivated us out of the harbor at mile 163.3 and into Lake Monroe.
Take a look at these depressing pictures of Judy's varnish work. I felt so sorry for her because she has been working so hard. I love her so much.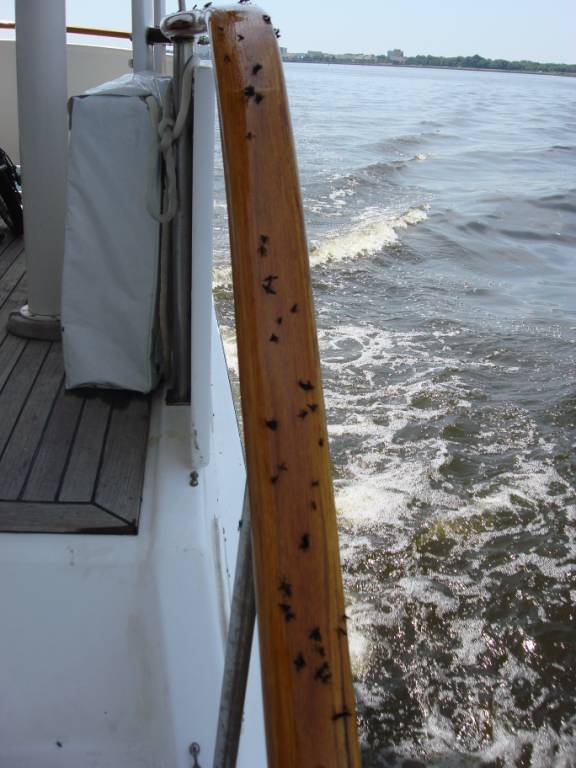 They certainly didn't get their name, Lovebugs, from us. We give them NO love.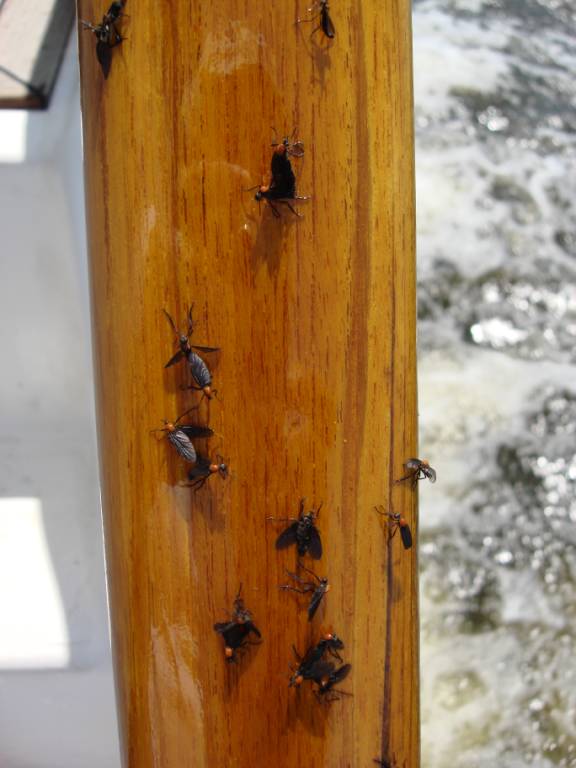 Soon, we were out of Lake Monroe and back into the scenic narrows of the river. The wildlife abounds and worked quickly to lift our spirits making this trip down the river a wonderful enjoyment. In this picture alone, there are anhinga, buzzard, cattle, egrets, and osprey, as well as, numerous examples of flora and fauna.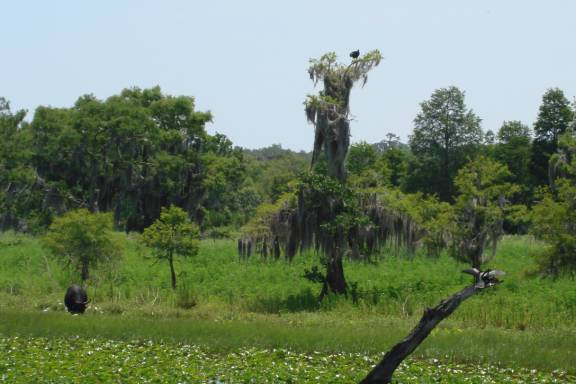 A fabulous, Barred Owl flew by and perched upon this warning sign.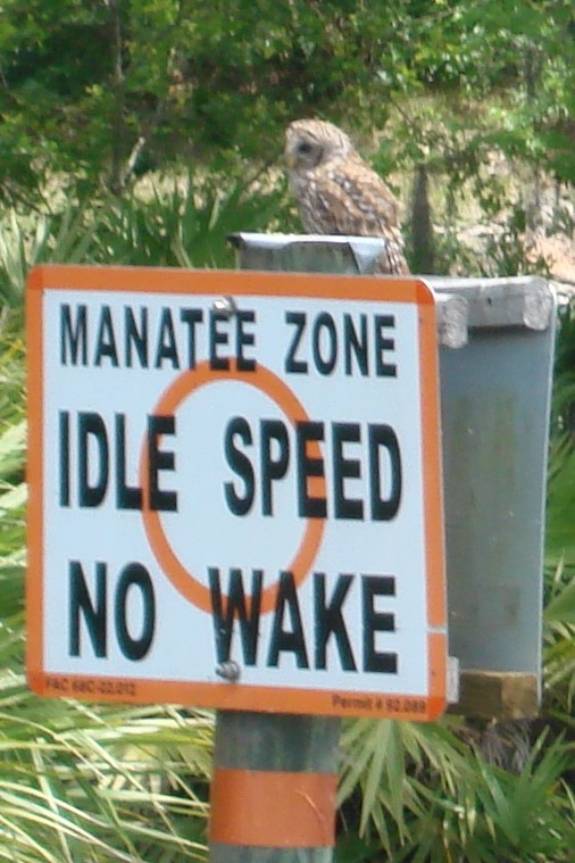 We made a call and decided to stop early at Hontoon Island State Park. The dockage rates are remarkably economical and this park has water and 30 amp electrical power included. This lovely park is accessible by boat only. The piers are a bit too short, however, we were able to secure AMARSE adequately at about 2:15 pm. Another large trawler, "Daphne" from Biloxi, MS and crewed by Frank and Joyce, had already taken the one prime spot on the T-dock. We walked around the park area and observed a very small alligator lurking in the water plants.
With spirits suitably lifted by the joys of the trip and this lovely place, we mustered the courage to work on the wood again. We sanded off the tenacious insect contamination and prepped the handrails for a coat of varnish. When the sun had set to a sufficient level and the wood had cooled a bit, Judy brushed on a smooth, fresh coat of rich, golden varnish. Now we could only sit back and hope that no bug problem would ruin this attempt.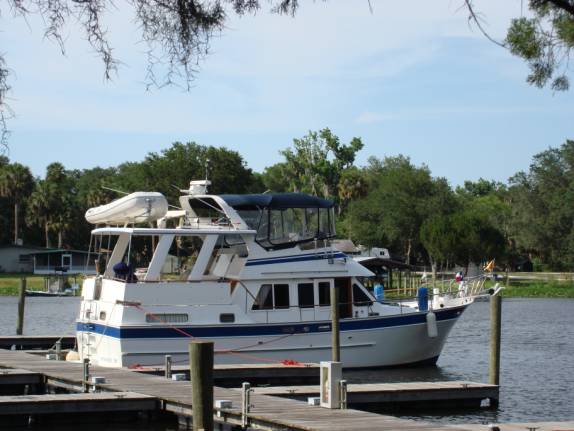 So far, the bugs had not been problematic. We would have to wait until morning to know for sure. As we waited patiently, we dined on a sumptuous meal of Roasted Sirloin of Beef, scalloped potatoes, and sourdough bread. I finally got a very small bite of the last brownie. I wonder where all those other brownies went to?
POSITION: N28 58.493 W081 21.466 mile 139.5.
05/22/07 TUESDAY HONTOON ISLAND STATE PARK, FL to WELAKA, FL
The morning was clear and calm. The coat of varnish had been a complete success. It was clear and bright and beautifully rich. It gave us renewed optimism that the next several coats will only serve to improve the look of beauty to the handrails. One thing is for sure, we are so glad that AMARSE has only enough varnished wood to give it that lovely, yacht look. Some boats are covered with finished wood. That would not be good for us.
After helping Frank and Joyce clear the dock, we took a little walk around the park area before taking our lines aboard and getting underway at 10 am. Perhaps when I get my new bird books, I will be more informed and can tell you what kind of birds these are.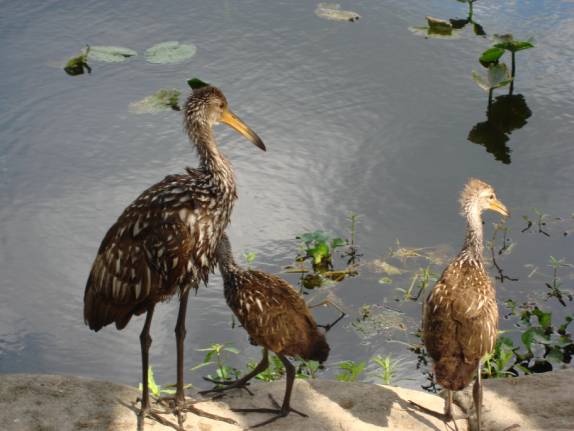 We are always impressed by the numbers of dockmasters that have enlisted the keen eyes of the Heron to serve as guards and dock security. Almost everywhere we go, there is at least one Heron sentry standing watch.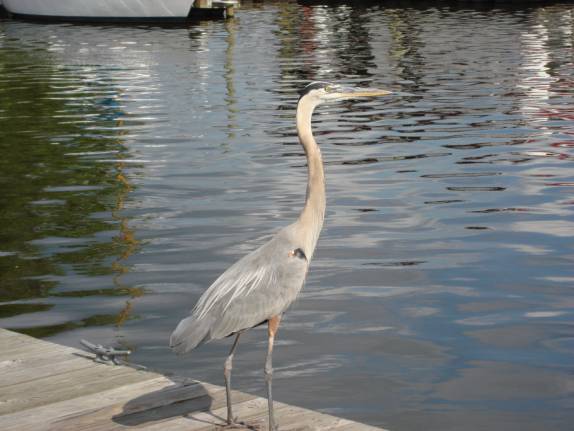 Once again, the scenery was incredible and we enjoyed the relaxing passage northbound and down river. We had planned on stopping at Porky's Restaurant in Georgetown, however, a phone call revealed that they would be closed. We opted to continue on to Welaka.
By 4:05 pm, our lines had secured AMARSE to the municipal floating docks. These are the same docks that we stayed on last Tuesday night and we faced the same issues with wind and current that challenges the dockage.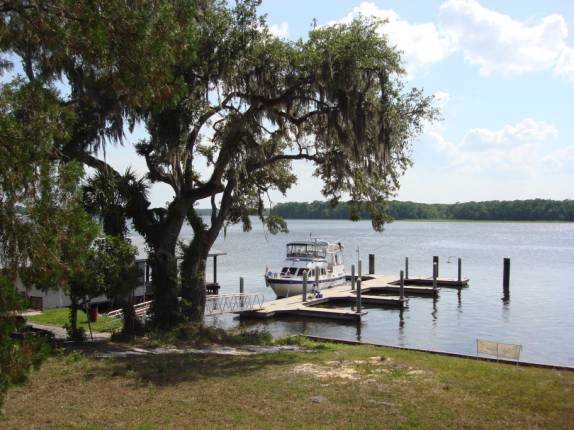 A little walk into town led us to the Log Cabin Bar and Grill. The cold beers were very refreshing and we ordered the Chicken Strips dinners. We were pleasantly surprised at how good they were. This is a very small community and there are not many choices for eateries. Our first choice was The Palms Restaurant, however, they are always closed on Mondays and Tuesdays. In a way, I'm glad that things worked out as they did. We enjoyed a restful evening aboard AMARSE as Judy read her novel and I worked on the updates.
Today, we traveled 47.8 miles with a moving average speed of 8.1 mph.
POSITION: N29 28.756 W081 40.514 MILE 95.1
05/23/07 WEDNESDAY WELAKA, FL to PALATKA, FL
Another beautiful day greeted us on the St. Johns River this morning. It had been a wonderfully peaceful and quiet night here at the municipal dock. The Heron are such graceful flyers that are such a treat to see in flight.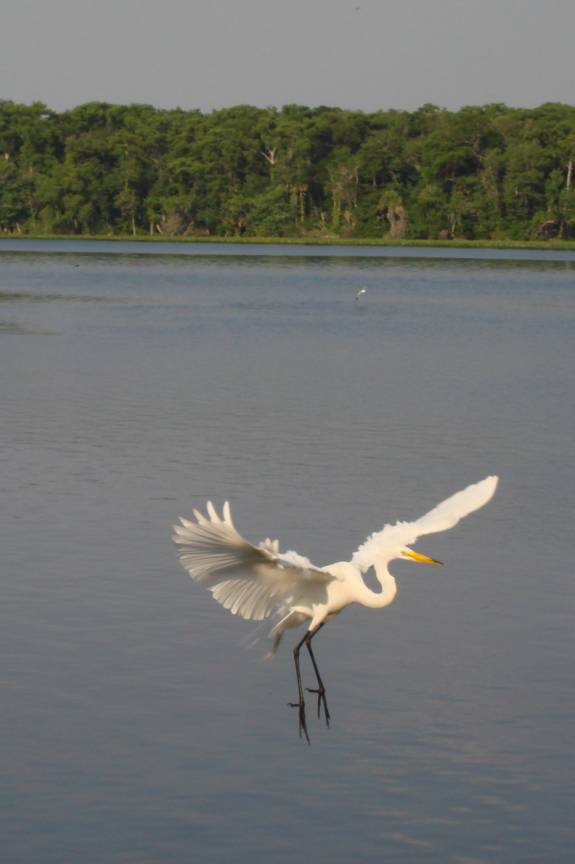 This fine gentleman of 75 years is an avid fisherman. Almost everyday, from dawn to dusk, he is at this dock with at least several lines in the water. We have enjoyed talking with him and hearing his stories of the wildlife and the river. He is kind of like the Ambassador of Welaka.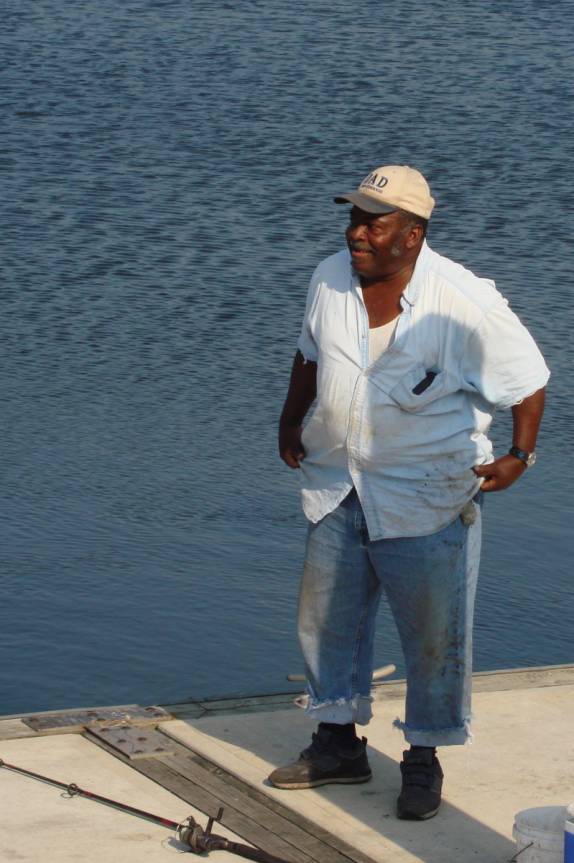 The Heron will often swoop in and steal his bait or his catch. The fisherman holds no grudge and often feeds him a small fish or two. One of the Heron has learned to open up the igloo cooler and steal directly from it.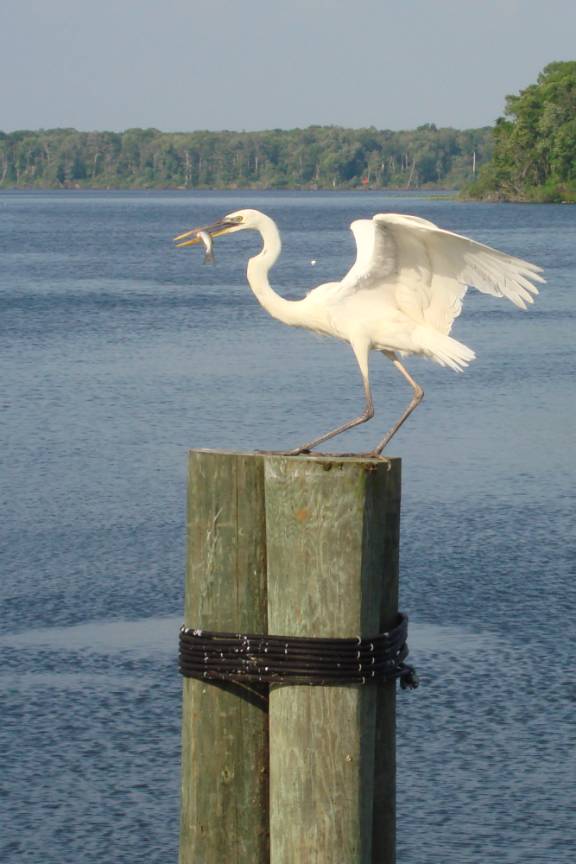 The current and the light breeze cooperated this morning to make our departure from the Welaka dock a cinch. At 9:45 am, AMARSE was headed north and down river.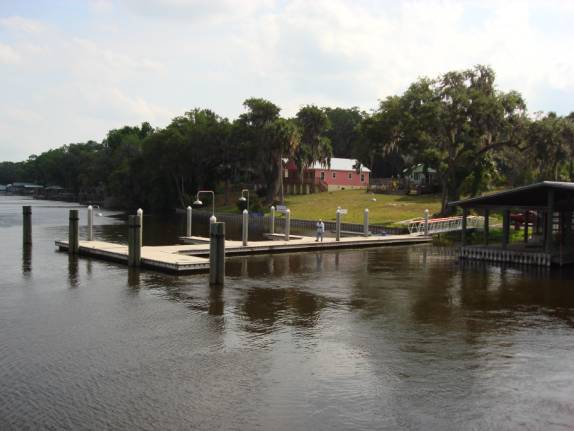 Our destination for today is the Gator Landing Restaurant in East Palatka, Florida. The restaurant boasts a 250-foot floating dock for their customers. Although a sign clearly states, "No Overnight Dockage", the General Manager said that he could not authorize us to overnight. We, of course, told him that we would intend to eat lunch and dinner at his fine establishment. All he could say was, "If you are still here when we close and I leave, I won't kick you off the dock." I think we understood what he was trying to say.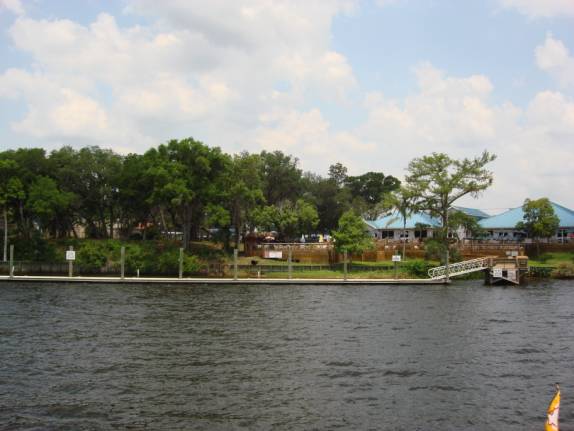 There were no other boats at the dock and the lunch bunch was not very busy. The lunch menu was delightful. Judy had the Ultimate Steak Sandwich served with Sweet Potato Fries; Fred had the Fried Hoki (a mild white fish) served with mashed potatoes. Everything was very good.
With the breeze kicking up a bit, I think we will be safe and secure right here.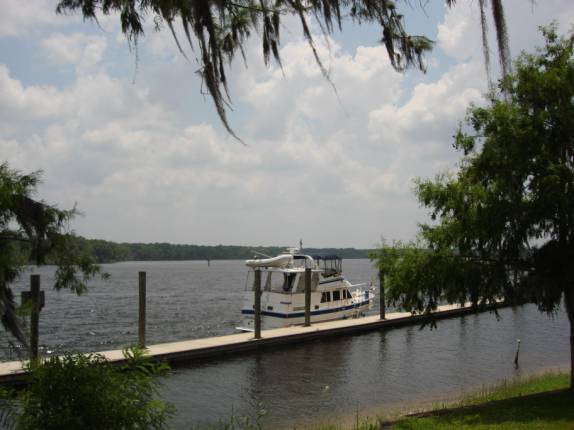 In exchange for their hospitality, we will be dining here at Gator Landing for dinner.
Today, we traveled only 18.7 miles at an average moving speed of 6.7 mph.
POSITION: N29 38.672 W081 36.203 MILE 77.5 on the St. Johns River.
POST SCRIPT:
As I publish this edition, it is already 5/23/07 and we are in Palatka, Florida. We are enjoying the beauty of the St. John's River as a side trip before continuing north. We will continue northbound and we plan to enjoy the Memorial Day weekend in Jacksonville. Please let us know if you have any special suggestions and thoughts.
Thanks for allowing us to share our life and adventures with you.
REMEMBER: The website is now fully active and you can visit it at any time. You can review any of the 2006 or 2007 logs and learn more about the crew and our plans. Enjoy.
ATTENTION: SPECIAL NOTE:
"AMARSE". is pronounced "AM-ARE-SAY". Our website is: www.amarse.net .
We would like to hear more about what is happening in your lives. Let us know as we very interested in what's going on with our friends and family. Please call or email us with your thoughts and comments and ideas too. Thanks
Lot of Love,
Fred Reed and Judy Law
AMARSE
MT40