UPDATE#15
05

/08 thru 05/15/07

Howdy Everybody,

At the website, you can read about our aspirations for 2007, including our plans for cruising this year. Please let us know you thoughts, comments, and suggestions.

The period 01/19/07 thru 05/07/07 has been covered in Updates 1 through 14. We continue with UPDATE07 # 15

.

UPDATE07 #15 05/08/07 through 05/15/07.

Welcome back to the new Adventures of the trawler AMARSE. At last update, we were waiting out inclement weather at St. Augustine, Florida.

05/08/07 TUESDAY ST. AUGUSTINE, FLORIDA

The weather was not conducive to boating activities. Gale force wind warnings, dense smoke warnings, and, now, the threat of sub-tropical storm "Andrea" were being constantly broadcast over radio and TV. We were secure and safe in the harbor here at the oldest city in North America. Although the expense of docking here is the highest we've yet to pay, we see a lot of value in our safety.

Milt and Fran Ohlsen rented a car for the day and invited us to join them. The destination was Green Cove Springs, FL where we received a tour of the "St. Brendan's Isle Mail Facility." This efficiently run business caters to travelers, especially RV'ers and Boaters. They provide a fixed address for mail deliveries. Received mail is sorted to individual boxes and held for further instructions. An email or phone call will initiate the packing and forwarding of that mail to any place in the world. They use USPS, DHL, UPS, and FedEx for efficient, rapid shipping depending on where it is being sent. They have a smooth and effective service focusing on personal attention to the customer. Milt and Fran are current subscribers to their services and have nothing but the highest recommendation for them. We were all impressed.

It was lunchtime and Milt selected Rick's BBQ restaurant. I had the combo of chicken and Baby Back Ribs. Finally, we found a BBQ joint that knows how to fix the ribs. They were excellent and my confidence in finding good ribs in the US has been restored. Judy enjoyed the Chicken and salad bar, Fran tried the "Sloppy Rick's" sandwich plate, and Milt savored the chunks of pork and beef on a bun.

We talked Milt into opening a Bank of America account for use in electronic bill payment. It has worked wonderfully for us.

The skies had cleared up, however, the winds were very strong and the boats still at anchor were taking a punishment. We are glad we are here and having fun instead of fighting the elements.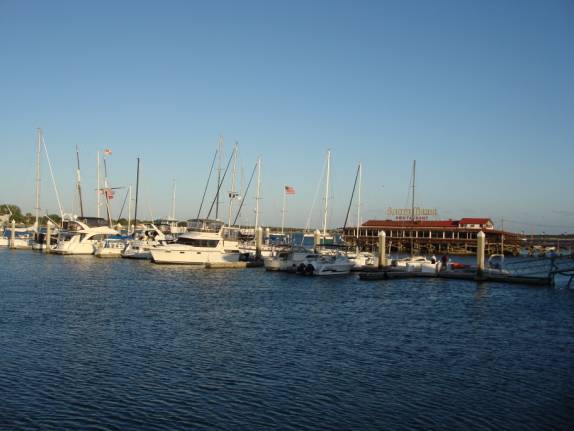 Still stuffed from lunch, we had tuna sandwiches for dinner.
05/09/07 WEDNESDAY ST. AUGUSTINE, FL
Here we are again experiencing inclement condition with high winds, intermittent rain showers, and smoke filled air. Yesterday, Fran had walked to "The Bunnery" bakery in town and brought us some fresh cinnamon and pecan rolls. Judy and I split the last one for breakfast.
A little rain didn't hinder the intrepid sightseers from heading out in search of the historic locations of this lovely, little city.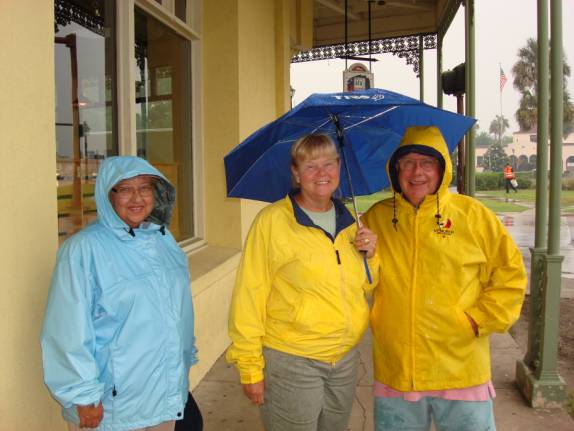 You must remember to take first things first, though. Milt had that irresistible urge for more Cajun food. Ok, Harry's Restaurant would be great with us. Of course, Milt didn't hesitate to be the first to order with his favorite, Crawfish Etoufee, with extra Creole sauce. Fran had Harry's Chicken smothered in onions, peppers, and covered with cheese. Judy's choice of Pecan Crusted Catfish and steamed veggies made here a happy girl. My plate of fried Crawfish tails was quite tasty. The side dish of Fried Grits was very unusual and, with the sauce, was very delicious.
We tried to dodge the raindrops as we walked to Flagler College. We purchased the tickets for the 2pm tour of the famous Ponce de Leon hotel turned college campus in 1968.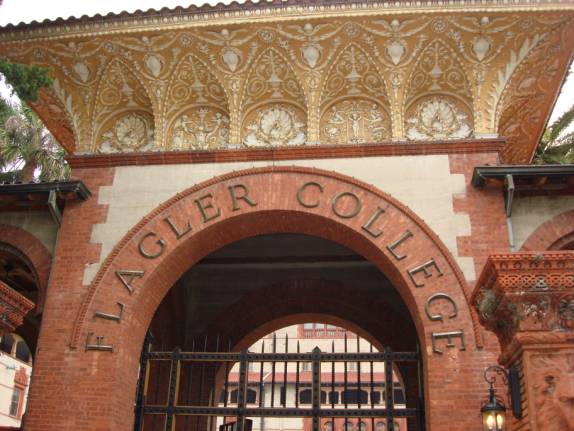 It was constructed between 1885 and 1887 by famous railroader and hotelier, Henry Flagler. It was the first edifice to be constructed of poured concrete in the US. The use of terra cotta, decorative features and trim provide an interesting contrast in materials and color. The overall design is Spanish Renaissance and the interior is decorated with rich woods and marble. A fountain in the courtyard, with numerous water-spewing frogs, centers on the handle and hilt of an Excalibur or sword.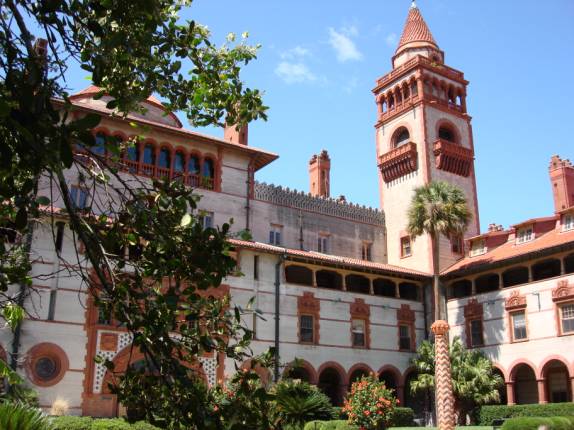 The rotunda of the central lobby features frescos, rich woods, carvings and the original hotel featured some of the first electric lighting in the country. Thomas Edison was responsible for the original lighting.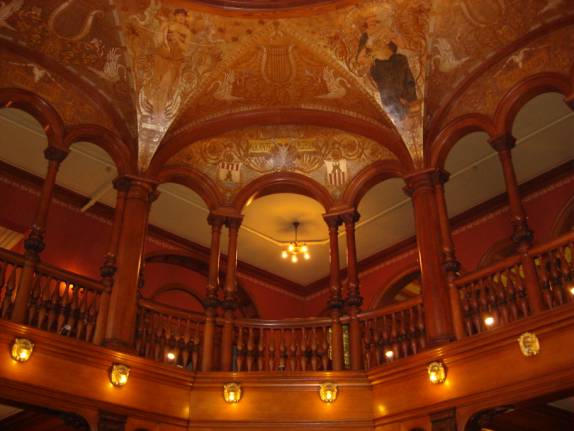 The use of murals, frescos and carved wood blend wonderfully in the main dining room.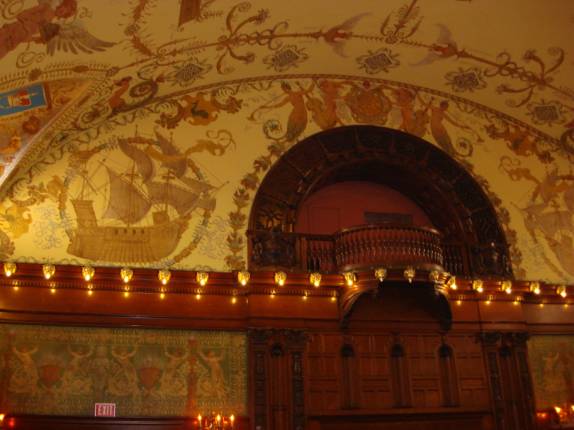 In the early days of this hotel, the facilities were only open for several months per year. Guests would be required to reserve and pay for an entire season here. They would come here by rail for the winter months. Only the wealthiest of the wealthy had the privilege of hob-nobbing here. One thing is clear, these two folks would not have been able to visit this gorgeous place in those days.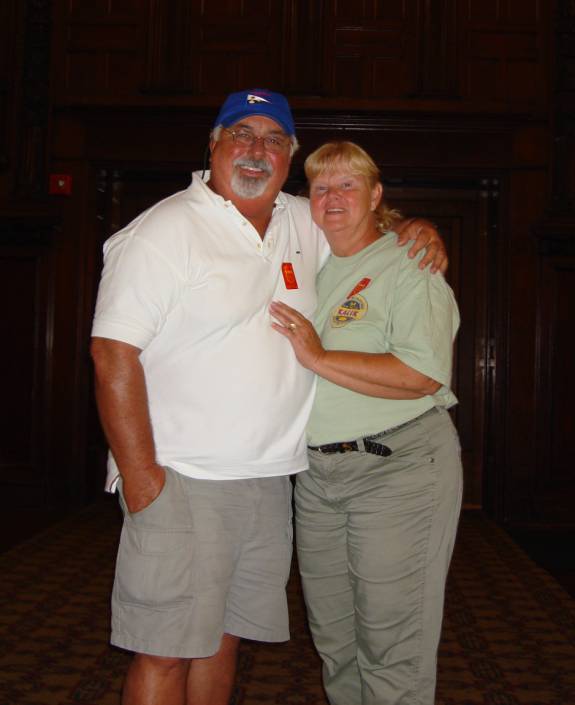 This lovely mantle artfully constructed of Mexican alabaster features one of the two, electric clocks from the original hotel. Designed by Thomas Edison, this one was the day clock that was illuminated from a window behind. A "night" clock, with a dark face, still works in the main lobby.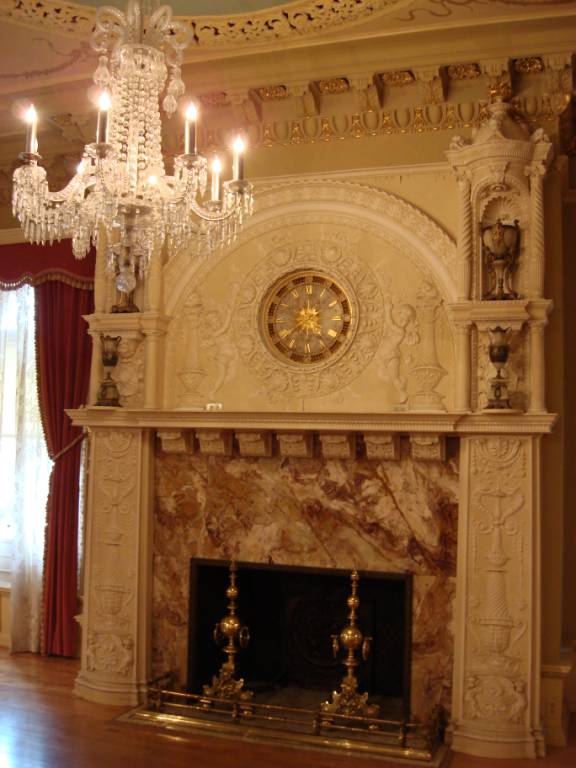 This sitting room features a oil portrait of Henry M. Flagler.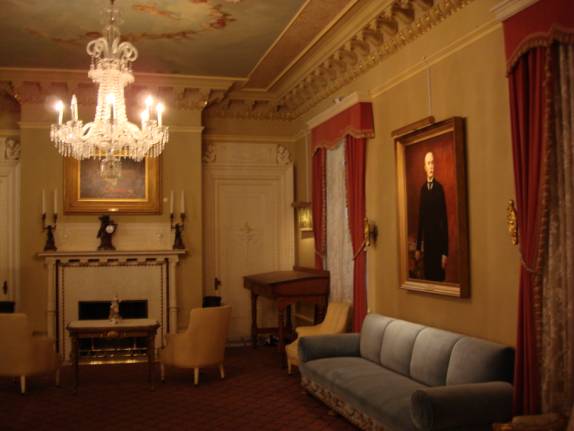 Several, very interesting, terra cotta plaques grace the exterior wall and have notable quotes imprinted. Loosely translated, this one says, "If a man will not when he can, He can not when he will…"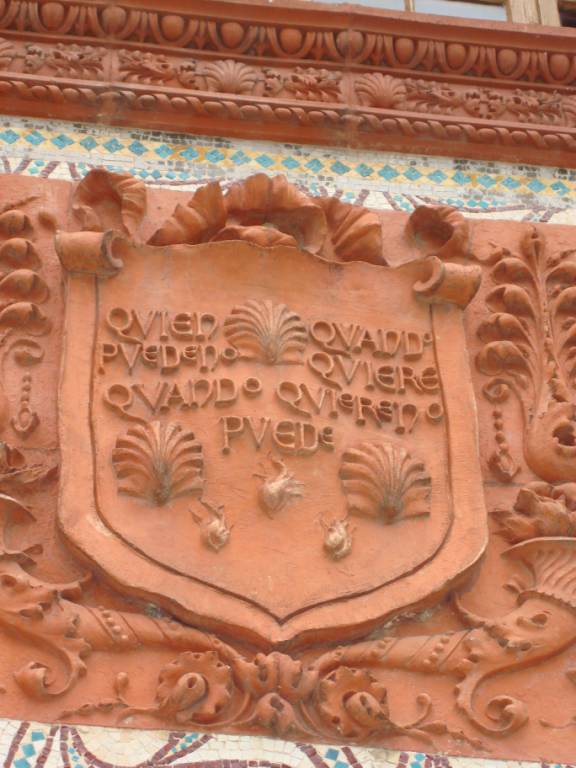 This plaque informs us that "… You can't make an omelet without breaking some eggs…"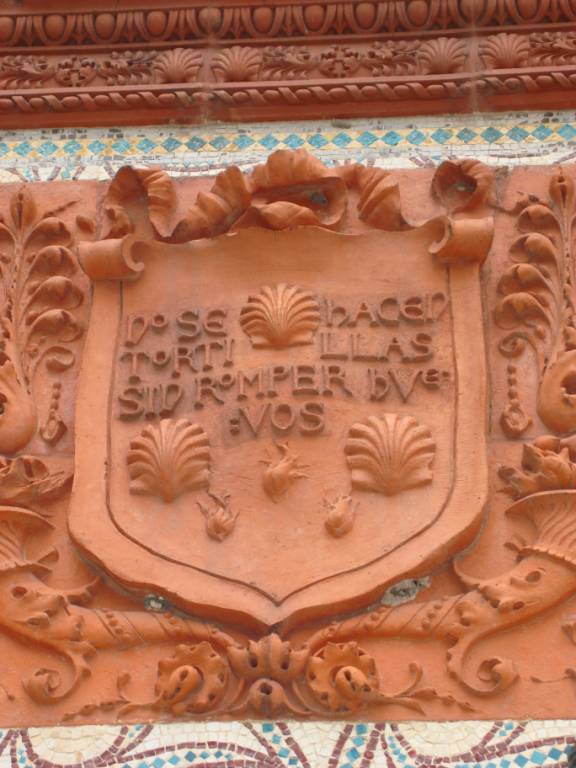 On the way back to the boat, Michael Jordan agreed to pose with Judy.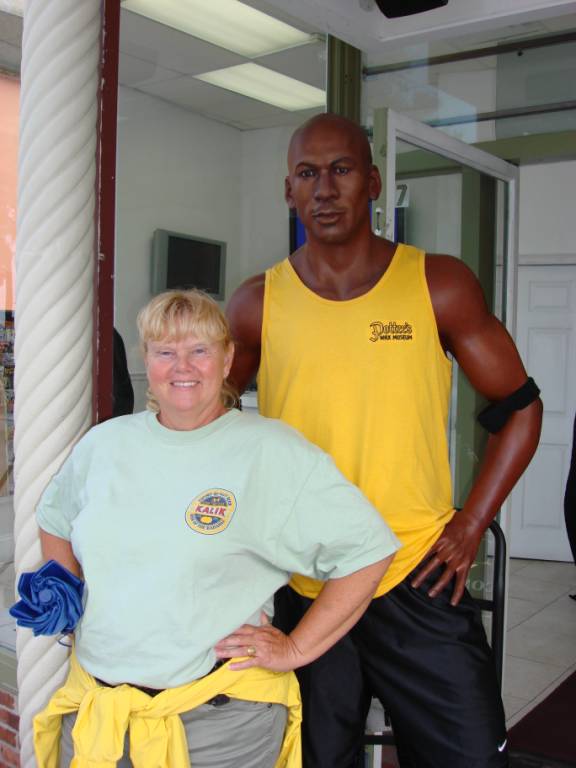 Cocktail hour(s) were aboard SEA FOX. Canadians, Alvin and Maureen, from PERMISSION GRANTED joined us. We had met them last month in Lucaya, Grand Bahama Island. We discussed our plans and reviewed the forecast for tomorrow. Early in the morning, we will make the final decision for GO-No Go.
05/10/07 THURSDAY ST. AUGUSTINE to JACKSONVILLE LANDING, JACKSONVILLE, FLORIDA
At 6:15 am, Milt and Alvin rapped on the boat to let us know that their assessment of the weather forecast indicated "It's a GO". We concurred and had AMARSE backing out of the slip #20 at exactly 7am. Commencing at Mile Marker 777.9, we passed under the Bridge of Lions. As we made the bend in the ICW adjacent to the ocean inlet, our speed dropped drastically because of the strong, opposing current of the ebbing tide. Although they left a little bit behind us, the more powerful and faster SEA FOX and PERMISSION GRANTED soon passed us by.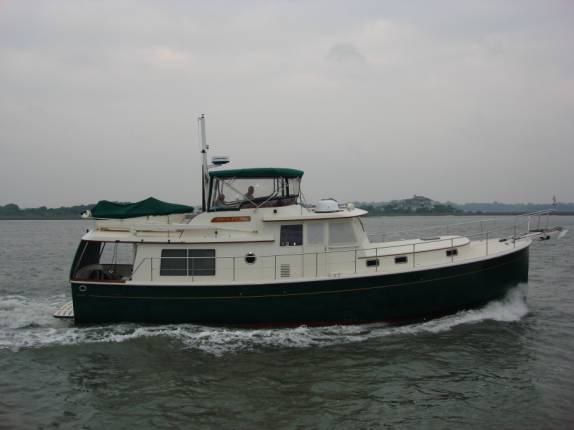 Before long, the other two were out of sight as we slowly cruised northward. They were destined to stop at Beach Marine at ICW marker 747.6. Other friends aboard STEPHIE'S CHOICE, LAUREN GRACE, and CANDY DISH were already harbored there. AMARSE waved as we went by and headed for the St. Johns River. At high noon and Mile Marker 739.5, we departed the ICW and headed up river toward Jacksonville. Fortunately, we were on a falling tide now and benefited from the slightly favorable current flow.
Jacksonville is now home to the Carnival Cruise Line's ship, the CELEBRATION. Several years ago, it was running out of Galveston, Texas. It was this ship that Judy convinced me to take my very first cruise. I think we took 5 more cruises over the next couple of years on various boats and lines.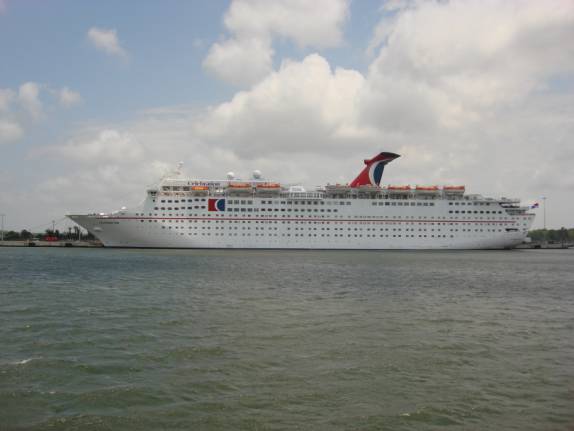 At 2:30 pm, we attached our lines to the Jacksonville Landing dock located 18.9 miles upriver. This relatively new complex houses a variety of restaurants and nightspots. The floating docks do not provide either electricity or water, however, they are compliments of the city of Jacksonville.
It didn't take long to get our sightseeing program underway. This statue commemorates Andrew Jackson for whom the city was named. (Note the date; 1822)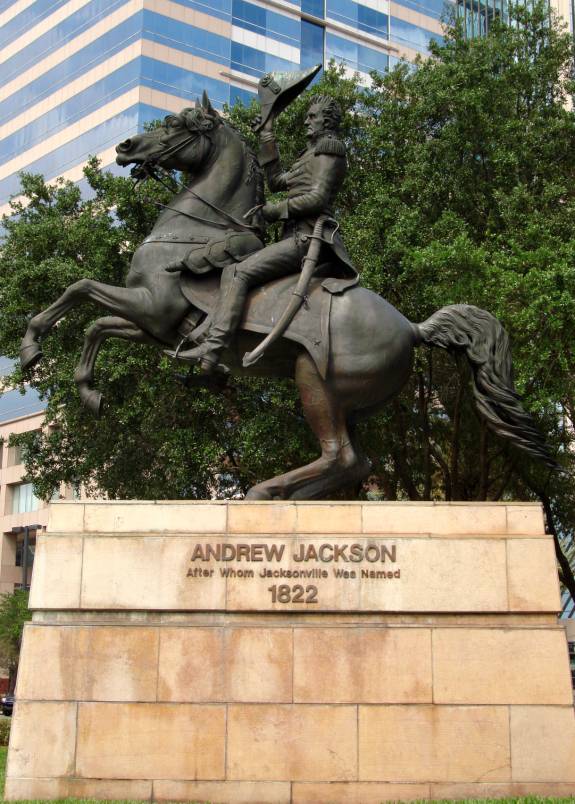 The city is immediately accessible to the dock. Throughout the city, these decorated statues of Jaguars gracefully line the sidewalks. We have seen other cities use other animal in a similar fashion. San Antonio, TX has cattle and Kemah, TX has Sea Horses. This one of Elvis is entitled, "The ImPURRsonator."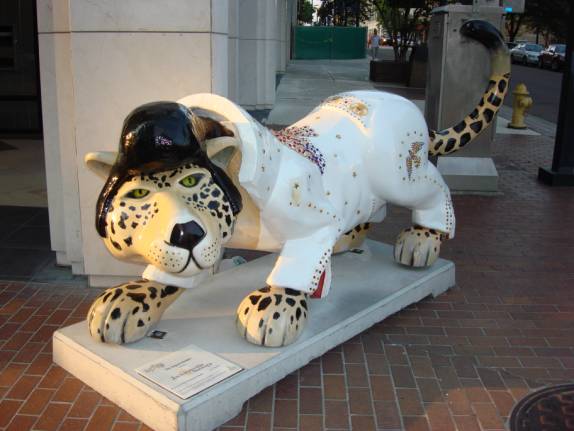 A short walk up hill leads to the Rosa Parks transportation terminal. Helpful staff guided us to the correct bus to take us where we wanted to go. We had asked if there was a Sam's Club on a route. They advised using the K2-Beach Road bus that operates almost every half hour. To make things even better, they advised that seniors can ride free. When I questioned, "Free?" The man chuckled and said, "Yep, Free! You did your time, so why should you have to pay. Yep, Free!" Judy had to cough up the $.75 fare, however, I merely flashed my ID and was welcomed aboard. The K2 zipped us in comfort along Beach Road where you can find about anything you might want. The courteous driver let us off right next to Sam's.
The reverse trip was right on schedule and we were able to get off at a stop even closer to the docks.
Nestled between the city bridges, the Jacksonville Landing docks provide nice accommodation for AMARSE in a protected, no-wake zone. Other than the relatively strong current that rolls through here, it is quite peaceful and nice. It could not be more centrally located.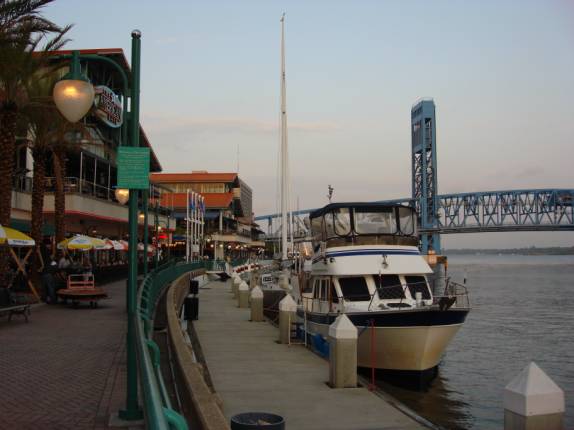 We opted for dinner aboard AMARSE. Judy fixed the meatloaf that we had gotten from Publix grocery. It was excellent and I am convinced that it was the best that I've ever tried.
While charging batteries and cooling the fridge with the generator, we watched TV in the evening.
We had traveled 56.7 miles at a moving average of 7.7 mph. At this end of the dock, there was only one other boat, a sailboat made of aluminum.
POSITION: N30 19.465 W081 39.645 ST. JOHNS RIVER MILE 18.9
05/11/07 FRIDAY JACKSONVILLE, FL
We started the day leisurely with a delightful breakfast of Judy's special recipe, French Toast. Those coconut and banana rums put a extra delicious twist to the flavor.
Friends had told us that "JANIE O" was headed our way. They returned my call letting us know that they would be at Jacksonville Landing soon. We went back to the dock to help them in. They need to go to a dive shop and we knew how to get there. We had seen it the day before from the K2 bus and we offered to show them the way. When they got off the bus, we continued on toward Jacksonville Beach. It was about an hour ride but fun to see all the sights along Beach Boulevard.
Due to the strong winds, the surf was up and the surfers were taking advantage of the opportunity to hone their skills.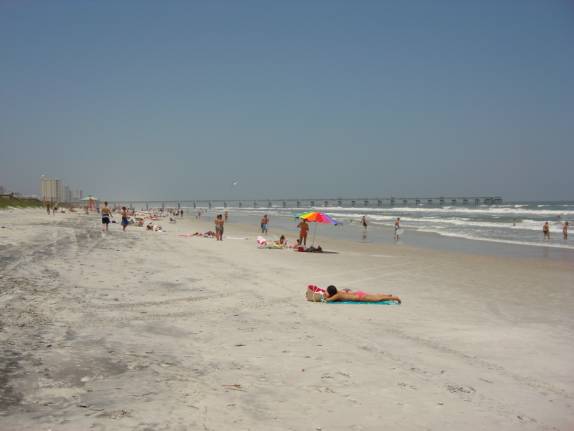 Jacksonville Beach is home to the Red Cross Life Saving Corps. A lot of training for lifeguards takes place in this facility and along this beach. The setting is probably not quite as spectacular as the "BayWatch" TV show.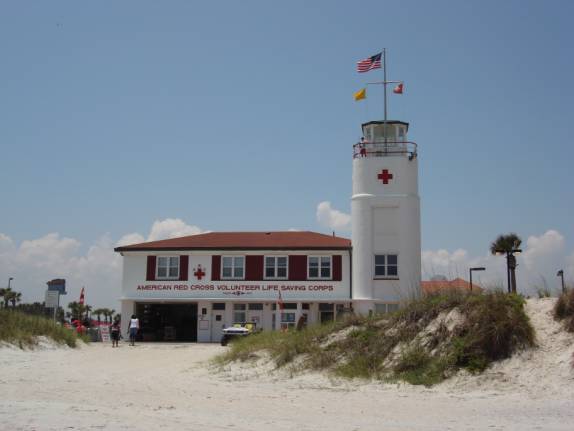 The view from the giant sized lifeguard chairs should be very good.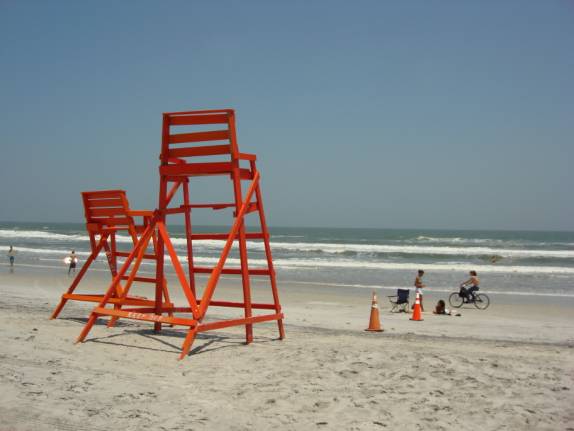 Yah, the view was pretty good.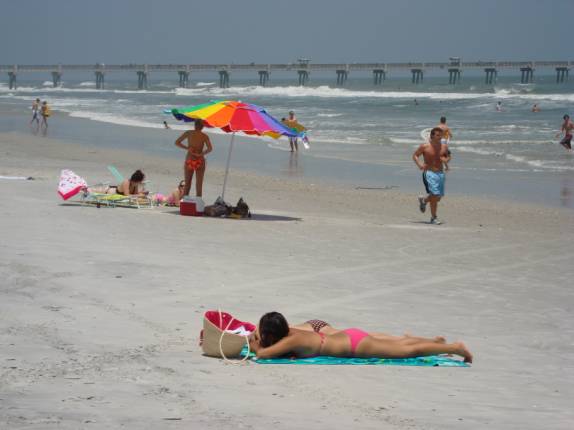 After a few hours, we were ready to return to the Jacksonville Landing. Today is special in Jacksonville as they host the Players golf tournament at Sawgrass. The Landing will be celebrating with several bands on stage and a huge fireworks display at night.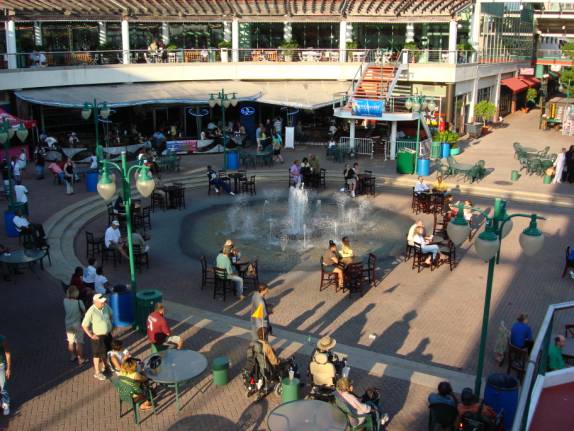 As we hosted cocktail hour(s) on the sundeck of AMARSE, with the newly arrived cruisers, we were pleasantly surprised to see Bill Donovan, a Looper formerly of "INTEGRITY", walk up along the docks. Unfortunately, he didn't have Ruth with him. The last time we saw him was in Marsh Harbour where he was visiting CANDY DISH. He was in town to check out a boat with another fellow. Bill and I helped Stan and Annie, the folks from KOKOPELLI, tie up when they came in. Bill joined them for dinner with their family.
The remaining cruisers arranged a table at The Great American Grill located here at the Landing. The meal was pretty good, however, they had eight of us crowded into a setting for six. The gals (from L to R) are Judy Law, Jane Macierowski (JANIE O), Pam Frech (CLOUD NINE), and Sally Burnette (MADISON).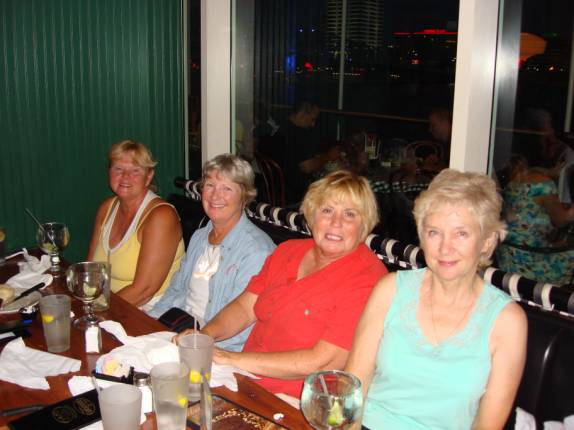 The handsome lads (from F to B) are Tim Macierowski, Tom Frech, and Fred Reed. (Bob Burnette not shown)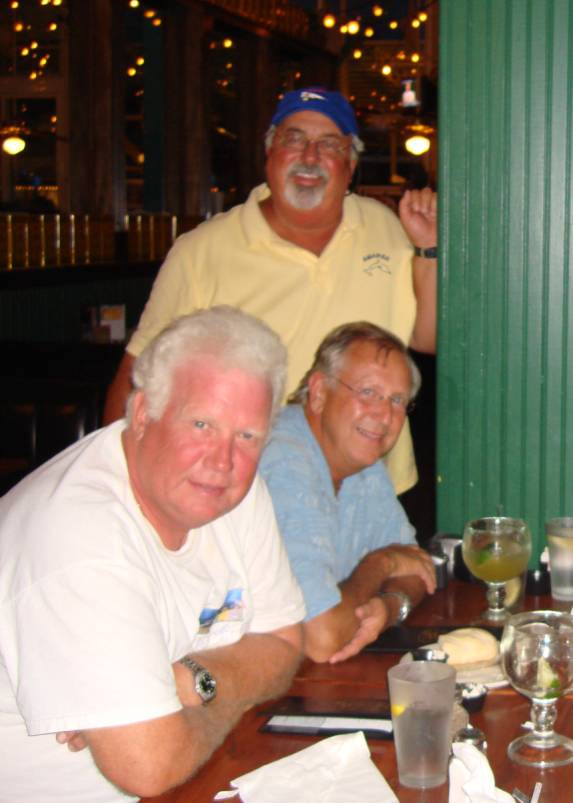 Following dinner, most folks went back to their boat as cruisers midnight comes very early. On the other hand, Judy and I were anxious to take in all the entertainment we could. The second of three bands belted out wonderful music. We grabbed our chairs off the boat and had front row views for "The Diggin' Brass and Rhythm Band".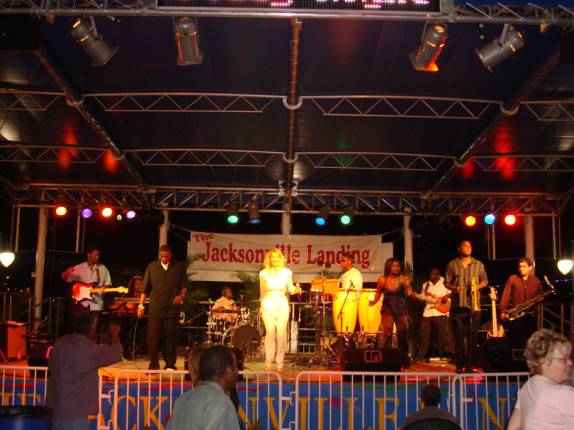 At precisely 10 pm, the huge fireworks display commenced. Being fired from two barges in the river, we had perfect seats on the sundeck of AMARSE. Tim and Jane joined us for the half hour display that equaled any we had seen before. The explosion booms were forceful enough to be felt in the boat. Wow!!!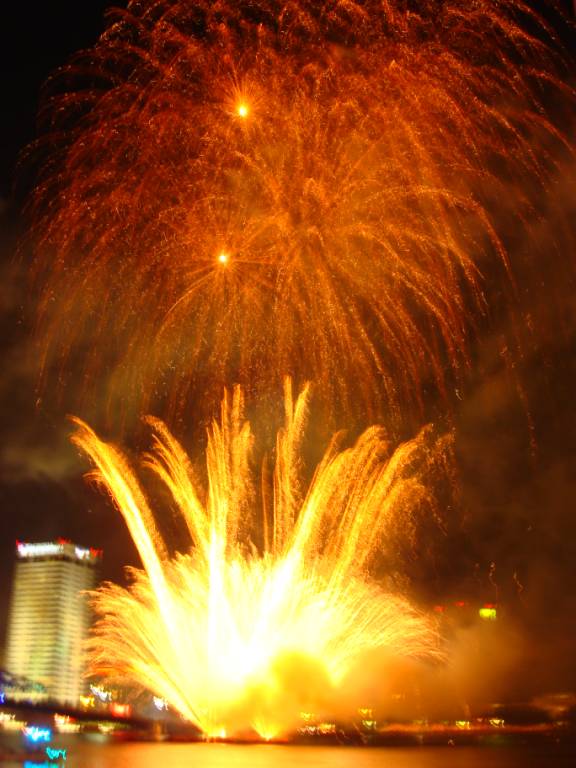 The buildings and the bridges are all beautifully lit making the backdrop even more spectacular.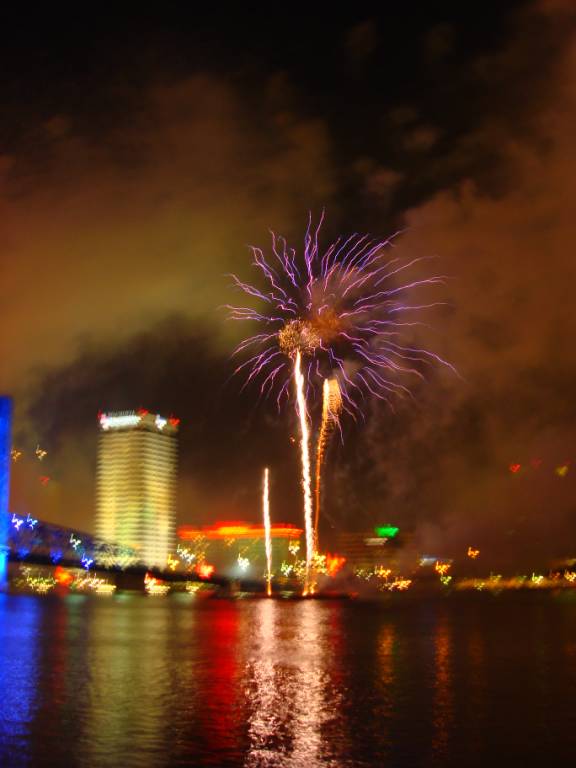 Judy and I carried our chairs back up to the stage area for more music. We enjoyed it very much for a while. When the third band came on, they were pale in comparison to the others. We quit about 12:30 am, however, the band played on till 2 am.
05/12/07 SATURDAY JACKSONVILLE, FL
We spent the morning aboard AMARSE doing chores and just doin' stuff. It seems that there is never a shortage of things that need some TLC.
When we were riding on the bus the other day, I had spotted a little Italian restaurant that I thought might be interesting. We schmoozed Bob and Sally from MADISON to join us. Armed with my trusty bus schedule, I calculated the time when the K2 bus would pass by a nearby street. Another decorated Jaguar statue is just near the bus stop.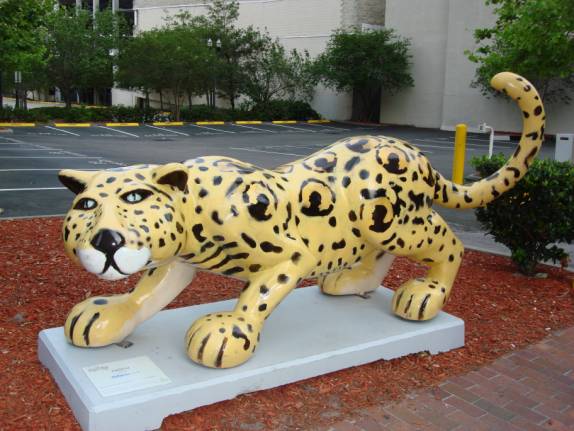 Our destination was the Fontana Restaurant located on Beach Blvd just before Parental Home Road. We entered not knowing anything more about the place. Pleasantly surprised, this is a lovely little place with a delightful atmosphere. We were seated right next to the fountain. Eagerly, Sally ordered the Eggplant Parmesan, Bob selected the Grouper dinner, Judy's desire was for Chicken Marsala, and I placed my request for Chicken Parmesan with Angel Hair Pasta. The service was good and the food exceeded our expectations. Although I didn't get to taste it, Bob's grouper plate looked the most interesting. If there is a next time, that will be my choice.
As advertised in the bus schedule, our bus was right on time to whisk us back to the Landing. This is certainly better than having a car to fuss with.
As we walked the few short blocks back to the docks, we saw lots of flashing lights and fire rescue equipment. Curiosity drew us to see what was up. A bad accident had resulted in the demolishment of a couple cars and serious injuries for their occupants. It appears that someone ran the red light.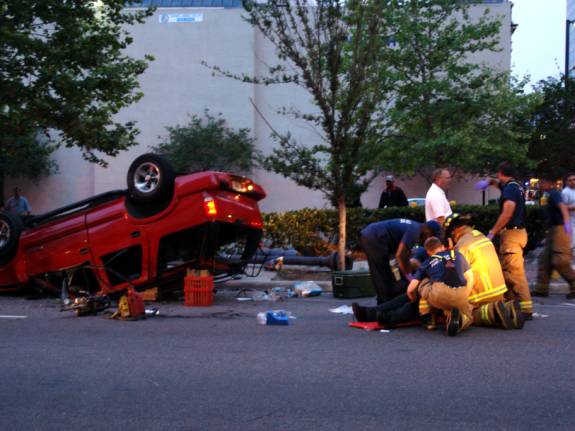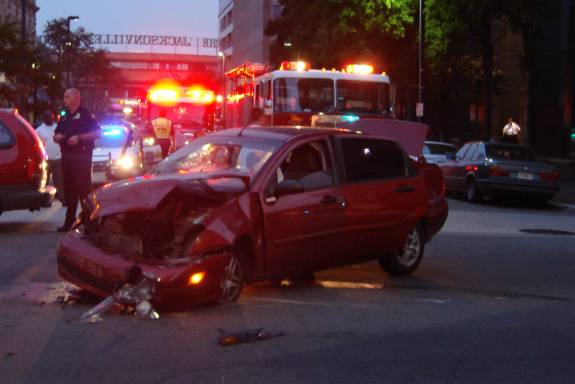 Back at the Jacksonville Landing, it was a much more delightful experience. It was fun watching the kids running through the fountains. Kids know how to have uninhibited fun doing things that adults would never consider. Would you have enough "Inner Child" to splash around too?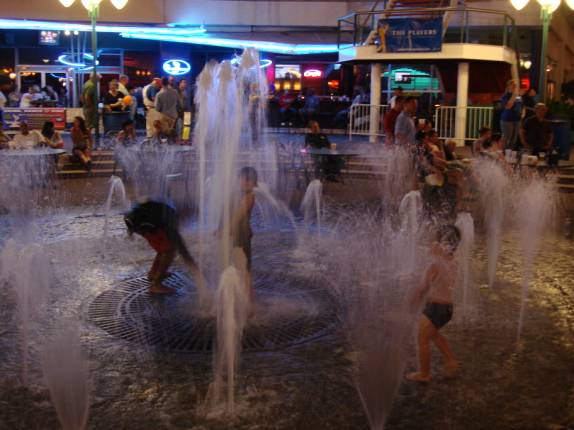 Bob and Sally Burnette grabbed their boat chairs, as did we, to enjoy this evening's musical entertainment.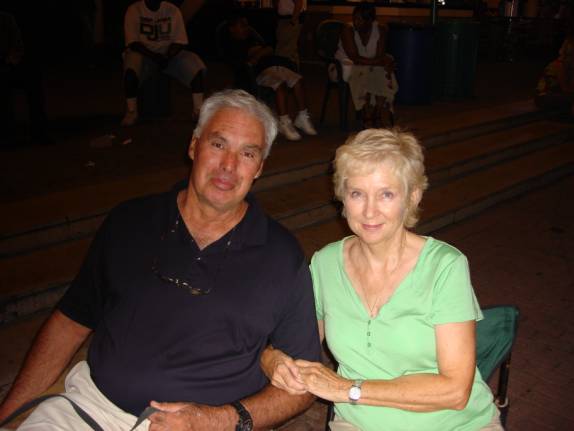 "The DriveShaft Band" played a pleasant mix of popular and rock favorites that kept us singing along throughout the evening. They had a very accomplished style and sound. The keyboard player was hyper-energetic and one of the guitar players featured himself as a "Tim McGraw" look-alike. It was fun. Even after our friends headed out, we stayed on until almost 2 am just groovin' to the melodies.
05/13/07 SUNDAY JACKSONVILLE, FL
We slept until after 8:30 am this morning. We were excited to think that our dear cruising friends, Doug and Leslie Folkerth, were coming to visit us today. As you may remember, they have traveled a lot with us over the past year. Now, they have completed this phase of their cruising adventure and returned to land, home, and that nasty habit of working. They have adopted the motto, "We'll do it again in 2010". I suggest that they revise it to, "Why wait, Go in 2008." I don't think they will listen to me, though.
I have a reputation to live up to. They are expecting something special for dinner and I better perform. With a plan in mind, we hop the K2 for Sam's Club to get the necessary ingredients. Bus travel in Jacksonville is so easy.
Doug and Leslie arrive right on schedule at 3 pm. The joyful reunion begins with obligatory cocktails and lots of fun conversation. Time flew and it was time for me to begin the culinary extravaganza. A Caesar salad with fresh mushrooms set the palettes for the main event.
I have prepared Sun-dried Tomato and Chicken stuffed Raviolis smothered in creamy sauce of fresh mushrooms, large chunks of Bahamian Lobster, lots of large shrimp, and bits of chopped sun-dried tomatoes. A smattering of shredded Mozzarella cheese topped the entrée. The Monterrey style, sourdough bread provided the perfect touch.
Had this dish been prepared in any competition, I am confident that it would have taken the blue ribbon by every judge. More importantly, all of us were absolutely delighted.
Live Jazz bands played nice background music from the stage nearby. Judy would never let Leslie get away without a chocolate fix. No one else resisted the slices of Triple Chocolate Cake either. We hated to see them leave, about 8 pm, knowing that it will probably be a very long time before we have an opportunity to see them again. Thanks for coming to see us.
05/14/07 MONDAY JACKSONVILLE, FL to PALATKA, FL
At 8:30 am, we cast off from the floating docks to head upriver. We had a favorable current to ease our passage. Fortunately, we would carry this fair current for most of our day. At 3:15 pm, we arrived in the area of Palatka, Florida. Simultaneously, the wind picked up and became quite gusty. To add to the situation, it started to pour the rain. We had thought we would dock at the Quality Inn Marina, however, the current weather conditions would have made docking uncomfortable. We decided to stay dry and safe while the thunderstorm passed by. Motoring under the bridge, we decided that we would take the face dock at Boathouse Marina. We had tried to contact them by phone but no one was available. By 4pm, the conditions were cooperating enough to get tied up safely.
The rain had started to rinse off the boat but had not gone far enough. As the skies cleared, we scrubbed AMARSE to get the salt and dirt accumulations rinsed away.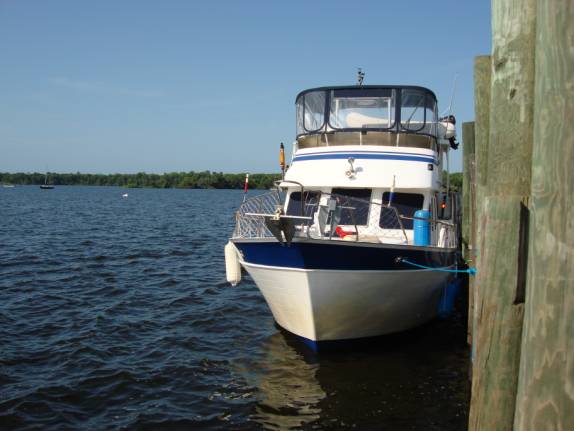 We decided on dinner aboard featuring Tuna salad sandwiches. The internet worked well here and I was able to order two bird books that I have been looking for. Mary Russell (HARBOUR REACH) was able to email the proper titles, authors, and ISBN numbers.
Today, we had traveled 57.6 miles at a moving average of 8.1mph.
POSITION: N29 38.543 W081 37.893 ST. JOHNS RIVER MILE 75.7
05/15/07 TUESDAY PALATKA, FL to WELAKA, FL
It was a beautiful morning and we wanted to see some of the historical district sights. There are numerous, beautiful murals decorating the buildings of the town. The community is actively working to make this a pleasant, successful place. Throughout the district, old homes line the downtown area, many dating back to the late 1800's.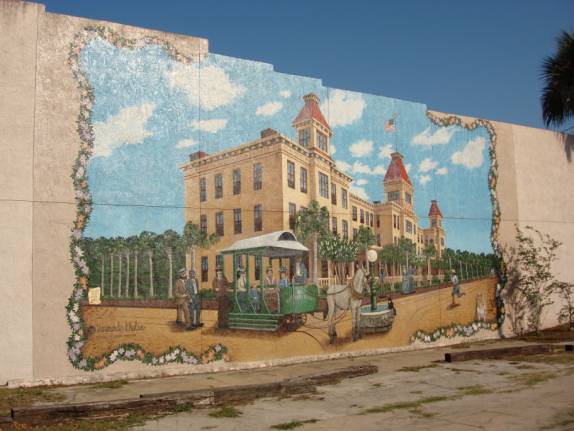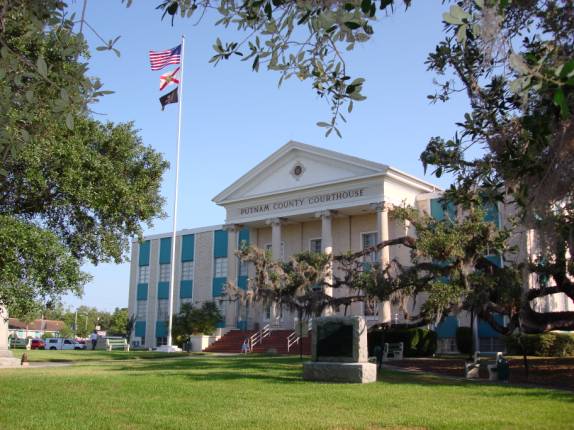 The riverfront area has been developed into a lovely park setting. The clock tower overlooks the main channel of the St. Johns River.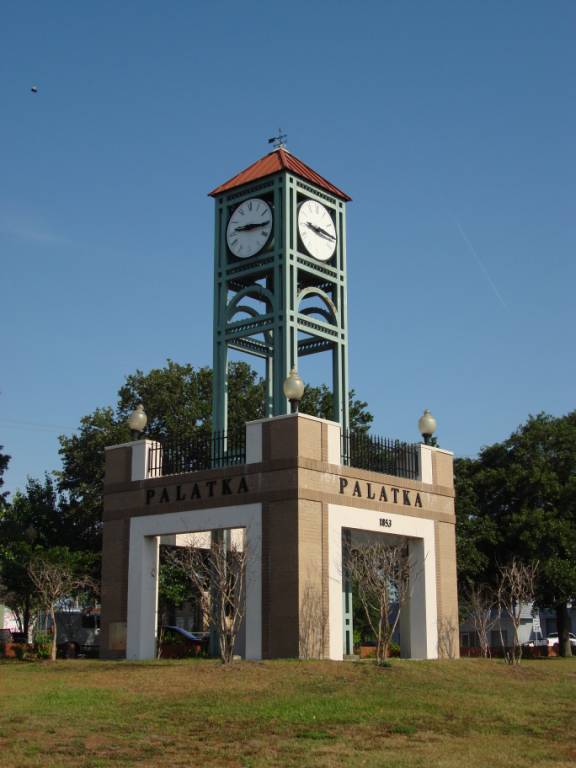 A charming walkway stretches along the river from the gazebo pier, past a picnicking area, and along the city maintained docks. Even providing 15-amp electric power, the city offers slip space for free. Had the weather been better, we would have selected these docks for our over night. On the other hand, Boathouse Marina had water allowing us to clean up the boat.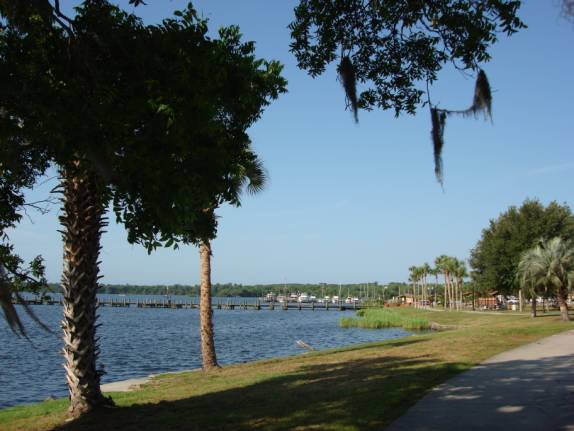 The Boathouse Marina folks will undertake the restoration of this old, river tour boat. Named "Noah's Ark" after the man responsible for building it, the vessel was first launched around 1927. Interestingly, that is the same year that Lindberg left Long Island for his trans-Atlantic flight. The State of Florida will provide the grant money to bring the boat back to shape. It will take a lot of money for the scheduled, 3-year project.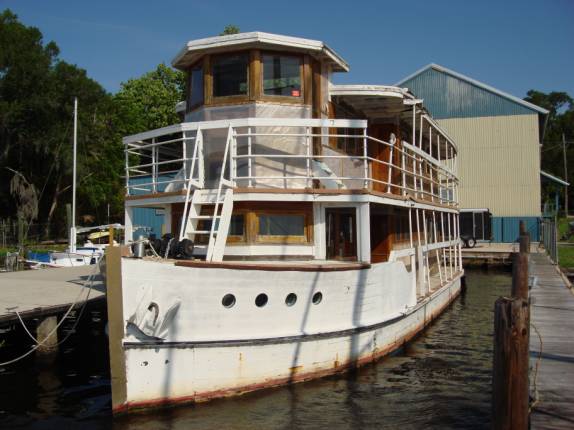 It was 11:45 am before we departed the marina. In the first bend, we came upon our friends, John and Sue Winter (MISS LIBERTY), traveling North. They have been stranded for over 5 weeks in Acosta Creek Marina awaiting a engine replacement. Totally frustrated with the delays, they decided to head north on one engine to Lamb's Marina on the Ortega River near Jacksonville. The boatyard there has promised better service. We wish them luck and good trip.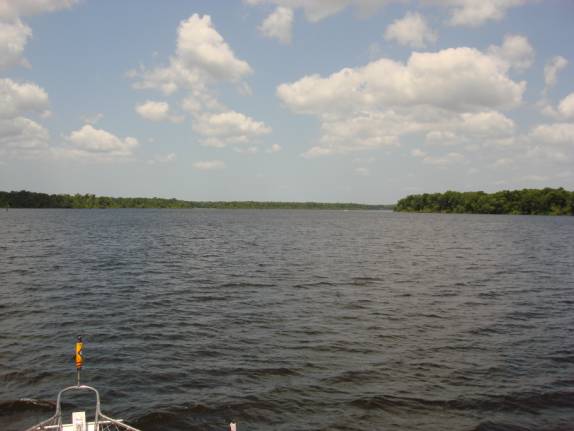 About 2:30 pm, we located the floating dock at Welaka, Florida. The town provides this free dock for visitors. Although they do not have electric or water available, it is a safe and secure place to spent the night.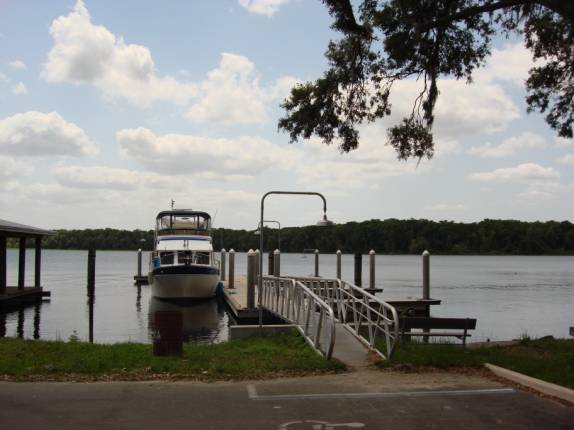 One of the greatest attractions on the river trip is a "wooden boat museum". We have been eagerly anticipating a visit here. We walked up the hill and located the museum building. Inside, we were treated to the wonderful craftsmanship of a true shipwright. On display were lots of wooden boats, all constructed by this man. The process usually works like this, the man finds an old engine of one sort or another. He restores the engine, either steam or gasoline fueled, until it is running perfectly. He then designs a boat around the engine. This beautiful example features a Sterling engine that is actually housed in the bow. Note the stern nameplate that is actually carved right into the transom.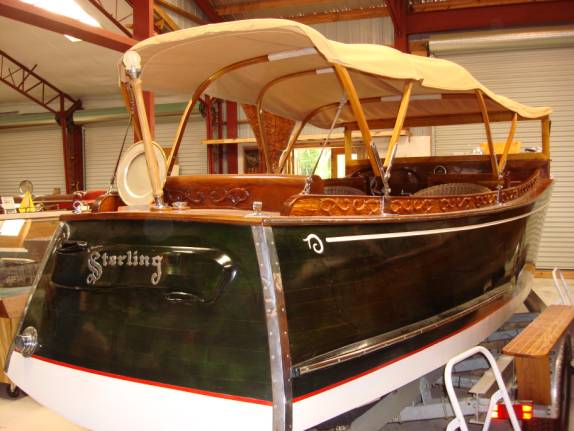 What stands out is this man's attention to quality craftsmanship. Everywhere you look, the workmanship stares you smack in the eye.
Along the upper wall shelf, you can see the many hull carvings representing all the boats that he has built. There are shelves of all kinds of creations made of wood including pitchers, vases, urns, and, even, some hats hand carved from wood. This boat has one of the earliest aluminum engines from when they were very experimental.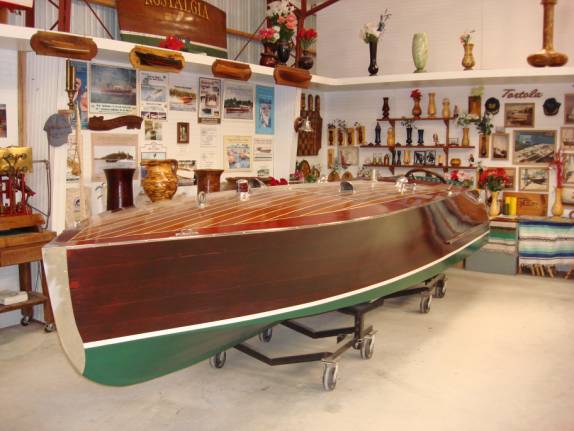 How's this for a sleek design?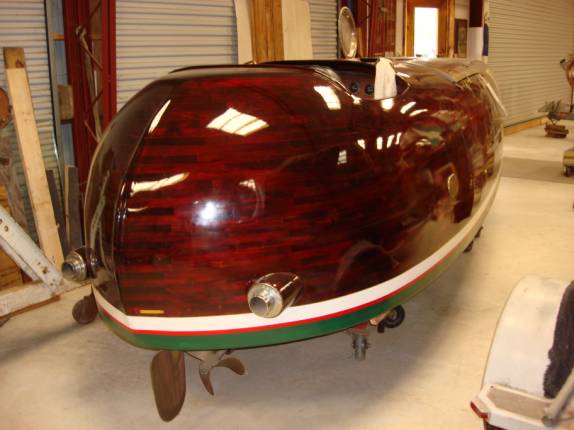 He loves to work with a variety of woods and enjoys the crafting of objects in brass. Dick Speas, and his wife Linda, have dedicated their lives to these masterpieces. When they moved from New York State, they made over 43 trips to haul all the stuff south.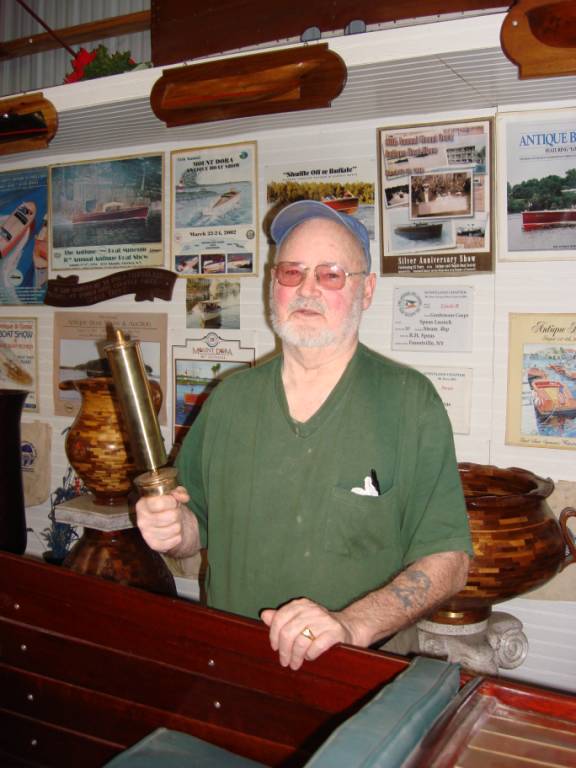 Truer words have never been spoken or written.
I found this example of an early gasoline powered, marine engine very interesting. It was manufactured by the Duesenberg Brothers prior to their entry into the luxury car market.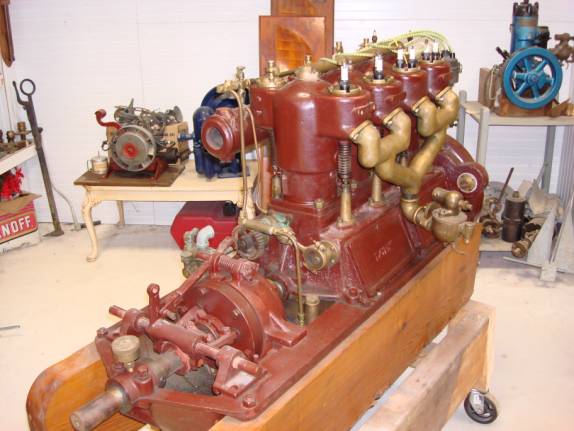 Steam power plays an important part in his maritime designs. He has won so many awards from the wooden boat builder associations. Many of his works have been award winners at Clayton, NY.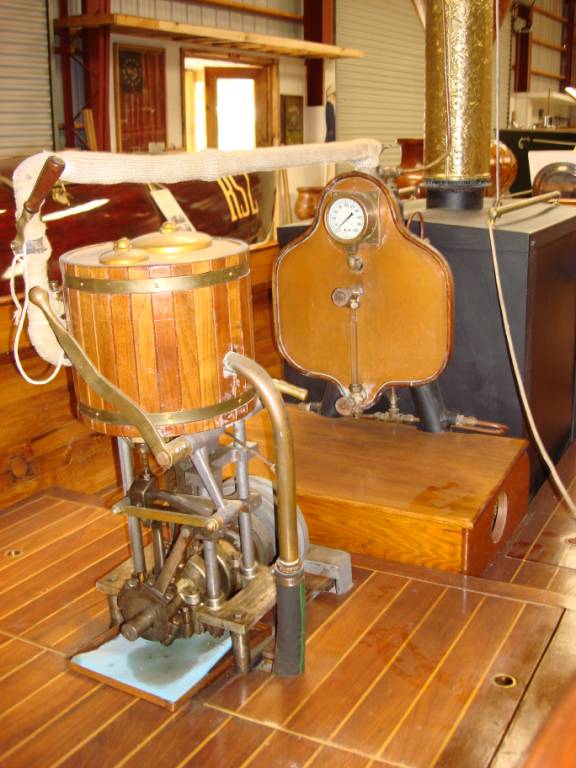 The whole museum was a delightful experience. We could have spent many more hours there.
Back at the quiet dock, Judy prepared a nice dinner of Caesar Salad with chicken slices. She added a Chicken Patty with Swiss cheese on a Kaiser roll especially for me.
As we got ready for bed, we noticed this solitary great blue heron standing guard over us. He must have stayed there all night because we slept peacefully without any interruption.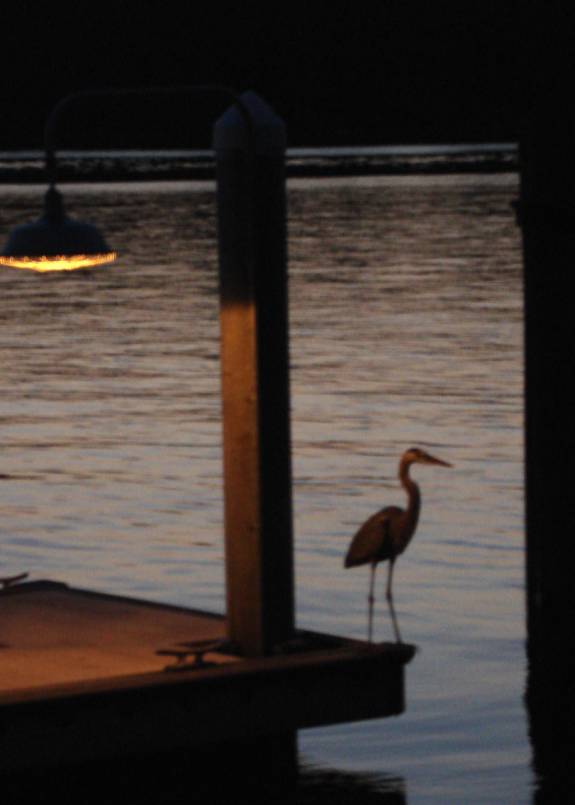 Today, we had traveled 20.9 miles at a moving average speed of 7.4 mph.
POSITION: N29 28.757 W081 40.512 ST. JOHNS RIVER MILE 95.1
POST SCRIPT:
As you have probably noticed, I have finally caught up on my update duties. As I complete this edition, it is already 5/17/07 and we are in Sanford, Florida. We are enjoying the beauty of the St. John's River as a side trip before continuing north. We will be here for the weekend. With a rental car, we will visit some of the areas attractions. Thanks for being patient. Please let us know if you have any special suggestions and thoughts.
Thanks for allowing us to share our life and adventures with you.
REMEMBER: The website is now fully active and you can visit it at any time. You can review any of the 2006 or 2007 logs and learn more about the crew and our plans. Enjoy.
ATTENTION: SPECIAL NOTE:
"AMARSE". is pronounced "AM-ARE-SAY". Our website is: www.amarse.net .
We would like to hear more about what is happening in your lives. Let us know as we very interested in what's going on with our friends and family. Please call or email us with your thoughts and comments and ideas too. Thanks
Lot of Love,
Fred Reed and Judy Law
AMARSE
MT40