UPDATE #9
06
/01/06 - 06/07/06
Howdy Everybody,
UPDATE #9 06/01/06 through 06/07/06.
The period 4/1 thru 5/31 has been covered in Updates 1 through 8.
We are very interested in hearing from ya'all. If you have missed out on any of the previous emails and would like us to re-send them, please let us know.
Please let me know if these emails containing pictures are too large and we will send you a version with text only.
06/01/06 Thursday Statue of Liberty to the Poughkeepsie Yacht Club, Hyde Park, NY
This morning marks two full month of this wonderful cruise. We have traveled over 3000 miles to date according to our GPS trip log. We have added more that 400 hours to the engines and about 70 hours to the Generator. We are grateful for the generally cooperative weather that has allowed us to progress in a timely manner. We have been fortunate to see all that we hoped for and much, much more. We are comfortable, relaxed, and really looking forward to even more wonderful experiences along the way. Our interest was in seeing, feeling, and enjoying what the waterways and nautical areas could offer. This is being fulfilled well beyond our expectations. Much of the inland and city sights are being left for another time when we might travel by land. For this trip, places, people, and experiences that are accessed by water will continue to be of most interest to us.
At 5:30 am, Judy and Donna worked to clear the dark, dirty, and muddy anchor. The fog was so thick that we could not see the Statue standing only a couple hundred yards away. With the GPS plotting and the radar antenna turning to display markers and traffic, we headed north in the busy New York Harbor and Hudson River. Our main concerns were the numerous, fast commuter ferry boats that crisscross the waterway between New Jersey and Manhattan. It was an all-hands on lookout situation and required constant vigilance from everyone. We would see a blip on the radar and soon there would appear the ferry zipping along. We followed a course to hug the navigation aids and the NJ coast that is continuously lined with piers, buildings, warehouses, docks, condos and even restaurants. We felt reasonable safe in our situation, however, we were denied the wonderful views of one this country's most populous cities. Oh well, thankfully we had such a good view yesterday afternoon.
By the time we reached the George Washington Bridge (the second deck is called the Martha Washington bridge), the visibility had improved to where we could see from side to side and ahead to the bridge.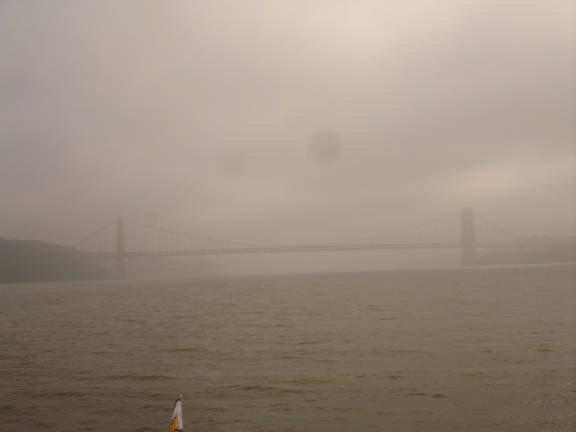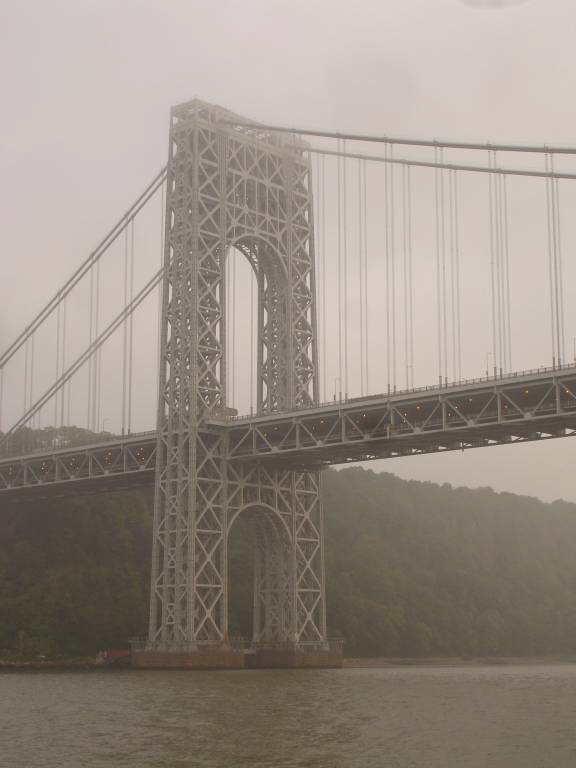 The water traffic had subsided to almost none. If you look at the next picture, in the center, you will see a dome.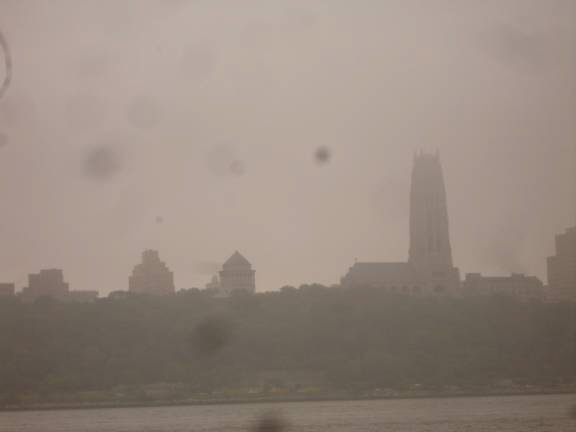 Now you must answer this question, "Who is buried in Grant's Tomb?"
The western shore is a continuous wall of high rock with lots of huge green trees. The Palisades, as they are known, run for many miles along the Westside that is now New York State.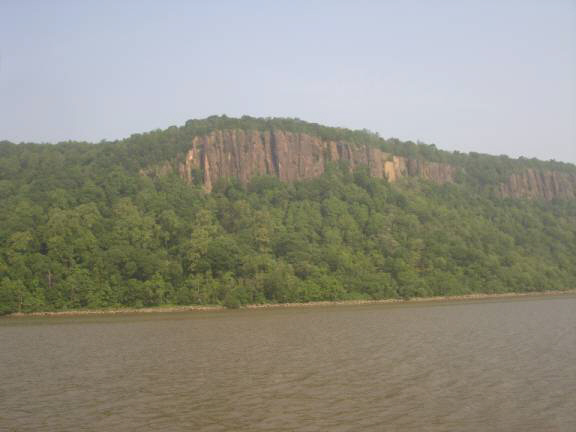 Donna really enjoyed passing under the Tappan Zee Bridge since she has crossed over it numerous times.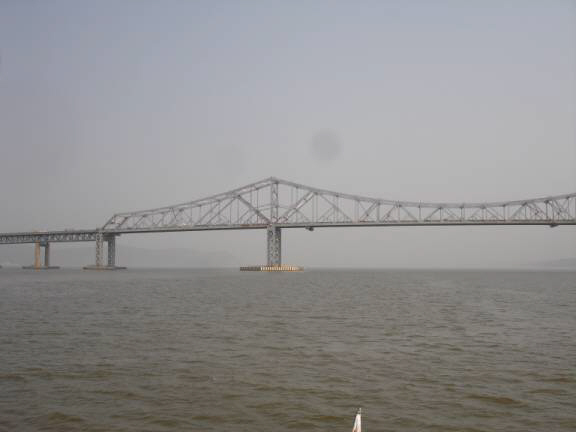 The scenery became more rugged and we were literally surrounded by large, mountainous terrain through which the river wove its way.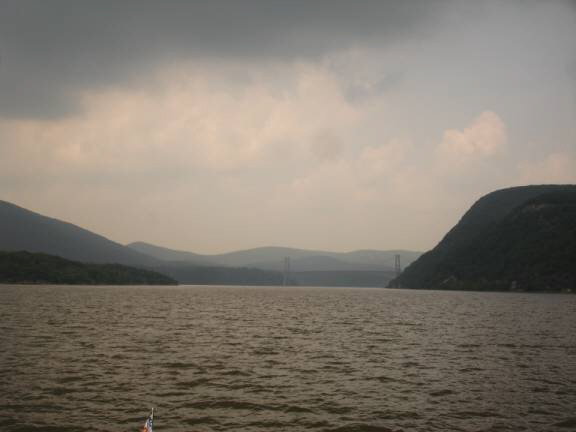 AMARSE glided under the Bear Mountain Bridge. This bridge was the highest suspension bridge in the United States back in the time it was built.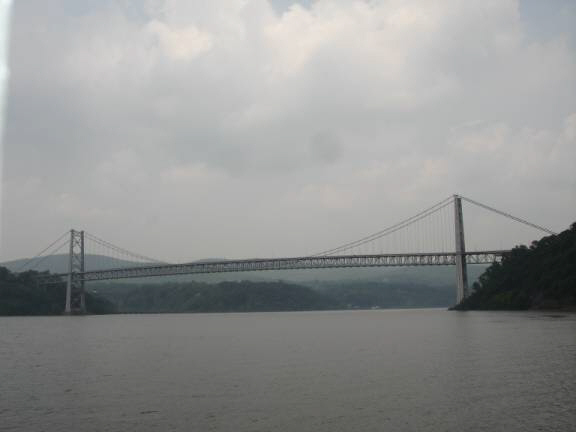 A little more than 50 miles north of New York City lies the famous US Army Academy at West Point. Its rugged fortress-like structures stand perched on the western banks of the Hudson. This area has some of the deepest water in the Hudson River. The massive stone structures exude a bold forcefulness that echoes its long, proud history.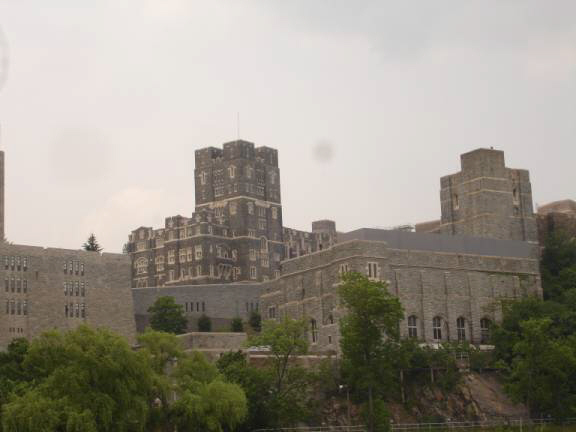 Very large and opulent mansions are prominent along the eastern banks. These massive residences are reminiscent of the industrial era when the wealthy built huge places emulating the aristocracy of Europe.
The skies continued to darken in the afternoon foreshadowing the stormy evening. We chose to pickup a mooring ball at the Poughkeepsie Yacht Club.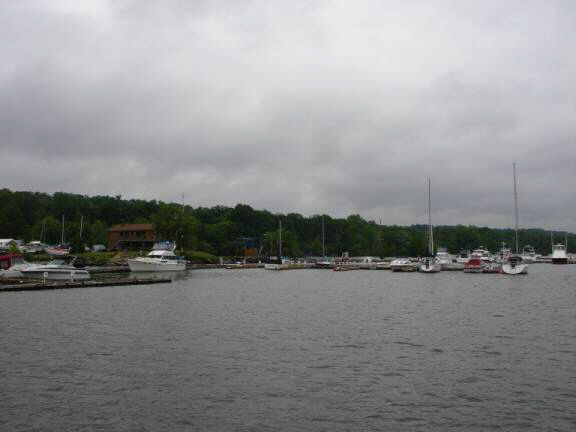 The club is actually in Hyde Park, NY and is about 7 or 8 miles north of its home city. Shortly thereafter, the rains, lightning, thunder, and winds began. It would continue to rain for the entire night. We were secure and comfortable without the worries associated with anchoring in the storms.
Tonight's menu was salads, tuna sandwiches, and chips served in the comfort of the main cabin. This location is just about half way up the Hudson River section at mile 77.
06/02/06 Friday Poughkeepsie Yacht Club to Kingston, NY
The forecast for the upcoming weekend indicated that rains, very heavy at times, would be prevalent throughout the Hudson Valley. We opted for a secure harbor and chose the Municipal Docks at Kingston, NY. We dropped the mooring at 8:40 am and soon encountered one of the famous Hudson River lighthouses. The Esopus Meadows Light stands mid-stream and is quite beautiful. I maneuvered AMARSE in close for Donna and Judy to photograph.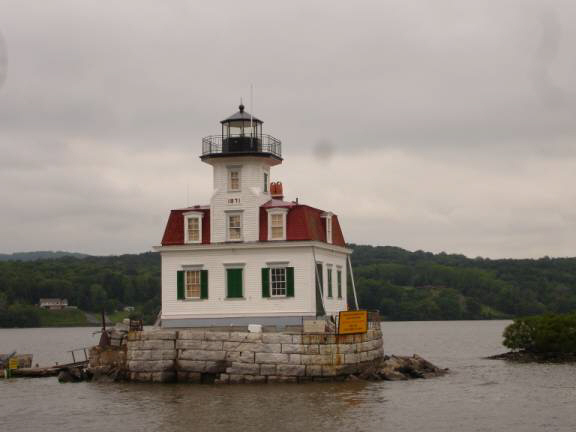 We continued north and soon entered the Kingston channel. Standing guard is another of those famous lighthouses. The girls snapped away with the cameras as we idled through the protected waterway.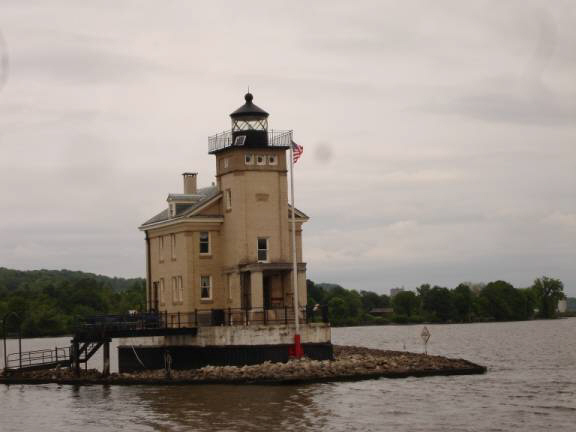 The docks were floating with only 20 foot finger piers along this narrow slough. We eased back into an empty one and tied up. We were held in place with crossed stern lines, two mid-ship breast lines, and forward and aft spring lines. A little shaky but adequate in these very sheltered conditions.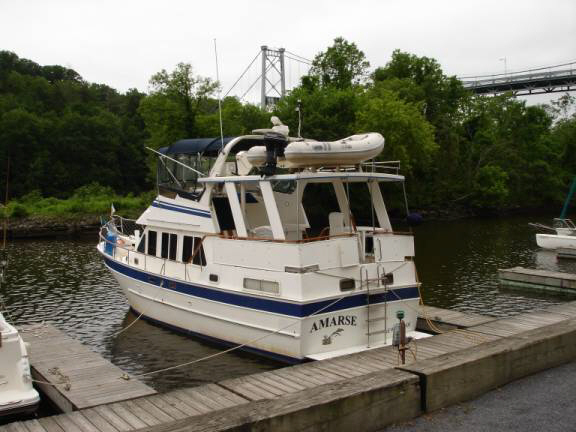 The area is pretty neat and located in a historical district with numerous restaurants, a maritime museum, trolley museum, and a variety of other shops.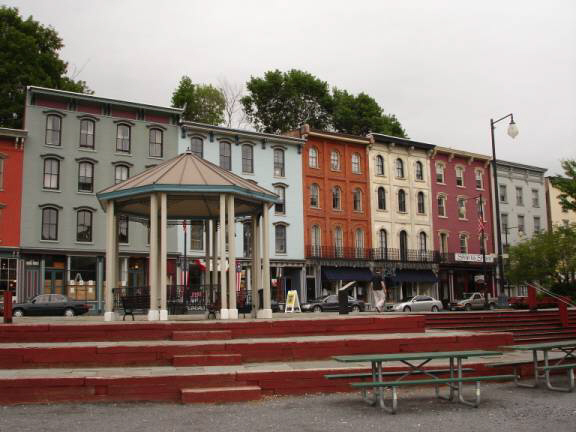 We strolled around and tried the little Chinese place for lunch. We had made arrangements for a rental car but the office was out of cars and we would have to wait till later. The car agency informed us that they would not be able to pick us up and that we could taxi over to their alternate location for the car. OK, we called the cab and waited and waited and waited. Several calls later, the cab arrived. The driver made a couple of other pickups on the way. One was a particularly odiferous guy with several bags of extremely stinky laundry. Judy and Donna kinda held their noses and I probably should have. A half hour later, we were dropped off at the Ford dealer. The rental went smoothly and we were off to do some shopping. My cell phone was giving me problems so we attempted to make changes at the various competitors. No one could help us keep my San Antonio number. We gave up in frustration. We accomplished our grocery re-supply, had a fast food dinner, and made it an early night.
06/03/06 Saturday Kingston, NY
Today's chore list included laundry duty. We had located the Laundromat the day before during our taxi ride when Mr. Stinky was dropped off. We dreaded the thought that we might be using the same machines as he did. As a mild defense, we opted to use the laundry's drop-off service for wash n' fold. This allowed us extra time to chow down at the local diner. They feature wonderful food at reasonable prices.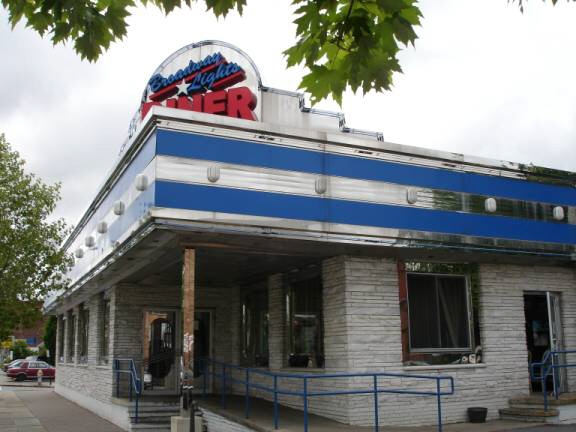 After unsuccessfully trying to locate some navigation charts, we decided to go sightseeing. Our first location was the lighthouse at Saugerties. This is another of the Hudson River's treasured locations. Most of these historic lighthouses has been taken over by a conservancy. To raise money for the upkeep, the lighthouse is rented in Bed & Breakfast style.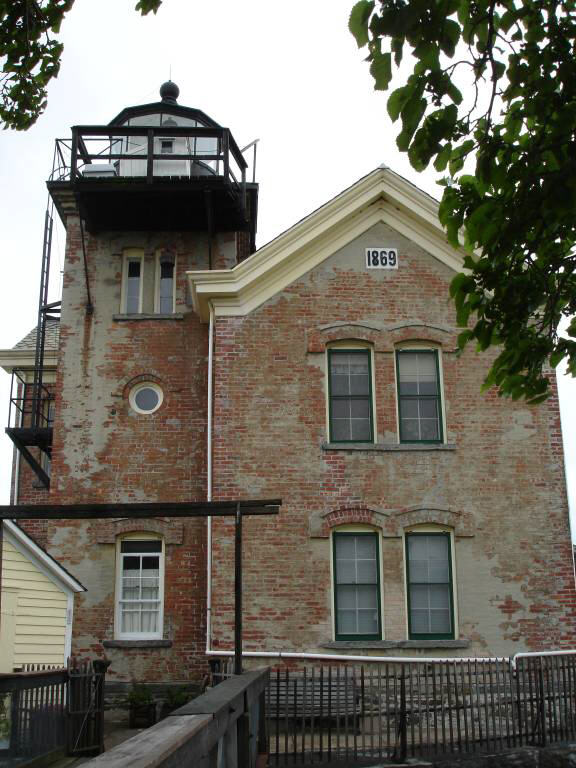 On the east side of the Hudson, we visited the Vanderbilt mansion,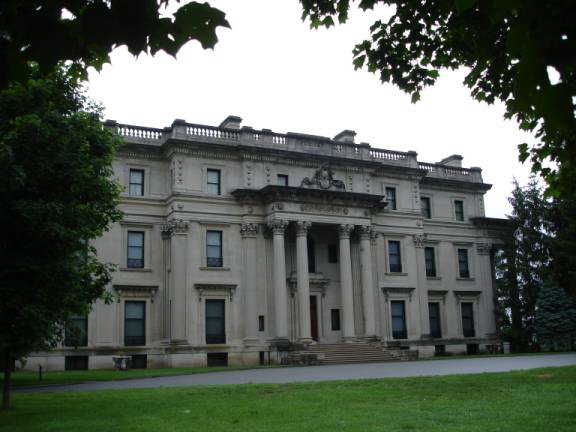 FDR mansion and presidential library,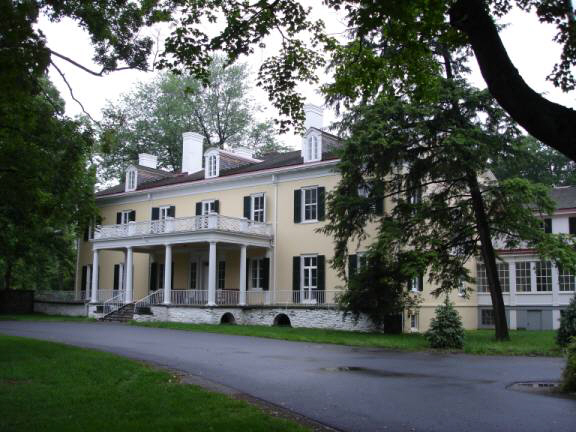 and the Mills family mansion.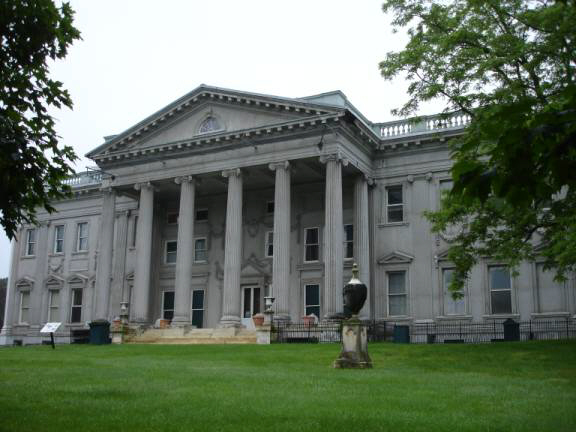 During the Industrial Era, the wealthier folks of the east built large estates and attempted to live like the European aristocracy. Each sought to outdo the other in opulence. We enjoyed our visits very much even though the weather was drizzly and cool. The Hollywood Nights Diner was, again, the perfect choice for mealtime.
06/04/06 Sunday Kingston, NY to Schodack Creek anchorage
After breakfast, the weather was improving so we decided to move on. Even though we had rented the car until Monday afternoon, the chance to move ahead intrigued us more that staying here in town. By 11:20 am, the remaining 62.1 miles of this section were still ahead of us.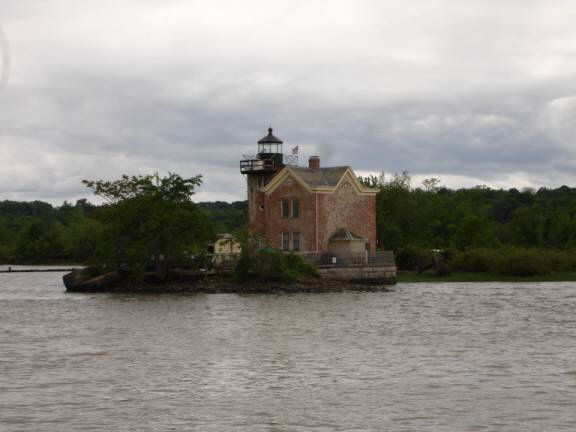 We detoured into Schodack Creek to check out an anchorage area that we had read about. We had also read that we could get dockage a few miles further north. At Coeyman's Landing, the docks we sought were not in place. The local marina was closed and all the dock space was occupied. As we turned out to return to the anchorage, the vessel "Madora" hailed us on Channel 16. On a working channel, they informed us that they had just completed the "Loop Cruise" the day before. Congratulations Madora. They also recommended the anchorage that we were heading for. At 6:45 pm, AMARSE was firmly anchored a couple miles up Schodack Creek. The inclement weather forced us to have dinner in the cabin. It sure is nice to have this nice area to relax in. Position N42 26.621 W073 46.387.
06/05/06 Monday Schodack Creek anchorage to Waterford, NY
As we silently slipped out of the anchorage at 5:35 am, we left Robert Neely and "Rhumb Line" behind. They were the only two others there for the night. From mile 24.5, our northbound course took us past Coeyman's Landing and Castleton-on-the-Hudson. Cameras snapped away at the beautiful Athens-Hudson Lighthouse.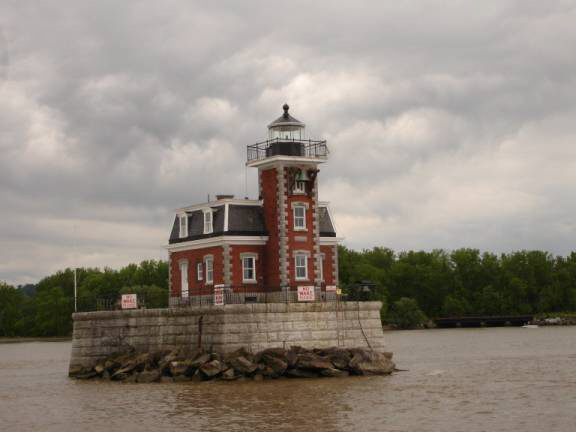 Several sailboats at the Castleton Boat Club had taken down their masts in preparation for the canals and low, fixed bridges ahead.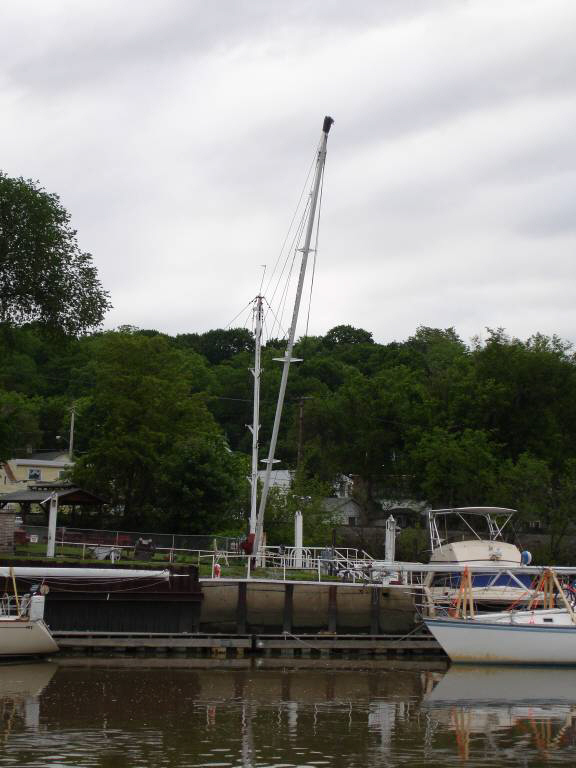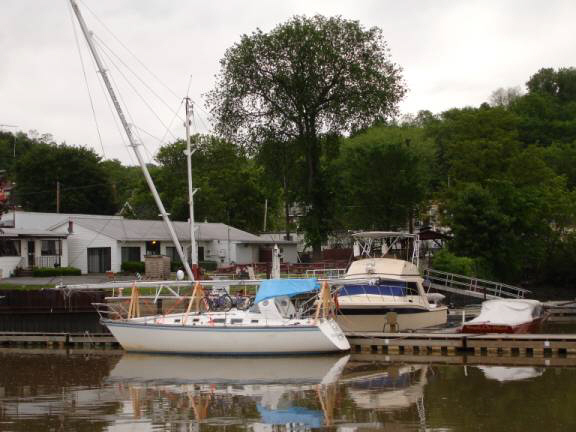 Troy, NY marks the 0.0 mile mark of the Hudson River since the 154.0 since the Statue of Liberty. We had expected to get fuel here in Troy, however, the new operator was not yet supplying diesel. Oh well, we'll just have to see what lies ahead.
The federal lock at Troy was experiencing extraordinarily high water that produced currents of three to five miles per hour. The resulting turbulence and eddy currents tended to toss AMARSE around like a toy. It took a lot of concentration and wheel turning to keep any kind of course. To complicate matters, the lock opening was becoming clogged with logs, wood, and debris that could be hazardous to the hull and propellers. We managed to maneuver into the lock chamber where all became calm. This was Donna's first experience at a lock. I think all the excitement made her wonder what the heck she had gotten herself into. As the upstream gates opened, the water was tranquil and the sun was peaking out again.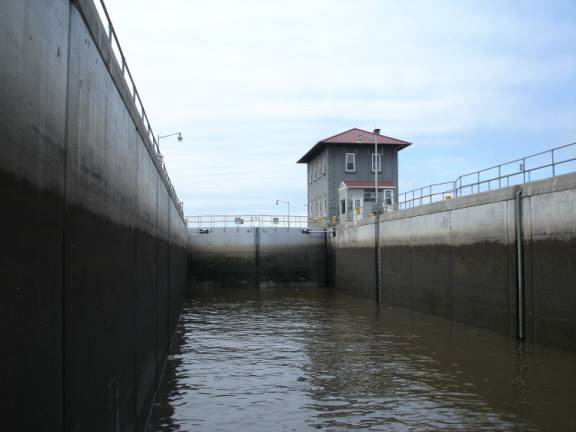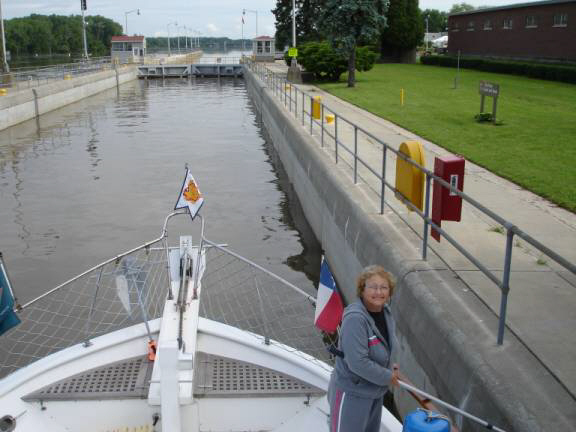 2.3 miles later, we came to the confluence of the Erie Canal and the Champlain Canal at Waterford, NY. The city hosts a large dock facility complete with water and electrical power for the transient boaters. Every space except one was occupied. We hastily prepared our lines and eased into the compact opening.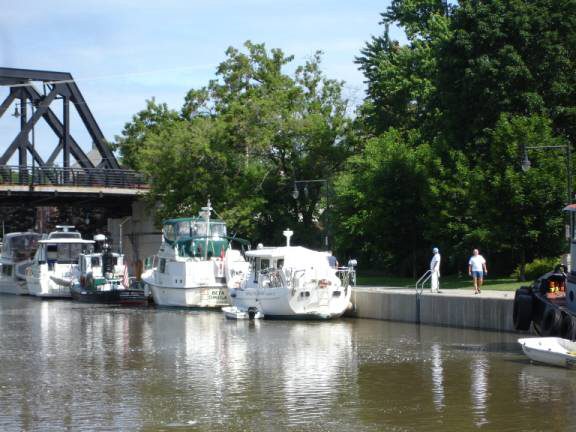 Several helpful boaters assisted us with the docking maneuver. It was as if we had joined a big party. We soon learned that the upstream Locks from 8 to 13 had to be shutdown because of high water and debris. No one was moving out until things improved. I'm so glad we got an early start. When secured, we chatted with fellow cruisers and walked to the nearby business district. Don and Paul's Restaurant puts out one of the best breakfasts for the money that we know of.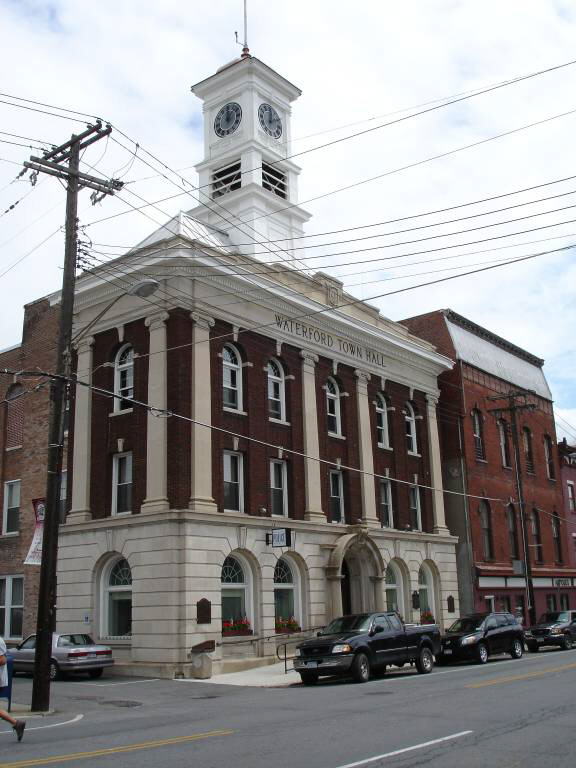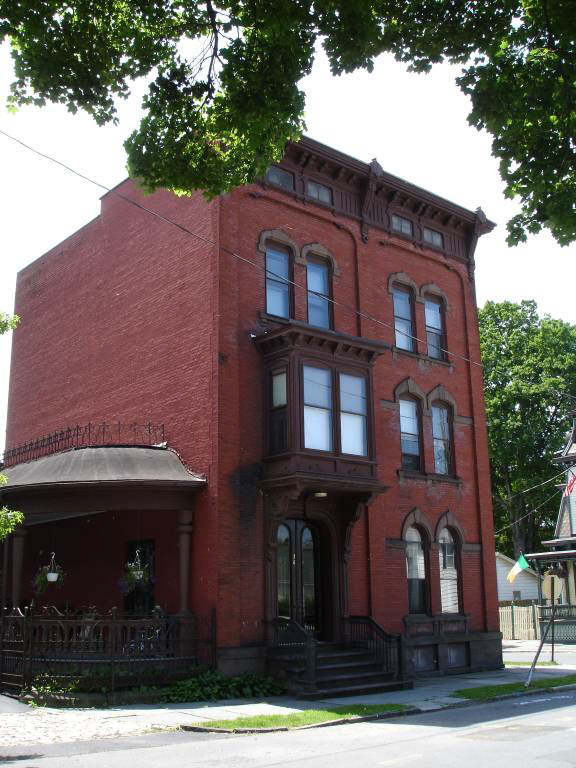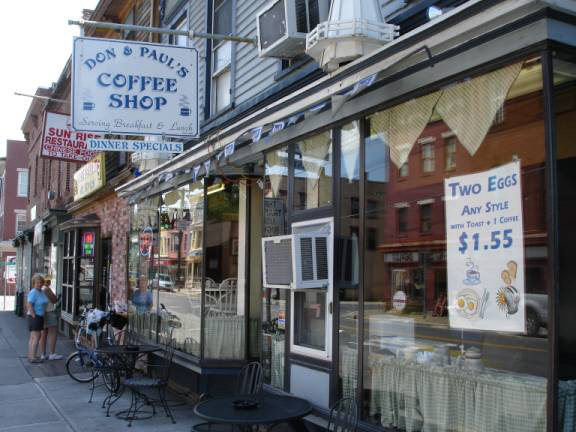 The rest of the day was taken up with socializing and boat chores.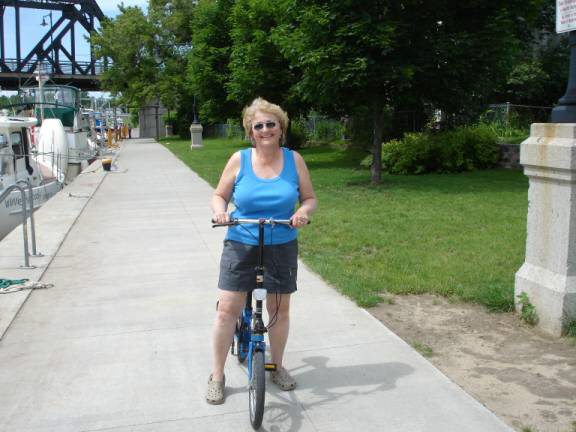 Barbara from "Beta Omega" organized a Pot Luck Dinner for the evening. Soon each boat crew was preparing some special dish to be their contribution to the community event. It turned out to be lots of fun. Judy made a delicious peach cobbler. Most people were delightfully surprised and enjoyed our tray of salsa and Texas-shaped tortilla chips. Most had never seen anything like it before. Rounds of cocktails and genuine camaraderie made this a special time for all.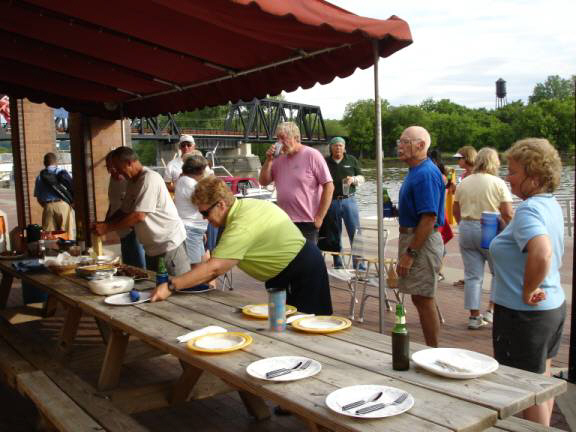 Henceforth, this group is known as "The Waterford High-Water Yacht Club"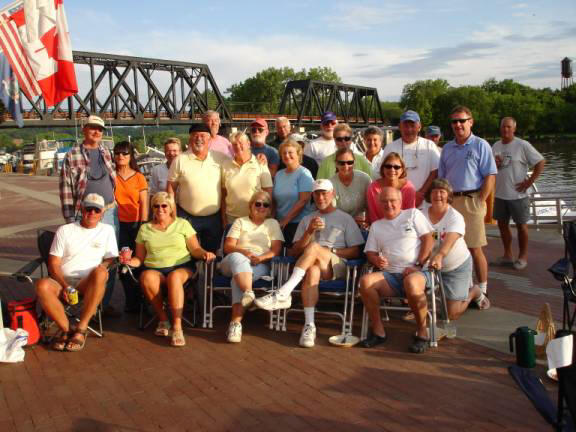 06/06/06 Tuesday Waterford, NY
We anticipated staying here again today. I had to wait for my new cell phone to arrive via FedEx. After breakfast at Don and Paul's, Judy and Donna set to work to spiffy up the boat. The exterior had accumulated a lot of dirt and stains from the muddy anchorages and silt laden water. They worked most of the day and the results of their efforts were readily apparent. Thanks, Thanks, Thanks. I worked on navigation planning and other stuff.
Many cruisers have left today as the locks upstream have resumed full operation along the Erie Canal. This is the route most traveled. We moved up on the docks to a better location. Soon, additional boats arrived to fill the docks.
We met a real nice guy, Wayne Roberts, from "Opelousas". Lee and Katie from "Good Bye Joe" are also fellow Texans. Wayne drove us around to see some of the locks and flood gates as a small cruise ship passed through.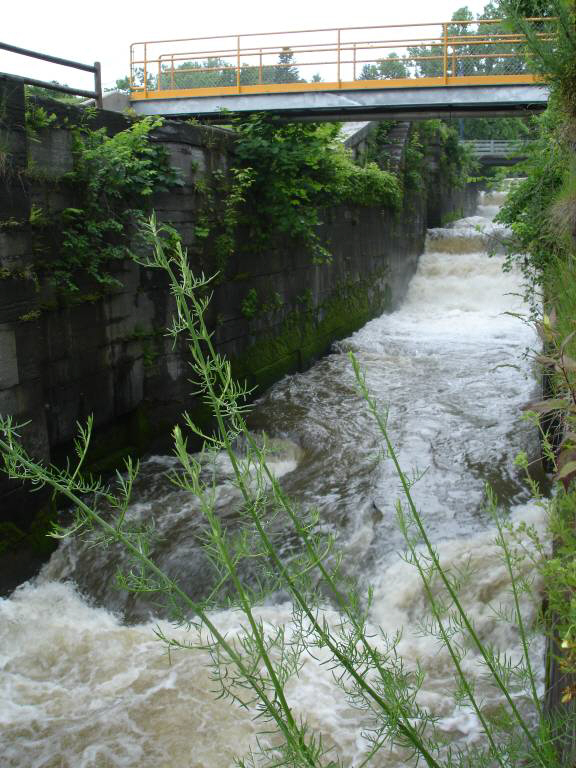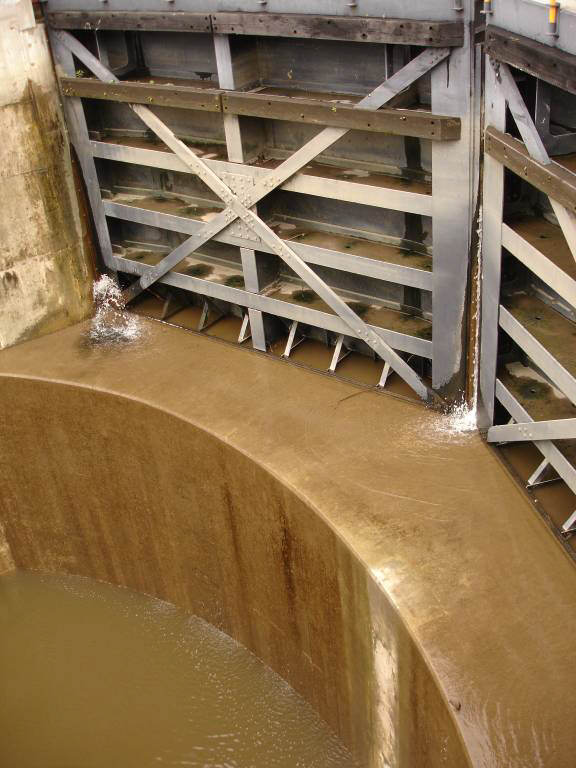 When my new phone arrived, I occupied too much time setting-up and activating the thing. At least now, we should have some improved communication while in Canada.
Dinner at Kielty's Irish Pub featured Yuengling beers and wonderful Cod dinners. Wayne and his brother, Doug, joined us soon.
Our plan to travel north along the Champlain Canal has run into a problem. A discussion with the Lockmaster confirmed that high water was impeding vessel traffic. They could only provide 16 feet of bridge clearance. I had removed the radar antenna, the TV antenna, the anchor and steaming lights, and lowered two ribs of the bimini top. We can not get AMARSE down below 16.5 feet. We will try to wait out the water levels that hopefully will drop in the next day or two. Oh well, this is quite a nice place to wait things out.
Dinner at Kielty's Irish Pub featured Yuengling beers and wonderful Cod dinners. Wayne and his brother, Doug, joined us soon. Wayne has been single-handing his Ponderosa 42 and Doug just flew in to help him with all the locks ahead.
06/07/06 Wednesday Waterford, NY
We awoke to a morning with light rain. The forecast has been altered to include more and more rain for the next few days. The odds of the water levels dropping along the Champlain Canal are narrowing. If these rains continue, waters will rise and the bridge clearances will diminish.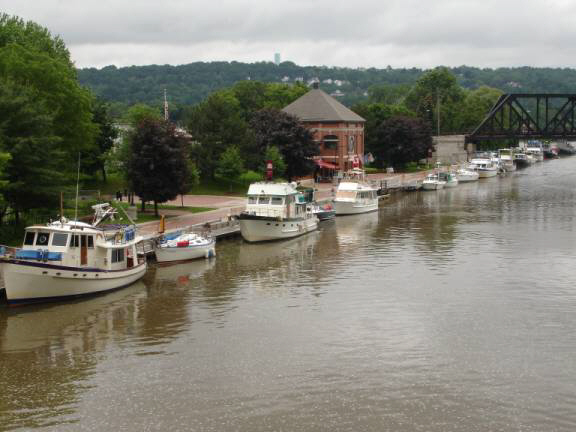 Opelousas departed with a morning lockage westbound along with several other vessels. Lynn and Wayne from "Skinwalker" shared the coffee table with us this morning and a plan was developed. We would all go to breakfast and then Wayne and I would catch buses to the West Marine store.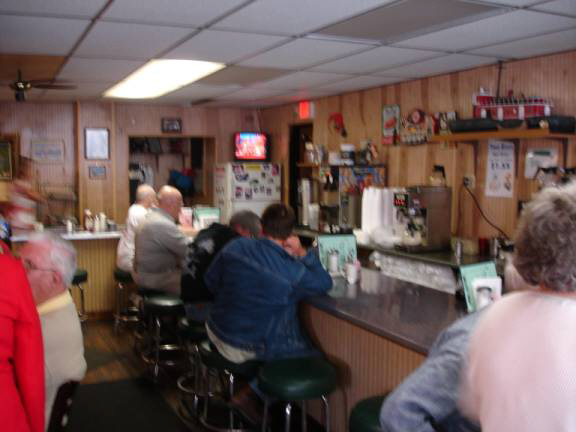 It wouldn't be quick or easy, but we had nothing better to do on this rainy day. From Waterford, Bus 85 took us to Troy center. After nearly an hour wait, Bus 70 took us to Latham Farms mall. Thanks goodness for my new cell phone and we were able to get better directions. We bought more navigation charts and waterway guide books to enable our journey. A few more items and a visit to Home Depot had us waiting again at a bus stop. Maybe a half hour went by before Bus 90 brought us back to Troy. Twenty more minutes and Bus 85 took us on the 30 minute trip back to Waterford. The bus trip turned out to be a good thing for Wayne. He noticed the time and date on the bus sign and it jogged his memory that today is his wife's birthday. Luckily, he was able to get a card, a cake, and some candy to surprise her with.
I worked on the logs and we just kind of lazed around. Hot, homemade soup warmed us nicely on this cool, rainy evening. Late cocktails onboard "Winnie the Pooh" hosted by Mark and Joyce topped off another day.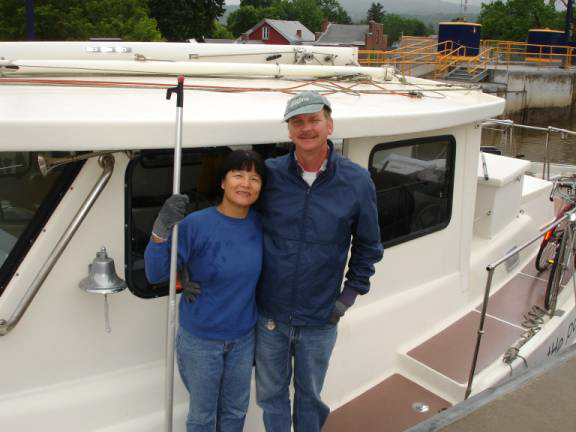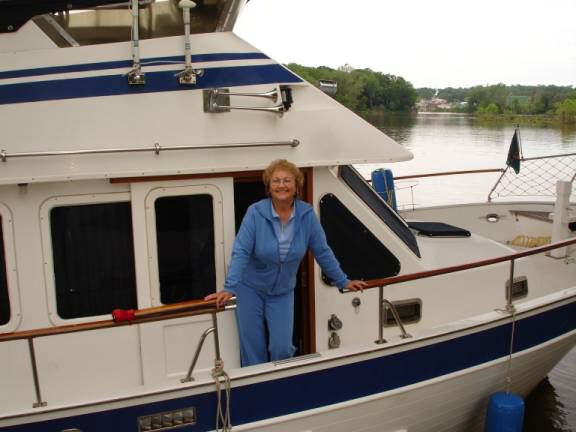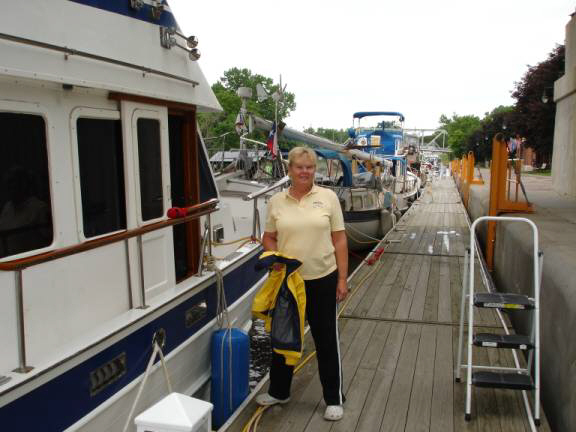 "AMARSE". is pronounced "AM-ARE-SAY". Our website is: www.amarse.net .
Check it out while we will attempt to keep you informed via email
We would like to hear more about what is happening in your lives. Let us know as we very interested in what's going on with our friends and family. Please DO email us with your thoughts and comments and ideas too. Thanks
Lot of Love,
Fred Reed and Judy Law
AMARSE
MT40