Howdy Everybody,
We are very interested in hearing from ya'all. If you have missed out on any of the previous emails and would like us to re-send them, please let us know.
Please let me know if these emails containing pictures are too large and we will send you a version with text only.
The period 4/1 thru 10/11 has been covered in Updates 1 through 26.
UPDATE #27 10/12/06 through 10/21/06.
As you may remember, we have been traveling and exploring along the Cumberland River in Kentucky and Tennessee. At the last UPDATE, we had spent the night at Riverview Restaurant and Marina in Ashland City, Tennessee.
10/12/06 THURSDAY RIVERVIEW RESTAURANT/MARINA ASHLAND CITY, TENNESSEE
After a restful night at the nearly empty dock at the Restaurant/Marina, we awoke to overcast, dismal skies. After coffee and breakfast aboard, Fred started tackling his taxes. This is always a pleasant endeavor for him. As some of you may know, October 16th is the final filing day and it's closing in fast. Much to his dismay, he found that the diskettes that held all of his previous work and many of his records were blank. Somehow, the vital information had not transferred from his home computer. Fortunately, he had brought many of the paper records and would be able to reconstruct the lost materials. Unfortunately, this would take a lot of extra time and effort. Oh, well, they say only two things are for certain in this world, "death" and "taxes". We will just need to take the time now to deal with the later and leave the former for later.
By lunchtime, we were ready for a break and ate lunch here at the restaurant.
We knew that this tax issue would require a lot of time. The decision was made to stay right here in this quiet, isolated place until sufficient progress could be made.
Fred worked with the numbers all afternoon while Judy did VT (various things). The evening dinner was back at the same restaurant.
POSITION: N36 16.118 W087 04.588 MILE 158.0 CUMBERLAND RIVER
10/13/06 FRIDAY ASHLAND CITY, TN
After breakfast on board, the tax calculations continued. It is Friday the 13th and I'm stuck doing taxes. Some would say, "that is enough bad luck for the day."
At 12 o'clock, we were picked up by the Enterprise Rental Car folks and driven about 20 miles to their offices. We rented a Saturn Ion for the weekend. The car would give us the flexibility to take care of business and allow us to do some shopping and sightseeing. In Nashville, I bought a computer printer at Office Depot so that I would be able to print out the tax forms.
Judy had tried to watch a DVD movie last night, however, we couldn't get the player to work. At Sam's Club, we bought a new LCD TV with a built in player. This would give us a better picture and be more compact and lightweight.
For dinner, we went to Calhoun's on the west side of town. Judy slurped on a rack of ribs and my grouper dinner was excellent. Their homemade biscuits are, perhaps, the best I've ever had. As we entered the restaurant, Judy thought she recognized one of the young people awaiting a table. She thought "no way", and said nothing. At the table, I said I saw a guy wearing a Churchill ROTC jacket and I wondered if it was the San Antonio Churchill. Judy went over to see and, sure enough, the girl was Shelby, a close friend of Harlene's daughter, Jordan. Judy had met her while visiting with Harlene. The group was in Nashville to compete in a rifle-shooting event. Talk about a small world. It was too bad that Harlene and Jordan were not at this event as they sometimes are.
Downtown Nashville is really cool, however, it was quite crowded and there was no parking to be found in the close-by area. We chose to return to the boat. I hooked up the new TV and attached a set of amplified Bose speakers. The TV has a great picture and the sound is awesome with the auxiliary speaker system. Judy watched the DVD movie "Seabiscuit" about a racehorse. I set up the new printer and continued work on the taxes.
10/14/06 SATURDAY ASHLAND CITY, TN
After breakfast at the local Hardee's, Judy finished watching the end of "Seabiscuit" while I continued my jovial endeavor.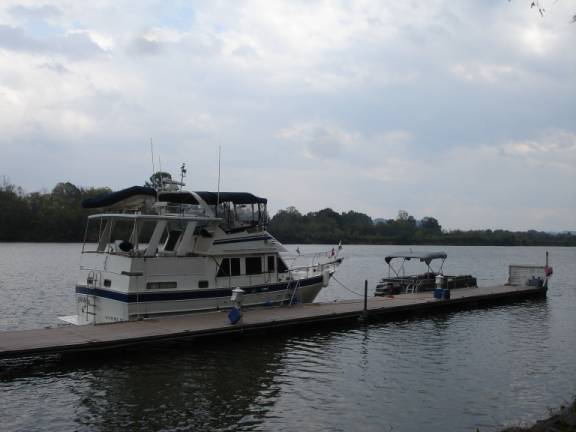 Having made significant progress and needing a break, we drove back to Nashville. We stopped at an antique car show and enjoyed looking at the "pride and joy" of these folks. Again, downtown Nashville was mobbed with folks and there is no parking. We drove over to Opryland hoping for tickets to tonight's performance. There were no good seats left. I guess that there are so many people in town on tours and doing the fall foliage thing that most of the tourist attractions are full.
We did some more shopping and general sightseeing before driving to Clarksville for dinner. I had a hankering for more of those great shrimp at the New China Buffet.
10/15/06 SUNDAY ASHLAND CITY, TN
Another breakfast at Hardee's, more work on taxes, and Judy attending to the chores at the local Laundromat. I know it sounds repetitious, but some stuff just has to be done. We drove to Clarksville to do some more shopping. The city offers almost anything you could want. Nearby, the US Army's Fort Campbell, KY, supports a large population of goods and services providers.
Rather than cook on board, we just ate at a fast food joint.
10/16/06 MONDAY ASHLAND CITY, TN
HAPPY BIRTHDAY, SCOOTZIE ( F. Scott Kee) He really doesn't look his age, but, I remember when he did.
Today is the deadline for tax filing. The deed was done, the envelope was sealed, and the US Post Office would send it on its way.
For breakfast, we chose the famous Loveless Café. This place is popular with many of the Country Stars of Nashville. Located out on the west side of town, the walls are covered with the signed photos of nearly every famous singer. Their claim to fame is the biscuits. With such a hyped buildup, frankly, we were somewhat disappointed. Oh, well…
We returned the rental car and were driven back to the boat by 1 pm. The weather was lousy, rainy, and very windy. Our plan to head out would be delayed further.
In the afternoon, we celebrated Scootzie's birthday in his absence. Happy Birthday, buddy!! With friends like us, I'm sure he will have a great year ahead.
During the night, conditions deteriorated further and we had winds in excess of 40 mph. We were sure glad to be secure at the dock.
For dinner, we had gourmet Chicken Pot Pies. They are delicious and make a great meal on a cold evening.
10/17/06 TUESDAY ASHLAND CITY, TN TO NASHVILLE, TN
Although the morning started out rainy and misty, conditions started to improve about 8 am. We had a little trouble starting the right engine. I bled out the fuel system and, using the electric fuel pump, got the engine humming nicely. By 11 am, we were off the dock at Riverview Marina at Mile 158.0.
Along the Cumberland River, it was overcast and 68 degrees. A couple of miles up the river, we were surprised to see a camel. That right, a camel was grazing in field adjacent to the river. It just goes to show that there is something different "just around the corner". The scenery is made even more beautiful with the changing fall colors in the trees.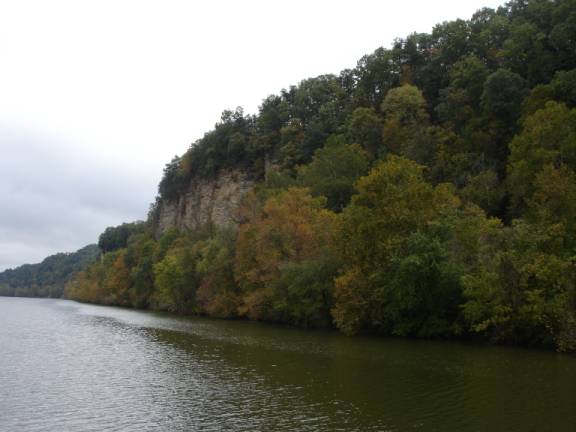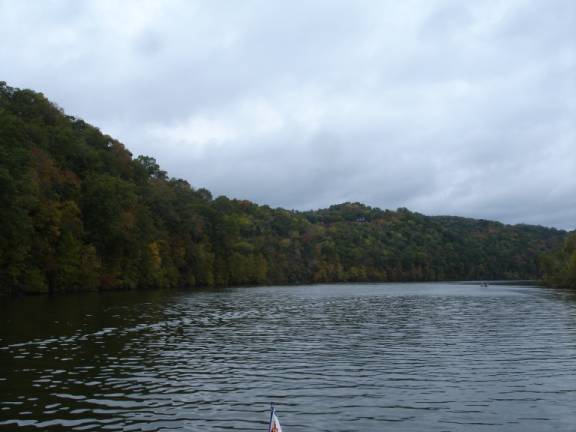 After miles of rural, scenic beauty, we got our first glimpses of the Nashville skyline. Note the impressive architecture of some of the buildings.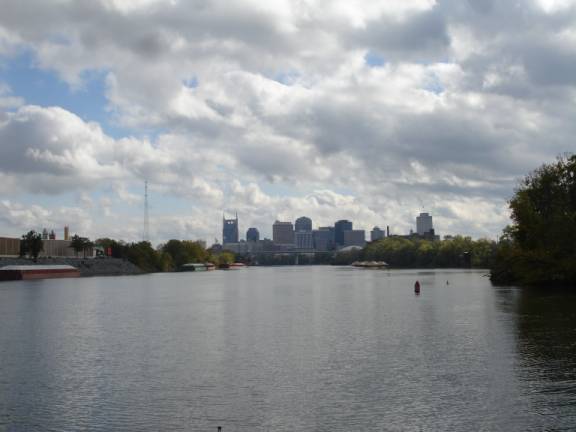 Four and a half hours later, we tied AMARSE to the municipal dock in downtown Nashville at Mile 190.5.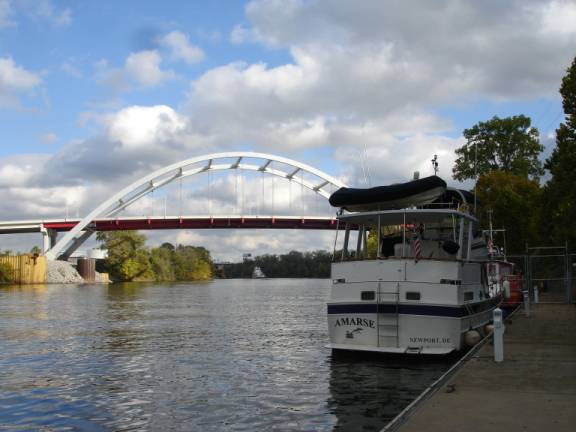 It was only a short walk into downtown. The area is lined with souvenir shops and music bars. We went to The Stage Bar where Billy Dalton was strumming out country hit after country hit. He is very good and plays the songs we loved to hear.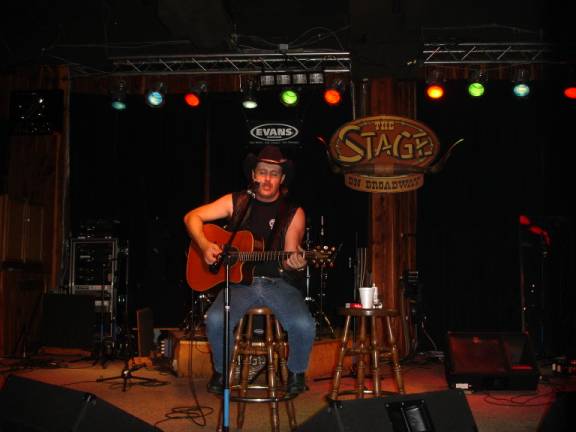 On the wall is a wonderful and huge mural of Merle Haggard, Willie Nelson, Johnny Cash, and Hank Williams, Jr. and, of course, Hank, Sr.(not shown).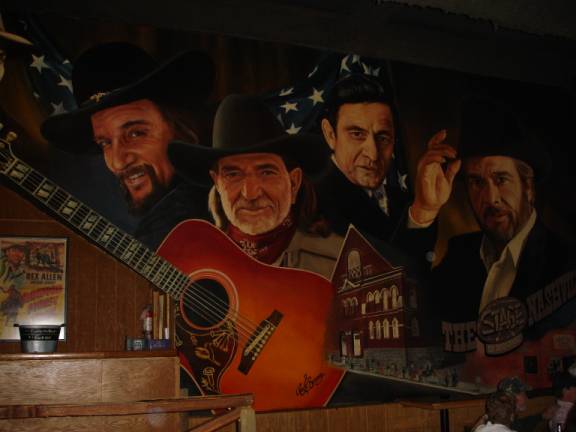 We enjoyed every minute and stayed until he played his last set for the afternoon. The bar has a different band scheduled for the night show.
In this Mecca of country music and the Blues, it is easy to recognize some of the greats. Judy found favor with "The King", Elvis Presley.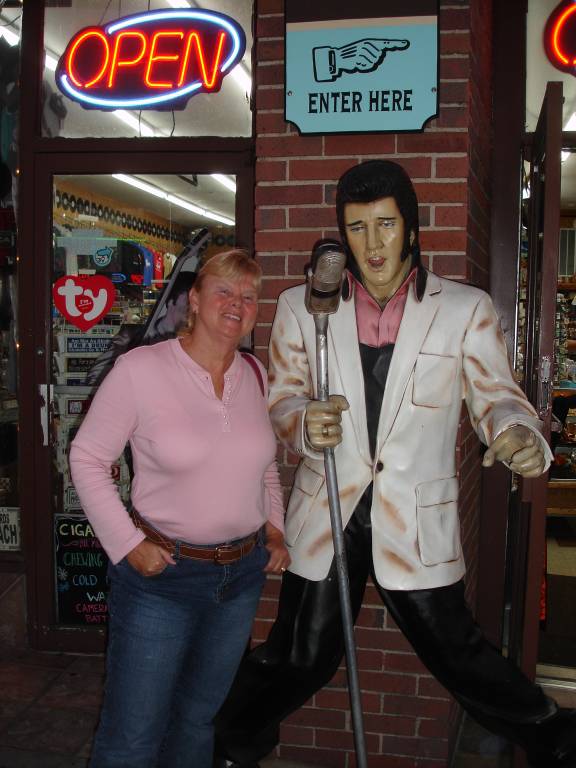 How about a little dance with "Joliet Jake" of the Blues Brothers?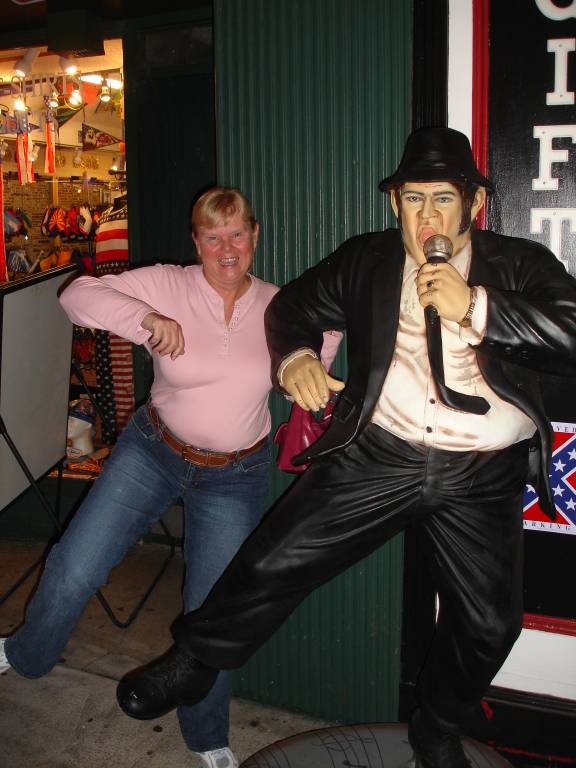 In the previous picture of the Nashville skyline, did you notice the unusual building with the twin spires? Folks around here call it the "Batman Building". With its unique architecture, the building seems immediately recognizable. Here is another view that is closer up. Do you see it too?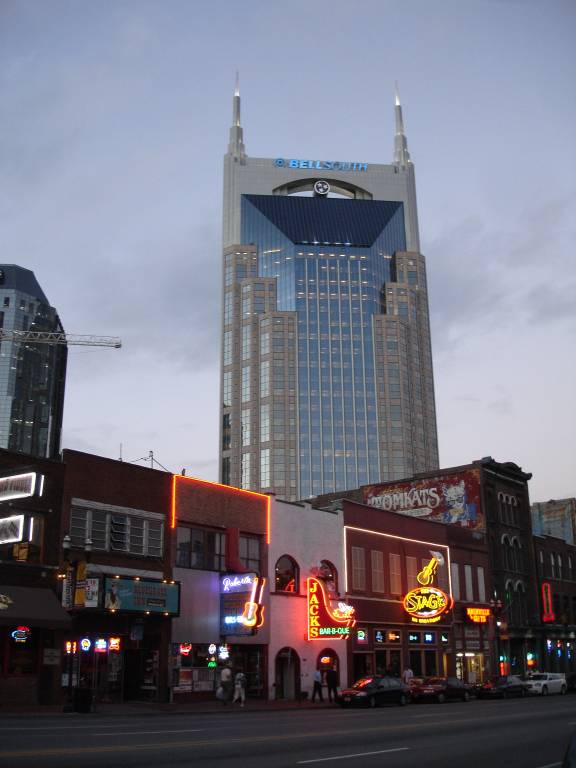 With Nashville's Broadway Music Row in the foreground, the BellSouth building towers above at 617 feet, it is the tallest building in Tennessee. Can't you just see Batman and Robin in there?
For dinner, we went to the Old Spaghetti Factory on 2nd Street. Judy had the Chicken Alfredo and I had Lasagna. Unfortunately, I cannot recommend the restaurant. The food was not that good and the place poorly run. I guess we are just spoiled and selectively picky consumers.
As we walked along the music row, we heard a great sound coming from a little bar. I think the place was called "The Wagon Wheel Bar", however, I'm sure that is was "The Robert E. Lee Band" that was playing. We were lured in and found some great seats at the bar. The lead singer has a voice similar to George Strait. Consequently, he sings a lot of his hits.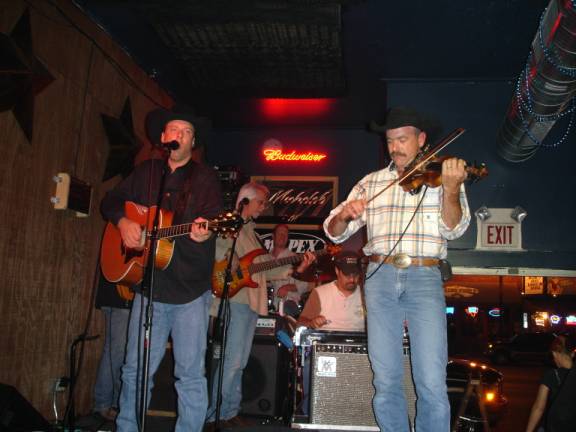 George is Judy's favorite and she knows every word of every song. The fiddle player was awesome and the steel guitar spectacular. The drummer, bass, and lead guitar player belted out a fabulous sound. The bass guitar player performs with the Randy Travis band. We could not have enjoyed it more. We stayed for several sets before returning to the boat.
POSITION: N36 09.688 W086 46.354 CUMBERLAND RIVER MILE 190.5
10/18/06 WEDNESDAY NASHVILLE, TN TO CLARKSVILLE, TN
At 3:15 am, Fred was awakened by some unusual noises. He found that two unsavory guys were trying to get on the boat. He managed to put enough fear back in them that they decided to get back off and leave without further confrontation. For that, we are thankful, however, the rest of the night was not as restful as we would have liked.
It was still quite dark at 6:30 am as we edged away from the dock. The Cumberland River stretches east for another 190 miles or so. We have traveled along half way now and, after reviewing the upcoming weather forecast, have decided that continuing upriver would be uncomfortable and too time consuming. The early morning calmness showed crystal-clear reflections that effectively doubled our visual enjoyment.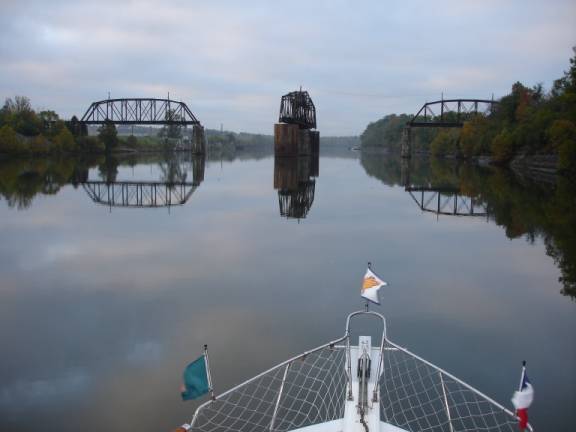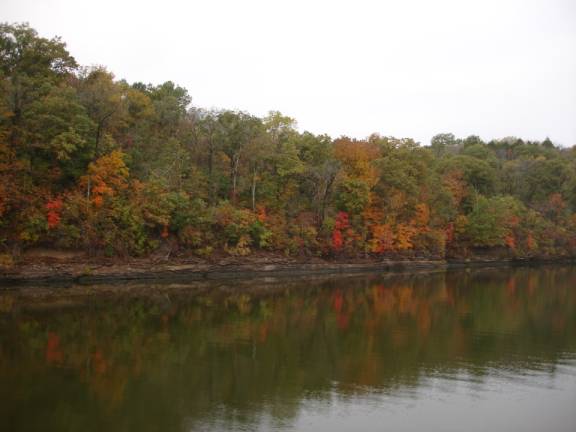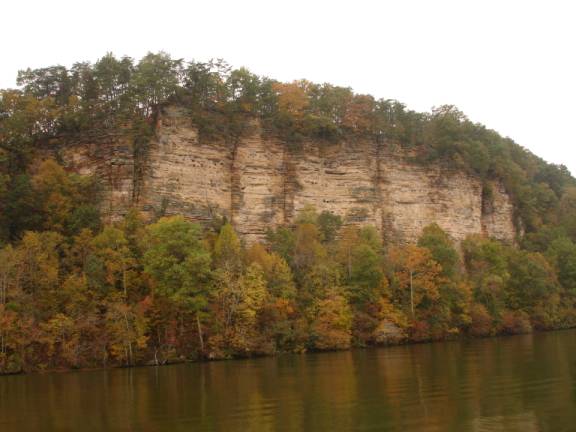 Heading back downriver, "Tumbleweed I", with Roger Boe and Erika Boukamp, passed us in their 34-foot PDQ catamaran. We traveled along at nearly the same speed and we had to wait patiently at the Cheatham Lock at mile 148.8.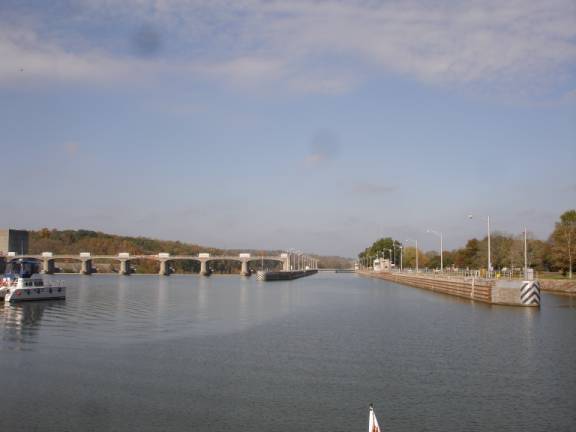 Notice the perfect placement of the amidships line connecting AMARSE to the floating bollard. Judy does such a great job of setting us up for another smooth locking event.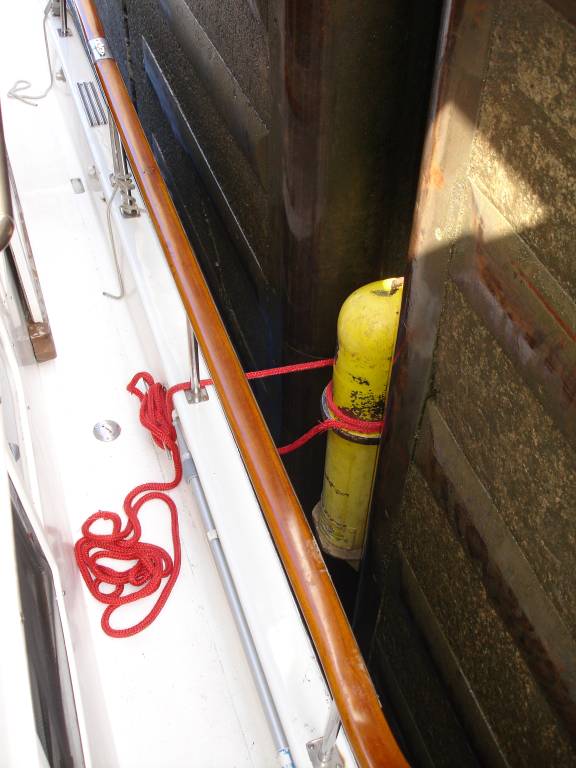 After an hour and 7 minutes, we exited the downstream gates at 12:13 pm. Tumbleweed accelerated and was out of sight before long.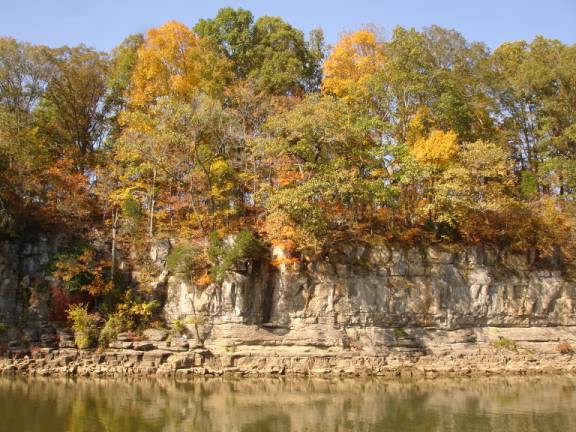 At 2:45 pm, Roger and Erika were waiting at the Clarksville municipal dock to help us with our dock lines. Judy and Erika walked to the historical district while Roger and I attended to stuff at the boats. We joined them for cocktails on Tumbleweed and then walked to our favorite Chinese buffet along this riverwalk. As I've said previously, the peel n' eat shrimp are wonderful. Roger and Erika said that this place was much better than anything in their home city of Ottawa, Ontario, Canada.
10/19/06 THURSDAY CLARKSVILLE, TN
I was up at 6 am to check the weather. I decided to believe the forecast and stay put right here in Clarksville for another day. We had obtained the proper permission from the Parks department and Tumbleweed made arrangements to stay too. It was a good decision as the fog rolled in about 7:30 am followed by several rounds of rainy, nasty weather. Judy and I walked to breakfast at Mrs. Winner's. Later, we met with Roger and Erika to plan the day's events. We found the city bus that would take us across town to the huge Governor's Square Mall. We hadn't been in a mall for a very long time. It seemed like a good enough way to pass a rainy day. The rain showers increased and, after lunch at the mall, we made our way back to the city bus and a return to the boat. In this weather, we were happy to stay in tonight.
10/20/06 FRIDAY CLARKSVILLE, TN TO BARKLEY LAKE STATE PARK MARINA, KY
Under overcast skies and a chilly 42 degrees, we departed the Clarksville dock at 6:35 am. It was still a bit dark at this time of the morning as sunrise was more that another half hour away. The days have become shorter and shorter.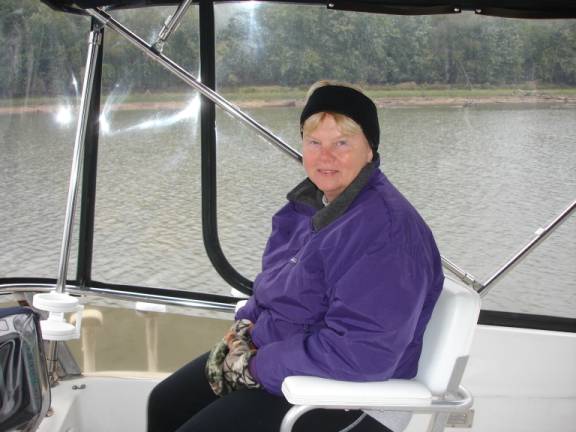 About 8:45 am, we were still cold and decided to operate the boat from the lower helm. This is the first time that we have done this. The additional communication and navigation equipment that we added in St. Charles, Missouri last month was now paying off. We ran the generator and the boat was warm and comfy using the heaters.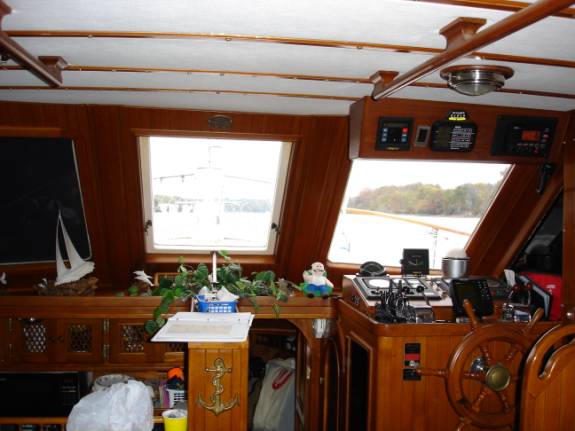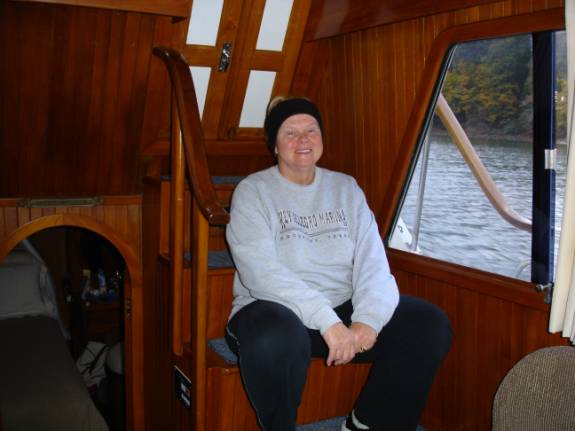 As we passed Mile 87.9, we could see the cannon emplacements at Fort Donelson. On February 14th, 1862, Union troops moved a fleet of four ironclad ships, two timber-clad ships, plus tugs, transports, and hospital boats upriver to this Confederate stronghold. Although the Confederates and their cannons badly damaged the fleet, Union General Ulysses S. Grant was successful in capturing 13,000 surrendering Confederate troops. Note the cannons in this next picture.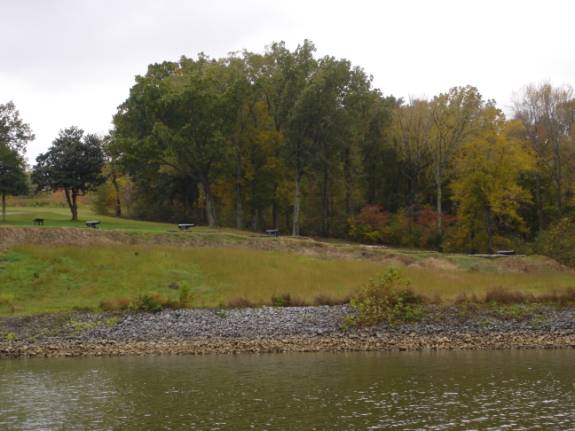 At about 11 am, the river was entering a winding section so I returned to the upper helm station. I prefer to run the boat from above because the visibility is so much better and I can see so much more. We encountered several barge tows along this narrow stretch.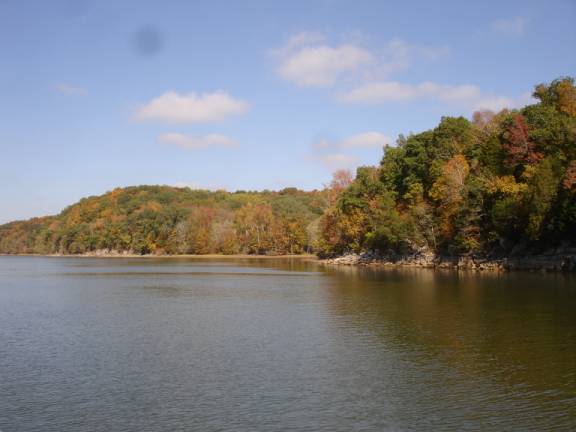 At noontime, we crossed back into Kentucky at the Tennessee/Kentucky border located at Mile 74.7. We were hoping to get tickets for tonight's performance of the Patsy Cline tribute in Grand Rivers, KY. Unfortunately, they were sold out. At 2 pm, we arrived at Lake Barkley State Park Marina and were assigned to the end of Dock #2. It wasn't long until Roger and Erika on "Tumbleweed I" called in for docking instructions. They had left about an hour and a half after we did.
John and Kathy Westfall came to visit us at the dock. They live nearby and we had met them while they were cruising the upper Cumberland. At Riverview Marina, John had lent me a set of his area charts. They are wonderful folks that were a true joy to meet.
With Roger and Erika, we called for a ride to the Park Lodge. The building dating back to 1970, is the "largest wood structure east of the Mississippi". The dinner buffet was very nice.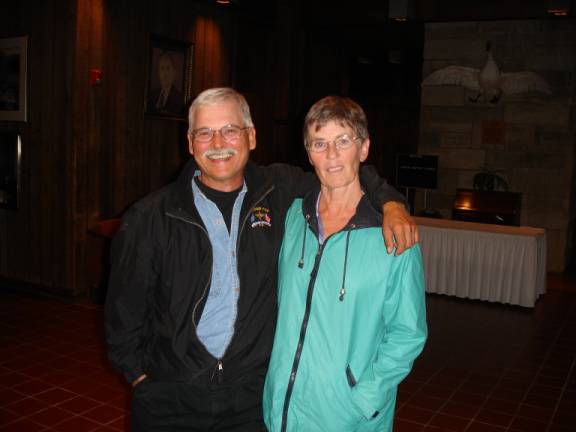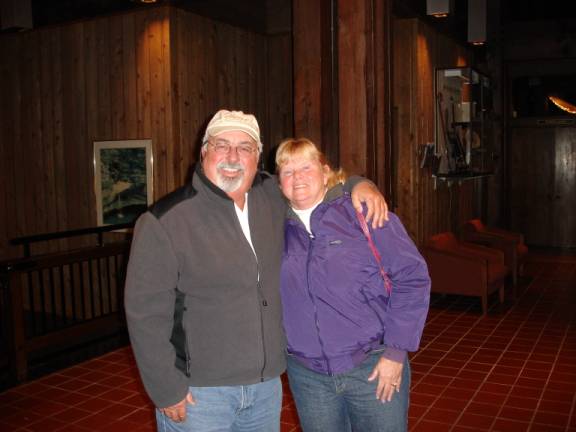 Once again, it was a cold night outside but we were cozy warm inside AMARSE.
POSITION: Two and a half miles up Little River near Cumberland River Mile 59.1
10/21/06 SATURDAY LAKE BARKLEY STATE PARK TO GREEN TURTLE BAY, GRAND RIVERS, KY
With only a relatively short distance to travel today, we spent a leisurely morning until departing at 10:30 am. Roger and Erika had departed a while earlier.
What a beautiful morning. The leaves are almost at their peak.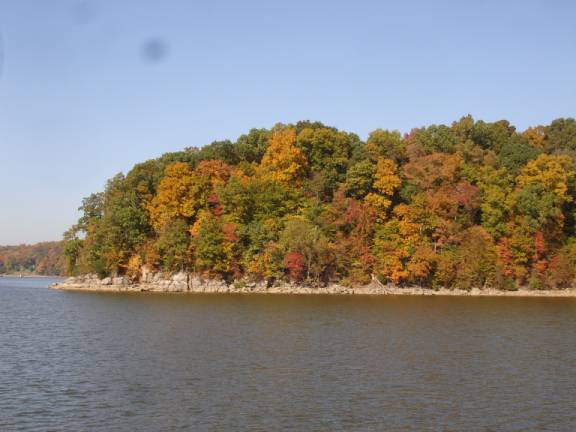 It was a bit chilly again with temperatures in the low 40's, however, by noon, it was up in the 60's. Life was wonderful aboard AMARSE as she glided back and forth across the lake to stay within the channel. It is easy to understand why so many folks dearly love this part of the country.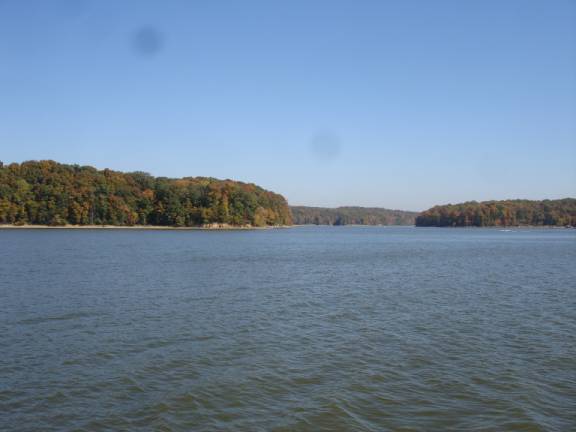 At 2:05 pm, we arrived back at Green Turtle Bay Marina, Mile 31.7, in the community of Grand Rivers, Kentucky.
Most of you are familiar with Cosmopolitan Magazine. Famous for giving advise for spicing up your love life, they have listed the viewing of "the sunset" from Lighthouse Point, just a few miles from here, as one of the "10 Most Romantic Places" in the world. Who among you could say "No"? Unfortunately, the horizon was too cloudy to see the actual sunset, however, we could vividly imagine the event and visualize the surge of romantic feeling.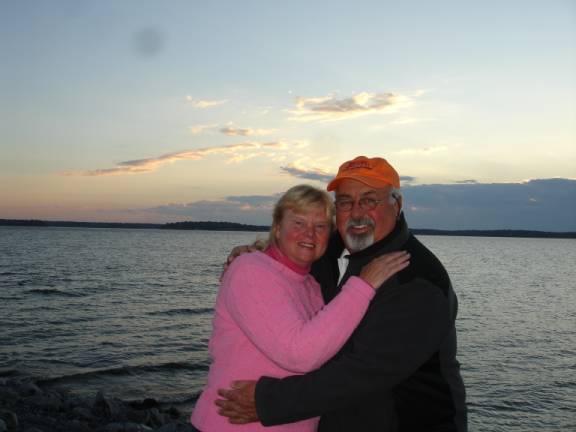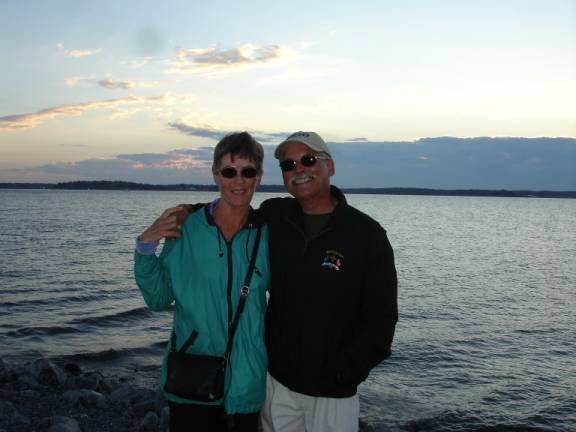 Fred's homemade Chili was unequaled and the spicy concoction elicited special feelings hotter than "romance" itself.
The marina had made reservations for the "Variety Show" at the Badgett Theater Playhouse in downtown Grand Rivers. With a Branson style format, the show was quite enjoyable. We were able to get great seats too.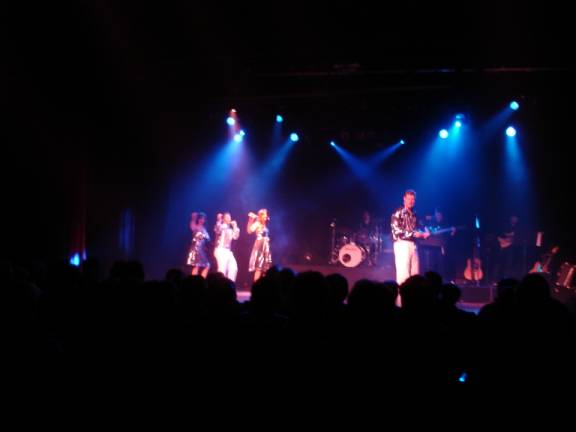 Although we had missed the Patsy Cline Tribute show last night, we were fortunate to get a taste of the performance from the Star of that show. She sang several of our favorites.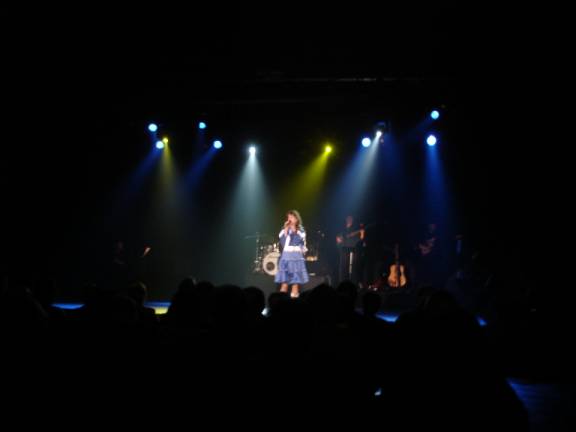 Great show, great night!

POST SCRIPT:

The next installment UPDATE will continue with our voyage into Kentucky Lake and upstream on the Tennessee River.

I don't want to make these email postings too large for some of the computers that have slower internet services. I'll try to get the next one out soon and eventually catch up. Thanks for your patience.

ATTENTION: SPECIAL NOTE:

My Verizon AirCard that operates my computer internet still operates slowly and sporadically. The coverage areas are not as good as we had hoped. We will be sending out updates when we can.

Judy has Cingular Wireless cell phone service. It seems to work even better than the Verizon Wireless. Judy can be reached at 361-550-5353 and Fred can be reached at 210-296-4933. We can be reached at either number. Please call us if you like, we'd really like to hear from you.

"AMARSE". is pronounced "AM-ARE-SAY". Our website is: www.amarse.net .

Check it out while we will attempt to keep you informed via email

We would like to hear more about what is happening in your lives. Let us know as we very interested in what's going on with our friends and family. Please call or email us with your thoughts and comments and ideas too. Thanks

Lot of Love,

Fred Reed and Judy Law

AMARSE

MT40