UPDATE#27 08/01 thru 08/07
Howdy Everybody,
The adventures of 2006, 2007, 2008, and 2009 through 07/31/09 have been published on the website. We continue with the latest edition
UPDATE 2009 #27 08/01/09 thru 08/07/09
At last update, we had just arrived in Tarapoto, Peru after an evening flight from Iquitos in the Amazon Rainforest.
08/01/09 SATURDAY TARAPOTO, PERU to JAEN, PERU
As we begin the month of August, Judy and I continue to make our way west and north toward Ecuador. Awakening to a pleasant morning, we got a clearer view of this nice hotel that we had been fortunate to find. The Hotel La Mansion is not listed in the guidebooks, however, it is our recommendation for a nice stay. Although we didn't have enough time to enjoy it, the pool looked very inviting.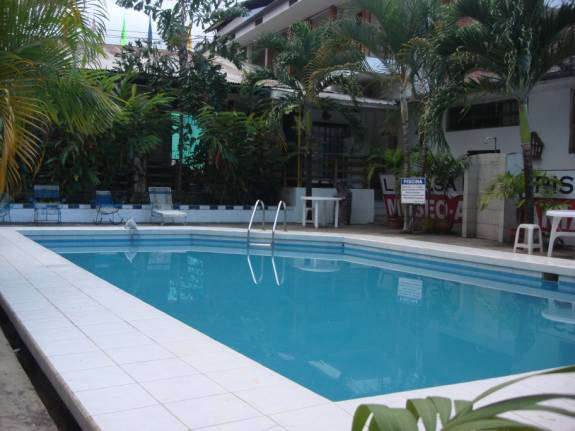 We were fortunate to have a nice, quiet room on the ground floor of the multi-story facility.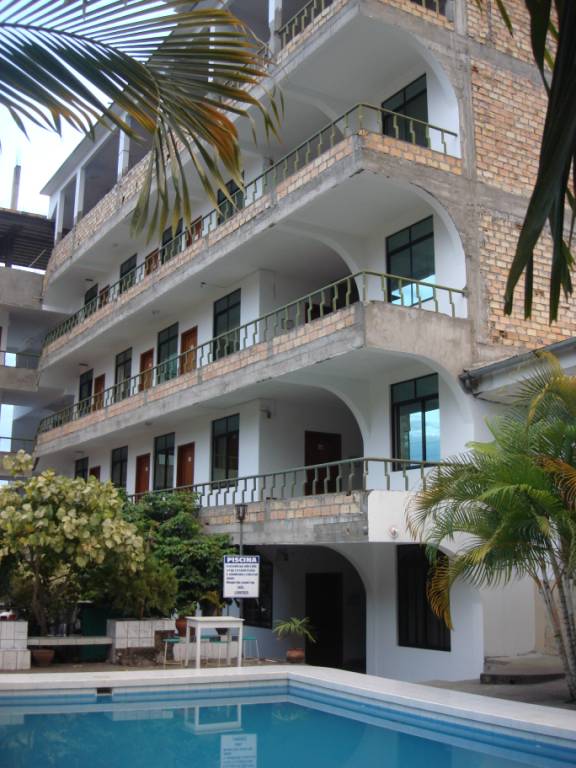 Responding to an early 6am alarm, we were ready to hail a MotoTaxi for the bus terminal area. The separate terminals are spread out and we were fortunate to get a driver that knew when and where the next bus would leave from.
The Hnos Fernandez line had a scheduled departure at 7am. With bigger, more comfortable seats, we bought our tickets in "bus cama" class for about $12 equivalent each. With the bus running a little late, we had time for coffee and a bite to eat at a little place next to the bus station. The owner was very nice and informative. As you might expect in these more remote locations, all conversations had to be spoken in Spanish. We were the only western travelers that we saw in this area.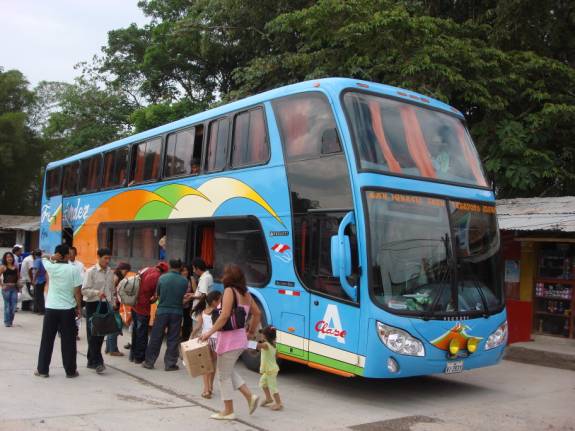 At 7:50am, the bus pulled out heading for Jaén, Peru. The bus made a few quick stops in the bigger towns along the route. At 10am, we passed through Moyabamba and traded a few passengers.
At 1:15pm, a half-hour lunch stop was made near Rioja. To us, the place appeared to be a real "rat-hole". The toilet facilities were very filthy and even Judy, with all her rustic travel experience, chose not to use them. On the other hand, lots of our fellow passengers were partaking of their midday meal.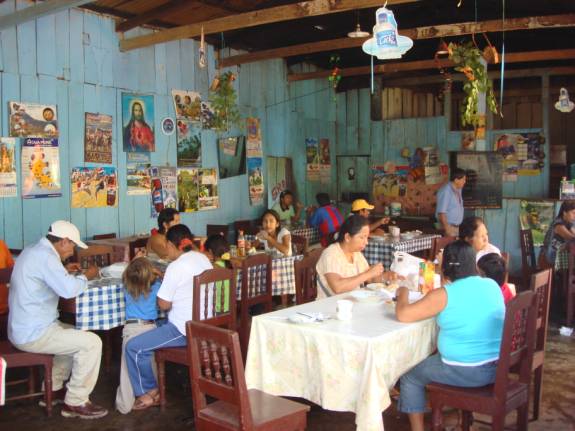 Outside, these guys were making a homemade ladder of sorts. Somehow, I don't think it would comply with any OSHA safety standards.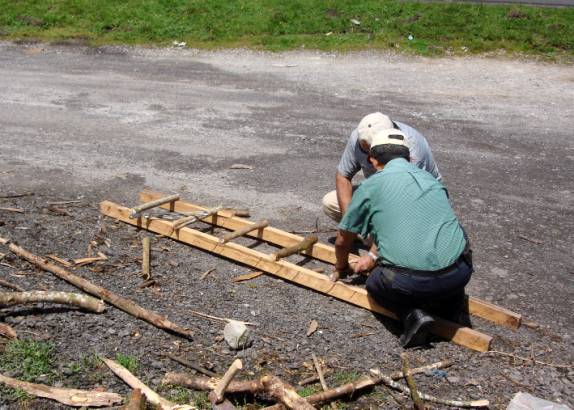 The continuing road passed through some beautiful scenery. Being a major highway, the road surfaces were paved and smooth.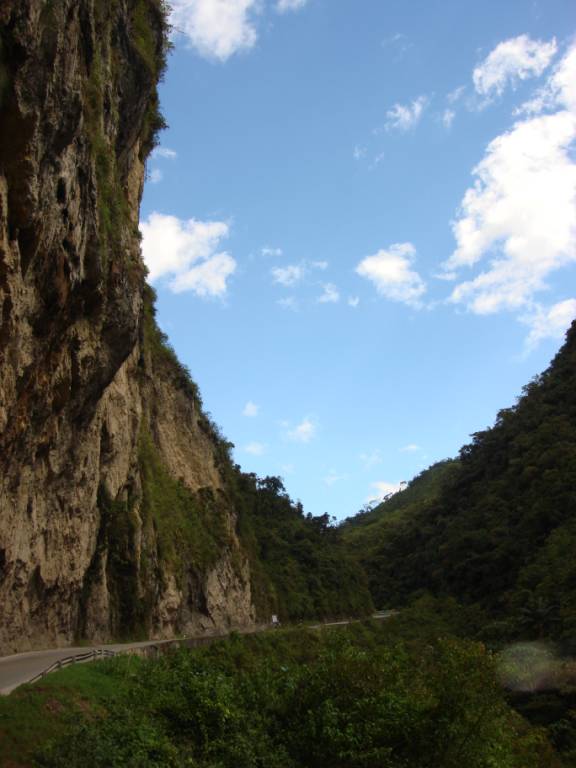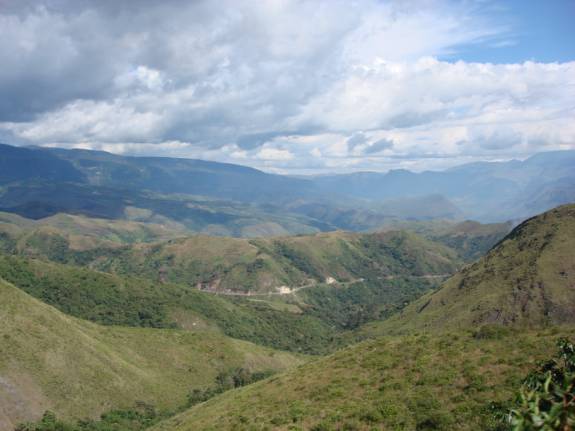 At 3:45pm, the bus pulled off the road to a service turnoff. A posted sign told the unanticipated story. The highway in this area is closed daily between 6am and 6pm (except for 30 minutes around noon) for heavy construction. It would be at least 2 hours and 15 more minutes before we could proceed.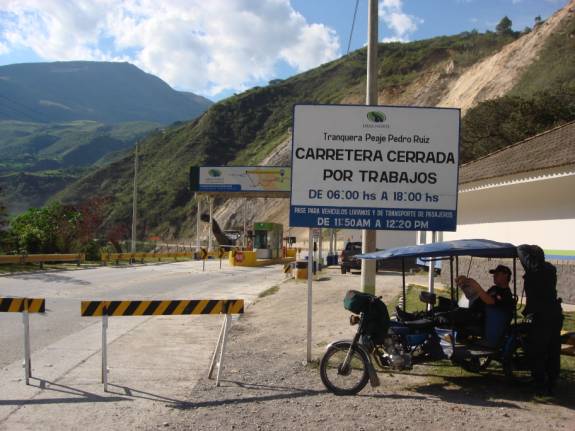 Passenger vehicles would proceed first, followed by cargo trucks.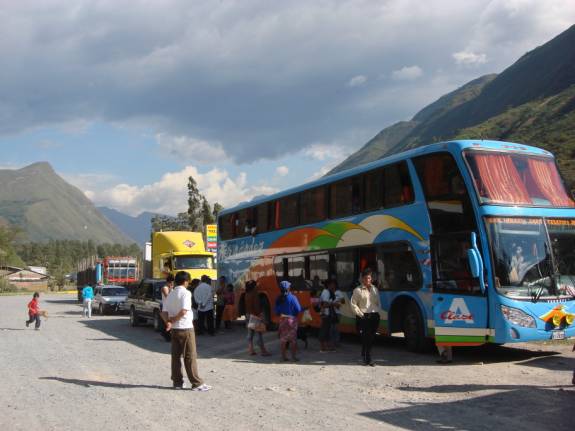 A very long line of vehicles was staged for the opening rush.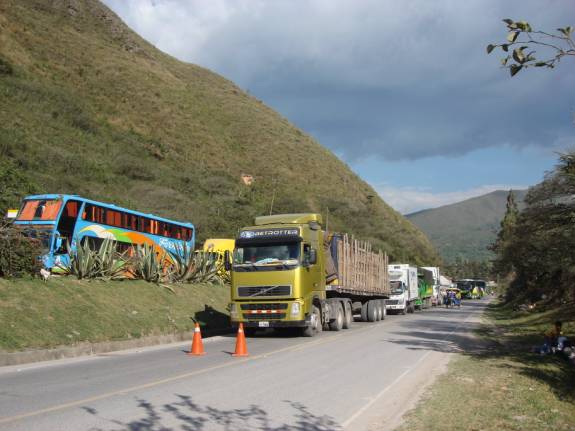 Making it passed the construction area shortly after 6pm, we continued through Bagua Grande at 7:45pm to arrive at the terminal in Jaén, Peru at about 9pm. With no hotel information or plan, we relied on the advice of our friendly MotoTaxi driver to check-in at the Hotel Danubio. The exterior paint color was perfect in keeping with the "Blue Danube" theme.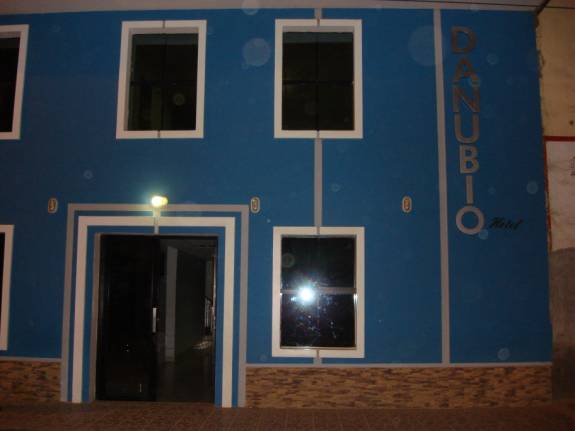 At about the equivalent of $12/night, the hotel was a welcome, clean, quiet, and ideal resting spot for these two weary travelers.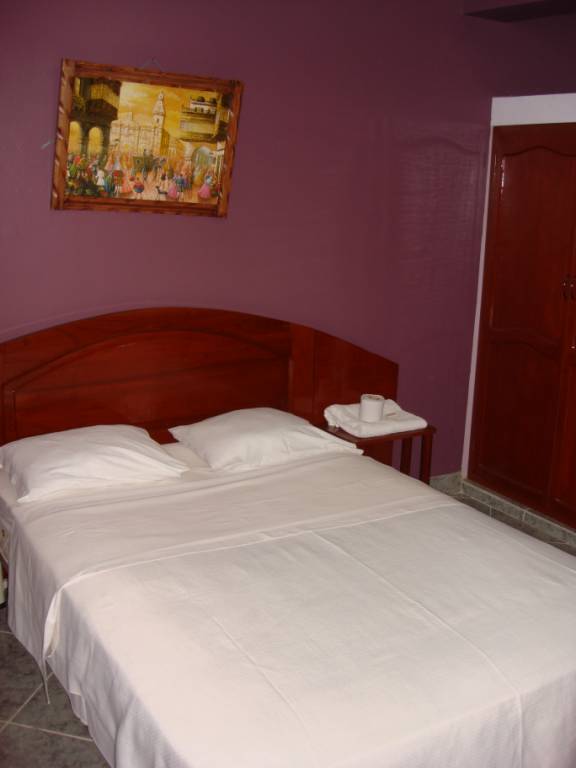 With only a two-block walk to the central plaza area, we found a good place for Caldo de Gallina (Hen Chicken Soup) and a Roasted Chicken

Dinner. Everything was flavorful and fresh. Of course, we were ready for a restful night's sleep after our seemingly long trip.

08/02/09 SUNDAY JAEN, PERU to VILCABAMBA, ECUADOR

Our sound sleep was abruptly disturbed by a 4:30am alarm buzz. Another helpful MotoTaxi driver knew where to find the "Carros Colectivo" and, along with several other Peruvian passengers, the six of us were on our way at 5:10am. Just about dawn, we arrived a ferry crossing at the village of Pueblo Chuchahuasi. Before sunrise, three of our fellow passengers would be crossing the river aboard the cable-powered ferry barge.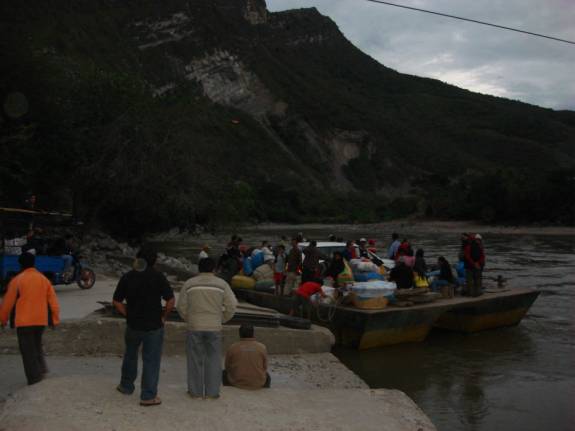 With no bridges in this remote area, the frequent barge trips provide the only link to the opposite shore.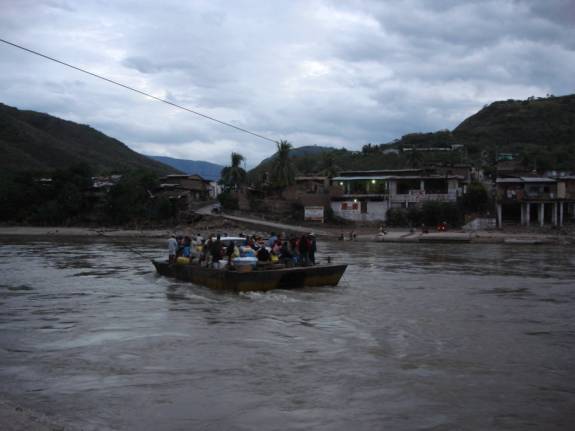 Adding only one passenger, our collective car continued over some very rough and rugged roads.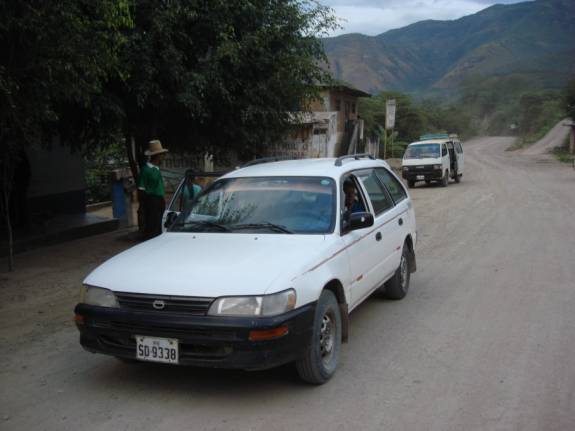 The first car dropped us off at another place in San Ignacio, Peru. Here, we would change to another shared car to continue northward toward the Ecuadorian Border. After a 30-minute stopover and paying 12 Soles each (about $4), our nearly new Toyota "Combi Carro" headed further north at 9am.
We shared the trip with a very nice family from Lima, Peru. As we bounced along the remote, rough and rugged roadway, I enjoyed the pleasure of having interesting chat with the woman during the 1 hour, 30-minute trip. She is a history professor at a university in Lima and her husband is a retired policeman. Their plan was for a very short visit to southern Ecuador before returning to Lima. Traveling with them, their son was on an abbreviated break from his training at the police academy.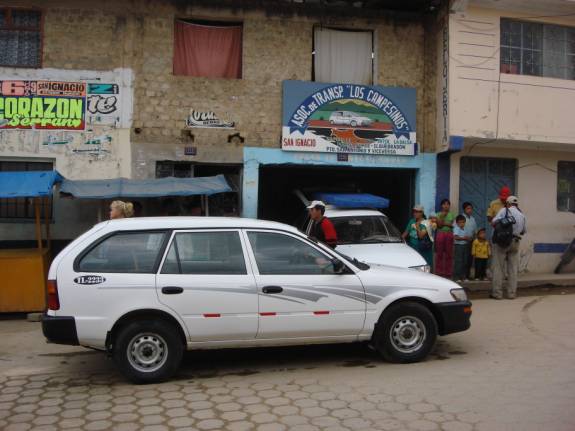 At 10:30am, we had reached the river marking the border crossing point at La Balsa, Peru.
This remote border crossing sees very little traffic and few travelers. Most international travelers utilize the larger points further east. For us, this was part of our adventure. I always enjoy the walk across an international bridge because it is like opening up a new chapter of our adventures.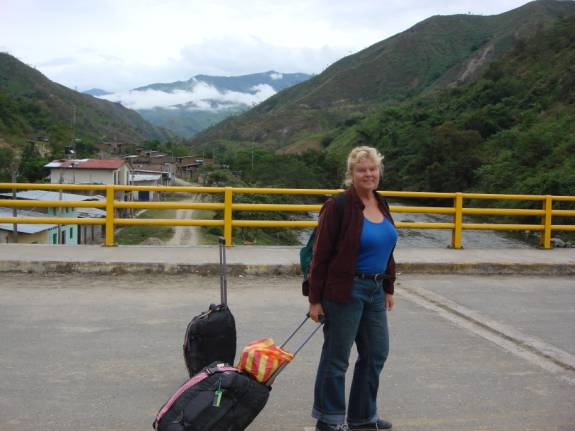 The threat of a spreading H1N1 Flu virus has prompted the implementation of health alerts. The first requirement at this crossing was a visit to the border health clinic. A medical person checked us over with thermometer, blood pressure cuff, and stethoscope instruments for any signs of respiratory distress. With no outright signs or problems, we advanced for the formalities of immigration and the customs procedures. Everything was straightforward and easily accomplished in a friendly manner.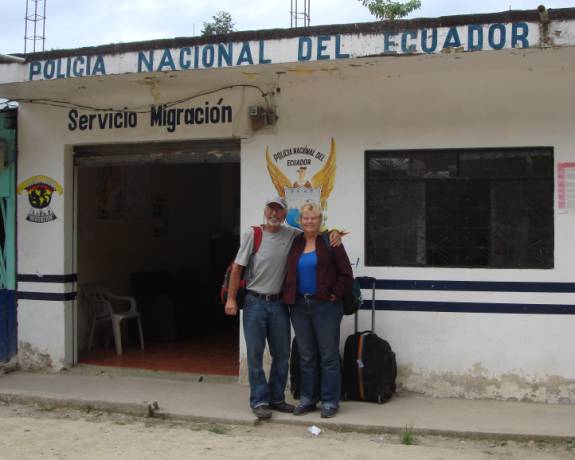 Travel is a process of overcoming a constant series of unexpected obstacles encountered along the way to your destination. After all, we adhere to the wanderlust philosophy that, "The Journey IS the Destination." Perhaps for us, it is this very premise that makes our lives such a continually wondrous adventure.
Today is Sunday and, of course, that often means that normal, daily activities are somewhat curtailed. The only mode of transportation from the crossing point at La Balsa is by "chiva" (sometimes called a "Ranchera"). These open-sided, diesel-powered vehicles are capable of handling the rough and steep roads to carry people to their "fincas" (farms), "ranchos" (ranches), and to the village of Zumba in southern Ecuador.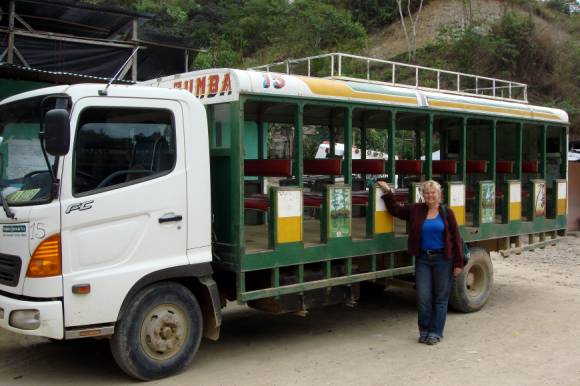 For a long time, we were the only people around. Just shortly before the departure, it was amazing how many others just seemed to appear from nowhere. About 12:30pm, the fully packed "Ranchera" rumbled out from the border point.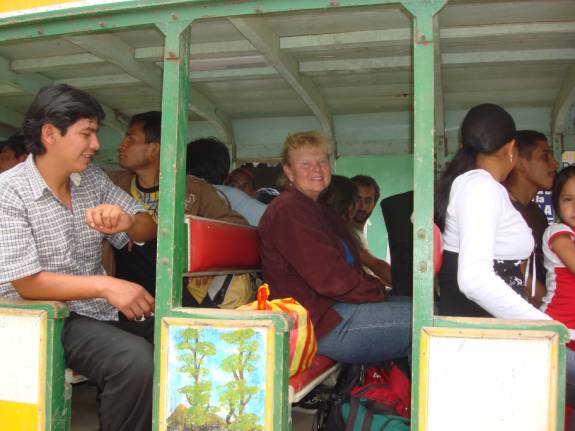 Everyone was required to check-in and be entered in the registration book at the inspection point about 30 minutes up the road.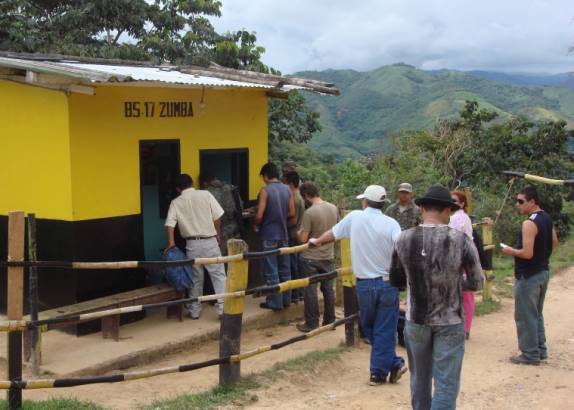 The rugged, rough, and hilly mountainous road wound endlessly all the way to Zumba.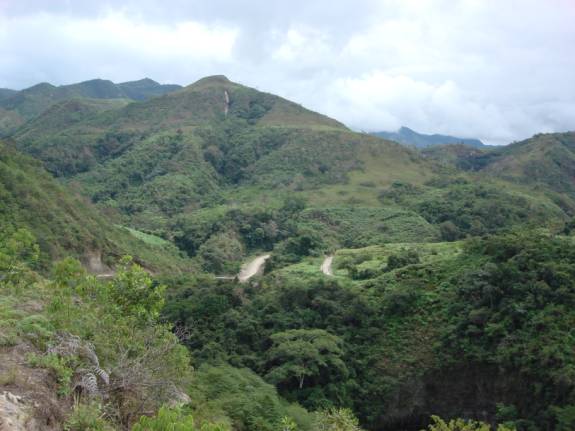 Arriving in Zumba at 2:10pm, we were advised that the next possible onward transportation would be a 4pm Union Cariamanga bus. On other days, it might have been possible to solicit a passing truck but, with nothing else moving in the small town, we were left with no other alternatives.
Although the village businesses were almost completely closed for the day, the steep walk up into the town center did result in finding an open restaurant for a nice lunch. Judy had a plate of tastily fried, whole fish and I enjoyed some very good "Sopa de Pollo" (chicken soup). With a bottle of soda pop, the total bill came to about $2.25. Since Ecuador uses the US Dollar as their national currency, we won't have any problems with conversions and rate changes. We were the only patrons in the place.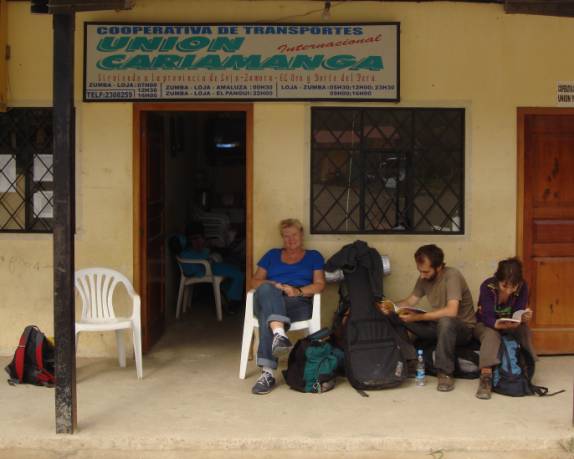 Having paid the $6.50 each ticket fare, we boarded the bus about 4pm. The trip continued along more winding mountainous roads through the south central highlands region of Ecuador.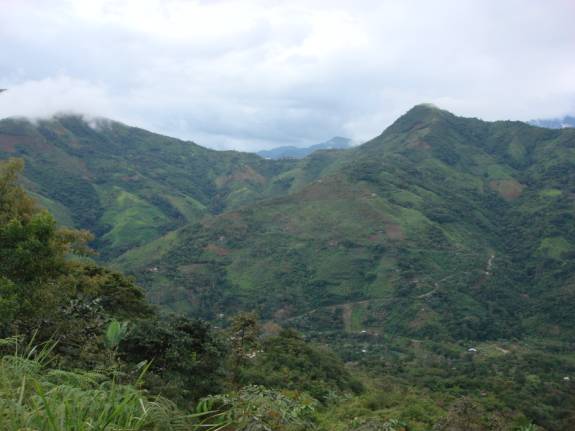 The late afternoon scenery faded invisibly as darkness overtook the skies.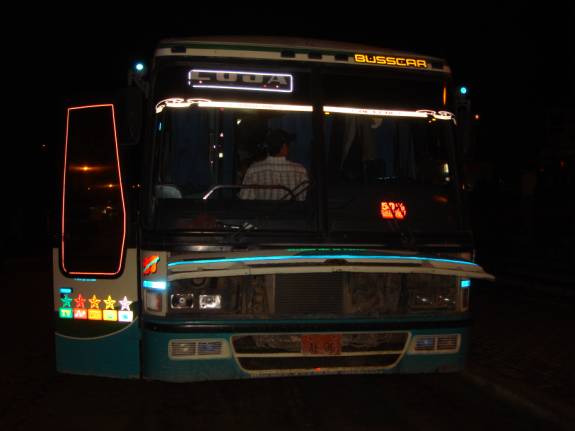 At 10:30pm, the bus dropped us at a deserted corner along the main road through the town of Vilcabamba. With the lateness of the hour, no one to ask, no map, and no set plan in place, I relied on a guidebook recommendation, a vague sense of direction, and a bit of luck to find a place to stay. The Hostal Mandango reluctantly answered the numerous rings on the doorbell. A rather sleepy and gnarly fellow showed us to our room. Paying the $15 tariff in advance, he ambled off back to his bed. After our very long day of travels, it wasn't long before these tired two did the same.
08/03/09 MONDAY VILCABAMBA, ECUADOR
We were out and about by 7:30am in search of coffee and a bite to eat. We soon found out that nothing in this town opens before 9am.
For the price, I guess we shouldn't have expected too much, however, the place could use some sprucing up. Our room was the one in the upper right, outside corner.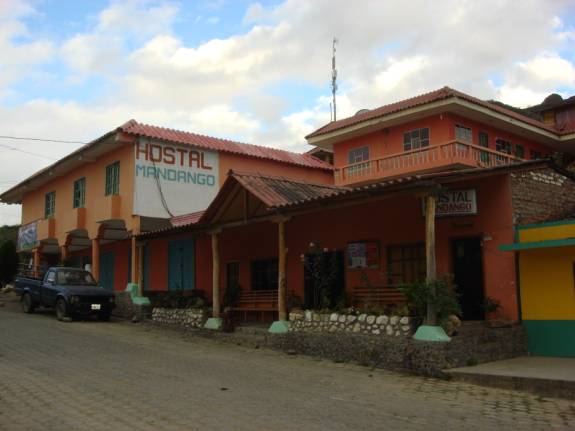 The derivation of the name, "Vilcabamba", apparently originated from the native Quichua language words, "huilco pamba." Huilco translates to the "sacred trees" of the area. and pamba translates to "valley." Historically, the area was used as a retreat for Inca royalty.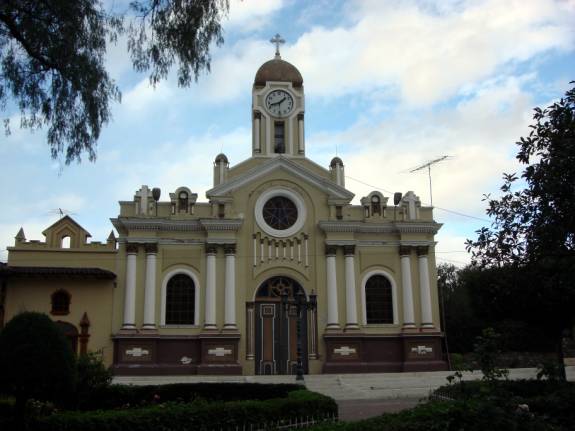 Most often, it is known as the Valley of Longevity. It is a widely held belief that its inhabitants live to an exceptionally old age. According to some locals, it is not uncommon for a person to experience 100 years of age. If in actuality, some claims of 120 years, and up to ages of 135, would indeed be remarkable.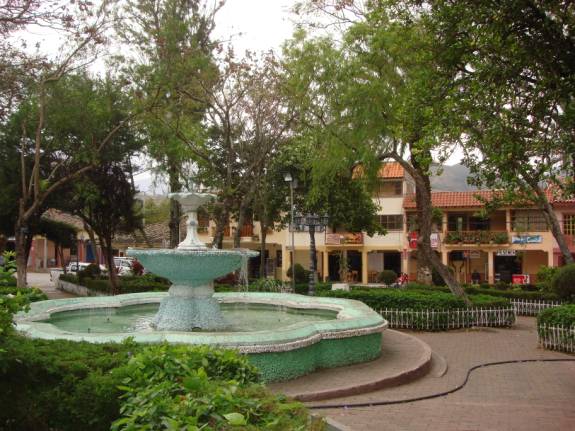 During my trip research, I had read about a very well recommended place called "Hostal Izhcayluma". Of course, we had no reservations but thought it worthwhile to see if there might be a chance to stay there. Here in Vilcabamba, they use crew cab trucks as taxis. We paid the standard $1 fare for the ride up the hill. The place looked wonderful and we were delighted that they offered several choices for accommodations. It was still relatively early and the room would not be available for several more hours. We prepaid a deposit for the room, which included a magnificent breakfast. While we waited, they invited us to stay and have today's morning meal in the open-fronted café. I love this place already.
We chose a fantastic room, with a mountain view, in a nearly new four-plex building.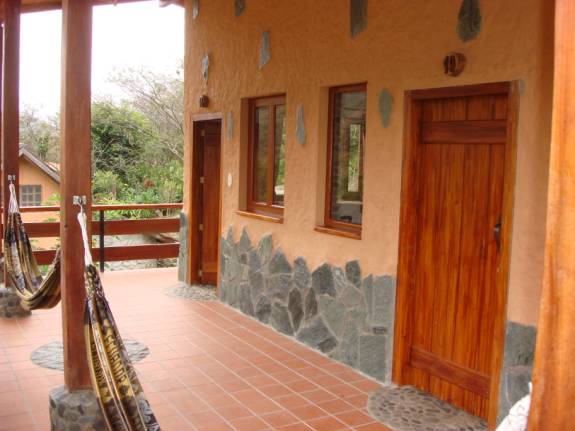 With the included breakfast, the rate was very economical and an excellent value.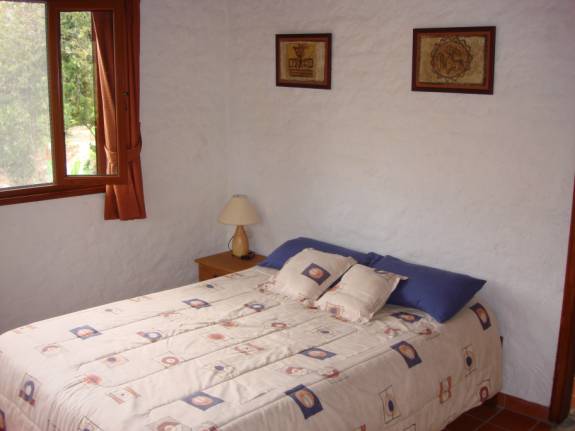 The stonework shower was huge and, with instant hot water, it promised to be fantastic.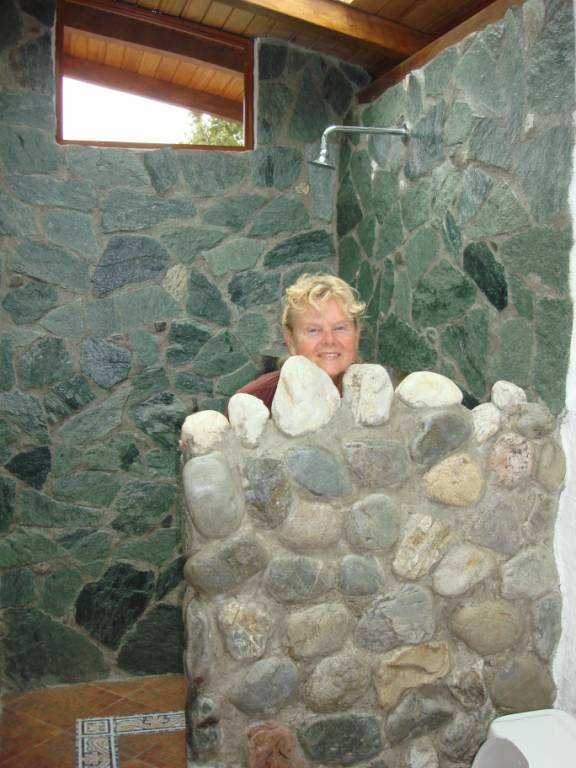 Although the weather today was a bit cool and misty, the fabulous view from the café deck was delightful.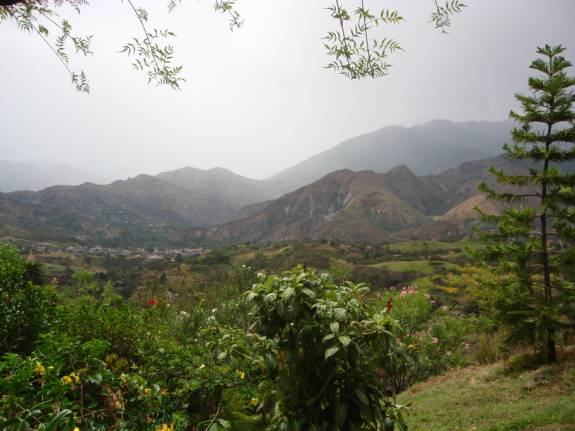 When I heard that they had a spa treatment facility, I secretively signed Judy up for a session of full body, deep massage. Hey, I know what the girl likes.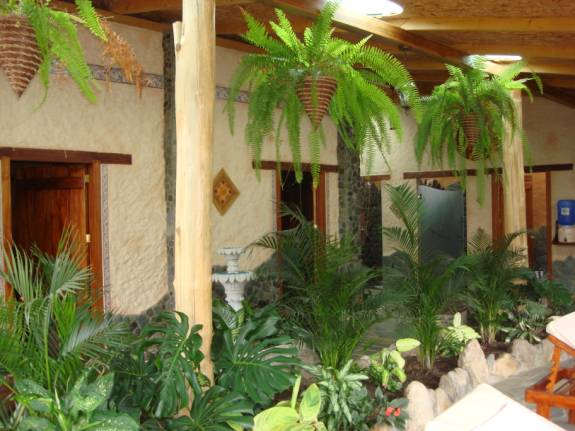 The spa building was clean, comfortable, and modern. Although they have these resting lounges, Judy had a private room for her treatment. At the special recommendation of our wonderful, front desk hostess, I signed her up for the most talented masseuse, Mercedes. After 75 minutes of masterful manipulation, Judy emerged with wonderfully relaxed muscles, a brilliantly renewed spirit, and a magnificent smile on her beautiful face.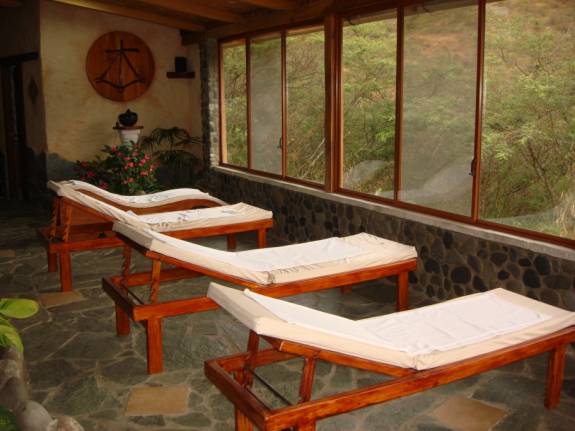 While Mercedes was performing her miracles on Judy, I took the opportunity to relax with a long, very long, hot shower in our room. I shampooed my hair several times, lathered and re-lathered, and just let gallons and gallons of pure water stream down upon me. Oh, oh, such luxury… I can't remember a time when I could pamper myself this way. Could my hair have ever felt this soft? By the way, all that water comes directly from natural springs on the property and might well be the finest source anywhere. One can even enjoy drinking water straight from the tap here.
The artfully designed, spring-fed pool area is an esthetic delight…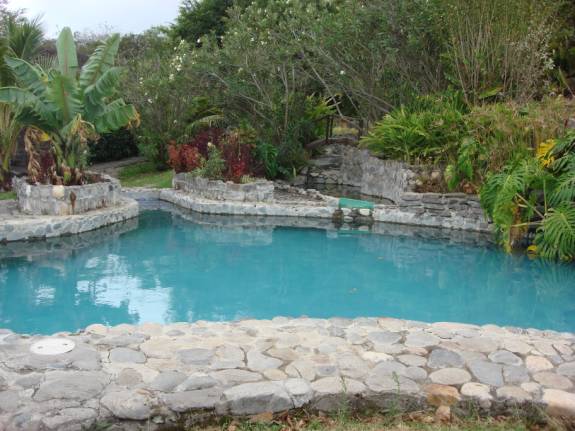 Our room was on the upper level and featured a lovely view and restful hammock on the outer deck.
Even from the outside, the grass-roofed café is delightful to look at.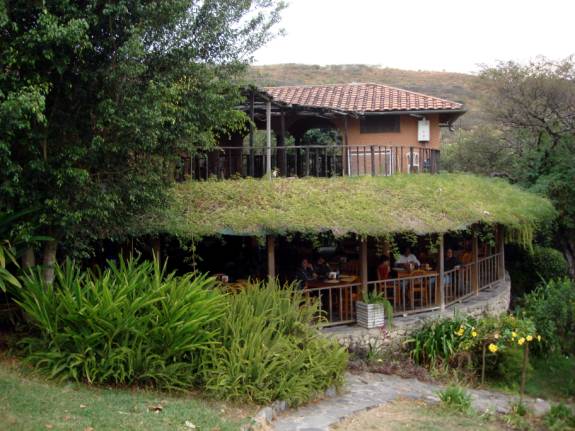 The late afternoon held cool, breezy weather conditions with some sprinkles of rain. In the adjacent bar area, Judy and I whiled away the remaining afternoon hours playing dice games and snacking on crackers and local cheese.
With a menu filled with great choices, we thoroughly enjoyed our candlelight dinner. Our fabulous dinner started with an appetizer of ripe tomatoes topped with fresh mozzarella cheese, then drizzled with olive oil and balsamic vinegar. For entrees, Judy chose the luscious, Bavarian Chicken Stroganoff with homemade spatzel and I selected the delectable Spaghetti Bolognese. All the while, we snuggled up to a bottle of choice red wine from Argentina to enhance all the marvelous flavors.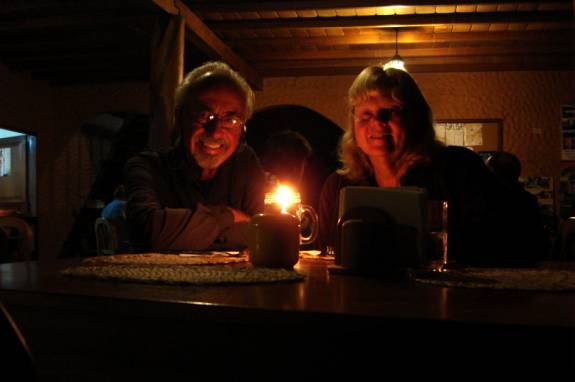 After a night like this, it seems appropriate to realistically ask ourselves the unanswerable question, "Could it be even remotely possible for life to be any better than this?"
08/04/09 TUESDAY VILCABAMBA, ECUADOR
Even early this morning, the clearing skies gave promise of an exciting day. The view of Vilcabamba, nestled in the valley below, would be enough to brighten any day.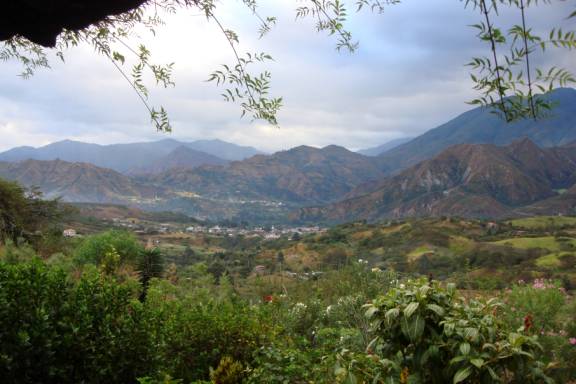 I was already trying to absorb some of the views at 7am when the first pot of coffee was brought out. Judy joined me for the best, front row table and our breakfast. Included in the room rate, we had several choices. It starts with coffee and freshly squeezed juice. A huge fresh fruit bowl, a platter of sliced meats, and slabs of homemade bread were set out. By special request to the friendly and accommodating kitchen staff, they perfectly prepared scrambled eggs with diced vegetables for me. For Judy, they made a wonderful crepe to be stuffed with fresh fruit and papaya. OMG!
The front desk gal arranged for a horseback trip into the surrounding mountains. Our "caballero" and guide, Rene, came to escort us to our horses.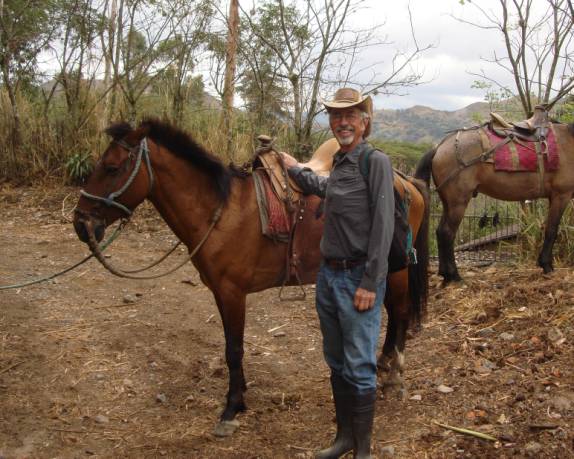 At his central office, we were outfitted with boots and a cowboy hat. After a short ride through town, we crossed the Rio Yambala river bridge to join the trail leading to the Podocarpus National Park. At times, our pace would be a brisk gallop, while at others times, a trot or walking stride.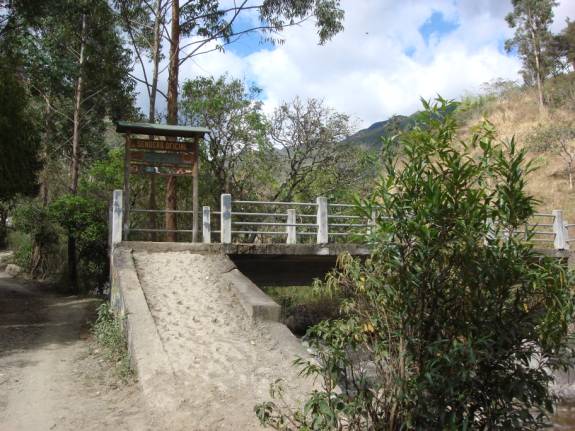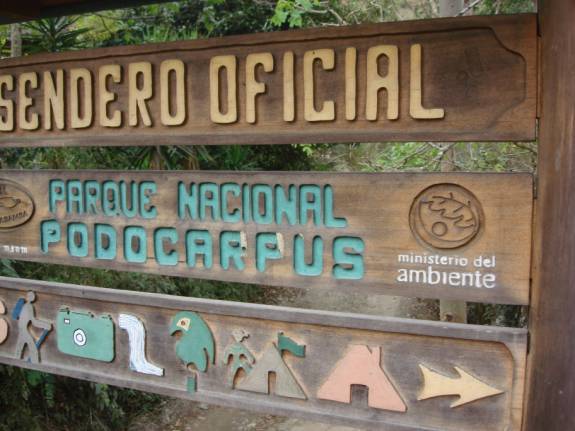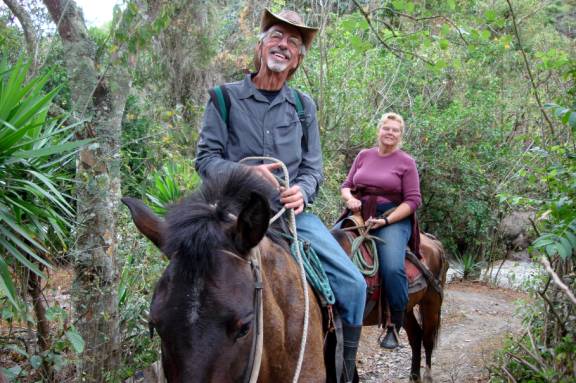 The trail soon became increasingly steep and rugged. Fortunately, the horses were skilled at handling the terrain and our guide was an excellent leader.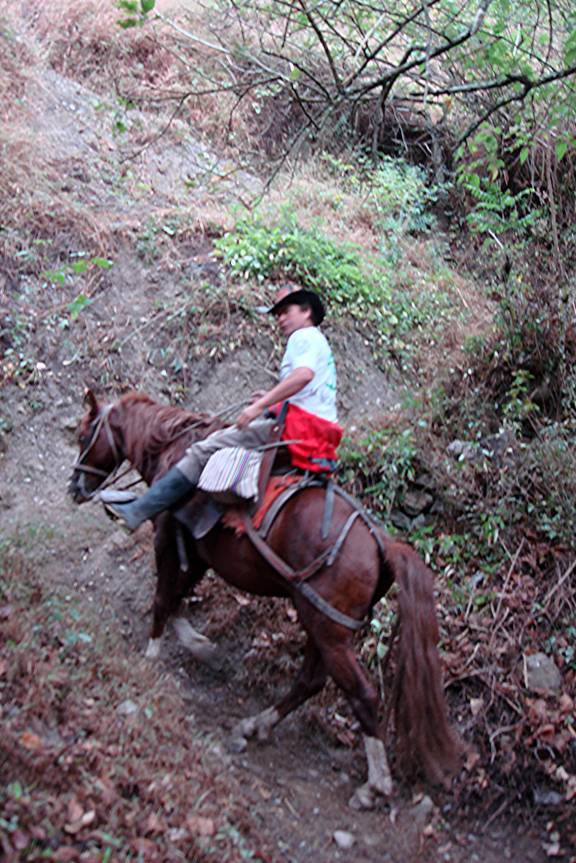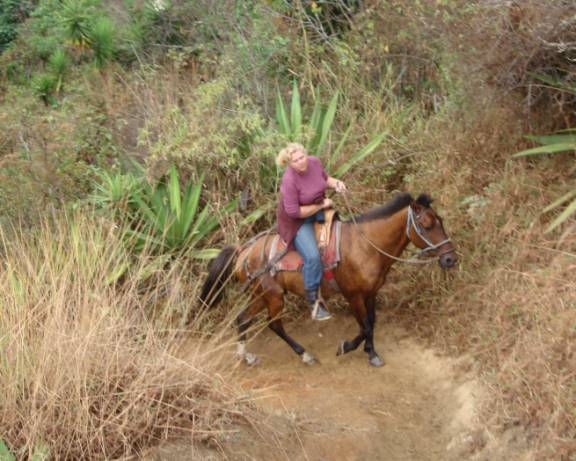 In many places, the trail was narrow and challenging.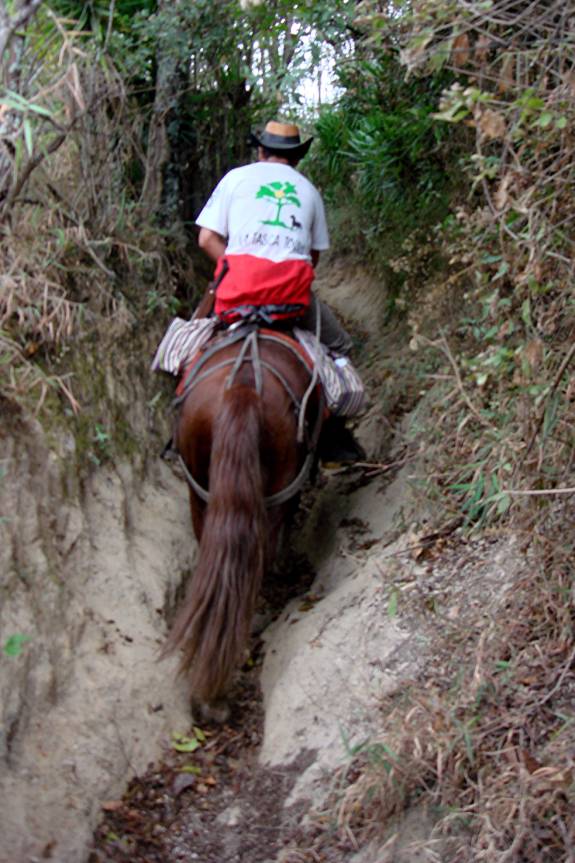 Much of the trail bordered the steep, cliff edges of the mountains.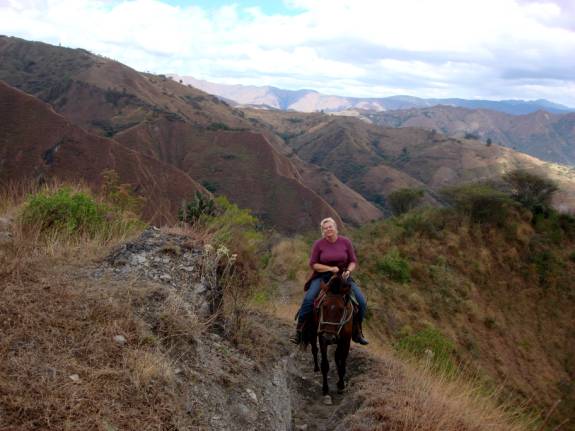 At times, Rene had to urge wandering livestock aside for enough room to pass along the narrow way.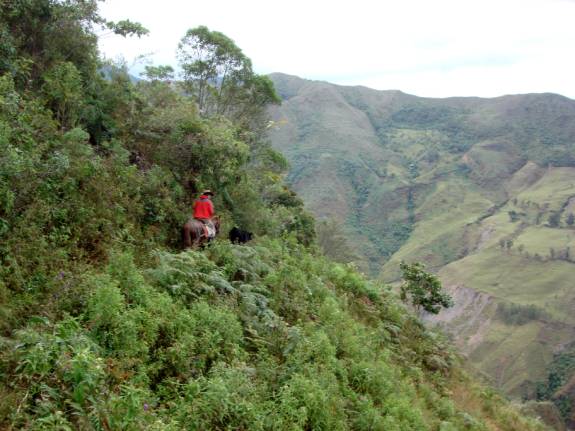 After several hours in the saddle, we arrived at a remote camp, deep in the foliage and high in the mountainous hills. From a tap into a natural spring, Rene gathered pure water.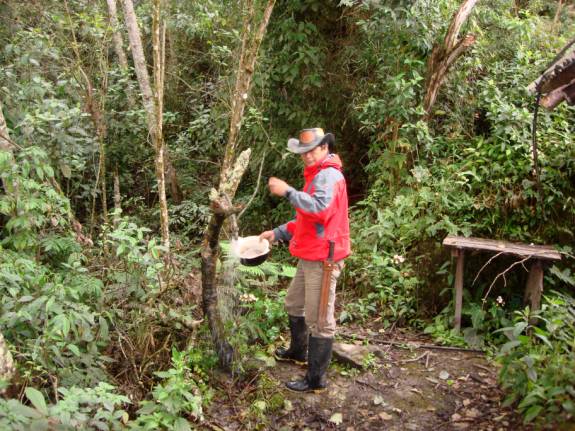 The remote cabin was very rustic. Rene, and his brothers, brought up all the supplies and built the place.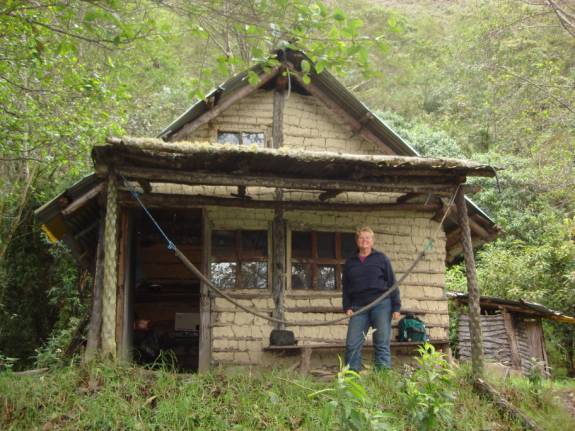 Up the ladder, a sleeping area could provide overnight shelter.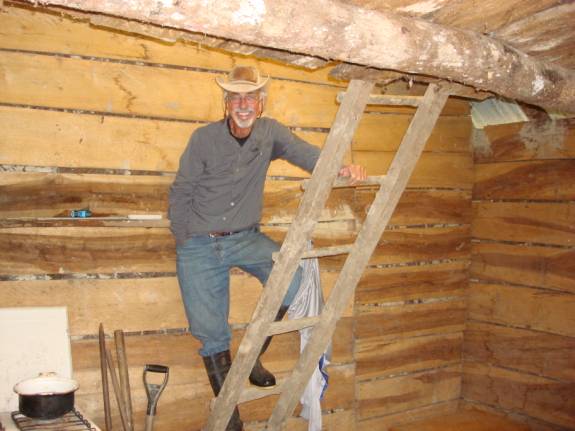 In Ecuadorian style, Rene poured and re-poured boiling hot water over pure coffee (100% Café Puro). He told us that the coffee came from a family farm. With a few shavings of "panela" (unrefined block of raw brown sugar), it was quite delicious. He also managed to find a stashed bottle of "Aguardiente". Aguardiente translates to "fire water" and it is a clear, strong alcohol made from distilling sugar cane. It was some of that good, local stuff and required only a few sips to get the old circulation going again.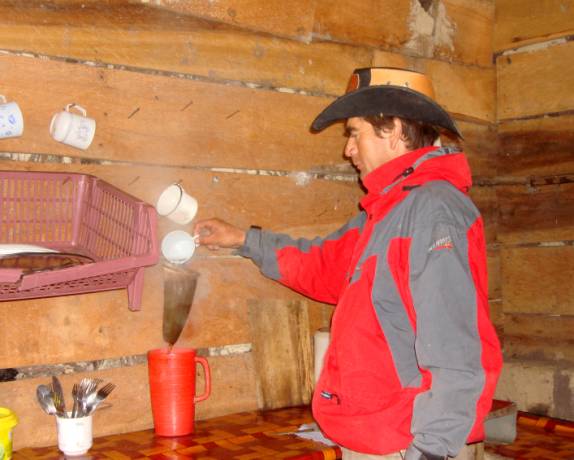 Rene's camp-style lunch included homemade bread, homemade guacamole, and locally-made "queso fresca" (white, farmer's cheese).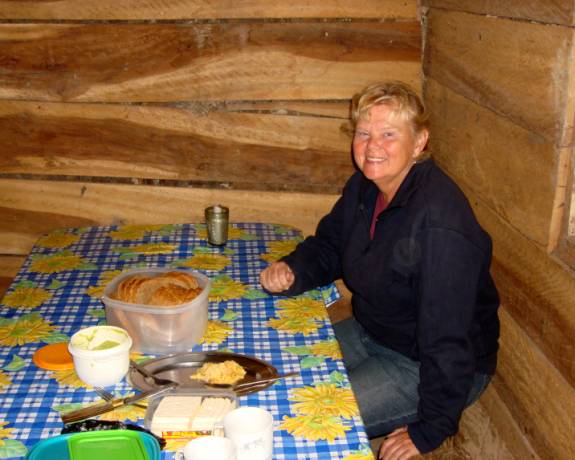 The outhouse was definitely rustic, however, it did have the luxurious addition of a toilet seat, which is quite rare in a setting like this.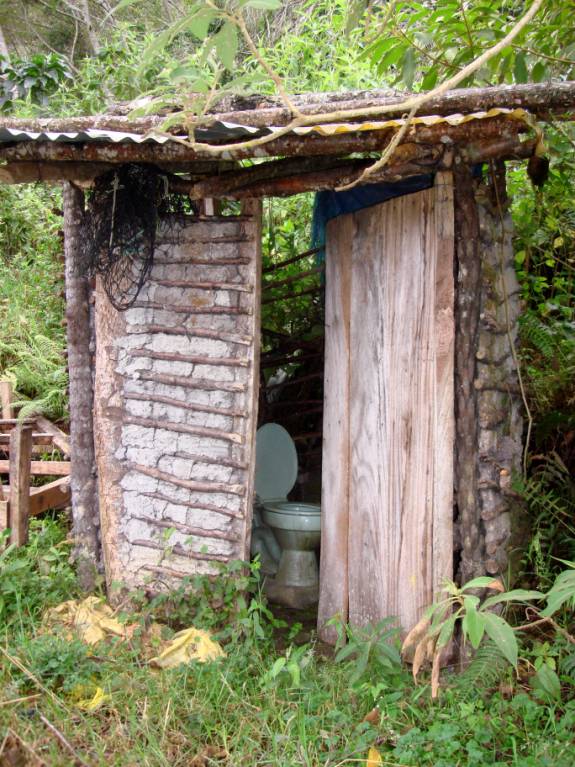 After lunch and a bit of rest time, it was foot in the stirrup again to mount the steed.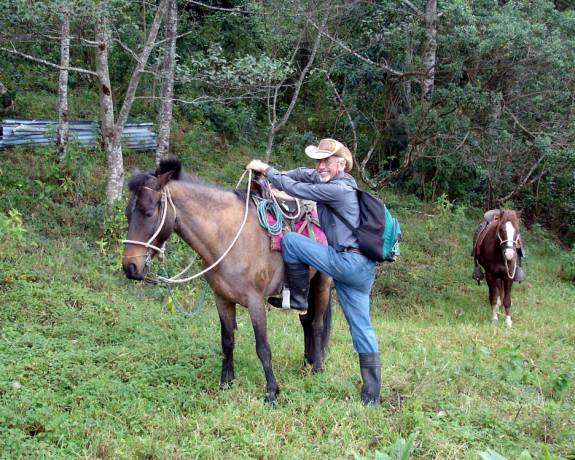 Rene had me in the lead position for the way out of the park and back to town.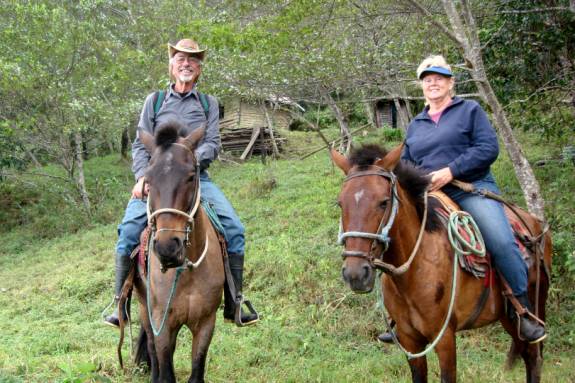 From the time she remounted her horse, the animal was acting fussy. Sometimes, a horse does not like going downhill. We dismissed the cantankerousness to its anticipated descent. When we got to several spots, the horse would act up enough to make Judy uncomfortable enough to chose to walk rather than ride down that steep portion.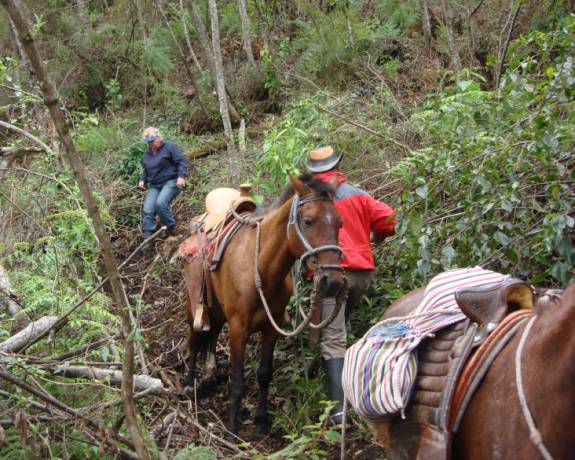 Rene decided to swap horses with Judy.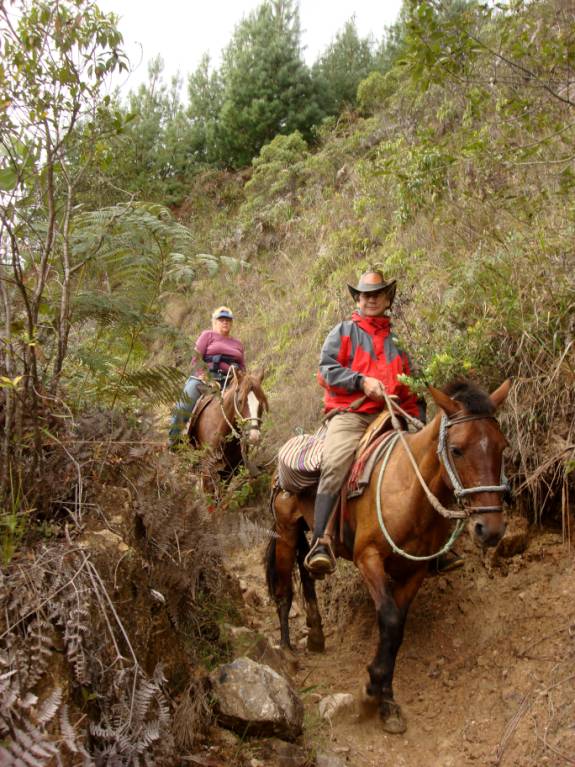 Her new mount was much better behaved and she was smiling again.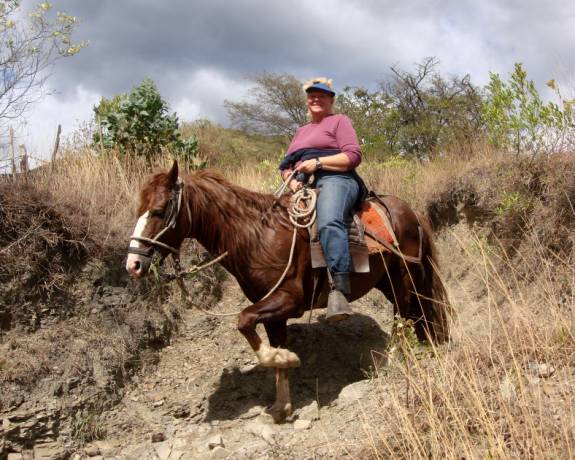 It was a very good thing that they did exchange horses. On a particularly narrow and steep section, the mount under Rene stumbled and fell hard. Rene was experienced enough to be clear of the horse on the fall. If Judy had been in that saddle, and if her foot would have been caught in the stirrup, the incident could have resulted in a broken leg or worse.
The horse just lay motionless in the trough of the path for the longest time. I thought surely that the horse had snapped a bone or croaked right there.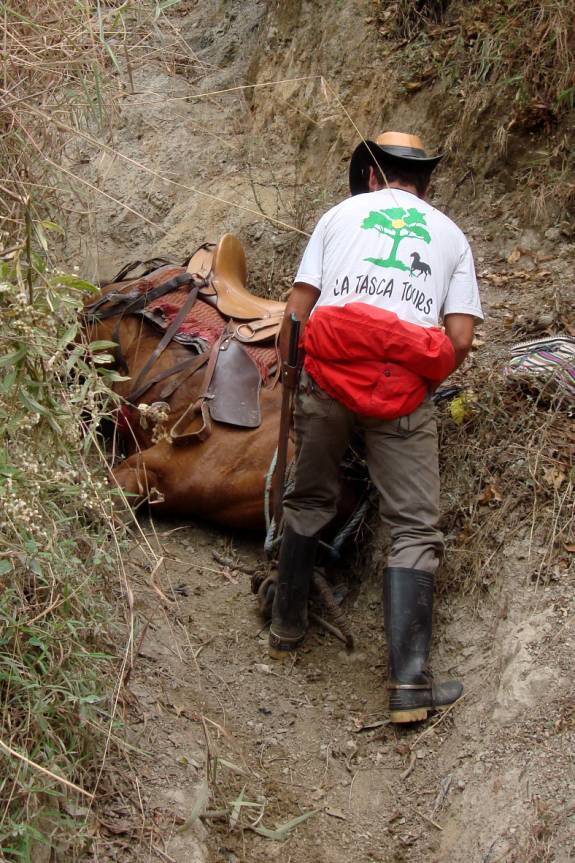 Fortunately, Rene was finally able to coax the stunned animal to her feet and got her calmed down enough to walk. He determined that there was a problem with the saddle that was causing the horse to react so poorly. This was one of those bad situations that turned out okay. I shudder to think how bad it could have been.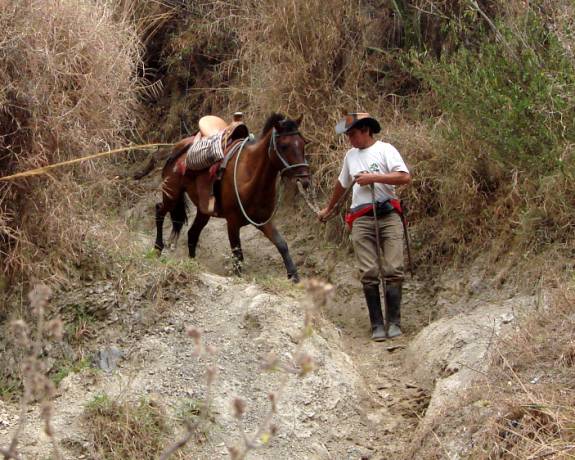 Rene was able to make a temporary fix for the faulty saddle and he rode the horse back to town without further problem. Part of the way, we rode at a good gallop and that was an invigorating ride.
We had a great day on this trip and the adventure was a complete success.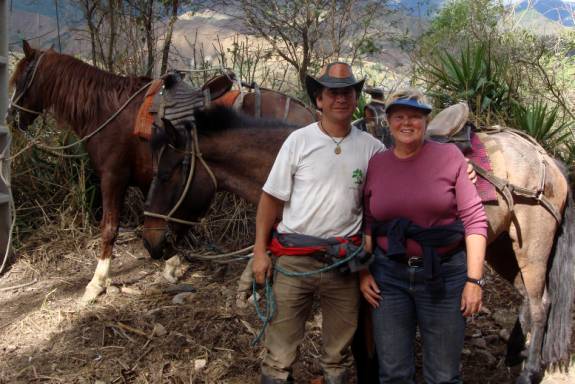 We turned in our boots and I reluctantly returned the hat to the rack. I really wanted to buy that hat, but we would have no way to carry it on the rest of our trip. I think Rene appreciated the "propina" (gratuity) for a job very well done.
We took some remaining afternoon time to explore the relaxed area around the town center.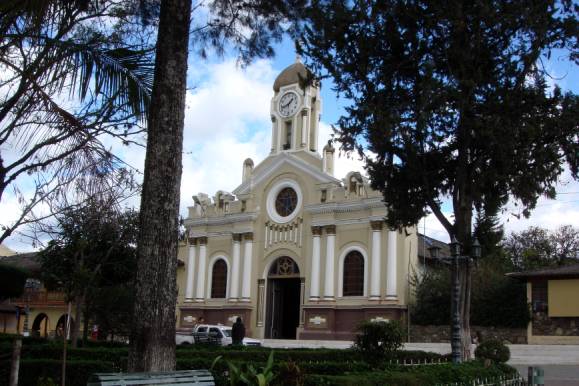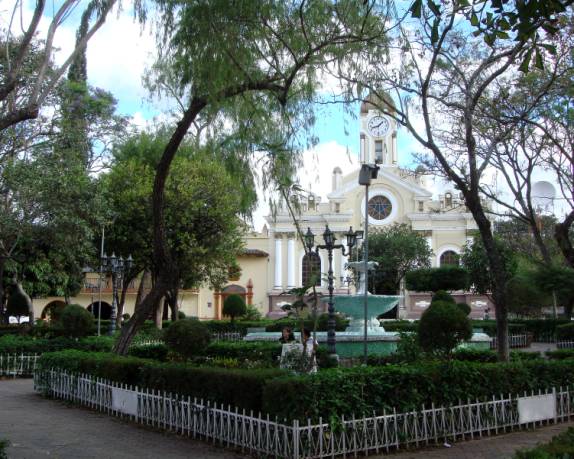 Horseback riding will awaken muscles that you never knew you had. Our legs, knees, backs, and butts felt the torment. Relaxing in the hammock, hot showers, and a few aspirins, helped to alleviate the effects significantly.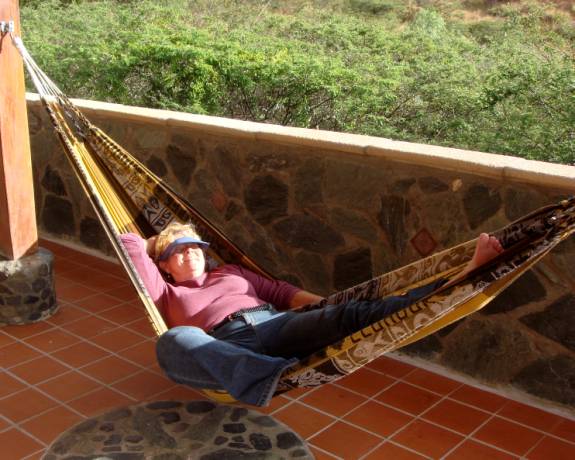 From our deck, the evening sunset over the mountains was colorfully spectacular.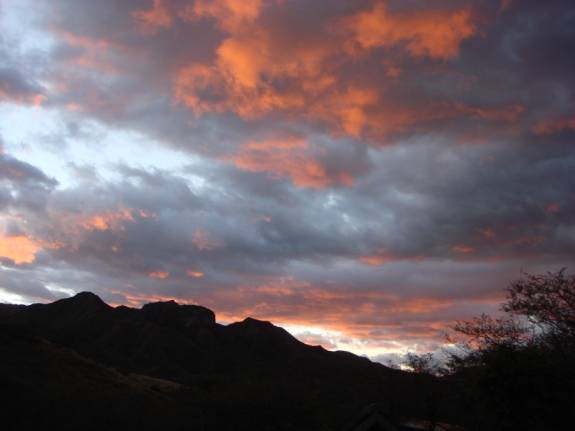 With a bit more of that Argentine wine, we started dinner with a plate of tomatoes and mozzarella to tease the palate. We decided to share a large plate of Chicken Primavera that came with rice and a salad of pineapple and apple mixed with vegetables. As you may have guessed, everything was absolutely delicious.
From the café restaurant, we went over to the tiki-style bar to relax in the hammocks. Neither of us wants to leave this wonderful place, so we decided to stay another day and night. Fortunately, our same room was available for just one more night.
08/05/09 WEDNESDAY VILCABAMBA, ECUADOR
Even though it had been quite windy overnight, we had rested peacefully to awaken to a nice morning. Once again, the breakfast was fantastic and the view was incredible.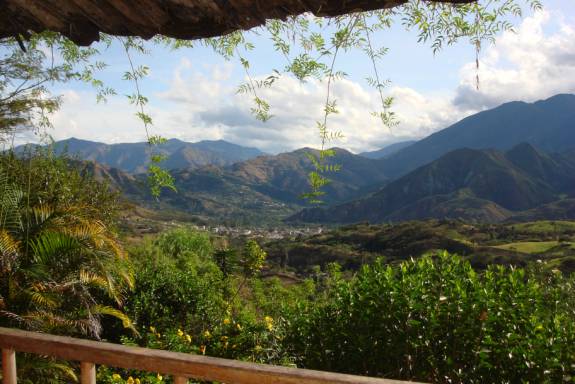 The flowers throughout the grounds were colorful and beautiful. A little moth seemed particularly attracted to this bright yellow bloom.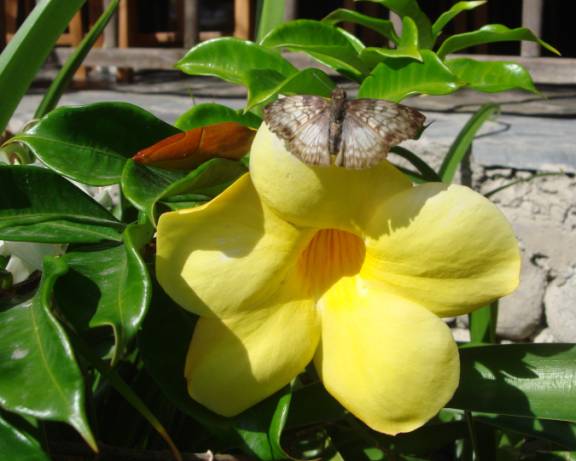 Another moth preferred this brilliant red one…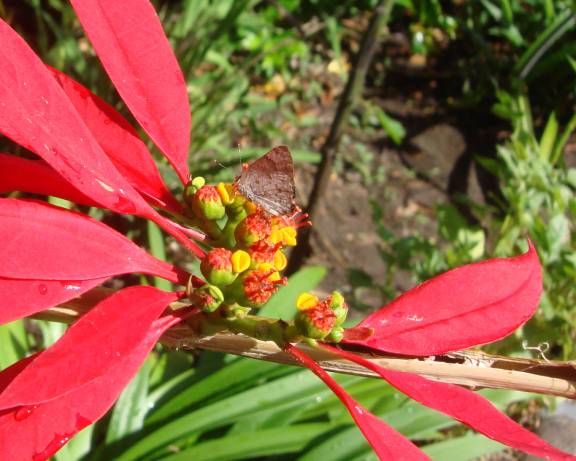 Rising high above the valley, the mountain called Mandango, (or the "Sleeping Inca"), is said to protect the area from earthquakes and other natural disasters.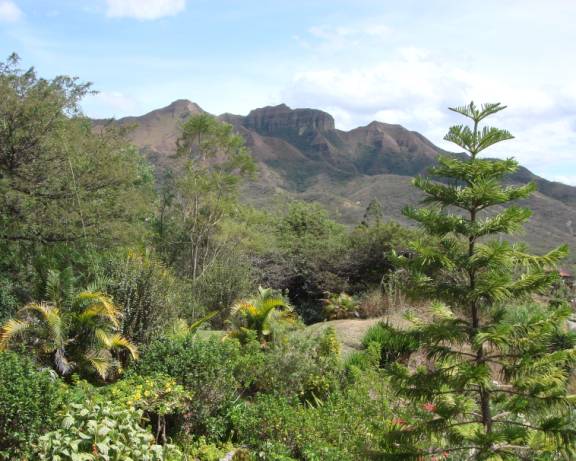 The landscaped grounds enhance the feelings of tranquility and relaxation…
This sign in the café restaurant proclaims a motto, "Pura Vida". While it literally translates to "Pure Life", the more intended meaning comes out closer to "full of life", "purified life", or "this is living! ... The sign epitomizes our feelings for this place. We are thoroughly enjoying our stay here at Izhcayluma.

We had nothing big planned for the day. We just wanted some time to kick back, relax, and let our minds and bodies unwind. We made a leisurely visit to the town center and strolled around a few of the shops. Picking up a few ingredients in town, we made our own lunch back at Izhcayluma. We sat around and played our favorite dice game of "Farkle". Judy scheduled another fabulous massage at the spa facility. For her, it was another 75 minutes of pure bliss. I treated myself to more relaxing time in the hot shower.
Susan, an adventurous traveler from Germany, joined us for dinner. Traveling alone, she is taking some time off from her profession as a "makeup artist" in a live theatre production company in Hamburg.
A glass of wine, a mug of cold beer, and the savory plates of tomatoes, mozzarella, olive oil, and balsamic vinegar are becoming an almost habit-forming way to start our great meals.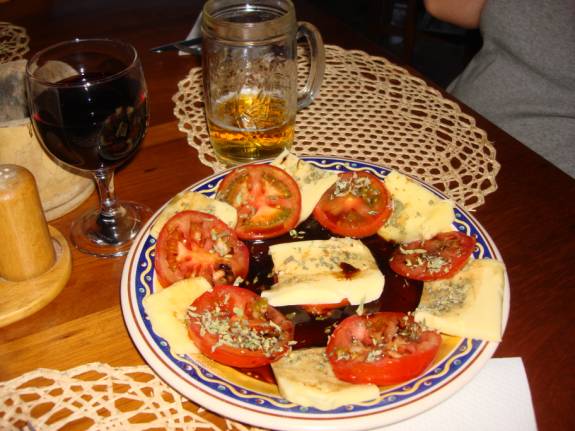 We had hoped to continue our relaxation mode at the tiki bar. Unfortunately, they chose to play "Techno" music that we just couldn't get excited about. We were comfortably in bed by 10:30pm.
08/06/09 THURSDAY VILCABAMBA to CUENCA, ECUADOR
The morning air was cool and breezy, but it was dry and pleasant. With fresh papaya and watermelon slices, our "desayuno" (breakfast) deserved the accolades. All of the meals, the service, the staff, and the accommodations have far exceeded any of our expectations. This is definitely a place we've fallen in love with.
It is probably a good thing that our room here had already been reserved for someone else. It removed any temptation to stay another day and night. With the bill paid up, we tossed our bags in the truck taxi at 9:45am and headed for the bus station. Susan was leaving today and shared the taxi. For the fare of $1 each, we took open seats in the Vilcabambaturi bus leaving for the city of Loja. The bus makes lots of stops, so the 30-mile trip takes almost an hour and a half. The scenery through the valley is quite beautiful.
Susan was headed out in a different direction so we said our farewells and wished each other "bien viaje" (good trip).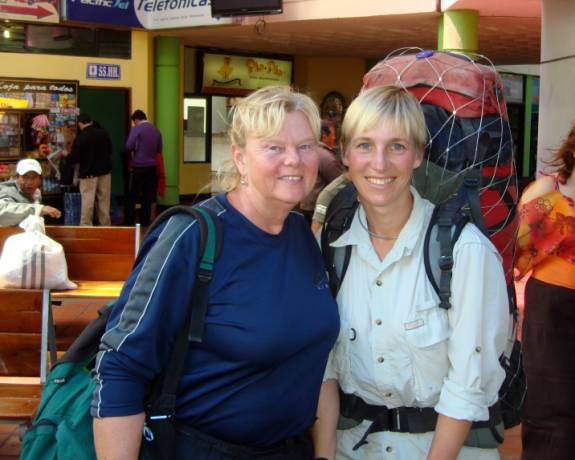 Loja is a hub for buses connecting in all directions. Having pre-purchased our onward tickets this morning in Vilcabamba, we departed northbound at 11:30a, for the 5 hour and 30 minute ride toward Cuenca.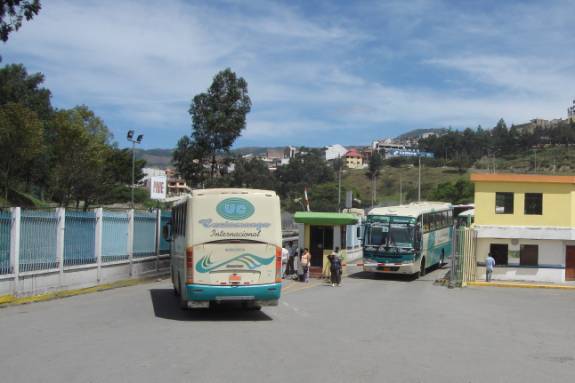 Leaving Loja…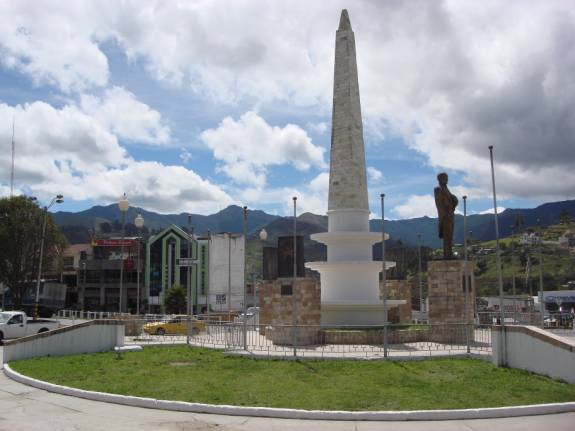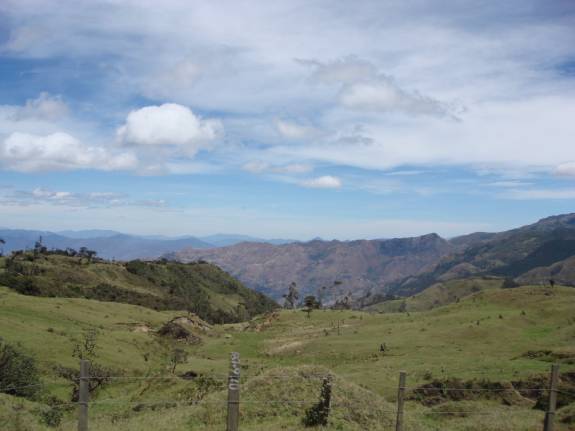 Hungry? There are usually frequent vendors offering a variety of stuff to nibble on.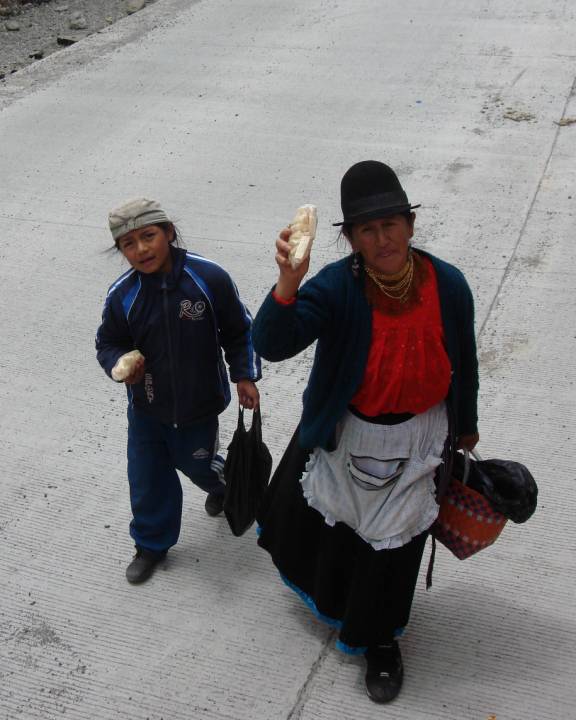 The Viajeros International bus made numerous stops to pickup and drop off riders.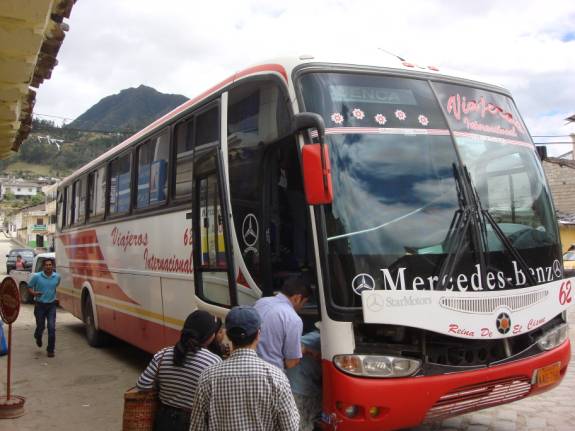 The indígena people's mode of dress is fascinating to me…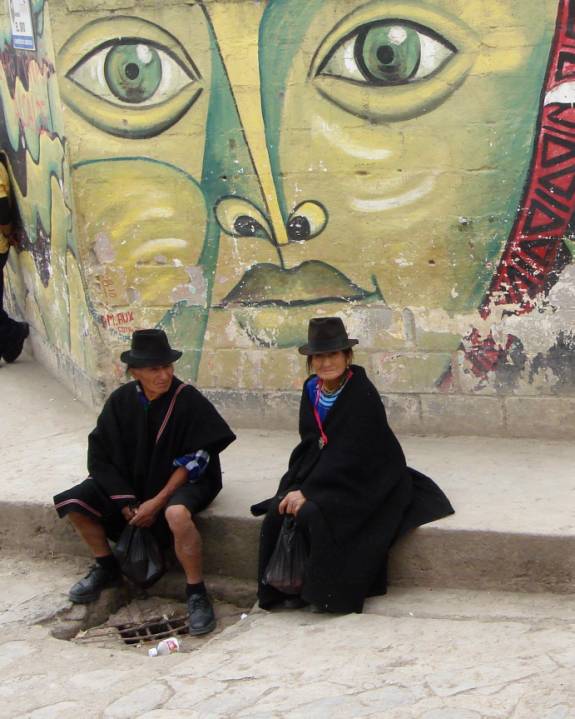 The roads pass through the mountainous valleys of the central highlands.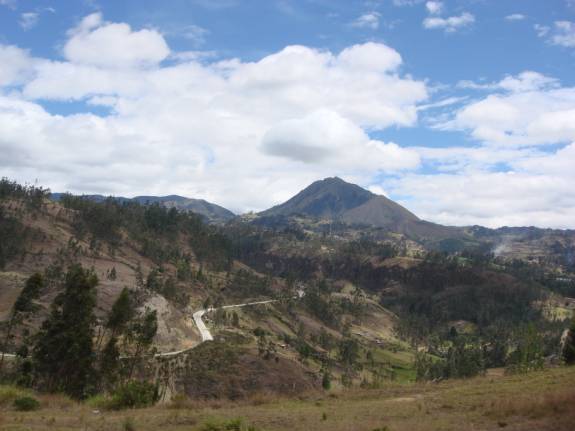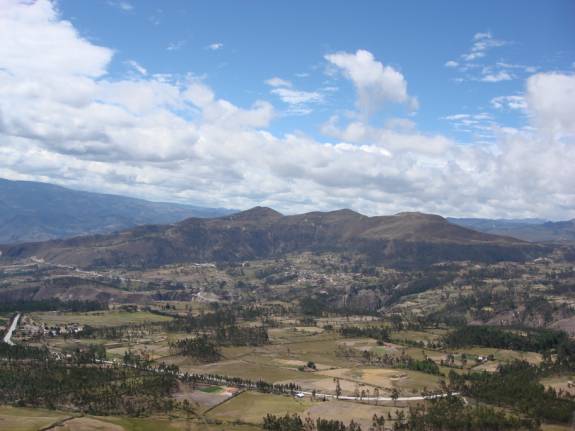 We arrived at the central bus terminal in Cuenca at 5:10pm. Our plan was to overnight here in Cuenca and proceed onward to Quito tomorrow morning. I went around the terminal to check out the various bus companies heading that way. Having the best price and schedule, I bought tickets from "Flota Imbubara" bus line.
Referring to a pamphlet I had picked up at our last overnight, I had a taxi take us to the Hotel Milan, located not far from the center. For $23, we had a nice, comfortable room with a small balcony overlooking this church.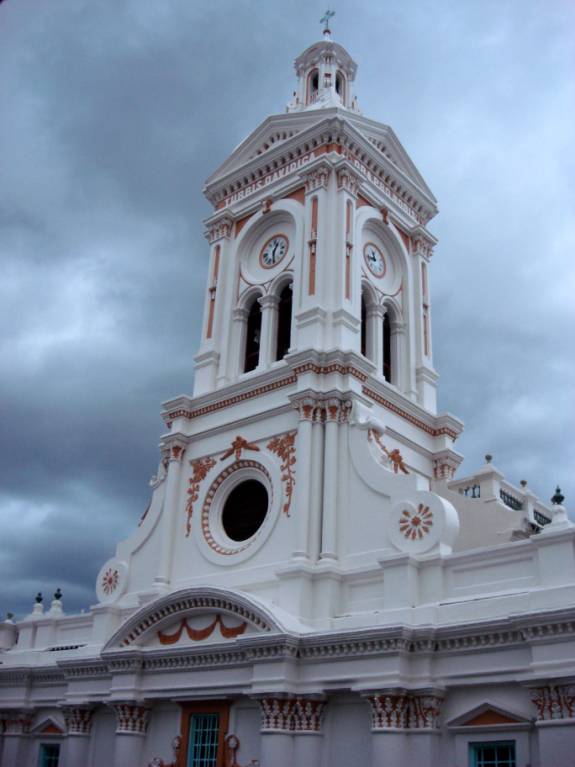 We walked around the central plaza area admiring the cathedrals and colonial architecture.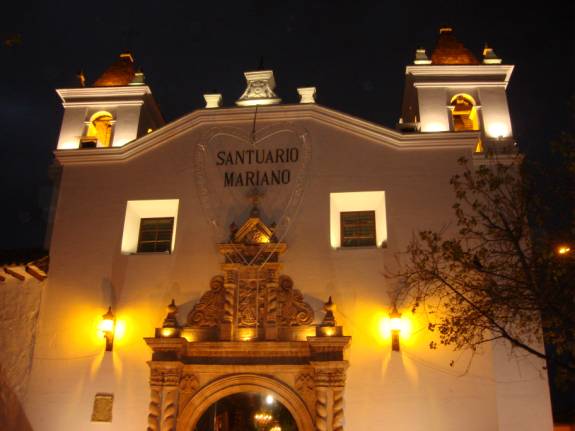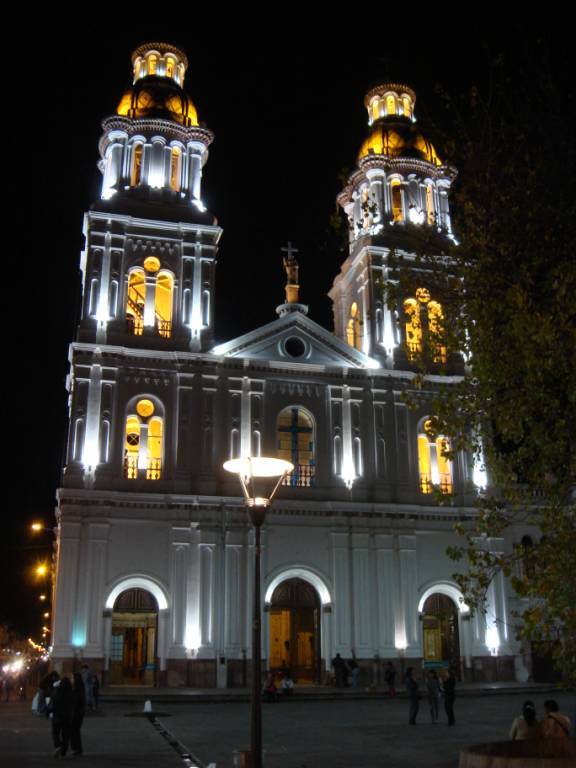 The menu choices at El Pedregal Azteca restaurant looked inviting. The Mexican fare was delicious, especially the homemade chips and salsa.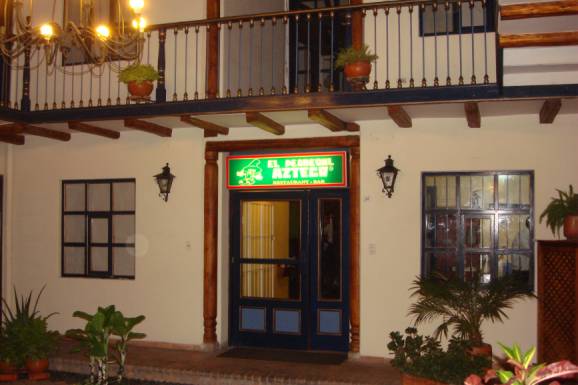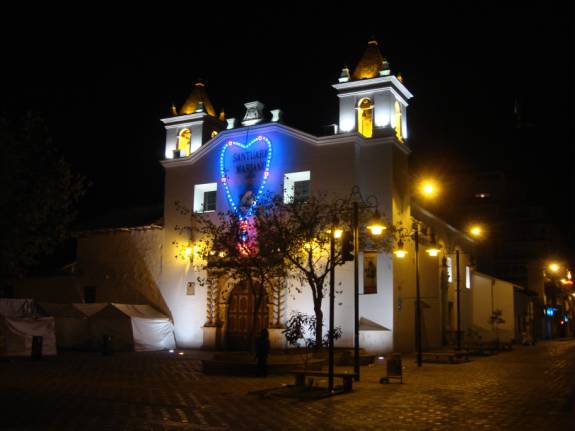 Room 206 at the Hotel Milan…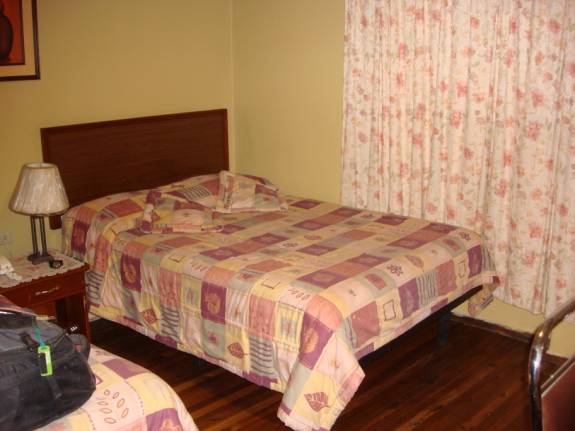 Two totally exhausted travelers were in bed before 10pm.
08/07/09 FRIDAY CUENCA, ECUADOR to QUITO, ECUADOR
The alarm blared to awaken us at 5:45am. Thirty minutes later, we were in a taxi headed back to the central bus terminal. The Flota Imbubara bus departed at 6:40am headed for Quito. Twelve dollars each had bought us tickets for seats 13 and 14, which would cradle our butts for more than the next 10 hours.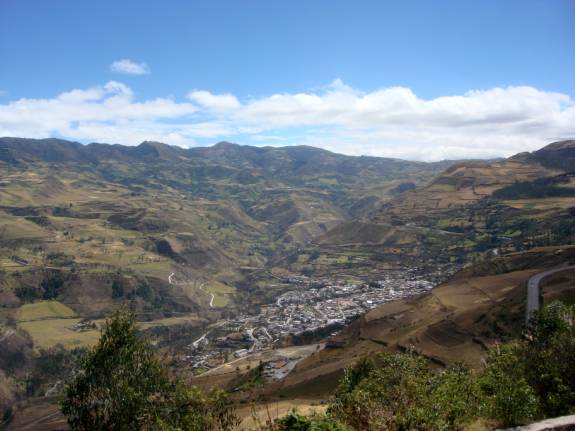 Our bus made a comfortable, 20-minute brunch stop in Alausi about 11am. Unlike so many before, this place was clean, pleasant, and efficient.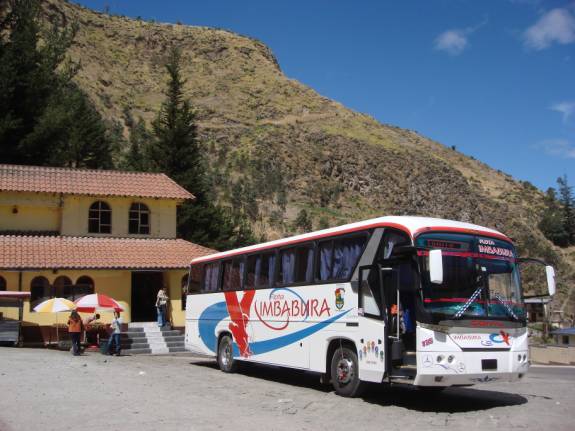 Making just short stops, we passed Riobamba at 12:45pm, Ambato at 1:35pm, and Latacunga at 2:15pm. Arriving in south Quito city, our first stop was the huge, new intercity bus terminal called Terminal Quitumbe. We have been referencing the latest Moon Guide travel book. It has been a big disappointment for me and I find it hard to follow. Fortunately for us, a very nice couple from Quito told us that we would be better off to stay on the bus for a second office that is more centrally located. From our perspective, the guidebook seemed a bit vague and somewhat inaccurate. The center area that interested us was quite a distance from the new terminal. We arrived at the company's private terminal at 5pm.
It took a bit of time and frustration to get oriented in the very large capital city. We walked around looking for a suitable hotel. The guidebook wasn't much help. With a bit of luck, we spotted a likely candidate and found the Hostal El Portal to meet our basic requirements. Located near 18 de Septiembre and 9 de Octubre, it had reasonable access to city transportation and points of interest. With some bargaining in Spanish (no English spoken here), we got a favorable rate under $20 per night.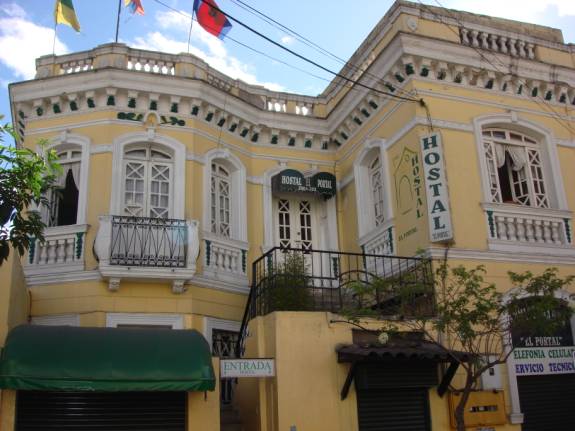 We walked quite a bit to get to the famous (or infamous) district called La Mariscal. Know for its intense nightlife, we found it to be a very enjoyable place. In years past, the zone gained somewhat of a bad reputation for trouble, however, efforts to resolve those problems have had very positive results. Although the zone itself seems comfortably safe, it is probably still advisable to take a taxi to and from after dark, as the security in some of the surrounding areas might be questionable.
There are lots of choices for bars and restaurants in La Mariscal. The bars were packed with young Ecuadorians seemingly having a wonderful time partying. For dinner, we chose the Texas Ranch House Restaurant. Everything, including the delicious Filet Mignon steak, was excellent and we enjoyed our evening.
At about 10pm, we did walk back to our hostal without any problems, however, we probably would have been more comfortable taking one of the inexpensive taxis. At the Hostal El Portal, we rested well in the relatively quiet room.
CONTINUING UPDATES ARE IN PROGRESS…
WATCH FOR THEM, COMING SOON…
POST SCRIPT:
We sincerely hope that you will review the previous years of compilations to give context to the current editions. Please let us know if you have any special suggestions and thoughts.
REMEMBER: The website is now fully active and you can visit it at any time. You can also review any of the previous logs from the years 2006, 2007, or 2008 and learn more about the crew and their many adventures. Enjoy.
ATTENTION: SPECIAL NOTE:
You may contact us via email anytime.
Thanks for allowing us to share our life and adventures with you.
Lotsa Luv,
Fred Reed and Judy Law
AMARSE
MT40
"AMARSE" is pronounced "AM-ARE-SAY".
Our website is: www.amarse.net .