UPDATE#23 07/17 thru 07/19
Howdy Everybody,
The adventures of 2006, 2007, 2008, and 2009 through 07/16/09 have been published on the website. We continue with the latest edition.
UPDATE 2009 #23 07/17/09 thru 07/19/09
At last update, we were visiting the city of Cajamarca.
07/17/09 FRIDAY CAJAMARCA, PERU
Judy and I have found Cajamarca to be a fascinating city to visit. There is a lot to see and do here. The Cajamarca Cathedral, also known as Santa Catalina, is of interesting architecture with its truncated bell towers, stone arches, and ornate stonework. It is said that traditional bell towers were never erected to avoid a special tax to the Spanish government.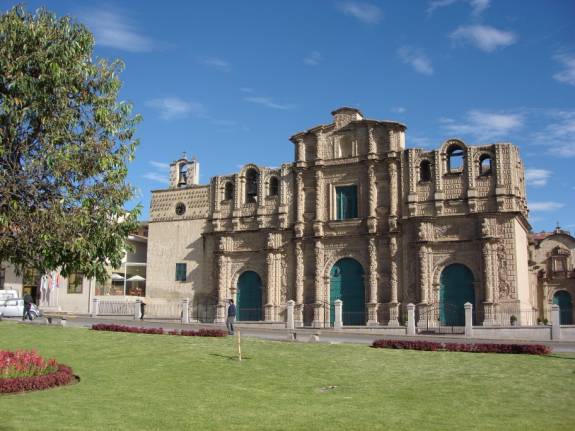 The Plaza de Armas fountain with Cerro Santa Apolonia in the background...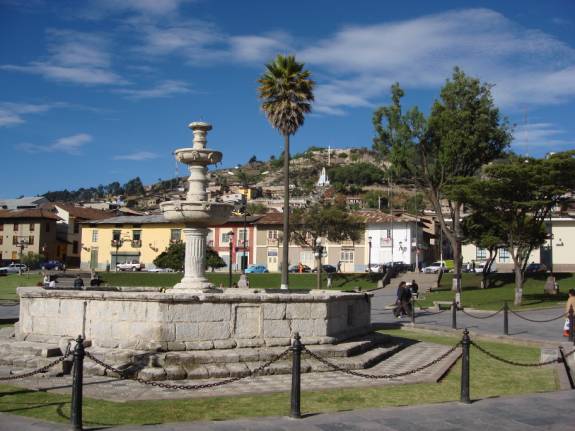 Using the agency at Cataquil Tours, we departed at 9:30am for the tour of Cumbemayo. Although it had been promised, the guide was not available to speak in English. Whatever I would understand in Spanish, I would relay to Judy in English. As it has been numerous times before, my translations went pretty well but I lose some of the details. After a short stop at a vista point to view the city, our van continued quite a distance up into the mountainous area.
The Cumbemayo site is best known for the ruins of a pre-Inca aqueduct that stretches nearly five miles in length. At an elevation of approximately 11,000 feet, the location rests upon the continental divide. Constructed around 1500 AD, this manmade canal system and aqueduct collected water from the Atlantic watershed and rechanneled it in the direction of the Pacific Ocean.
From our van drop off point, it was a mostly downhill hike to the first large outcropping where we viewed some ancient petroglyphs carved into the rock formations.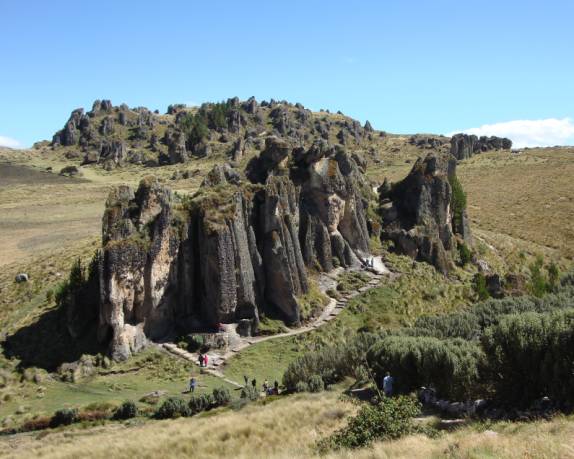 Ancient, Inca petroglyphs artfully gouged in an open cavern face…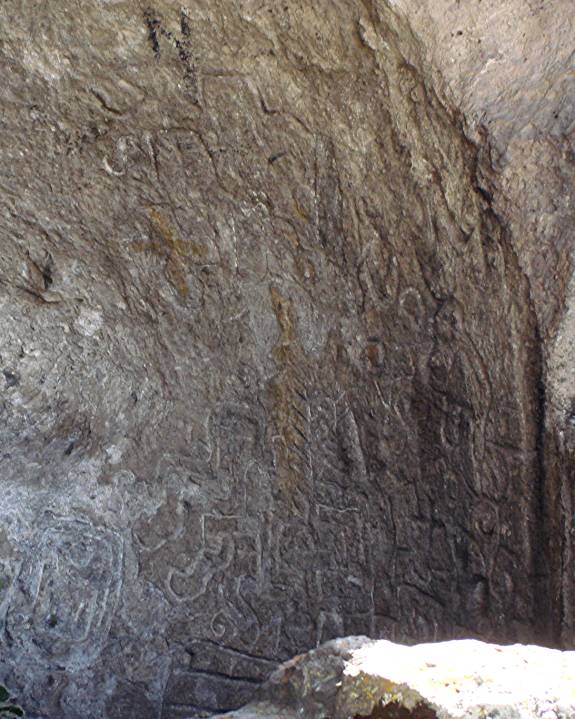 A natural fissure in the rock face beckoned us to crawl through to other side of the mountain. "There is nothing to fear but fear itself…"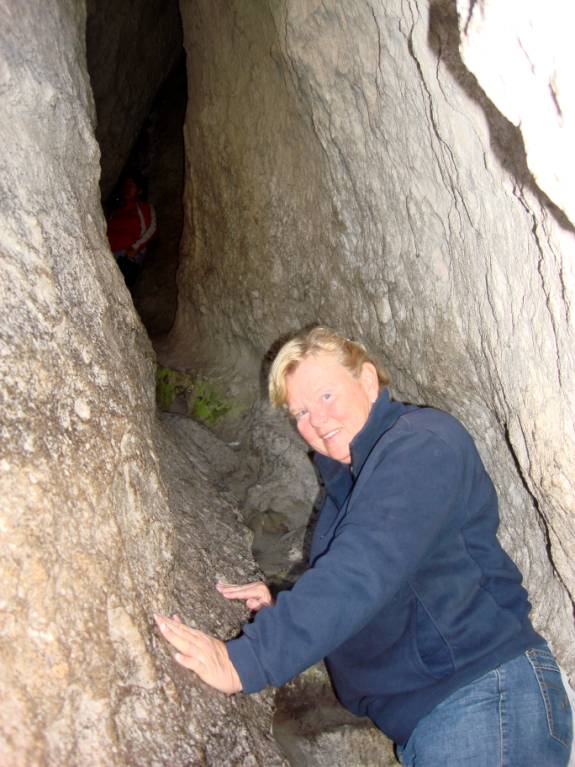 Inside the narrow passageway, it was pitch-black darkness and we had to squeeze through by feeling our way along the uneven surfaces. It was a fun part of the adventure. Several of the folks rejected the idea fearing claustrophobia and other fears of darkness, etc. Only a few of us were intrepid enough to hazard the attempt. For us, it was quite exhilarating. Our guide, having given encouraging words in Spanish, emerged successfully.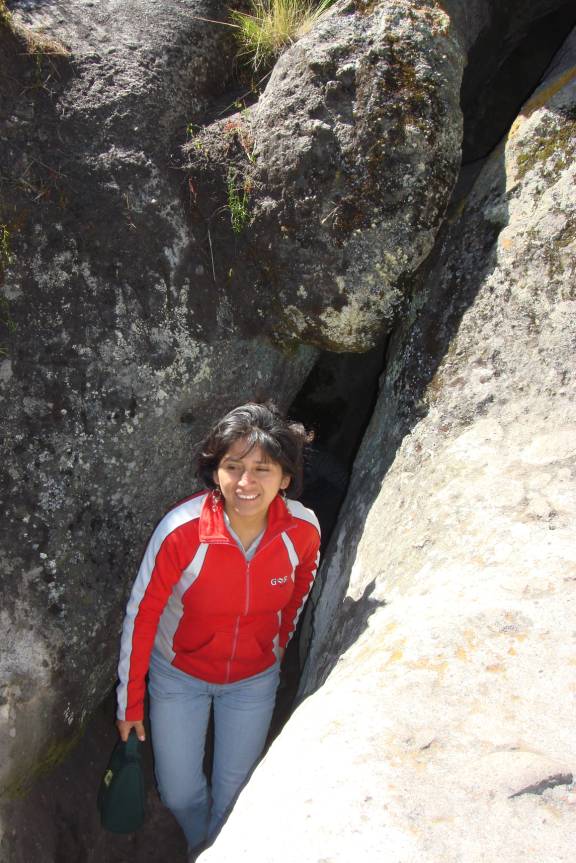 The caretaker's abode…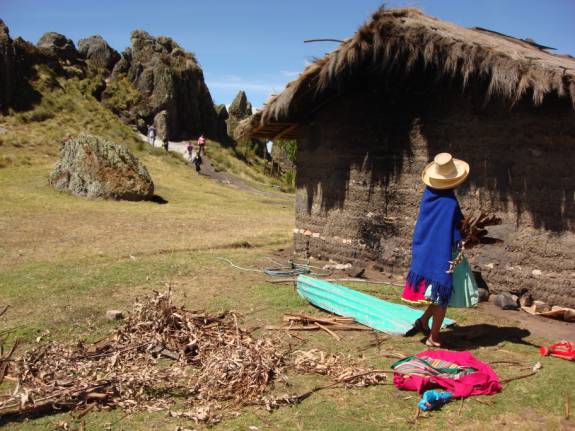 The site is quite large and hiking around an altitude of 11000 feet above sea level is very strenuous. The weather was fantastic but chilly.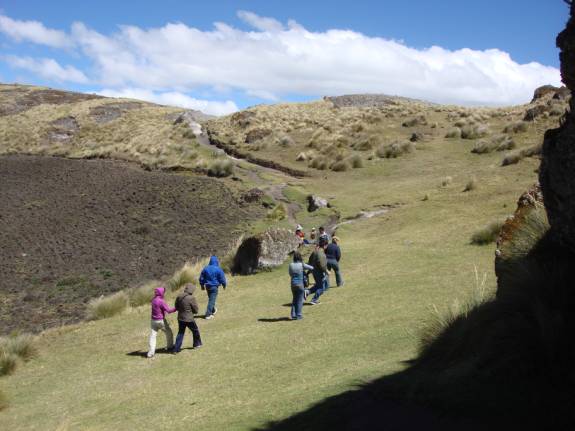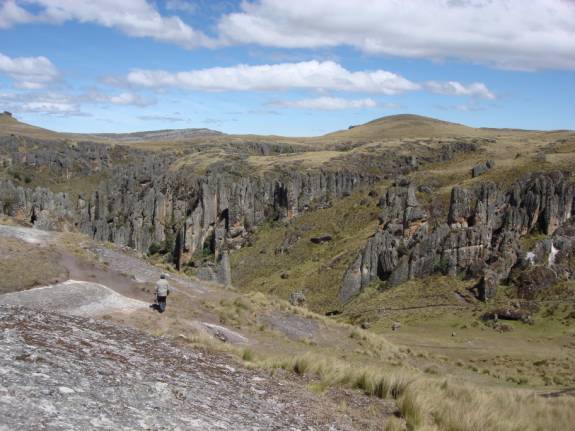 I wondered if this indígena woman might be named, "Mary"? You know, "Mary had a little …".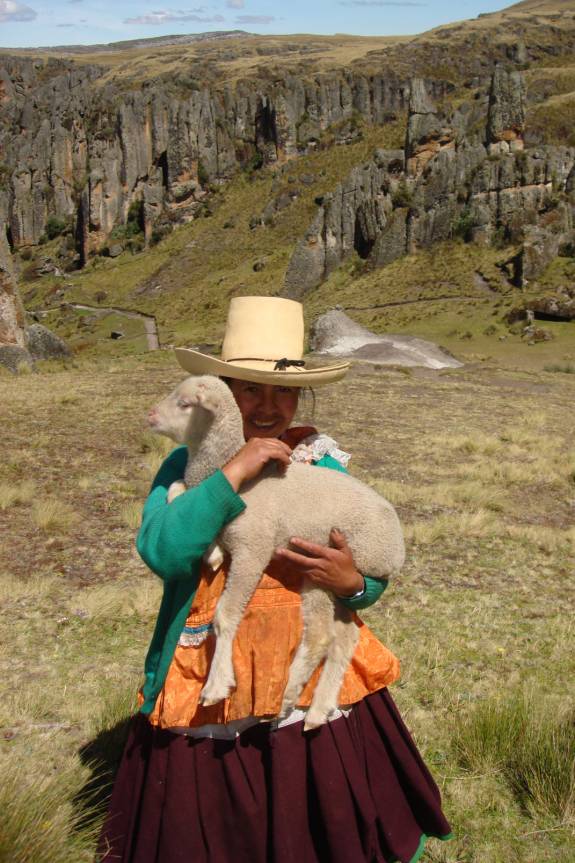 Judy and Fred at Cumbemayo…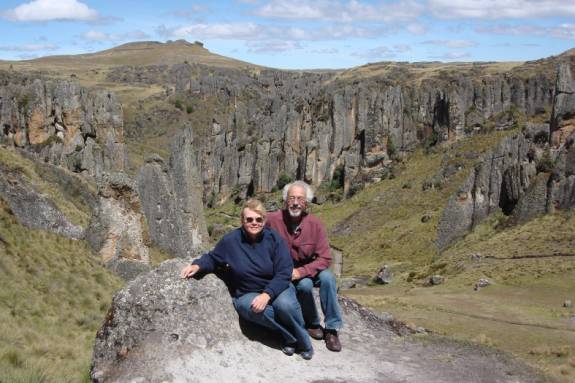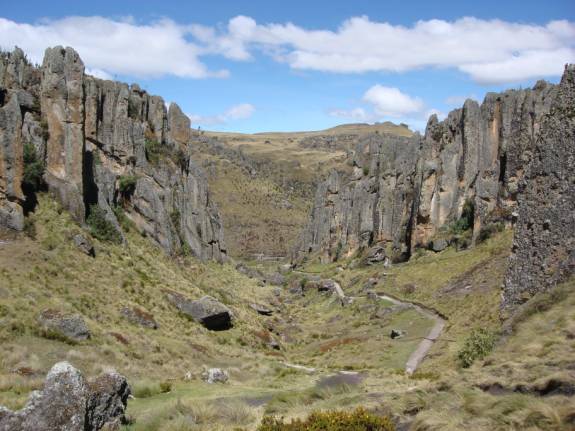 Carved rocks of Inca design were scattered around the site. It was obvious that this was a very important place for the Incas. Without water, there is no life…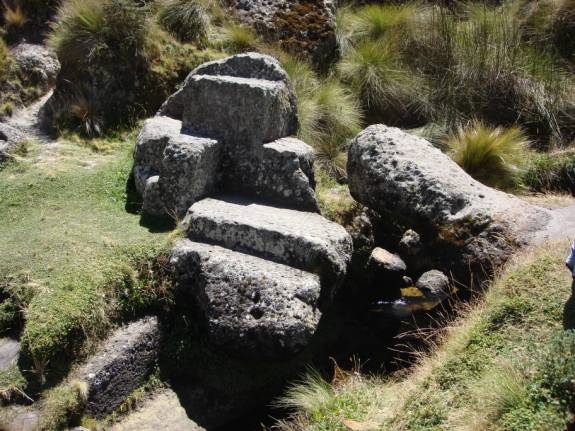 A small section of the important canal structure...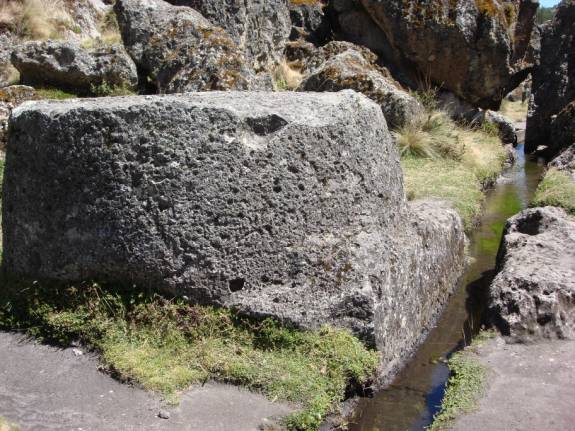 The rock formations around the Cumbemayo site are stunningly beautiful in their rugged splendor. This was a very enjoyable adventure.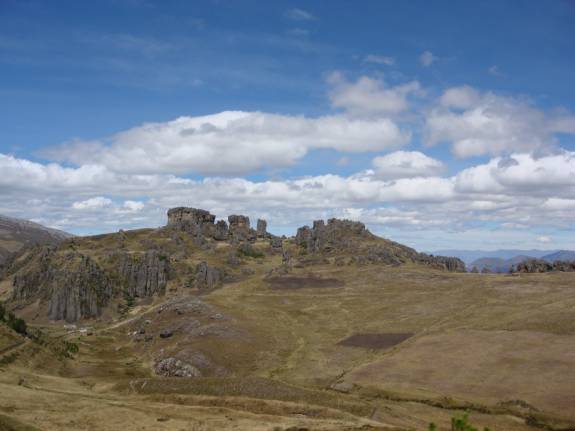 We were back from the excursion to Cumbemayo at 1:45pm, leaving plenty of daytime left for more sightseeing adventures. Finding a local minibus, we headed out of town to visit "Baños del Incas" (Baths of the Incas). Nearby, we found a great place for lunch. Imagine a meal of flavorful soup, Milanesa de Res (breaded beef steak), rice, salad, and included drink for the economical price of about $3.50.
Across the street, we went to the entrance of these fabulous "aguas termales", or "thermal baths".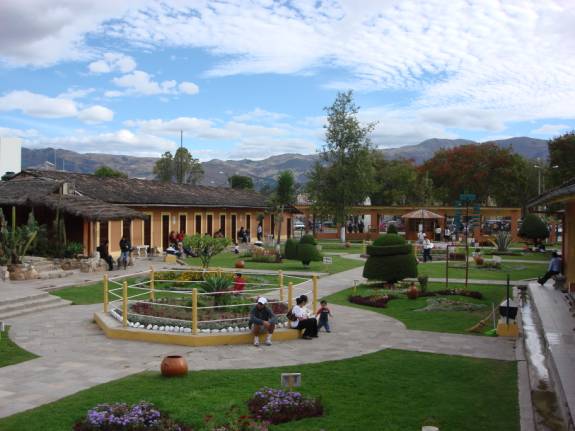 This neatly trimmed shrub of an Inca was a nice addition to the well-kept decorative landscaping.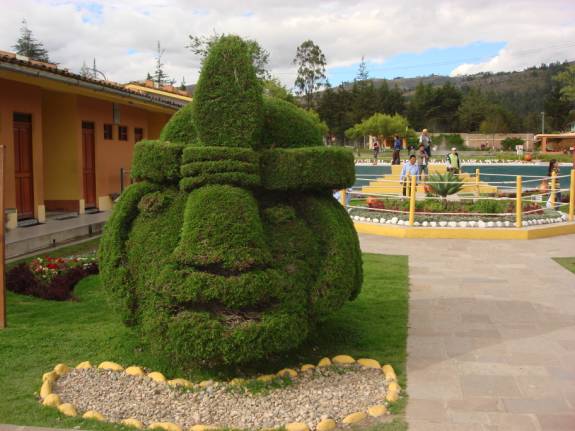 There were lots of choices for types and sizes of bath arrangements. We chose the best deluxe offering with the "Imperiales" that featured a huge, enclosed private tub. A time of 30 minutes was chosen for about $7. Using the natural hot springs mineral water, you can fill the tub to as hot a temperature as you may desire. The experience was wonderful and relaxing. "Rub-A-Dub-Dub, A Scrub in the Tub…"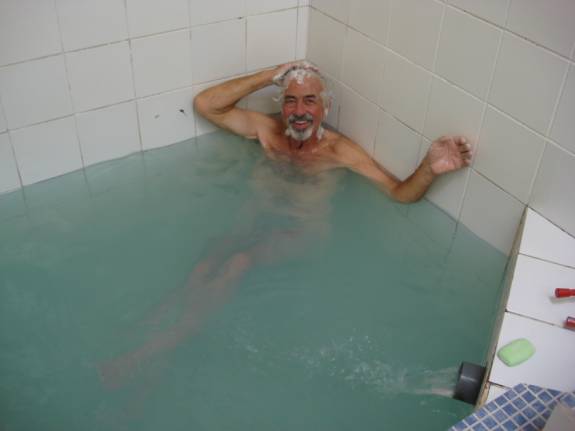 These are the natural springs thermal pools…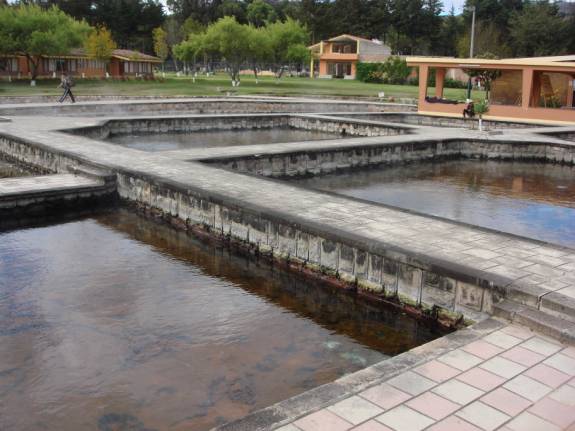 The high level of therapeutic minerals is clearly evident in the pond bottoms…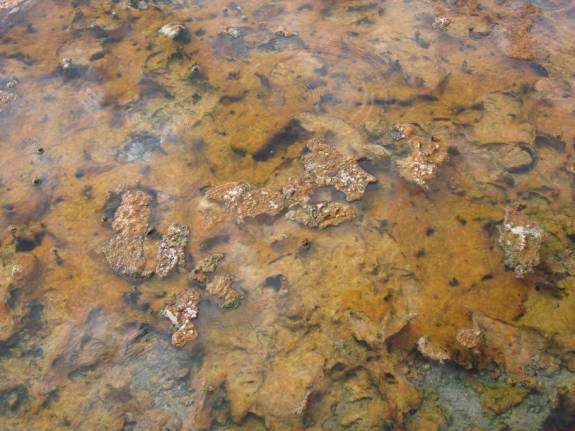 This is the restored site of the bath used by the ancient Incas. It is possible that Atahualpa used this very pool when he returned from the battles in Quito.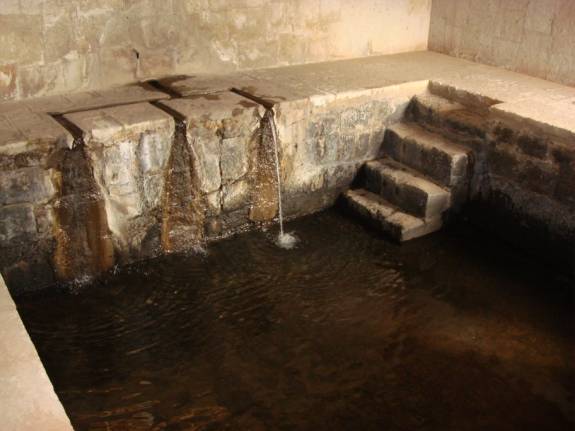 Judy elected to get a half hour of deep muscle massage at the spa room. She sang the praises of the skillful masseuse.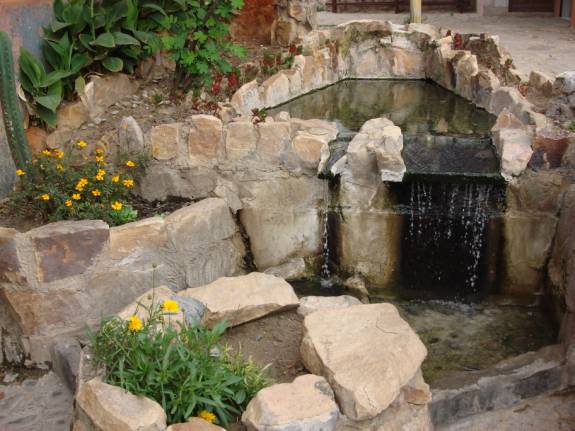 The park-like grounds were lined with beautiful flowers accentuating the steam rising from the scalding hot pools.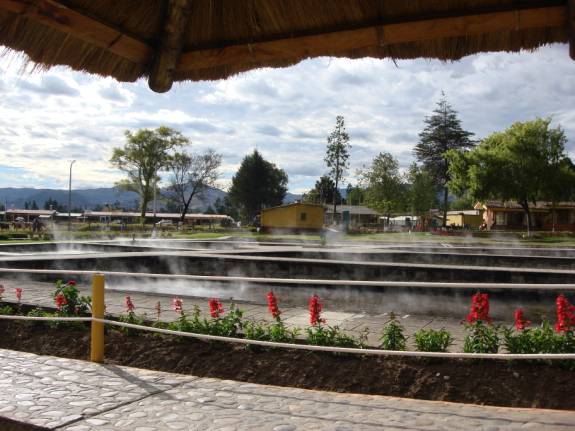 We arrived back in Cajamarca central at 4:30pm. Without much time left, we rushed to visit more of the local city sights.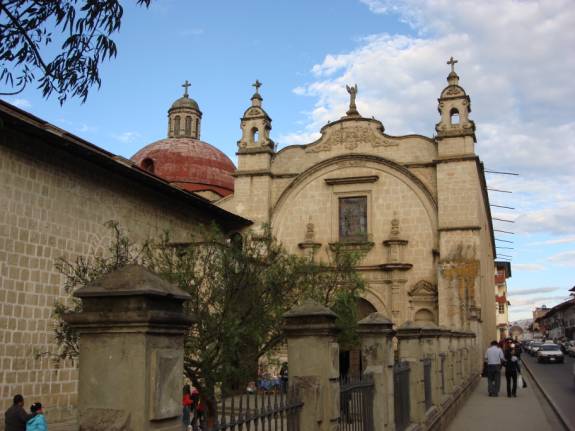 We visited the famous, "Cuarto del Rescate" or "Ransom Room".
After the Spanish Conquestadors had captured the Inca King Atahualpa, they held him prisoner in his own temple. They convinced Atahualpa's generals not to attack by threatening to kill the Inca leader if they did. Atahualpa offered the Spaniards an enormous ransom for his release. The offered ransom was a room filled with gold and two more rooms of silver to be gathered within two months. The Spanish agreed to his offer, but never intended to release Atahualpa.
This Temple became known as El Cuarto del Rescate, or "The Ransom Room". Most historians agree that the room was Atahualpa's cell, but not the actual ransom room. Unfortunately, the Inca Atahualpa totally misjudged the Conquistadors motives. Even after the ransom was paid, they executed him anyway. This act effectively brought the Inca Empire to its ultimate end.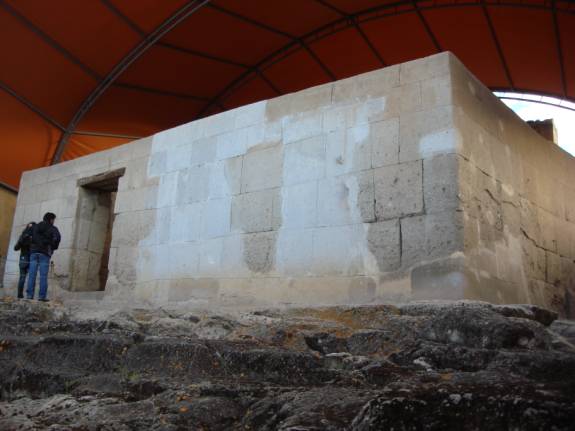 Moving along quickly in the late afternoon, we visited a few more churches and museums near the city center.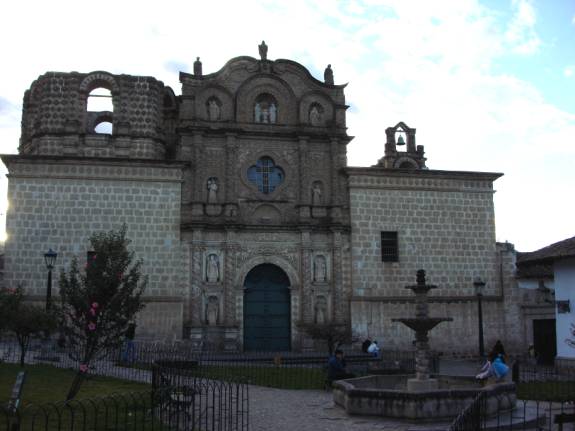 A mummified baby encased in a pottery shell…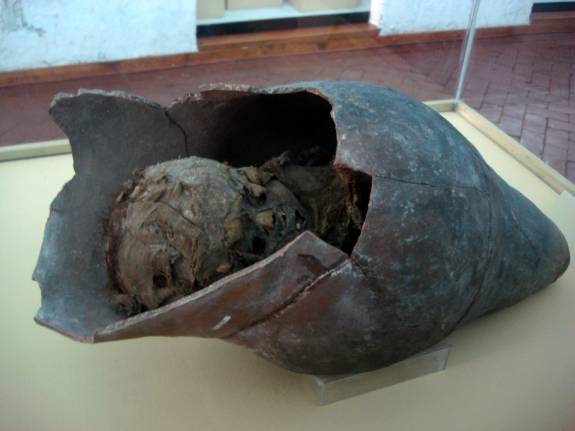 When all the historical attractions had closed for the day, we went to the bus terminal to purchase ticket for our onward journey. For dinner, we chose Chifa Sam. I always enjoy watching the talented chefs preparing the special dishes to order. Everything is done in plain sight and the cooking is done with style and flare.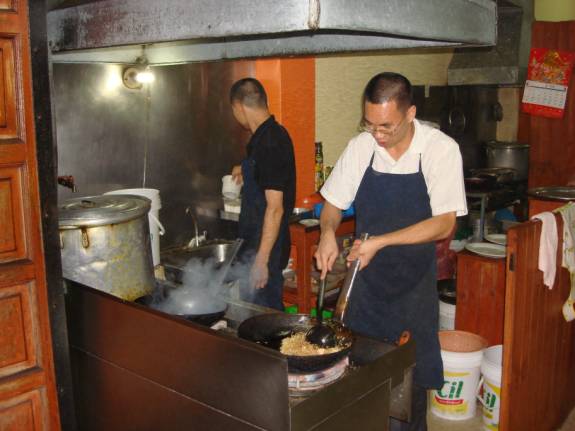 Although not real fancy, we have enjoyed our stay at the Hostal Plaza.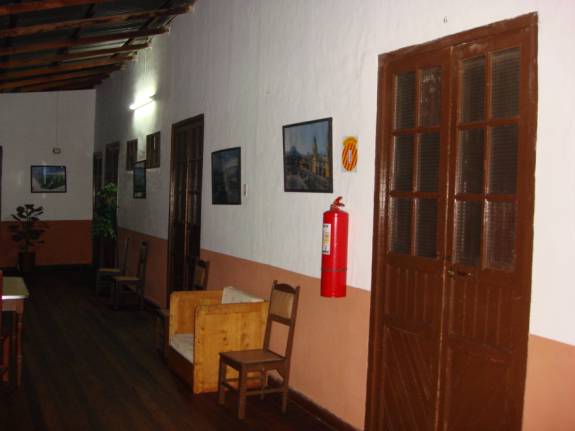 The fabrics may not blend well on the decorator's color wheel, but everything was clean and comfortable. When we travel like this, we only use the room to renew our bodies and rest up for the next day's adventure. With our eyes closed in deep sleep, we couldn't enjoy the décor or ambiance even if it was there.
07/18/09 SATURDAY CAJAMARCA to CELENDIN to LEIMEBAMBA
The alarm blasted us into reality at 5am. A taxi took us to the Caba bus terminal. It is collocated with the Rojas terminal on Avenida Atahualpa. The 6am bus departed only 15 minutes late. The scenic route was mostly through rural farmlands and the foothills.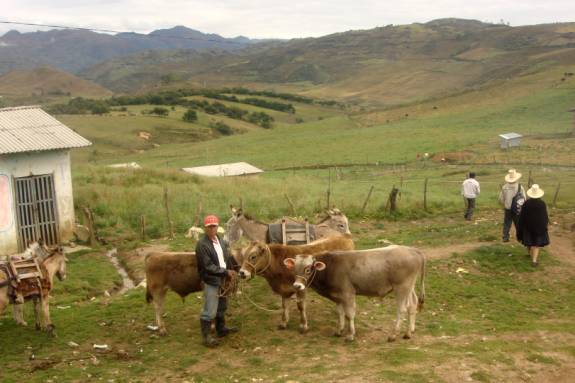 At 9:45am, we arrived at the town of Celendin. We were not sure about making connections onward but lots of questions in Spanish informed us that there would be only one bus out at 1pm. We stowed our bags at the bus office and began to investigate the town.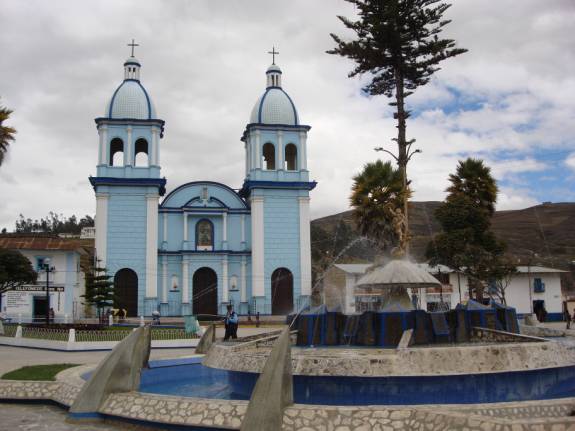 It didn't seem like there was very much going on around town and the people we encountered didn't seem very friendly or helpful. We were hungry but couldn't find many choices.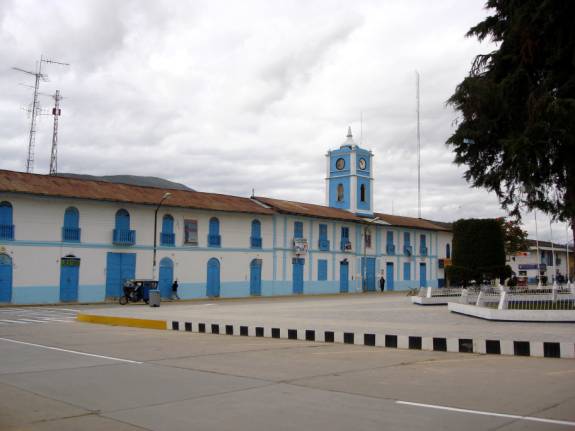 About an hour later, there was bloom of activity at the town square. It was some sort of parade being led by a float truck with the reigning princess atop.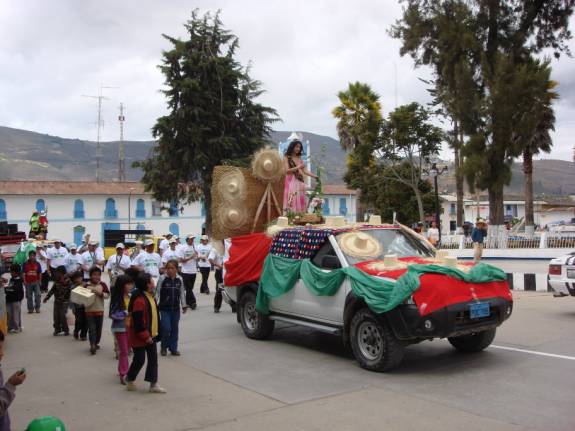 A marching band and more vehicles followed.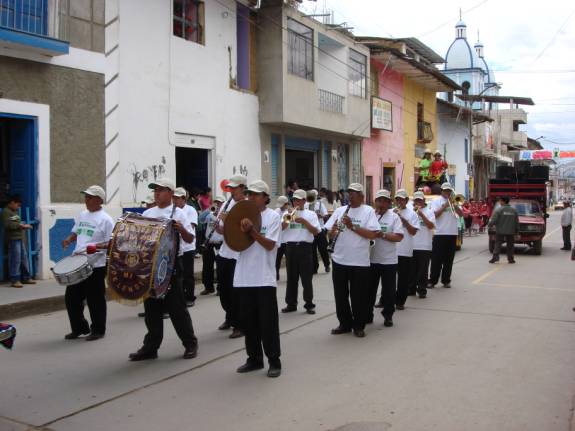 These gals were colorfully dressed in indígenas-style clothing.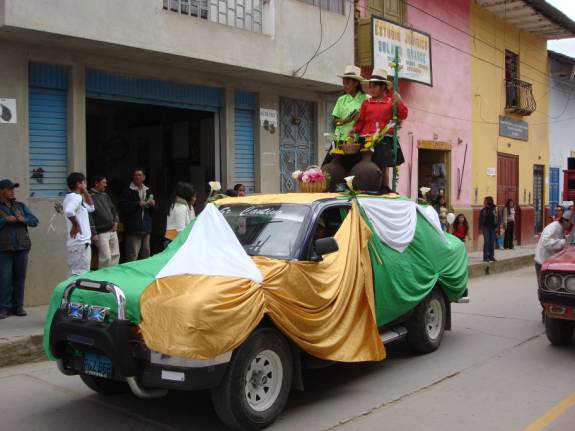 Folkloric dancers whirled and twirled in Peruvian style. We wondered what the celebration was for. It took a while to figure out that the whole event was a clever advertising scheme for a new banking/financial office opening in town.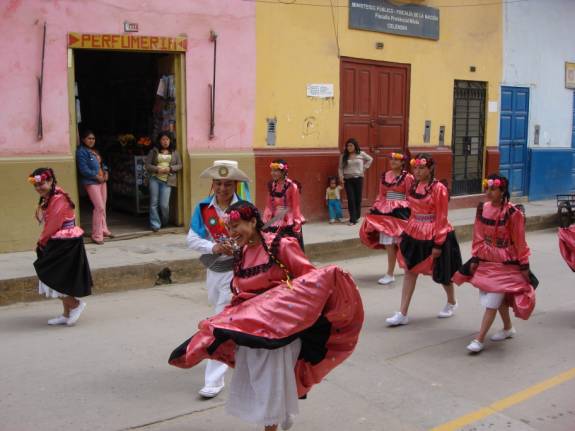 My guidebook had recommended a restaurant located near the central plaza. Although the grounds are quite pretty, the restaurant at the Hostal Celendin was a major disappointment and a mistake to try. First, it took them a long time to take our order and even then with an unwelcoming manner. We waited for 40 more minutes without getting our food. We were the only people in the place. I prompted the cook/waiter several times, informing him that we were on a tight time schedule. Each time his response was "momentito mas", which means that it would be just a little minute more. Finally, we had no more time to eat the food anyway, so we got up and left without anything. We had to walk swiftly because it was getting close to 1pm.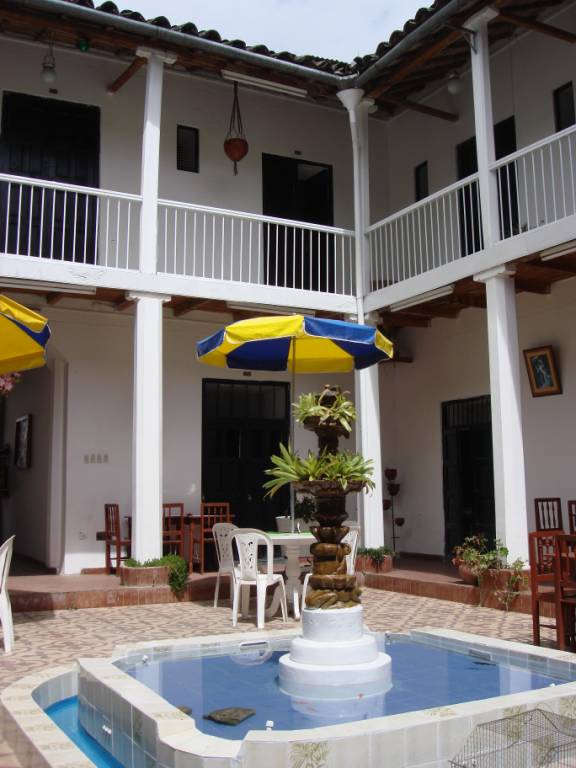 Our bus was getting loaded up so I helped throw our bags up on the roof to be lashed and covered with a dust tarp.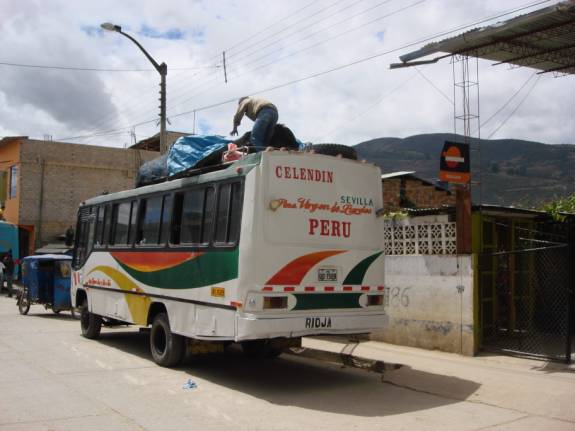 I had learned from my research that this section of travel would be rough and scenic. We soon found the reports to be accurate. Through stunningly spectacular mountain landscape, the gravely dirt road turned, twisted, and literally snaked around hairpin curves as it wound around the passes. Take a look at the picture of this sinuous path of travel.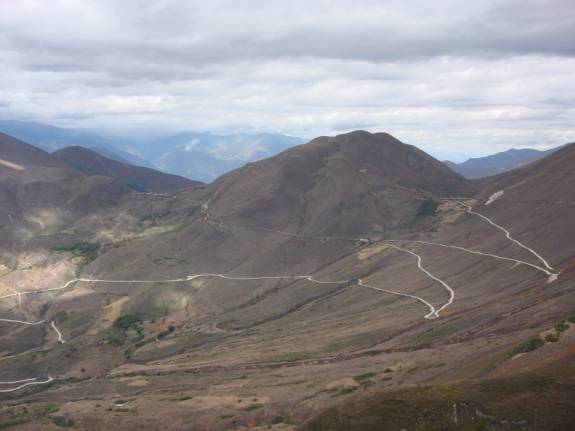 Against the faces of the rugged slopes, the driver had to skillfully negotiate his well-worn bus along sheer cliffs and steep drop offs.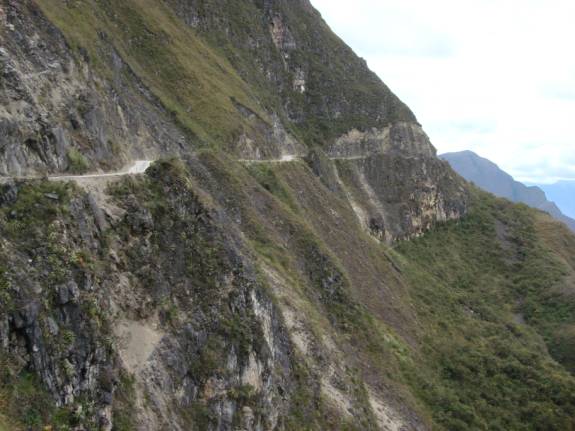 With every turn, we were treated to more mountain vistas that were without equal.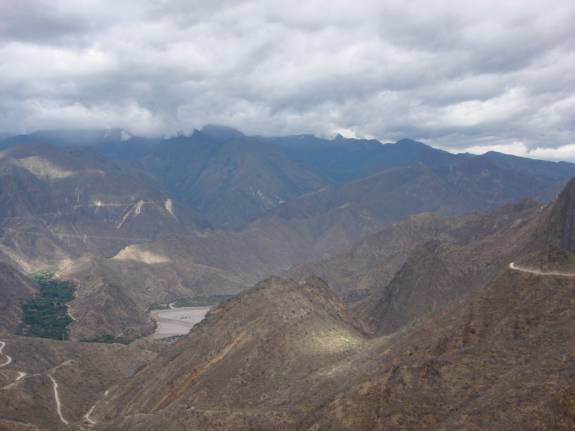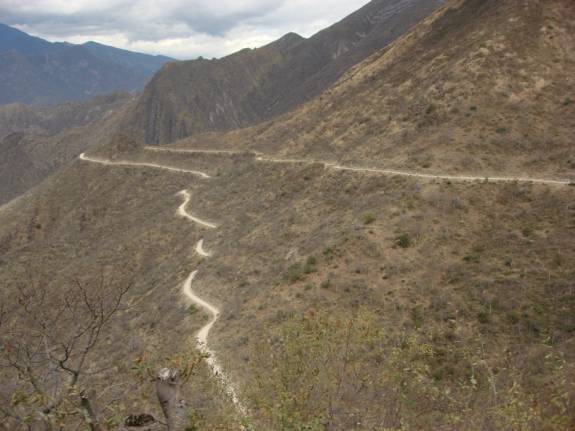 Road conditions like these take a harsh toll on the mechanical equipment. Breakdowns are frequent, occurring as a common rule rather than an exception. Out here, there is no AAA Road Service to call. Drivers must be mechanics as well.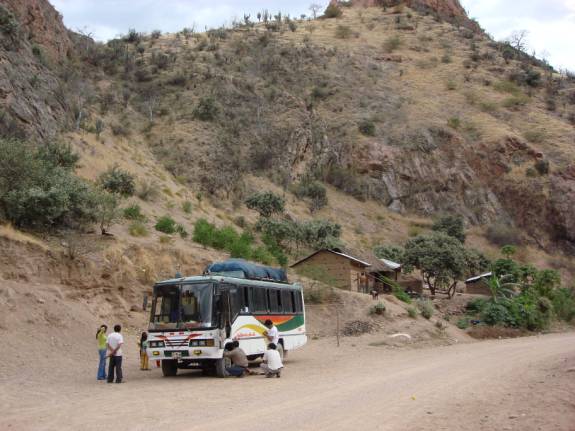 Our bus incurred a failure of a fluid line. I'm not sure whether it was a transmission line or a brake line. Either way, it would affect their ability to control the bus in the steep, twisty conditions. Inventively, they managed to fashion a repair using bits and pieces of hose and wire. These guys were innovators at using Rube Goldberg methods to get back on the road.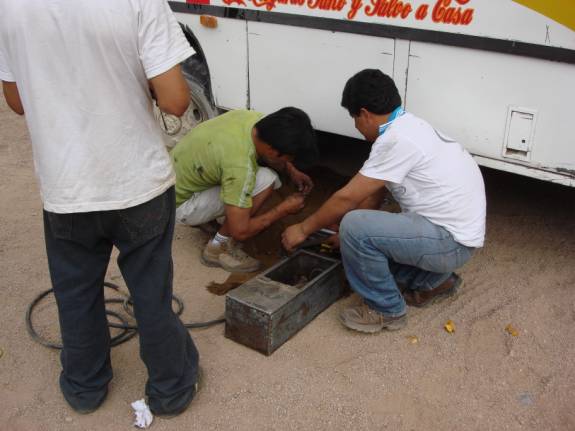 I was fascinated with the adventure side and thoroughly enjoyed watching them ply their trade. Inside the bus, Judy kept a close eye on our belongings while waiting patiently.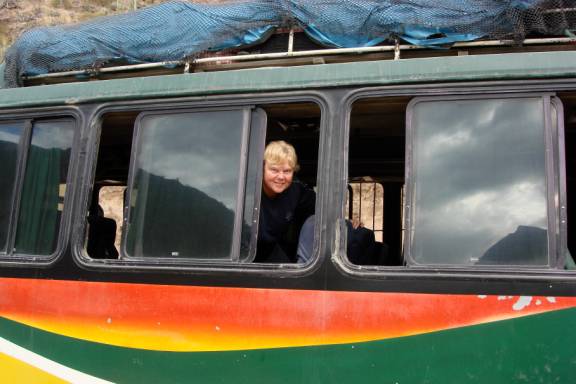 With the leak problem contained, we were soon zipping along trying to make up time lost. Within an hour or so, the bus pulled over with another problem. A left rear tire had gone flat under the harsh punishment imposed by the sharp gravel roadway. Once again, the driver handled the problem swiftly and decisively. It was obvious that, "this ain't his first rodeo".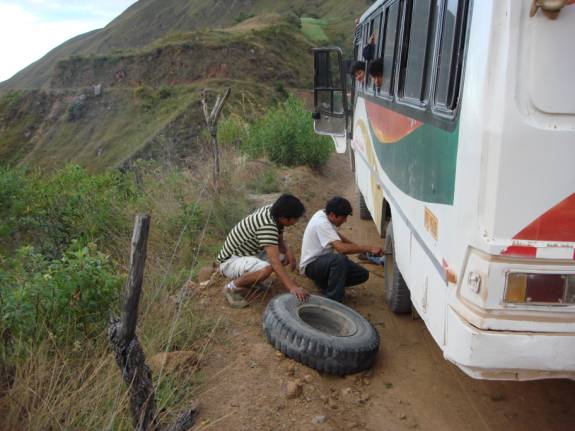 The challenges of rural travel can be many. Added to the list on this trip were; (1) no window seats available, (2) my seat mechanism was broken and the cushion sadly deteriorated, (3) there were many people ill with altitude and motion sickness, (4) one kid was puking on the floor, (5) several mechanical breakdowns, (6) the schedule ran very late, (7) the bus was tightly jammed packed to the max with standing passengers and bags of every description ,and (8) it was well after dark when we arrived in the rural town. I must add that the positives still far outpaced any negative aspects. The scenery alone surpassed our expectations and the sense of adventure was rewarded richly.
Just off the main plaza, we checked into the Hostal Los Cóndores. The only sign said, "Hospedaje" which would be the equal to a guesthouse. We were shown a nice, comfortable room with private bath and 24-hour hot water. The nightly room rate was less than $14 US equivalent. What, no pool? Of course, we could have had a tourist agency book the same room for us at $50 or $60 a night. I love the way we travel…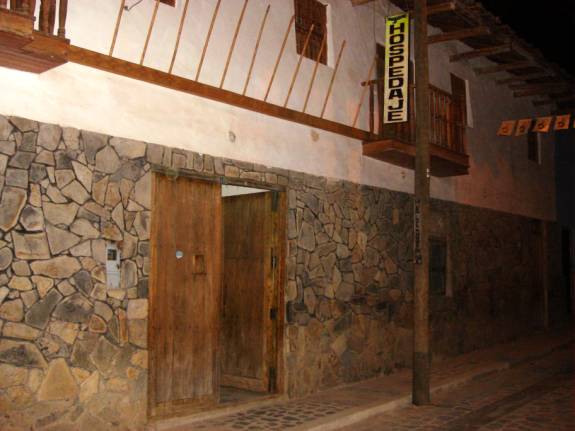 Our choices for dinner were limited, if fact, the only place open was Cely's Restaurant. Fortunately, it is the best place in town and Cely prepares wonderful and economical meals.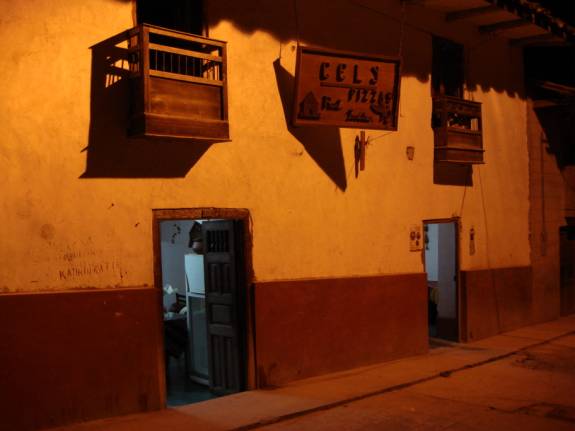 The dinner choice for us tonight was Pollo Milanesa, a tenderized and breaded breast of chicken. It was very delicious. Of course, the service was great since we were the only ones in the place.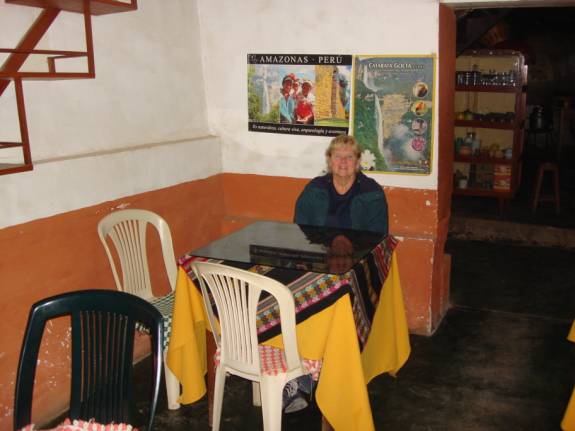 07/19/09 SUNDAY LEIMEBAMBA
We went back to Cely's for a great breakfast meal. It was just the beginning of a big sightseeing day. Of course, a walking orientation of the town was first.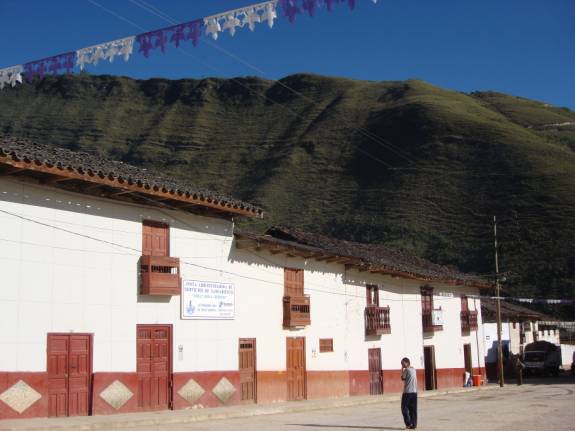 To say that it has a "small town feel" would be a gross understatement.
The stonework catholic church occupies a majority of one corner at the plaza.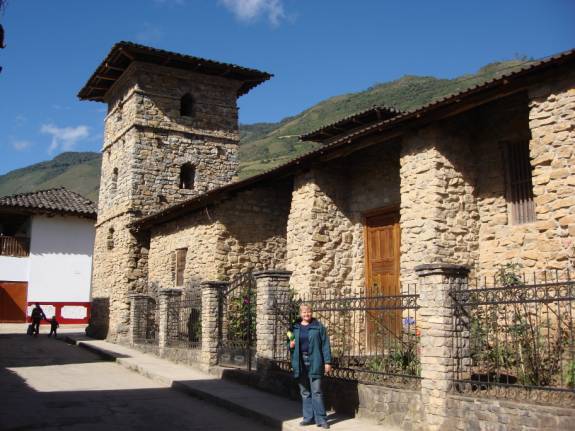 Most of the town's streets are dirt.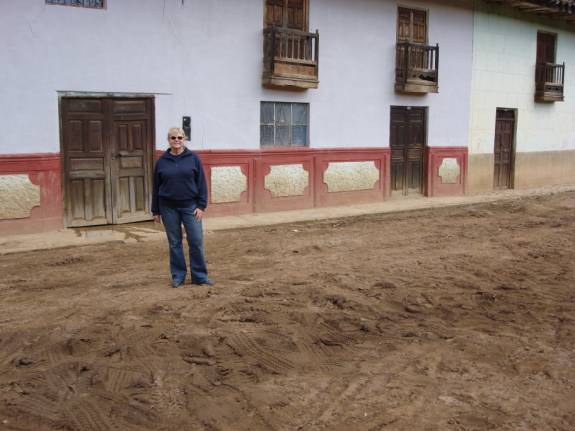 This hen found a convenient spot to scratch out her nest right along the road.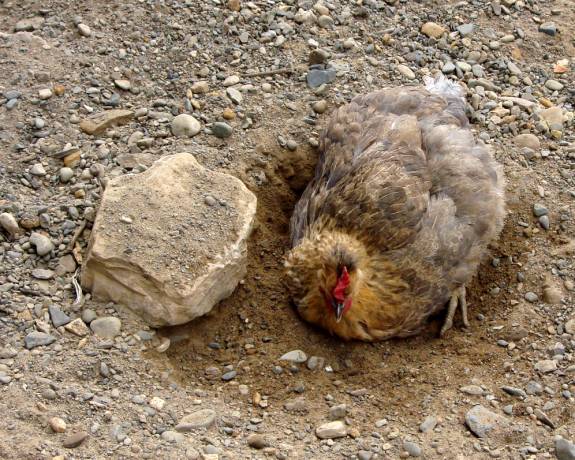 A waterfall and small river run alongside.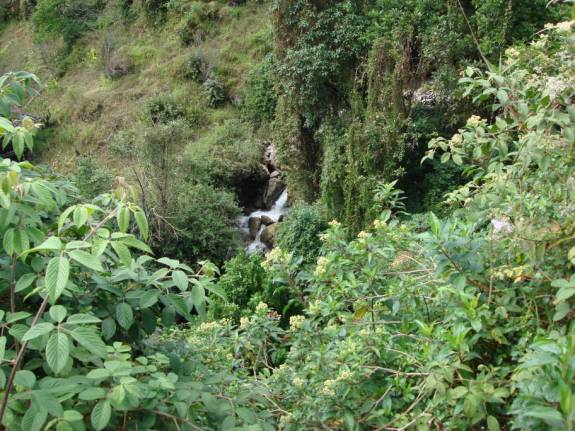 For the most part, the clothes washing is still done by hand in the streams.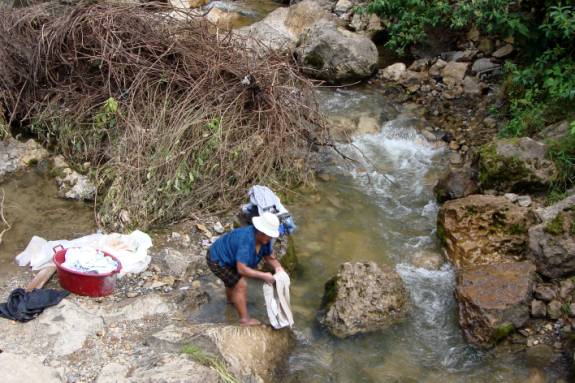 A new rock stairway provides easier access up and down this hill near the center.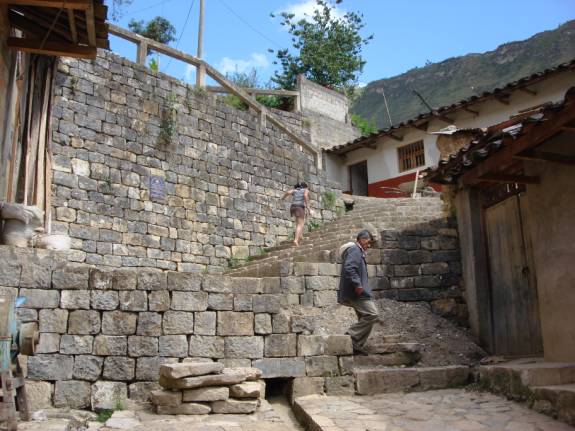 From the central plaza, we took a taxi to the main attraction of the town.
Opening in June 2000, the Museo Leimebamba displays more than 200 mummies and their burial offerings. The archaeological treasure was discovered in 1996 by local farmers working near the Laguna de los Cóndores (Lake of the Condors). Replicas of three funerary statues mark the entrance to the museum.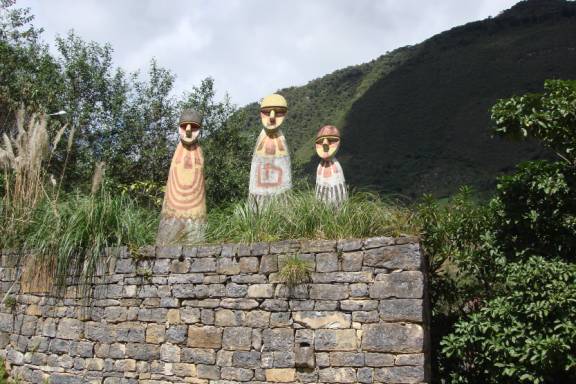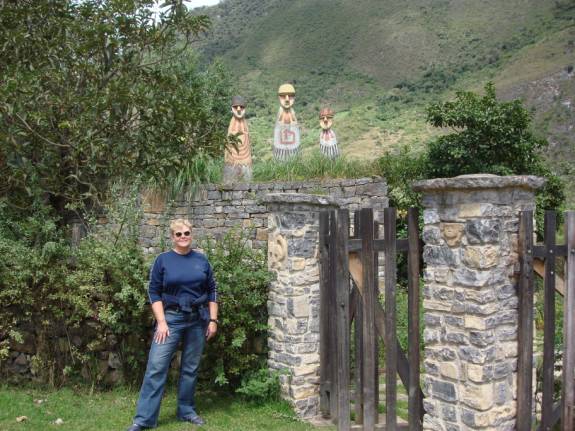 The museum was constructed using regional building techniques and typical local materials.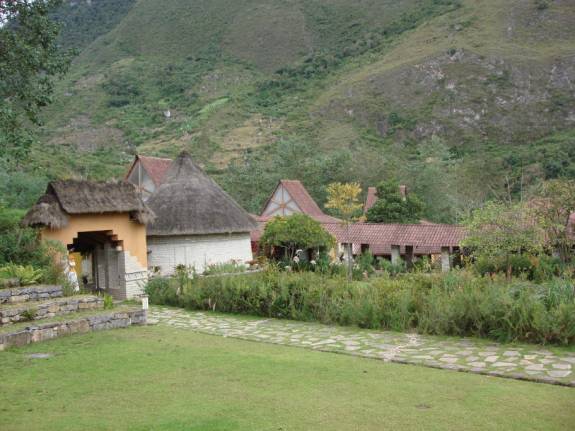 The museum features three main display galleries. The most impressive and unusual is the collection of mummies. They are stored and displayed in a protective room that is environmentally controlled for maximum preservation.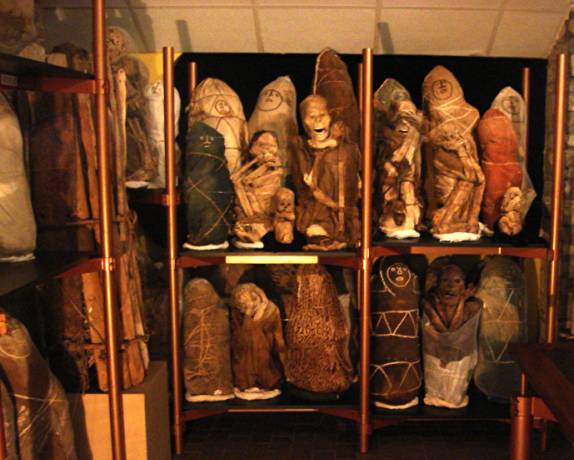 More than 300 feet above the Laguna de los Cóndores (Lake of the Condors), a row of stone burial houses remained untouched for almost 500 years. At this discovery site, mausoleums and intact chullpas or tombs were found in the limestone cliffs. Only discovered in late 1996, many of the tombs and mummies were immediately ransacked and heavily damaged by the local farmers looking for treasure. Fortunately, skilled archaeologists arrived about a year later and more than 200 mummy bundles and a large variety of burial offerings were made recoverable and were reclaimed. Their findings associate the site with the Chachapoya Culture (800AD-1470AD), the Chachapoya/Inca Culture (1470AD-1532AD) and, possibly, with the Chachapoyas influence stretching into the early Spanish Colonial times (1532-1570AD).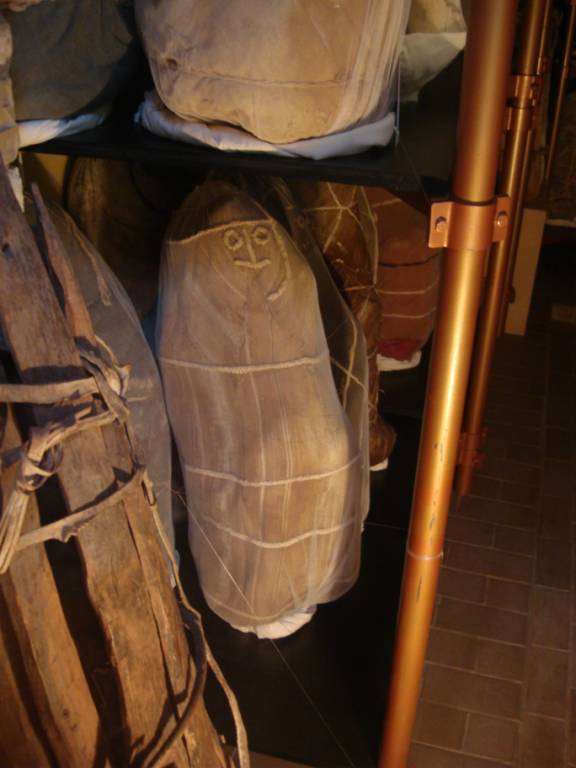 It appears that the found remains were embalmed in an unusual manner, bound tightly in a compressed position, and wrapped in layers of cloth to preserve and protect. Interesting designs embellished the outer wrappings.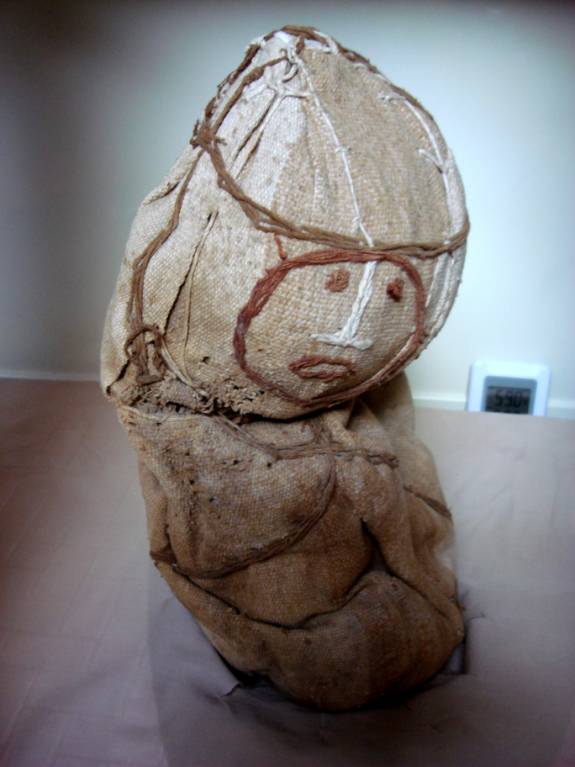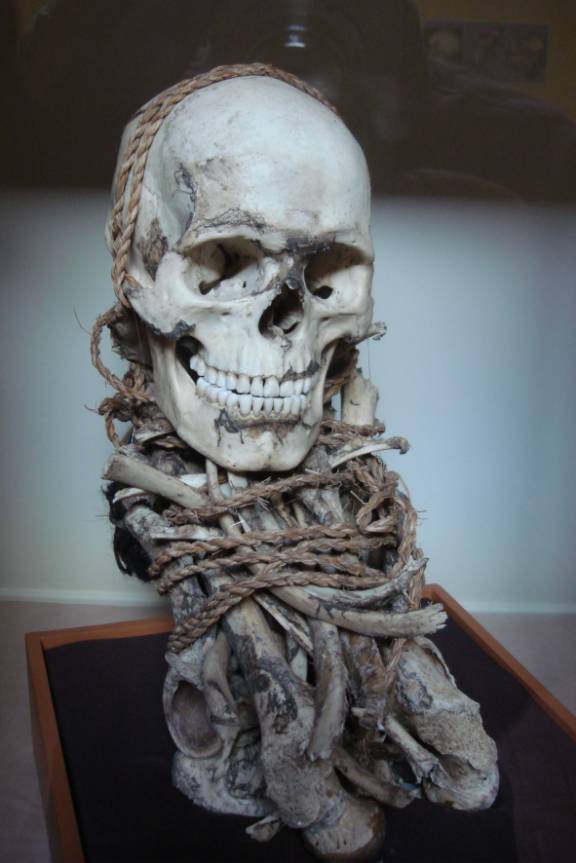 The museum displayed some wooden staves, in barrel-like fashion, that were used by the Chachapoyas people in funerary practices.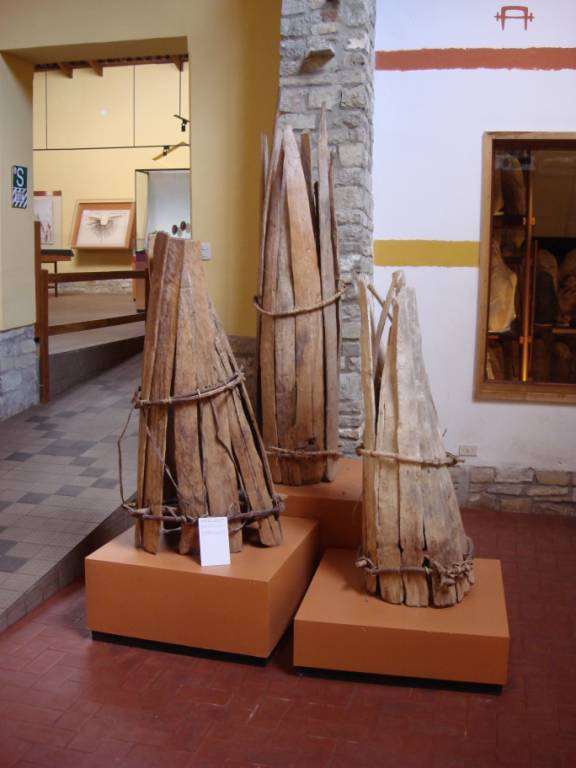 At some Chachapoyas sites, a shell was constructed to create a funerary statue that was placed in the cliff openings.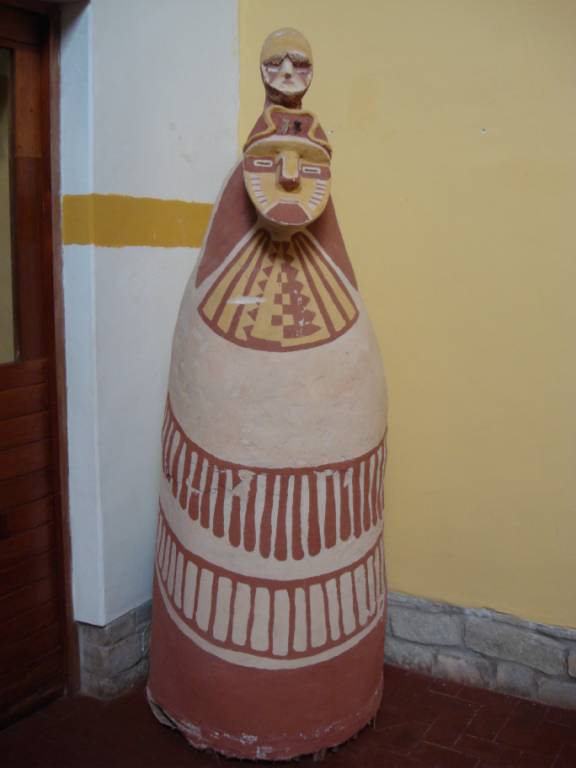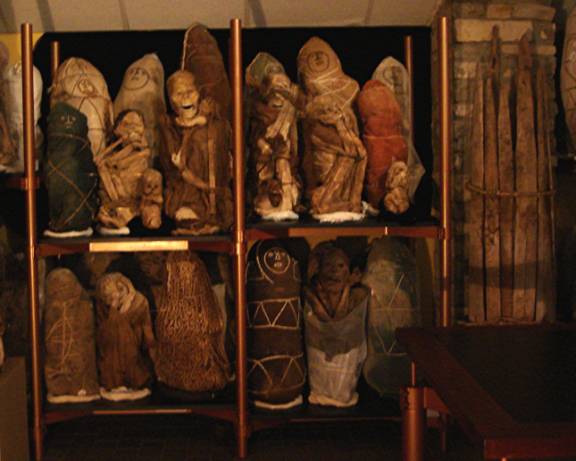 The museum was fascinating and revealed a totally unconventional method of honoring the departed. We have seen mummies before but absolutely none like these.
Leaving the museum, we walked up to a beautiful area of floral gardens and a hummingbird preserve called, "Kentikafe".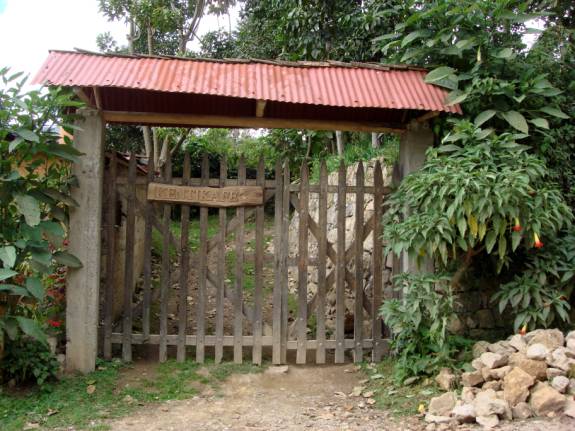 The floral variety and brilliant colors were amazingly beautiful.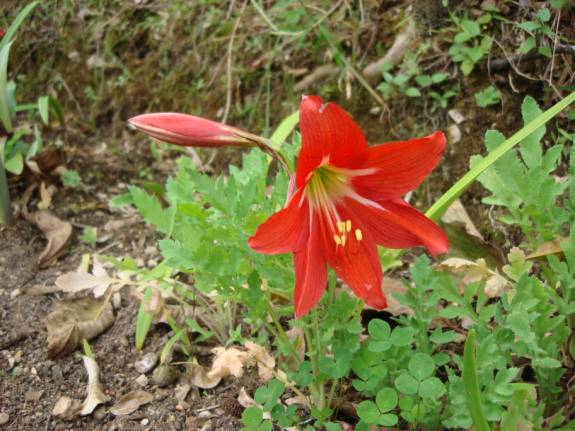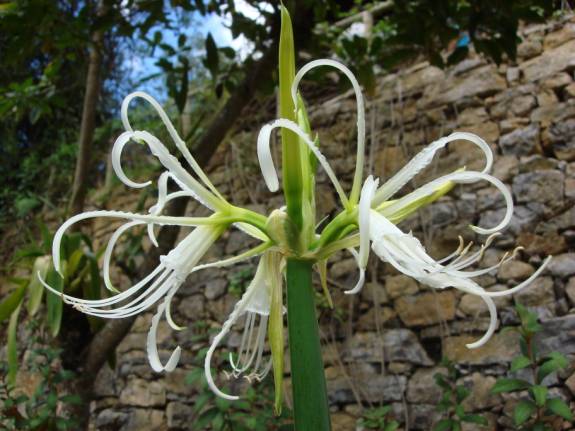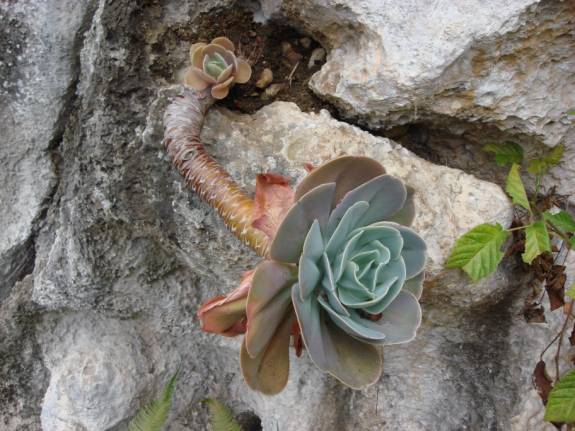 We were told that up to 17 different types of hummingbirds visit these feeders. We felt fortunate to see several of these varieties flitting and hovering with their rapid wing motions.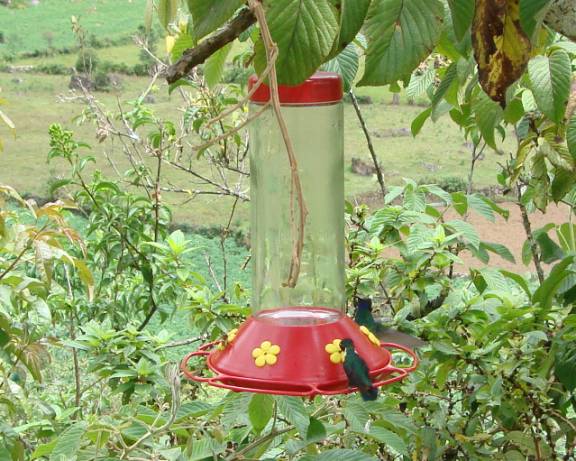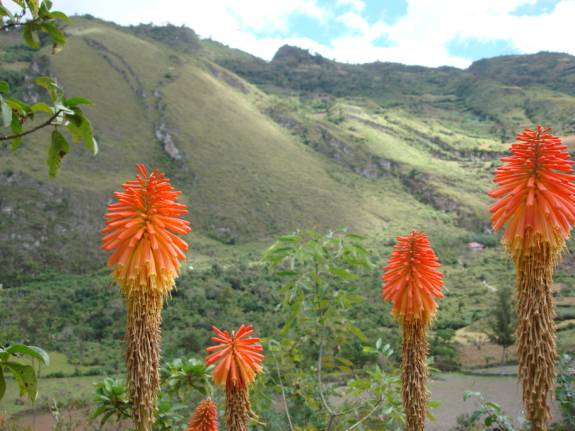 For what reason I can't imagine, this pup seemed to take a liking to me.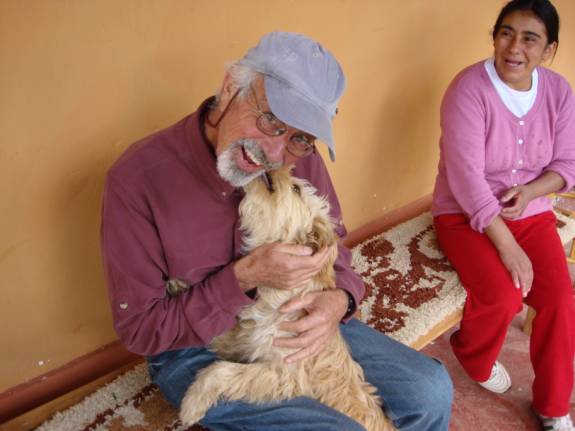 The rapid little birds were very difficult to photograph. In most instances, by the time the camera could focus and click, they were gone. In this group of pictures, look closely to see the differences in variety, coloring, and bill features.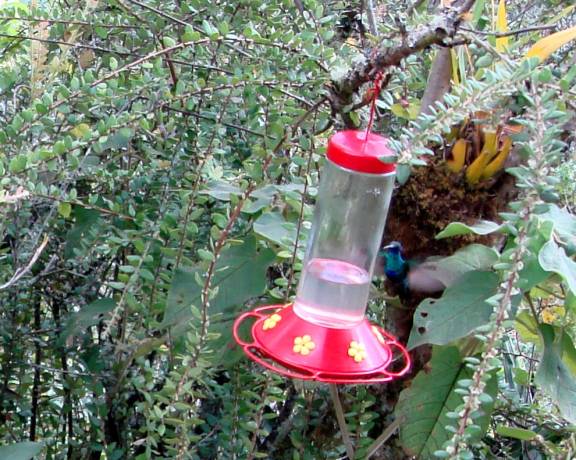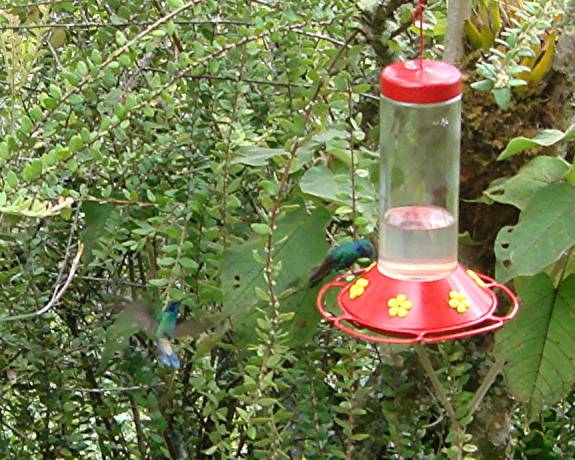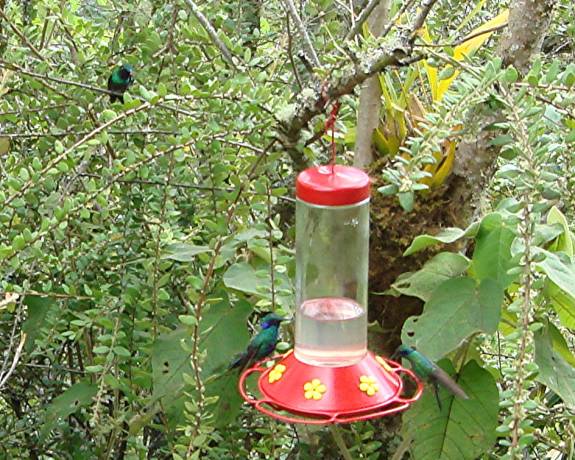 The preserve has an outside coffee bar is set up with fantastic views. Serving 100 % pure Peruvian coffee, I felt like I was nearly in heaven.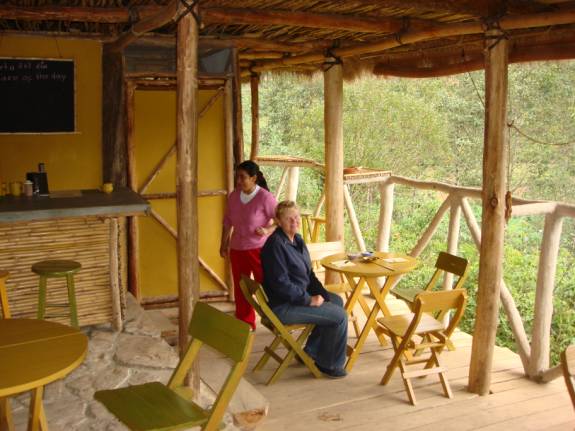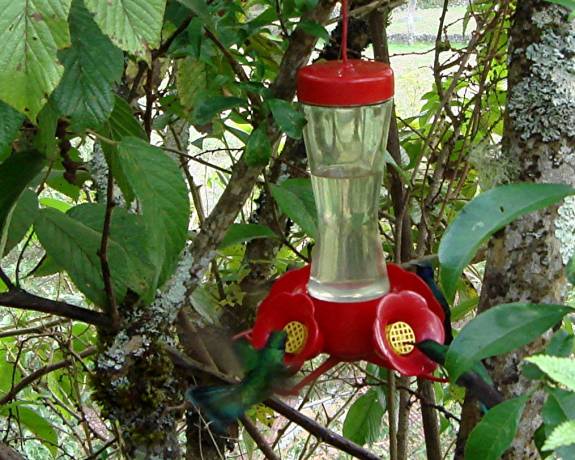 Notice the exceptionally long bill of this variety. This one was my favorite.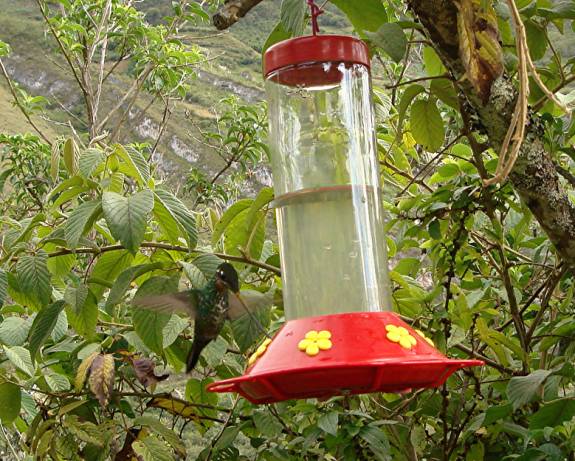 Notice the unusual coloring of this hummingbird. In Spanish, hummingbirds are called, "Picaflores".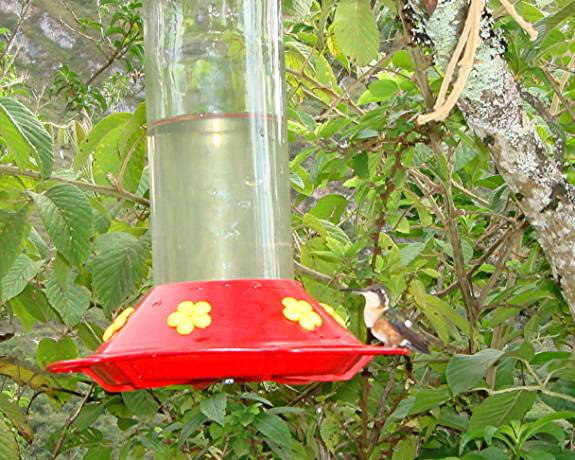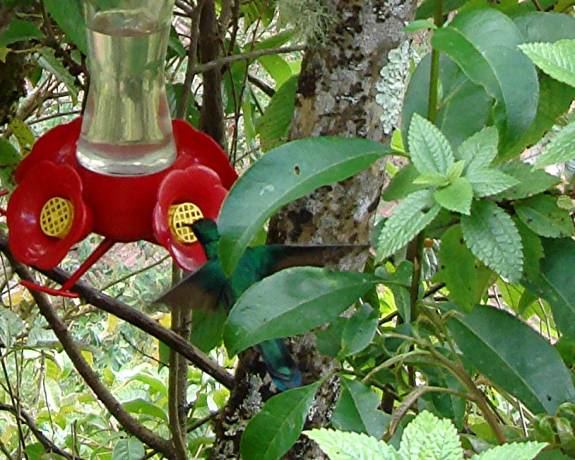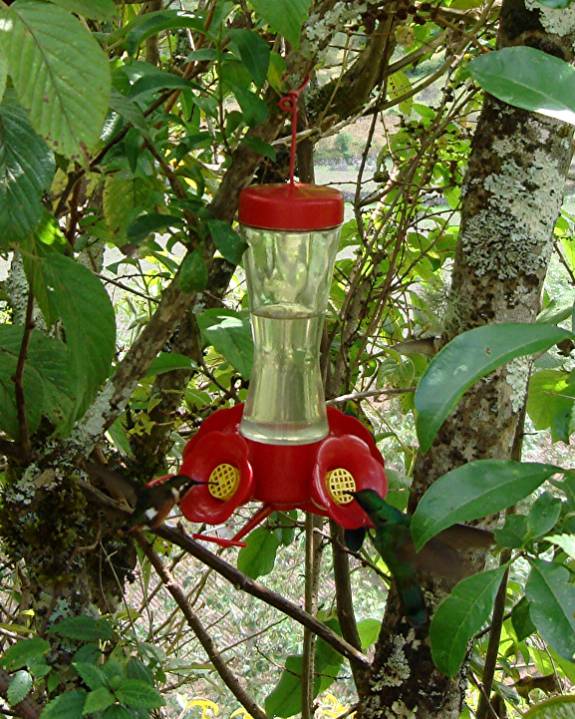 Rapid wings allow them to hover motionless, and then zip away in a flash…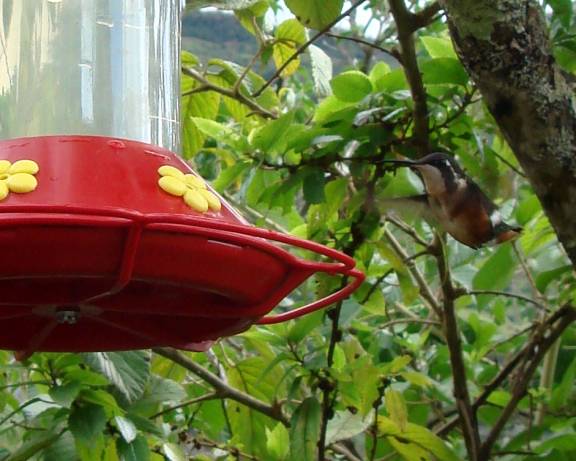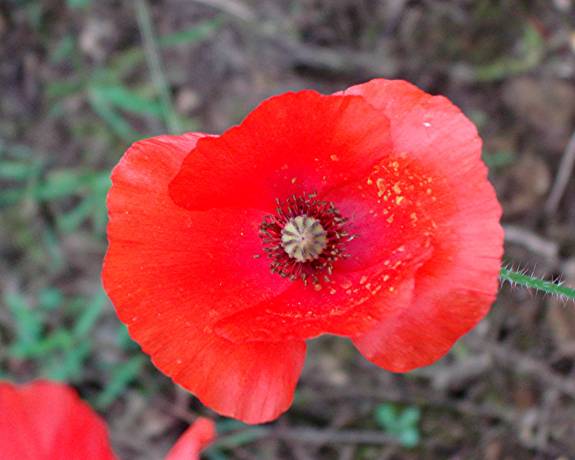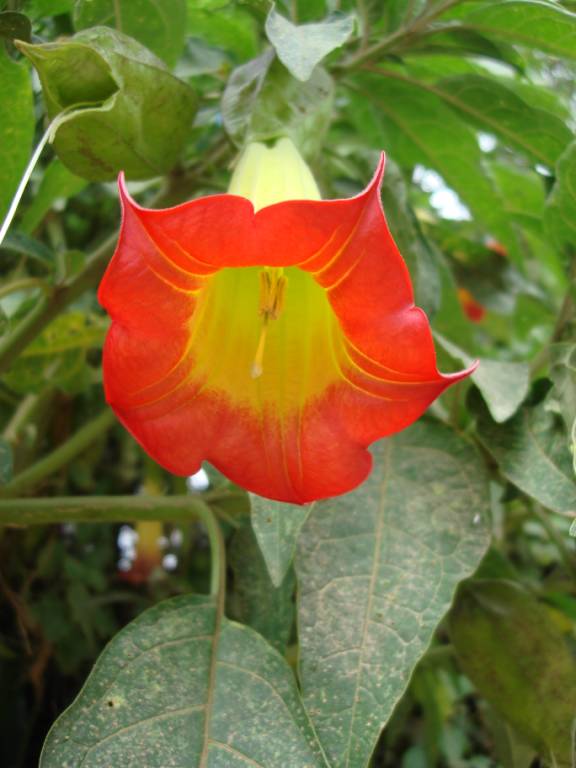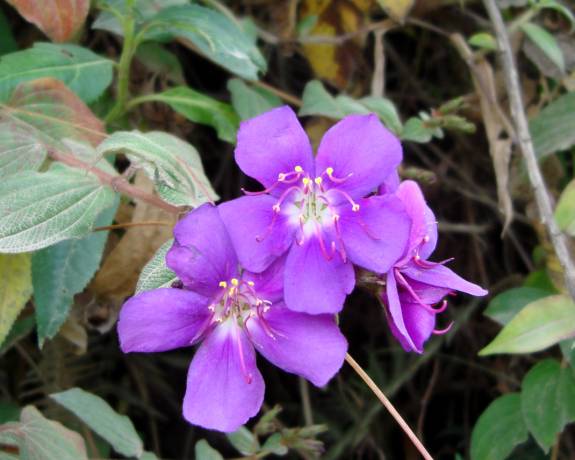 Judy at a corner of the central Plaza de Armas with the twin, stone towers of the church behind her.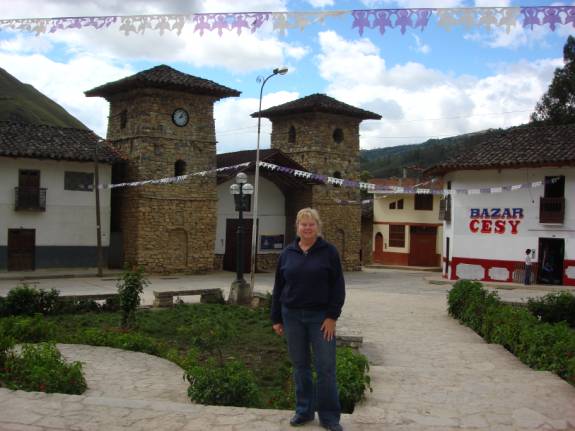 In the Plaza, there was a model of the funerary mausoleums like they found at Laguna del Cóndores…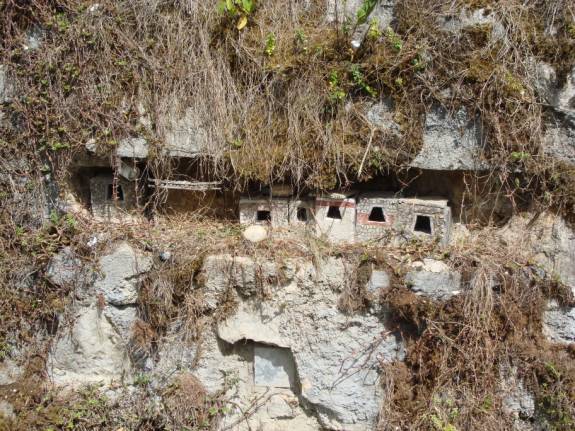 Most likely, Henry and Lilly (OH HENRY) will appreciate this sign hanging in the La Tushna Restaurant where we had lunch. Translated, is says, "put potatoes on your plate, the potato is nutrition". Sounds like good advice to me…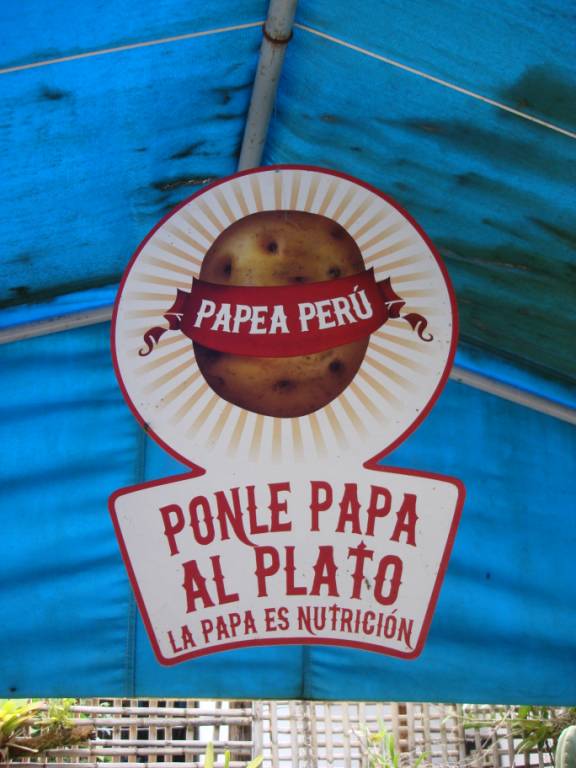 For dinner, we returned to our favorite place. Cely is a delightful person and a great cook. We have enjoyed every meal that we've had there and odds are that we will be back again tomorrow.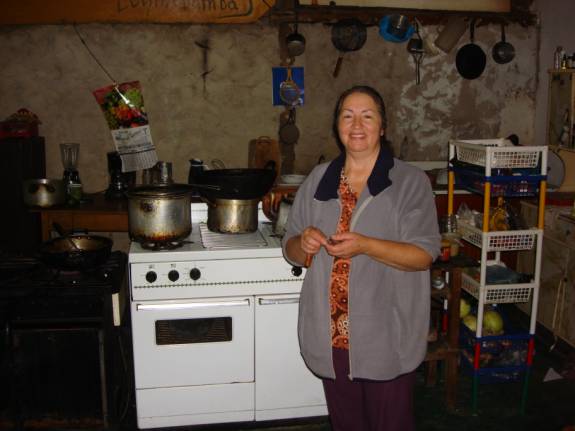 We arranged our onward bus travel for early Tuesday morning. We also made arrangements for a horseback trip into the mountains and to an Inca ruins site for tomorrow. The weather has been fantastic and the townspeople have been very friendly. LeImebamba is such a nice place to visit.
CONTINUING UPDATES ARE IN PROGRESS…
WATCH FOR THEM, COMING SOON…
POST SCRIPT:
We sincerely hope that you will review the previous years of compilations to give context to the current editions. Please let us know if you have any special suggestions and thoughts.
REMEMBER: The website is now fully active and you can visit it at any time. You can also review any of the previous logs from the years 2006, 2007, or 2008 and learn more about the crew and their many adventures. Enjoy.
ATTENTION: SPECIAL NOTE:
You may contact us via email anytime.
Thanks for allowing us to share our life and adventures with you.
Lotsa Luv,
Fred Reed and Judy Law
AMARSE
MT40
"AMARSE" is pronounced "AM-ARE-SAY".
Our website is: www.amarse.net .