UPDATE#31 11/16 thru 11/25
Howdy Everybody,
The adventures of 2006, 2007, and 2008 through 11/15/08 have been published on the website. We continue with the latest edition.
UPDATE 2008 #31 11/16/08 thru 11/25/08
At last update, we were traveling south along the ICW (IntraCoastal Waterway) in northern Florida.
11/16/08 SUNDAY NEW SMYRNA to INDIAN HARBOR BEACH, FL
HAPPY BIRTHDAY to FRED REED. HEY, WAIT A MINUTE, "THAT'S ME"!
What more could a guy hope for on his birthday? Amidst everything else that's wonderful, it is an absolutely gorgeous day in Florida, I've got the greatest and most beautiful woman in the world at my side, I've got a fabulous boat to cruise in, and I'm enjoying every minute of it all.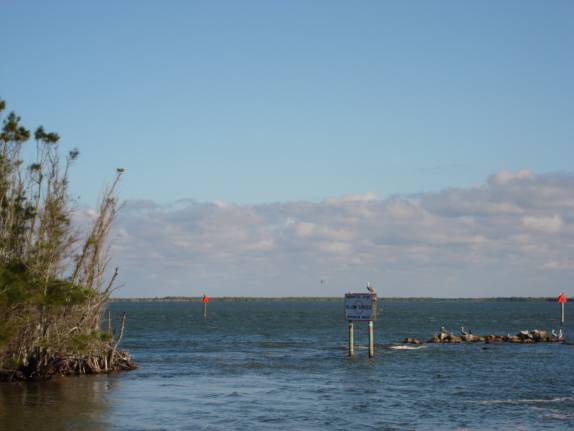 Herons standing watch in the Haulover Canal at Mosquito Lagoon…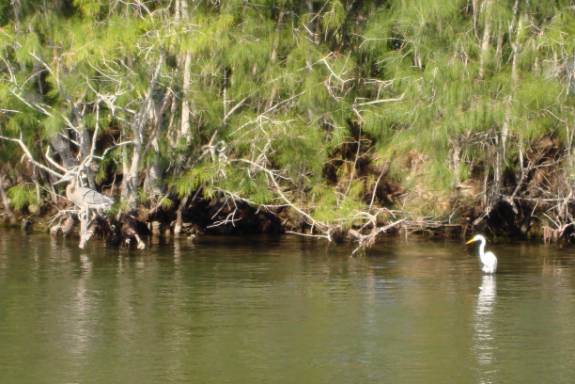 Kayakers briefing at the southern end of Haulover Canal…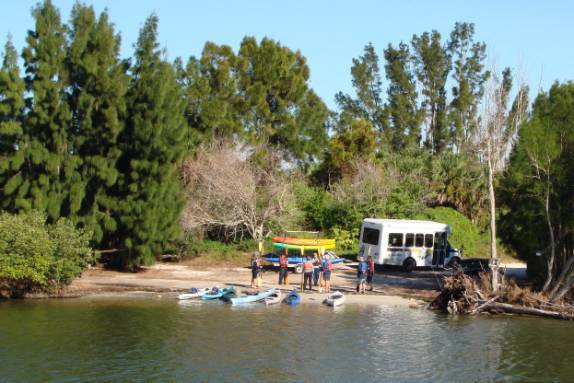 Titusville Swing Bridge…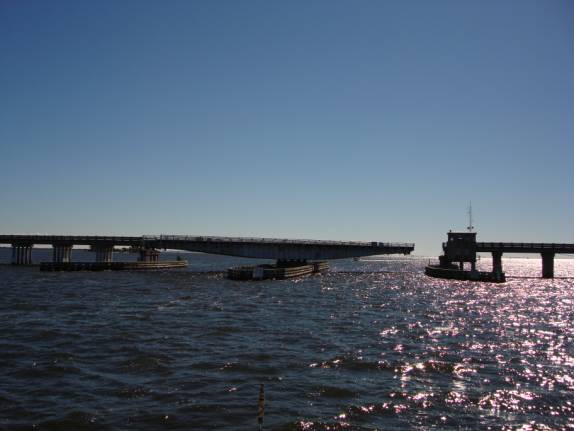 We get to see about every type of boat imaginable during our journeys. This fellow is content under foresail loping along at only a few miles per hour. I'm not sure whether it is a replica or an authentic original.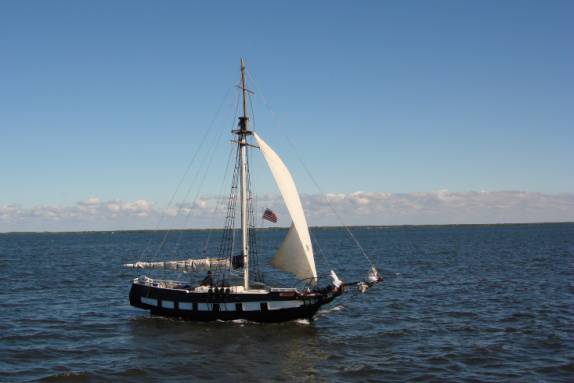 CHABLIS makes gentle way passing us on her course to Cocoa Beach to visit with Pat and Marney Bowlds. They toured the Tuscany region of Italy together this summer.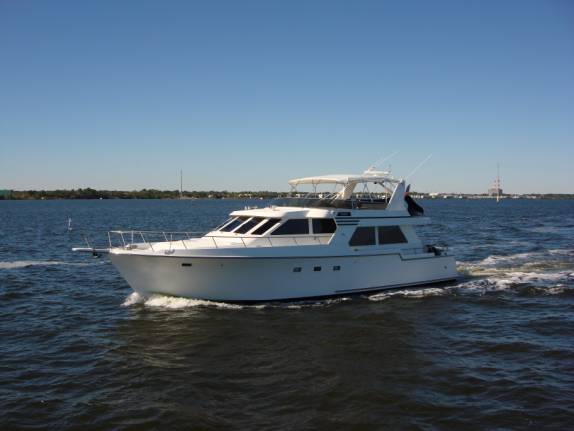 We saw this unusual looking vessel at anchor near Cocoa Beach, FL.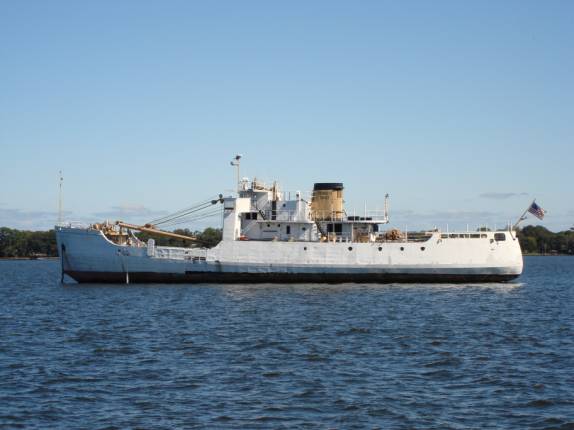 This is good livin'…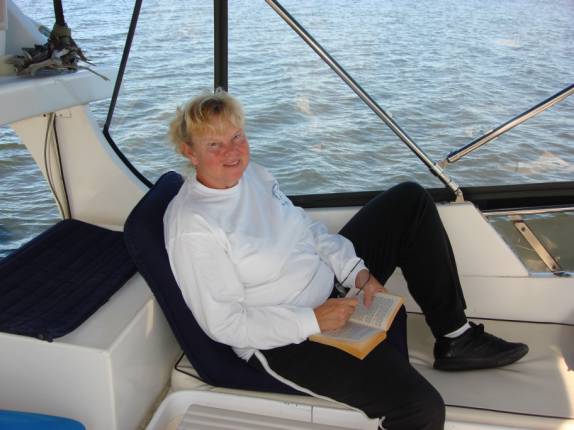 I say again, "this is good livin'…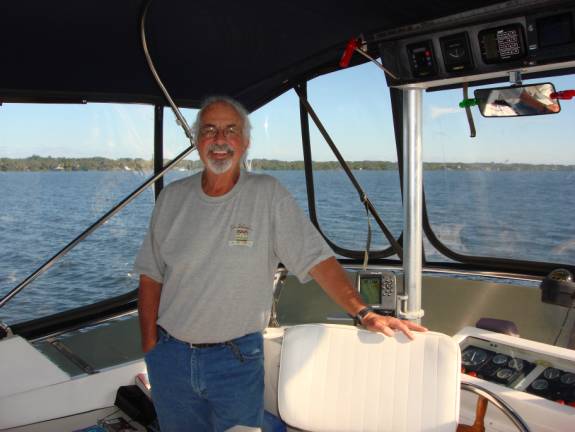 By 3:25pm, we had set our anchor firmly in the tranquil setting of Indian Harbor Beach behind Dragon Point. We had traveled 68.3 miles today at an average moving speed of 7.9 mph.
This sunset photo looks west from the Banana River and across the ICW toward Eau Gallie, FL.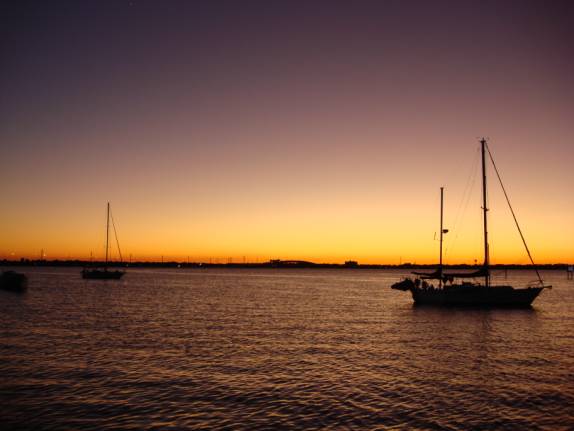 For dinner, Judy prepared sliced turkey, rice, and gravy. Yes, there was a bowl of my favorite black olives for munching. I am so fortunate; Judy not only made my birthday wonderful, she makes my life fantastic every day!
POSITION: N28 08.541 W080 36.075 ICW mile marker 914.2.
11/17/08 MONDAY INDIAN HARBOR BEACH to VERO BEACH, FL
Today's weather is set to be clear skies, cool temperatures in the 50's, and northerly winds at 10 to 15 mph.
Raring to go at 6:40am, I pushed on the button to start the starboard (right) engine but nothing happened. Initial troubleshooting took me down into the engine room where I determined that the starter solenoid relay was malfunctioning. Judy located my manual starter button in the big tool bag and I clipped it to the terminal posts to bypass the solenoid. The little red light on the button indicated a "go for start" and when I squeezed the contact button, the engine cranked to life. With both engines humming nicely, Judy retrieved the anchor from its secure hold and had it stowed at 6:58am.
This lovely anchorage on the Banana River has been one of our favorites for many years. Unfortunately, the famous dragon figure still lies in ruin at the point waiting patiently for a total restoration. As seen in this picture, the local yacht club occupies the other bank.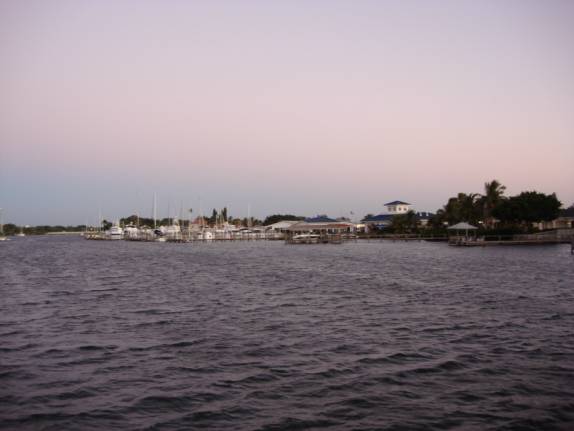 This pelican decided to give us a little demonstration of his flying skill and his fishing prowess. He traveled along with us flying concentric circles around AMARSE.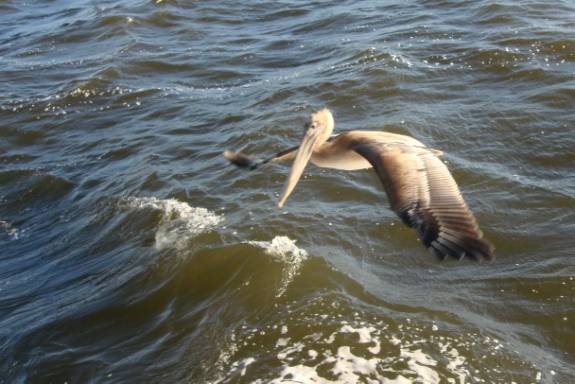 On several passes, he would tuck back his wings and make a high-speed dive directly into the water to snag a tidbit or two for breakfast. I love how this picture shows the wing position and the entire bill poised for the attack.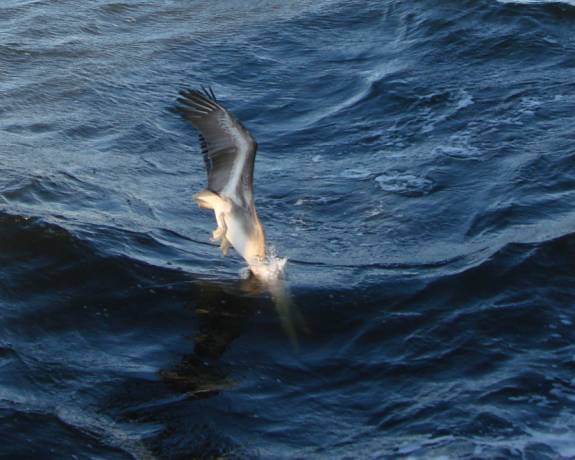 A while later, several frisky dolphin joined in the wake of AMARSE to escort us through their territory. Their swimming skills are nothing less than phenomenal.
A radio call came in from FULL TILT requesting that the trawler approaching them from the stern to give them a smooth, slow-pass. It caused her quite a surprise when I simply responded, "No problem, Becky". Of course, she could not see our name board and had no idea who we were. She responded in a questioning manner, "who is that and how do you know my name?" When I explained that we had met her and Deane in New Smyrna, then she knew right away who we were. Hopefully, they will have a very pleasant trip on south to Key West.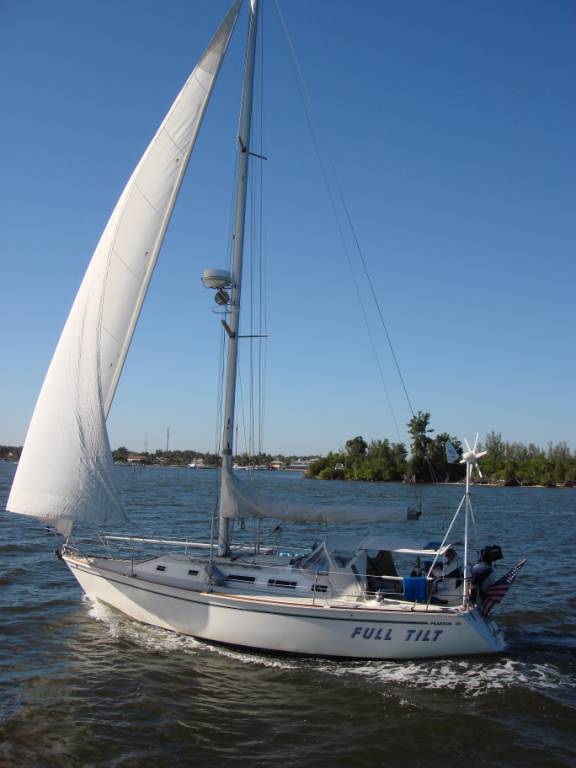 There were still 40 minutes remaining before the noon hour. AMARSE easily located the assigned mooring ball #6 and Judy skillfully snagged the pennant with her dock pole. With a cleat hitch, AMARSE was secured for our stay here at Vero Beach Marina. Of course, for added security, we later attached a secondary line passed through the mooring eye as a backup.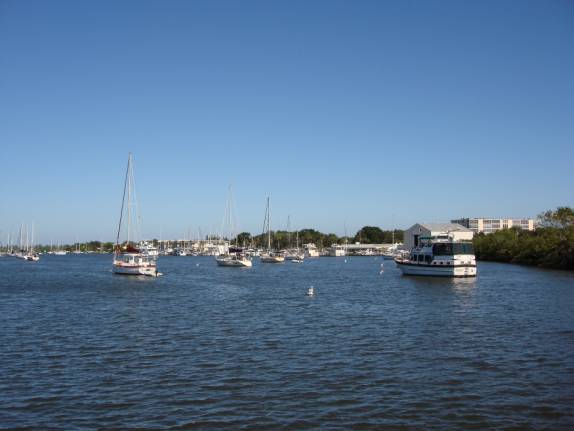 After securing the boat, our first order of priority was to lower the dinghy. It is always a nice feeling when your outboard motor starts right up. The dinghy will be our only access to shore during our stay. It will surely get quite a bit of use. As one friend put it, "it's just like the family car".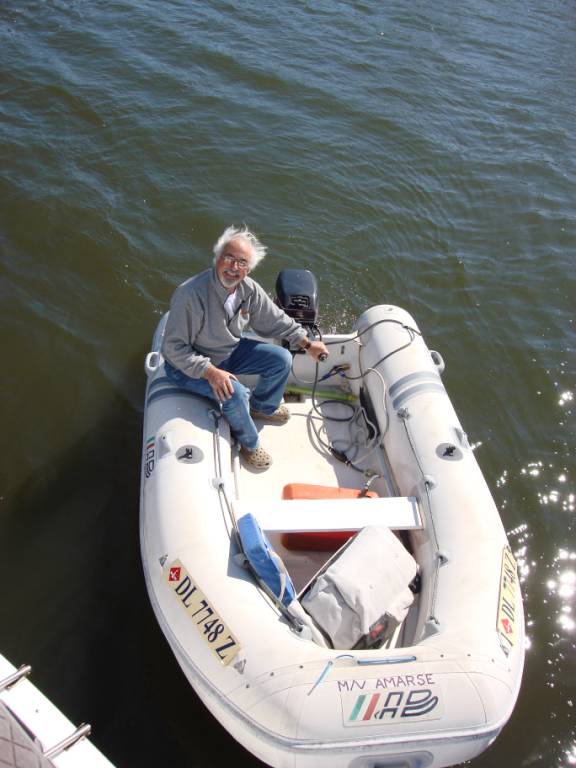 We made sure that all the dinghy equipment was in good working order. The dinghy running lights are portable, battery-powered units. With fresh batteries, we were prepared for night operations too. With the frequent local and state police water patrols seemingly eager for revenues (excuse me, I meant that they are seemingly eager to enhance safety), it is quite important here in Vero Beach to operate by the book. No running lights at night could almost guarantee a violation citation.
I was also able to repair the stern running light on AMARSE. Locating a broken wire on the plug attachment made the rest of the repair easy and straightforward.
After zipping over to the dinghy dock, we hopped aboard the #1 bus at 2:45pm. The ride fare is free and free is good. The hourly bus that passes through the marina at 45 minutes past each hour travels out to the beach zone at Humiston Park. The bus circles back through the marina again, at about 5 minutes past the hour, then, continues on to the shopping areas and transfer station at Pocahontas Park. We got off at the Publix grocery store. A bus will pass through here again at about 40 minutes past each hour on the return trip to the marina. Essentially, you have about 25 minutes to pick up a few items or else wait an additional hour for the next bus. The last bus back to the marina passes by Publix at about 5:40pm.
A West Marine Express store is located across the street from Publix. I ordered a new, deck down-switch for the anchor windlass and a gallon of canvas waterproofing material. It is a nice arrangement that West Marine has with Lewis Marine in Cocoa, FL. WM will order from LM for early morning delivery to the store for only a $1 fee. Lewis Marine maintains a much larger stock than West Marine. After grabbing up a few perishable from Publix, we were out of time and caught the 4:40pm bus back to the marina.
A tranquil but northerly breeze settled in to the peaceful harbor. The mooring field extends quite a way north from here.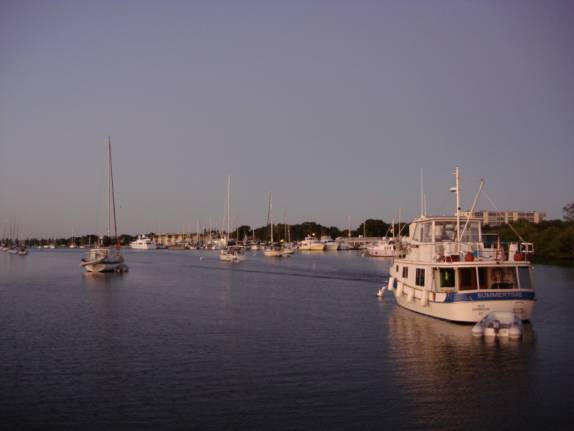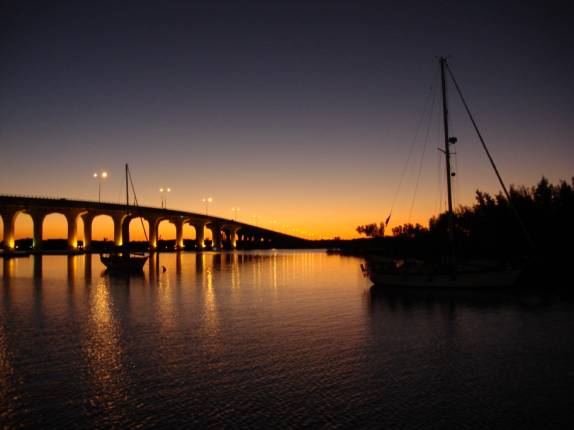 AMARSE had travel south for 38.7 miles at a moving average speed of 8.7 mph. According to our GPS unit, we have traveled 280 miles since our departure from Brunswick.
POSITION: N27 39.264 W080 22.256
ICW mile marker 951.7
11/18/08 TUESDAY VERO BEACH, FLORIDA
I started off the morning in the engine room to check the equipment fluid levels. The engine and transmission levels were OK and I added about a half a liter of distilled water to the two batteries.
This time we caught the 10:05am bus to Pocahontas Park Transfer Station. Within walking distance, we located the NAPA auto parts store known also as Indian River Auto Parts. It is located across the big street adjacent to the Transfer Station and behind the oil change business. On that street, it will be next to Bobby's Plumbing Company. The address is: Indian River NAPA Auto Parts, 2400 12th Avenue, VB. The phone number is 772-562-6552. They were helpful in locating a new engine start solenoid for that failed unit. The NAPA ST45 Starter Solenoid was designed for marine applications and the specifications matched our need. While there, I ordered a second one for a backup spare. Rumor has it that they will deliver parts to the marina, if desired and requested.
On the way back to the Transfer Station, we stopped by the Chamber of Commerce for some hints. They were very friendly and we learned of some neat stuff to do here in town.
At 11:30am, we found seats of the rapidly filling bus #2. It loops through Target to Lowe's before arriving at the Indian River Mall turn-around point. At 12 o'clock noon, the same bus left the mall returning past the Target store again before heading back. The stop for Wal-Mart and Sam's Club is only available on this leg of the return. When the bus arrived at Wal-Mart, it was 12:15pm resulting in a 45-minute jaunt just to get there. We filled our canvas tote and an insulating bag with goodies for our larder.
Three hours later, we boarded the return bus and, with a transfer, arrived at West Marine to pickup our order at 3:40pm. While waiting for the 4:40 bus back to the marina, I slipped quickly into Publix to find a nice, 12.8-pound Butterball turkey.
Another trawler, HUNKY DORY, was rafted to the side of AMARSE. We didn't get to have much conversation with them, as they seemed preoccupied. SEA ISLAND GIRL had arrived this afternoon and was tethered further up in the mooring field. We stopped by for a quick welcome visit. It was getting too windy and chilly to hang around very long.
Lots of wind picked up around 8pm with another, stronger "Norther" that reinforces the in-place system. The forecast has us expecting strong, north winds and higher seas through the weekend. Looks like we'll be here for a while. Oh well, as they say, "It ain't all that bad aroun' here".
11/19/08 WEDNESDAY VERO BEACH, FLORIDA
It had been cold and windy last night with temperatures down in the low 40's. We heard the folks on HUNKY DORY moving around, however, we thought that they were probably just taking the dog ashore. As the tempo rose, I took a better look to see what was happening. They were ready to get underway and had already dropped their mooring line, untied from our cleats, and were starting to depart. Much to my amazement and dismay, they had tied their lines to my handrail stanchion post to hold them in position. In all this wind, these supports were designed for hand holding, NOT for heavy boat holding. I was amazed that anyone would do that to someone else's boat. They were just slipping off their lines when I got there so I didn't chew anyone's head off. It is beyond me why they just didn't request a little help to protect both of our boats. I learned later that upon their arrival, it was quite a sideshow and it took them over an hour and many approaches to get tied up to us. It's just as well that we were away and that AMARSE was well fendered, I just might have had heart failure over the tension-filled process. I would suggest to all cruisers that almost every boater that we've ever met would be more than happy and willing to assist you with lines or numerous other types of help if you'd only ask. The more help we get, the smoother and safer everything else will be. No one will be considered a hero for doing everything on his or her own and it is never heroic to damage someone else's boat.
Robert and Carolyn Wilson had already dinghied in and were ready to do some serious shopping.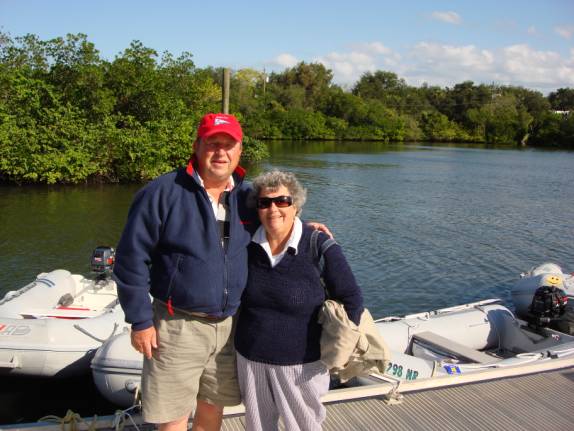 With a transfer from the #1 at Pocahontas Park Transfer Point, we boarded the #2 bus for Target and the big sale at Beall's Department Store.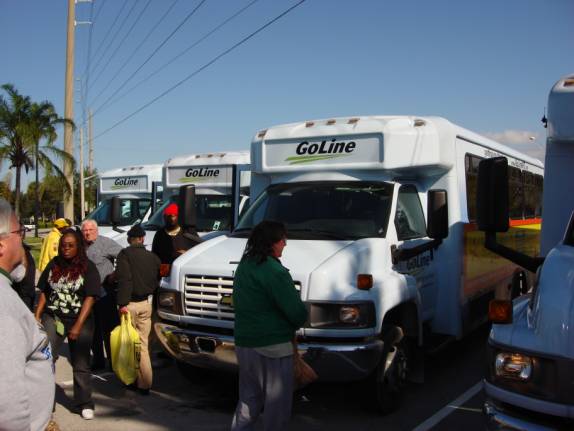 We netted some great bargains on clothing at Beall's and, once again, exceeded our budget allowances. Oh well, you know what they say… Wait a minute, "Just what do they say?"
11/20/08 THURSDAY VERO BEACH, FL
You guessed it, more shopping in the morning today. A respite at the Panera Bread Company restaurant allowed us to get some internet connection for weather planning and a couple of quick emails. Not having regular internet access is a major pain in the "you know what".
On the returning bus, we joined Dave and Barb (CHABLIS) and Robert and Carolyn (SEA ISLAND GIRL) for the continuation to the beach area. As previously arranged, we would luncheon at the Ocean Grill overlooking the Atlantic Ocean. Everything was absolutely wonderful. Judy chose the Dolphin (Mahi Mahi) sandwich and I chose the Nova Scotia Sea Scallops sautéed in a mustard butter sauce.
I had called inquiring about a stage play at the Riverside Theatre. Tonight was opening night and I was interested. The tickets were $50 Orchestra, $35 Mezzanine, and $20 in the upper balcony. The box office quietly informed me that there would be a possibility for "Rush Tickets". One hour before the show, the box office would sell remaining tickets at only $10 in any available category of seat. Wow…!!! That's my kind of deal.
At 6pm, we walked to the theatre complex. Of course, I wanted to be the very first in line to secure the best of the tickets. We certainly were first after arriving 40 minutes before box office opening time.
The theatre complex is absolutely magnificent. There are multiple stages here and the entire facility is culturally sophisticated. An active Equity theater, Riverside produces in its 692-seat main stage theater, and in its second theatre, The Waxlax Stage, flexible seating can be varied between 100 and 250 seats. An adjacent 312-seat children's theater is busy year long with amateur and professional productions. Its celebrity series brings in big name performers. It also offers a Distinguished Lecturer Series and family events.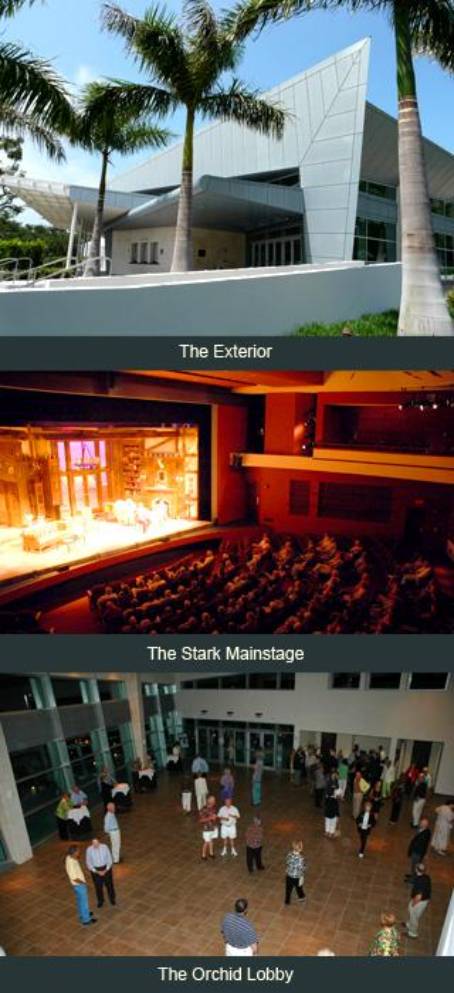 Tonight, we were to experience the production of "Souvenir" on the Stark Main Stage. The play with music is an exploration into the uniquely challenged, musical endeavors of a dramatic coloratura soprano and her accompanist.
At 7pm, our patience paid off and we were rewarded with exceptional seats in the 7th row center of the Orchestra section. We had just gotten the best of the best $100 chairs for only $20 and, to top it all off, it was opening night.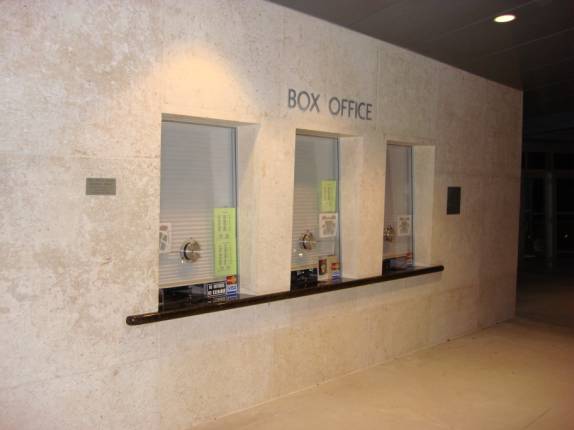 Written by Stephen Temperley, "Souvenir" has become one of the most produced new plays around the country, in part because it has only two characters, Florence Foster Jenkins and her devoted accompanist, Cosme McMoon, performing on a singularly set stage.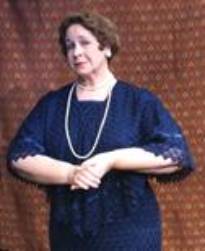 Based on the true story about a Jazz Era society matron, Florence Foster Jenkins, Souvenir tells the story of the New York socialite who gave a series of legendary charity concerts in the 1930s and 40s. Those concerts became the stuff of legend since Jenkins was unable to recognize pitch, key or tone. Souvenir begins with her music director, Cosme McMoon, now performing at a piano bar, reminiscing about his twelve years affiliation with Madame Florence. At times hilarious, this play with music is a touching "fantasia" that celebrates the triumph of the human spirit and the resilience of true friendship.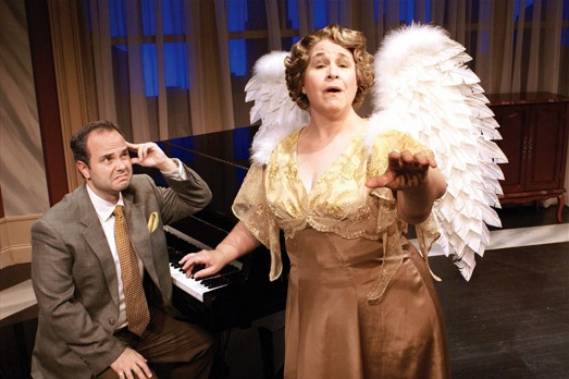 She was, by all accounts, a painfully untalented singer, but that did not prevent her from making recordings and playing Carnegie Hall to a sold-out audience of her fans.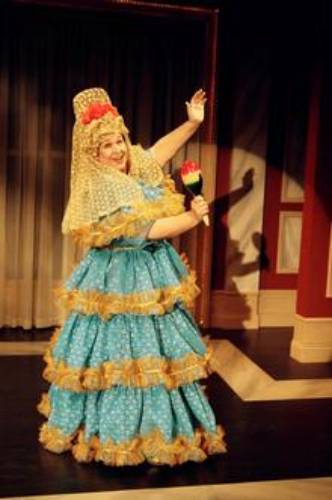 We enjoyed every minute of these talented professionals bringing this unusual story to life on the stage. The actors were cast perfectly for their roles.
At the conclusion of the magnificent production, we had the opportunity to meet and greet the cast duo and other theatre dignitaries. For the opening night celebration, an elaborate buffet was offered in the Orchid Lobby of the theatre.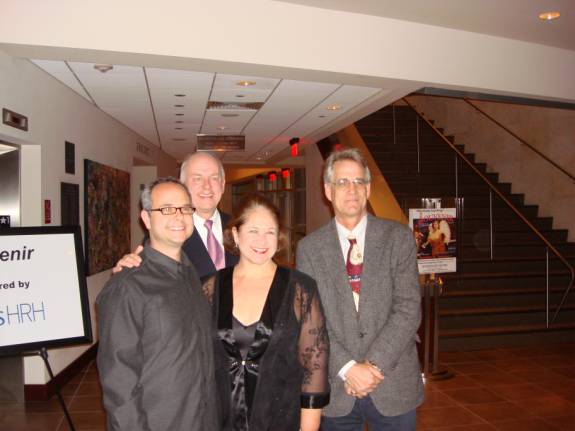 It was a bit of a chilly walk and dinghy ride back to AMARSE moored at the Vero Beach City Marina.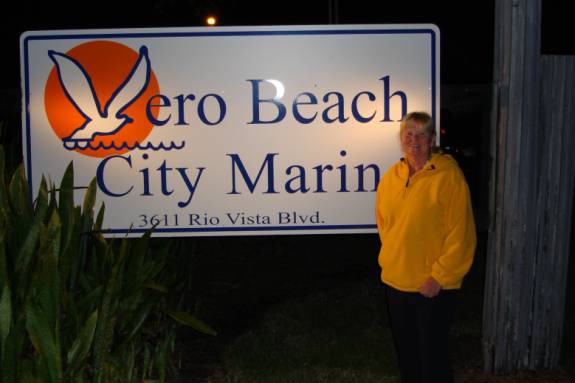 11/21/08 FRIDAY VERO BEACH, FL
The Vero Beach mooring facilities can become quite crowded at many times. Part of the agreement is that other boats may be assigned to raft up alongside the existing vessels. On each individual ball, as many as 3 boats may be moored together. The initial instructions by the marina inform you to fender one side of your vessel for rafting. A vessel arriving to our starboard (right) would rest alongside our fenders. A vessel arriving to our portside would rest alongside with their own fenders against our boat. As shown in this picture, AMARSE was well fendered on her preferred starboard side since our generator outlet is on the port side.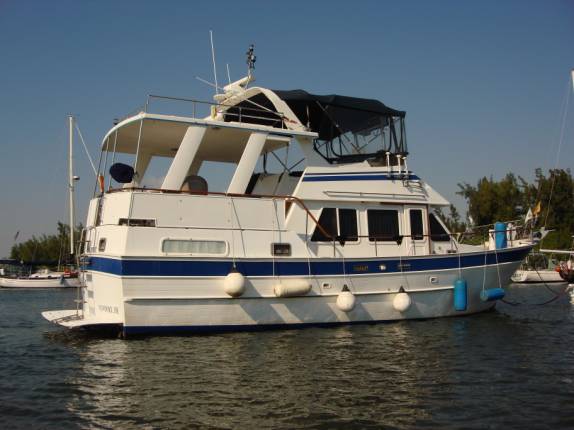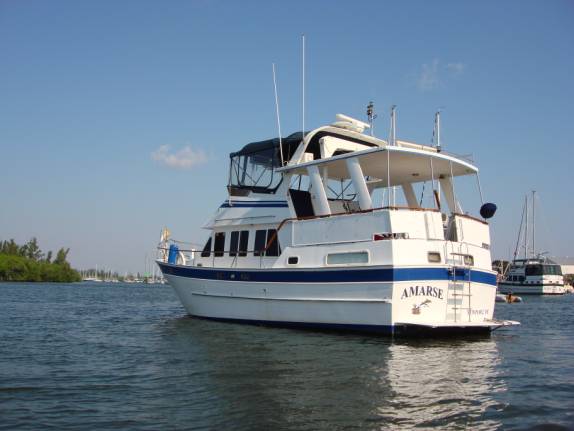 The marina dinghy dock is only mildly crowded right now, however, sometimes there are many times more vying for a space. It is important to tie off with an additional length of line equal to at least a dinghy length to permit easier access to the dock landing. Most operators are very considerate and helpful.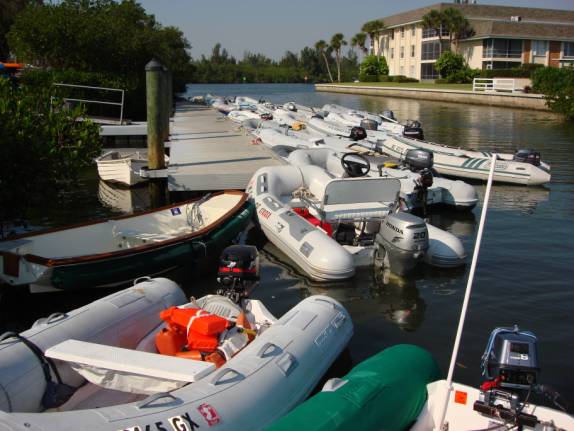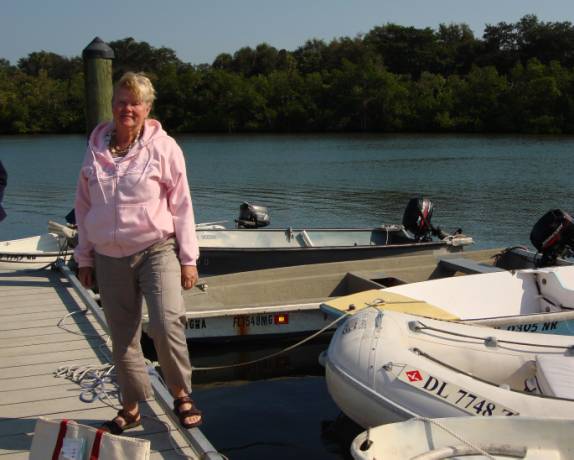 Judy and I hopped on the 10:45am bus to the beach. Although the wind was still coming from the north, it was an absolutely gorgeous day on land.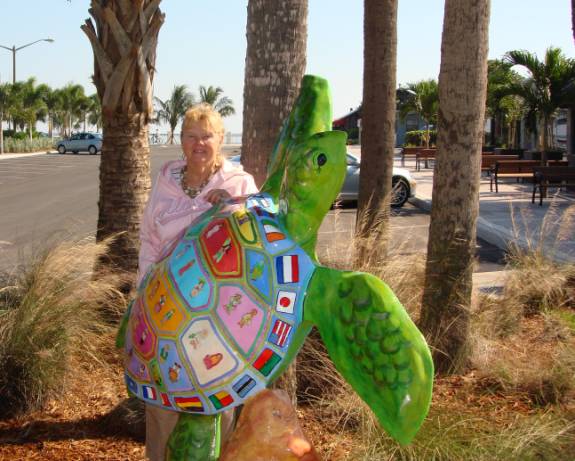 As previously arranged, our wonderful friends, Ivor and Susan Nathan, arrived on their beautiful sport-touring motorcycle. They rode up from Palm City, Florida, situated near Stuart, just so that we could share some time together. As you may remember, we enjoyed many wonderful times together during our loop cruises.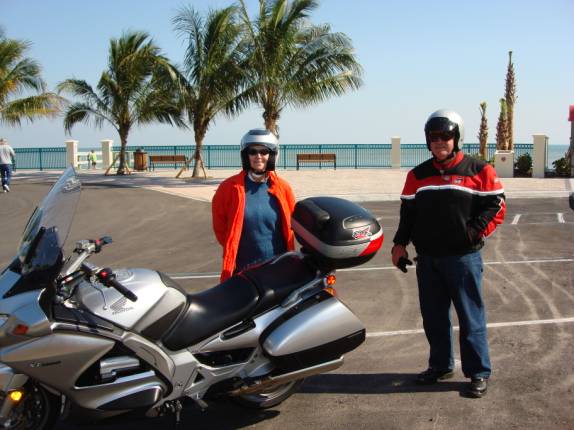 These two cute "foxes", Susan and Judy, have been close friends and have such fun together.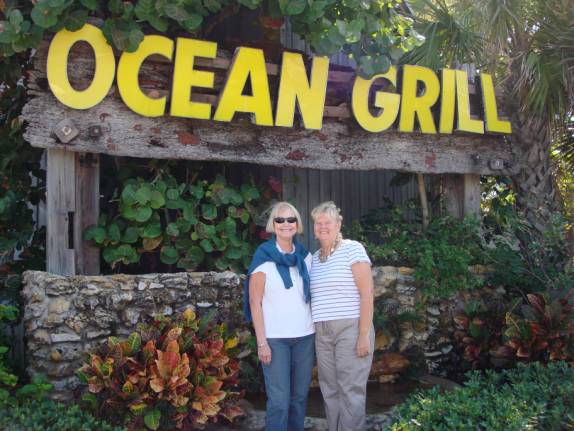 We had a great table with the ocean view and a terrific lunch.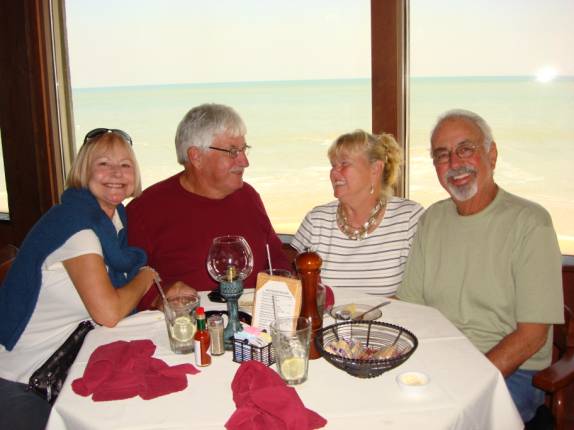 All too soon, it was time to say our goodbyes again; Judy and I stepping up into the bus and Ivor and Susan rode off on their bright, shiny silver ST1300 stallion.
At 5pm, we took the dinghy to CHABLIS for a group dinner with RMHYC friends. Each of us brought something delicious to add to the table. Our contribution consisted of a medley of sautéed yellow squash, fresh mushrooms, and red pepper strips. I also prepared a salad combination of garbanzos, fresh red pepper strips, and 3 kinds of olives. Barb made a delightful dish of Swedish meatballs layered on top of egg noodles. Of course, Dave served some of his awesome, homemade Artisan Bread. Additionally, there were vegetable dishes and a sumptuous dessert of Pecan Pumpkin Pie. It was truly a meal fit for "Royalty". Perhaps, that's why we're members of the Royal Marsh Harbour Yacht Club.
Robert and Carolyn Wilson (SEA ISLAND GIRL)…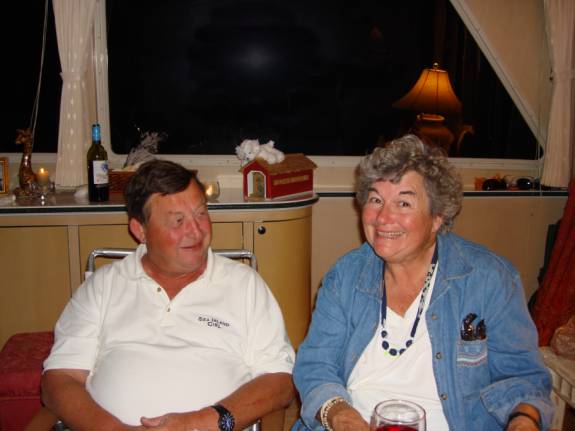 Peggy O'Neill (ATTITUDE II)…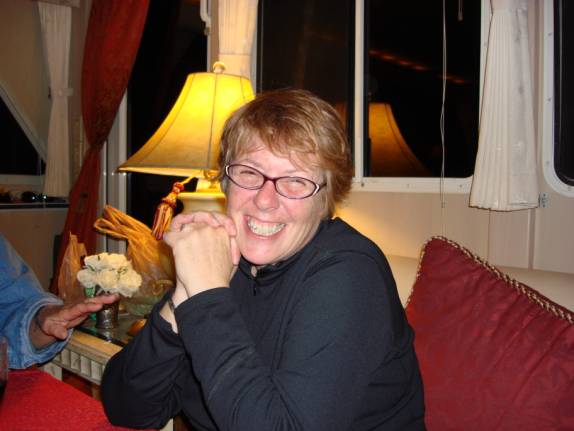 Terry Ziegler (ATTITUDE II)…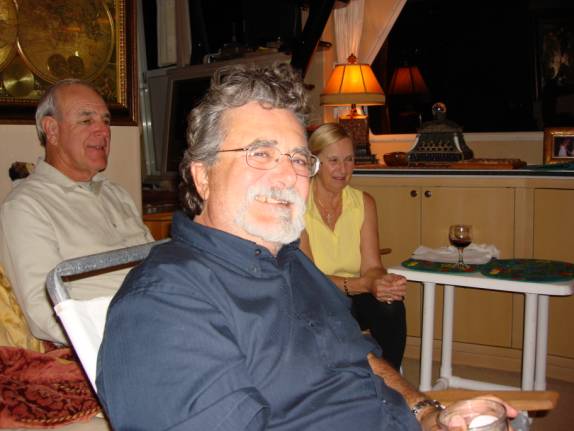 Our hosts, Dave and Barb Bluto (CHABLIS)…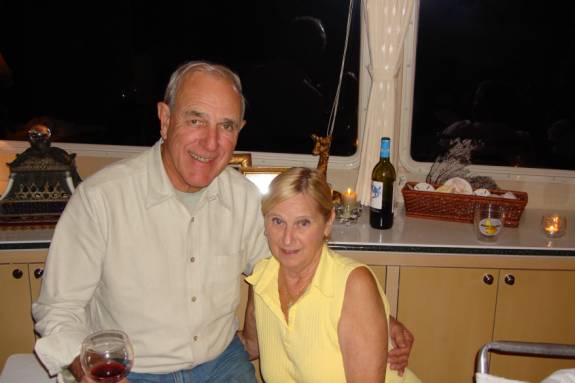 Judy Law and Fred Reed (AMARSE)…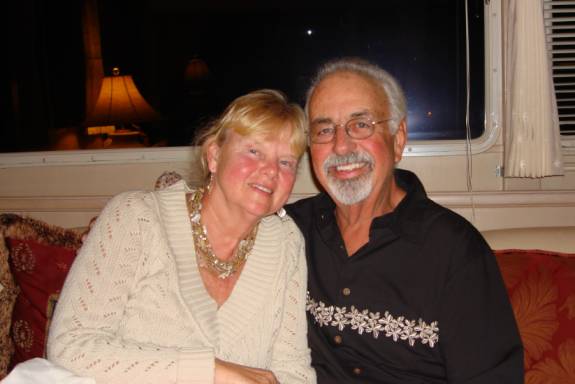 Carolyn has a great memory for poetry. She recited from memory a delightful poetic tale that mesmerized us all…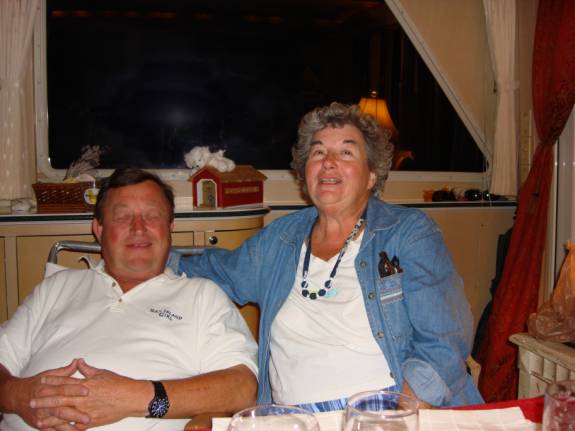 It was another wonderful and memorable day with great friends. This is what the good life is all about…
11/22/08 SATURDAY VERO BEACH, FL
While on the mooring ball, we cannot hook up to shore power. All of the electrical power requirements must be satisfied with battery power. The batteries are subsequently recharged by periodically running the onboard, 8KW diesel generator unit. To effectively reduce the run time, we try to employ power-saving measures. A large power draw item is the refrigeration. We selectively turn the unit on and off to conserve power while trying to maintain safe storage temperature. Judy cycled the refrigerator on at 4:25am. When I checked at 7:30am, the nominal voltage of the batteries was down to 8.9-9.0 Vdc instead of the 12.5-12.0 Vdc that I expected to see. The reading was for each battery even though we only had Battery #1 selected for ship's power. While attempting to charge the batteries with the generator, it was apparent that several cells on the #1 battery were bubbling or gassing. I concluded that the #1 battery had developed a short circuit within a cell or two. That had dragged the second battery down through the other cabled interconnects. Being a Saturday morning, I hustled to find a replacement set of batteries. Several phone calls led me to Indian River Battery. The congenial folk there offered a fair price that included immediate delivery to the docks. In twenty minutes, the truck pulled up out front with two, brand new batteries. Now these batteries are not your average automotive type, they are huge, heavy truck-style monsters that weigh over a hundred pounds each. I was very fortunate to have a reference to a young, strapping guy that agreed to help me install them in AMARSE. Using the dinghy, we hauled them out to the mooring and in less than an hour, the guy had exchanged and hooked up the new ones. Of course, I was very pleased to have the ordeal behind us. I was somewhat surprised with the problem in as much as I had replaced both of those batteries just about two years ago. I would have expected at least another year or two from them. They were never fully discharged or run low on water. I guess it's just one of those things that cannot be anticipated.
With the problem resolved, we could turn our attention back to having fun. At 3pm, about 75 people from the cruising boat community gathered at the picnic tables for cocktails and chatting. More and more boats are arriving daily resulting in lots of rafted boats and a full dinghy dock. Many are planning to attend the large Thanksgiving Dinner that will host more than 200 people for a traditional meal. All food is brought by the cruisers to share. A sign-up sheet determines who will volunteer to bring what dishes. We attended last year; however, we hope to be further along south by that holiday this season.
11/23/08 SUNDAY VERO BEACH, FL
The engines were run for a short while to circulate the fluids in the engines and transmissions. I took this picture from under the high bridge south looking north. The further north you go in the mooring field, the mooring balls become more densely situated. There are a lot of mooring sites here and we often see three boats rafted together on a single mooring ball. AMARSE looks all-alone in the gaggle of sailboats.
Judy did 4 loads of washing and drying of clothes and bedding. She works constantly to make our life more and more pleasant. Thanks, Babe!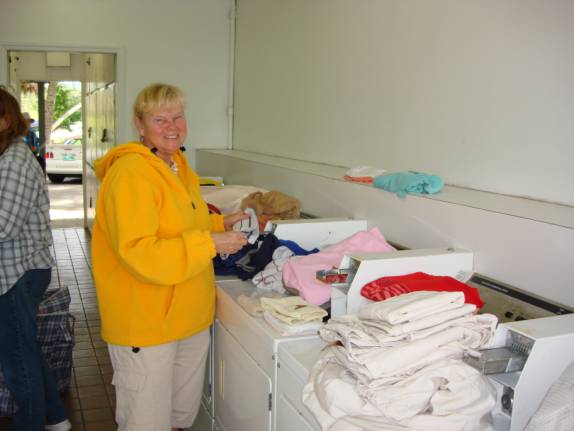 Internet has been very frustrating here. A so-called service, by Yacht Spots, proclaims to have hotspots at the marina area. I had signed up last year and paid the fee for a week, however, I never was able to get onto the net even once except to sign up and pay. Last year, I just lost out on the money. This year, I figured that they would have gotten their act together to provide better coverage. I got on to sign up and pay again this year, then, like they pulled a switch, there was no internet connection. This time I was determined to call them and complain. After trying several suggestions to tune in the site, the representative agreed to refund my money. I can't imagine why Vero Beach Marina allows this type of thing to continue. Perhaps, one of these days, the right persons will have had enough. This is about the only complaint I have with the otherwise excellent and friendly location.
Robert and Carolyn in their dinghy, Fred and Judy in their dinghy, we loaded up our laptop computers and headed over to the waterfront restaurant called Riverside Café. We had been told that they have free WiFi access for their customers. We thought that it would be fun to have lunch and get a weather check and email at the same time. It worked fine and we had a good time together. Now, that is good planning on the restaurant's part.
The weather forecast indicates a possible window for a safe Gulf Stream crossing for this coming Tuesday. We paid up our marina bill, refilled the dinghy gas tank, and readied AMARSE for a possible trip southward tomorrow morning.
At 4pm, an interested group of cruisers met at the picnic tables to share ideas and information about the Abacos and crossing the "stream". Having done it many, many times in the past, we shared some information and learned some new ideas. It seems that we always benefit from these group discussions.
Nighttime was closing in on us rapidly while we raised the dinghy up to the sundeck rooftop and secured it firmly for travel.
11/24/08 MONDAY VERO BEACH to PEANUT ISLAND, LAKE WORTH, FL
We were both awake at 5:20am full of excitement to get headed south again this morning. Well before sunrise, AMARSE slipped the lines from the mooring ball and quietly left the still sleeping cruisers off our stern. It was a clear, cool morning as the sun peaked out from the eastern shoreline.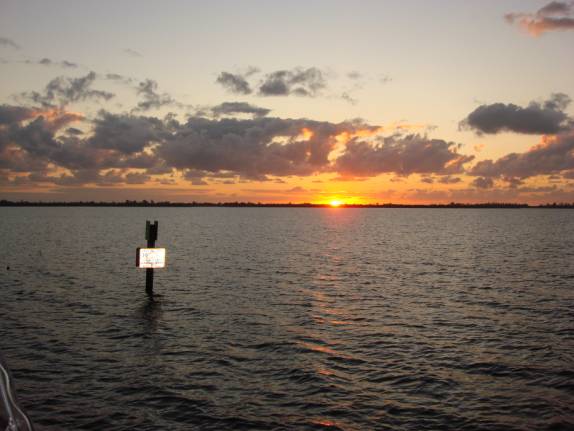 At 8am, we pulled alongside the refueling dock of Port Petroleum in Ft. Pierce, FL (ICW mile marker 965.6). This is a great place to refuel at extra saving prices. AMARSE drank in 172 gallons of diesel at $2.598/gal. I don't know what it was for but there was an additional fee of $8.92. This will be our last refueling and watering stop on the way to the Bahamas. Forty minutes later, we were churning up the waters again.
Dolphins flicked and flittered in our bow wake and alongside as if to wish us a fun and safe voyage.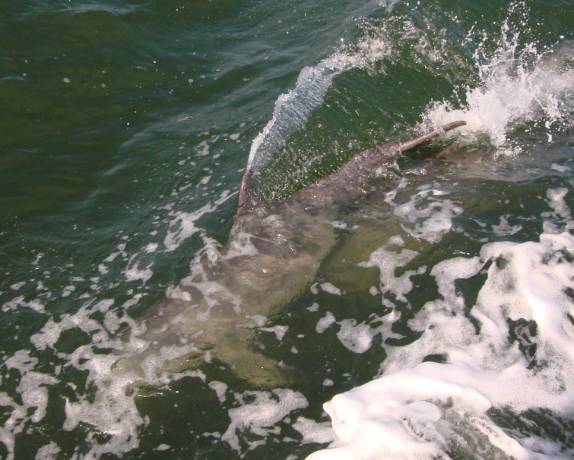 This is what our stern wake and propeller wash looks like in the ICW waters. Later, you can compare similar pictures in different waters.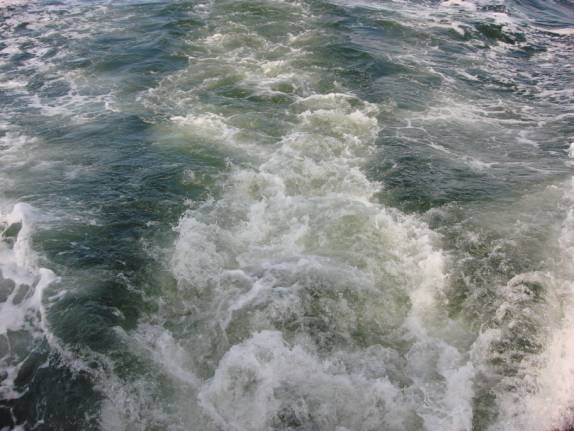 This is just the boathouse. Imagine how spectacular the main house must be…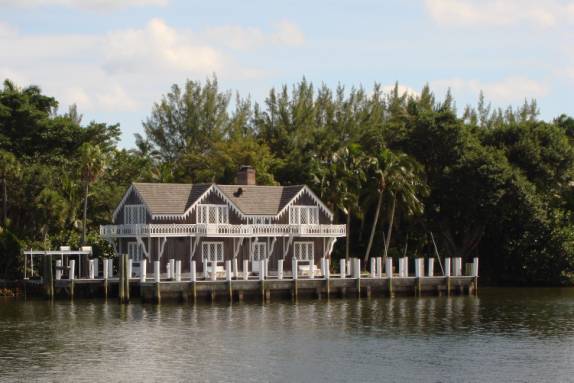 The Jupiter Inlet lighthouse stands tall to warn the inbound mariners approaching from the Atlantic Ocean. It has a history long before the days of the Civil War.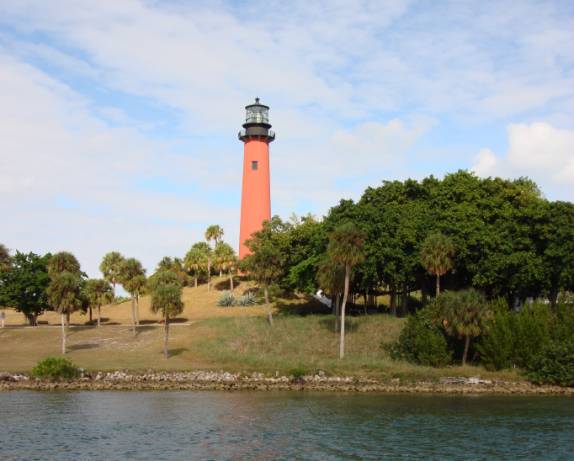 The bow section provides a great lookout place for Judy and a great place for me to look out at her…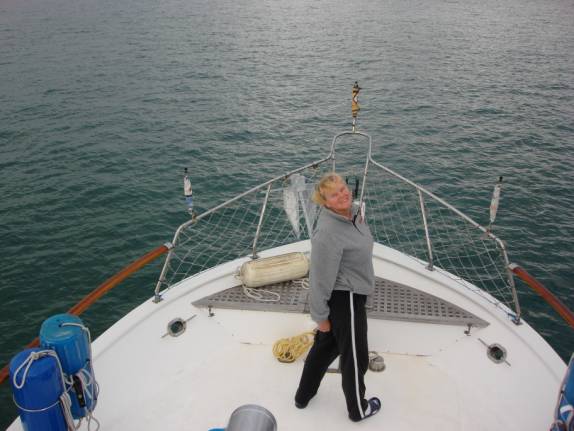 Our track continued south past Palm Beach and Riviera Beach to our anchorage site near Peanut Island. That is CHABLIS anchored in front of us and Peanut Island can be seen ahead of her bow.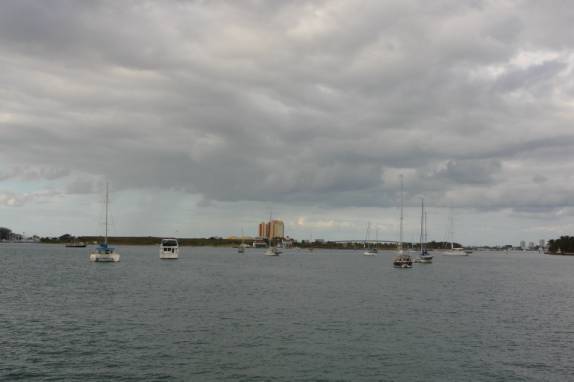 Our anchor was set at 3:05pm in about 12 to 15 feet of water. AMARSE had traveled 67.9 miles at an average speed of 8.2 mph. We have traveled a total of 348 miles since departing Brunswick, GA. This anchorage is near ICW mile marker 1018.4.
Judy prepared a marvelous dinner of a favorite. I always enjoy her rendition of Chicken Breast sautéed with onions and mushrooms in a savory sauce. The accompaniment was niblets corn with butter. Fabulous, Marvelous, Delicious, and it tasted "just downright yummy in my tummy".
The weather forecasters indicated that we should plan to get underway in the wee hours to cross the Atlantic Gulf Stream. We heard VHF radio conversations of others planning to depart too. It would be early to bed to get rested for an early, early departure and a long travel day tomorrow.
11/25/08 TUESDAY LAKE WORTH, FL to HAWKSBILL CAY, BAHAMAS
The alarm was set for 12 o'clock midnight. The winds were calm and the weather report was relatively unchanged which signaled a "go" condition for crossing. The anchor was secured at 12:33am in the pitch black of night. As we made our way out through the Class A inlet, the inbound rollers had AMARSE pitching up and down. A couple of times, the water was breaking over the bowsprit. We may have been a little disappointed that the waters were not totally smooth, but I was expecting it to be a bit bouncy on this section through the jetty area. Often times, it will smooth out by the time you reach the sea buoy. It didn't exactly work out that way, however. We passed the Lake Worth outer marker at 12:58am and set our course direct to the Memory Rocks waypoint. The western edge of the Gulf Stream passes close by in this area and can be noticeable at 8 miles from shore. Continuing eastbound, we were happy to trade the solid 4+ footers for the diminishing waves. By 20 miles out, the seas had subsided to 3 feet or less. We were making good speeds over the ground of about 8.5 to 8.8 mph. The effect of the Gulf Stream requires an angular correction of over 30 degrees at our speeds.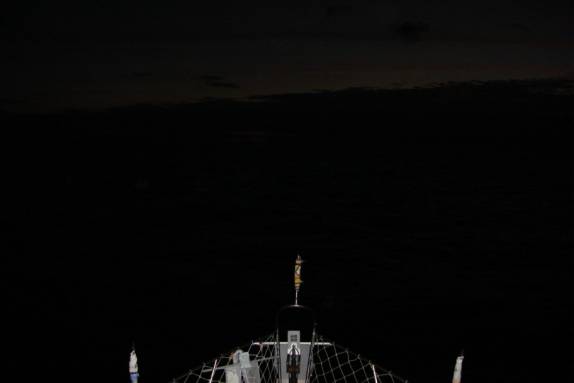 As the night hours progressed, the seas continued to diminish. The maximum water temperature that we observed was 77.8 degrees F, which was in the vicinity of the central axis of the Gulf Steam where current velocities are normally the highest. By the time we had traveled east of the core, the waves were down to 2 feet or less and the winds remained favorably light.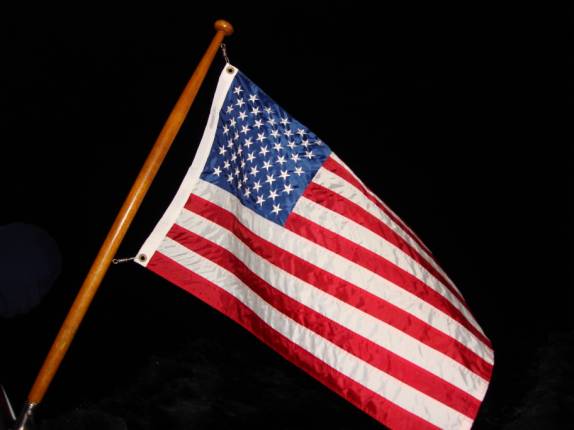 Judy put on some CD's of Bill Cosby comedy. Many of the routines were originally performed many, many years ago. I can clearly remember my father just rolling around on the floor laughing at the Cosby humor. Just the thought brings a smile to my face…
This photo shows our stern wake and propeller wash in the Gulf Stream at night…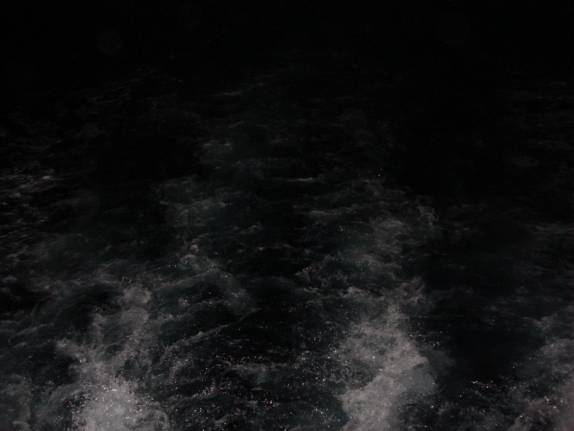 I put on some CD's of easy listening music. I merely relaxed and enjoyed the mellow sounds.
The melodic tunes may have lulled one crewmember into some well-deserved rest time. I am sure that the beauty sleep theory is very effective because I think she looks so beautiful.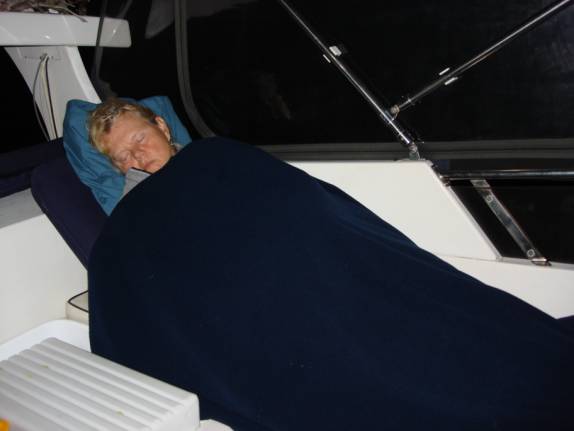 The GPS chart plotter gives clear and concise information about our progress along the track.
Sometime in the early morning hours, a sliver of moon appeared in the eastern sky over the Bahamas. Of course, you've heard of the "moon over Miami" but how many of you have seen the "moon over the Bahamas"?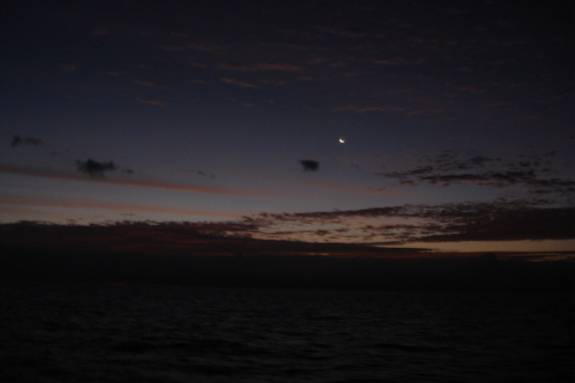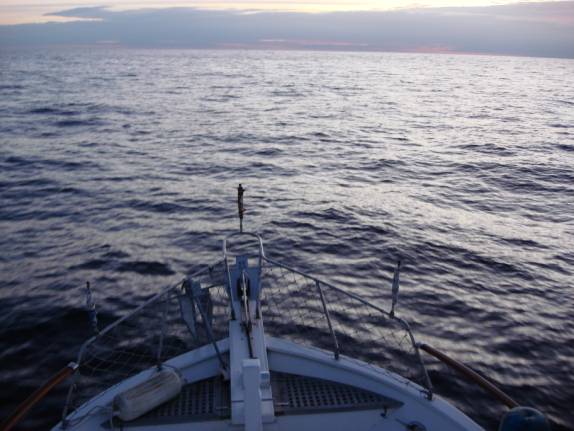 By sunrise, the seas had tamed themselves into a tranquil sea of beauty.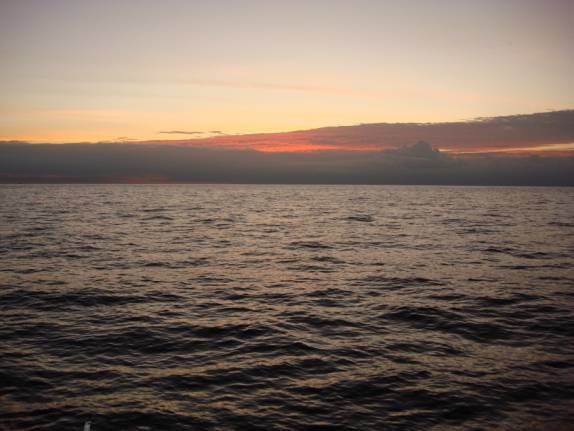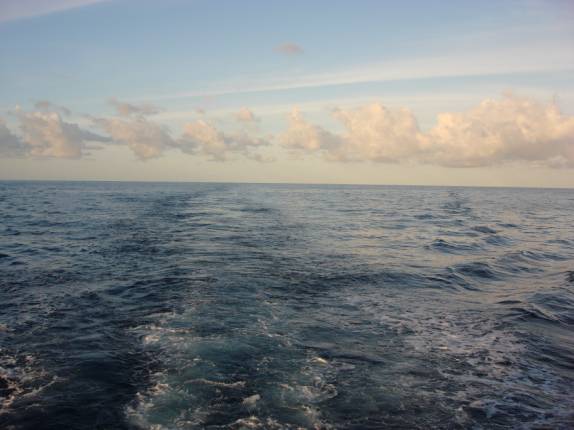 This is our stern wake and prop wash in the morning Gulf Stream waters. The deep blue color of these Atlantic Ocean waters are in sharp contrast to the inland waters of the ICW. Take another look and compare…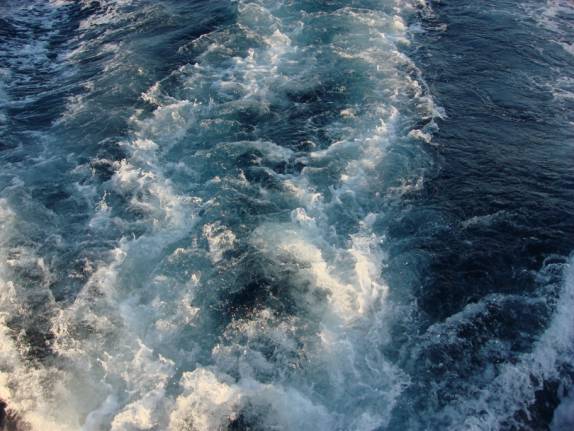 Yep, it is working… She gets more beautiful all the time…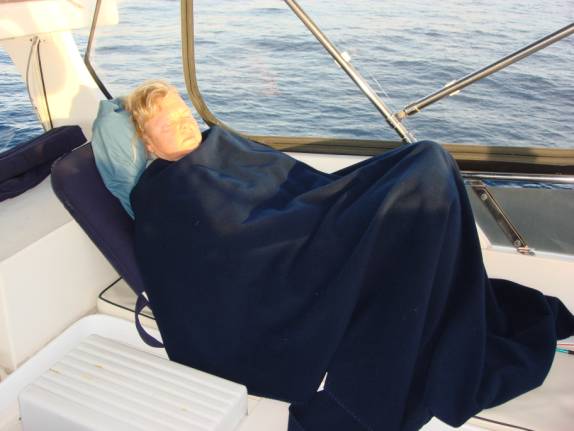 As we approach the shelf edge of the ocean and the Bahama Banks, the water lightens in color depth and takes on a shade of green tint.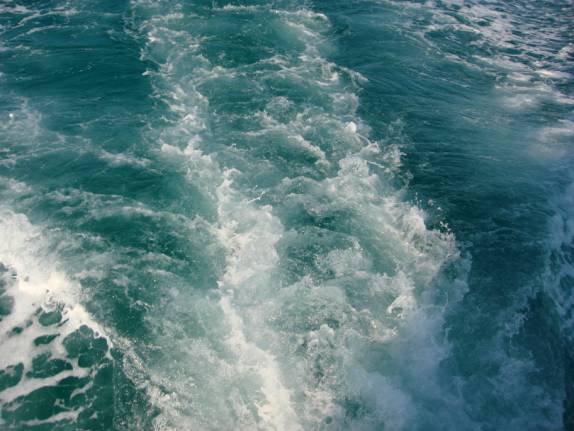 After crossing onto the Banks at Memory Rocks at 7:44am, the seas were smooth and the air was warming steadily under the clear, sunny skies. Judy was so happy to relax and enjoy some fresh orange juice out on the bow section. It was a feeling like returning home again to the beauty and splendor of these lovely, island waters.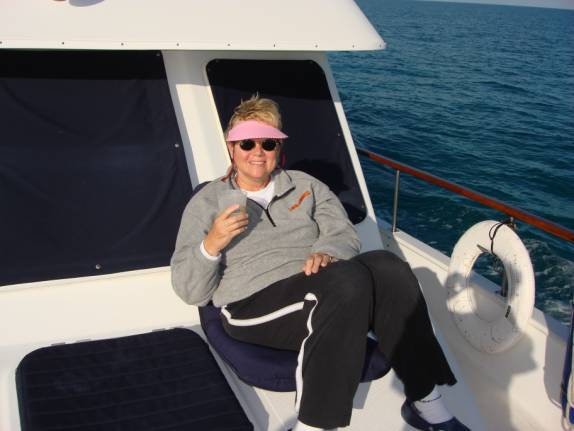 Now, over the Little Bahama Bank, compare the completely different color of these crystalline waters off our stern…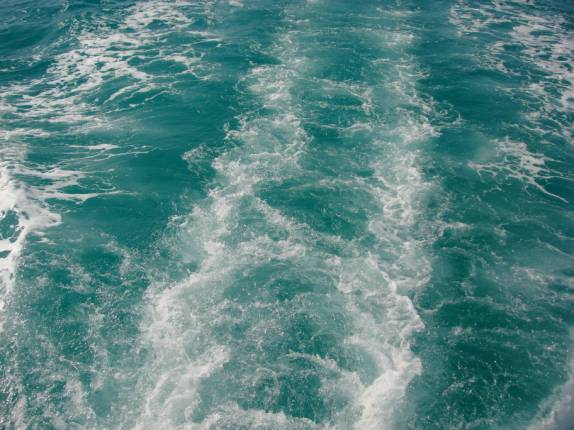 With the tranquil nature of these Bahamian waters, I decided to use the time to cook a turkey. The 12.8-pound bird was placed in a cooking bag to keep the oven from being spattered. At 350 degrees, the thermometer had reached 180 degrees in 3 hours. The meat was nicely cooked and very juicy and flavorful. I carefully sliced and pulled the meat from the carcass. I would have loved to make Turkey soup but we don't have any room to store that much refrigerated bulk.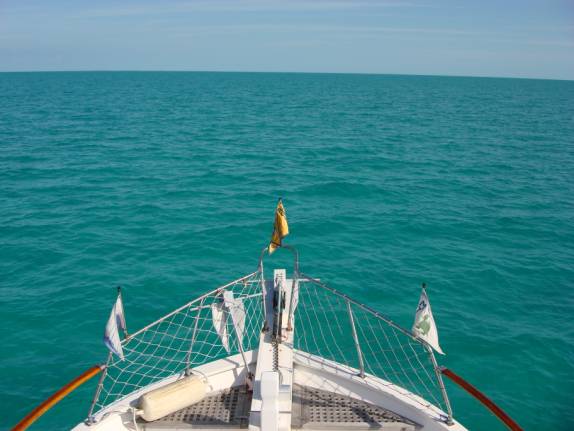 A small pod of dolphins swam alongside to welcome us back to the Bahamas. These frisky swimmers were particularly active and seemed to enjoy leaping in our stern wake.
Calmly, smoothly, and peacefully, the RMHYC burgee flutters nearly motionless.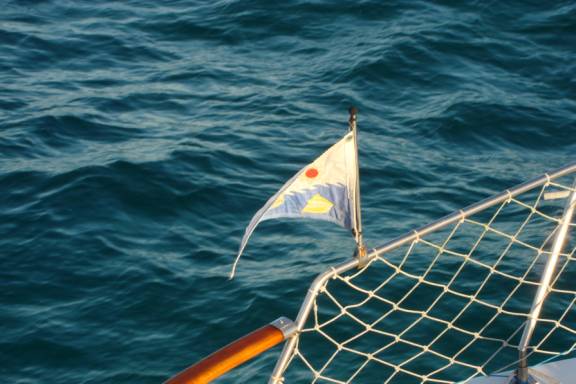 Our destination planning called for an overnight at Great Sale Cay in the north anchorage. When it appeared that we would arrive there before 2:30pm, I felt that we would make better use of these nearly perfect conditions by pressing further on. CHABLIS had passed us by on the southern route on her way to Hawksbill Cay near Foxtown on Little Abaco. My calculations indicated that we could make the same area by sunset by maintaining our present speed. We agreed to continue.
As AMARSE made way easterly, the currents began to slowly hinder our progress. As the sun set in the western sky off our stern, we were still a few miles short of our anchorage. I had forgotten to consider that the sun would be setting earlier the further east we went. Sunset here occurred at 5:18pm depriving us of some valuable late afternoon light.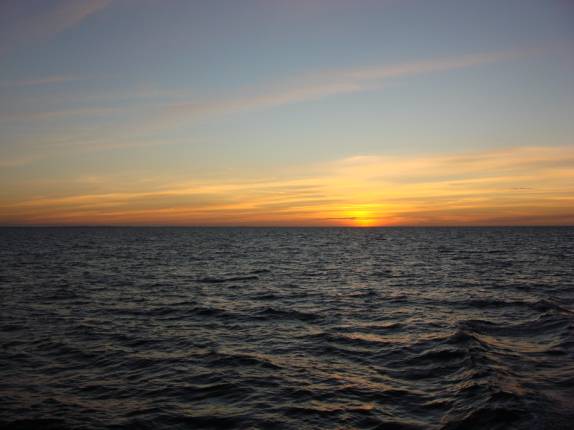 We radioed to CHABLIS for conditions at their anchorage and received the A-OK response. It was nearly dark when we found our anchorage spot. Judy used the handheld spotlight to find the perfect patch of sand to drop the hook into. At precisely 5:48pm, the anchor was dug in securely. Of course, we could have done this in the dark, however, the situation would have been a little tenser and tension is what we are trying to reduce at our age. Would it have been better to stop back at Great Sale Cay? Probably not since the weather was forecast to deteriorate somewhat and we would not have as good a sunlight position for our anticipated passage around the Whale Cay route or Don't Rock Passage. More on that story will come in the next update…
The statistics for today show that AMARSE traveled 145 miles since departing Lake Worth and maintained an average speed of 8.4 mph. Our moving time was 17 hours, 21 minutes, and 19 seconds. So far, our journey from Brunswick has totaled 493 miles.
Our turkey dinner was excellent and complete with mashed potatoes and stuffing. I don't know whether it was the "tryptophan" in the turkey or the consequences of nearly 17 ½ hours of salt-air cruising that put us to sleep quite early in the evening. (Tryptophan… n. an essential amino acid formed from proteins, especially turkey meat, and occurring during the digestive process by the action of proteolytic enzymes and effective in reducing the symptoms of insomnia, depression, behavioral disorders, stress, and premenstrual syndrome (PMS)). I certainly cannot expound any further concerning all those other maladies, but something made me very sleepy early tonight. ZZzzzz ZZzzzz ZZzzzz…
CONTINUING UPDATES ARE IN PROGRESS…
WATCH FOR THEM, COMING SOON…
POST SCRIPT:
We sincerely hope that you will review the previous years of compilations to give context to the current editions. Please let us know if you have any special suggestions and thoughts.
REMEMBER: The website is now fully active and you can visit it at any time. You can review any of the 2006, 2007, or the upcoming 2008 logs and learn more about the crew and our plans. Enjoy.
ATTENTION: SPECIAL NOTE:
You may contact us via email anytime.
Our cell phones have been turned OFF while we are in the Bahamas.
"AMARSE" is pronounced "AM-ARE-SAY".
Thanks for allowing us to share our life and adventures with you.
Lotsa Luv,
Fred Reed and Judy Law
AMARSE
MT40
Our website is: www.amarse.net .