UPDATE#23
08
/28 thru 08/29/08
Howdy Everybody,
The many adventures of 2006, 2007, and through 08/27/2008 have been published on the website. We now continue with this latest edition.
UPDATE 2008 #23 08/28/08 thru 08/29/08
At last update, we were overnight in the town of Aguas Calientes following our exciting visit to Machu Picchu.
08/28/08 THURSDAY AGUAS CALIENTES – OLLANTAYTAMBO – CUSCO
When the alarm rang at 7:45am, we had already been awake for 45 minutes. As luck would have it, we finished our showers just minutes before the water went off. Breakfast is officially over at 8am, however, they still had a place set for us when we finally got there at 8:30am. At the majority of the hotels here, checkout time is 9am so that they can be ready for the day's onslaught of arriving tourists. It is a good thing that they agreed to hold our luggage, even though we didn't have much.
A walk around the village let us know that there was not much more to see here. We were lucky that we visited Machu Picchu yesterday because today's weather is a bit hazy and the mountains are obscured in clouds.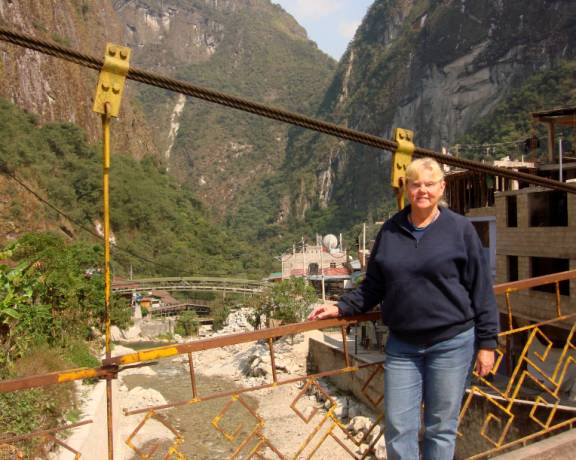 We were successful in changing our 12:26pm train for the earlier 10:32am Vistadome Valley service to the town of Ollantaytambo. All services to Cusco were fully booked up for this day when we made our reservations nearly a month ago. It would have been just too much hassle to change our destination now, besides we will get back into Cusco sooner using the combination of train and buses services through Ollantaytambo.
The rail route from Aquas Calientes to Ollantaytambo has not nearly as steep a grade as the segment from Ollantaytambo to Cusco. The gentler gradient enables the railroad to use these self-contained, diesel powered rail cars.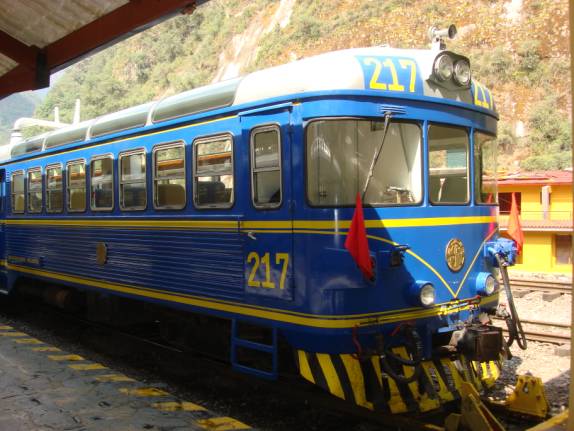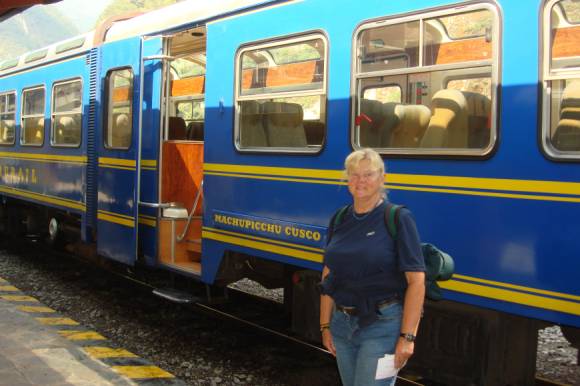 Much to our surprise, the rail cars were nearly empty. This earlier departure time was during the hectic rush hours for inbound tourists arriving for their single-day, few-hours visit to Machu Picchu.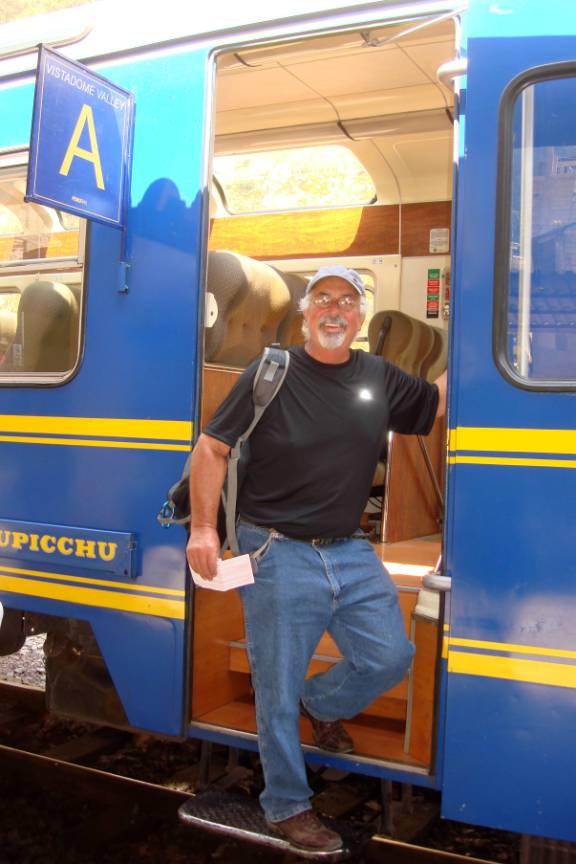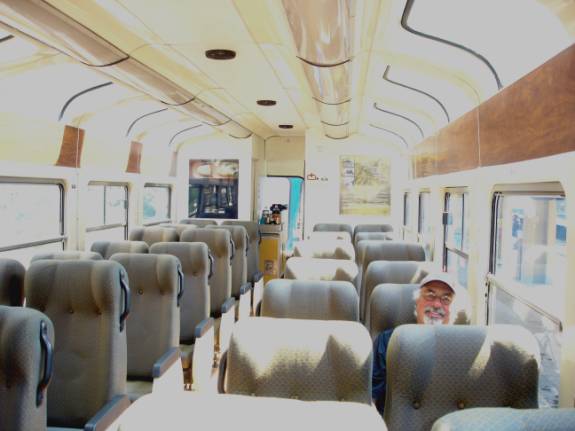 We were treated to a Fashion Show attempting to entice us to purchase expensive articles made from the fine, soft wool of baby alpacas.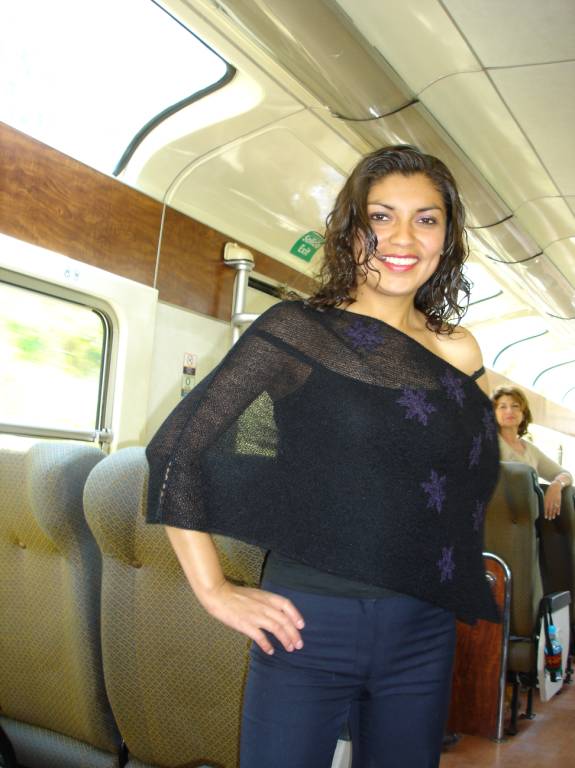 The Vistadome Valley service is most often filled with the wealthier tourists traveling on tighter time schedules. They probably make more apparel sales with that daily crowd than with the few travelers aboard this trip.
I don't believe that this lovely gal has much of her heritage directly from the Inca or Spanish. I have a hunch that her roots are from the distant country of India.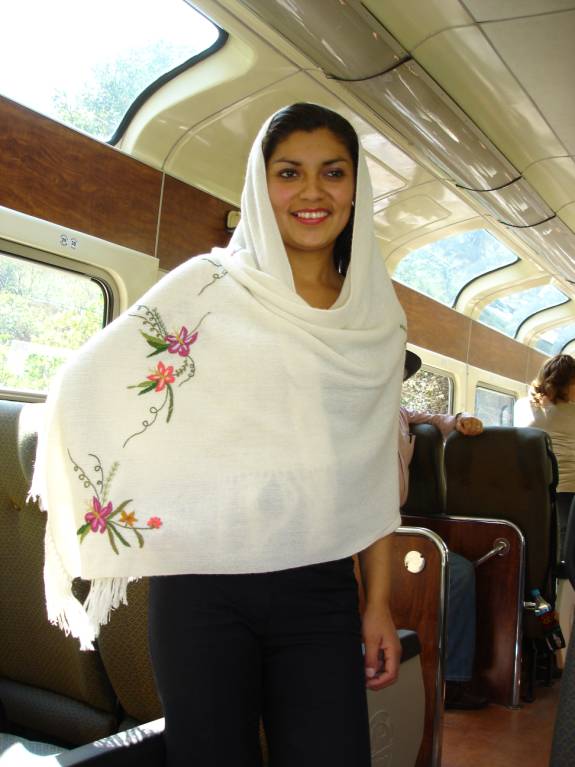 Joined by her male-model/train attendant and a folkloric character symbolizing the alpaca, they nicely entertained these intent travelers with many different outfits. I didn't see anyone buy anything this trip.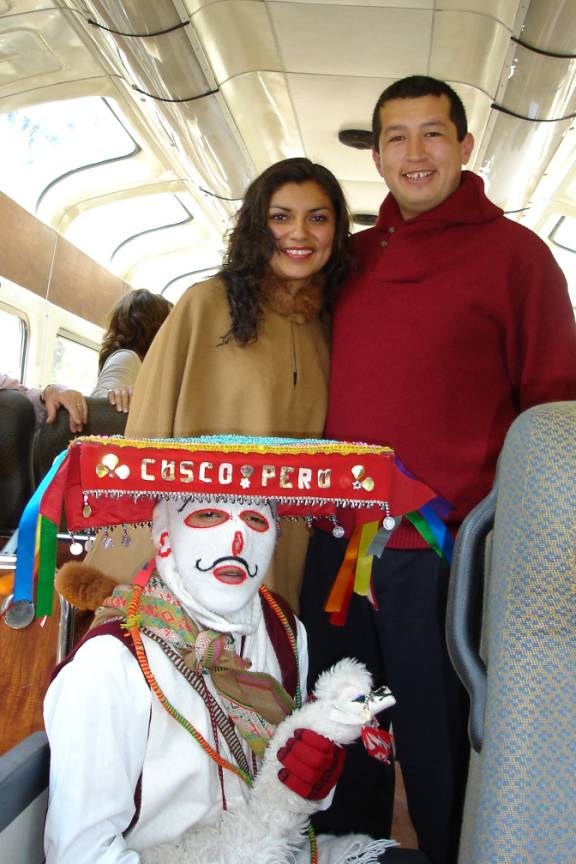 Cute, aye what?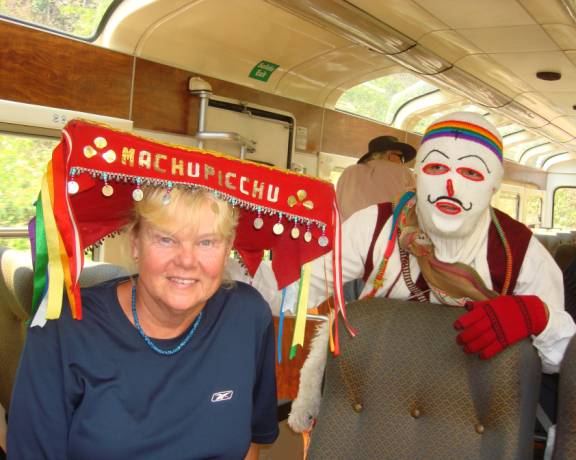 The 1 hour and 45 minute trip passes along the deep valley cut by the Urubamba River.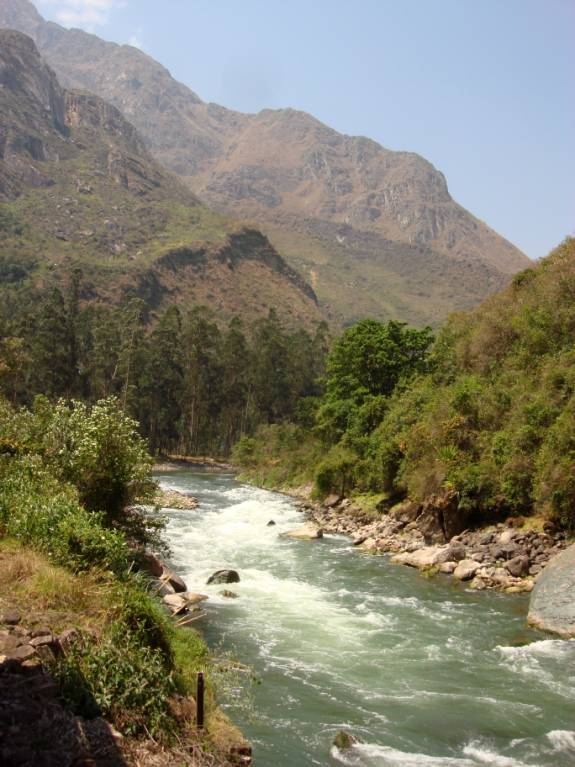 In Ollantaytambo, we had a much longer hike up to the town than I expected. I should have flagged down a MotoTaxi to lug us up the steep streets. From the town center, we jammed into the collectivo van for the half hour run to Urubamba. Having unloaded at the central terminal, we simply walked over to a bus to finish our trip onward to Cusco. Passing through Chinchero, we arrived in Cusco an hour and a half later. A taxi from their company terminal zipped us up to our accommodations at the Hostal Corihuasi. The public transportation all the way from Ollantaytambo to our hostal cost each of us less than $2.50 US.
El Toldes Restaurant prepared delicious roasted chicken for our dinner. The salad bar was excellent with fabulous red tomatoes.
Leaving Cusco in the morning, we figured that this might be the last chance for a casino fix so we headed straight for Tragamonedas Babilonia.
For this stay, the hostal put us in room #9. Although it was nice, we preferred our former room #10 a little better. I'm not exactly sure what was going on tonight in Cusco but a rather loud folkloric band, fireworks, and barking dogs interrupted our sleep on numerous occasions. We have been very pleased with our choice of the Hostal Corihuasi and would be happy to recommend it to other travelers.
08/29/08 FRIDAY CUSCO – ANDAHUAYLILLAS – RAQCHI – SICUANI – PUKARA - PUNO
Our 5:45am alarm had us moving around for our wakeup showers. Busily packing up, we called the front desk and summoned a strong guy to help lug our luggage bags. It was already 6:35a making our final breakfast here a bit rushed. The hostal hailed a taxi to carry us to the private terminal station for the Inka Express bus to Puno. In spotless, first-class excursion buses, the Inka Express runs a combination sightseeing tour along with the intercity transportation.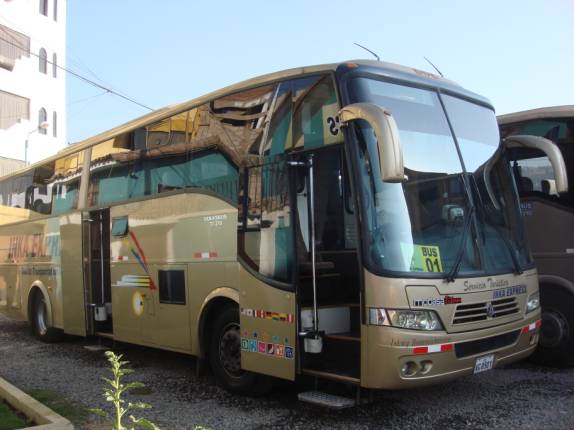 The route, including numerous sightseeing stops, runs along a smoothly paved section of the Pan-American Highway.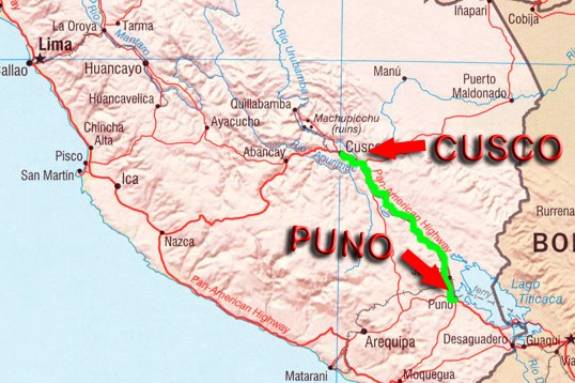 Although we did not stop here, we caught a quick glimpse of the huge Inca gate at the ruins of Rumicolca that was built upon previous Wari foundations.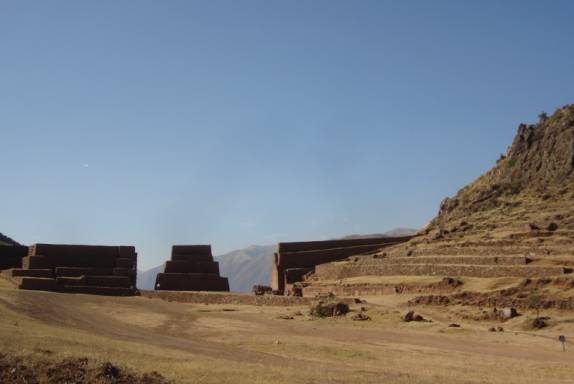 The first major stop for the tour was in Andean village of Andahuaylillas. I found these stone carvings to be interesting.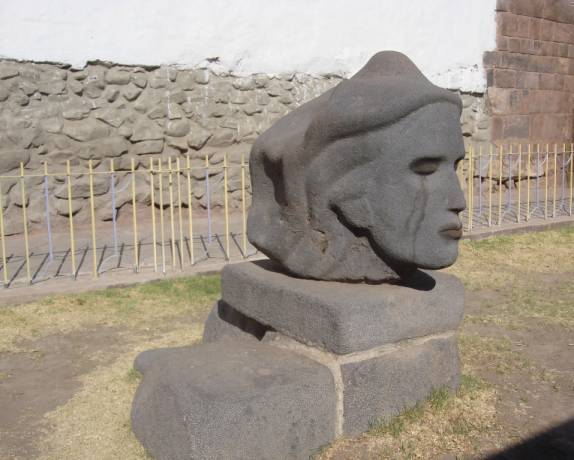 …Condor?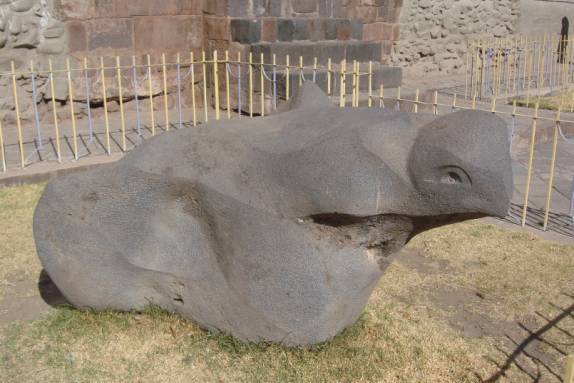 …Puma?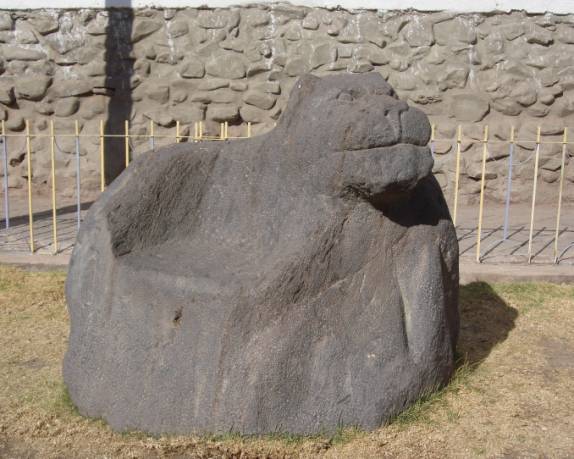 At the front patio of the church, there are three big crosses that are symbolic in Christianity and Catholicism.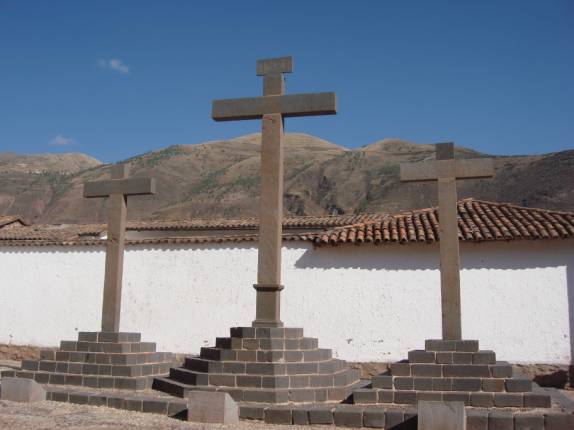 Because of the frescos and paintings adorning the 17th century chapel, the Jesuit church is sometimes called the "Sistine Chapel" of Peru. Interestingly, some the local signs have "Sixtene Chapel" written there.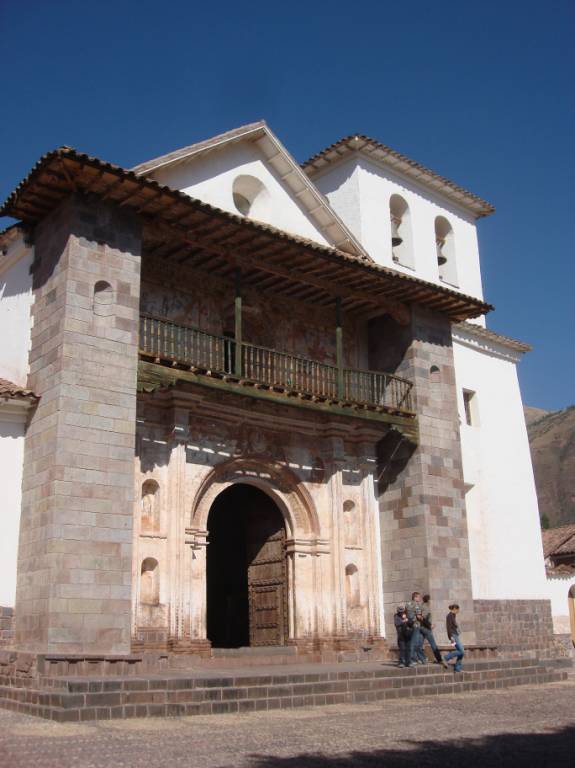 The Iglesia San Pedro (Church of Saint Peter) is kept under continuous guard, 24-hours a day. There are rumors of great gold and silver treasures securely stashed inside the church. Although no photography was allowed inside the church, the vigilant security guard would very secretly sell this photo print to a select few interested travelers. Note the artwork on the ceilings and the huge altar area that serves as a golden framework for some the paintings and statues of the Apostle Peter.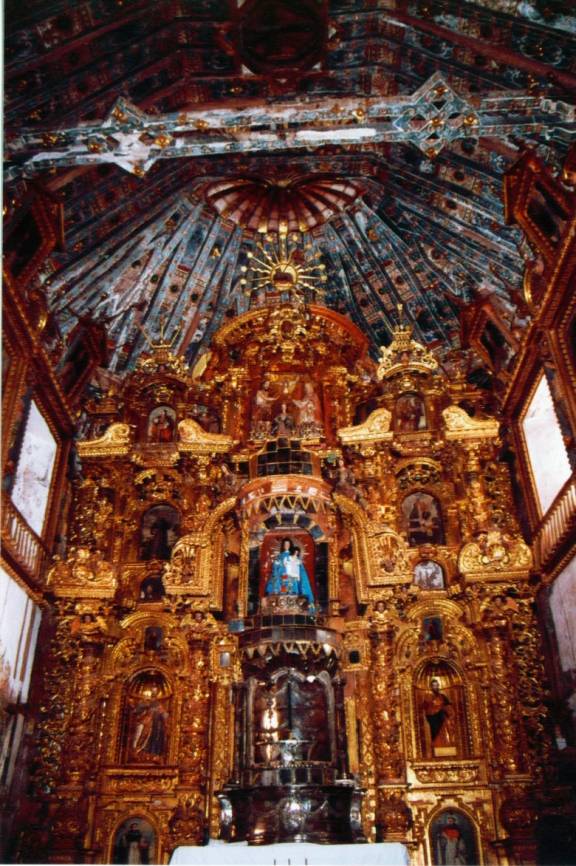 …Llama…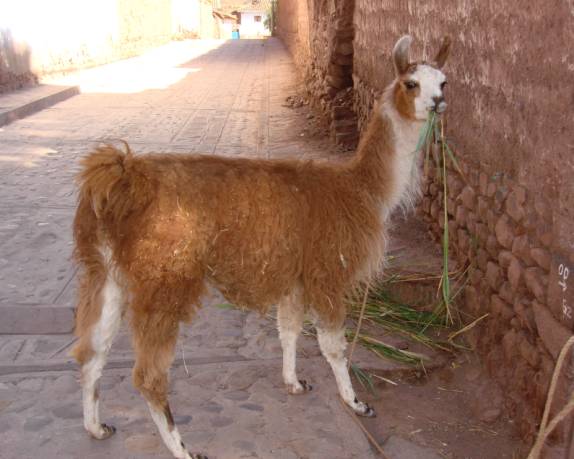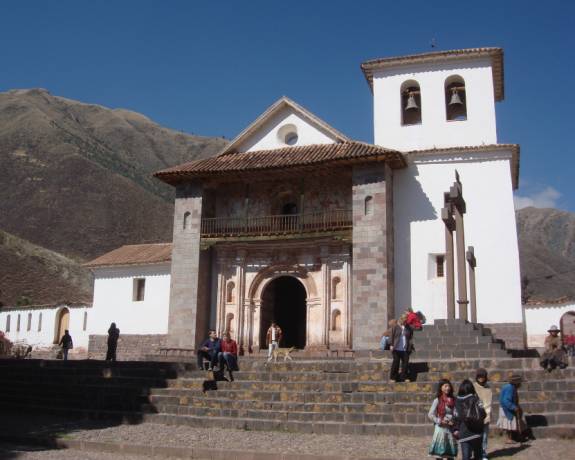 The highly varied scenery was stunningly gorgeous.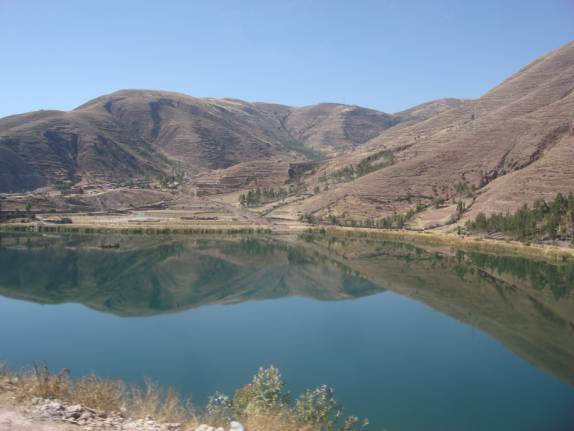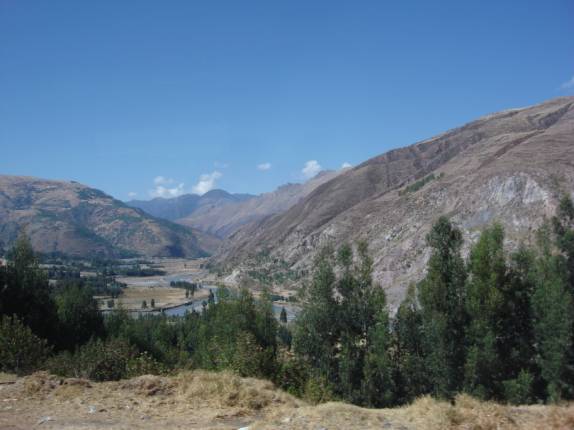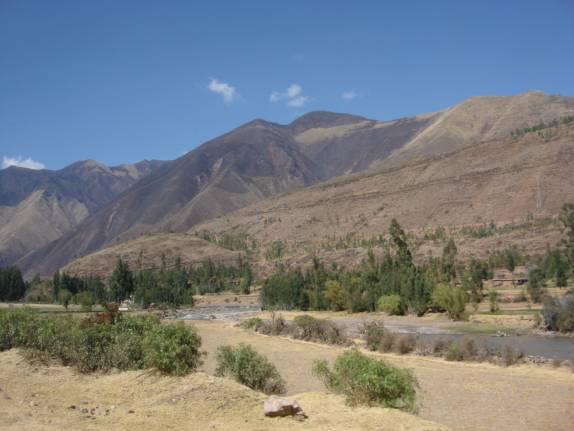 Throughout the trip, we had the privilege of observing everyday Andean life.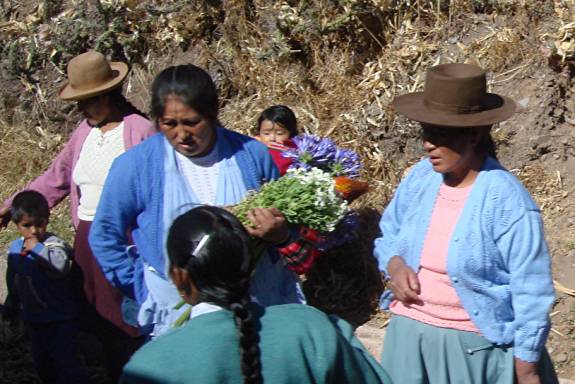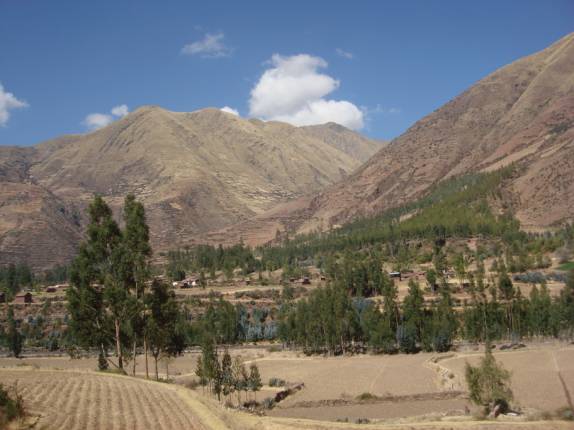 Our next tour stop was at the ruins of Raqchi. Sometimes called the Temple of Viracocha, the site is believed to have been one of the holiest shrines in the Inca Empire. Dedicated to their highest deity, the Sun God, Viracocha, the structures contained twenty-two huge columns made of stone blocks and a massive stone and adobe central wall that were designed to support the largest roof assembly in the Inca Empire. The enormous, two-story central wall reaches some 20m (65') in height at its peak, then stretching out over the columns some 25m (80') to each side.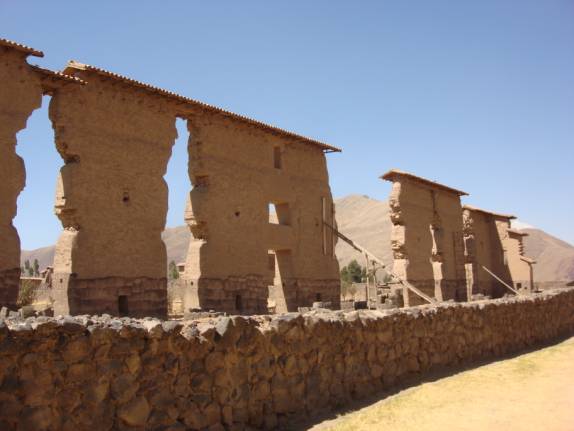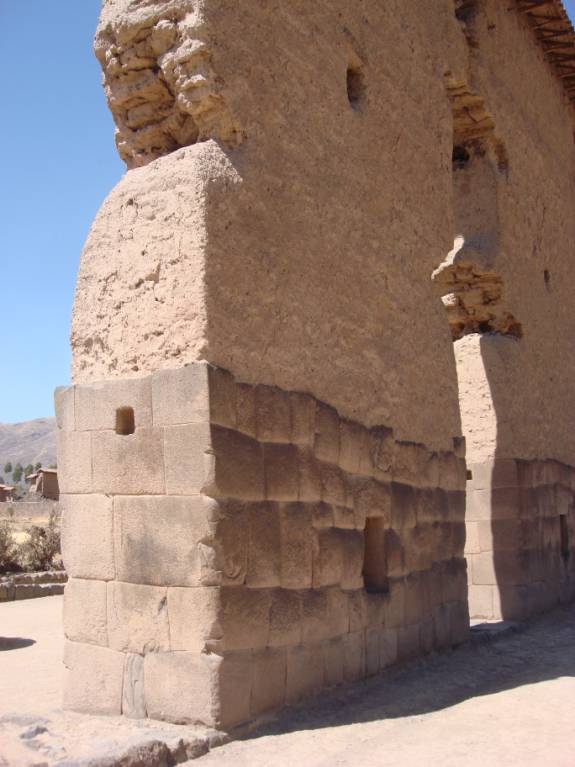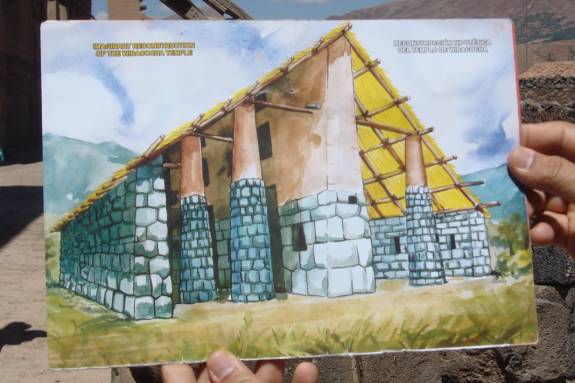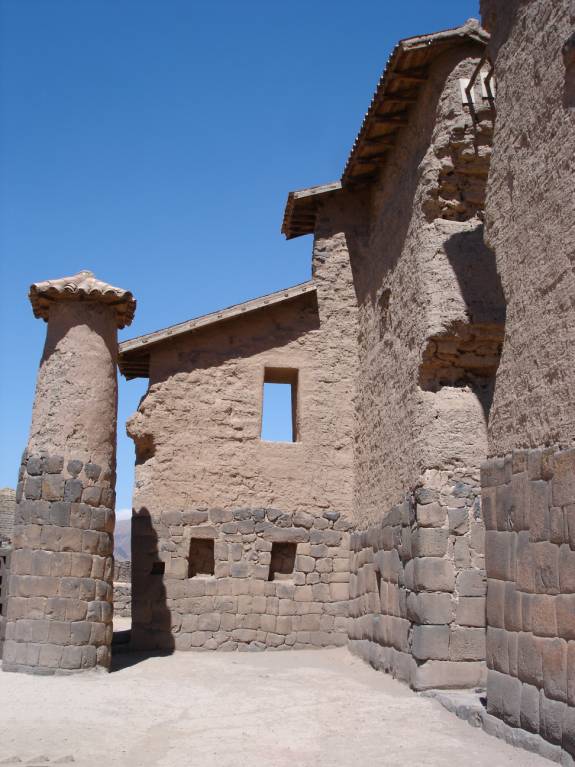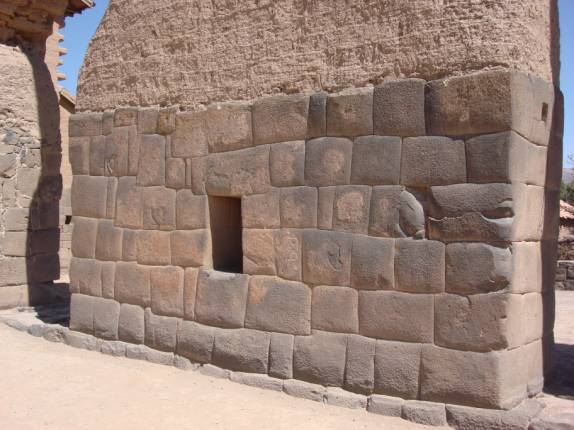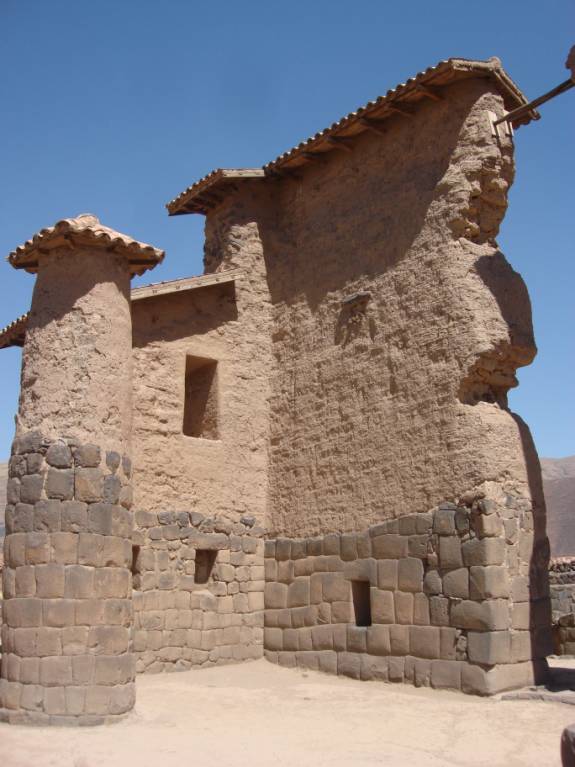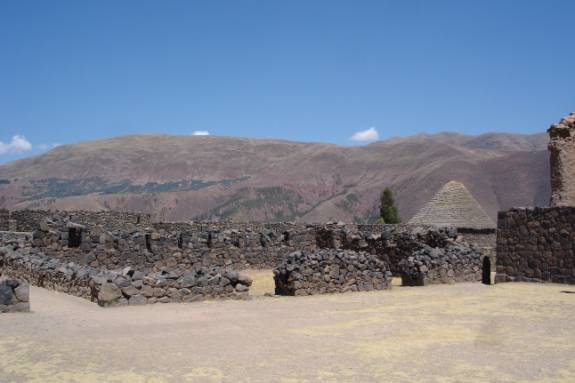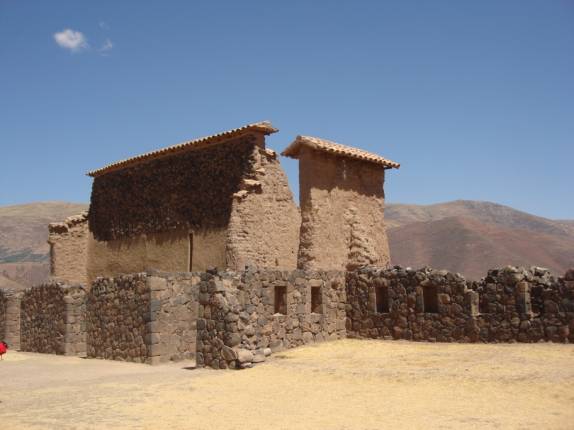 The site contains some 240 round storage buildings, or short-sided silos, that were likely used to protect their harvested grains, such as corn and quinoa. Because of the unique shape of the silos, it is thought that much of the stored foodstuffs may have been used for ceremonial purposes.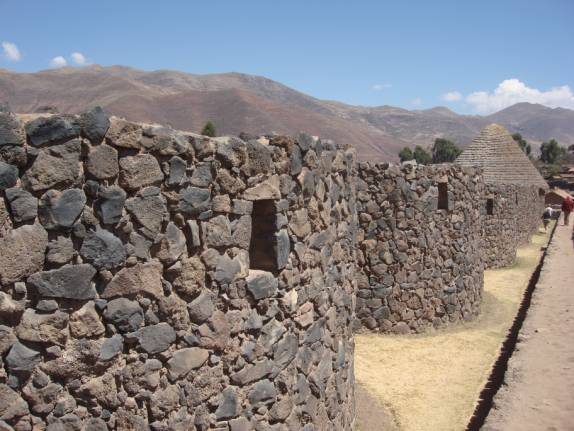 The storehouses are unique due to their rounded construction that is unlike the usual square styles of the Inca. Each individual silo is approximately 12 meters, or about 40 feet, in diameter.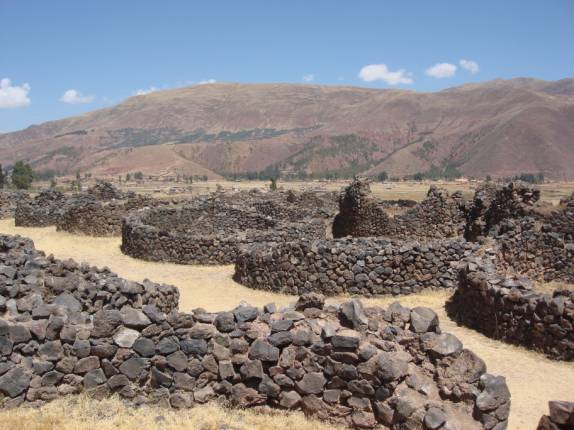 Originally, a conical, thatched roof would have topped all of the lava-stone structures.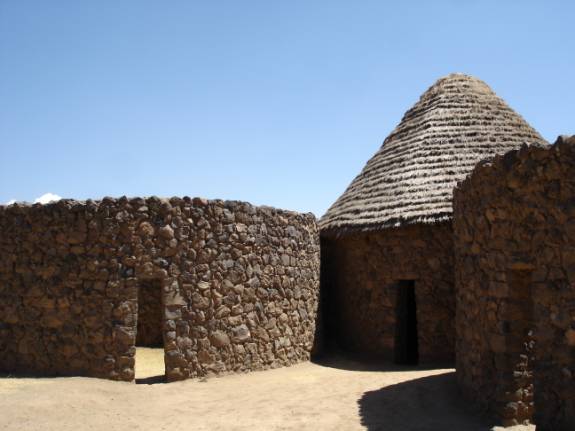 Adjacent to the northside of the temple are numerous living quarters that would have housed the priestshood, royalty, and various high-ranking officials. Each living section is located in separate square areas as large as 4 X 6 meters (13' X 20'). There are niches in all the walls which, most likely, would have been used for storage. Some of those niches were covered, suggesting they may have held artifacts or other sacred objects.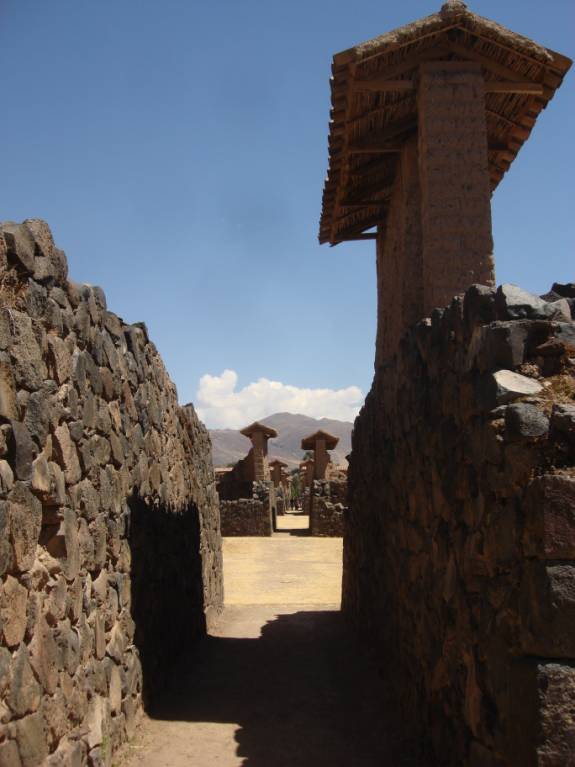 Dwellings areas were abundant and were probably available only to the higher-ranking Inca priests and royalty.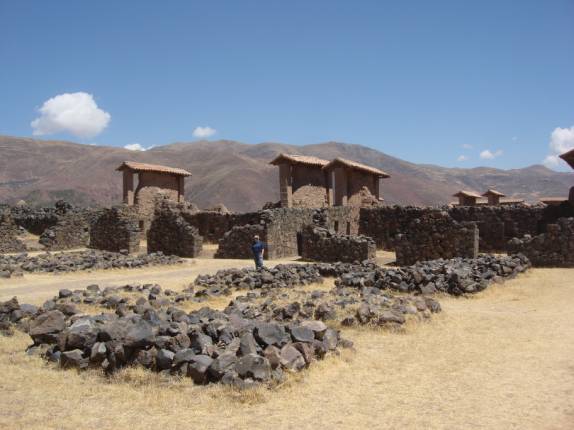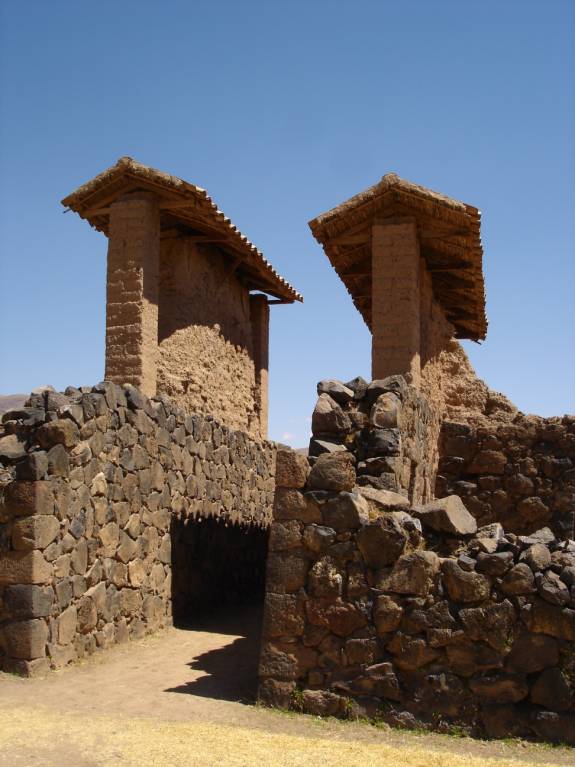 Nearly totally destroyed by the invading Spaniards, the temple of the Sun God now only stands in ruin.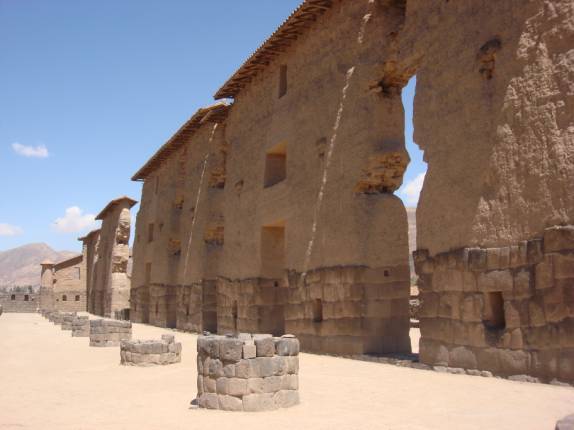 The small chapel of the Catholic Church is located at the entrance to the Raqchi ruins.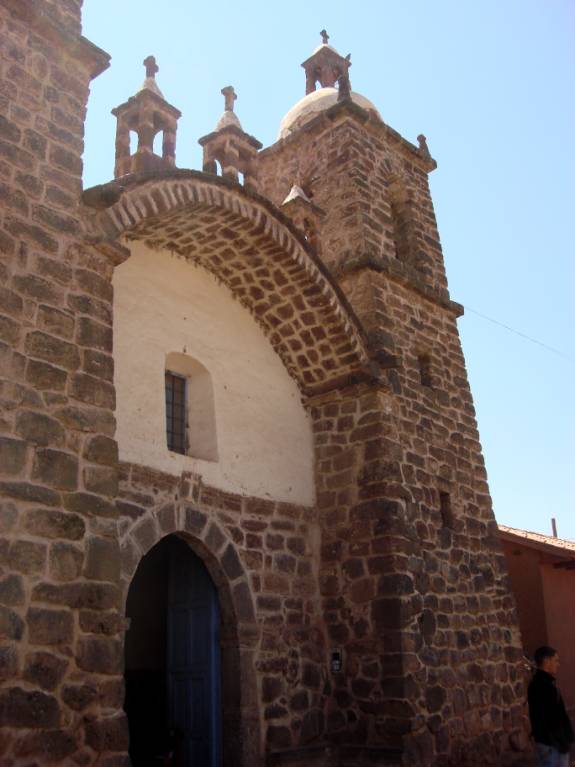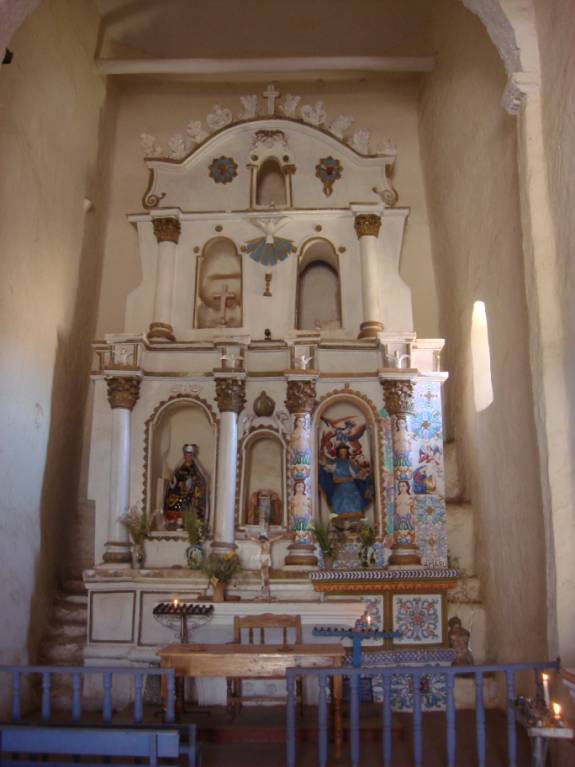 This woman toting an empty rope had me thinking of that song, "…Oh where, oh where has my little lamb gone… Oh where, oh where can it be?"…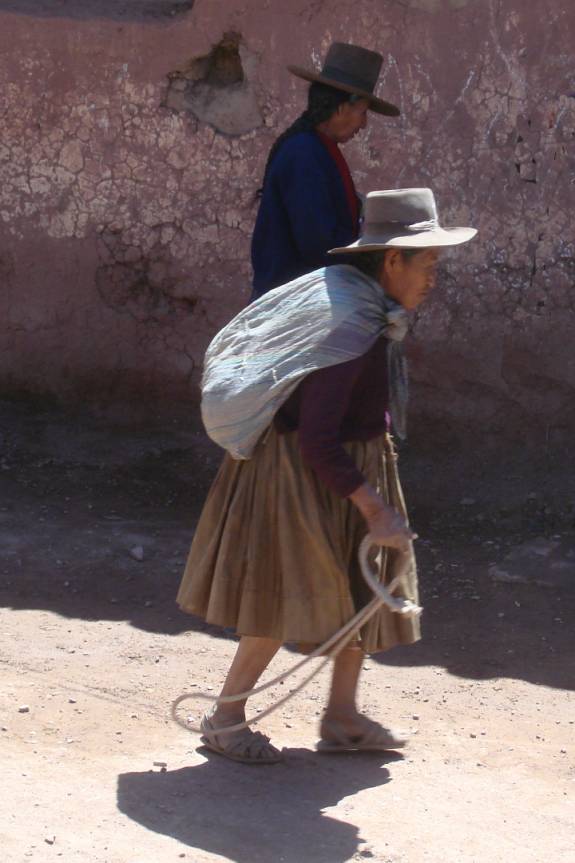 There was a buffet luncheon include in the tour plan at the village of Sicuani. Fortunately, it was not at this roadside eatery.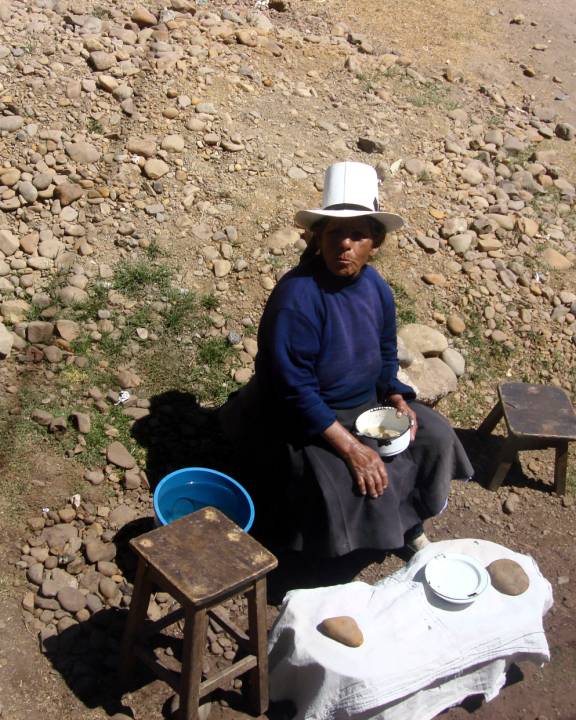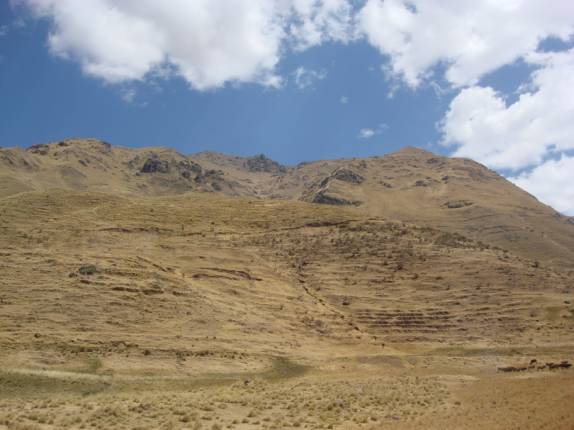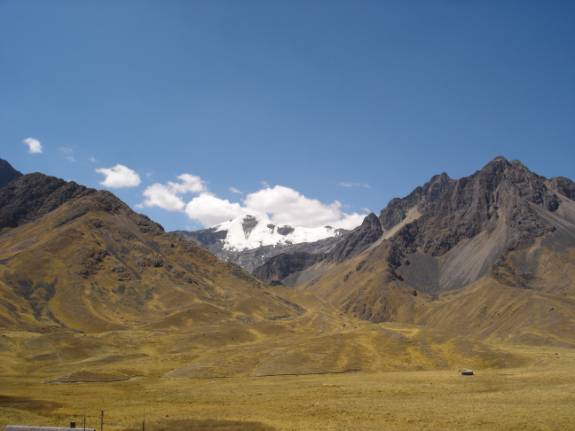 The train tracks for Perurail's luxury service from Puno to Cusco runs along the same valley.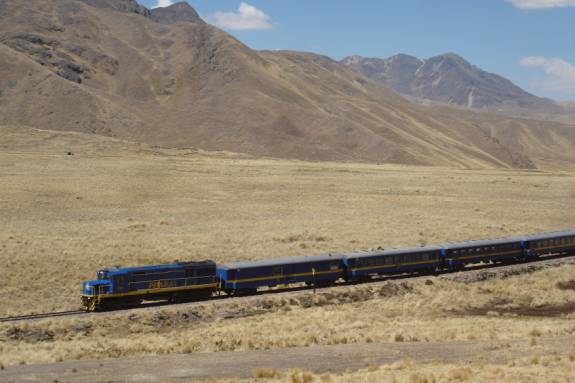 The snow-capped Nevado rises mightily, adjacent to the highest point on our trip.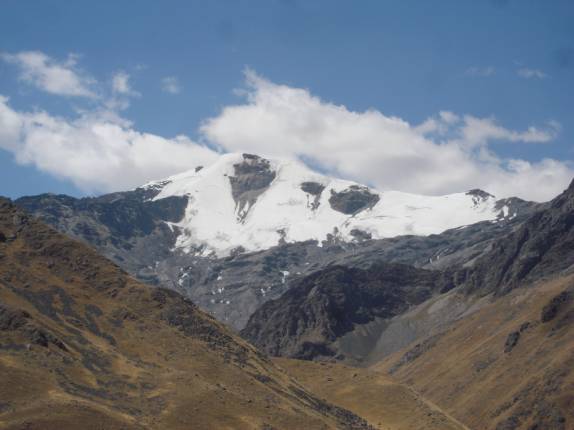 Here, the pass reaches 4,338 meters above sea level (14,233 feet), making it the highest point on this segment of our trip today. The point is also the dividing line between the Departments of Cusco and Puno.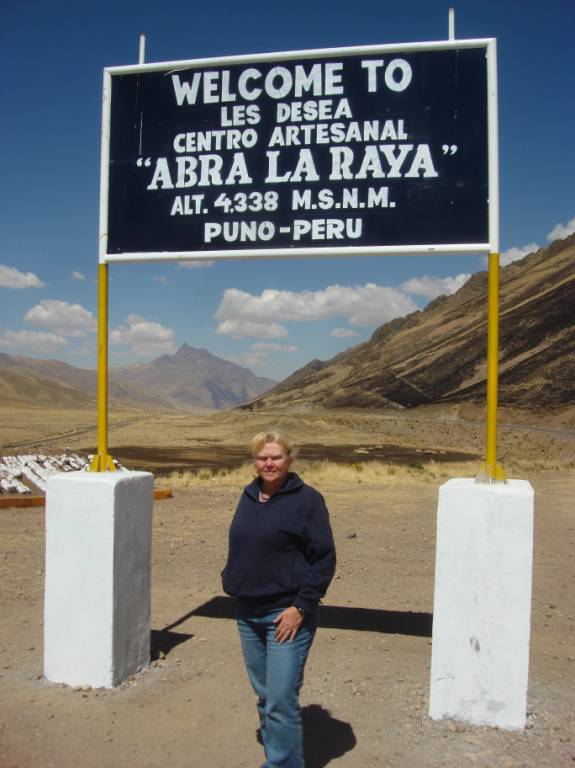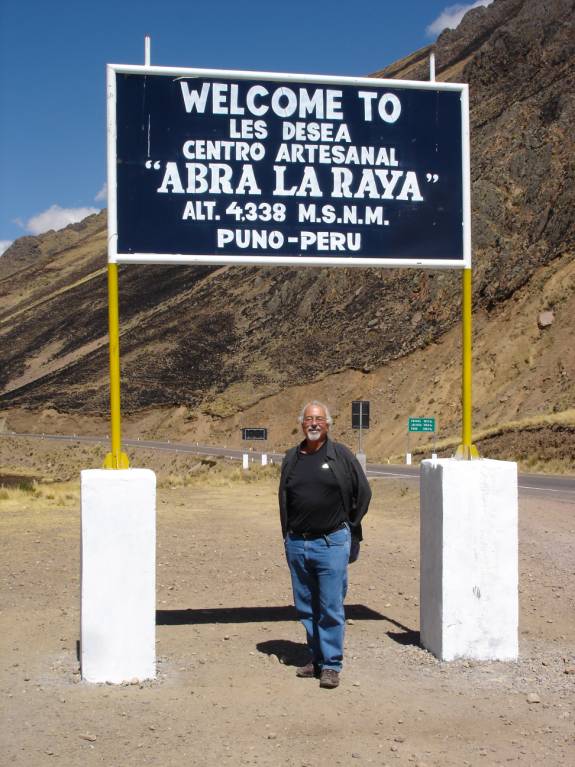 Just before 3pm, we arrived at Pucará. The facade of this large Catholic Church dominated the area.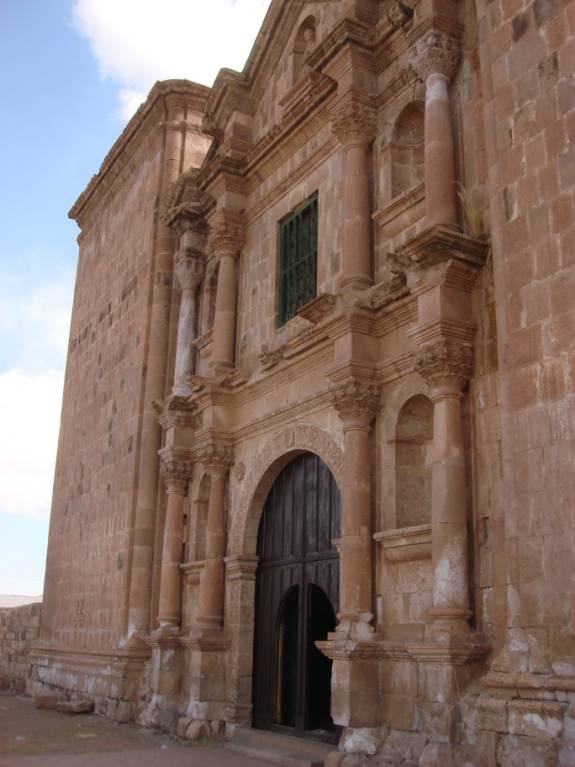 A small museum displaying Pucará cultural artifacts can be found behind and around the corner from the church. On view were numerous statues and artifacts from Pre-Inca cultures that inhabited these areas from 400 BC to 400 AD.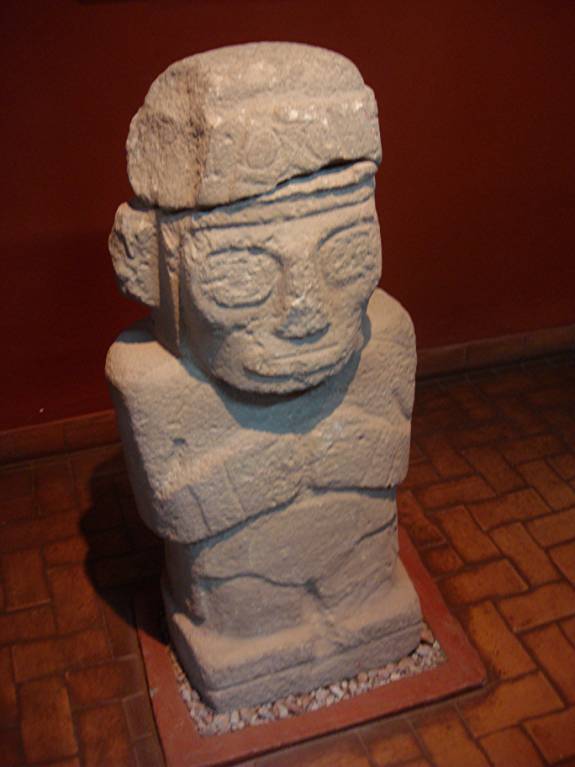 Several monoliths were on display in the museum galleries.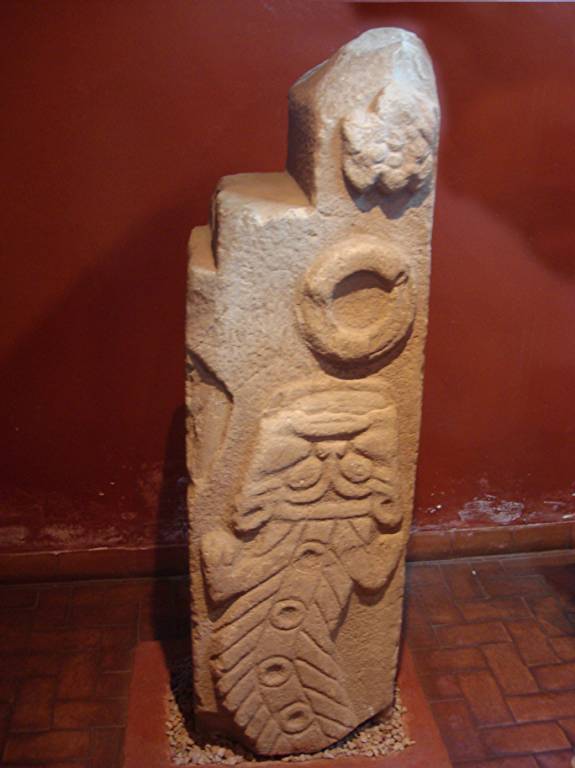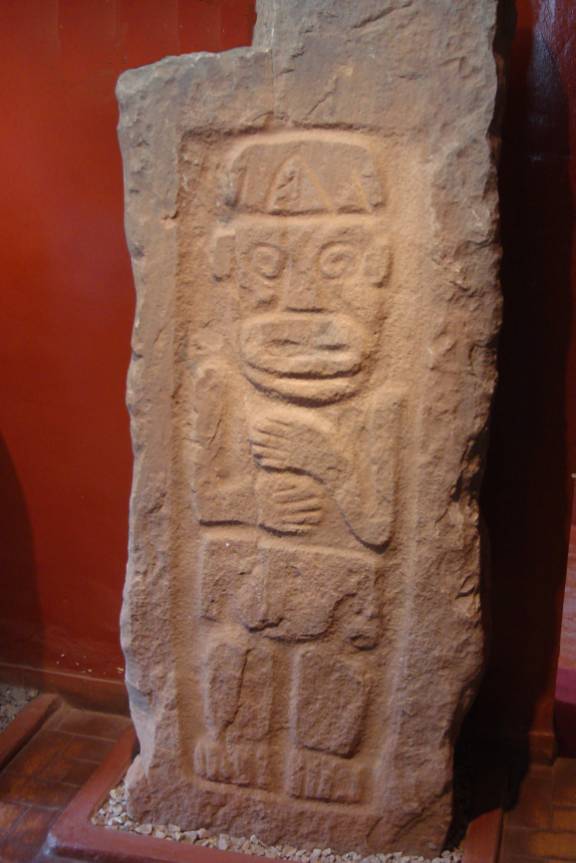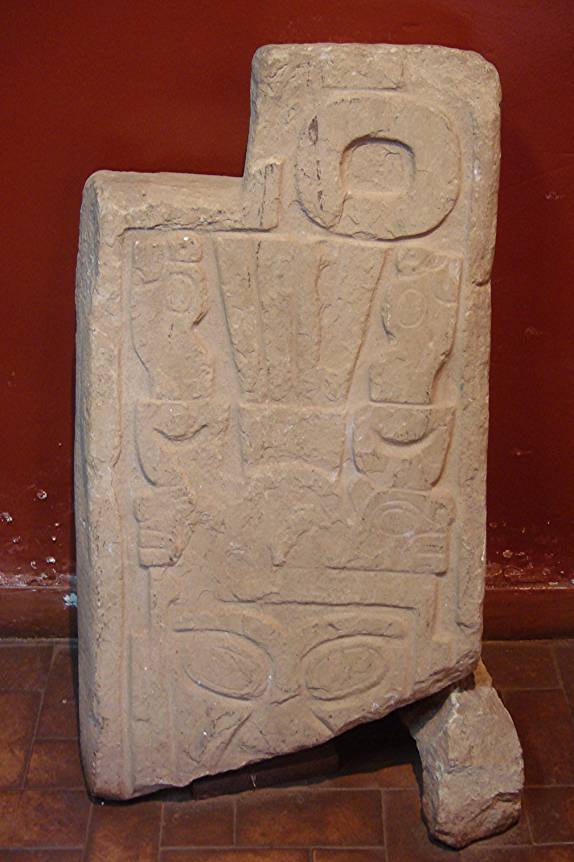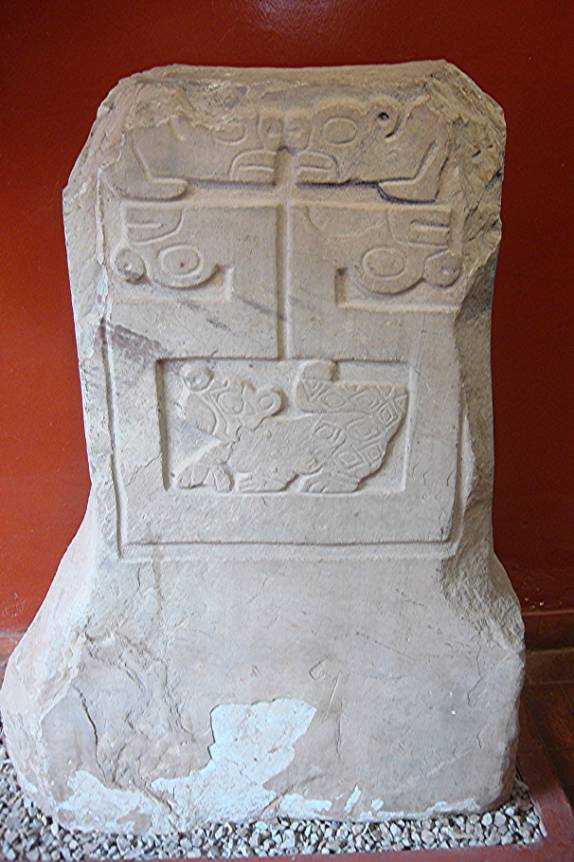 "…Off with his head, off with his head; someone's been painting the roses red"… Alice's Adventures in Wonderland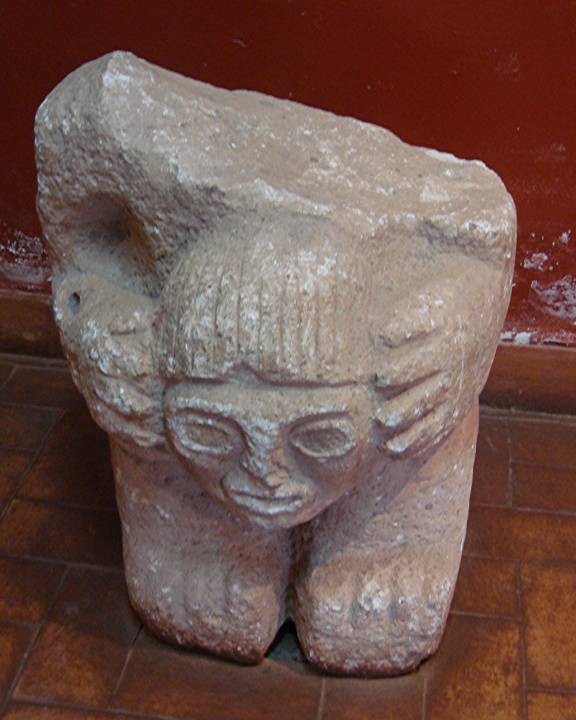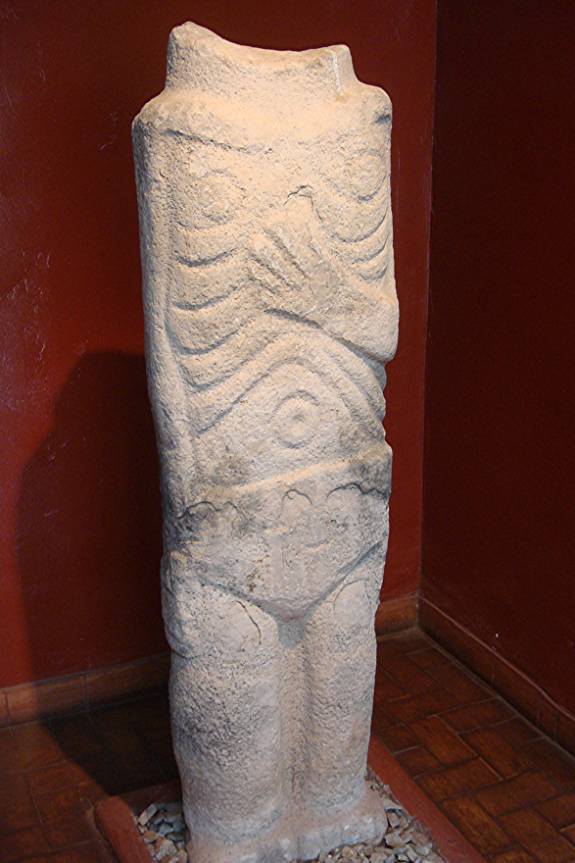 Themes included evidences of beliefs of human sacrifice. The Grand Decapitator (Devadores) and their victims were carved in stone.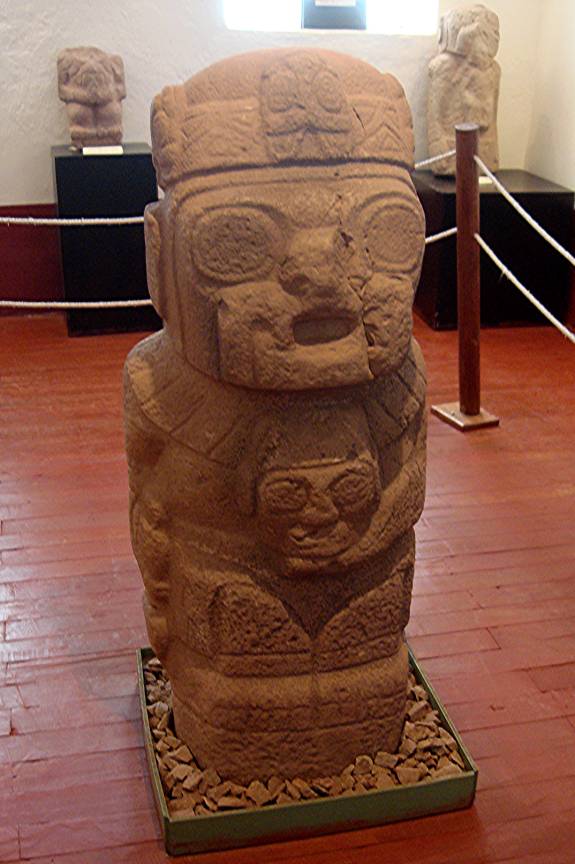 There was not enough time to visit the church site.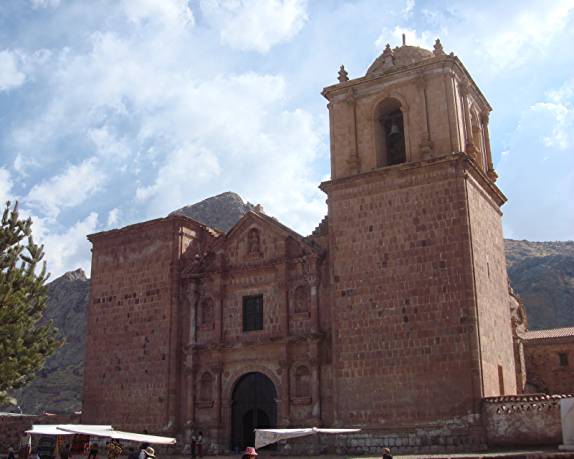 By 3:30p, we were headed south over the changing terrain features of the high plains.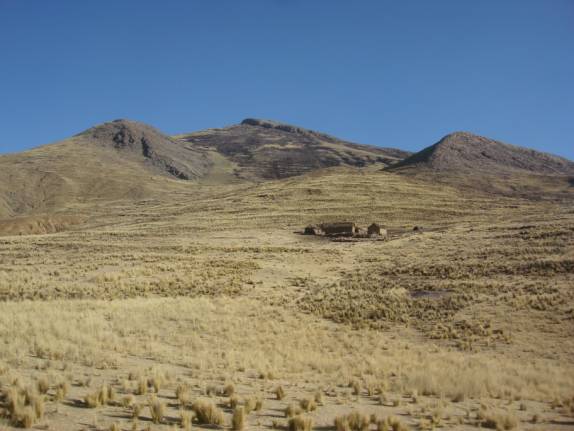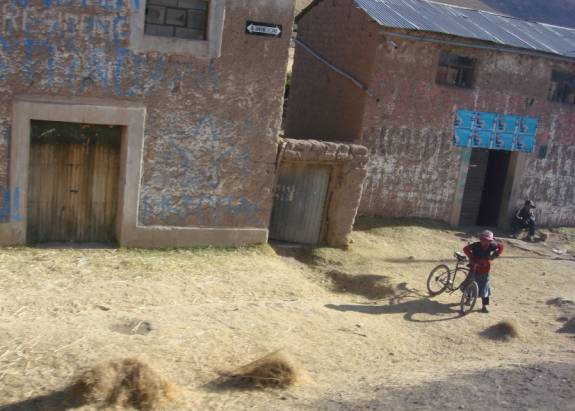 Around 4:30p, the bus passed through the big city of Juliaca. It is a busy, dirty place with smog and pollution from the local factories and cement plants. The city is reportedly rife with corruption and is a center for large smuggling operations with goods from neighboring Bolivia. A tax on goods in Peru is 19%, making illegal contraband articles from cheaper Bolivia attractive bargains.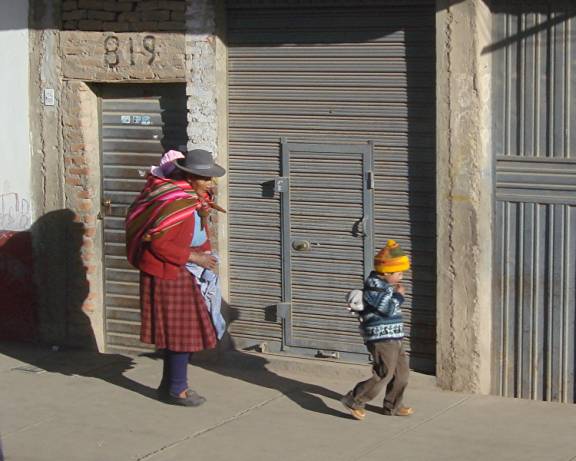 The Inka Express bus arrived at the Puno Terminal Terrestre (central bus station) at 5:20pm. Judy's keen eye spotted the sign emblazoned with our names. We were escorted to the Hotel Buho (Owl) and checked into room #148.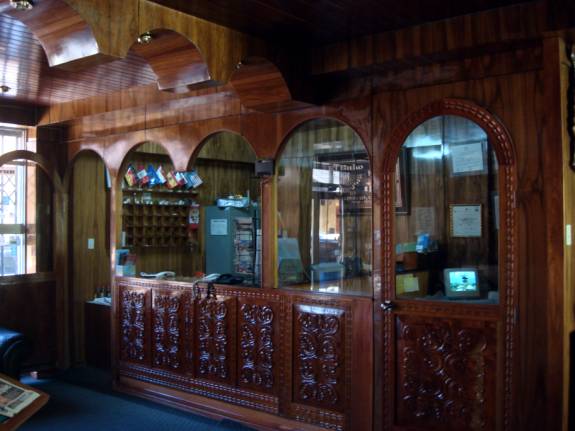 A lovely sitting area in the lobby made this one of the nicest hotels of our trip.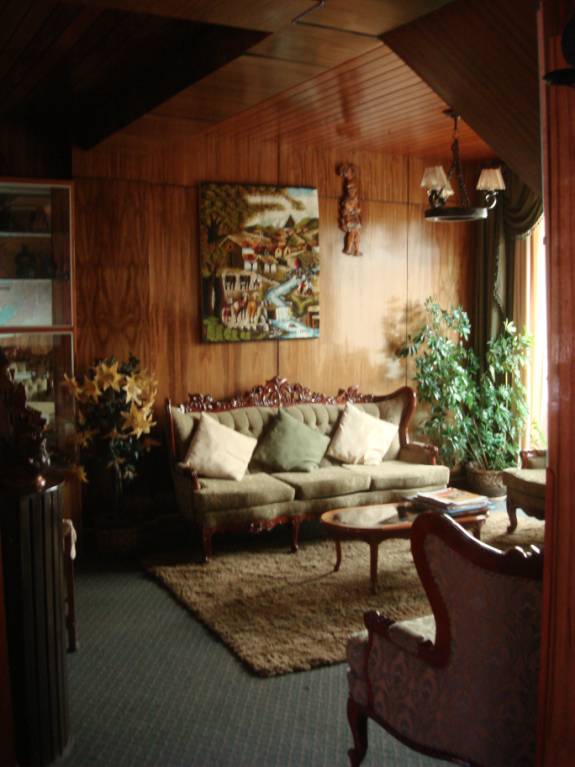 The rooms were spotless and nicely decorated.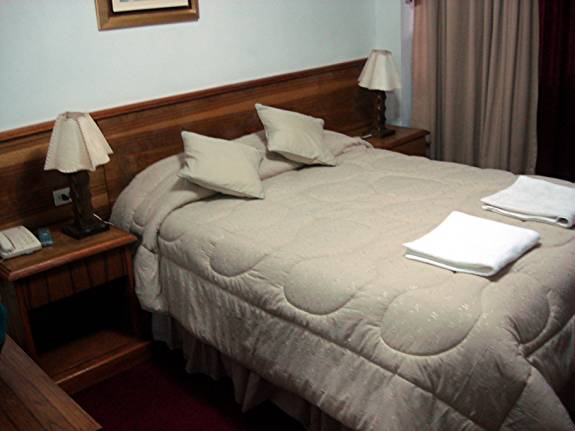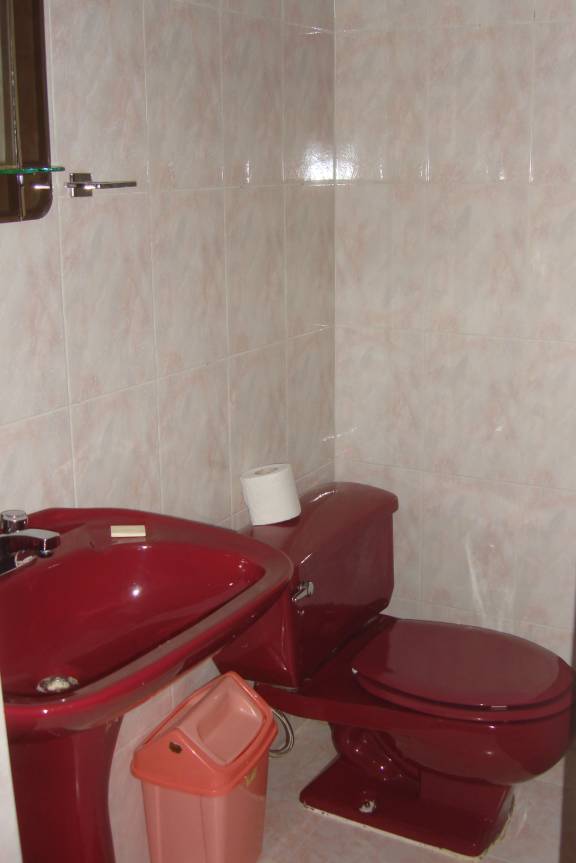 I had been in email contact with All Ways Travel Tours to arrange a two-day excursion to the islands of Lake Titicaca. We located the office and confirmed our tour arrangement. If you have the opportunity to take a tour from these agencies, remember that there are two prices available. The often-quoted price may be about 3 times higher citing the fact that more money will distributed to the people. Further playing to the minds of the ecologically obsessed, they expound several other misconceptions of how the money will be used. The tours are seemingly identical from what I could discern. At the recommendation of another writer, we contracted for the more economical version costing S./92 per person (about $32 each). This would also be my recommendation to you. The families all receive identical payments in accordance with their combined agreement and arrangement with the various tour agencies; don't worry about that factor.
In the Plaza de Armas near the Cathedral, a large police band was playing in municipal style. A huge stage was being prepared for an upcoming musical event.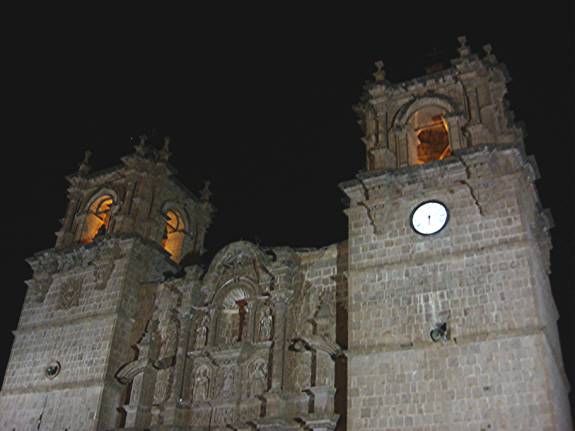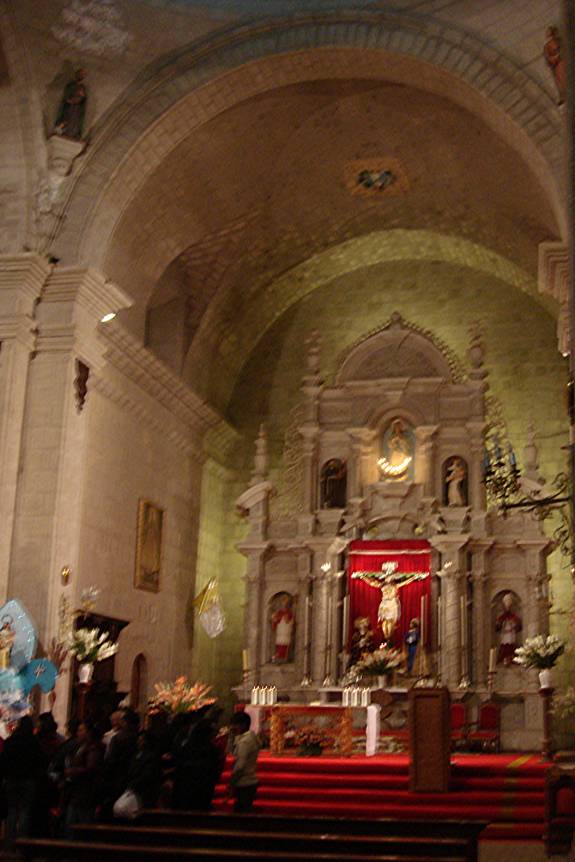 We checked out lots of places for dinner and listened to the recommendations of many sidewalk touts. Our choice narrowed down to the Qori Brazos restaurant because the place was busy and the food looked good. We saw numerous people eating delicious looking, chicken shish kabobs. There was a special table placard offering "Corazonitas de Pollo" skewered with onions and sweet red peppers. Since Corazonitas means "Little hearts" of chicken, I assumed that this meant the shish kabob was made with choice little pieces of chicken breast. Surprise, Surprise, Surprise! When the actual plate was served, it unquestionably had a couple of skewers of meaty tidbits, however, they really were rows of tiny little chicken hearts. So much for my clever interpretation, you know what they say about "assume"; it makes an ASS out of U and ME. As you can guess, we didn't eat the tender morsels. Oh well, just another tale for our adventure.
Fortunately, we had ordered enough additional food items that we didn't go hungry. I had ordered Champiñones a la Parilla (grilled mushrooms) and a plate of sliced tomatoes; they were scrumptious! Luckily, Judy got the very last bottle of icy cold, Cuzqueña beer.
Another band had set up at the Plaza stage and was blasting out their music through an extensive sound system. Sounding somewhat like the Central Andes version of Chinese music, we soon realized that would not be able to appreciate their musical expression while standing in the frigid cold, night air.
Tomorrow, we will depart on our island-hopping adventure on Lake Titicaca. At the tranquil Hotel Buho, we enjoyed a very nice, comfortable, and quiet night.
TO BE CONTINUED…SOON…
Please let us know if you have any special suggestions and thoughts.
Thanks for allowing us to share our life and adventures with you.
Lotsa Luv,
Fred Reed and Judy Law
AMARSE
MT40
"AMARSE". is pronounced "AM-ARE-SAY".
Our website is: www.amarse.net .