UPDATE #8
03
/17 thru 03/24/07
Howdy Everybody,
We are very interested in hearing from ya'all.
The period 01/19/07 thru 03/08/07 has been covered in Updates 1 through 7. We continue with UPDATE07 #8.
UPDATE07 #8 03/17/07 through 03/24/07.
Welcome back to the new Adventures of the trawler AMARSE. At last update, we were enjoying life to the fullest at Marsh Harbour in the Abaco Islands of the Bahamas.
03/17/07 SATURDAY ABACO BEACH RESORT and BOAT HARBOUR, MARSH HARBOUR, ABACO, BAHAMAS
The heavy rains overnight did a nice job of washing down AMARSE. I spent most of the morning making a birthday card for Judie Jenkins. We have been invited to help celebrate this special day aboard ODYSSEY, the Great Harbor 37 of Paul and Sue Graham. Sue made a wonderful Red Velvet Cake and Paul scooped ice cream. While her husband, Jonathan, looked on, the guest of honor, Judie, cut generous chunks of the delicious desert.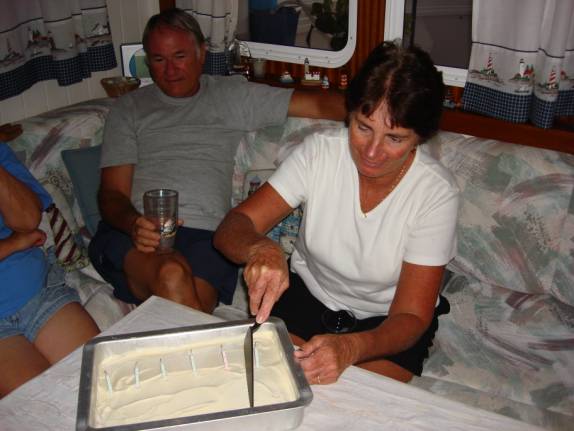 I found her baby picture hidden in the archives and, as you can clearly see, she hasn't changed very much over the years.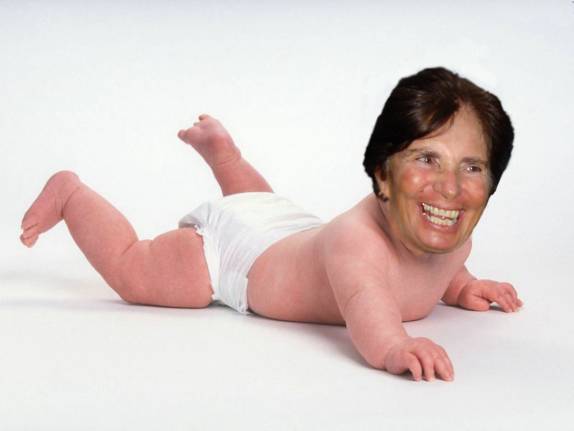 It was a fun evening for everyone on the guest list that included Fred and Linda Gassmann from LINDA G II, Doug and Leslie from HAPPY CLAMZ, Fred and Judy from AMARSE, John and Sue Hauge from LA GARZA VERDE, Paul and Sue Graham aboard ODYSSEY, and, of course, Judie and Jonathan Jenkins from DOUBLE JJ.
This was the first time we had been aboard a GH37. We were delightfully surprised at the huge amount of room and all the amenities throughout the three floors. These are very versatile, live-aboard boats.
03/18/07 SUNDAY ABACO BEACH RESORT and BOAT HARBOUR, MARSH HARBOUR, ABACO, BAHAMAS
It was another absolutely beautiful day here in this island paradise. The wind was still quite brisk but just a bit friendlier than other days of recent. We had considered taking AMARSE out for a little cruise but decided to leave her peacefully in her slip. Judy has been working feverously on the Teak wood trim and we were concerned that the salty spray might contaminate the bared wood of the handrails.
In search of adventure, we set off in our dinghy with Doug and Leslie close aside in their inflatable. We eased out of the harbor and followed the coast north to an inlet that is lined with very nice private residences. Still wanting more adventure, we agreed to head out across the Sea of Abaco toward Hopetown. Now, Doug and Leslie's outboard is a very small 3-1/2 horsepower. To travel along with them, we committed to a long, wet and windy voyage. AMARSE's RIB dinghy (rigid inflatable boat), powered by the Evinrude 15 HP, is capable of about 20 mph in smooth seas. Our trip of about 6 miles took about 1-1/2 hours at their top speed. We set our course toward the beautiful Hopetown lighthouse on Elbow Cay. At the mouth of the harbor, the Abaco Sailing Club was engaged in their Sunday afternoon race. The local folks race sail these unique little vessels around a typical course marked with bright orange buoys.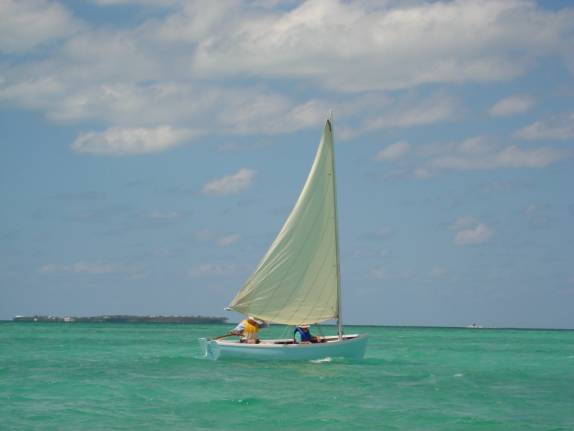 The harbor was full of boats and it was unlikely that any mooring balls would have been available for the big boat. For our little dinghies, we had the choice of either a fixed dock with a high ladder or this lovely little, sandy beach to land upon.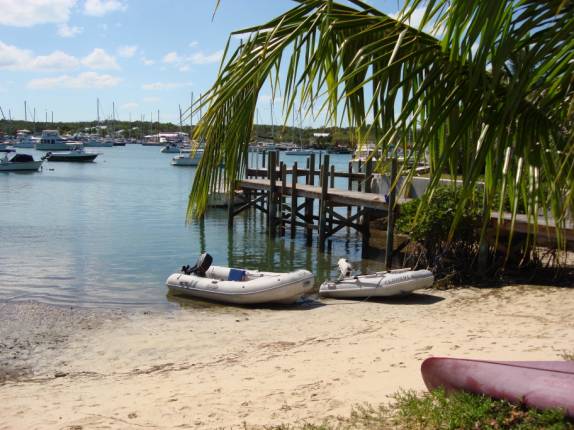 A historic marker indicated that this was probably the same beach that the loyalists landed upon way back in 1785. Just imagine all that history and beauty in the same place.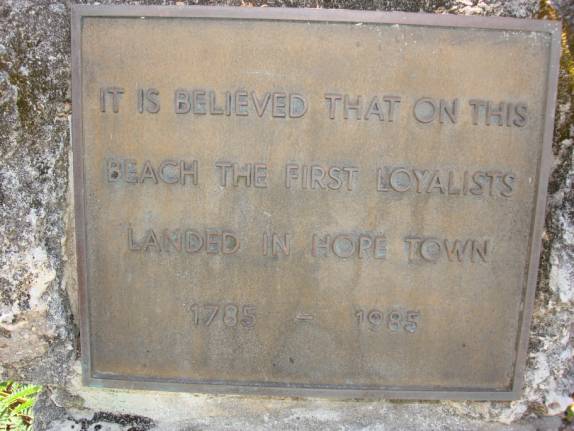 The gorgeous view across the harbor includes the Hopetown Lighthouse. We are told that the light is still operated by a couple of keepers and it still burns oil to provide the bright light.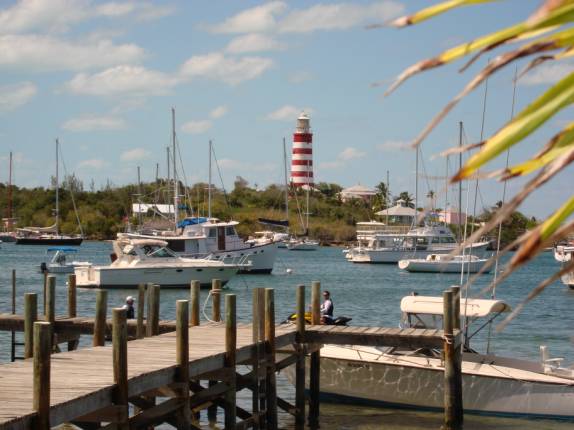 Vessels are restricted to mooring balls in this snug harbor. Technically, there is no anchoring allowed in the inner harbor, however, we did see a few boats that were clearly disregarding the rules. The spacing is tight even with the mooring balls, anchored boats make it uncomfortable for the others due to the threat of dragging with very short anchor scope.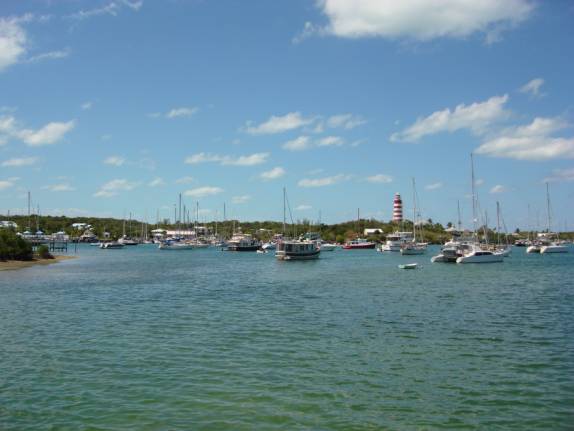 The usual anchorage area, located outside of the harbor and channel, would be a bit uncomfortable in these winds that seem to persist day after day.
Today is Sunday, therefore, almost everything is closed up tight. It was still fun to walk around the small village looking at the various sights. On the ocean side, the view of the beach and outer reef is quite spectacular.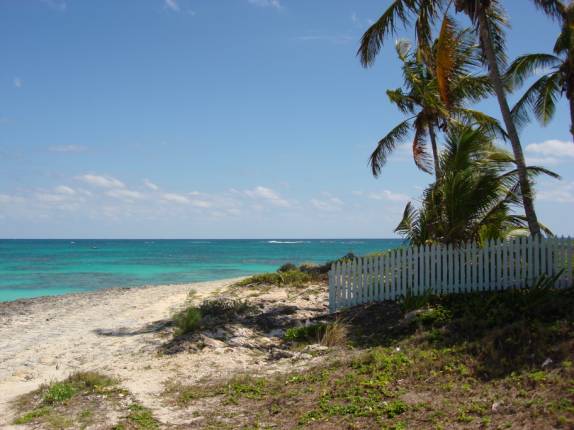 Hopetown is quite different than Marsh Harbour. Here, there is a laidback atmosphere more typical of what you might expect in the Bahamas. With almost no automobile traffic here, the principal modes of transportation are golf carts, bicycles, and motor scooters. There are quite a few lovely, old cottage homes lining the narrow streets.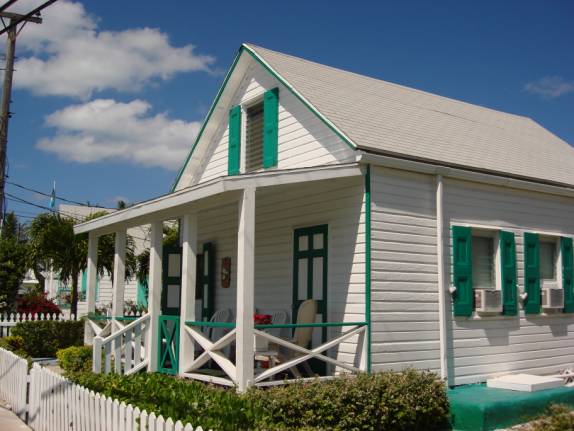 Beautiful flowers surround many of the beach houses.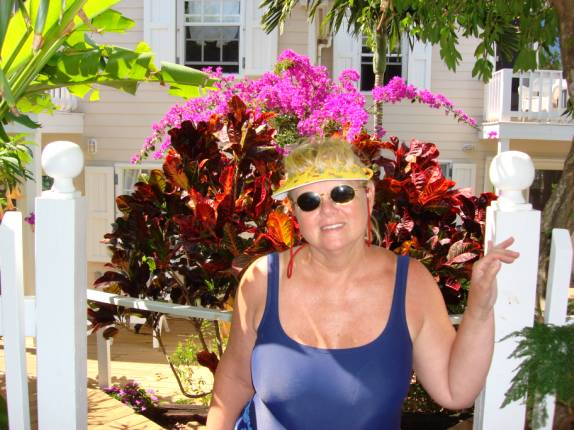 It seemed like a long, wet ride back to Boat Harbour. The wind had clocked just enough to kick up some bigger waves that would all too often send a chilling spray over us. Doug and Leslie promised to get a bigger, faster dinghy for their next trip; We whole-heartedly agree. It seemed even longer than the 1-1/2 hour trip over. We got too much sun, we were covered with drying salt, and we were quite tired. You probably think we'd had enough, right? Wrong, wrong, wrong, my friends. We went up to the pool to calm down and relax in the tranquility of the fresh water pool.
Doug and Leslie coordinated our dinner plan. We would bring meatballs and they would prepare tortellini in Marinara sauce. Garlic bread was grilled to accompany the main entrée. Doug made some Jell-O Shots. He mixed Red Raspberry Jell-O with half water and half vodka. Yummy and smooth. There is always room for Jell-O (shots).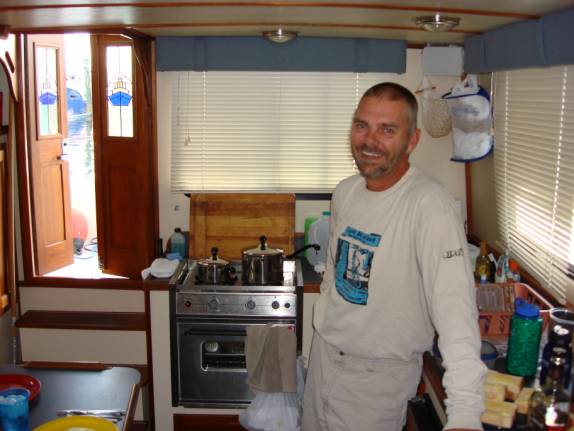 We had no trouble nestling into the sheets tonight. These kids were just plain tuckered out.
03/19/07 MONDAY ABACO BEACH RESORT and BOAT HARBOUR, MARSH HARBOUR, ABACO, BAHAMAS
Another day and the windy conditions continue again today. Judy has been preparing the external teak for fresh varnish. She is ready to put on the first coat of Schooner Varnish that has been diluted with 10% thinner. This will aid in deeper penetration for that important first coat. After more sanding between coats, all succeeding coats will be at full strength.
With all of this wind, combined with extremely low tides associated with the spring season, the water level is very low in places. This sailboat was attempting to get to their slip and they found themselves firmly aground. Normally, the water here is not less than 7 feet even at mean low tide. Even though this sailboat claims to draw 6 feet, we're guessing it is a bit more after fully loading it. They waited for about two to three hours for the tide to refloat them.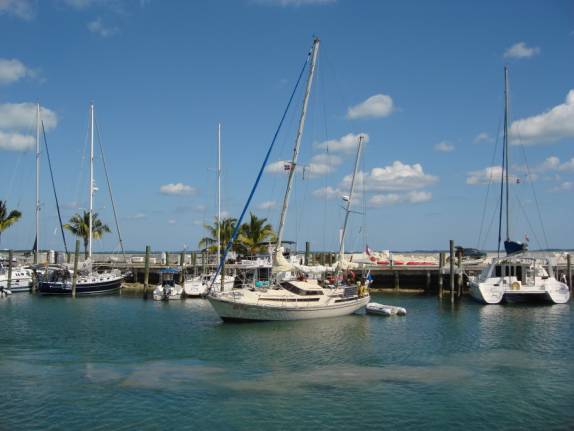 We visited the beautiful swimming pool for some sun and splashing. The temperatures are comfortably in the mid to high 70's.
After cleaning up, we headed up for the bi-weekly Manager's Cocktail Party held every other Monday evening. Everyone seems to enjoy the free party complete with hors 'douerves. I really liked the toast points topped with a shrimp/scallop mixture. We gathered together a bunch of tables to allow a large gang of us to sit together. The musical entertainment was by Brown-Tip. Our plans to gather at the pool bar later for more music and dance was thwarted by some heavy showers that attacked immediately after the Manager's party. We enjoyed the rest of the evening in the dryness of AMARSE.
03/20/07 TUESDAY ABACO BEACH RESORT and BOAT HARBOUR, MARSH HARBOUR, ABACO, BAHAMAS
HAPPY BIRTHDAY to BOB ALLEN way down there in San Miguel de Allende.
Well, folks, I did something today that I haven't done since I was a young boy. Back when I was about 10 or 12 years old, I fell off my Uncle's Chris-Craft Cabin Cruiser in Gloucester, Massachusetts. Well, you guessed it, I did it again today; I fell right into the water off the swim platform. I was attempting to climb into the dinghy to pump out all the rainwater from the night before. As I put one foot into the dinghy, the wind gusted and pushed it away. Unable to do a graceful split, I went over backwards with a splash. Seconds later, I was climbing back aboard from the swim ladder. How embarrassed do you think I was? Sometimes I think I'm following a kind of path forged by my friend Andy Misovec on FROBENIUS. It started with Andy redefining an afternoon nap as doing heart exercise. Then he got onto a waffles for breakfast kick. I figured if Andy could have waffles, then I should have waffles. A few weeks ago, Andy fell off the boat into the water at the dock. Perhaps my falling in is carrying this thing just a little too far. Oh well, I guess since it's been over 50 years since I fell in the last time, I will try to wait another 50 years to do it again.
Judy worked on more sanding and the applying of a second coat of varnish. She helped me with the routine battery maintenance. I used the special filler jug that I got at NAPA auto parts and that made everything so much easier. I just have to press down on the jug into the filler hole. Exactly the proper amount of distilled water is added. It even makes a gurgling sound that lets you know its filling. Cool! While we were there, we checked out the below decks systems and even added a little oil to top everything off.
In the afternoon, we headed off walking to the Maxwell's grocery store to pick up supplies. It was a bit exhausting walking all that distance with a slightly sore leg, foot, and hand that still hurt a little from the fall.
Doug and Leslie were our guests tonight aboard AMARSE. They claimed to enjoy the Cocktails, Frito Pie, flour tortillas, and Judy's dessert of Chocolate Caramel Cake. Good Stuff!!!
03/21/07 WEDNESDAY ABACO BEACH RESORT and BOAT HARBOUR, MARSH HARBOUR, ABACO, BAHAMAS
We are beginning to wonder whether this wind will ever settle down. The forecast does not offer any promise of any reduction. Other than the wind, the mostly sunny skies and temperatures in the 70's are delightful.
Judy tackled the chore of laundry while I dabbled with the tax calculations. Bah! We decided to brighten our spirits by making reservations at the Jib Room for the Wednesday night Rib Feast.
At 5:30pm, we had the good fortune to join some nice folks in the taxi ride around the harbor to the restaurant.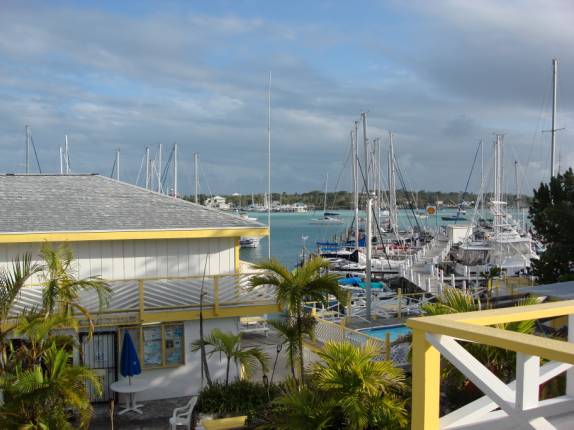 We sat with Skip and RoseMary from Rochester, NY. Skip is in the printing business and we enjoyed reminiscing about the old days when I too was a printing pressman. He took over the business from his dad so he shared many of the same memories. Great folks. They have chartered a 43-foot power cat for the week from the Moorings.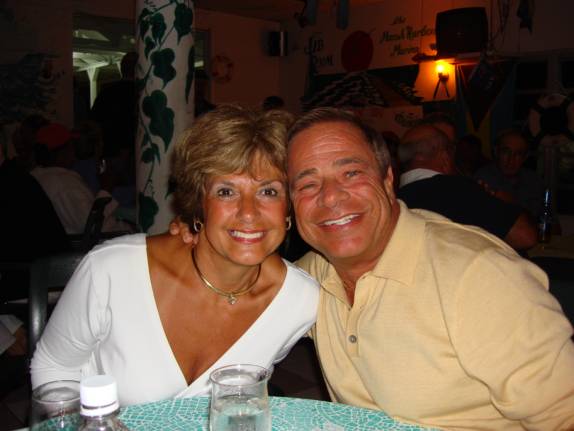 Sharing the week with them were Jack and his wife from Buffalo, NY. Some of you may know or recognize him, he worked for the IRS. I took the liberty of giving him a list of all your social security numbers so that he could personally review your returns for any possible mistakes that you might have made. He said he was "only there to help".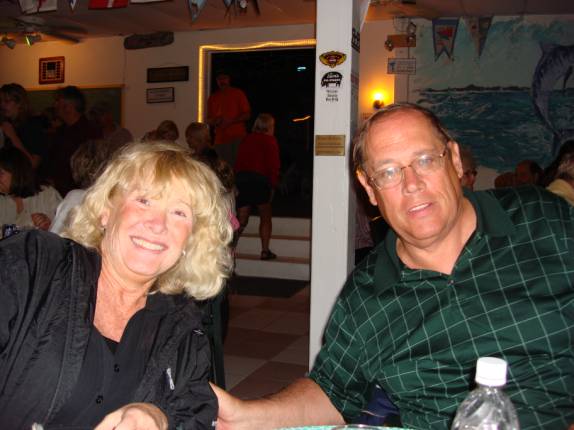 Every Wednesday night, the restaurant serves a whole bunch of people at the Baby Back Rib dinner. I have never been a real fan of ribs, however, they are one of Judy's favorites. I've always found them to be a little dry and tough. I thought this place would be special for Judy and that I would only be OK with it. Let me tell you, my friends, that these were absolutely scrumptious. The meat literally fell off the bones and was tender and moist. WOW! If ribs were like this all the time, they'd be my first choice. Everyone raves about the place and great dinners. Now I can't wait for next Wednesday.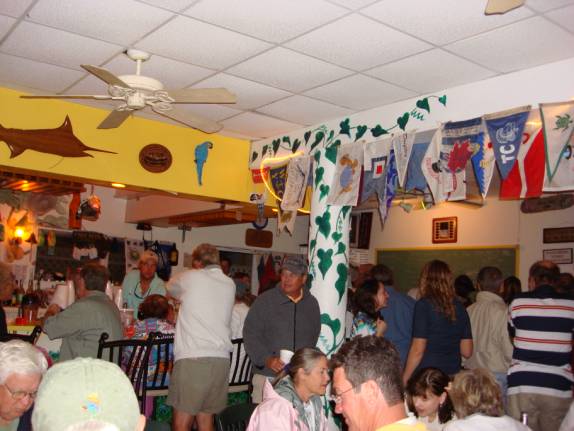 The music is typical island style and lots of fun. They have a limbo contest boasting of a $100 prize for the winner. Some of the locals come to partake of the contest. Some of the tourists are quite enjoyable to watch.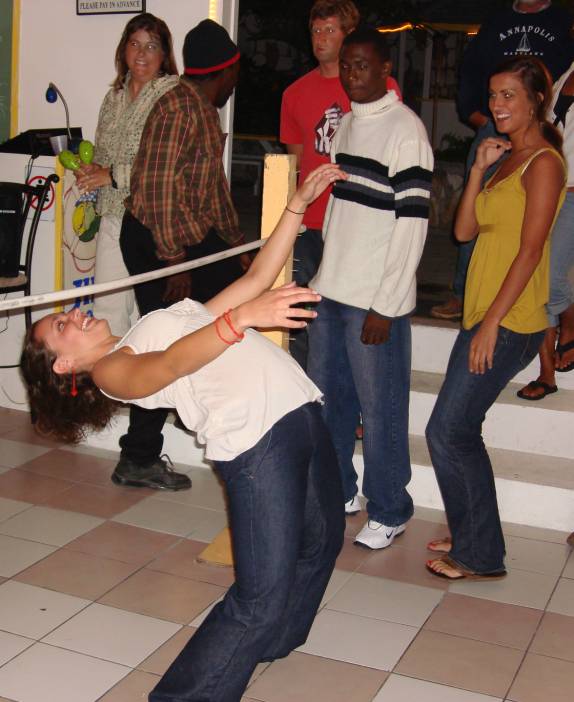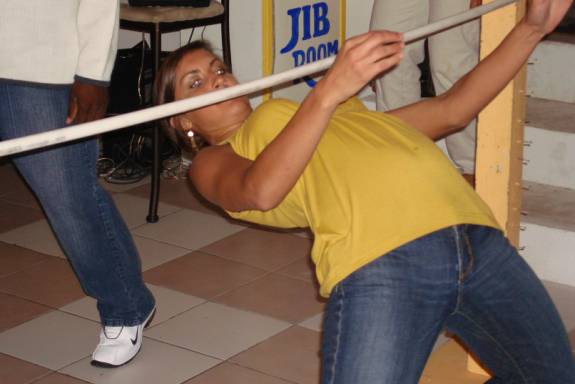 One of the local guys has this sport down to a science. It is quite unbelievable just how low he can go. No one else can even come close.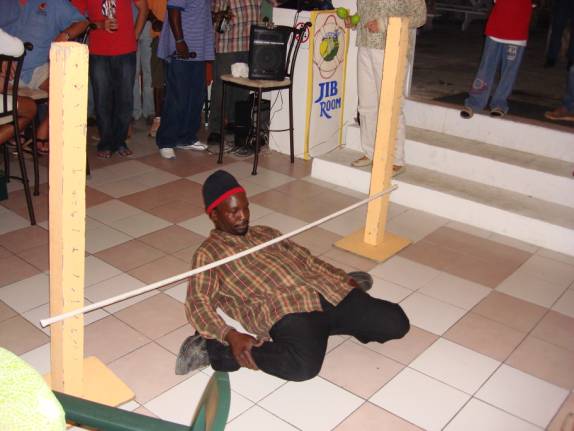 He even clinches the contest by crawling, limbo style, under the low bar while lighting a cigarette from the burning pole. No doubt who takes the cash. Even though I'm amazed at his agility and flexibility, I must admit that I enjoy watching the young, gal tourists better.
We were fortunate to again share the taxi back to the marina with our new friends from New York. Thanks everyone for a great, great evening.
03/22/07 THURSDAY ABACO BEACH RESORT and BOAT HARBOUR, MARSH HARBOUR, ABACO, BAHAMAS
The morning started with intermittent rain showers. The winds were at Gale Force whistling along at over 30 knots. We walked over to visit with Robert and Patty Mitchell on ORINOCO. They have been away this week rocking and rolling in anchorages along the island coast as far south as Little Harbour. I think that they may be glad to be back in the protection of the main harbor and Conch Inn Marina.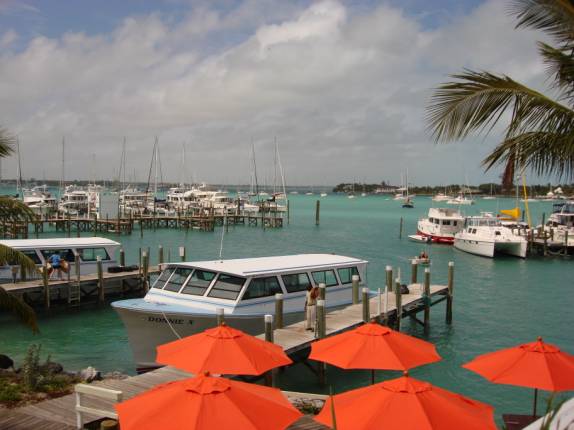 They had just been seated for lunch at Curly Tails restaurant located at their marina. We joined them for the conversation only.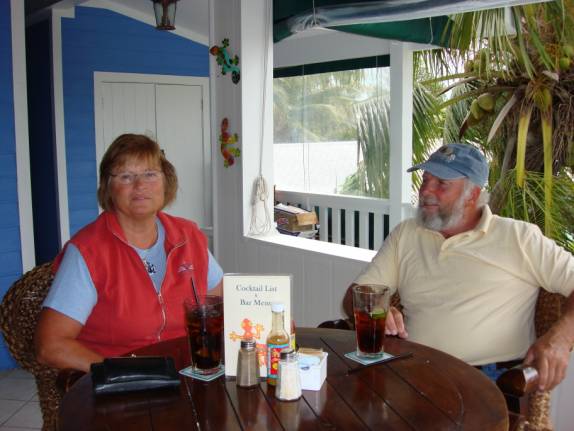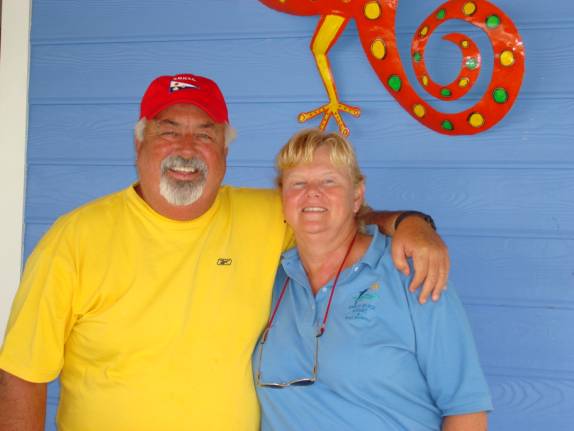 George and Miriam Grafer aboard TIME OUT invited us to join them for a impromptu pizza party. We each ordered the pizzas of our choice to be delivered together to TIME OUT. Together with Doug and Leslie, we all enjoyed the get-together very much.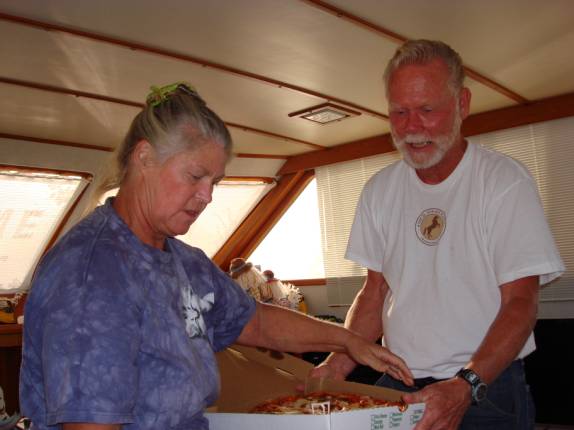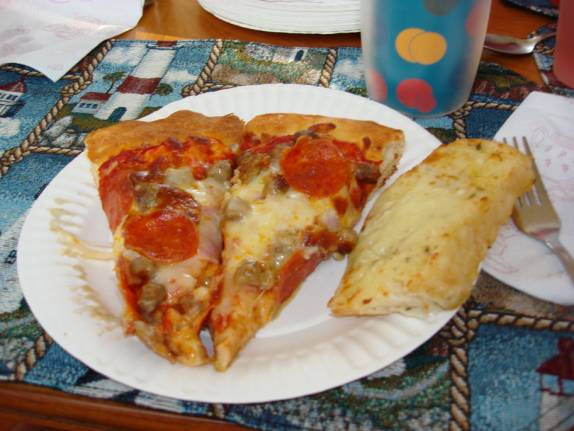 03/23/07 FRIDAY ABACO BEACH RESORT and BOAT HARBOUR, MARSH HARBOUR, ABACO, BAHAMAS
Every Monday, Wednesday, and Friday, the RMHYC broadcasts our meeting on VHF channel 78 at 8am. I don't know why, but our new radio located inside at the lower helm will not receive nor transmit on channel 78. All the others seem OK. This glitch requires us to go topside and listen in at the upper helm station. Just as we took our seats, there came a torrential downpour of very heavy rain. The wind was blowing and we got soaked from the driving rains. The meeting only lasted about 10 minutes before we could return to the dry comfort of the main salon. Soon, the showers ended but the wind continued to howl.
I can't be sure if Judy was just being nice or whether she didn't trust me to get into the dinghy to pump out the accumulation of rain water. There was quite a bit to pump out and we even resorted to a larger hand pump this time. With all this wind lately, it seems that we are merely using the dinghy as a rain gauge.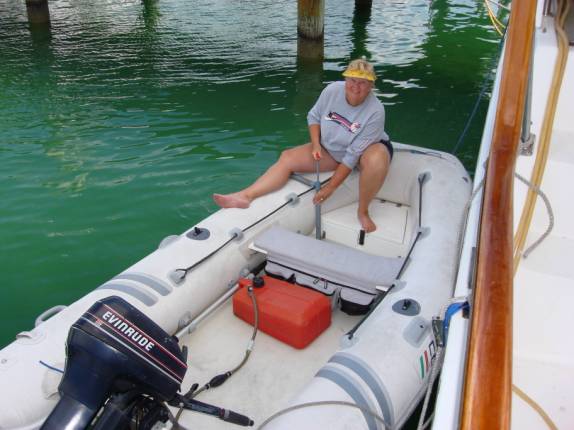 After a great lunch of Chicken Breast Salad sandwiches, our friend Doug came by offering to pick up anything we needed at the store in town. We requested some fresh Bahamian, coconut bread. In almost no time, he was back with a loaf that was still warm. His next venture was to hunt down some lobster meat from the ice docks. We slipped him some more cash with the nearly begging request to pick some up for us too. He knows where to buy lobster meat that is already out of the shell. These are, of course, Bahamian spiny lobsters that are often called crawfish. Not much time passed before he was back with almost 3 pounds of the stuff. We can hardly wait to make something delicious.
The main purpose for our wanting coconut bread was to make a special French toast breakfast. We also needed to get some coconut rum and banana rum to add to the recipe. We walked up to the liquor store and made the appropriate purchase. I bet you can guess what we'll make for breakfast tomorrow morning.
With the weather cooperating nicely, the boaters of Dock 4 (Rodeo Drive) hosted a potluck appetizer and cocktail party. Everyone brings their own cocktails and a fancy hors 'doeurve plate to share among the group. Even though we are officially on Dock 3, we are fortunate to be invited to their get-togethers. I love these things where we all sip our drinks, nibble on this and that, and chat about cruising and various other bits of nonsense.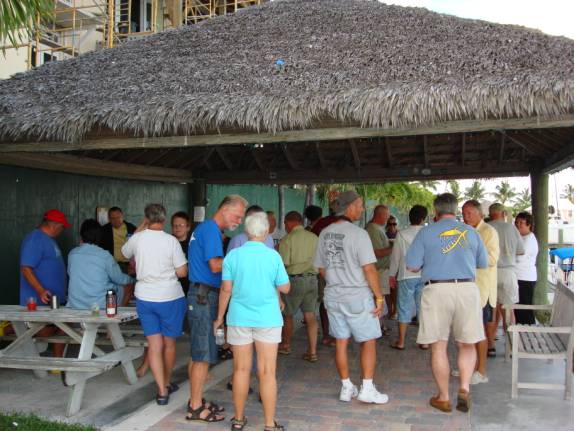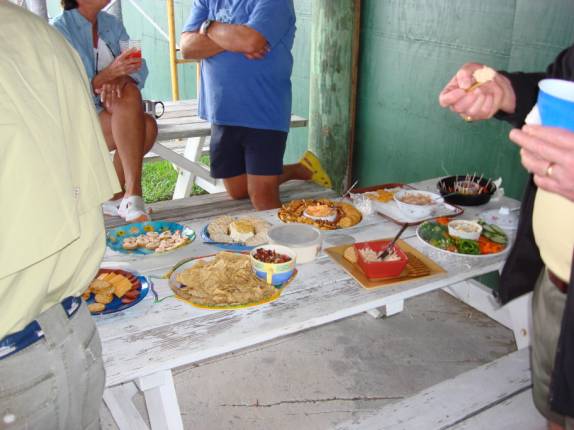 Paul and Mary live and cruise aboard PROPINQUITY. Now for your vocabulary lesson: The propinquity effect is the tendency for people to form friendships or romantic relationships with those whom they encounter often. I think it works quite well for this lovely couple.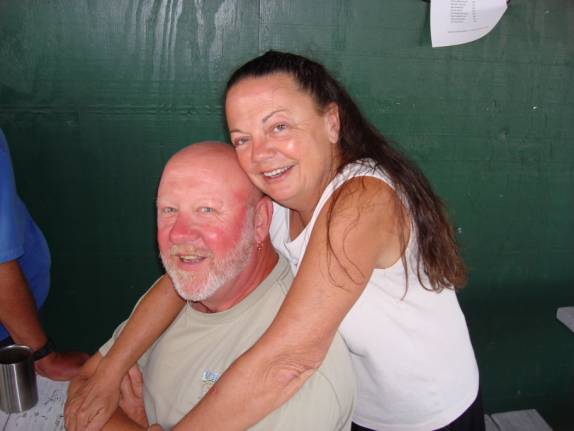 03/24/07 SATURDAY ABACO BEACH RESORT and BOAT HARBOUR, MARSH HARBOUR, ABACO, BAHAMAS
Once again, the early morning rain offered a free boat wash and the continuing wind assisted with a blow-dry. Doug had real itchy feet and was chomping at the bit to get underway. His first action was to finalize his bill for this two-month stay. Here you see Doug and Leslie smiling BEFORE Arthur presented them with their folio. Then it was Arthur's turn to smile. The astute Leslie found two significant errors on their bill prompting the reminder to check all bills carefully.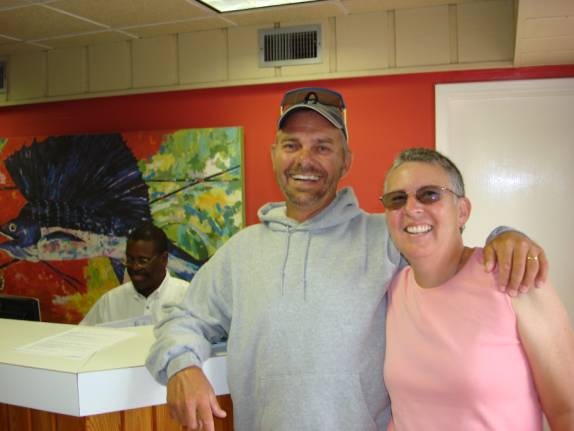 Captain "Gotta-Go-Now" was convinced that the brisk winds and threatening black skies were no obstacle for the "Little Tug That Could". We tried to remind him of movies, "Perfect Storm", "Victory at Sea", and "Jaws", but nothing could dissuade his wanderlust. We all really knew that it would be quite safe, albeit, uncomfortable making their way to the anchorage in Fishers Bay at Great Guana Cay. Selfish as it was, we just didn't want to see them leave.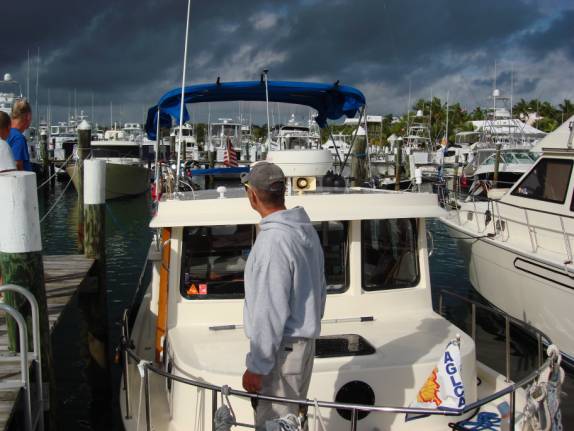 Quite a few wonderful folks came by to assist and wave "Goodbye" to HAPPY CLAMZ. I heard someone lovingly proclaim, "OK, you've made your decision, now get the Hell Outta Here!" No matter where one would travel, they could never find better people than these. We will miss them dearly.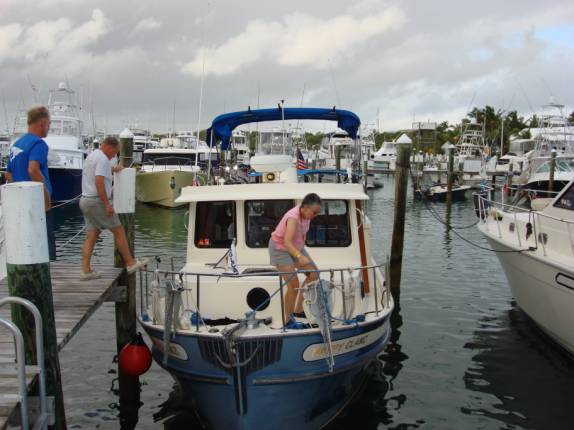 The wait for breakfast was well worth it. Judy sliced the fresh, coconut bread and dipped it in the mixture of eggs, milk, and cinnamon laced with a generous portion of Coconut Rum and Banana Rum. Served golden brown with Irish butter and maple syrup, even a true Frenchman would be envious.
In the afternoon, Steve and Jean Purdy from SUNCAT came by to visit. We had first met them in Penetanguishene, Ontario at the Rendezvous last July. They have a trawler now and this is their second winter in the Abacos. Last year was on their sailboat. They hail from South Portland, Maine.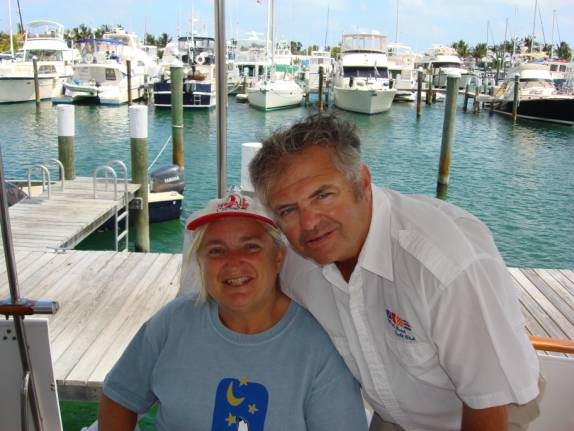 Later that afternoon, after working around on the boat and on log updates, we even found time to soak up some sun at the resort pool. Lots of folks had the same idea on this bright, sunny afternoon. Lots of young people here on spring break now. Of course, there was no shortage of us "mature" folks either.
We had reservations for Steak Night at the Jib Room. We were so impressed with Rib Night this past Wednesday that we were anxious to try their other specialty night. Patty and Robert came by dinghy from Conch Inn Marina, Steve and Jean are docked here at Marsh Harbour Marina and Jib Room, and Judy and I took a taxi from Boat Harbour.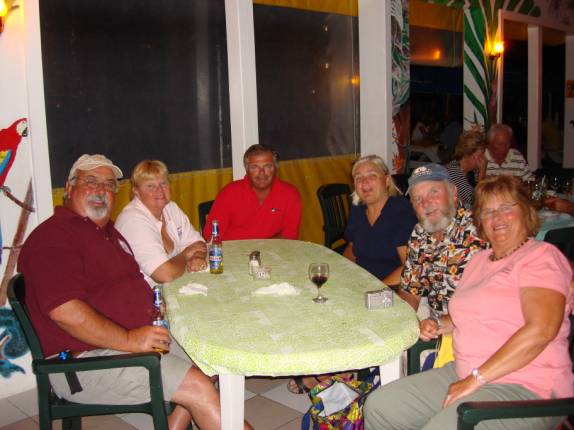 The steak was very, very good. The meal is served like a walkthrough, buffet line style. The barbeque chef is an expert at selecting just the proper steak for your request.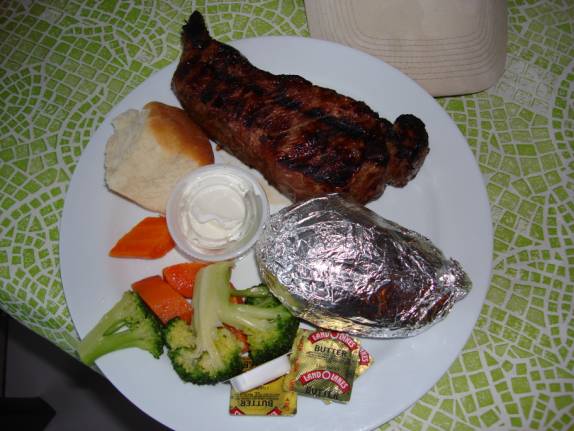 The revelers eagerly watched as the Bahamian chap did his thing with the limbo pole. Unfortunately, he didn't have much competition from the tourists.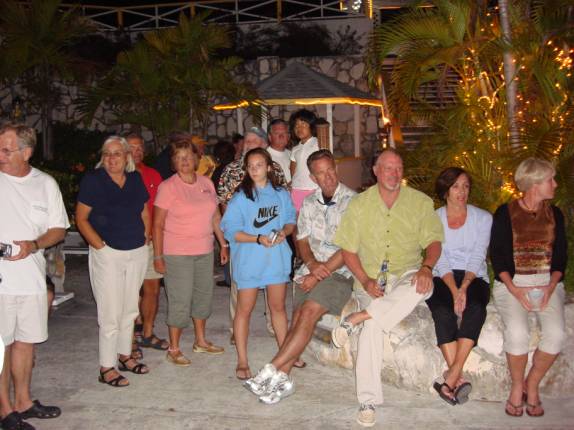 The man gives definition to the words "How Low Can You Go?"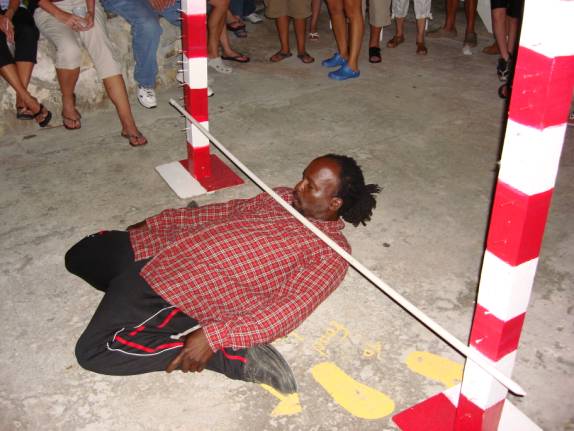 Amazingly, he slithers through on the edges of his feet and his knees never touch the ground. To the sound of "rake and scrape" on the saw, he lights another cigarette from the flaming pole.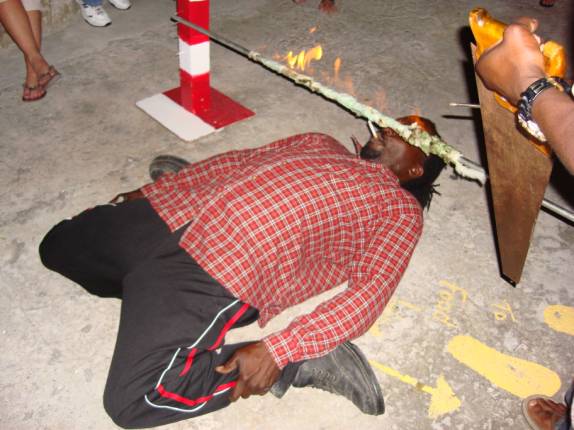 "….And the band played on" with more tropical island tunes beckoning everyone to join in with his or her own version of dance moves.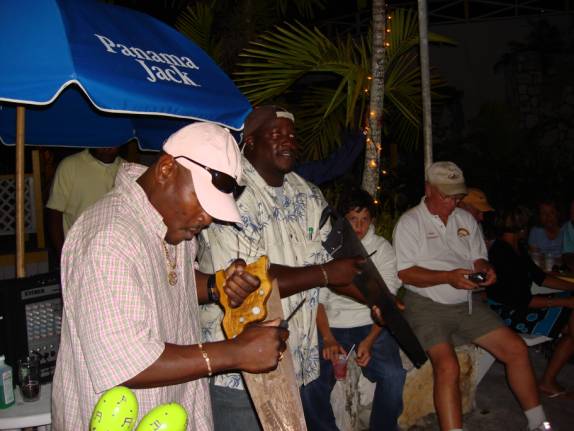 Patty and Judy were doing a great job of strutting their stuff on the dance floor.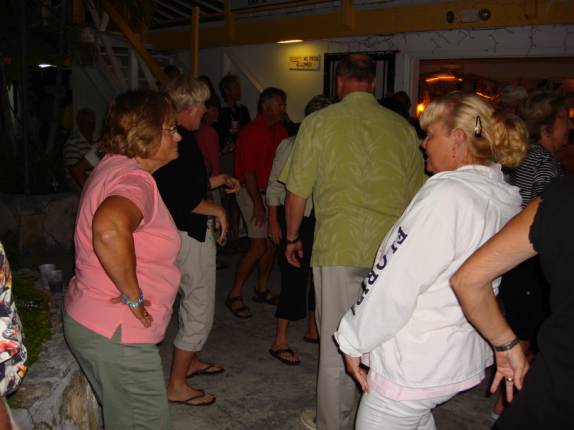 Patty and Robert buzzed off in their dinghy, Steve and Jean wandered back to their boat, and Judy and I caught another taxi back to Boat Harbour. As if we hadn't had enough for one evening, we found a table to enjoy more music and fun at the resort bar. Brown-Tip was in great form belting out more energetic island tunes. He brings the music to life and sparks everyone out to dance.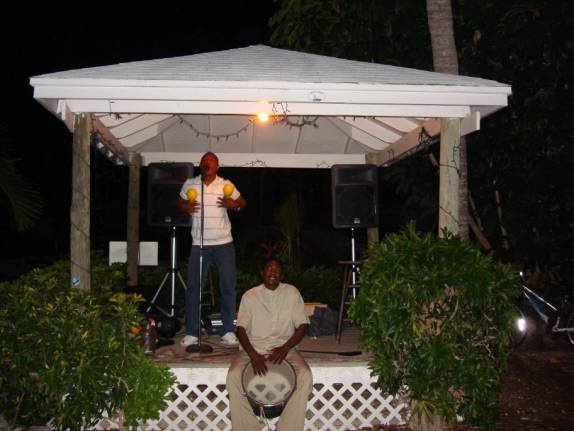 Until next update, my friends, Bye-bye.
POST SCRIPT:
Our plan is to enjoy this resort marina for the entire month of March and into the first week of April. Judy's Brother, Dean Ordiway, is flying in from Olathe, Kansas to visit with us on the 29th of the March. We hope to take some side trips to other cays and islands while maintaining this as our home base. Please let us know if you have any special suggestions and thoughts.
We sincerely hope that you enjoy these email UPDATES. We thank those of you who have contacted us recently and we are looking forward to hearing from each of you in the near future. Thanks for allowing us to share our life and adventures with you.
REMEMBER: The website is now fully active and you can visit it at any time. You can review any of the 2006 or 2007 logs and learn more about the crew and our plans. Enjoy.
ATTENTION: SPECIAL NOTE:
While we are in the Bahamas, we will not have any regular telephone service. We have set up a SKYPE account and can make outgoing phone calls through the internet. If you have this service, you can contact us at Skype ID: amarse1 . Otherwise, if you would like to contact us, you can send us emails. The marina has Wi-Fi connections that are pretty good but drop off frequently. It is certainly better than we expected. Of course, when we travel to the off islands, we probably will not have much contact if any. That shouldn't be too much though.
Please Skype or email us if you like, we'd really like to hear from you.
"AMARSE". is pronounced "AM-ARE-SAY". Our website is: www.amarse.net .
Check it out while we will attempt to keep you informed via email
We would like to hear more about what is happening in your lives. Let us know as we very interested in what's going on with our friends and family. Please call or email us with your thoughts and comments and ideas too. Thanks
Lot of Love,
Fred Reed and Judy Law
AMARSE
MT40