UPDATE#27
08
/20 thru 08/23/07
Howdy Everybody,
The period 01/19/07 thru 08/19/07 has been covered in Updates 1 through 26. We continue with UPDATE 2007 # 27.
UPDATE 2007 #27 08/20/07 through 08/23/07.
We now continue with our cruise trip to Alaska aboard the Holland America Lines VOLENDAM. Welcome to UPDATE #27
08/20/07 MONDAY ICY STRAIT POINT, HOONAH, AK
We were awake early at 6:15am in hopes of seeing some marine wildlife. Hot coffee and a snack were provided before we headed to the bow of the ship at 6:45am. The VOLENDAM's naturalist arrived a little after 7am to answer questions about the experience. I tend to think his expertise is somewhat limited. We were fortunate to see some white-sided porpoise, bald eagles, and even a grizzly bear roaming the nearby shoreline.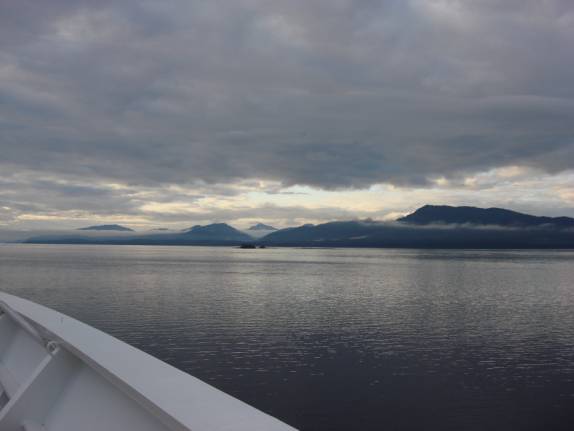 We remained on deck soaking up the Alaskan beauty through the anchoring process and beyond. It was 9:30am before our urge to graze at the breakfast buffet on the Lido Deck beckoned us inside.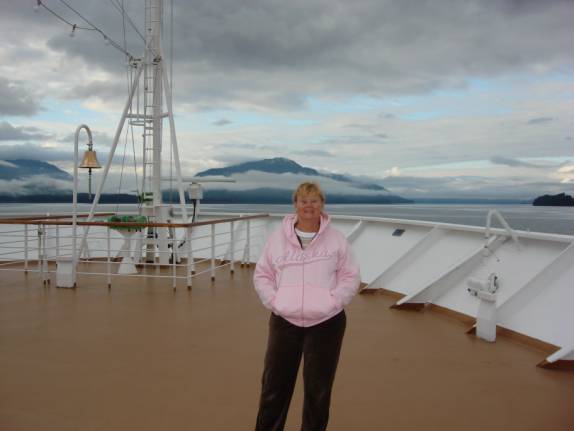 Icy Strait Point is a remote and relatively undeveloped place. Cruise ships have only visited this location for the previous four years. The nearby village of Hoonah is inhabited by a mere 850 people, many of them from Tlingit descent. Much of their daily lifestyle is changing as a 1000 or more tourists roam their community. Already, the effects of transition from a rural, fishing environment to a tourist infestation are becoming evident. They have installed the world's longest "zip-ride" on the wooded hillside. This device will zip tourists down a one-mile long cable at speeds of up to 60mph. The ride takes about 90 seconds and costs $85; my calculations indicate that is almost $1 per second.
There are no docking facilities suitable for a ship of this size. Tenders from the ship are used to ferry passengers to and from the shore for sightseeing and the ever-popular shore excursions. A sequence number is issued in the theatre seating area. When your number is called, you walk to the other end of the ship and board the assigned tender for the 10-15 minute transit.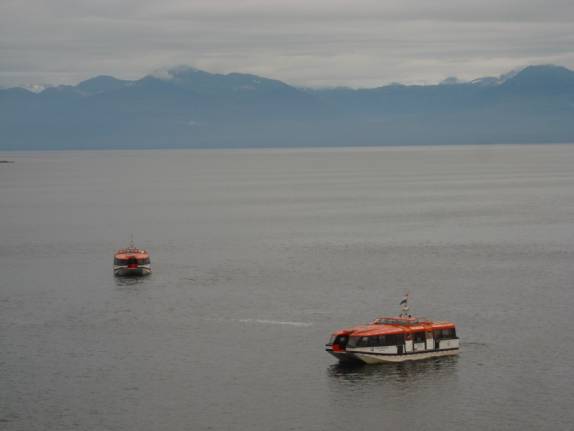 The unloading point is a former salmon packing facility that has been cleverly converted to a museum and shops.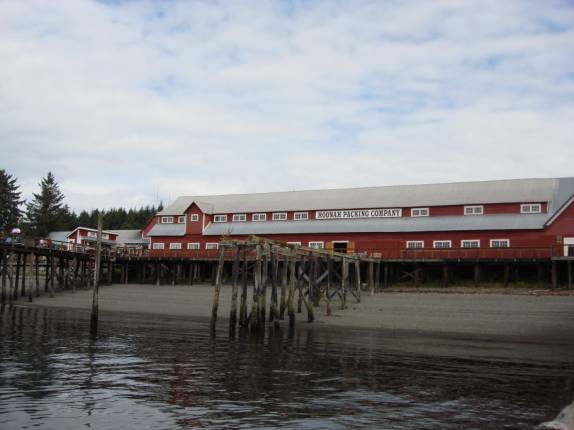 The VOLENDAM looks quite beautiful in the backdrop of the wooded hills.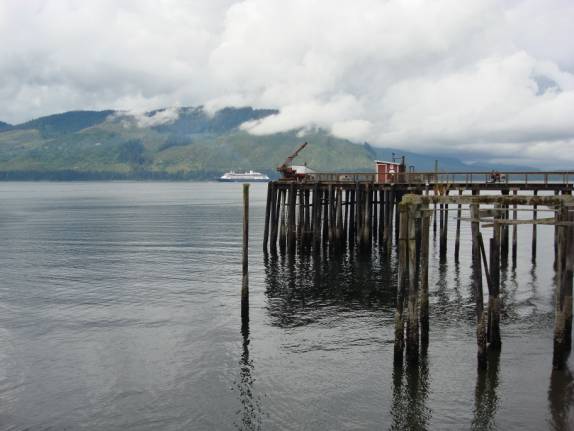 Inside of the cannery, many of the machines have been restored to provide a glimpse of the canning operation. One still has to imagine the strong odor unique to the fish processing business.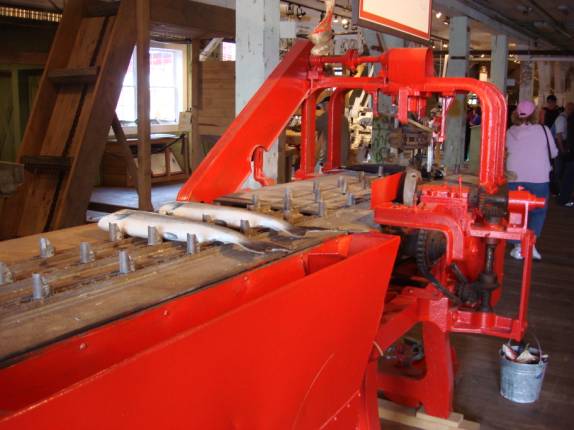 The "fishing for sea-life" has been efficiently replaced by the more lucrative "fishing for life-at-sea".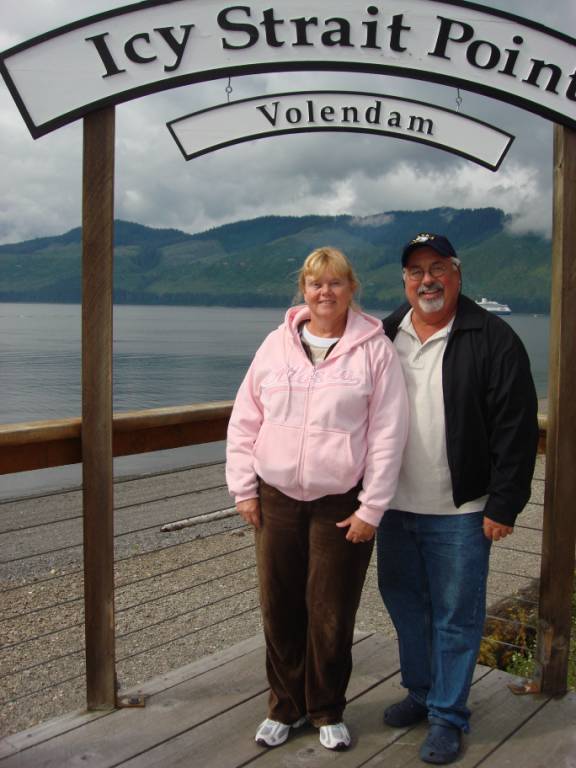 With a walk around the Icy Point, a short nature walk has been established. I found these small berries to be very photogenic.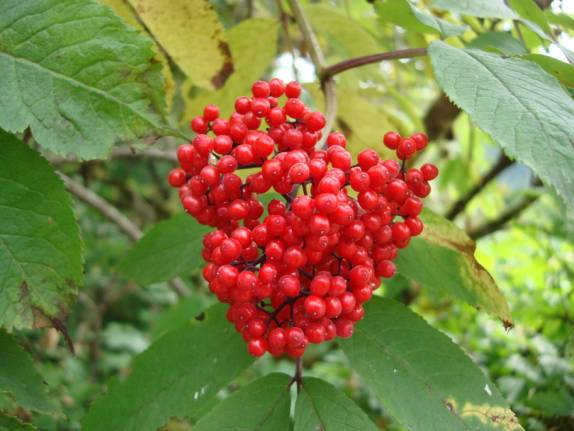 Numerous varieties of flora gently attracted the busy bees into their quest to pollinate.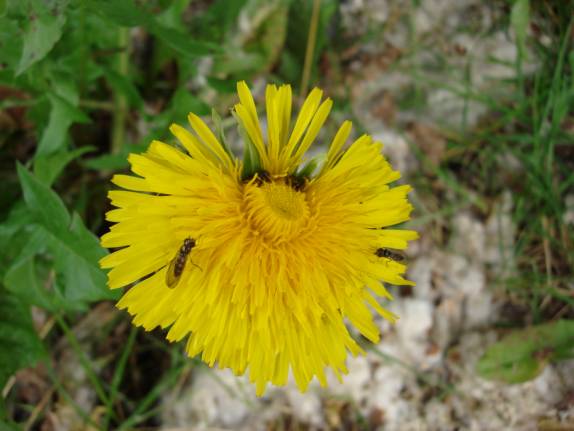 Our island visit was short and we enjoyed the hours before returning to VOLENDAM.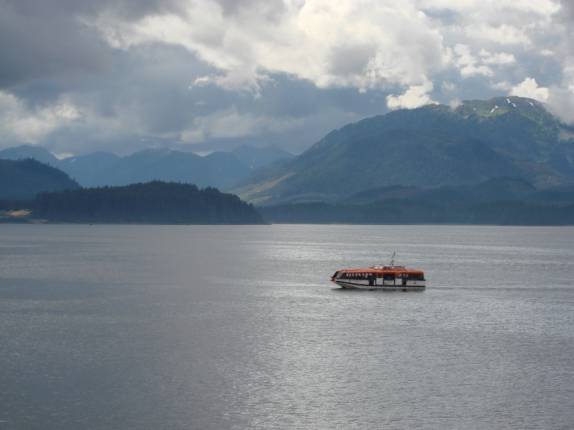 After a light lunch, a short nap helped to refresh us before attending a lecture. The naturalist proceeded to give his talk about glaciers. Although somewhat interesting, I would have preferred a slightly more advanced level of learning. This lecture might be better suited to Mrs. Wilson's kindergarten class. I could think of nothing more stimulating following the lecture than another short nap before the ship weighed anchor at 5:30pm.
Showtime at 6:30pm proved to be absolutely wonderful. This group of highly talented performers was exciting and entertaining in every way. The theme was "Southern Nights".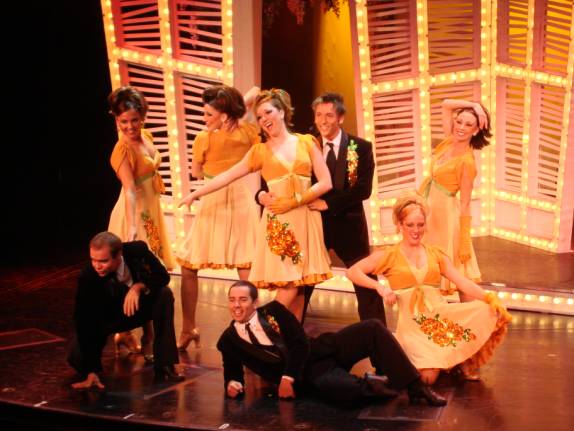 Famous songs and dances typical of our southern heritage had the audience held spellbound.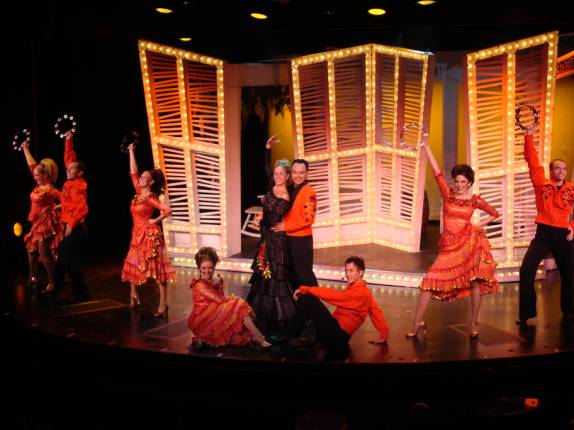 Isn't the scenery of the Northwest Passage spectacular? Although I couldn't seem to get a clear picture, we were greeted by about 30 porpoises approaching and circling around in a wonderful display of aquatic agility.
The dinner menu led off with delicious French Onion soup and an appetizer of Crab and Artichoke dip. Judy ordered the Braised Beef-Dutch Style for her entrée. It came out tough and almost inedible. She had no problem returning it in trade for a New York steak. My choice of a Coho Salmon was tasty even if it was a bit too dry and overcooked. Although some of the food on this voyage has been excellent, we both agreed that this particular Holland America voyage has not met our levels of expectation. The staterooms are the best we've experienced, the service from staff has been excellent, however, the quality of the food seems to be below standard. Too many items are either overcooked or undercooked.
At 10:30pm, we were delightfully entertained by members of the Filipino Crew. They have prepared a series of dances and songs typical of their native land in the Philippines. These are some of the waiters, bar staff, and housekeepers that have pooled their other talents into a thoroughly entertaining evening.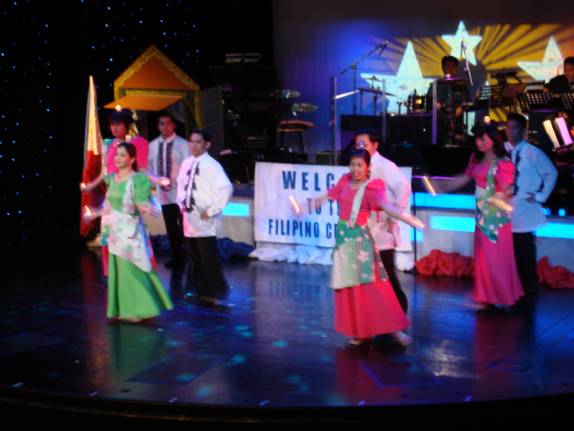 Our table friend, Millie, from New Mexico, came to the USA from the Philippines in 1968. She was thrilled to see her countrymen on stage and singing the Philippines national anthem along with other familiar songs and folk dances.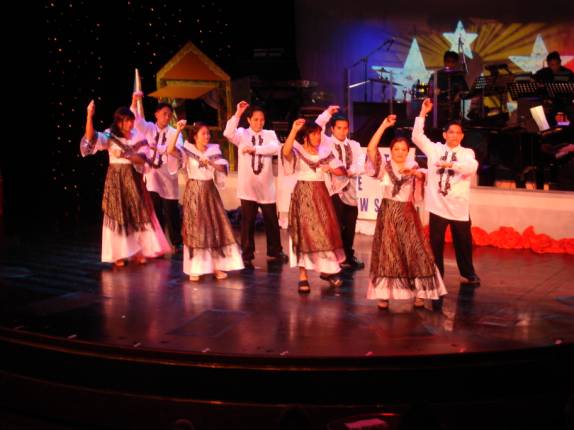 08/21/07 TUESDAY JUNEAU, AK
The morning broke with a typical Alaskan overcast. We decided to delay our shore trip to listen to the naturalist give a lecture in the upper lounge scheduled for 9am. When he had not yet arrived by 9:10am, we decided that we had wasted enough time with him.
The ships offer guided shore excursions to all kinds of activities. Due to their relatively high cost, we have opted to forgo this type of sightseeing. Trips range from $40 to $400 per person for only a few hours. Our choice was to catch a local shuttle from off-ship that would take us to the Mendenhall Glacier. The word on the street is that folks pay "$12 to travel 12 miles to see a glacier that is 12 miles long."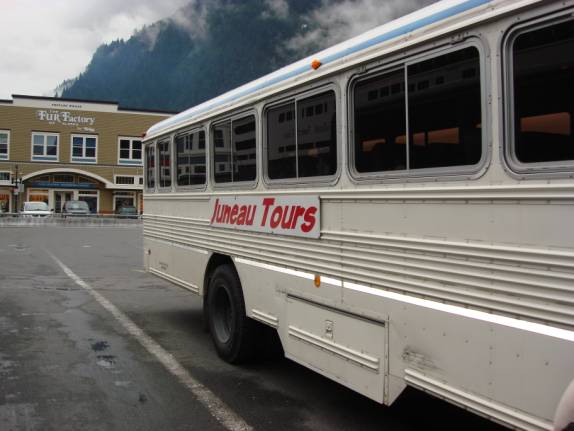 A nearby stream hosts the spawning efforts of these salmon in their colorful, spawning appearance.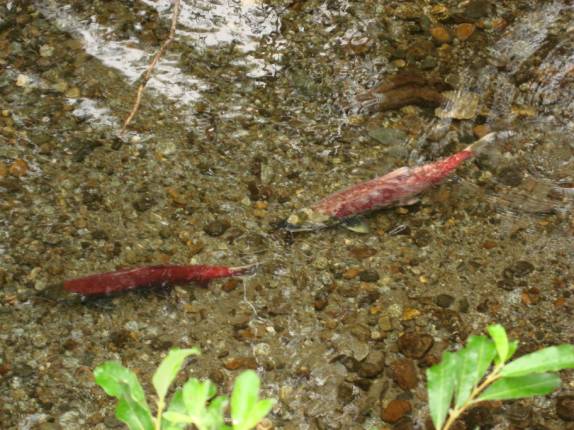 We were able to use my US Parks Senior Pass to get us free admission to the glacier exhibits. Although direct access to the glacier itself is restricted, we were able to get a lovely view of the Mendenhall Glacier across its tidewater pool. Evidence of the glacial moraine is easily discernable in this picture. Notice the crystal blue color of the dense glacial ice.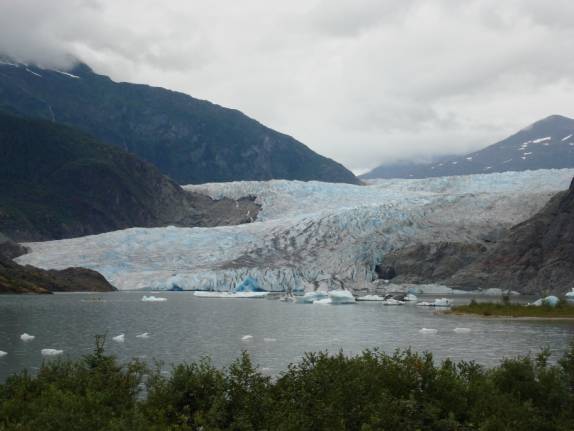 These smiles are pretty good indicators that we are thoroughly enjoying the sights and sounds of our glacier experience.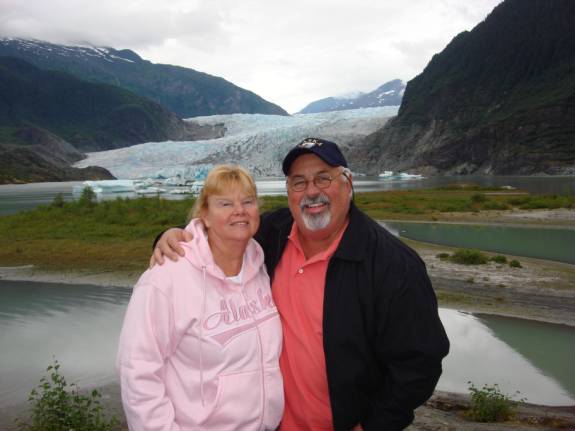 As we waited for our return shuttle, we took a small side path to a stream. Much to our surprise, we saw two small black bears wading in the small salmon stream. By the time I was able to get my camera out of my pocket, they had slipped off into the woods.
Back in the town, we took a look at the famous Red Dog Saloon. With its saw dust floor and old saloon styling, it gained additional notoriety as a meeting and greeting place for politicians, lobbyists, and oil company executives eagerly promoting their positions and agendas concerning the proposed Trans-Alaska Pipeline. Who knows what levels of shenanigans were conceived behind these swinging doors.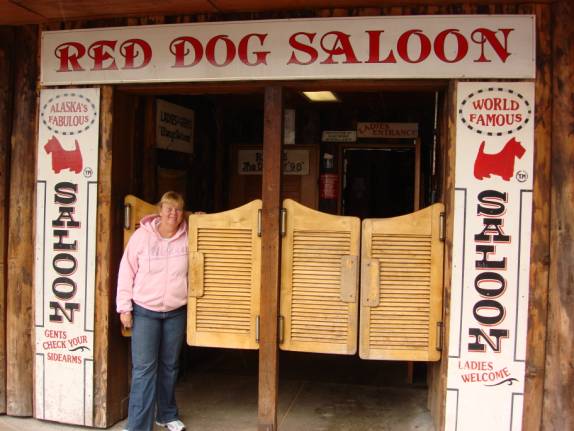 For lunch, we tried the meatloaf dish. For those of you that have followed these pages, you know that I am always ready to sing the praises of good meatloaf. I can now honestly say that I have experienced the bottom level of the meatloaf spectrum. It was a degree below horrible and we found it to be inedible. To make things worse, the rice was so undercooked that the unwary could easily break a tooth. We hastily discarded the nearly full plates for something more palatable. I found it with the spaghetti Bolognese that was excellent enough to rival my experience in the northern regions of Italy. With taste buds evilly traumatized by the meatloaf, Judy found her second choice of a Chicken Salad sandwich suitable to stave off the hunger pangs.
While I rested peacefully in an afternoon nap, Judy took a backstage tour of the ship's showroom stage. She had a pleasant visit with the song and dance performers and had a first hand look at the pace of activity behind the scenes of these wonderful productions.
We attended the earlier of the two shows tonight. At 6:30 pm, the Magician/Comedian, Craig Diamond, performed an amazing and fun combination of prestidigitation and comic hilarity. With the help of Lilli, a quite pretty Russian guest, he created the illusion of passing spikes up through her body.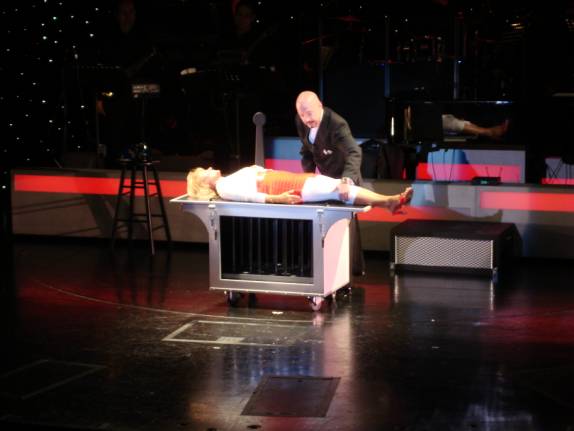 In the Oceans Bar Lounge, Gerard and Friends entertained us with their smooth sounds while we waited for our dinner seating scheduled for 8:15pm.
The Cream of Asparagus soup was delicious and Judy enjoyed her earthen crock of French Onion Soup Au Gratin. We were of similar mind in choosing the Parmesan Crusted Chicken Breast with Honey Mustard Glaze.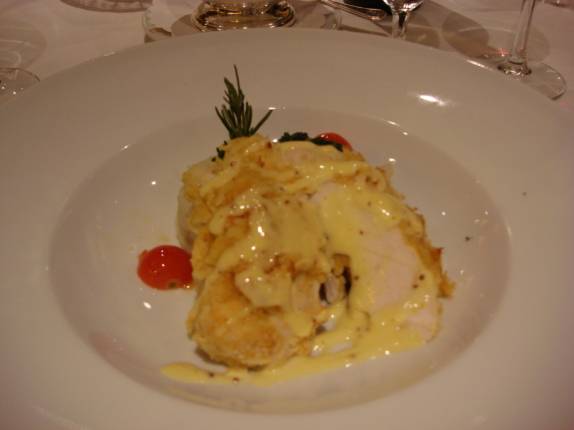 Every ship that we have been on has prepared an elaborate, late-night buffet on a grand scale. The M/S VOLENDAM set up a huge dessert extravaganza that spread around the enclosed pool deck. Guests had an opportunity to photograph the enticing array of dessert offerings for 30 minutes after 10:30pm. I gladly took the pictures but was too stuffed to eat anything. After all, we came here directly from the late dinner seating. At least it was a feast for the eyes tonight.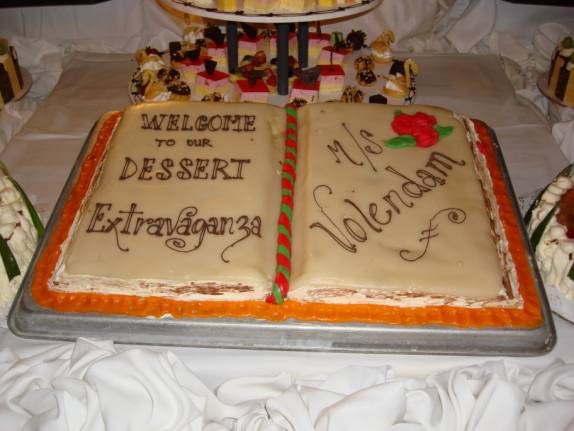 The artistic creations of bread items were very inventive.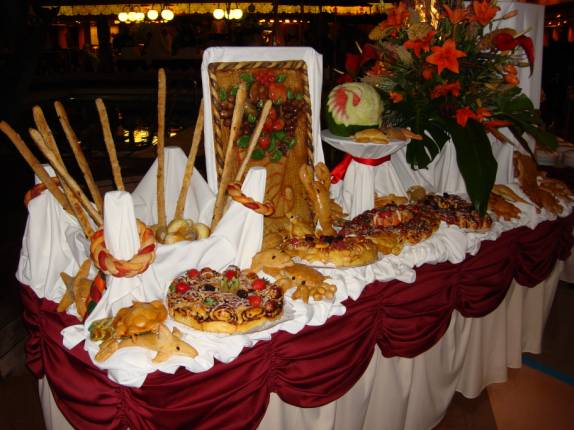 The ability to create, design, and arrange such a wide variety of dessert specialties is amazing.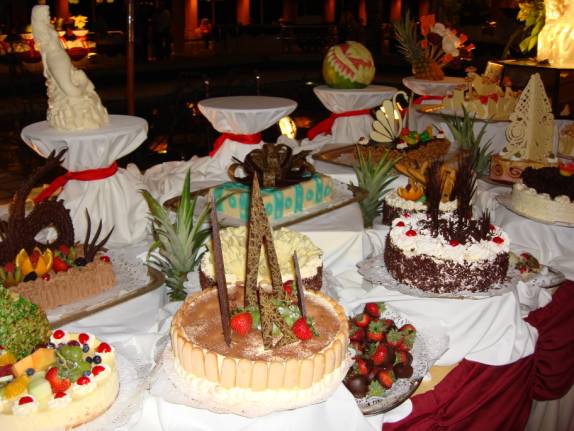 Plenty of varied selections were available for the chocoholics as well as the fruit lovers.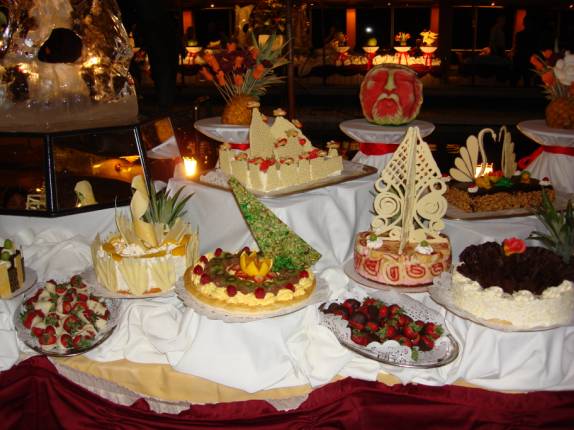 Sweet bread, cookies, or pies for anyone?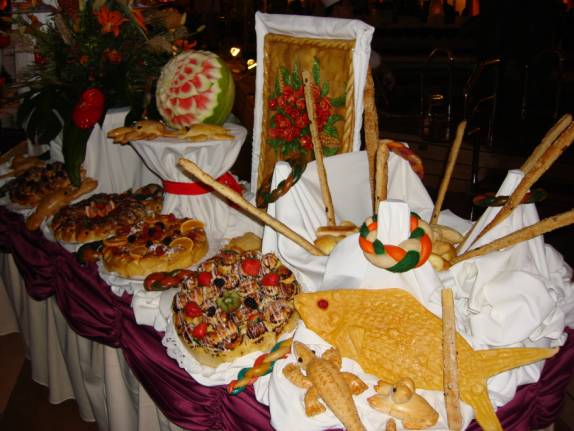 The music of the Volendam String Quartet serenaded as the voracious jackals pillaged ravenously through the calorie laden sweets.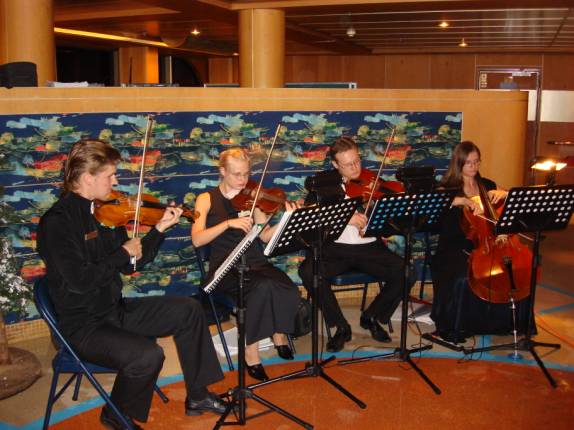 In a last ditch effort to enjoy the evening to the fullest, we headed up to the Crow's Nest Lounge for the music of "Top Society". Our tired eyes and bodies could only endure a few tunes before demanding some rest.
As we returned to our room, we were greeted nightly to a special little animal cleverly folded from hand towels.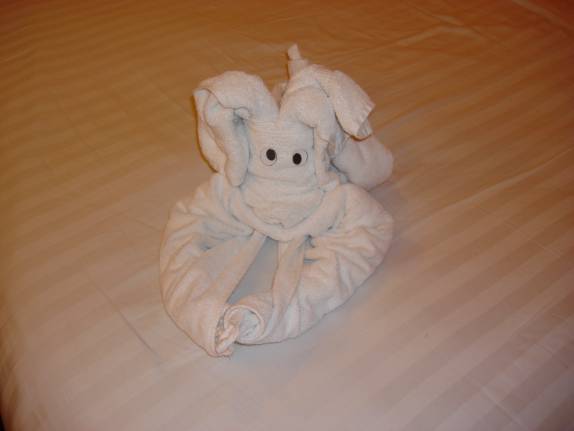 08/22/07 WEDNESDAY SITKA, AK
Before we were awake, the vessel had found a spot to drop anchor off the town of Sitka. As we requested our tender transfer, we were directed to the next tender with no waiting.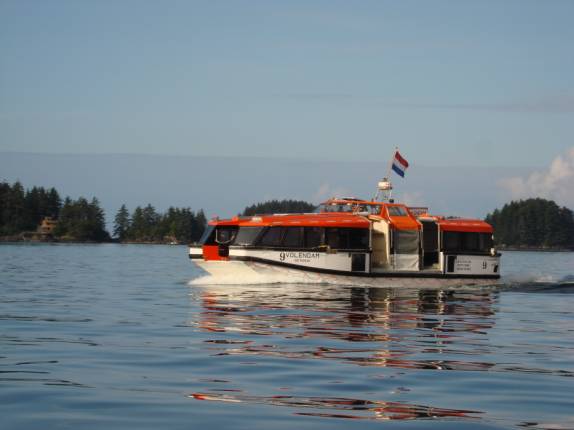 From the small tender dock, a free shuttle provided by some merchants offered to take us into town. We jumped aboard and it seemed strange when they dropped us less than a quarter of a mile away in front of their shop. I guess they'll try anything to get you into their shop first.
At the small boat harbor, we got to see a harbor seal paddling by. Unfortunately, I didn't get my camera out fast enough.
Our next stop was the Russian Bishop's House that is maintained by the US Parks Service. Once again, my Senior Pass gained us free admission. Back when this was Russian Territory, the head of the Catholic Church was one of the most powerful persons in town.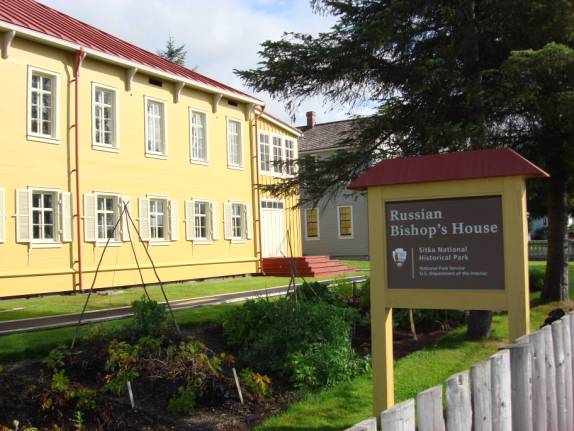 Totem poles are Tlingit symbols that tell a story of some kind. They are highly revered objects of expression and any form of commercialism is discouraged.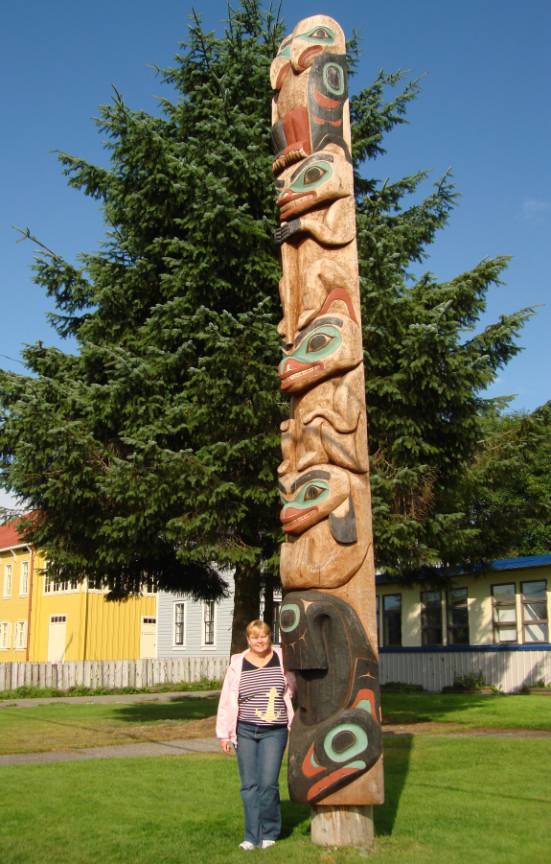 The campus of the local college occupies a beautiful setting in the natural environment.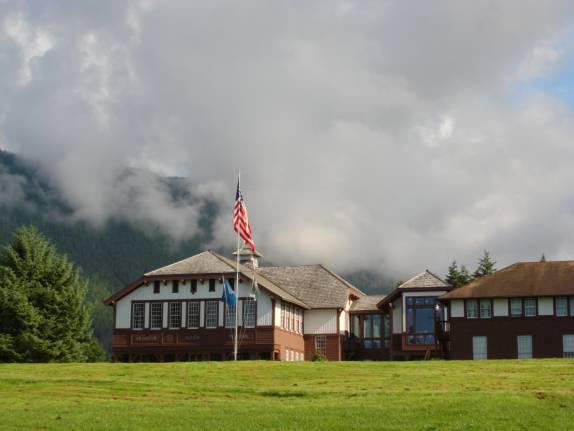 We visited the salmon hatchery where an abundance of these flittering fish occupy various pools according to their size and development. In this picture, hundreds of advanced salmon squirm to escape the rocky shallows at the edge of this pool.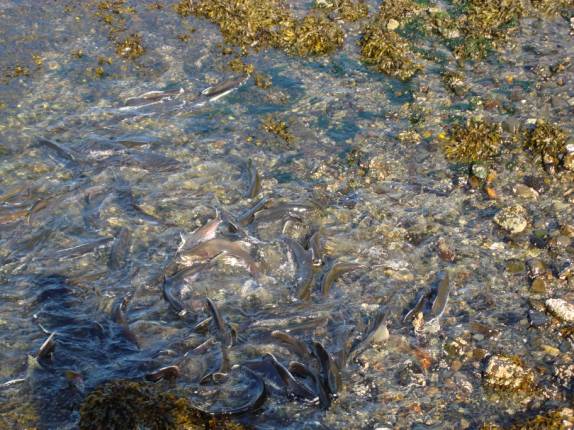 Judging from the sizes of these schools, these salmon must be very well educated. There are lots of large, polyethylene tanks that house the smaller ones from fry to juveniles. With further growth, they are transferred to open pools.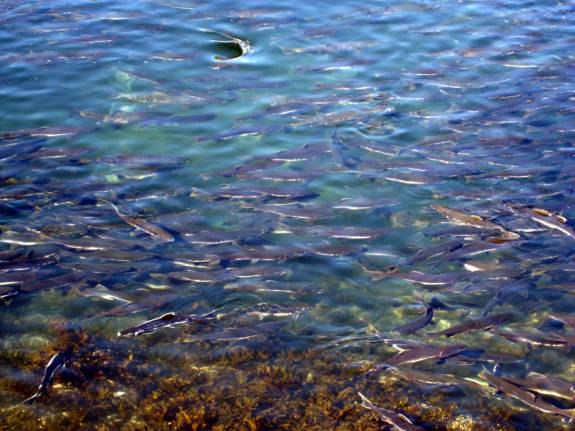 .
The US Parks Service hosts an interpretive center and exhibition center relating to totem poles and the Tlingit tribes of indigenous inhabitants. Their historic form of dress is both colorful and elaborate.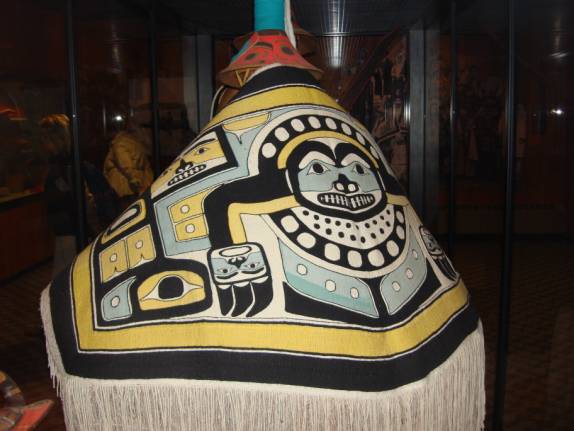 A present member of the Tlingit tribe offers a demonstration of the art and craft of traditional weaving.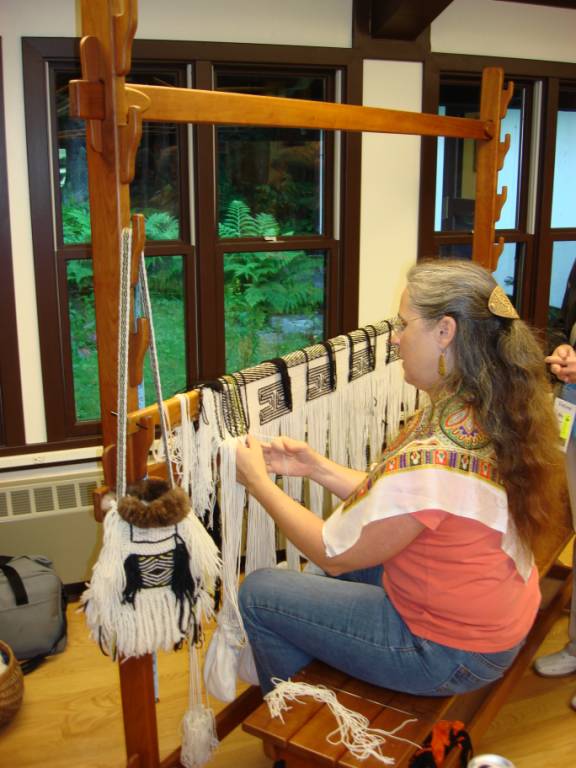 Totem designs appear as interior representations as well as the more well know towers that are exhibited outdoors.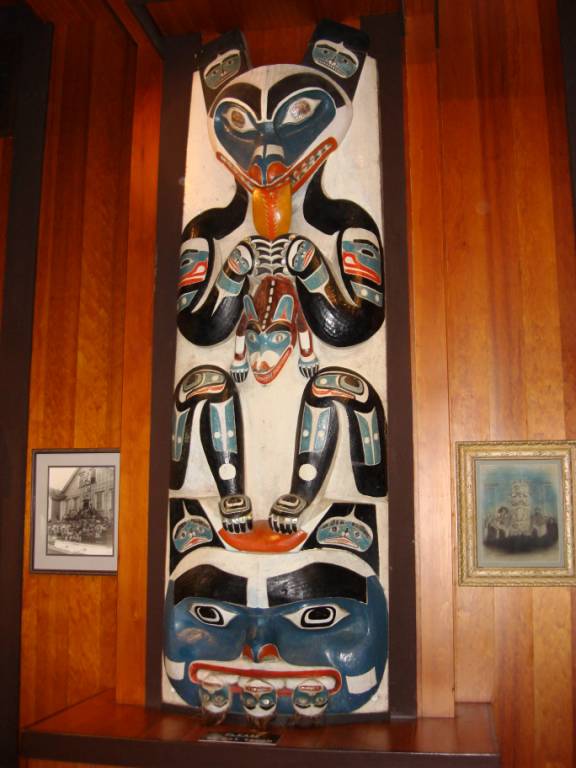 Another Tlingit tribe member has an ongoing demonstration of traditional carving methodology.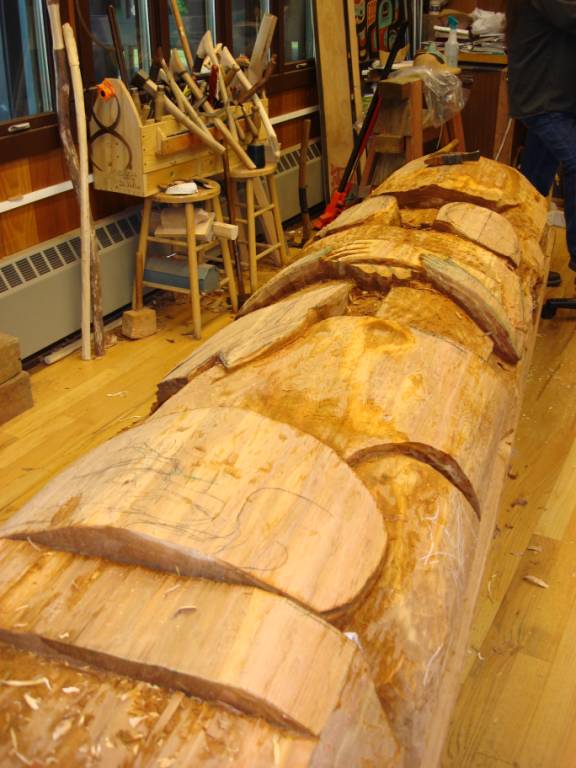 As shown here, some of these totem poles are extremely ornate.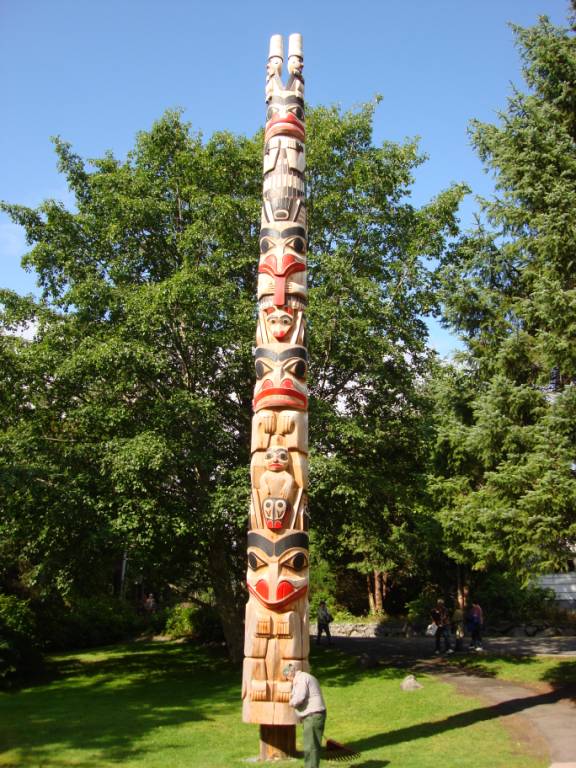 My favorite exhibit at the marine life center, co-located with the hatchery, were a series of tidewater display tanks hosting a huge variety of undersea plant and animal inhabitants. Anemone, sea urchins, worms, sea cucumbers, and many more colorful species could not have been more beautiful.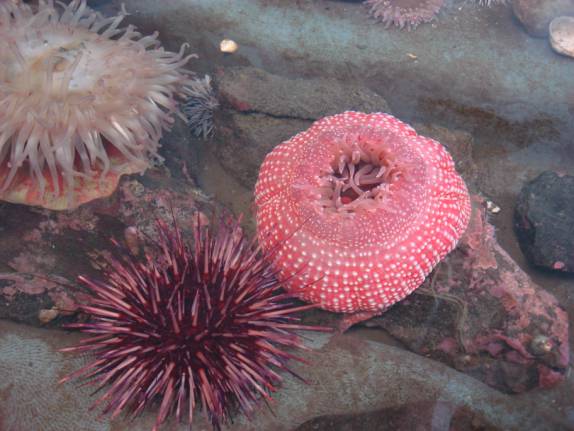 Visitors were urged to reach into the tanks and gently experience the touch and feel of any of the specimens. I had always thought it somewhat dangerous to touch these creatures. Obviously, these particular examples are completely harmless to humans. Of course, you would not want to squeeze the spiny sea urchin but it was a pleasant experience to hold them gently in the palm of your hand.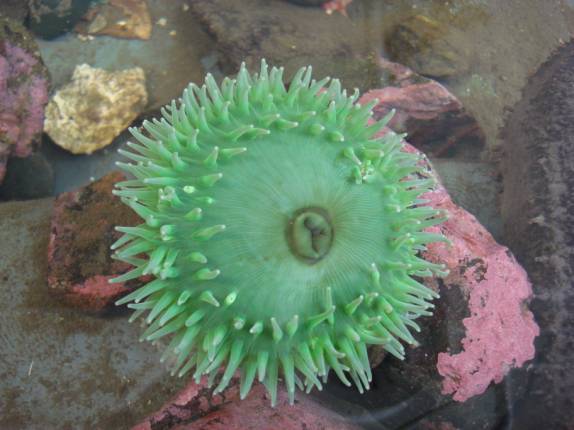 A multitude of varied starfish graced the rocks and pebbles of the tanks.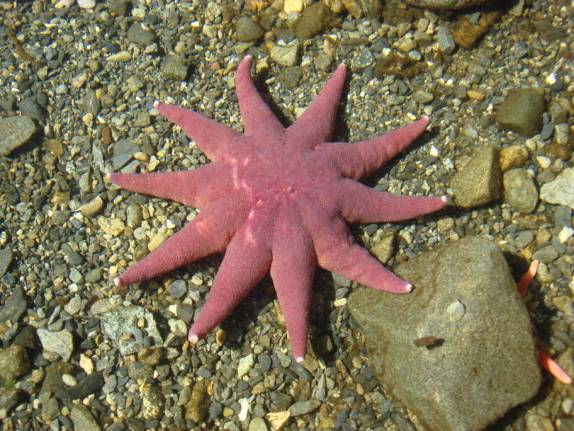 There were many of these varieties that I've never even seen in pictures. Check out this velvety creature in the starfish family.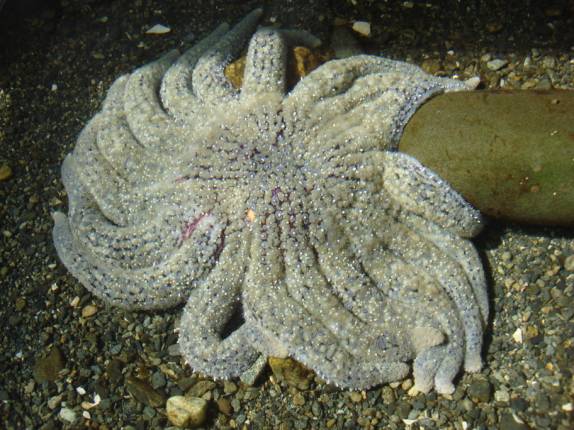 Let's hear it for the "Blue and the Gold". Aren't they simply spectacular?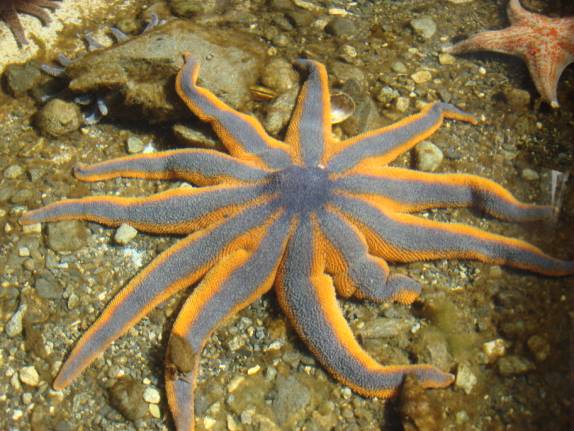 Observe this mostly closed Anemone with partial tentacles exposed. Used to inflict a mild sting and disability to their prey, they seductively lure small food sources into their delicate trap.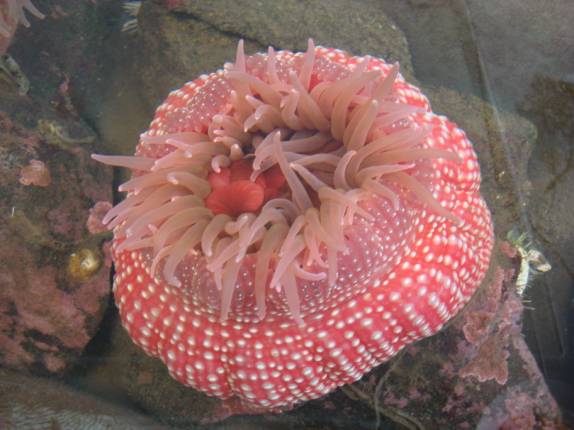 How about this mollusk depositing a field of eggs onto the side of the tank? Is that amazing or what?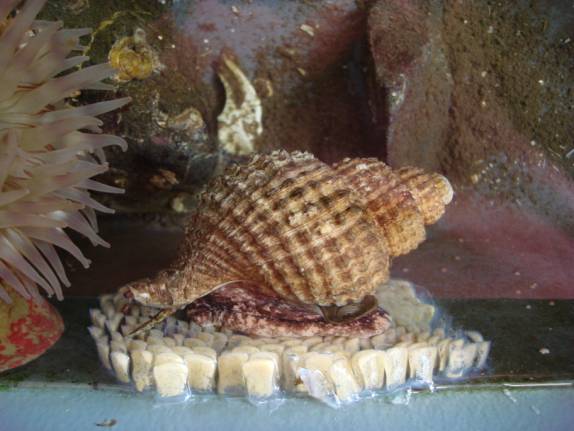 If I were an unsuspecting tiny sea creature, I would undoubtedly be lured into the hypnotic sway of the tentacles and tranquil beauty of this colorful anemone's fatal trap. Within moments, I would be lunch. Note the mouth in the center of the animal.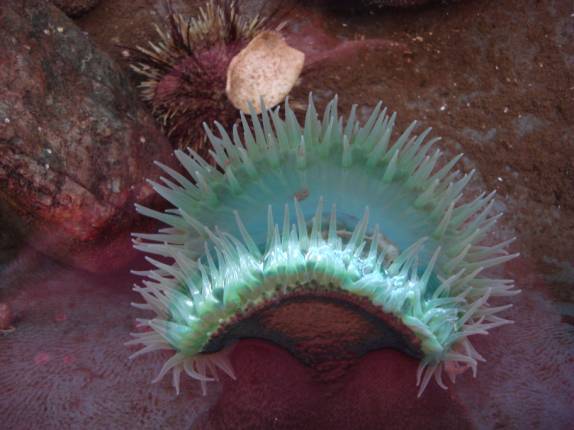 Outside at the hatchery, these grown salmon were being harvested into huge plastic bins. The program is so successful that an over-abundance has determined these fish to be surplus. They will be sold to raise funds for the project.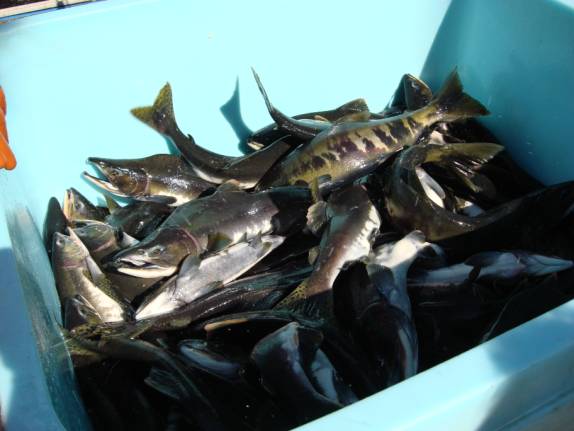 Here is an example of some of the thousands of Salmon Roe or eggs that were released from some of those surplus fish. It seemed so strange to see them just left there to dry out and go to waste.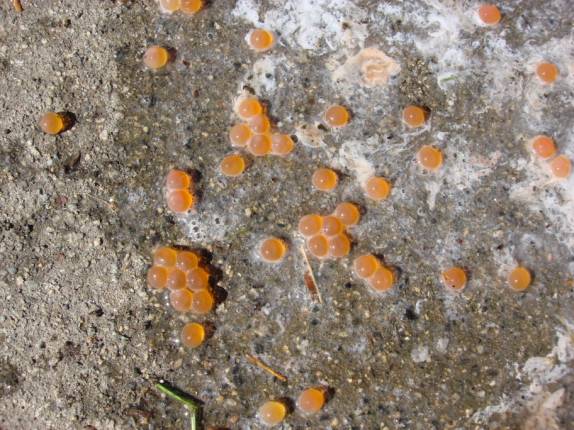 The Sitka small boat harbor berths a respectable number of pleasure craft and fishing vessels. I wonder how many more months can pass before they will be hauled out for the winter. I don't know about this small boat harbor, but the port of Sitka is considered an ice-free port year around.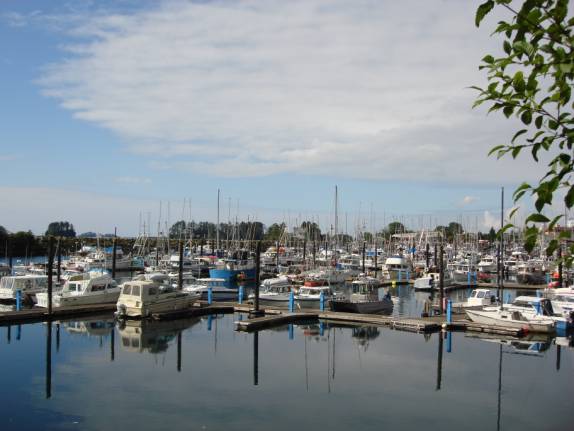 Close to the center of town is the Russian Orthodox church, St. Michael's Parish. Although not the building itself, the church has existed since the 1840's. The Russian settlers imported Finnish builders to erect the church.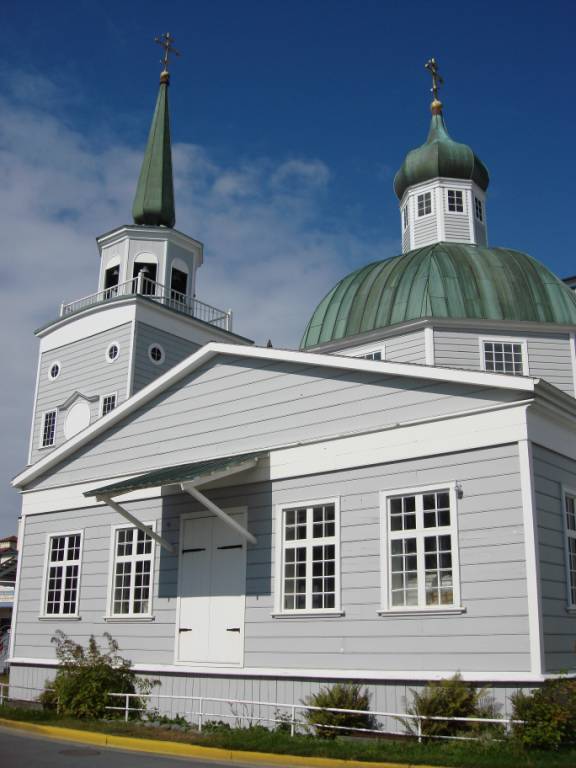 Coming from Finland, they were of the Lutheran faith and built their own church nearby. In 1846, they imported a simple pipe organ from their homeland. It has been restored and a renowned organist from San Antonio, TX, Dr. Dennis Guill, performed a special recital today only.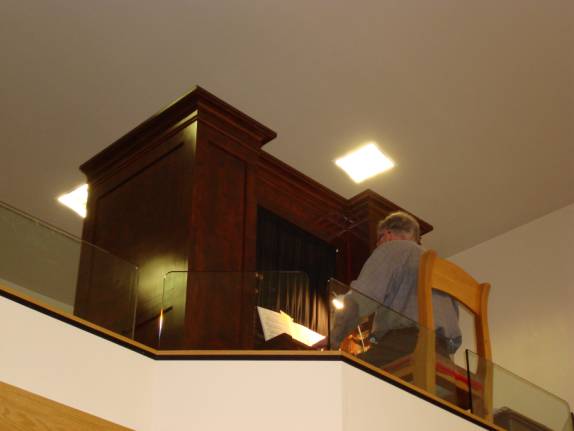 We toured the shops and sights of downtown Sitka before returning to the tenders for transfer back to the VOLENDAM.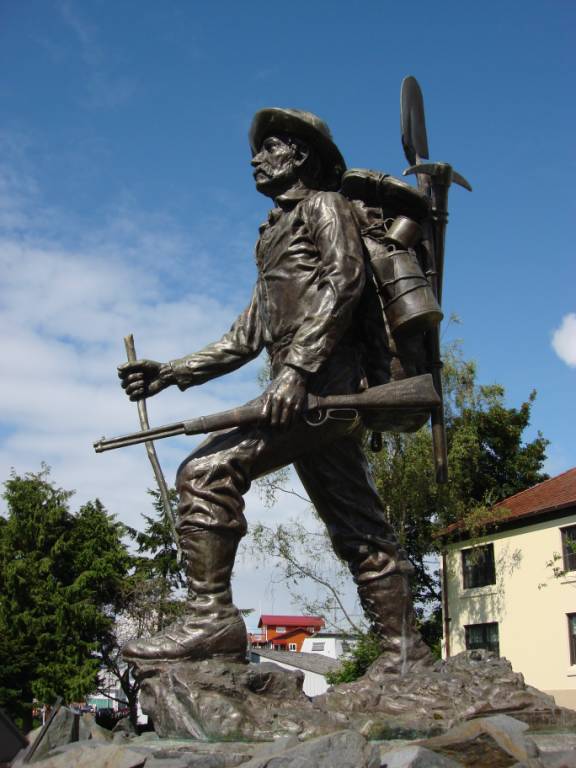 Back aboard ship, Chef Sheldon conducted another cooking show in the Culinary Arts Theatre.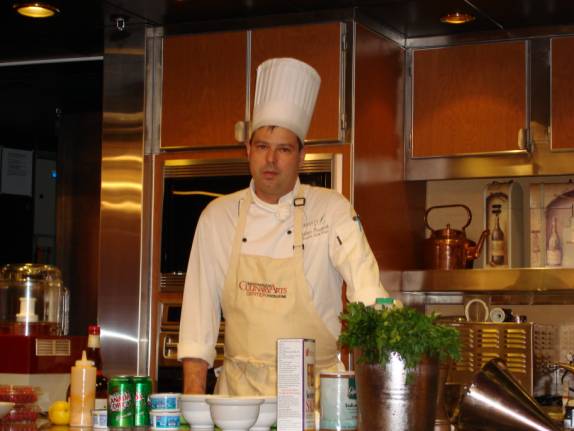 His first creation was a chilled Raspberry soup. He followed with pan-seared scallops. Although not especially creative, they were quite delicious. The chef gave me his special apron as a memento of the afternoon.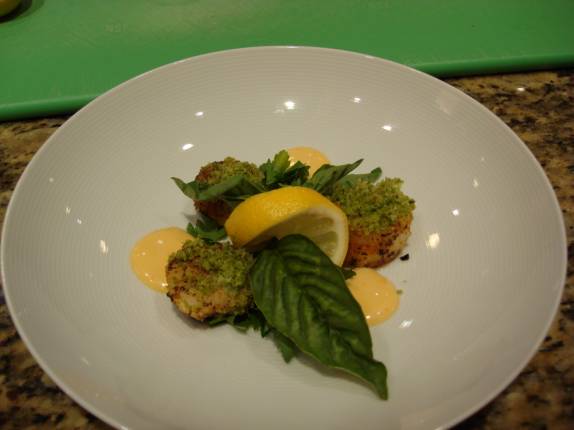 Precisely at 4pm, VOLENDAM weighed anchor for a northerly course. We staged ourselves on the bow in hopes of seeing some whales. We were fortunate to see several humpback whales as they surfaced to blow.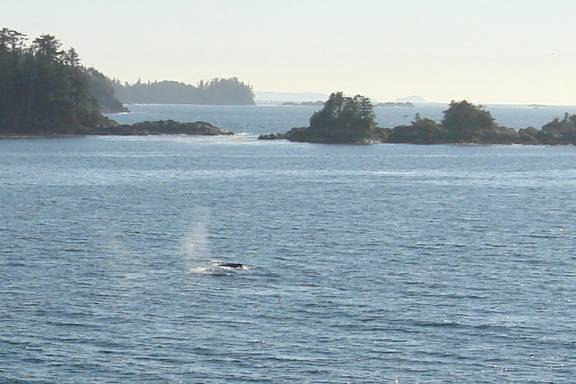 We were invited to a cocktail party celebrating special guests and repeat cruisers aboard Holland America Lines. We were absolutely amazed at the number of people on board that had cruised more than 100 days aboard HAL. We were even more amazed that numerous folks had over 200 days aboard. Then came a few with over 300 days. What blew us away was one elderly couple that had cruised in excess of 700 days aboard Holland America vessels. That's almost two full years of cruising with just one line.
I spent some hours working on photo files and update logs. It is a daunting task, my friends, a daunting task.
Our late seating dinner commenced at 8:15pm. I absolutely loved the Escargot and the Gold Rush Soup. Judy had a Filet Mignon and I added a Lobster Tail to that. The wait staff put on another show with the Baked Alaska parade complete with sparklers.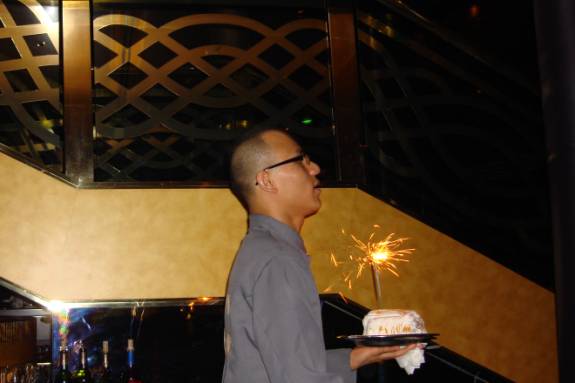 This was our headwaiter, IMAN, from Indonesia. He did a fine job of serving our dining room needs every night.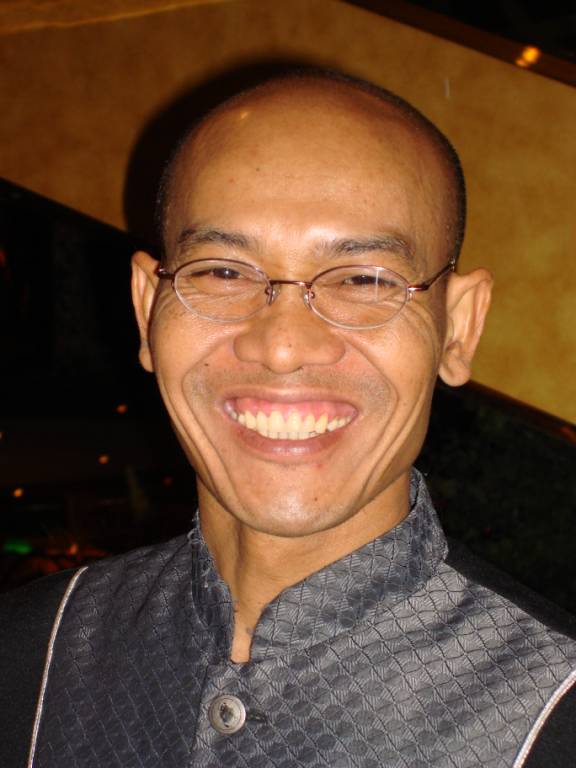 The late show performance of the Volendam Singers and Dancers was entitled "H2O". Once again we enjoyed the talents and production of a delightful show team. All of the songs carried the common theme based on "water" in one form or another.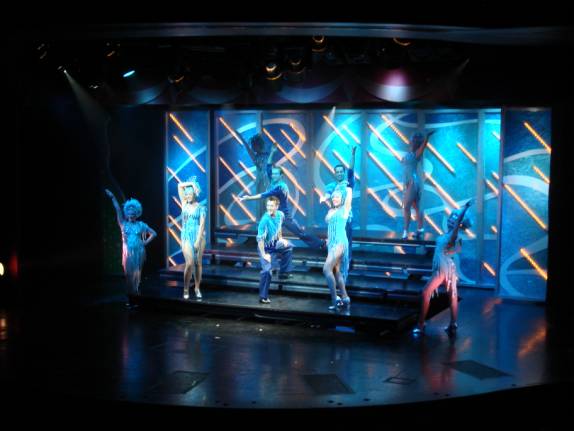 The setting aboard an old riverboat provided the background for this medley of show tunes.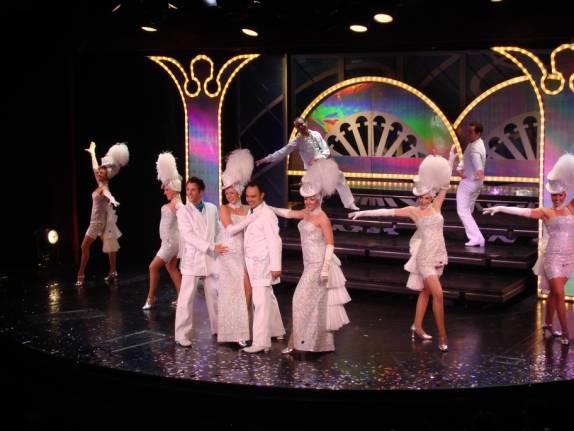 08/23/07 THURSDAY CRUISING HUBBARD GLACIER, AK
A somewhat early breakfast had us out on the bow deck at 8:15am to observe the approach to the Hubbard Glacier. This enormous tidewater glacier stretches some 30 miles back into the huge ice fields. It was said that the face is some 7 miles wide.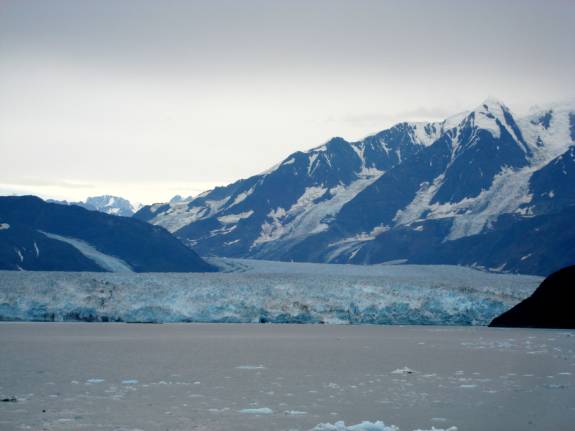 The deep blue of the glacial ice is caused as light is entered and absorbed in the density of the ice, only the frequency spectrum of the color blue is able to escape.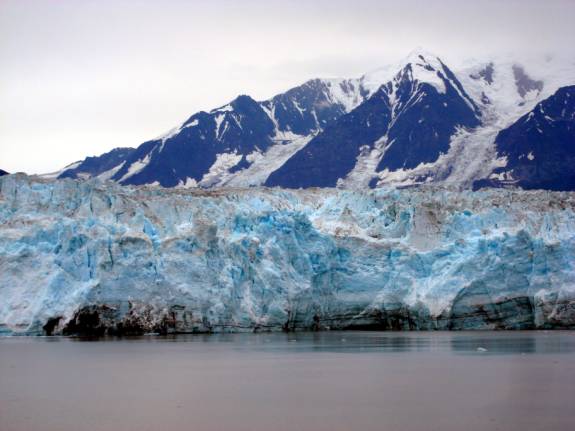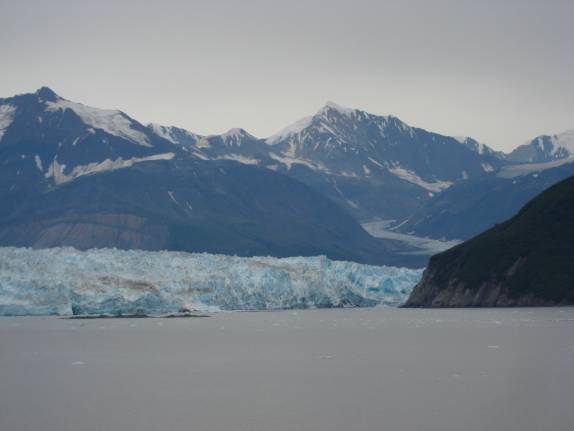 As the glacier advances, chunk after chunk falls into the water resulting in a berg strewn waterway.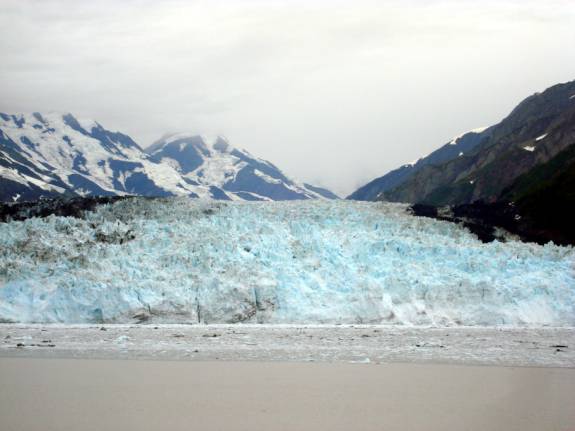 We were pleasantly surprised that it wasn't as cold as we had anticipated.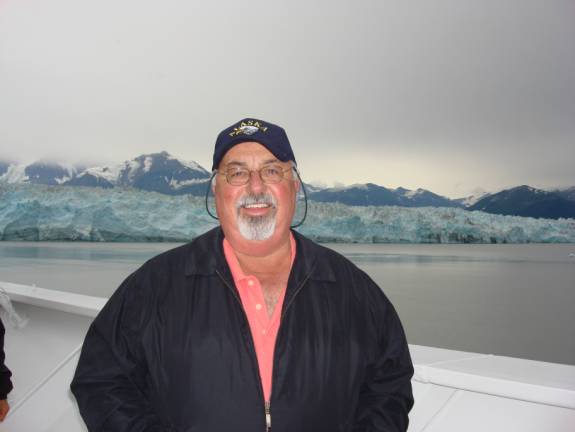 Judy was still happy to have gloves and earmuffs.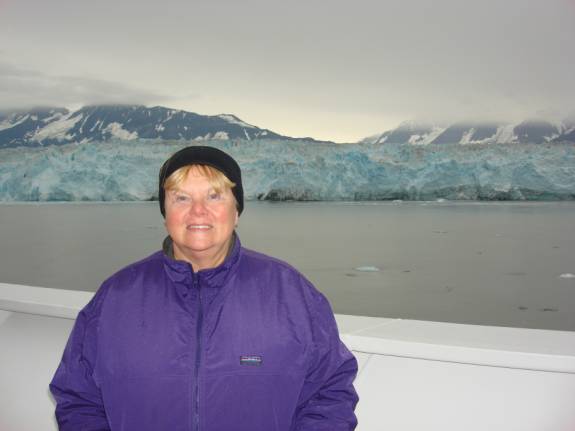 In the center of this photo, you can see the large splash as a huge chunk crashes into the tidewater lake. This process is called "calving" of the glacier.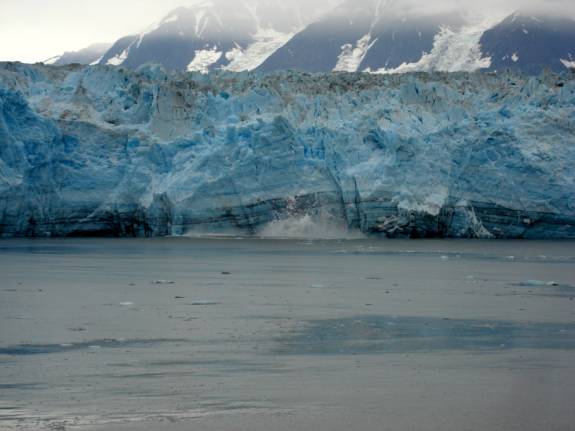 Notice how the movement of the glacier causes huge cracks deep into the surface called "Crevasses." You can hear the loud report of this cracking process that sounds like a powerful gun going off. They sound out every couple of minutes. It gives you the sense that it is alive and moving. The glacier advances about 1-1/2 feet per day.
More calving along the face is evident in this photo.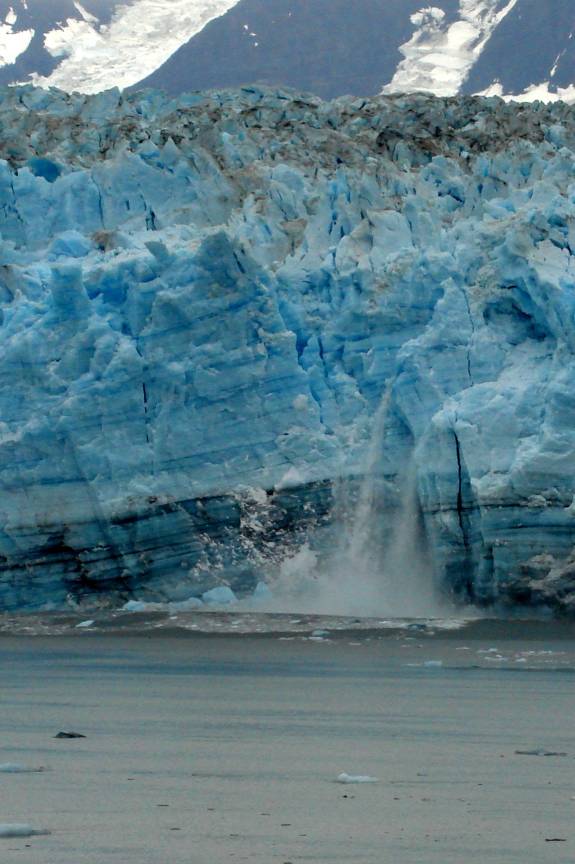 After several hours of observation, we began our departure from Yakutat bay. In this picture, you can see the distinct differences in the water. The grayish water is fresh, glacial runoff that contains considerable silt from the glacial moraine. The bluer water is the salt water of a greater density. Much like air mass behavior, waters of different densities do not mix well, similarly, waters of differing temperatures exhibit this same resistance to mixing. This is just like a frontal boundary. Note the ice flow in the waters closer to the land affected by wind and current.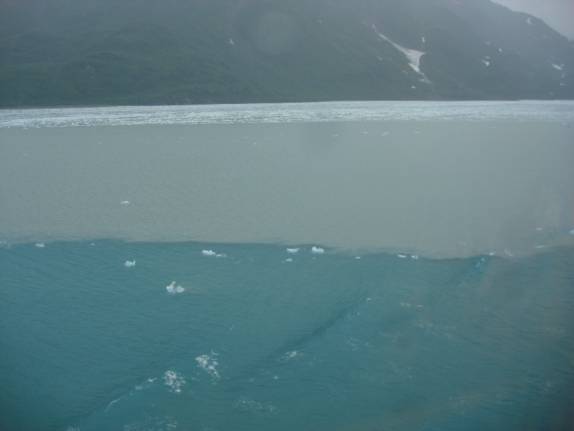 With a cup of hot coffee, we enjoyed the departure from the comfort of the Lido Deck.
At 1:45pm, the activities staff hosted a silly game called "Sea Quest". The two audience teams were asked to find certain items on their person such as shoe laces, a picture of a president, a sewing kit, and even a woman's bra. It is amazing how silly people can behave when they know they will never see most of these people ever again.
An introduction and opportunity to applaude the ship's staff followed. It takes a huge number of folks to keep things running comfortably and smoothly.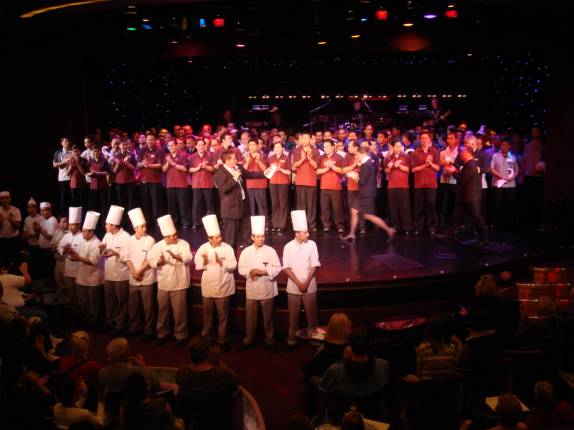 I spent more time working on the logs, photos, and updates this afternoon. At 6:30pm, we attended the final Showtime. Featuring the performances of Magician/Comic, Craig Diamond, and Banjo Artist/Musician, Morry, we enjoyed their final encore shows.
Late dinner seating at 8:15pm, offered our menu choices of Smokey Seafood Chowder or French Onion Soup, salads, and our entrée selection of Roasted Prime Rib of Beef. Desserts of chocolate cake and tiramisu finished our dinner experiences aboard VOLENDAM. It was unfortunate that we had to say our good-byes to Mel, Millie, Molly, Penny, and Suko. By the time we awoke, they would be gone from the ship on early buses to the city of Anchorage and the long flight home. We could relax tomorrow morning knowing that our second cruise adventure was about to begin that very afternoon from the same port of Seward, Alaska. For us, it has been a "bon voyage" that we will remember for a lifetime. Alaska is, most assuredly, "A Great Land" and "The Last Frontier".
POST SCRIPT:
I have included a lot of pictures on the updates related to our Alaskan cruise trip. Due to the file sizes, it has been necessary to divide the weeks up into separate update numbered sections.
Comments made in this update and website are merely personal opinions and observations about our personal experiences.
Thanks for allowing us to share our life and adventures with you.
REMEMBER: The website is now fully active and you can visit it at any time. You can review any of the 2006 or 2007 logs and learn more about the crew and our plans. Enjoy.
ATTENTION: SPECIAL NOTE:
"AMARSE". is pronounced "AM-ARE-SAY".
Our website is: www.amarse.net .
Lot of Love,
Fred Reed and Judy Law
AMARSE
MT40