CHRISTMAS
12/25/06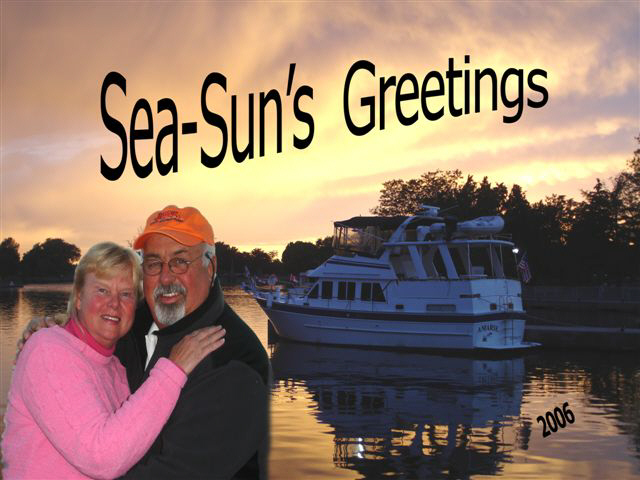 'TIS THE SEASON TO BE JOLLY....
Howdy friends and family,
As we prepare for this 2006/2007 holiday season, we think often of each and every one of you. Even though the miles may separate us with physical distance, we continue to hold you close in our thoughts and in our hearts. We are indeed fortunate to have so many friends that we know care about us. We hope you all know how much you mean to us. It is our friends and family that provide our greatest source of happiness.
Just to update you on our future plans, we will remain in San Antonio until mid January. We still have a variety of pending items to accomplish before we can free ourselves to resume cruising. AMARSE is resting peacefully in Mobile, Alabama. As we see it now, we will set our course easterly toward Florida, the Keys, and, perhaps, the Bahamas for the winter months. We enjoyed our loop cruise so much that we want to enjoy more of those fabulous areas. We hope to be in the Chesapeake by June and proceed to Canada for the summer months. There is so much to see and so much that we missed on the first go around. I think we have the opportunity to enjoy the encore even more than our initial experience.
We would love to hear from y'all. Please let us know what exciting plans you have in store for 2007.
We wish you all the happiness and joy during this holiday season. It is our hope that your New Year will bring you everything good and that 2007 will be your greatest year yet.
---