Howdy Everybody,
UPDATE #18 08/01/06 through 08/07/06.
The period 4/1 thru 7/31 has been covered in Updates 1 through 17.
We are very interested in hearing from ya'all. If you have missed out on any of the previous emails and would like us to re-send them, please let us know.
Please let me know if these emails containing pictures are too large and we will send you a version with text only.
08/01/06 TUESDAY KILLARNEY TO COVERED PORTAGE ANCHORAGE
It was a beautiful, sunny morning here at the docks of Sportsman's Inn Marina in Killarney, Ontario.
The adventurous group of 25 boats that had formed the "flotilla" has officially disbanded. Our leaders, Bob and Karen Jantz, will turn back eastbound headed for their home in Penetanguishene. Several others will also return eastward, while others, will set out toward the completion of their Loop trip at their own pace. For Judy and I aboard AMARSE, we will meet up with a dozen or so other Loopers to enjoy a special tour of Manitoulin Island on Thursday. This morning, however, we met at the Sportsman's Inn Restaurant to enjoy this final opportunity to be with our friends departing.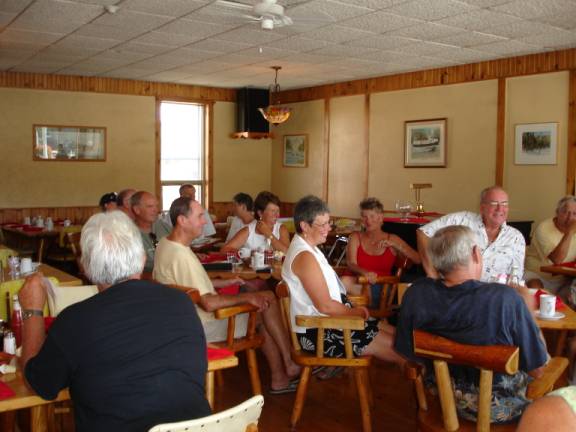 Some had already left and many would cast off soon. Bon Voyage, dear friends, we certainly hope that our paths will connect again soon.
By 11:15 am, we were ready to get underway. The brisk winds and current offered challenges to departing the dock, but, with the help of the able dockhands, we eased out gracefully. Our destination was about an hour away.
We located a cozy anchoring spot near the edge of the outer bay. Our friends on Triumph were already there and we were joyful at seeing them. The bay is named "Covered Portage" and might well be one of the loveliest anchorages anywhere. High, white cliffs surround the inner bay. Lots of trees and crystal clear water abound. Swimming in the 75 degree water is wonderful.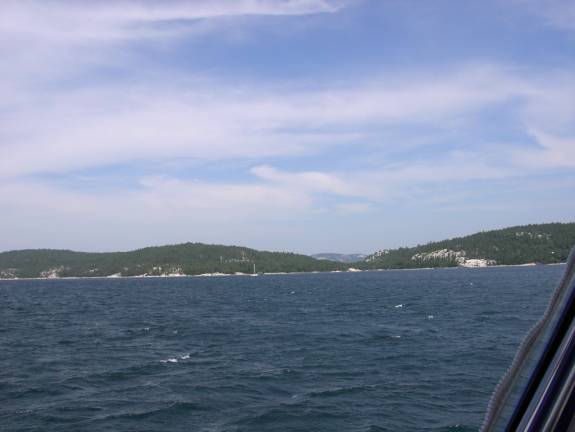 Dan and Cindy took us for a nice jaunt in their dinghy. This is the kind of place that cruisers dream about. Next time, we will anchor in the inner pool area.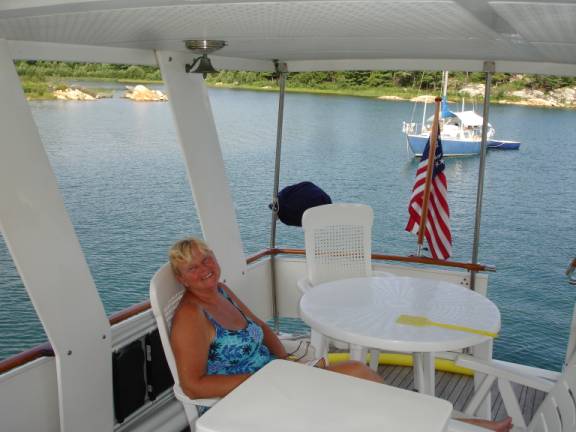 A crisp, tossed salad, grilled chicken breast and a seasoned rice dish made for a delightful dinner.
After dinner, we enjoyed an evening swim. We took our soaps and shampoos in to bathe in the cool, clean waters. Judy gave me a haircut and I had a super shampoo in the soft water. What a great evening. Later, we watched the thunder and lightning show from the thunderstorms that skirted just south of us.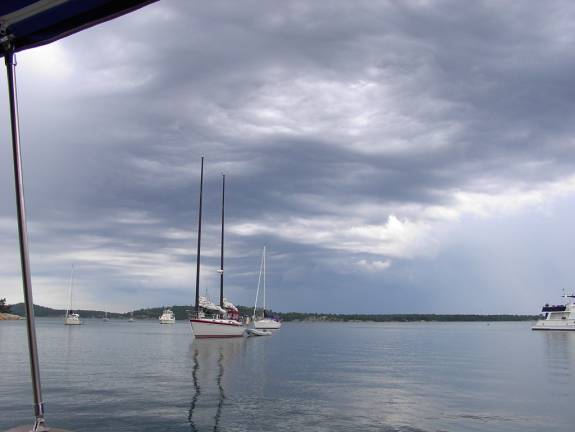 08/02/06 WEDNESDAY COVERED PORTAGE TO LITTLE CURRENT
We had experienced a continuously rainy night and it continued into the morning. The threat of harsher weather in the forecast prompted us to depart before 10 am. Under a heavy overcast sky and limited visibility, we reluctantly proceeded across Frazier Bay toward Little Current. The swing bridge that crosses the inlet channel opens only "on-the-hour".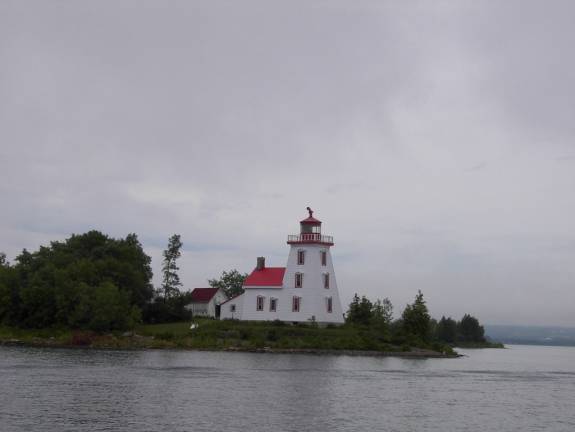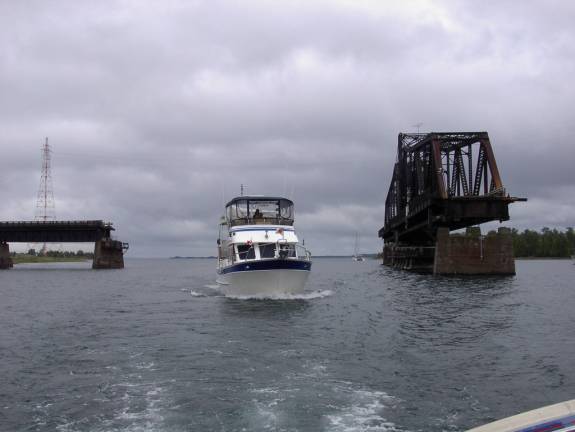 We sequenced for the 1 pm opening, idled up the harbor, and entered into Spider Bay Marina. Under lingering showers, we opted to take care of our chores this afternoon. Three loads of laundry churned away as we gobbled up our sandwich lunch at the marina Laundromat. The marina staff dropped us off at the grocery store to replenish our diminishing supplies. The store is very boater friendly and will drop off customers at the marinas when they have completed their shopping.
Dan and Cindy joined us for cocktails. The rain showers refused to quit so we enjoyed dinner inside. Judy enjoyed some pork roast and corn that Betty Bertrand has given her. My choice was for some hot, chicken and rice soup. It was perfect to cut the evening chill.
08/03/06 THURSDAY LITTLE CURRENT (SPIDER BAY MARINA)
At 7 am, it was 69 degrees and the skies had cleared nicely. The group of 25 tour people met at 8:30 for a greeting by the marina manager. The bright yellow school bus arrived to take us on the tour of Manitoulin Island.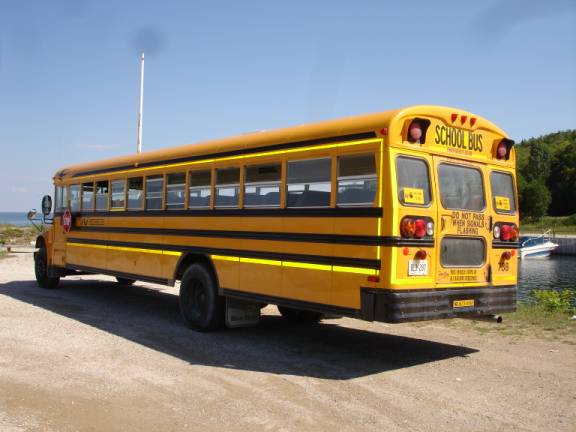 Manitoulin Island has the distinction of being the largest fresh water island in the world. At 9 am, we rumbled off to see the sights. Nathan, marina staff person and our guide for the day, had a tough time being heard over the yakking bunch of boaters.
Our first stop was in Kagawong. We hiked way down a large flight of metal stairs to the base of Bridal Falls.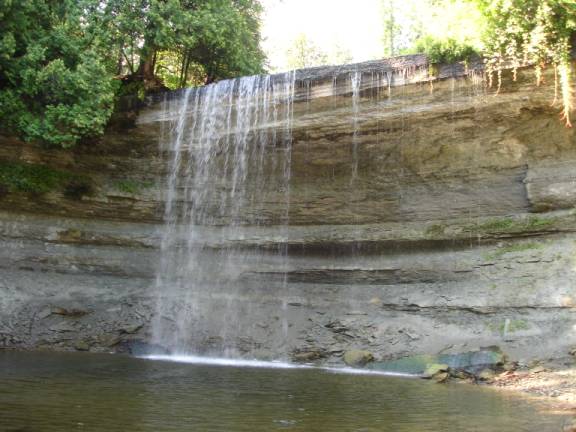 It was a pretty place and you could climb around behind the falls too. After climbing up the many stairs, Nathan informed us that we would be walking the nature trail to the town center. Guess what? The trail starts at the bottom of the stairs. Oh well, back down we all went and enjoyed a pleasant stroll. A very small museum housed some local exhibits and not much more. Kagawong is a very, very small town. Bernie, from Free Bird, explained the workings of an electric generator that was now a static exhibit in the park. He had worked for a division of GE, the machine manufacturer. The huge flywheel has been painted with a mural now.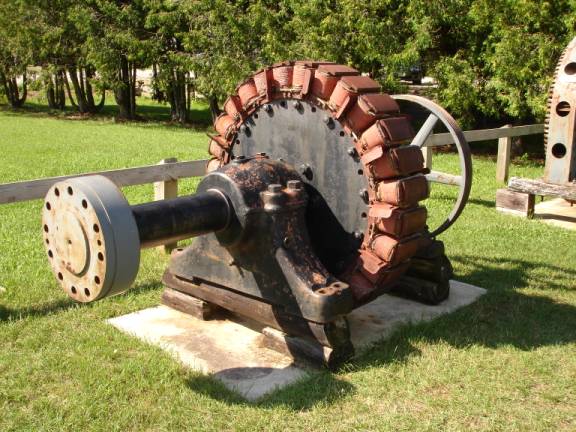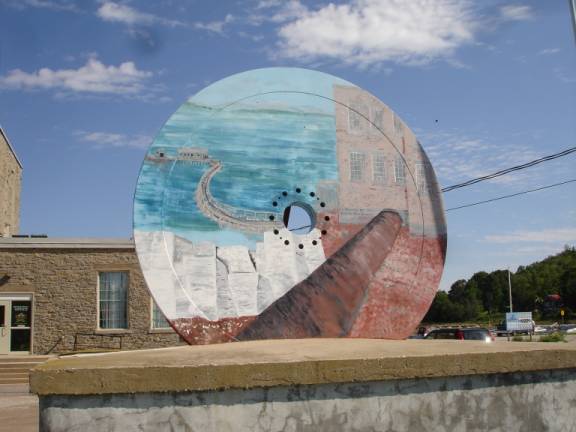 The small, Episcopal Church, "St. John, the Evangelist", is rather unique. It is adorned with a variety of boat parts. The pulpit is actually a bow section from a wrecked boat in which several people lost their lives some years ago.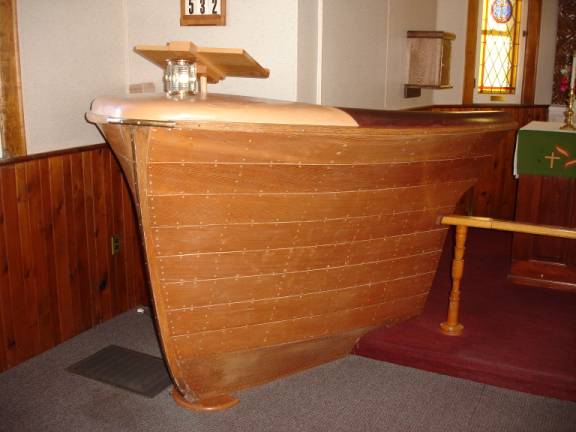 By the time we left Kagawong, everyone felt that we had overstayed our visit and were anxious to move along.
Lunch in Gore Bay, a short visit to a First Nation Cultural Center, several gift shops, and a scenic vista at Ten Mile Point rounded out the sights for the day. Although the events were far below expectation, I think everyone enjoyed the camaraderie and laughter.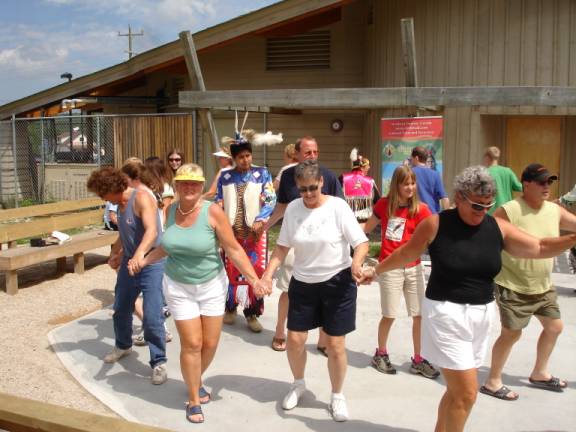 After the bus trip, Judy and I visited with Ron and Gorde on Purely Social. They came over from their homeport of Penetanguishene for a few day visit.
08/04/06 FRIDAY LITTLE CURRENT TO MARY ANN COVE, BAIE FINE, ONTARIO
We said our goodbyes, readied the boat, and cast off at 9:45 am from Spider Bay Marina. The swing bridge was a little on the late side for the 10 am opening. In the company of Little T, we crossed into Frazier Bay headed for Baie Fine. This location has the reputation for being one of the loveliest in all of Ontario.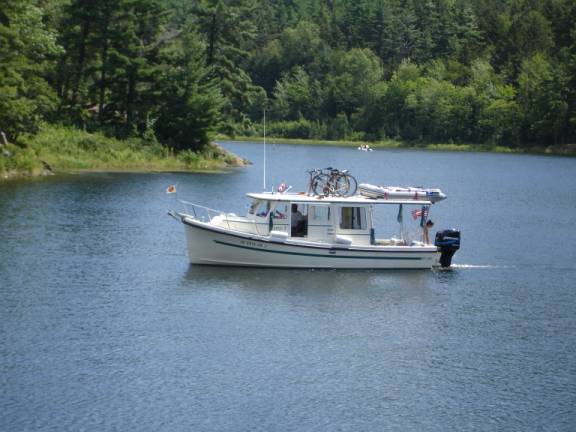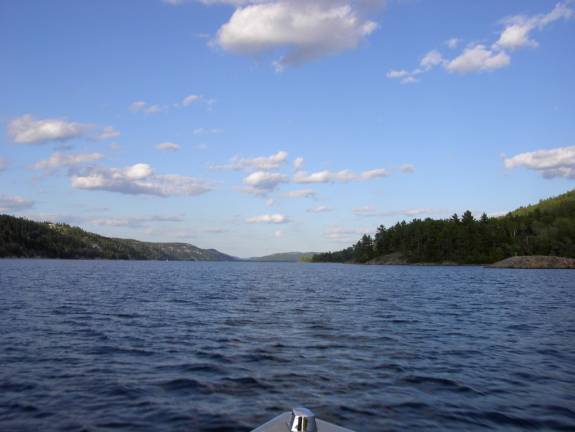 One publication calls it " the closest most of us will ever come to cruising in a fjord". My friends, I am here to testify, this place is awesome! The weather was nearly perfect and the sun's rays played off the striking white cliffs to contrast with the bluest of blue waters you could imagine. The fjord meanders some dozen or so miles to the area called "the pool". It was here that the famous, Mr. Evinrude, of outboard motor fame, loved to spend his summers and play around with his latest outboard devices. Now a Provincial Park, the lands will remain pristine for generations to come. This is one of those places that shock the senses beyond reality.
While Little T joined La Garza Verde at anchorage near the pool, AMARSE retraced her wake to find a lovely anchorage in Mary Ann Cove. We had perused the sight on the way out and liked it so much that we knew that this was the place for us. Dan and Cindy had chosen this spot too. We anchored, Med style, with 100 feet of chain and 30 feet of nylon rode off the bow. We used our dinghy to stretch 200 feet of nylon rode to the shoreline where Judy tied us off to a tree. This technique was another first for us. After some tweaking, we felt secure in this coziest of cozy niches.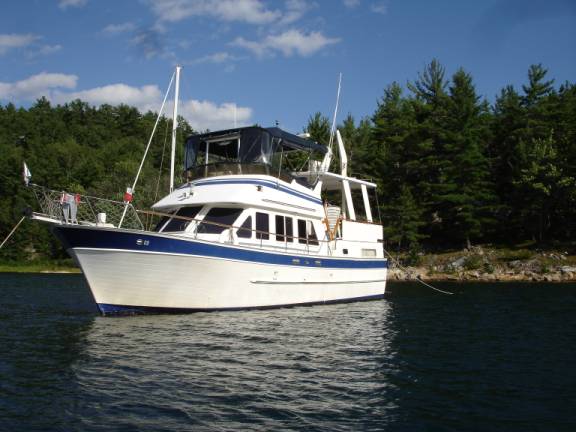 The sundeck of AMARSE provided an ideal setting for dinner with our guests, Dan and Cindy. Grilled Emeril's Chicken and Apple Sausage, fried rice, fresh peaches n' cream Corn on the cob, and applesauce filled the menu for our evening repast.
Little T had tried to coax us staying back with them by offering "homemade apple pie." We jokingly suggested that they save some pieces for us. With Dan and Cindy in their aluminum skiff, and Judy and I in the inflatable RIB, we decided to surprise them and "demand" our pie. On the fantail of "La Garza Verde", a gorgeous Ocean Alexander yacht, we were treated to Diane's apple treat. We stayed late with John and Susan, and Charles and Diane. In the twilight of evening, we zipped along in the little boats as we returned to Mary Ann Cove for a peaceful night.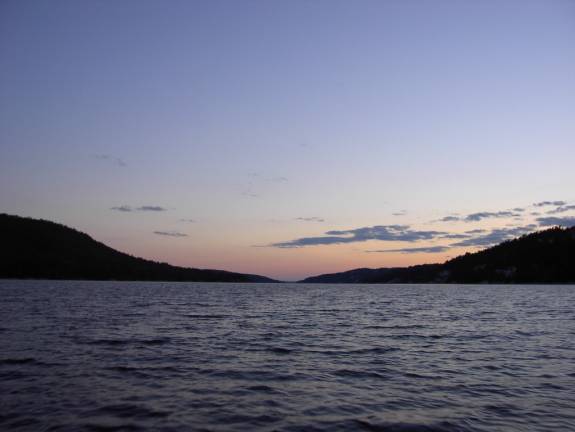 08/05/06 SATURDAY MARY ANN COVE, BAIE FINE, NORTH CHANNEL REGION
Another absolutely beautiful day here in paradise.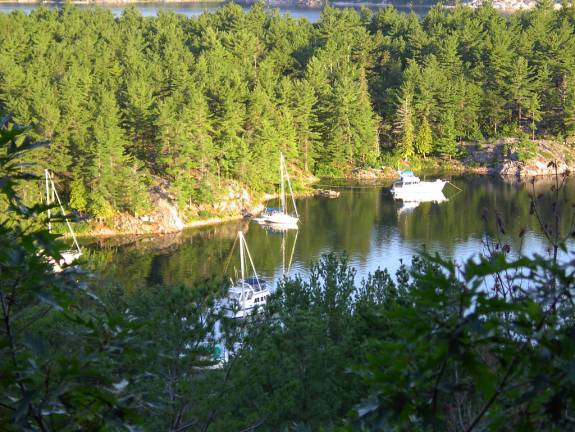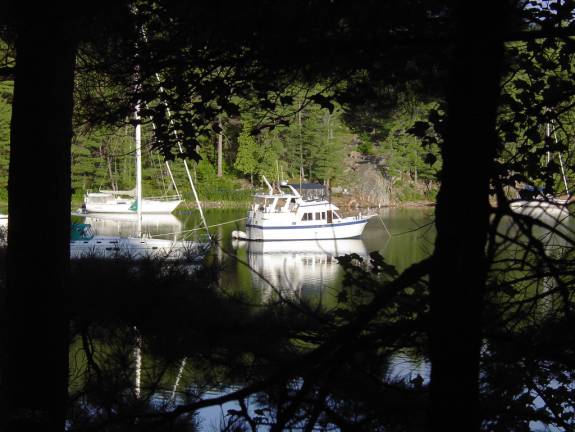 We had no problem relaxing for most of the morning. Dan and Cindy were happy to join us in some dinghy exploration. The gals prepared our picnic lunches and off we sped. About half way up the fjord on the south side, we found a wonderful rock outcropping. Perhaps some 3 million years ago, the glaciers had scoured deep gorges into the rock face. The extremely hard granite has resisted all other forces over the years and it is easy to see how much force and pressure must have been exerted.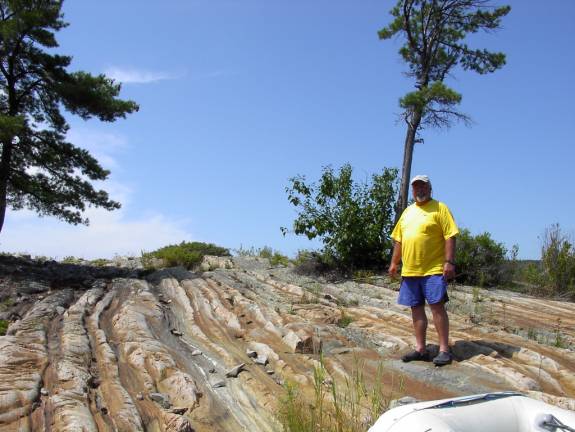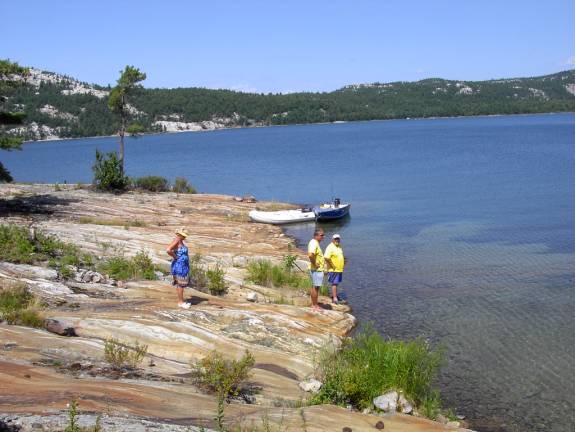 Our dinghy tour continued into the pool channel. In the middle, we crawled up onto a little rock island with a smattering of cedar trees somehow growing right out of the cracks in the granite. This was our picnic lunch spot and would have been perfect except that Judy slipped and scraped and bruised herself a bit.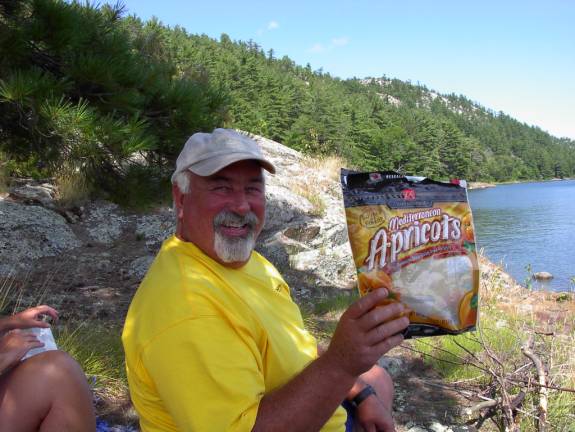 Again, the dinghies accelerated through the crystal clear water toward the "pool". Although a bit weedy, the overall scenic beauty is unparalleled.
We had read about a spectacular mountain lake hidden away in the cliffs nearby. With some hints as to where it might be, we located a park dock with a trail. Judy and Dan were feeling their "cheerios" and decided to tackle the steep, muddy trail. They came to a fork in the path marked only with some blue or yellow paint. Dan suggested the yellow and he was right. Just before they were about to give up on the quest, some fellow hikers later told them they were on the right track. A while later they were treated to the loveliest of little lakes that either had ever seen. The color of the water was true to its name, "Topaz Lake".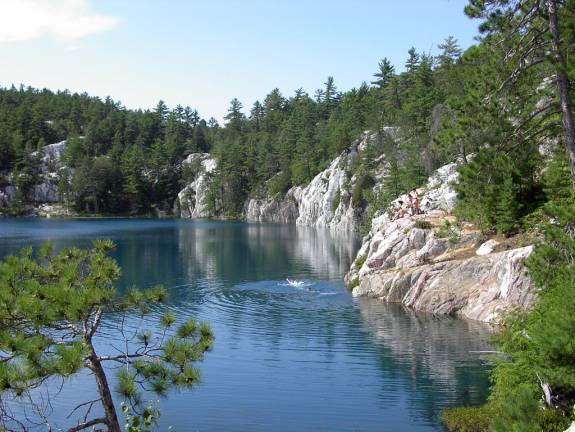 The swimming was great and they returned to the dinghies refreshed and excited about their adventure.
We twisted the throttles again and sped back to Mary Ann Cove and the awaiting trawlers.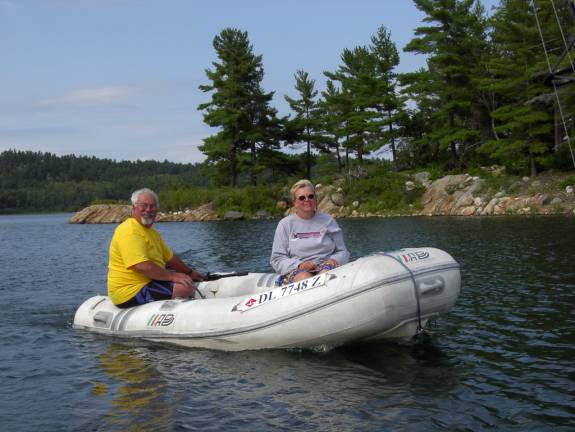 The rest of the afternoon was enjoyable with a nap, a swim, and bathing in the bay. Judy baked a delicious lemon cake for our dessert.
08/06/06 SUNDAY MARY ANN COVE, BAIE FINE, NORTH CHANNEL REGION
It was another stellar day in Mary Ann Cove, however, the winds were forecast to be quite brisk and there was a 60-70 percent chance of showers and thunderstorms. The decision to stay right here was easy. The cove is very protected and we had almost no hint of the winds in the surrounding areas. An attempt to dinghy over to a nearby village was soon forgone as we pitched wildly in the rough water outside the cove. OK, how about another picnic? The folks from "JC", a Lord Nelson sailboat from Grosse Isle, Michigan, Dan and Cindy, and Judy and I found another neat spot and we enjoyed the lunches. The afternoon warmth enticed us to swim, bathe, and nap the day away.
For dinner, the grill seared a couple of chicken breasts that went perfectly with the green salad and scalloped potatoes.
There was no rain and we enjoyed a peaceful evening.
08/07/06 MONDAY MARY ANN COVE, BAIE FINE, NORTH CHANNEL REGION
It was another windy day and Judy and I were content to enjoy yet another day right here. Dan and Cindy wanted to move on westward toward Little Current and headed out into the bouncy waters of Frazier Bay. My chore list included some routine engine maintenance and battery maintenance. The cove seemed to get quite busy with lots of Canadian boats seeking the tranquil shelter of this protected cove. By days end, we shared this cozy spot with some 25 vessels of various types.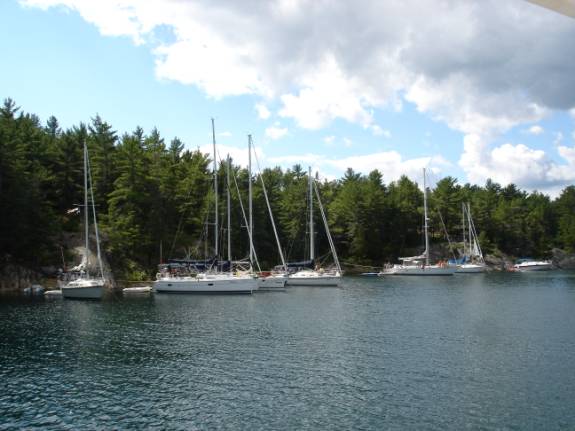 Our friends, Tom and Marbeth, from "Change of Pace" joined alongside AMARSE.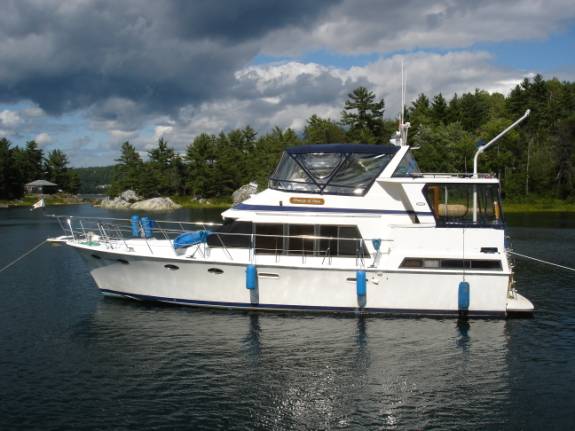 It was another ideal day to just swim and bathe in these lovely waters. The very pleasant and refreshing water temperature is almost 75 degrees.
After an enjoyable cocktail hour on "Change of Pace", Judy prepared a delicious Chicken Pot Pie that we had still frozen from Penetanquishene's M&M Meat Market. The anchorage proved to be quiet and restful again tonight.
ATTENTION: SPECIAL NOTE:
As you can see, we are still in Canada. My Verizon AirCard that operates my computer internet will not operate in Canada. We will be sending this out when we can find a WiFi hotspot. These locations are few and far between. Our internet capability will be extremely limited for close to two months. This may be the last update for a while. If and when I can, I will post what is available.
Judy's phone will be out of service in Canada. Fred's phone will be available throughout the trip in Canada. I have North American Service and hopefully it will be OK. We can be reached at 210-296-4933. Please call us if you like, 'Eh.
"AMARSE". is pronounced "AM-ARE-SAY". Our website is: www.amarse.net .
Check it out while we will attempt to keep you informed via email
We would like to hear more about what is happening in your lives. Let us know as we very interested in what's going on with our friends and family. Please DO email us with your thoughts and comments and ideas too. Thanks
Lot of Love,
Fred Reed and Judy Law
AMARSE
MT40